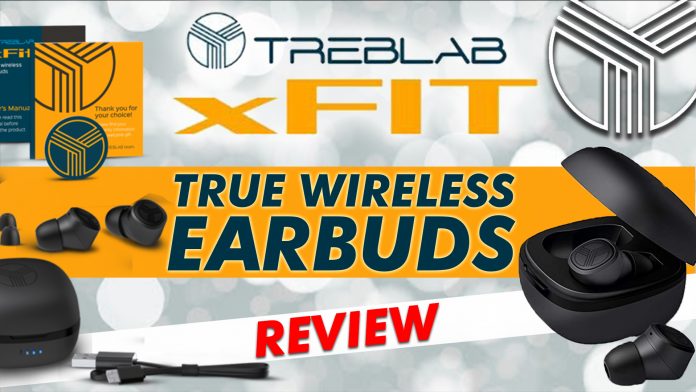 Quick Specifications

Headphone Type
In-ear true wireless earbuds
Driver Size
6 mm
Frequency Range
20 Hz to 20,000 Hz
Wireless Connectivity
Bluetooth 5.0
Battery Life
5 hours
Water Protection Rating
IPX6
Weight
227 g
Treblab is a consumer audio brand best known for producing wireless headphones that provide outstanding value for money. They recently offered me a chance to review one of their latest products, and I was more than happy to oblige.
The product they sent me is called the Treblab xFit, a pair of highly ergonomic and compact true wireless earbuds. Looking at the specifications sheet, I was immediately impressed at how the manufacturers managed to integrate some cutting-edge features into such a small package. That being said, I was a bit skeptical and had low expectations at the outset, but these earbuds tremendously exceeded these expectations.
Box Contents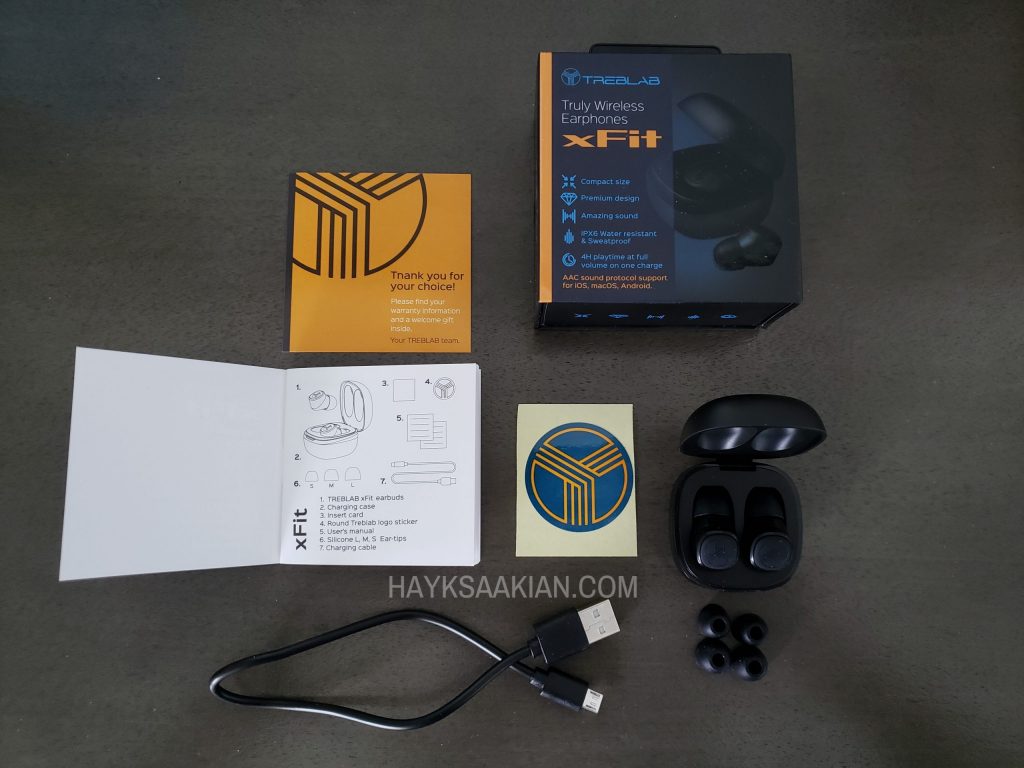 Treblab xFit true wireless earbuds

Charging case

Micro-USB charging cable

Three pairs of silicone ear tips

Treblab logo sticker

User manual
Design and Build Quality
After being awed by the small form-factor design of the xFit, I took a closer look at its components and was delighted to find premium quality materials. I was left wondering how they were able to keep the price down without compromising durability as nothing feels cheap on both the earbuds and the charging case.
Earbuds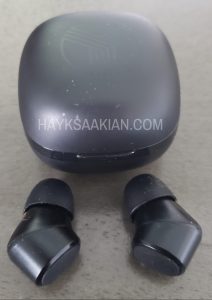 The xFit has sleek-looking earbuds that are made of hard plastic. They each have rubber multifunction control buttons that enable basic operations like answering calls, activating voice command, and skipping songs. Personally, I appreciate the choice of going with physical buttons instead of touch-sensitive controls as the latter is highly prone to accidental presses when doing rigorous activities like exercising.
The earbuds have indicator lights that turn red when they are charging in the case. They are water and sweat-resistant, making them suitable for working out or jogging in the rain. When I first tried the earbuds on, I instantly got a snug fit using the default ear tips. Audio quality and passive noise cancelation are dependent on the placement of the earbuds, so getting a secure fit is vital. I was able to wear the earbuds for at least an hour straight and didn't feel any discomfort or ear fatigue.
Charging Case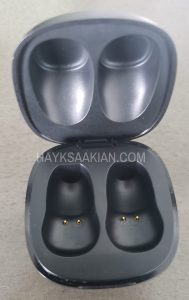 The xFit charging case is the size of a wedding ring box and has a soft-touch rubber coating to make it durable and comfortable to the touch. It can easily fit in my pocket without bulging since it is much smaller compared to the more popular and expensive options. It provides an additional 25 hours of battery life and houses indicator lights that show the status of its battery when plugged in and charging. 
The case has a magnetic lid that gives a satisfying click when opened and closed. Another thing I admire about it is the very subtle branding, meaning there are no over the top logos ruining its sleek appeal. I just wish it had a USB Type-C port instead of Micro-USB for added convenience. Nevertheless, the case is as compact and ergonomic as they come, and I would choose it over the bulky competition without a hitch.
User Experience
The xFit earbuds are very easy and comfortable to wear. Often, I would forget that I have a pair of devices stuck in my ears because of how lightweight they are. Connectivity wasn't an issue either, as they go into pairing mode the moment I remove them from the case.  I've experienced occasional connection drops, but it was only with my office computer, which leads me to believe that it was a problem with that specific connection. 
Although these earbuds are marketed for fitness enthusiasts, I found that they are also excellent for mixed usage owing to their low latency. Moreover, they are highly effective at passive noise cancellation to pave the way for immersive gaming or content streaming. Whether I was listening to music on a commute or doing laps around a track, the earbuds stayed snug in my ears. 
Having a proprietary smartphone application with equalizer presets would have been a welcome addition, but not having one is perfectly fine for casual users. I also found the built-in microphone to be very useful when taking calls and registering voice commands. 
Battery Life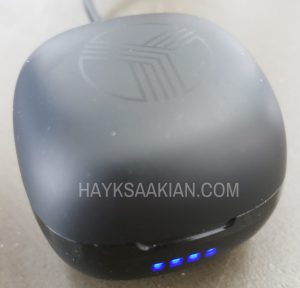 In my experience, the 50 mAh battery in each earbud lasted a little over five hours of continuous playback at medium volume. The earbuds take about an hour to recharge fully, which is excellent, considering that they instantly start charging when not in use and placed in the case. The charging case itself has a 550 mAh battery and can also hold five extra charges to give users an astonishing 30 hours of total playback without an external power supply.
Audio Quality
I honestly expected the audio quality of the xFit earbuds to be its weakest aspect. However, these earbuds completely changed my mind the moment I put them on and played some of my go-to sound quality test songs. The audio was clean and consistent throughout without any distortion or hissing in between quiet intervals. 
I would have liked to have slightly more emphasized bass, but the tiny 6 mm neodymium drivers understandably limits the performance of these earbuds in this regard. Nonetheless, I was very pleased with their production of clear and crisp mid to high-frequency sounds. I just had to ensure that the earbuds properly sealed my ear canal to get the most out of the drivers, and this is true for all in-ear headphones. 
I've also tried out these earbuds for listening to podcasts, and they performed as expected. The speech was very comprehensible and sounded relatively detailed with decent airiness and brilliance. The same can be said for phone calls, although I wouldn't recommend using the built-in microphone in loud environments as it may struggle up your voice.
That being said, the xFit earbuds are geared towards the general audience and not for the meticulous ears of audiophiles. These aren't the most precise and detailed earbuds out there, but they're certainly among the best at the budget price range.
Conclusion
With the xFit, Treblab successfully created one of the most compact true wireless earbuds on the market without compromising too much on design, features, and audio quality. These earbuds are great for any usage and offer all the essential functions you can ask for in a pair of wireless in-ear headphones. I recommend getting this product if you're in the market for affordable and versatile earbuds that are suitable for your active lifestyle.