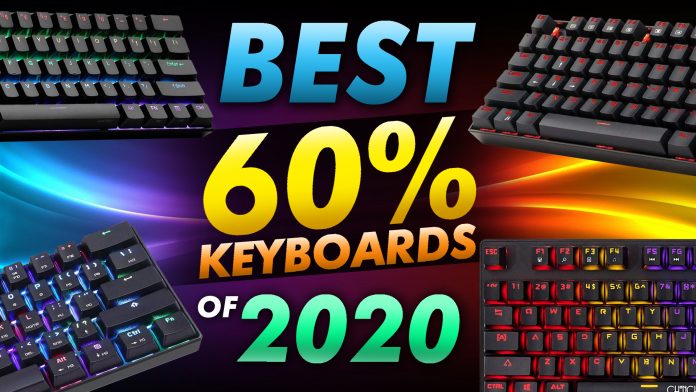 Many people say that a disorganized desk is a sign of brilliance. With dozens of thoughts running at the same time, you barely have enough time to fix your desk clutter. Whether that adage is true or not, one thing's constant: a cluttered desk reduces productivity. And if you're a competitive gamer, your mobility is affected as well.
To avoid this clutter, you can reduce the space consumed by your gaming equipment – particularly the keyboard. A standard sized keyboard takes a large space that can fit other smaller and more important gadgets. The solution? A high-quality 60% mechanical keyboard.
This article will show you the best 60% keyboards on the market today. We'll introduce their features, as well as their 'super factors' or competitive edge. Additionally, you can also gain fresh insights regarding these lightweight yet effective keyboards.
The 10 Best 60% Keyboards
Are you looking for a high-quality mechanical keyboard? You can now begin with our exclusive list of the best 60% mechanical keyboards!
1. MOTOSPEED 60% Mechanical Keyboard 61 Keys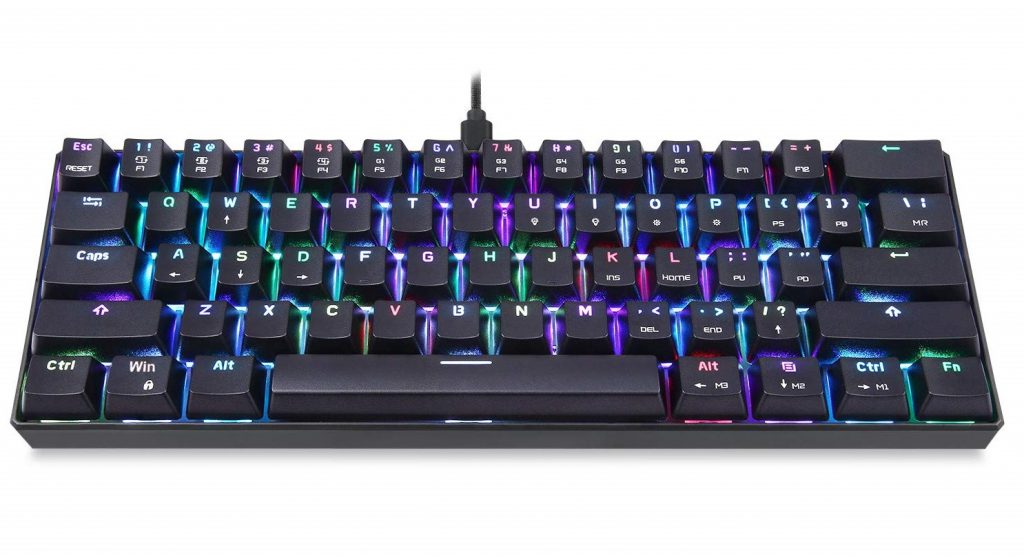 The MOTOSPEED 61 is an excellent 60% mechanical gaming keyboard for its price. It looks elegant with a multi-color backlight and well-defined keys. As you press the keys, you'll be reminded of the comfort of normal keyboards, but the lightweight factor will definitely stand out.
Connectivity is not a problem with the MOTOSPEED 61 keyboard. You just need to connect it to your PC or Mac through the Bluetooth 3.0 system. After that, you're set for continuous gaming sessions!
Each key has an effective rollover function for seamless usage, ensuring that your playthrough is uninterrupted. The responsiveness of the keys is better than most non-60% mechanical keyboards. Additionally, the keyboard offers an exclusive 12-month warranty and a 30-day money back guarantee.
Awesome Factor 🡪 MOTOSPEED 61 is simple, elegant, and very useful for gaming and office work. The price is also right for its outstanding array of functions.
2. Anne Pro 2 60% Bluetooth Mechanical Keyboard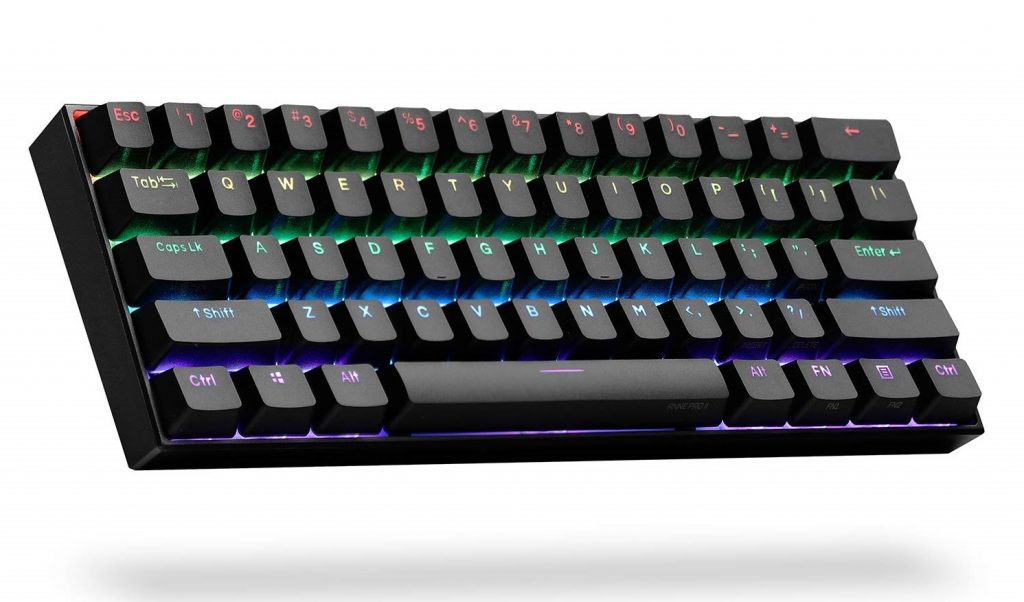 Don't let its simple name fool you – the ANNE PRO 2 60% mechanical keyboard offers a myriad of features that can amplify your gaming (or basic computer usage) experience. The RGB backlight also matches easily with the white-colored keys, making ANNE PRO 2 one of the most appealing 60% keyboards today.
With durable GATERON red switches and wireless connectivity, the ANNE PRO 2 keyboard ensures hassle-free usage all the time. It's also integrated with a Bluetooth 4.0 system and compatible with Linux, Windows 8 & 10, Android 4.4 & above, IOS7 & above, and Mac 10.10. Before you purchase this keyboard, take note of your device and its OS.
ANNE PRO 2 has a unique keyboard setup. Through a 'tap-key' functionality, the keyboard will behave in a somehow different manner. This is useful for a more flexible movement system in-game or an overall improved response rate. The keyboard also has special ANNE companion software for additional personalization options.
Awesome Factor 🡪 Stylish and high-performing, the ANNE PRO 2 60% keyboard is excellent for professional gamers and casual computer users alike. Also, it allows basic customization options for new users.
3. Epomaker SK61 61 Keys Hot Swappable Mechanical Keyboard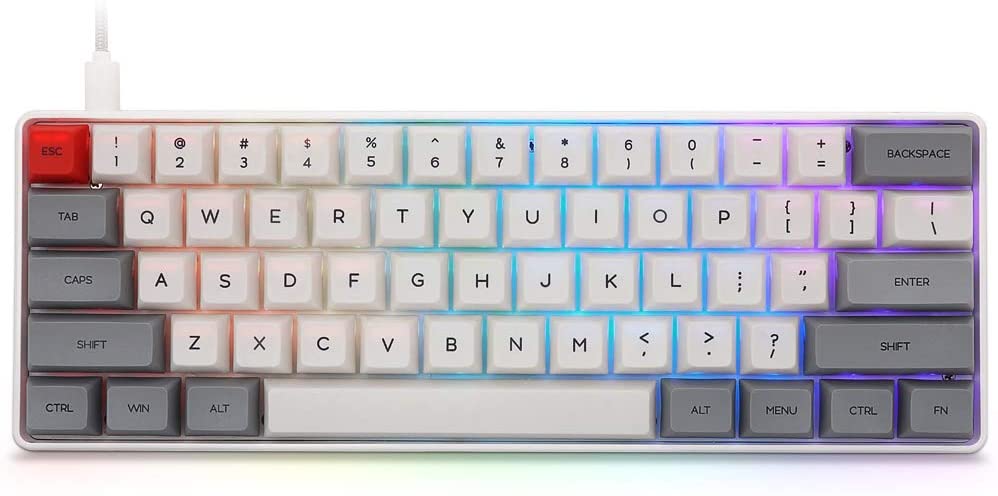 The Epomaker SK61 is a very convenient keyboard allowing easy portability for work, home use, or travel. It comes with an appealing RGB backlight making it easy to see in dim environments. Amazingly, this tiny keyboard has approximately 16.8 million color RGB backlight effects — that's a lot of colors in one small accessory.
The keyboard was ergonomically designed to avoid fatigue even after long periods of use. Epomaker SK61 is a dustproof, corrosion-proof 60% keyboard that can be splashed with water for short periods of time. We're not telling you to actually submerge it in water. But, since it has an IP68 waterproof grade, this means it can be submerged 1.5m under water for up to 30 minutes.
An added feature is NKRO, also known as N-Key Rollover. With it, each key is scanned independently by the keyboard hardware enabling proper detection regardless of how many keys are pressed during a particular point in time. Gamers love NKROs because they can press as many keys as they like without having to experience blocking or ghosting.
The PBT heat sublimation keycaps of Epomaker SK61 means it's more durable and doesn't lead to a "glossy effect" after quite some time. It also leads to "clicky," higher-toned auditory tics which, as experienced by those who type a lot, can be more satisfying to listen to. After all, the keyboard is mechanical.
Awesome Factor 🡪 Epomaker SK61 produces satisfying auditory tics and is a durable keyboard that's dustproof, corrosion proof, and has an IP68 waterproof grade.
4. DREVO Calibur V2 RGB 60% Mechanical Keyboard 71-Key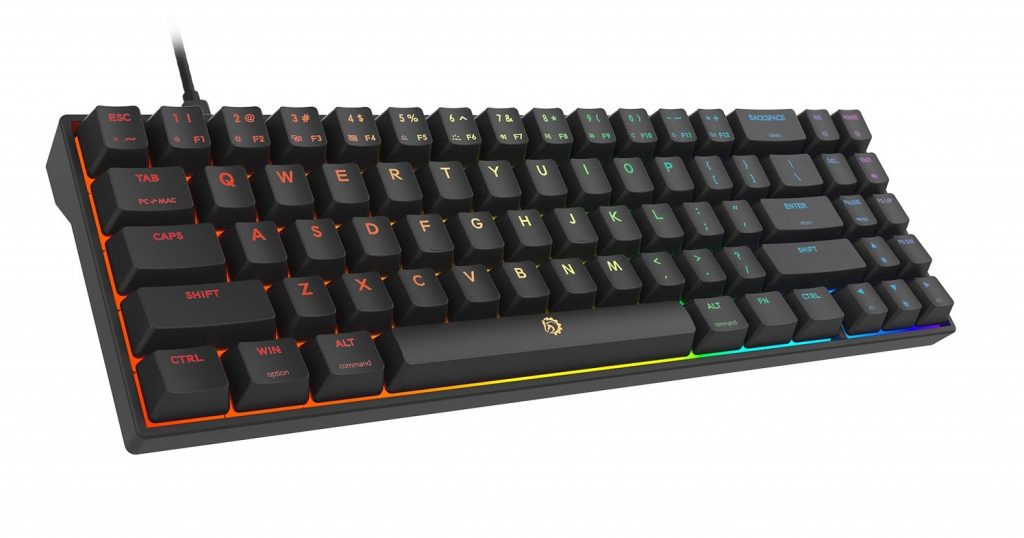 The DREVO Calibur V2 is a direct upgrade to the previous Calibur version. This 60% mechanical keyboard is more compact, and it features a sleek, professional design. While the V2's RGB backlight is common among other 60% keyboards, the accent of itskeys invoke a homely feeling – as if the keyboard is inviting you to use it.
The well-accentuated keys of V2 are not just meant for aesthetics. Red keys are in the leftmost part of the keyboard, while blue keys are in the rightmost part. The middle section is a fine blend of orange and yellow keys. If you're not fond of the color distribution, you can customize it using the DPC software. This function is activated by pressing FN + INS.
To boost your gaming fluidity and motion, the DREVO V2 comes with an effective anti-ghosting function. No more delays or unnecessary movements from your characters! The keyboard is compatible with PC and Mac.
Awesome Factor 🡪 DREVO V2 is a fun, affordable, and customizable 60% mechanical keyboard best for gaming.
5. Cooler Master SK-621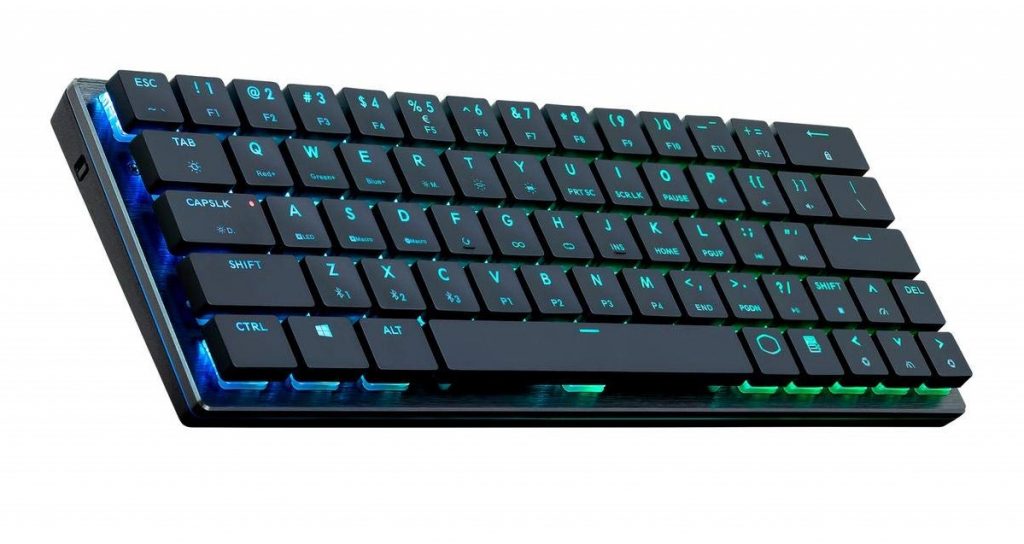 Hunting for sleek keyboards can be difficult because there are numerous factors involved. First, how sleek you want the keyboard to be? Second: do you want a mechanical keyboard with unique colors and personalization? And lastly, do you care about durability? Well, if you answered yes to all questions, you will benefit from the Cooler Master SK-621 keyboard.
A popular choice among gamers and gadget aficionados, the SK-621 60% keyboard is a hallmark of performance and unique style. It has flat-contoured keycaps integrated with Cherry MX Low Profile switches. The light blue/light green color combination is pleasing to the eye, thus ensuring a relaxing work or gaming experience.
Other key features of the SK-621 are dynamic lighting control, Bluetooth connectivity, and macro recording.
Awesome Factor 🡪 SK-621 is a stylish and durable 60% mechanical keyboard that allows excellent lighting customization.
6. Redragon K552 60% Mechanical Keyboard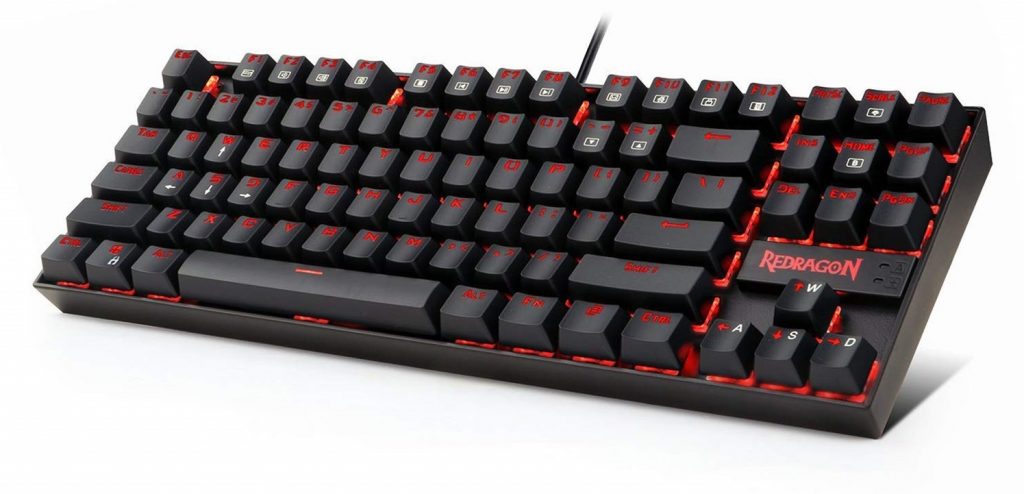 If you're keen on buying computer gadgets every now and then, you possibly heard about the Redragon brand. Redragon products are popular because of their heavy duty capabilities, unique functions, and a great sense of style. With Redragon K552 60% mechanical keyboard, you won't be disappointed at all!
The K552 keyboard has a superb red RGB backlight system that can be adjusted to your preferences. This is excellent for night gaming and matches all of your other computer peripherals. Every keycap is precision-engineered, allowing greater flexibility that can't be matched by many 60% keyboards. The lettering is also made from tough components so they won't scratch off – even if you're playing Fortnite or DOTA 2 eight hours a day. If you're not a gamer, you can still use the K552 keyboard for regular office or school work. Even though this Redragon keyboard is compact, it is highly durable. Its tough frame matches all plate-mounted keys accurately.
With an anti-ghosting system, the K552 can guarantee seamless gaming movement and total responsiveness. Add this keyboard with other high-quality gadgets and you'd have a phenomenal gaming experience. The USB cable also has tough, corrosion-free plating – a strong defense against wear and tear.
Note: if you don't like a black frame, you can choose K552's white version with red backlight. Simply imagine the Gundam Unicorn's exterior turned into a humble keyboard!
Awesome Factor 🡪The K552 60% mechanical keyboard unfurls the Redragon standard. It is durable, stylish, 100% tactile, and great for your budget.
7. DIERYA 60% Mechanical Gaming Keyboard True RGB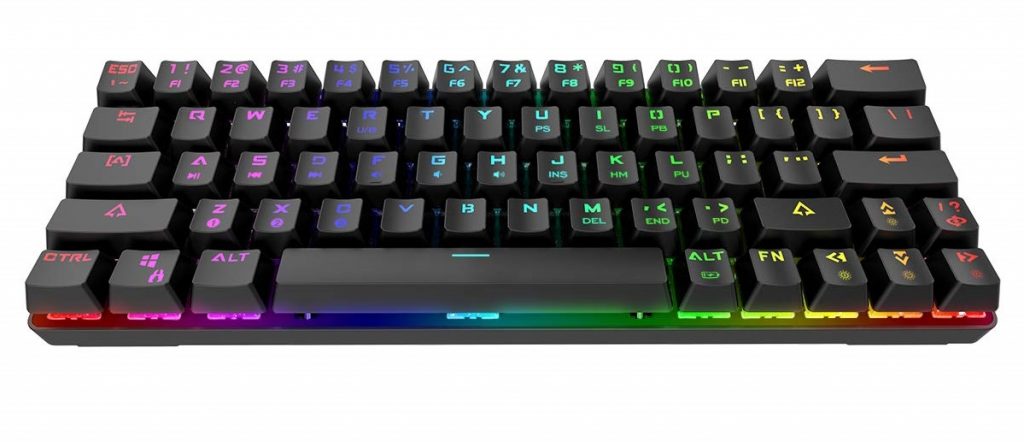 Compact 60% keyboards with bright RGB lighting systems are great additions to your gaming arsenal. Such keyboards allow continuous gaming without causing too much strain on your fingers. And they're also very good to look at! The DIERYA mechanical keyboard is a fine example. It looks similar to other market-grade mechanical keyboards, but it still packs a stronger punch.
Compatibility is the greatest asset of the DIERYA keyboard. It can connect with different OS and devices through Bluetooth functionality. If you don't like wireless usage, you can always rely on the keyboard's USB cable.
When it comes to lighting, this keyboard can dish out multiple colors such as white, yellow, purple, blue, red, light blue, and green. Those colors are fewer than other products that can offer a million combinations, but do you really need that much? Sometimes, simpler choices are better. If the colors are too bright, you can simply adjust the brightness setting.
DIERYA keyboard's keys are tactile enough to give you a satisfying feeling. The keycaps have durable connections to the frame, and the frame is tough enough to withstand constant pressure.
Awesome Factor 🡪 The DIERY mechanical keyboard is great for beginners and professional gamers alike. You won't be overwhelmed by too much features at once.
8. Ducky One 2 Frozen Llama Limited Edition 60% Keyboard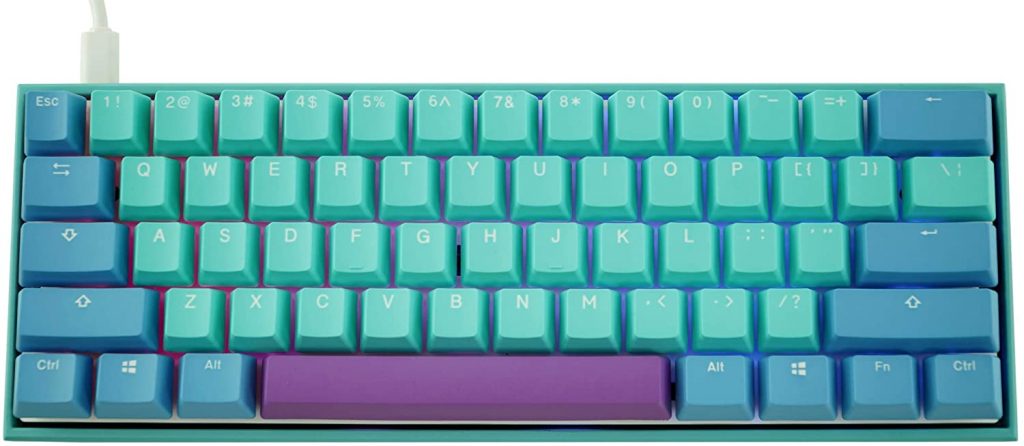 Another portable and reliable entry in this list is the Ducky One 2 RGB mechanical keyboard. It's specifically made for gaming but can function well enough for office work. Even though it doesn't have an ultra-distinct style, this 60% mechanical keyboard does the job properly.
Comfortable adjustment is the strong trait of the Ducky One 2 keyboard. It offers three placement angles for varying purposes. Whether you want to elevate the keyboard for easy typing or set it lower for stability, Ducky One 2 won't leave you disappointed. Also, the middle angle is the best option as it lowers the strain on your fingers.
Additionally, the keyboard is fully integrated with the Ducky Macro V2.0. This platform allows you to adjust specific key functions and RGB lighting setup. The Ducky Macro is considered one of the best 60% keyboard companion software in the market.
Awesome Factor 🡪 Simple and easy to use, the Ducky One 2 keyboard is a paramount of excellence for all users.
9. ROYAL KLUDGE RK61 60% Multi-Device Mechanical Keyboard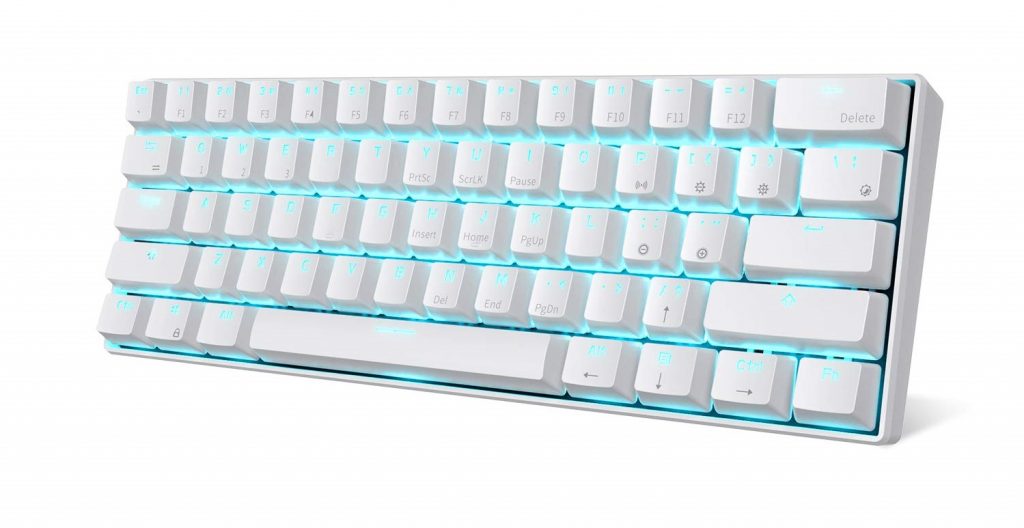 Responsiveness is an important trait for all 60% keyboards. Technically, since 60% keyboards are smaller, they make up for speed and uniqueness. If a compact keyboard is not responsive, then it won't make sense to have one!
The RK61 is has a white frame accentuated by blue backlight. This design is pleasing to the eye, and it can also match neutral gadget colors. If you don't want this white version, you can always pick the RK black versions with orange and red lights. When it comes to power, this RK 60% keyboard lasts longer than many similar products. Approximately, RK61's wireless power can last up to 10 hours. The average recharging period is 3 hours.
Due to its compact nature, RK61 is a great travel companion. It's compatible with different devices through Bluetooth. You can put this keyboard in any bags and carrying cases.
Awesome Factor 🡪 A minimalist's dream keyboard, RK61 offers a nice combination of performance, responsiveness, and fancy design.
10. E-Element Z-88 60% RGB Mechanical Keyboard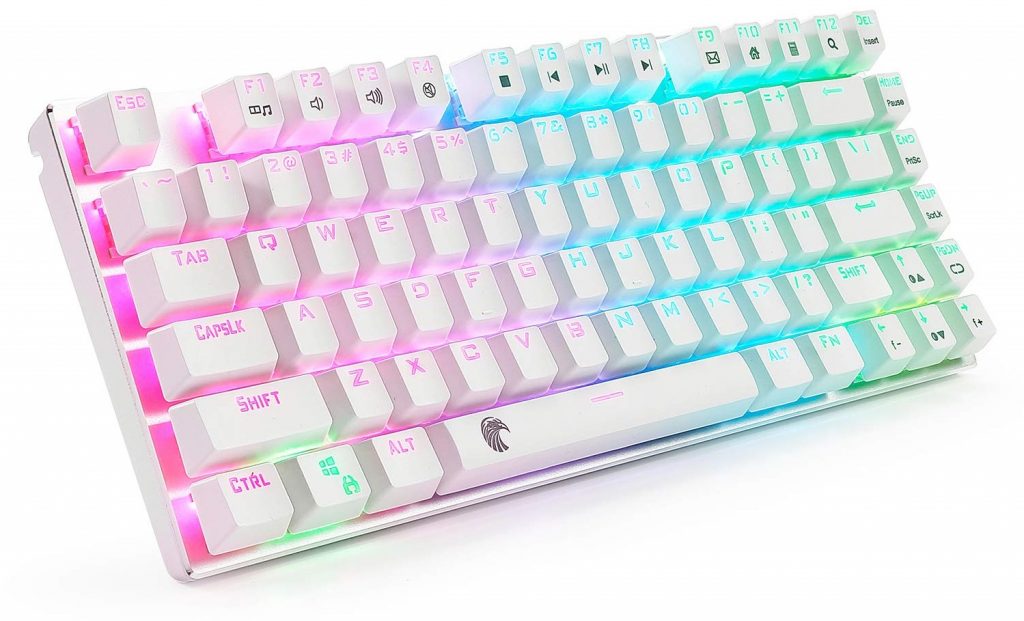 The 'chic-est' 60% mechanical keyboard that you'd discover on this list is the E-Element Z-88. It has a white overall frame with white keys and pink/light blue backlights. At one glance, you will possibly think that this keyboard is meant for female users and girl gamers.
But Z-88's design is just one thing! It moves ahead of the curve with ergonomic and responsive keys, as well as anti-ghosting capabilities. The keys are tactile but they're quieter than other keyboards at the same price range. Durability and compatibility are some of the best traits of the keyboard. The frame is also sturdy enough to withstand pressure and mild bumps. Chic doesn't mean fragile, after all!
Awesome Factor 🡪 Z-88 is a fancy keyboard that can also be a special gift. It's durable, high-performing, and compact.
11. CHONCHOW Tkl RGB Mechanical Keyboard
The CHONCHOW Tkl mechanical keyboard is as flashy as it can get because of its strong RGB lighting. The keys are neatly lit with red, yellow, purple, light blue, and green. Though it's a bit larger than other 60% keyboards that we've presented, CHONCHOW keyboard still deserves a slot. Plus, you almost can't argue with its price tag!
If you're looking for a mechanical keyboard that has a reliable anti-ghosting function, CHONCHOW Tkl is your best choice. The keyboard's keys are ergonomically designed and flexible, leading to fluid movements in any game. Typing is also a breeze with this compact keyboard because of the tactile keys. There are also different usage modes to choose from, so you can jump from gaming to office work and vice versa. CHONCHOW Tkl is compatible with Windows 10, 8, & 7, as well as Mac OS.
Awesome Factor 🡪 CHONCHOW Tkl is a compact keyboard that's also powerful and tactile.
Important: What Are 40% Keyboards?
Over time, the popularity of compact mechanical keyboards has become more prevalent. Not only we have 60% keyboards, but we now have 40% keyboards as well!
Basically, 40% keyboards contain even lesser keys than 60% keyboards. As you imagine, these keyboards tend to be smaller and more 'direct to the point.' You can always bring these keyboards anywhere because they take up little space.
Just take a look at these reminders:
Never pick a 40% keyboard that's not programmable. You will have a hard time mapping the keys and making other adjustments.
Somehow, 40% keyboards are not that great for gaming. They look cool, with RGB lighting and all, but missing keys can be detrimental for fast-paced strategy games and FPS. However, 40% keyboards are great for office and school work.
Some of the best brands for 40% keyboards are MiniVan and Planck. They are programmable and intuitive to use.
Why Are 60% Keyboards Popular?
There are numerous reasons why 60% keyboards are popular nowadays. Still, many people believe that these small keyboards lack the full functionality of regular keyboards. This is a misconception because 60% keyboards contain all the necessary keys. It's just a matter of getting familiarized with smaller or tenkeyless keyboards.
We've broken down the reasons for the popularity of 60% keyboards:
Space-saving
The average keyboard takes more than half the width of a standard computer table or desk. This leaves you with little spaces to put speakers, mouse, computer gadgets, and even snacks. You're probably aware that snacking while gaming or working is a satisfying experience.
A 60% keyboard saves space because it is half the size of an average keyboard. Some 60% keyboards are even smaller, and you can even try out 40% variants.
Portability
If you want to visit a different place and you suddenly needed a keyboard, the 60% variant is the best alternative. Try to imagine bringing a full-sized keyboard – it's bulky, inconvenient, and prone to damage.
It's easy to put your 60% keyboard in a small box, then into a carrying case. A thick classic paperback novel will consume more space than the 60% keyboard.
Fabulous Design
With the creation of smaller keyboards, common gadget hunters became avid collectors. The best 60% keyboards are known for their awesome designs, interesting colors, and unique lighting systems. Some brands have better designs than others since they are focused on durability or enhanced function. But then again, a few brands have an excellent combination of fabulous design and versatility.
It's somehow right to say that 60% keyboards are collectibles. Some online groups are even dedicated to the hobby of collecting different brands of 60% or 40% keyboards.
Colored keys are not just meant for pure customization. They can help new 60% keyboard users in adjusting to the new size and key positions. Many users prefer two color schemes while others are willing to try out more colors.
Cool Lighting
RGB lighting is a common feature among modern 60% mechanical keyboards. Lighting is an advantage especially if you're used to playing or working at night.
Mechanical keyboards with programmable lighting systems are truly beneficial. Programmable simply means that you can adjust the colored light distribution and opacity. You can also adjust the power settings of programmable keyboards. Keep in mind that some programmable 60% keyboards command a higher market price.
Affordability
60% mechanical keyboards are practical by nature. While their prices increase rapidly depending on additional features, your wallet won't be in danger.
If you want to save money when buying a 60% keyboard, take advantage of online discounts and vouchers. You can also score interesting deals loaded with additional accessories or freebies.
Brand Loyalty
Thousands of buyers are loyal to their favorite brands. If a company has a diverse product line, it will naturally have some loyal customers. When it comes to 60% keyboards, brand loyalty plays a major role. The Redragon product line, for example, has seen its fair share of 60% keyboard buyers over the years. The customers are very likely loyal to the Redragon brand.
Ergonomics Trend
Have you noticed the consistent appearance of uniquely shaped keyboards? These 60% keyboards are curved into specific angles, ensuring better ergonomics. This 'ergonomics trend' is a key factor in driving up the popularity of tenkeyless keyboards. Once an ergonomic, ultra-reliable keyboard has been launched in the market, other brands will follow suit. The trend is also an important factor for avid mechanical keyboard collectors.
Don't get caught up in the trend – unless you're buying to collect keyboards. By doing so, you will burn your wallet at a significant speed. Always settle for your keyboard priorities.
As you read on, you will see our 60% keyboard buying guide. By following our guide, you can avoid unnecessary keyboard trends and fads.
Best 60% Keyboard Buying Guide
Whenever you're looking for a 60% keyboard, you need to have a simple idea of the product that you want. You can consider this idea as a template to help you make a proper decision. Just remember that you're free to start anywhere in our buying guide.
Color Combinations
Believe it or not – color combinations matter in picking the best 60% keyboard for your home or office. You probably don't want a dull-looking keyboard for either gaming or work purposes.
While a mono-colored 60% keyboard is a great choice, multi-colored variants are more functional. Since some keys are excluded from a 60% keyboard, you might have trouble adjusting your typing speed from the get-go. A keyboard with multi-colored keys will help you identify buttons right away.
Brand suggestions: ANNE PRO & Chonchow
Tactile Feel
A tactile keyboard will make you feel satisfied every time you use it. This is due to the combination of different factors like responsiveness, auditory tics (the tak-tak-tak of keys), spaces between keys, and smoothness.
If you're working for long hours, a tactile keyboard will keep you in a rapid 'flow' state. You will become more productive and highly efficient. Such a keyboard can also help in gaming, but it's a minimal factor once compared with other important game equipment.
Brand suggestions: Ducky One, ANNE, & Dierya
Durability
Among the major factors attributed to 60% keyboards, durability is the hardest to determine. You can't rely plainly on one or two reviews. Rather, you must scour multiple reviews to know if a keyboard is durable or not.
Finding a durable 60% keyboard is a wise move because you don't have to spend too much money on replacement. All of the keyboards that we've introduced above are accurate and reliable for long-term usage.
Brand suggestions: ANNE PRO & Vortexgear
Inclusive Accessories
Not all keyboard providers are generous with accessories and customization options. Some will just offer the plain 60% keyboard, while others will offer bonuses like decals, mini-stands, and carrying cases. Watch out for these providers and brands – they are worth your time and money.
Brand suggestions: ANNE PRO, Redragon, Vortexgear
Conclusion
Have you figured out which factors matter to you in terms of picking a 60% mechanical keyboard? The keyboards that we mentioned will jumpstart your selection but it's also important to take note of your preferred keyboard factors. By doing so, you can cut your average choosing time by as half. And once you're convinced, don't hesitate to click that 'purchase' button!
Are you looking for a high-quality mechanical keyboard? You can now begin with our exclusive list of the best 60% mechanical keyboards!
Recap: 11 best 60% keyboards of 2021.
Vortexgear Race 3 – Mechanical Gaming Keyboard
Have you figured out which factors matter to you in terms of picking a 60% mechanical keyboard? The keyboards that we mentioned will jumpstart your selection but it's also important to take note of your preferred keyboard factors. By doing so, you can cut your average choosing time by as half. And once you're convinced, don't hesitate to click that 'purchase' button!