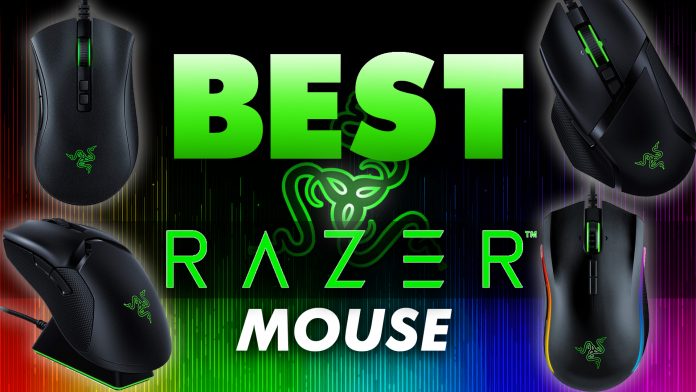 Gamers like Bugha, Shroud, DrDisrespect, among others, are making sure they're picking the right mouse to dominate the gaming industry. That's because the right mouse fits incredibly well in the palm of your hand and responds to the clicks, taps, rolls, scrolls, and other inputs that guide your gaming experience.
Razer is one of the industry's best makers of gaming mice and sponsors professional eSports teams. A top Razer player will use the best Razer mice.
That's why we've come up with a list of the best mice Razer has in its roster. Check them out below.
The Best Razer Mouse Picks: Our Top Razer Mice Choices
Razer DeathAdder V2
Overall, the best Razer mouse in terms of features, performance, and value.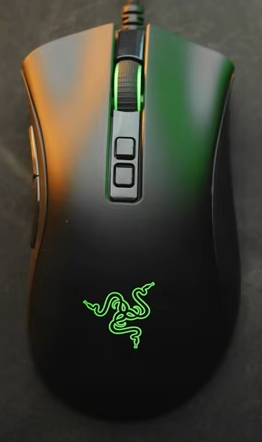 Technical Specifications:
Dimensions (L x W x H): 127mm x 61.7mm x 42.7mm
Weight: 82g
Connectivity: Wired
Sensor: Focus + 20K DPI Optical Sensor
DPI Settings: Up To 20,000 DPI
Ratings:
Comfort: 5 / 5
Responsiveness: 5 / 5
Durability: 5 / 5
Razer's iconic DeathAdder has been among the industry's best gaming mice for the past decade, and it's not among the cheap gaming mouse in the market. For many, the original DeathAdder is the epitome of mouse-gaming excellence (even closely compared to SteelSeries mouse models. The new Razer DeathAdder V2 keeps the original mouse's same ergonomic design but packs it full of so much more.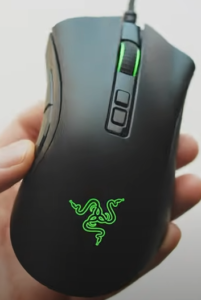 The new version gets Razer's new Speedflex cable that is limber and pliable instead of stiff and rigid. That makes it move as freely as a wireless while still performing as quickly as the best wired mice.
Similar to SteelSeries top-rated gaming mouse, the DeathAdderV2 gets new optical switches and three new button buttons. The new DeathAdderV2 gets eight control buttons instead of the prior model's five for better control of gaming inputs. Razer's new Focus+ sensor delivers 20,000 DPI, which is a 25 percent increase over the prior PMW3389 sensor. Clicks get registered in just 0.2 milliseconds, which PCWorld says is unbelievably fast.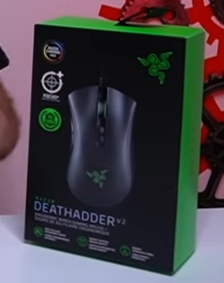 New optical switches are massive improvements on mechanical switches, but PCWorld says most will not notice the difference until general gaming technology improves. Its greatest achievement is its Speedflex cable and improvement upon the prior DeathAdder gaming mouse.
Both the Razer Deathadder V2 and Logitech G502 are wired gaming mice. However, compared to the G502, the Deathadder V2 has a better sensor performance and click latency.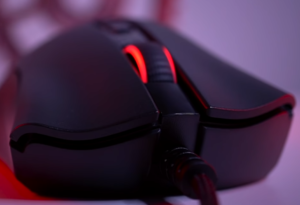 These slight improvements aren't that significant. In addition, the Deathadder V2 weighs less and comes with a more flexible cable than the G502. On the other hand, the Logitech G502 has more buttons and its software is compatible with Windows and macOS. Razer's Synapse 3 software only supports Windows.
Overall, the Razer Deathadder V2 is the best Razer mouse in terms of overall performance and features. It essentially has everything you need in a gaming mouse manufactured by Razer (or any company for that matter) so don't expect to see cheap price tags on this one.
Razer Naga Pro
The best wireless Razer mouse with multiple buttons for MOBA and MMO.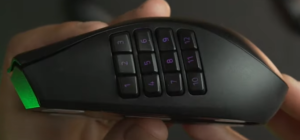 Technical Specifications:
Dimensions (L x W x H): 119mm x 74.5mm x 43mm
Weight: 117g
Connectivity: Wireless
Sensor: Optical
DPI Settings: Up To 20,000
Ratings:
Comfort: 4 / 5
Responsiveness: 5 / 5
Durability: 4 / 5
The Razer Naga Pro is the best Razer mice for people who needs a lot of programmable buttons. It's specifically made for MOBA/ MMO titles which require assigning functions and macros to keep you ahead of the game.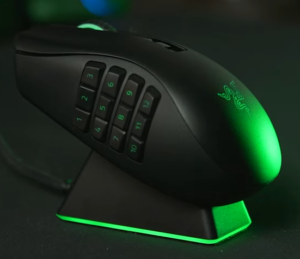 Image Source
The three swappable side plates are used to select the button layout you need for both work and play. You can assign and modify functions through their Razer Synapse 3 software. However, we believe that some layouts require more spacing or differentiation between them, especially if you have large fingers.
This wireless mouse has an incredible battery life of up to 150 hours for long periods of use without distractions. It offers 100% PTFE mouse feet for slick mouse movements across multiple surface types.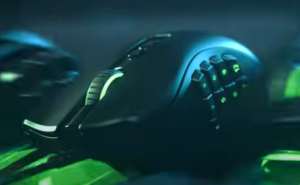 Performance-wise, the Razer Naga Pro is excellent. The buttons, including the wheel, are very responsive. It offers extremely low latency and interference reduction for both Bluetooth and 2.4GHz wireless connections.
The Razer Naga Pro is a durable wireless mouse with its frame having a solid feel. It is well-built with buttons that aren't flimsy or wobbly at all.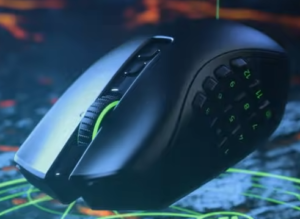 Both the Corsair SCIMITAR PRO RGB and the Razer Naga Pro have multiple programmable buttons for MMO titles. However, the Razer is more versatile with its swappable slide plates to suit any type of gaming from MMO to FPS. On the other hand, the Corsair is used to a limited degree with 12 additional buttons on its side. The Razer Naga Pro is suited to people with big hands, while the SCIMITAR PRO RGB can be used by gamers with small hands.
Overall, the Razer Naga Pro is the best Razer mouse with swappable side plates for multiple layouts of buttons you need for work or play. You can use it while charging and you can also use Bluetooth or its 2.4GHz connection. The choice is up to you.
Razer Orochi V2
The best ultra lightweight gaming mouse that weighs under 60 grams.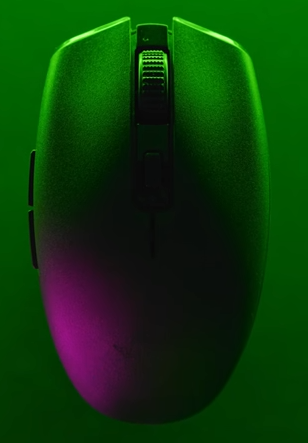 Technical Specifications:
Dimensions (L x W x H): 108mm x 60mm x 38mm
Weight: Less than 60g
Connectivity: Wireless
Sensor: Optical
DPI Settings: Up to 18,000 DPI
Ratings:
Comfort: 5 / 5
Responsiveness: 5 / 5
Durability: 4 / 5
The Razer Orochi V2 is the best Razer mouse that weighs less than 60 grams. This ultra lightweight mouse comes in two wireless modes, 2.4GHz and Bluetooth connections. Unfortunately, the batteries are not rechargeable. On the flipside, battery life lasts from 450 hours to 900 hours, which helps to minimize the annoying task of changing batteries every now and then.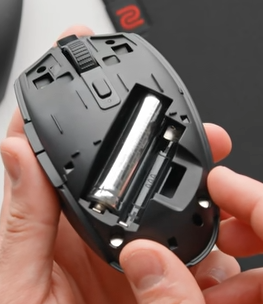 The design of Orochi V2 is quite unique. As you will notice from its name, the look comes from the Japanese legendary creature — a serpent of eight heads and eight tails. Although RGB lighting is not available, the serpent's appearance will definitely suffice for your gamer's appetite.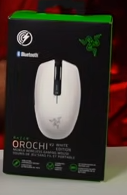 The Orochi V2 is great for all grip styles, may it be fingertip, claw, or palm grip. It feels very premium to the touch, but tends to be greasy when used for a long period of time. Clicks are quiet but responsive, making it great for silent work environments too.
Compared to the Corsair Katar Pro, the Orochi V2 offers more than 400 hours of battery life with two AAA batteries. On the other hand, the Katar Pro only lasts for up to 135 hours with one AA battery. The Orochi V2 has a traditional design as opposed to the Glorious Model O Wireless which has a honeycomb pattern. Both the Orochi V2 and Model O Wireless are ambidextrous, have notched wheels, and offer six programmable buttons.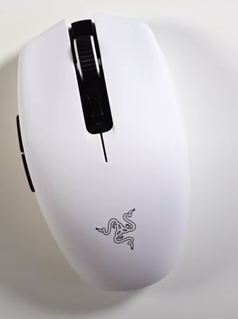 That being said, the Orochi V2 is a great choice if you're looking for an ultra lightweight wireless mouse with multiple connection options. It's best for small- to medium-sized hands of all grip styles, making it a very versatile mouse indeed.
Razer Viper 8KHz
The best Razer mouse with the fastest response times and smoothest cursor movements.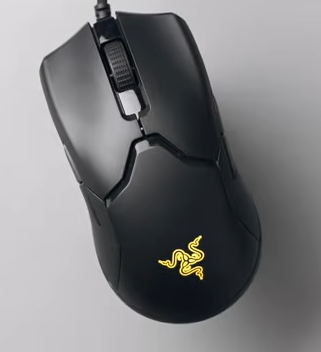 Technical Specifications:
Dimensions (L x W x H): 126.73mm x 57.6mm x 37.81mm
Weight: 71g
Connectivity: Wired
Sensor: Razer Focus+ Optical Sensor
DPI Settings: Up To 20,000 DPI
Ratings:
Comfort: 5 / 5
Responsiveness: 5 / 5
Durability: 5 / 5
The Viper 8KHz is the best Razer mouse with the fastest response times thanks to its true 8000Hz adjustable polling rate. The name is there for a reason. This mouse offers 8x faster speeds and lower latencies compared to other gaming mice.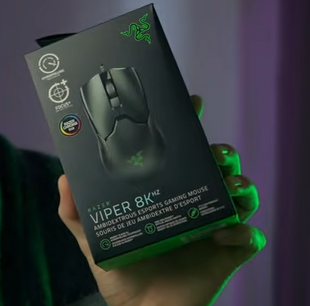 Razer Synapse 3 can be used to adjust the settings of this ambidextrous mouse designed for eSports. You can modify RGB lighting, polling rate, DPI sensitivity, and more. However, there is no tilt scroll wheel available, which may not be a big problem at all.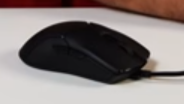 This mouse weighs only 71 grams, but is still well-built. The form factor is excellent and the frame doesn't feel cheap at all. It also has great tactile feedback wherein button clicks feel very satisfactory. Razer's SpeedFlex cable ensures flexibility for minimal drag during gameplay. This helps you make swift flick movements for critical moments.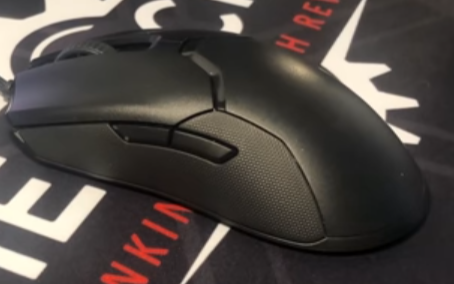 Compared to the Razer Viper Ultimate, the Viper 8KHz is wired, while the former is wireless. The biggest difference between the two is the maximum polling rate. The Ultimate maxes out at 1000Hz, while the Viper 8KHz has a maximum polling rate of 8000Hz. This means the 8KHz offers movements that are smoother and more fluid.
Overall, if you want a premium Razer mouse with very fast response times and amazingly smooth cursor movements, you should go for the Razer Viper 8KHz. Its 8000Hz polling rate is surely the highlight of this gaming accessory.
Razer Pro Click HumanScale Wireless Mouse
The most ergonomic and comfortable Razer mouse.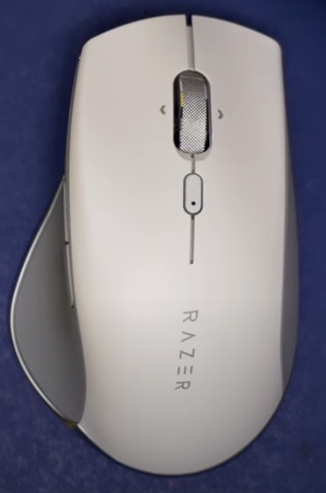 Technical Specifications:
Dimensions (L x W x H): 126.7mm x 79.7mm x 45.7mm
Weight: 106g
Connectivity: Wireless
Sensor: Optical Sensor
DPI Settings: Up To 16,000 DPI
Ratings:
Comfort: 5 / 5
Responsiveness: 4 / 5
Durability: 5 / 5
The Razer Pro Click is a wireless, ergonomic mouse engineered by HumanScale and Razer for ultimate productivity/ It adds palm support to prevent strain and to improve arm posture. Thus, you can work or play for long periods without straining your hands and wrists.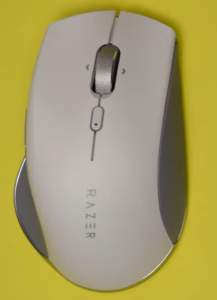 Apart from being ergonomic, this mouse offers tilt-click scroll wheel and eight programmable buttons. You can assign macros and secondary functions to streamline workflow and gameplay. You can even pair this wireless mouse to four different devices. Switching among your TV, laptop, desktop, and Android tablet has never been easier. Bluetooth and 2.4GHz wireless connections are both available too.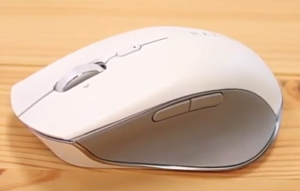 This mouse is rechargeable and you can use it while charging. Fortunately, it offers an extended battery life of up to 400 hours via Bluetooth and up to 200 hours via its 2.4GHz wireless connection. Long hours of gameplay and work (without distractions) are possible with the Razer Pro Click.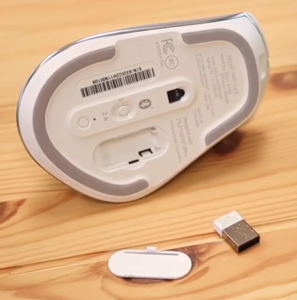 This mouse is usually compared to the Logitech MX Master 3. Both are wireless mice, but we believe that the Pro Click is better for certain reasons. For one, it is lighter which means faster flick movements. It also has a higher polling rate for smoother cursor movements. Plus, the Razer Pro Click has a lower click latency and a wider CPI range. That being said, both the Pro Click and the Logitech MX Master 3 are comfortable to use.
Overall, if you're looking for the best ergonomically-design Razer mouse, the Pro Click should be at the top of your list. Given the fact that it is engineered by scientists at HumanScale, you're sure to avoid strain and fatigue during extended work or gaming sessions.
Razer Basilisk X Hyperspeed
The best wireless mouse with impressive battery life.
Technical Specifications:
Dimensions (L x W x H): 130 mm x 60 mm x 42 mm
Weight: 83g
Connectivity: Wireless
Sensor: Optical
DPI Settings: Up To 16,000 DPI
Ratings:
Comfort: 4 / 5
Responsiveness: 3 / 5
Durability: 4 / 5
Another great wireless mouse, the Razer Basilisk X Hyperspeed sits atop Razer's impressive lineup of Basilisk gaming mice. The Basilisk X Hyperspeed delivers a combination of excellent performance at a reasonable price to give you a truly great gaming experience.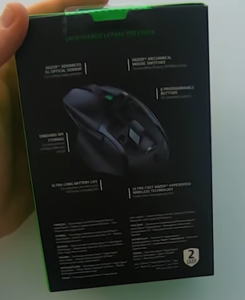 Like the original Basilisk, the X Hyperspeed is tall and has a large thumb grip equipped with a pair of thumb buttons. The Razer 5G Advanced optical sensor delivers 16,000 DPI potential and tracking speeds as fast as 450 IPS. You can apply up to 40G of accelerations for true hyper-speed performance.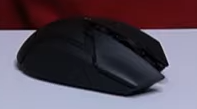 When it comes to gaming performance, the Basilisk X Hyperspeed truly excels. A 2.4 GHz wireless connection works as well as any around. There is no latency – even when playing at 100 frames per second while gaming. Tracking is consistent throughout your gameplay.
It works equally well when doing subtle movements or widely sweeping changes within your gaming context. The batter is incredibly impressive with up to 285 hours available between charges. That is when you use the HyperSpeed Wireless connection. The Bluetooth connection delivers up to 450 hours between charges but does not work as well with the gaming platform.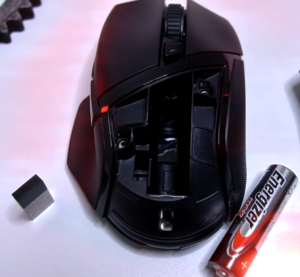 Compared to the Logitech G305, the Basilisk X Hyperspeed has a wider CPI range and offers multiple programmable inputs because of its HyperShift technology. In addition, this Razer mouse fits all grip styles and accommodates more hand sizes than the G305.
Overall, the deciding factor for the Razer Basilisk X Hyperspeed is the impressive battery life. If you hate charging and changing batteries often, this is an excellent mouse to purchase. The bottom line is, the Basilisk X Hyperspeed truly is among the very best in the wireless realm.
The Best Razer Mouse: Our List Of Runner-Ups
Razer Naga X
The best wired Razer mouse with a lot of programmable buttons for MMO and MOBA.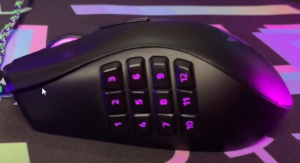 Technical Specifications:
Dimensions (L x W x H): 119mm x 74mm x 43mm
Weight (Without Cable): 85g
Connectivity: Wired
Sensor: Optical
DPI Settings: Up To 18,000
Ratings:
Comfort: 4 / 5
Responsiveness: 5 / 5
Durability: 4 / 5
The Razer Naga X is an ergonomic gaming mouse that offers up to 16 programmable buttons. It is 30g+ plus lighter than the Naga Pro and is suited for gamers with medium- to large-sized hands.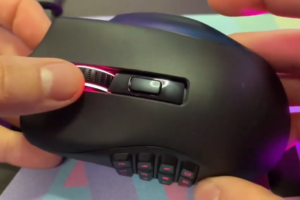 You can assign important hotkeys or macros through its software, the Razer Synapse 3. You can even use a secondary button profile you can toggle with a simple press of a button. Because it weighs less than the Razer Naga Pro, you can make swift movements that are effortless. However, it has a right-handed design suited for those with the palm or claw grip.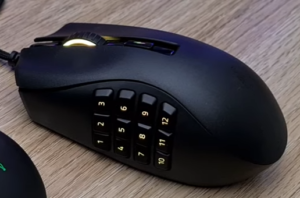 Apart from its programmable buttons, another highlight of the Naga X is its Razer 5G Advanced Optical Sensor. This sensor has a 99.4% tracking accuracy. Precision can also be calibrated through the Razer Synapse software by creating a preset or customized mouse surface profile.
The Razer Naga X also has a solid, sturdy build which doesn't feel cheap at all. Buttons are intact and don't wobble when used. In addition, the 100% PTFE mouse feet allows you to make swift, slick movements on different types of surfaces.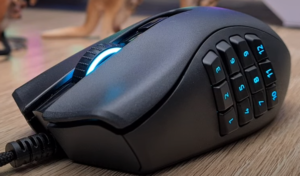 This wired mouse is connected to the Razer SpeedFlex Cable for better flexibility. It is designed by Razer for minimal drag whil use. Thus, gamers can perform smoother and quicker movements with the Razer Naga X.
Overall, this mouse is a great choice for MMO gamers who have medium- to large-sized hands. Its 16 programmable buttons can get you to the lead when playing MMO titles such as World Of Warcraft.
Razer Atheris
The most portable Razer mouse.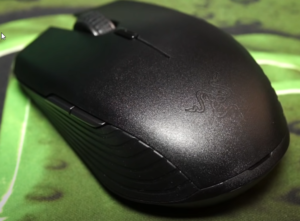 Technical Specifications:
Dimensions (L x W x H): 99.7 mm x 62.8 mm x 34.1 mm
Weight: 66g
Sensor: Optical
Connectivity: Wireless
DPI Settings: Up To 7,200 DPI
Ratings:
Comfort: 4 / 5
Responsiveness: 4 / 5
Durability: 3 / 5
If you like using laptops for gaming fun, the Razer Atheris is a dynamite option. The wireless mouse is small, light, ergonomic, and looks really freaking cool. It weighs 3.5 ounces with batteries installed and measures about 4 inches by 2.5 inches. That is a very portable size and simple enough to slip into your pocket, a laptop bag, or backpack. The smaller size can make it a mouse that you need to get used to due to the lack of a rest for the back of your palm. Some players might find that annoying over a lengthy gaming session.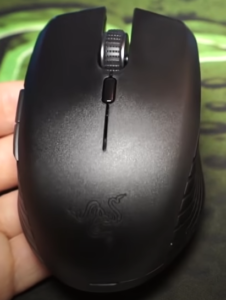 The ambidextrous wireless mouse works great when you are accustomed to its smaller size. That is especially beneficial due to the mouse being a truly great one for gaming. It offers the 2.5GHz wireless connection, but doesn't offer a Bluetooth alternative.
TomsGuide suggests uninstalling the Chroma SDK software to get the best results. The Chroma SDK software has known issues that can cause it to crash when playing Overwatch. Since the Atheris does not have lighting, the Chroma SDK is not needed.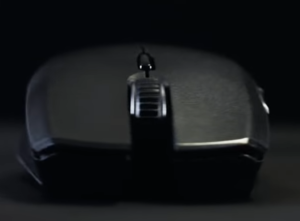 TomsGuide says you just uninstall it and Overwatch suddenly stops crashing. The mouse plays perfectly in StarCraft: Remastered and the World of Warcraft virtual realm. The Atheris works just fine with the new Razer laptops and gives you a very simple, reliable, and nearly flawless gaming mouse that you can customize with downloadable software.
Both the Razer Atheris and the Logitech MX Anywhere 3 are wireless mice. However, the MX Anywhere 3 is more attuned to office work (as opposed to gaming). The Razer Atheris is a more portable gaming mouse versus the MX Anywhere 3. In addition, the Atheris has a higher polling rate and a wider CPI range.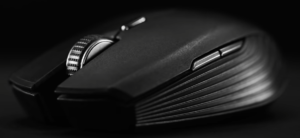 From what we've learned, the highlight of the Razer Atheris is its portability. If you're looking for a wireless mouse that's easy to carry around for business or casual gaming, then you should go for this Razer mouse model.
Razer Viper Ultimate
The runner-up wireless Razer mouse.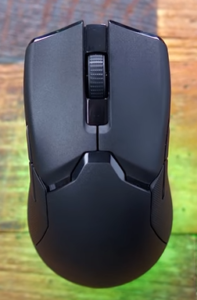 Technical Specifications:
Dimensions (L x W x H): 126.73 mm x 57.6 mm x 37.81 mm
Weight: 74g
Connectivity: Wireless
Sensor: Optical
DPI Settings: Up To 20,000
Ratings:
Comfort: 4 / 5
Responsiveness: 5 / 5
Durability: 4 / 5
The Razer Viper Ultimate is one of the most advanced wireless gaming mice on the market. A 20k CPI sensor gives industry-leading performance. There is no lag when using the wireless gaming mouse, which is light in the hand but has a very tactile feel and grip. It works equally well with either your left or right hand. PCGamer flat out calls it the best wireless gaming mouse available.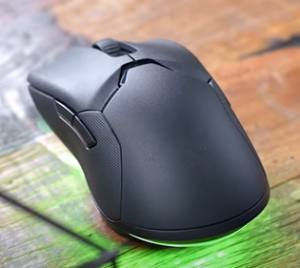 Razer powers the Viper Ultimate with its HyperSpeed Wireless technology for transmitting data. Razer says that is 25 percent faster than the competition. We cannot disagree as its latencies are under 0.2ms. That puts it in the same league as the fastest wired mice.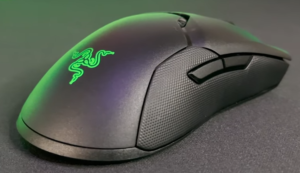 The mouse has a battery that lasts an estimated 70 hours between charges. We believe that this battery life, considering that other Razer mice can last up to 900 hours. Lucky for us, it has the Razer SpeedFlex cable for minimal drag and quick flick movements.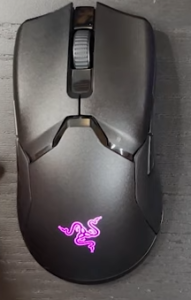 Compared to the Logitech G Pro Wireless, the Razer Viper Ultimate is slightly better. It has more programmable buttons and the cable offers less drag. The Razer Viper Ultimate is more comfortable to use than the G Pro Wireless. However, the G Pro Wireless has a more flexible software that can be used on both Windows and macOS. Razer's Synapse 3 only supports Windows platforms.
Razer Basilisk V2 Wired Gaming Mouse
Our runner-up for the best wired gaming mouse made by Razer.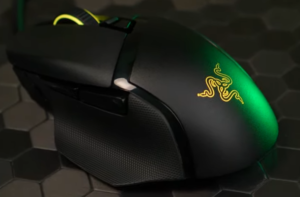 Technical Specifications:
Dimensions (L x W x H): 130mm x 60mm x 42mm
Weight: 92g
Connectivity: Wired
Sensor: Optical
DPI Settings: Up To 20,000 DPI
Ratings:
Comfort: 4 / 5
Responsiveness 5 / 5
Durability: 4 / 5
The Razer Basilisk V2 is another second-generation gaming mouse. It replaces the venerable Razer Basilisk that was released just two years ago. The new edition gives you a scroll wheel with roll resistance that you can customize. You get more programmable buttons to make the popular gaming mouse platform work more perfectly with your preferences.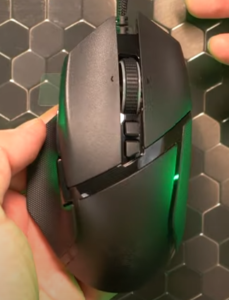 The Basilisk V2 takes styling cues from Razer's wireless versions of the Basilisk. Those are the Basilisk X Hyperspeed and Basilisk Ultimate. They donate their curved rest for the thumb on the left, which makes it a right-handed mouse. You get 11 buttons to fully customize the mouse to your playing preferences.
Sensitivity hits 20,000 dpi with a 1,000 Hz polling rate. A 7-foot cable keeps you connected and delivers lightning-fast gaming capability. PC Gamer says the 20,000 DPI sensor is the "best in the business." It delivers 99.6 percent resolution accuracy and tracks 650 inches per second. The mouse also is rated for up to 70 million clicks, which is about 40 percent more than the competition.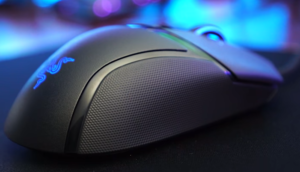 Compared to the Logitech G502 HERO mouse, the Razer Basilisk V2 is significantly better. The Basilisk V2 is lighter and has a better cable than the G502 because it minimizes drag. In addition, the Basilisk V2 is more comfortable when used for long periods.
On Logitech's flipside, it has a scroll wheel that features infinite scrolling (which isn't featured in the Basilisk V2). As mentioned previously, Razer's Synapse 3 software is available only on Windows, while Logitech's G Hub is available on both Windows and macOS.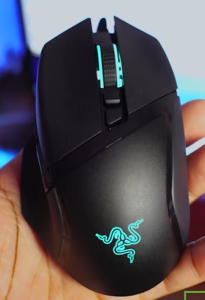 Overall, if you're looking for the jack-of-all-trades slash wired gaming mouse from Razer, the Basilisk V2 is the one you should get. It offers stellar performance in one gaming peripheral that's hard to beat.
Things to Consider Before Buying the Best Razer Mice for Gaming
A gaming mouse can be a costly investment. But it is a choice that will allow for a smoother, more comfortable, and customized gameplay experience. While no mouse is inherently "good" or "bad" for gaming, knowing your gaming style and your personal preferences are key to making a good decision when choosing a mouse for. A mouse that works for one gamer, wouldn't necessarily work for another.
1. Gaming Style
The style of games that you intend to play will greatly affect the style of gaming mouse you choose. For example, if you tend to play a lot of first-person shooters (FPS) games you would not necessarily need extra buttons, as you would be more focused on the sensitivity and accuracy of the mouse.
Although, there are plenty of accurate and sensitive FPS style mice with extra buttons if you would like them. There are even some with a sniping option that lowers the dots per inch (DPI) temporarily for a slower more precise shot. Alternatively, playing a real time strategy (RTS) game or massively multiplayer online (MMO) game would require extra buttons that can be programmed to alternative actions that can be activated quickly allowing a smoother gaming session.
2. Wired or Wireless Mouse
While gamers generally use a mix of wired and wireless mice – it comes down to their individual playing style. A wired mouse is more reactive, due to the cabled connection, signals immediately get sent where needed without a problem. Battery life is also not an issue with a wired mouse. But the wire can inhibit the gamer's range of motion and may not be suitable for someone more animated while gaming.
On the other hand, a wireless mouse allows for freedom of movement and a less tied down feeling while gaming. But has a reputation of being laggy and unresponsive due to the signals having to travel wirelessly to get to their destination. Wireless gaming mice also tend to be more expensive.
3. Hardware – Optical Sensor or Laser Sensor
Deciding which mouse sensor would suit you depends on your play style and environment played in. A mouse with an optical sensor would be best used on a rougher surface and has fairly decent accuracy. They do tend to have a lower DPI which is best for low-sensitivity gamers that like to use long sweeping motions of the mouse while gaming.
Alternatively, a mouse with a laser sensor will only really work on smooth surfaces but is far more accurate and has a higher DPI. This works better for gamers who prefer playing at a higher sensitivity and making short, fast movements that can cover the whole screen. DPI is also dependent on the gamer's screen size, as a gamer with a larger desktop display will need a higher DPI to get fluid mouse movements; they may prefer a gaming mouse with a laser sensor. But choosing a high DPI doesn't mean a better gaming experience. If a game or display takes a lower end DPI but a higher one is used it could lead to skipped frames and seeming overall more glitchy. Overall for gaming use, the optical sensor is typically preferred.
4. Type of Grip Used
The grip you use while gaming will help determine the size, shape, and weight needed of a mouse. There are three types of grips to be aware of, most gamers use one or a combination of one while they game. They are the palm, the claw, and the fingertip style.
Each style comes with its own recommended mouse shape. The palm grip is the most common and generally the most comfortable with almost the entire hand and fingers resting on the mouse. With this style of grip it's best to go with a larger mouse that is heavier, and has a higher arch on it.
The claw grip is when much less of the palm is on the mouse and the fingers are arched up in a more clutching style. This grip is used for faster, sharper movements. It is recommended that a gamer using this style use a medium sized and weighted mouse with a lower arch in order not to inhibit their movements.
The fingertip grip is the final and lightest of the grip styles used, with only the fingertips touching the mouse. This grip has the highest amount of precision of all the grips, but it does not have the ability to make sudden, quick movement as well as other grips. With that in mind, it is recommended to look for a small, lighter weighted mouse that is almost flat in shape for the fingertip grip.
5. Left Handed or Laptop Gamer?
Most popular gaming mice are set up in a very similar way. They are for right handed gamers. While it's certainly true that lefty mice are not as prevalent, they do exist and is something to keep in mind if you are left handed. Ambidextrous options allow both sides of a mouse to be symmetrical down to the curves and the button placements. In a similar vein, a gamer that uses a laptop instead of a desktop can find mouse options that are made with portability in mind. These gaming mice are normally smaller, lighter, and better used with a fingertip grip.
6. Customizing Software
Customization must also be kept in mind, as each individual gamer has their own aesthetic that can come through their mouse design if desired. Some gaming mice can be customized with different lighting profiles and software editing abilities depending on what the gamer wants.
These can include different flashes of light and colors, set DPI options, or profile saving. Profile saving is a feature with gaming mice that have additional buttons so that the gamer can save their button settings per game, and sometimes per character. Allowing easy switching of games without having to redo the settings each time. DPI options allow you to change how sensitive the mouse pointer is, allowing for quick and efficient or slower and more precise gameplay.
[BONUS VIDEO] How To Find The Right Gaming Mice
Below is a bonus video from GamingScan. It teaches you how to find the right gaming mouse for your needs:
Best Razer Mouse: Frequently-Asked Questions (FAQ's)
1. Are Razer mice good?
Absolutely! Razer is one of the best manufacturers of mice around the globe. Razer mice are typically divided into a few categories to suit the needs of the gamer. For instance, the Naga models are for MOBA or MMO. On the other hand, the Orochi models are ultra lightweight mice for FPS gamers. In addition, the Pro Click is ergonomically-designed for ultimate comfort.
Razer mice are excellent because the company has developed different technologies for users to have great gaming or work experiences. For example, the SpeedFlex cable by Razer was created for minimal drag. The Razer Optical Sensor is for ultimate responsiveness and smooth movements. In addition, you can customize DPI sensitivity, RGB lighting, polling rate, and more through its Razer Synapse 3 software.
2. Are Razer mice better than Logitech?
There is no comparison between the two. Both companies develop a wide variety of mice for different gaming styles or for streamlined workflow. Both Razer and Logitech even develop ergonomically-designed mice for comfort and to avoid strain (or fatigue). They also both manufacture ultra lightweight mice and mice with programmable buttons. In addition, Logitech and Razer have their own software for customizing your mice. Logitech has the G Hub software while Razer has the Synapse 3.
3. Is Razer a good brand?
Razer is absolutely a great brand that develops computer peripherals. It is one of the top brands used by pro players around the world. Their gaming chairs, mice, keyboards, laptops, and PCs are beyond par when it comes to standards. In addition, they're regarded as high-quality or premium quality by gamers worldwide. They even develop their own technologies to improve their line of products and to suit the needs of their users.
Recap: The Best Wired and Wireless Razer Mouse
Our Top Picks:
1. Razer Deathadder V2 – Overall Best Razer Mouse Based On Features, Value, And Performance
2. Razer Naga Pro – The Best Wireless Razer Mouse With Multiple Programmable Buttons
3. Razer Orochi V2 – The Best Ultra Lightweight Razer Mouse Under 60 Grams
4. Razer Viper 8KHz – The Best Razer Mouse With Fastest Response Times And Smoothest Cursor Movements
5. Razer Pro Click Humanscale Wireless Mouse – Most Ergonomic And Comfortable Razer Mouse
6. Razer Basilisk X Hyperspeed – The Best Wireless Mouse With Impressive Battery Life
The Runner-Ups:
7. Razer Naga X – The Best Wireless Mouse With Multiple Programmable Buttons
8. Razer Atheris – The Most Portable Razer Mouse
9. Razer Viper Ultimate – The Runner-Up Wireless Razer Mouse
10. Razer Basilisk V2 – The Runner-Up Wired Razer Mouse