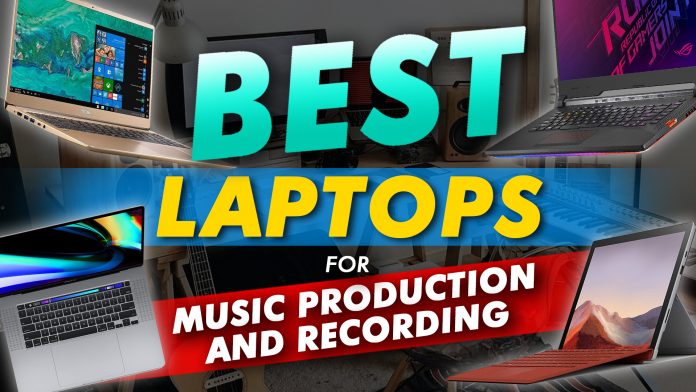 Do you want your music production to stand out in 2021 with reliably solid and riveting sounds?
Or do you want to take your music production outside your home or work studio and your PC or Mac is unportable?
Acquiring the best laptop for music production is the way to go, ensuring your music is epic and dynamic, all in a portable device.
DJs, musicians, and music producers no longer need chaining to the desktop format to produce invigorating music. Dell, Samsung, MSI, Lenovo, Asus, and other big tech companies have exceptional top laptops, all competing with Apple's long-standing history of producing the best laptops for music production.
The advanced technology implemented by these big tech companies gives music producers and DJs more options outside the MacBook.
In 2011, Intel changed the ball game with the Ultrabook, which came as a superior laptop due to its ultra-fast features, latest technology, and extra thin, sleek, and modern look. The availability of Ultrabook and other high-spec gaming laptops greatly favored music production.
When choosing the best laptop for music production, your first decision is whether you'll go for Mac or PC. If you're a Mac person, then the choice for you is more straightforward as you've narrowed down your selection to whether you want a big or small Apple device. For studio and on-the-go music production, the Apple M1 MackBook Pro is the ideal laptop we've picked for you.
If you're a PC lover, your options are endless, with various flawless laptops to consider. Our top picks are the Dell XPS 13 OLED, Microsoft Surface Pro 7, Razer 15 Studio Edition, and MSI GF63 8RD. You can't go wrong with either laptop; only your preferred specs and features will help you decide on the best laptop for music production.
5 Best Laptops for Music Production – Best Laptops for Music
1. Apple MacBook Pro M1 13 – Best Laptops for Music 2021
Enjoy the next level of music production with this dynamic laptop.
Apple being the pioneer, still ranks as the best laptop for music production on our list due to its excellent audio production quality.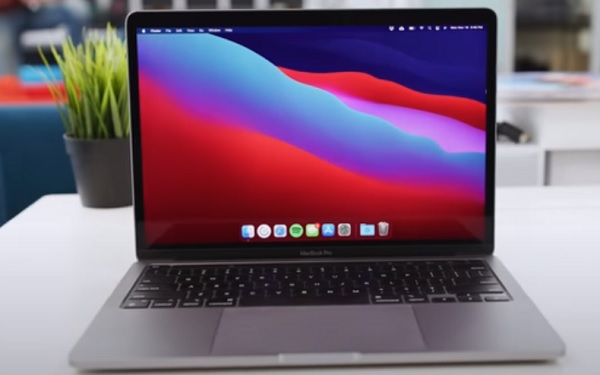 Specification
CPU: Apple M1
RAM: 8-16GB
Graphics: Apple M1
Processor speed: 3.2GHz
Screen: 13.3"
Retina display: (2560x1600p)
Storage: 256GB-2TB
Ranking
Performance: 1/5
Size and weight: 3/5
Keyboard and Touchpad: 1/5
USB Port options: 5/5
The 2019 edition MacBook was such a hit because of its ease of use and production quality. But the new apple silicon laptops received massive praise from mainstream media and guru tech reviewers due to their new in-house M1 chip.
The M1 chip offers an unprecedented boost in performance, speed, and battery life as it combines GPU, CPU, and memory into one chip, significantly decreasing power usage and improving your computer experience. For example, Pro takes 17minutes to transcode a 4K video clip to 1080p using the Handbrake app. MacBook Air and XPS 13 Corei7 take 15 minutes with the same Handbrake App.
Apple MacBook Pro still maintains the main chassis-built aluminum slab design with minor intriguing tweaks, though hard to differentiate from MacBook Air. It's as smooth as ever, sleek, and retains the modern style with three color options available; bright silver finish, moody space grey, and dark.
The MacBook is slightly weightier and larger than their stiff competitor window's Dell XPS 13. The MacBook measures 0.61 by 12by 8.4inches and weighs 3 pounds, while the Dell XPS weighs 2.6 pounds and measures 0.58 by 11.6 by 7.8 inches. They both have identical screen sizes.
MacBook Pro comes with a thin secondary touch bar not present in the previous version. The touch bar offers additional control and replaces the functions key on the keyboard.
MacBook Pro has a comfortable touchpad and keyboard after redesigning it recently. It has two-part switches:
A rubber dome beneath the keycap to provide bounce back and a springiness feel
Scissor mechanism which guides the keycap and prevents wobbly keys
The trackpad is phenomenal because its oversized with haptic feedback as opposed to the physical clicking structure. Together with the 16-inch MacBook Pro and MacBook Air, they're the only laptops with this unique feature. Lenovo Yoga 9i is a close second with their haptic-touchpad-enabled alternatives.
The MacBook comes with two USB Type-C connectors and one 3.5mm headphone jack. The limited ports might be a slight challenge for some music producers though there's the available option of getting USB expansion hubs and docks from Apple or other brands. The Apple Macbook's competitor, the Intel-powered 13inch Macbook Pro, comes with four USB-C ports.
The retina display has remained the same in this latest version, with a high native resolution of between HD and 4K. The display has a 13.3-inch panel that enables the actual tone features and helps colors appear magnificent and text sharp.
The webcam has a 720p resolution. The image signal processor in the M1 chip produces exquisite video quality with superb automatic balance and improved noise reduction.
Apple released the longest MacBook Pro battery life with this latest version. The Apple Macbook Pro battery lasts 16–20hrs with straight video playback, web browsing over wifi, and light music production. Its competitors in battery life, ZenBook, and Spectre last 13–15hrs.
2. Dell XPS 13 OLED
It is the perfect fit for on-the-go music production tours and the best alternative to the dull Apple MacBook Pro for music producers looking for an alternative. It has an elegant design, powerful specs, and a magnificent screen.
Specification
CPU: Intel Core i5–i7
RAM: 8GB–32GB
Graphics: Intel Iris Xe
Screen: 13.3" FHD (120×1200)/OLED (3456×2160)
Storage: 512GB
Processor speed: 3GHz
Ranking
Performance: 2/5
Size and weight: 2/5
Keyboard/touchpad: 3/5
USB Port options: 4/5
Dell XPS 13 still maintains the same style, performance, and quality as the previous versions but with an updated 11th generation Intel Core i5 and i7 processor. It also included a 3.5K ultra-colorful and ultra-high contrast OLED screen. If you value a dynamic display and don't mind the subtraction of battery life, this is the best laptop for your music production.
Dell XPS battery life is approximately 8hours which is short of the expected battery life of modern ultra-thin laptops. Their competitor MacBook Pro packs 16 hours of battery life and Surface Laptop 4 at 11 hours. But these two can't match the superior resolution and OLED technology of XPS 13.
Dell XPS 13 retains a fair weight of 2.8 pounds, making it the best windows-based portable laptop for music production. It measures 0.58 by 11.6 by 7.8 inches, having the exact measurements as its competitor Razer Book 13. It's less bulky than Razer, with a weight of 3.09pounds.
Like MacBook and Nano, Dell XPS 13 has only two USB 4 Type-C ports on each side. It has an audio jack on the right, a microSD card slot on the left, and a Thunderbolt 4 for connecting to monitors, transferring data, and charging. Their rival Razer Book has the upper hand as it includes an HDMI slot and USB Type-A port. XPS tries to match this by including a USB A adapter with your purchase.
The keyboard neatly takes all space with the regular 8-inch span from right to left, making them big enough to navigate. The keypads have a smooth typing feel and are comfortably shallow without the clicky sound from rivals like Macbook Air and Spectre x360. XPS 13 has a buttonless touchpad that glides effortlessly with a gentle click.
Additional features like the aluminum chassis housing, lid sensor, facial recognition, and HD front-facing webcam make XPS 13 one of the laptops for music production.
3. Microsoft Surface Pro 7
If you are one of the music producers looking for a touch screen option and two-in-one functionality of a laptop and detachable tablet, the Microsoft Surface Pro 7 is your best laptop for music production.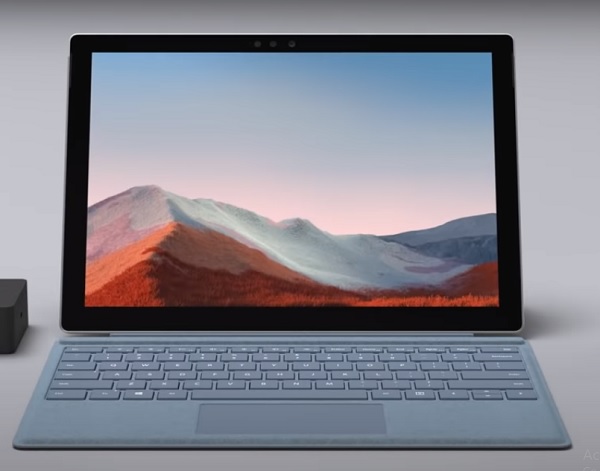 Specification
CPU: Intel Core i3–i7
RAM: 4GB–16GB
Screen: 12.3" FHD
Graphics: Intel Iris Plus
Storage: 128GB–1TB SSD
Processor speed: 1.1GHz
Ranking
Performance: 5/5
Size and weight: 1/5
Keyboard/touchpad: 5/5
USB Port options: 5/5
Microsoft Surface Pro 7 is edging closer to bridging the gap with Apple's creative professional laptops. It has a strong grip with the superb combination of laptop efficiency with the mobility of a tablet.
Considering its 2-in-1 design, you'd think they'd compromise with performance, but Microsoft Pro 7 is built with the 10th Gen Intel Core i5 supporting 1TB of SSD storage and 16GB of RAM. Having the latest version of Windows 10, it can run a loaded music production software and perform exceptionally well.
Microsoft Surface Pro 7 has a magnesium alloy design and is generally a compact and stylish device. The design is similar to the previous versions apart from color variation and the extra USB Type-C port. Pro 7 comes in a platinum-colored industrial look, while the sleek pro version is black.
The laptop measures 0.33 by 11.5 by 7.9 inches and is the perfect portable device with a weight of 1.7 pounds. The closest competitor of dual functionality is the XPS 13 2-in-1 which measures 0.51 by 11.7 by 11.7 and weighs 2.9 pounds. That's a heck of a gap for weight. The downside of Pro 7 is that the bezels are thick, and all the latest laptops for music production aim at a razor-thin bezel finish.
As for the keyboard, the tablet and the surface type cover detachable keypad are sold separately. The device comes with an in-built rear kickstand that's fully adjustable up to 165 degrees or near flat. The Type C keyboard cover has large and well-spaced keys with soft Alcantra fabric lining it for comfort. The keyboard attaches firmly to the tablet with strong magnets.
The significant improvement of this latest version is the addition of a USB Type-C port. It's located on the right side with the USB 3.1 Type-A port. The other connection remains the same as its predecessor, with the surface connect port for charging next to the Type-C port. The headphone jack is on the left, and the micro SD slot hides behind the kickstand.
Microsoft Surface Pro 7 is the go-to laptop compared to the iPad Pro and XPS 13 2-in-1. It allows you to enjoy the tablet function plus all the other music production details while giving you reliable battery life. The major drawback compared to the rest is the price if you factor in buying the keyboard separately.
4. Razer Blade 15 Studio Edition
If you prefer a laptop with speed and performance originally from the gaming world and still incorporates powerful creative pursuits in music production, this is the best laptop for you.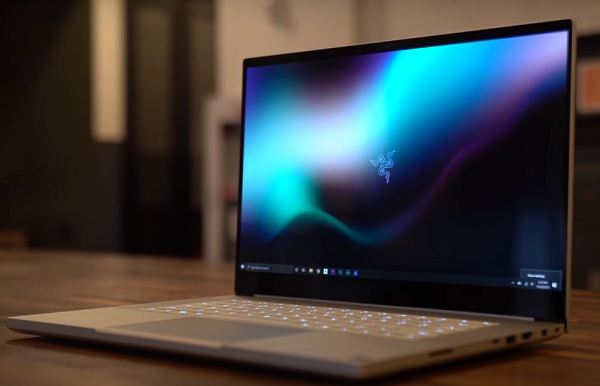 Specification
CPU: 8th Gen Intel Core i7
RAM: 32GB
Graphics: Nvidia Geforce GTX 1060
Screen: 15.6 OLED 4K Touch
Storage: 1TB SSD
Processor speed: 2.6GHz
Ranking
Performance: 3/5
Size and weight: 5/5
Keyboard/touchpad: 3/5
USB Port options: 1/5
The Razer Blade Studio Edition has a premium mercury shade over its aluminum hood with a sleek glossy silver logo at the center. Although it has a super-chic design, it lacks the independent software satisfaction ISS and enterprise-grade features of the Lenovo Thinkpad P53.
The Studio edition is a 15" laptop that measures14 by 9.3 by 0.7 inches and weighs 4.8 pounds. It's heavier than its competitor MSI WS65 9TM which weighs 4.3 pounds and measures 14.1 by 9.8 by 0.7 inches. It fairs better than the Asus ProArt StudioBook Pro W700G3T, which weighs 5.4pounds and measures 15 by 11.3 by 0.7 inches.
Razer blade has multiple ports similar to their latest gaming edition blade 15 advanced. The ports include:
Thunderbolt 3 (USB-C), HDMI
Three USB 3.1 Type-A ports
Audio combo jack
Mini display video outputs
It also has a full-sized SD card slot and the Kensington-style lock slot, both on the right. It doesn't have an ethernet port, but you can use a USB adapter.
Blade 15 studio Edition has an advanced keyboard with a white-keyed version that offers per-key RGB customizable via Chroma Studio. You can also use presets like Static or effortlessly assign each key color and effect. The keyboard backlighting is laser-sharp, and brightness is contained within each key which accentuates the OLED display. The touchpad is soft and spacious with slightly stiff clicks.
The excellent CPU Intel Core i7 capacity, 32GB RAM, and Nvidia Geforce GTX 1060 makes it a perfect fit for dual screens in a studio session if you can get the DAW to use its GPU. Having an audio interface will enable you to meet all your music production needs.
Related: Best Laptop for Programming
5. MSI GF63 8RD
MSI is a respected brand in the gaming industry with a laptop that has a commanding appeal in its performance and dynamic features for music production.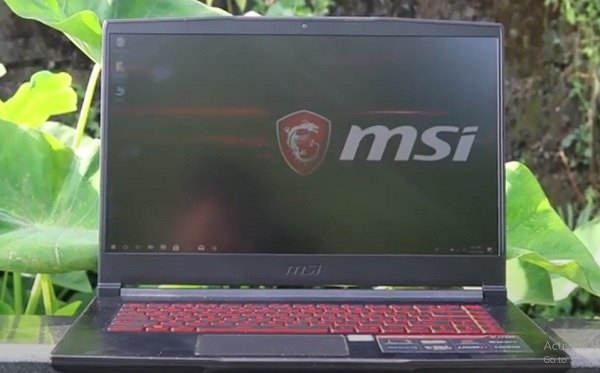 Specifications
CPU: 9th Gen Intel i5
Graphics: Nvidia Geforce GTX 1650 4GB
RAM: 8 GB
Screen: 15.6" FHD
Storage: 256GB SSD
Processor speed: 2.2GHz
Ranking
Performance: 4/5
Size and weight: 4/5
Keyboard/touchpad: 4/5
USB Port options: 2/5
MSI GF63 mainly delivers good value overall, with less emphasis on high-powered graphics needed by gaming laptops. It hides the impressive features in a stylish chassis similar to the premium MSI GS65 Stealth Thin. It's more affordable than most music production laptops with an Intel Core i5 processor, NVidia Geforce GTX 1650, 256GB SSD storage, and processor speed of 2.2GHz to perform fast film and audio read and write.
The GF63 has brushed aluminum, an all-black finish, a black keyboard, and red splashes around the keys. It only supports red key backlighting. The fiery-red MSI dragon logo completes the red and black look on the right side of the keyboard surface.
MSI reduced the display bezels to 4.9mm, which compliments well with its 15.6-inch screen and reduces the weight to 4.1pounds. GF63 measures 14.1 by ten by 0.85 inches making it slimmer than the Lenovo Legion Y730, measuring 14.4 by 10.8 by 1.0 inches, and Dell G5 15 at 15.32 by 10.8 by 1.0 inches.
You have a fair share of USB ports allowing you to connect all the necessary peripherals without additional adapters required. The right side has two USB 3.1 Type-A ports and a USB Type-C port but no Thunderbolt 3. There's also a headphone and mic jack and an Ethernet port for a good internet connection. The left side has a central PowerPoint and one USB 3.1 Type-A port.
The island-style keyboard has 1.4mm of travel which makes it slightly shallow but still has nice crispiness, which gives it an overall comfortable typing experience. GF63 has a large and sensitive 4.1 by 2.6-inch touchpad. It responds well to three-finger swipes and pinch-to-zoom gestures. The click buttons snap easily without a stiff feeling.
MSI ranks as one of the best laptops for music production because of its upgradable RAM, which can grow to 64GB. It also has an additional SATA HDD drive for keeping files which complements the 256GB storage capacity on your primary drive. If you plan on widening your music production, then MSI suits you best.
What to Consider Before Buying the Best Laptop for Music Production
Buying a laptop for music production is such an investment that you can't afford to go wrong with the choice you make. Knowing the specific factors you need to consider before making the purchase will save your quality of music, time, and money.
Here are five factors you need to consider carefully to get the best laptop fit for your music production needs:
Processor strength: A laptop with a recent processor will enable you to run any music software without compromising speed. A sound processor allows you to manage multiple music tracks without lagging. A 1.5GHz processor can work relatively well if you're starting, but above 2.0GHz is recommended for a daily music production schedule.
Memory (RAM): Imagine you're in the middle of a gig or creating a song, and you need to run a sub-program but yikes! Your RAM is full. Consider the music production quantity and quality you want to execute and leave room for expansion as you choose your laptop's memory capabilities. An 8GB RAM is a good start but aim for 16–32GB and 64GB for massive music production.
Powerful SSD: You want to have all your essential music production tools on you wherever you tour. A powerful SSD allows you to hold countless songs in folders without compromising on loading time. The recommended SSD for music production is 500GB– 2TB. The size varies with the workload, but a relatively busy music producer can get away with 256GB and has the option of adding a 1TB–2TB hard drive when they expand.
Portability: The fact that you're considering getting a laptop means you need a lightweight device that you can tour without busting your back. Go for the 13–14inch laptop that weighs under 4 pounds if you do regular travels. The most popular with a larger screen is the 15 inch which weighs between 4–5.5pounds.
Battery Life: You can't skip this factor if you plan to regularly produce your music outside your home or work studio. You need a laptop that lasts at least 7hours while using the basic music production functions. The ideal is an 8+ hours battery life laptop if you factor in other deep functions you'd like to handle.
Budget: A laptop with all top specs may not fit well into your budget, but some laptops produce exceptional music without going over your budget. You can get a notebook for music production at $500 with an Intel Core i5, AMD A8 CPU, 500GB hard drive, and 4-8GB RAM. Under this price, you may not get a notebook with SSD, long battery life, or full-HD display.
FAQ Regarding Laptops for Music Production
Is i5 Sufficient Enough for Music Production?
It depends on the style of music you're working on. I5 is brilliant for audio recording purposes but can limit you if you intend on using complex EDM with plenty of rendered synths and effects. The number of audio tracks, virtual or sampled guitar instruments or any instruments you intend to use at once also affects the overall experience with i5.
Which is More Important in Music Production, a Laptop's RAM or CPU?
CPU is by far more important than RAM in music production. If your music needs to expand, you can easily upgrade your RAM. Upgrading your CPU is near impossible; even adding a new processor is rarely achieved. The general rule is to look at the laptop's system as a whole to make the right choice as you assess the RAM and CPU.
Which Processor is Superior for Music Production in 2021?
A quad-core processor is the better option for all types of music production. It costs more, but it has excellent processing power and produces high-quality music. For outstanding results, an i5 goes well with 4 or 8GB RAM and i7 with 8 or 16GB RAM.
Is 32GB RAM Too Much for Music Production?
It depends. If you only use software synthesizers, loops, and drum samples, 32 GB is overkill because your DAW and a few software won't use more than 4GB. If you have tons of tracks and compose music using sample libraries with real instruments, 32GB is an excellent fit for you.
Do I need GPU for Music Production?
No, if you're okay with the pictures your onboard graphics card on your motherboard contains. If you need to do video editing or 3D modeling, then a graphics card is a must-have. Graphic cards connect the monitor with your computer, it generates superior images on your screen.
Get the Best Music Production Laptops that Meet Your Music Production Needs
Some of the best music production laptops are more equitable than others, but you'll reach your music production goals with either of these laptops. Your decision on which is the best laptop for music production depends on your greatest needs.
1. Apple MacBook Pro M1 13: Best performance speed due to the M1 chip
2. Dell XPS 13 OLED: Best screen display of 3.5k OLED
3. Microsoft Surface Pro 7: Best 2-in-1 functionality
4. Razer Blade 15 Studio Edition: Best multiple port options
5. MSI GF63 8RD: Best upgradable RAM
Pick one, and you will see the other side of your outstanding music production.