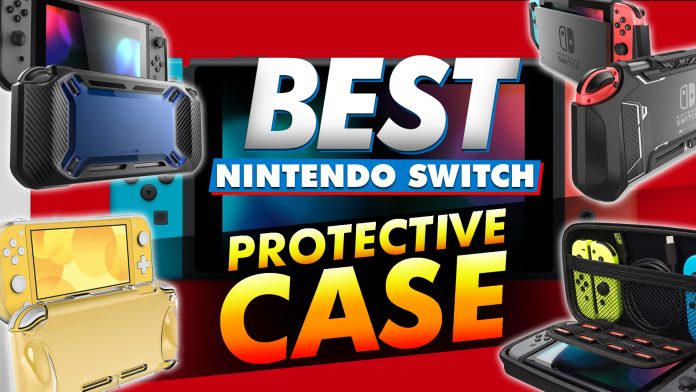 The best Nintendo Switch protective case should provide value for its worth. Protecting your Switch is a must if you are an owner, mainly because it is quite more delicate than most consoles out there. If you are a Switch owner, you should know that it's not the most solidly built console out there.
At a glance, here are the best Nintendo Switch carrying cases:
As you continue to use your Switch console, you will see things that a lot of other Switch users have noticed as well. They are commonly the following things:
It has detachable parts that are prone to getting loose

It has a screen that might get the dreaded "dead pixels" if continuously stored roughly

The Joy-Cons look flimsy and feel that they might break when dropped multiple times

Dust, liquid, and minute particles might destroy your Switch from the inside
Unless you own a Nintendo Switch Lite, which is built like a freakin' tank, then you need to get a case. Wait, scratch that, even the Switch Lite case still needs care because of the particles mentioned above that might get inside it. Handhelds are very susceptible to natural wear and tear, so proper protective gear is always a welcome purchase for owners.
But before you buy, the case needs to fulfill several criteria before you even consider buying it. There are a lot of cases out there in the market. And a cheap one might even do more harm than good. But this is easily one of the greatest Nintendo Switch deals.
For example, if the cloth inside the case quickly gets dirty or gives of lint easily. If you store your Nintendo Switch inside, there will still have small particles that invade your Switch's internals. So with that said, here are some criteria that we were looking at when we were making this list of the best protective cases for the Nintendo Switch:
External Protection – The case should be able to hold off any external impact that might ruin your console. The right case should have a good, double-layer combination of outside protection and internal padding to consider it one of the best.
Internal Protection – The padding inside of the case should be able to make sure that no impact from the outer cover reaches the Switch itself.
Waterproof – This should be under external protection. Still, we decided to make it a category in itself as some hard cases aren't waterproof at all. A proper Switch case should be able to block off moisture and liquids.
Carrying capacity – Of course, a proper case should be able to hold all of your external gear too! From chargers to cartridges, the best Switch cases out must be able to supply you with Nintendo Switch games wherever you need to go.
There are other things that you should consider too, essential information like portability, extra functions, design, etc. But we feel that the four categories above are enough to be deciding significant factors when choosing the right protective case for your beloved handheld console.
Let's look at the Best Nintendo Switch Cases that Money Can Buy
These all range from simple hand-carry cases to heavy-duty backpacks. Each of them differs from the other. Be sure to check each of them and pick out the best one for your lifestyle!
1. JETech Protective Case for Nintendo Switch Lite (Best Nintendo Switch case)
Best Overall: Ergonomic grip makes it super comfortable to use and makes carrying easier
External Protection: Average / Internal Protection: None / Waterproof: No / Carrying Capacity: None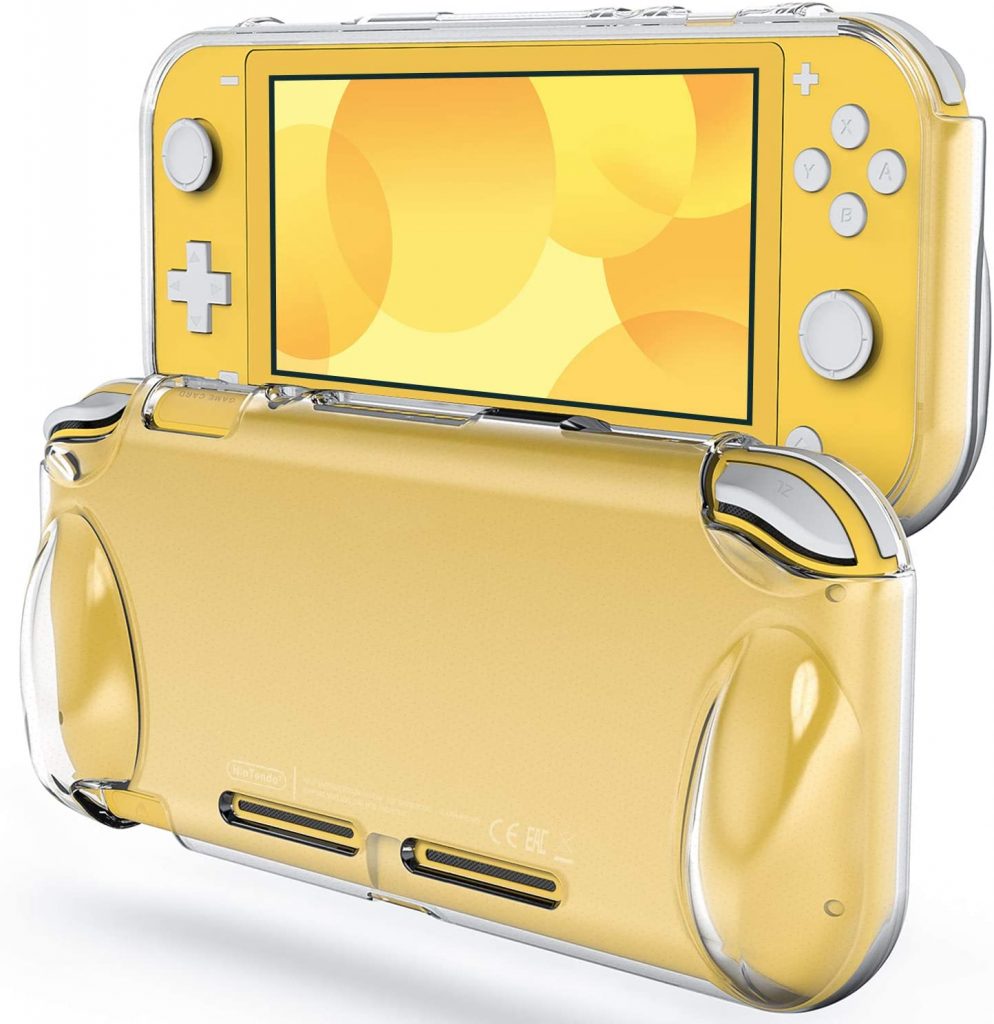 This protective case from JETech is specifically for the Nintendo Switch Lite, as opposed to the larger Nintendo Switch. It offers the perfect amount of protection for Switch players who use their device mainly at home and don't often travel with it. It's easily considered the best Nintendo Switch case.
The hard plastic case is clear, which is great if you want to be able to show off the color of the Switch itself rather than hide it. This case protects against damage from everyday use, including drops, bumps, and potential scratches.
The case only has one layer and features no internal protective cushioning or storage space. However, the shell case is built with premium TPU material, so it is durable and shock-resistant enough to withstand some damage.
The shape of the case itself is built with an ergonomic design, making it even more comfortable to hold and use than the Switch on its own. Grip curves along the back sides make it less likely that you will drop your Switch while playing, and all of the buttons and controls are easy to access.
Do note that the case has size dimensions of 8.35 inches x 3.78 inches x 1.04 inches. So, unless you own a Switch, this will not fit in. However, in case you are looking for something that can withstand a fall, you will surely want to think twice about getting the JETech for your Nintendo Switch Lite and consider the Mumba Blade Dockable Case, which we have also covered below.
The #NintendoSwitch #AnimalCrossing: New Horizons Aloha Edition Carrying Case & Screen Protector will also be available for purchase on 3/13! pic.twitter.com/NOyviTGmPt

— Nintendo of America (@NintendoAmerica) January 31, 2020
2. Mumba Blade Dockable Case (Best Nintendo Switch Case)
Among the Best Heavy Duty Cases for Nintendo Switch
External Protection: High / Internal Protection: High / Waterproof: No / Carrying Capacity: None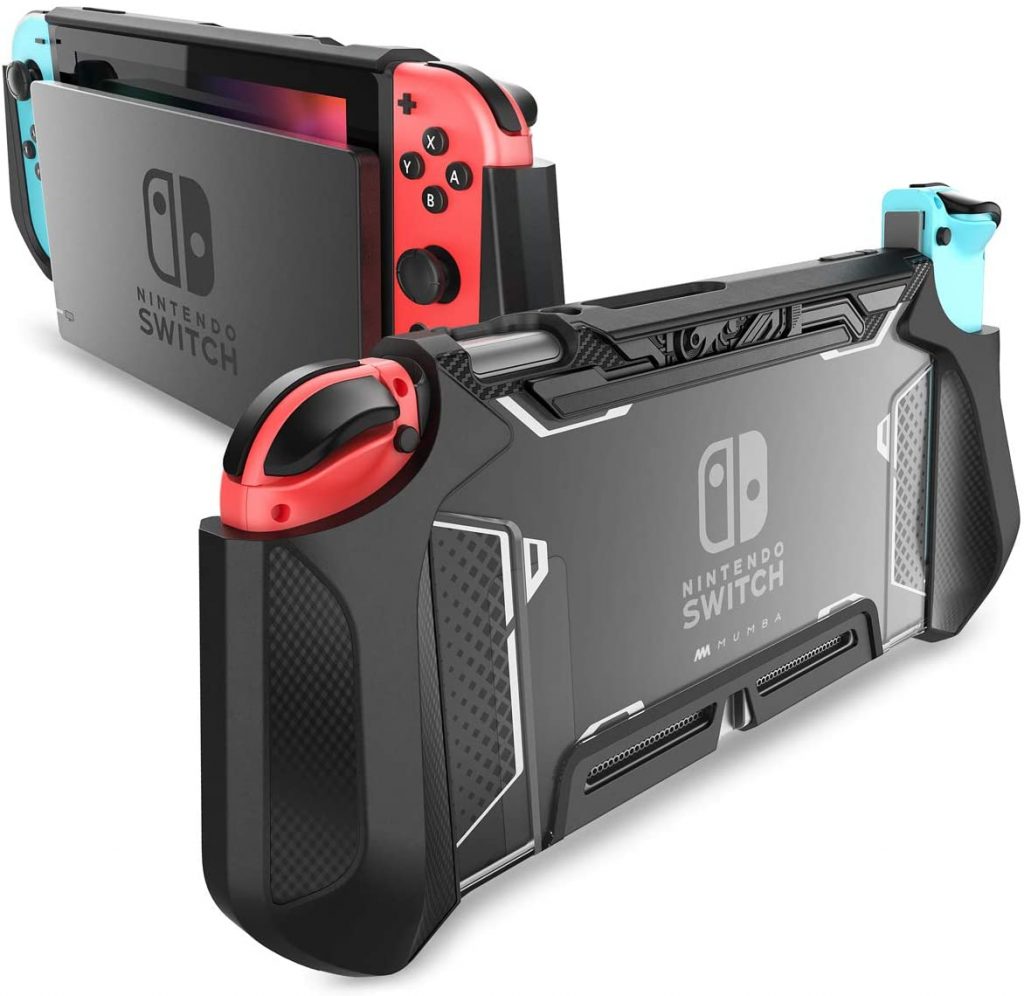 The Mumba Blade is an extremely durable and rugged protective case for the regular Nintendo Switch. It comes in various colors, including black, green, blue, and red.
The most convenient thing about this protective case is that it has been designed to fit inside the Nintendo Switch docking bay. Without having to remove the case, you can charge your Switch and use it in console mode.
The case is constructed with TPU that is thick, shock-absorbent, and flexible. This allows it to be easily put on and removed, and it also means that it allows the Switch to remain protected even during pretty significant bumps and falls.
The ergonomic shape of this cases' back makes it incredibly comfortable to hold and play in handheld mode. The material of the case itself is anti-slip, so drops are far less likely to even occur.
The case wraps around all four sides and the back of the Switch, but it has cutouts that make it easy to remove and insert the Joy-Cons without needing to remove the case itself. Precise cutouts are also featured for all of the buttons and speakers.
In terms of overall protection, you can easily rely on the Mumba Blade to deliver as its design and material are made to withstand such accidental falls. Unfortunately, it doesn't come with pockets to store whatever accessories you may have. If that's the case, then you will want to consider the Orzly Carry Case.
3. Orzly Carrying Case (Switch OLED Case Protector)
Best All-round Nintendo Switch OLED Protective Case and a Perfect Switch Lite Case
External Protection: High / Internal Protection: High / Waterproof: No / Carrying Capacity: Yes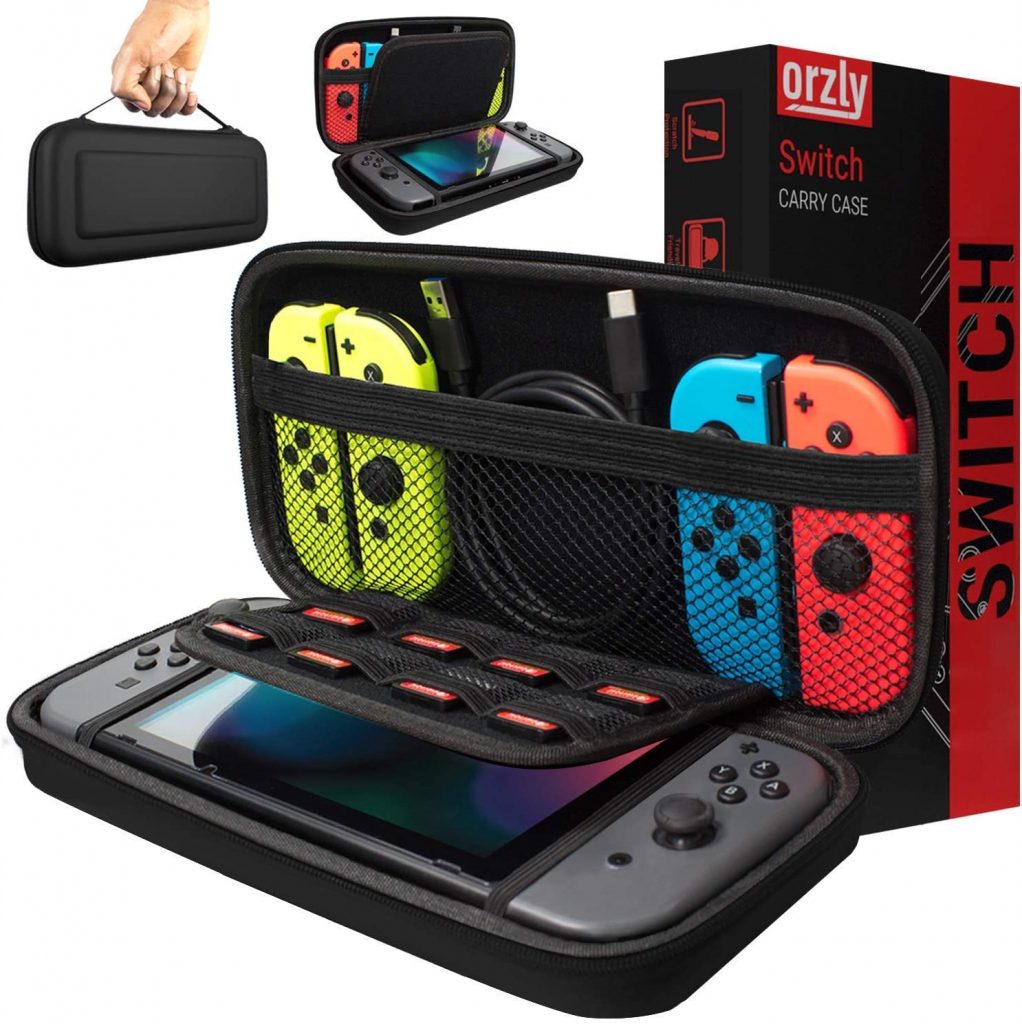 The Orzly Nintendo Switch carry case is one of the best options out there if you want something that is protective and also allows for safe transport and storage not only of the Switch itself but also your games and accessories.
The zipper case features a hard outer EVA shell, which protects the Switch itself, the Switch OLED, and accessories inside from damage due to bumps and falls. It also features screen protection, a rugged rubber handle, making it easy to take on the go.
Inside, the case features soft and shock absorbent padding. It has a molded spot for the switch, a protective flap that rests between the Nintendo Switch OLED screen and other items in the case, game cartridge pockets, and plenty of storage for additional Joy-Cons and other accessories.
The case comes in a large variety of different colors, so there is truly something for everyone. Over time and with bumps or drops, the case itself may become scuffed. Still, it does a great job of protecting the Switch and accessories inside of it.
4. Fintie Carry Case
Best Portable Nintendo Switch Case
External Protection: High / Internal Protection: High / Waterproof: No / Carrying Capacity: Average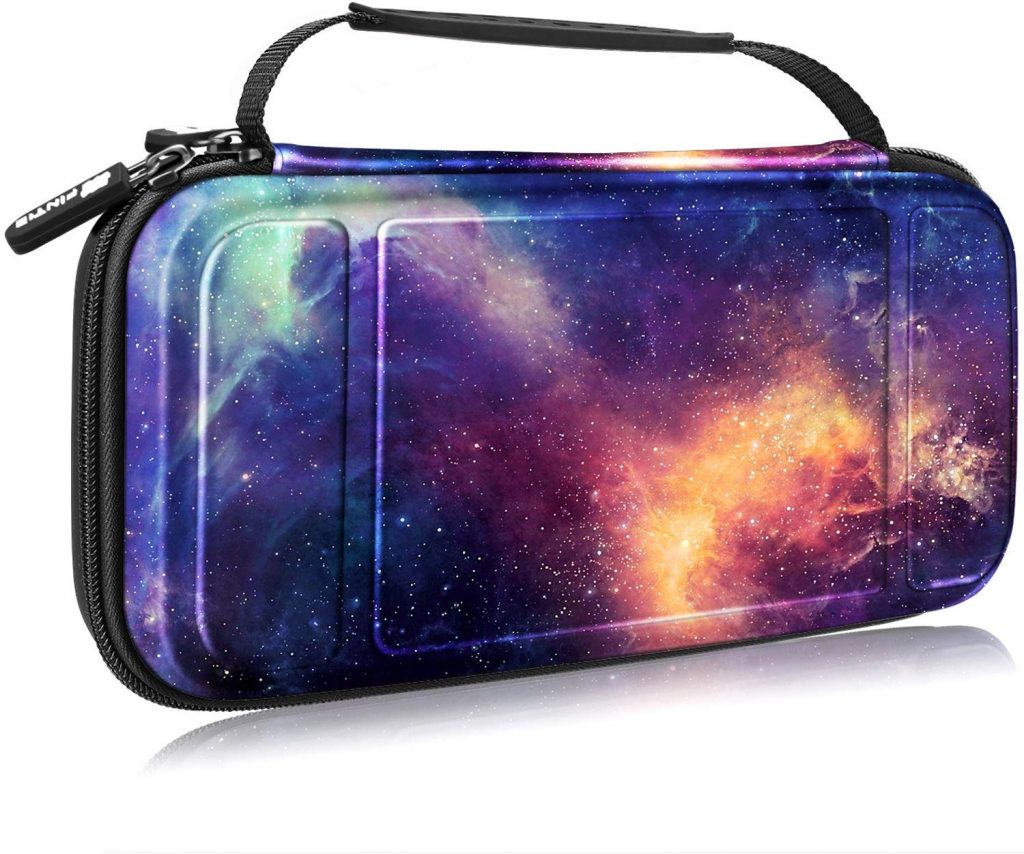 The Fintie Carry Case might be one of – if not the – the best Nintendo Switch OLED case out in the market right now. They made it apparent with several points showing how good they are at protecting your Nintendo Switch OLED and its gears.
First and foremost, the Fintie Carry Case is available in 18 different colors and designs. It's available in dull colors, camouflage, and even in fantastical designs (such as the z-galaxy design on the image above.)
The hardshell case provides wonders in terms of protecting your Switch from bumps and drops. It is also shockproof, preventing unwanted mishandling that could possibly damage your Switch. The internal paddings protect your Switch from scratches and other wear and tear that might plague your Switch OLED creens. It has a zipped mesh pocket that can hold other gaming essentials like Joy-Cons, cables, a small charger, and more. It cannot handle more substantial items like extra pro controllers, so keep that in mind. The storage sheet can accommodate some game cartridges, but it maxes out at 10.
When it comes to extra appendages, the exterior of the Fintie Case also has a portable carrying handle. You can be sure that handling your case will be more comfortable. Meanwhile, the interior has a built-in elastic strap, securing your Switch in place to avoid unnecessary collision-related damage.
The only downside we see with the Fintie Carry Case is that it is not waterproof. Be sure to keep it off wet surfaces or out of the rain, else the moisture will seep inside and ruin your Nintendo Switch. Nonetheless, we can get behind this and rate it very high on our best list.
5. Mumba Nintendo Switch Clear Protective Case
Long term protection, longer time to type the name
External Protection: Above Average / Internal Protection: None / Waterproof: Somewhat / Carrying Capacity: None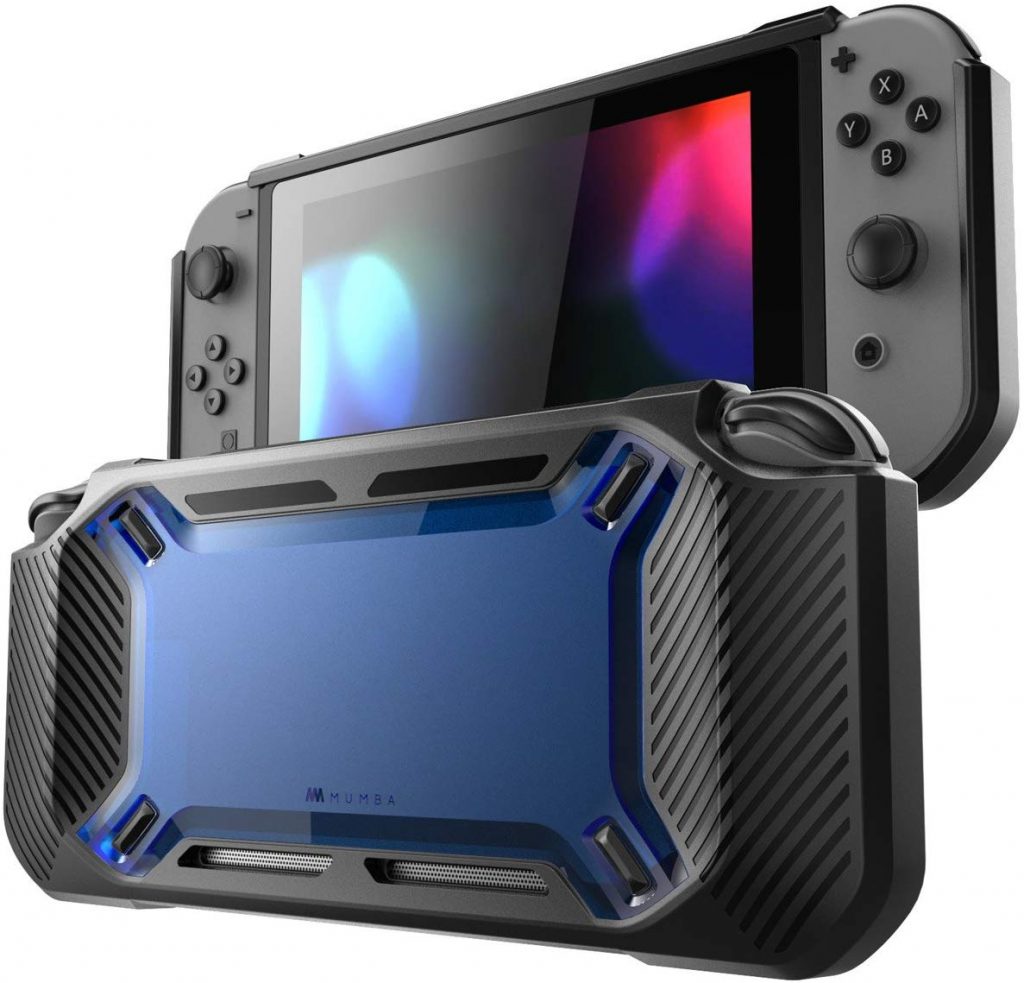 When it comes to heavy-duty protection, the Mumba Nintendo Switch Clear Protective Case can do wonders. But before we start analyzing the item, do note that this is NOT a carrying case.
The Mumba Nintendo Switch Clear Protective Case (what a long phrase!) is a snap-on hard case for your Switch. It is specifically designed for the handheld version of Switch itself, which means that it can't accommodate the Switch when it's in dock mode. You also need to remove it every time you want to dock your Switch.
Nonetheless, this case offers massive protection against rough-handling situations. It is shockproof, skid-proof, and scratch-resistant. Even though it looks like a block of security (which it basically is), it nonetheless makes you feel more comfortable handling your Switch. This is all thanks to its ergonomic design, carefully crafted to perfection. The Nintendo Switch grip case is constructed with flexible TPU material, so it covers all around your console. It does not hinder your ability to access all Switch buttons, meaning you can game smoothly without having any issues.
The Mumba Nintendo Switch Clear Protective Case is a good buy for those who want to encase your console in a safe material. These grips are also compatible with the Mumba Carrying Case for Nintendo Switch. Speaking of which…
6. Mumba Carrying Case
Easier to say and type for its extremely good protection
External Protection: High / Internal Protection: Average / Waterproof: Yes / Carrying Capacity: Above Average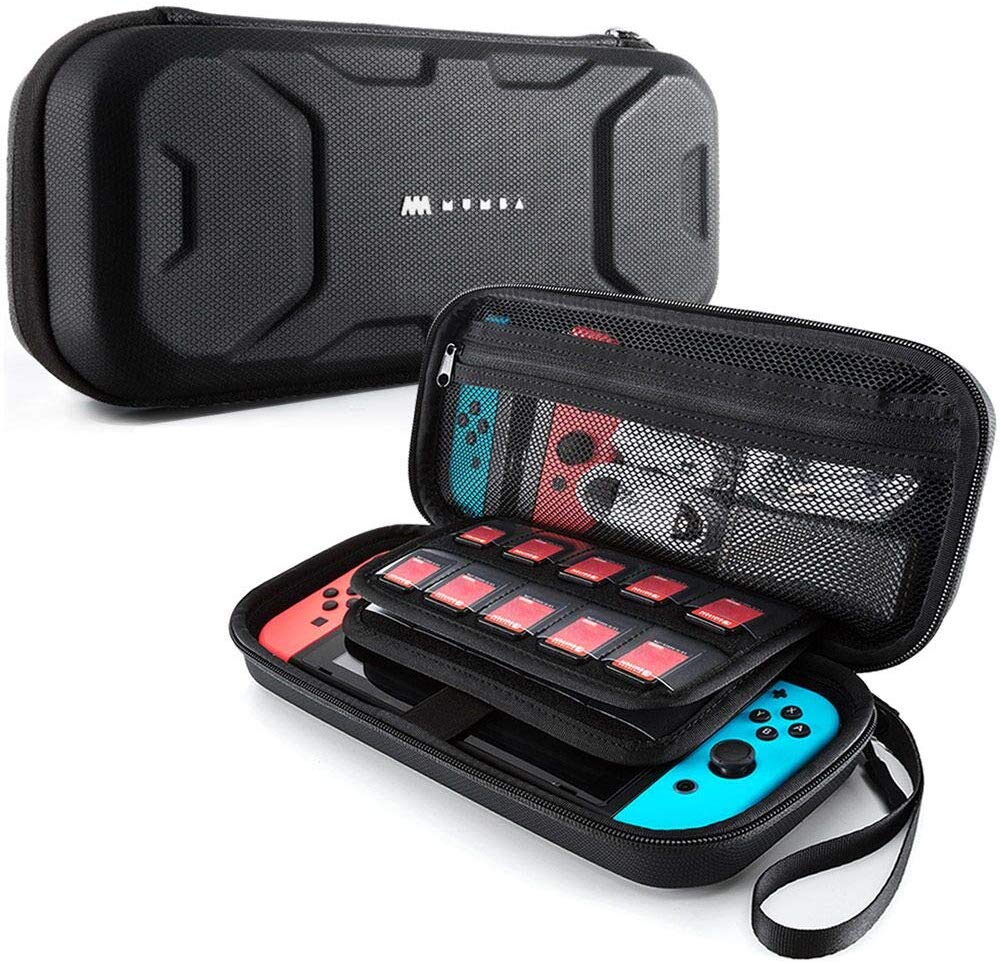 If you plan on getting the Mumba Clear Grip Case (it is so hard typing all that, really), then why not get the carrying case that comes with it?
The Mumba Carrying Case for the Nintendo Switch is a very well built protective case. It offers dual protection: it is both shock and collision-proof. If you are prone to some bumps in your commute and worried that it might damage your Switch, then you don't have to worry in this department. You won't need to worry about getting the case wet as the hard outer shell is made of EVA material and has a waterproof surface.
When it comes to storage capacity, this case can carry extra Joy-Cons, headphones, cables, and other small accessories. It also has a large game cartridge capacity, fit for those who like to swap lots of games on the fly.
The Mumba Carrying Case for the Nintendo Switch does not come in many designs. It only has three, so you can't choose a look that feels like you aren't carrying a power tool case. Also, as good as this carrying case is, we think that the internal padding for the Switch isn't as protective as others on the list. We believe that this carrying case is built with your Switch being protected by the Mumba Grip Case in mind. But if you don't have the grip case, then don't worry. The extremely durable hardshell can make up for it.
7. Butterfox Carrying Case (Large Model)
The Best Value for your Money
External Protection: Above Average / Internal Protection: Above Average / Waterproof: No /Carrying Capacity: Above Average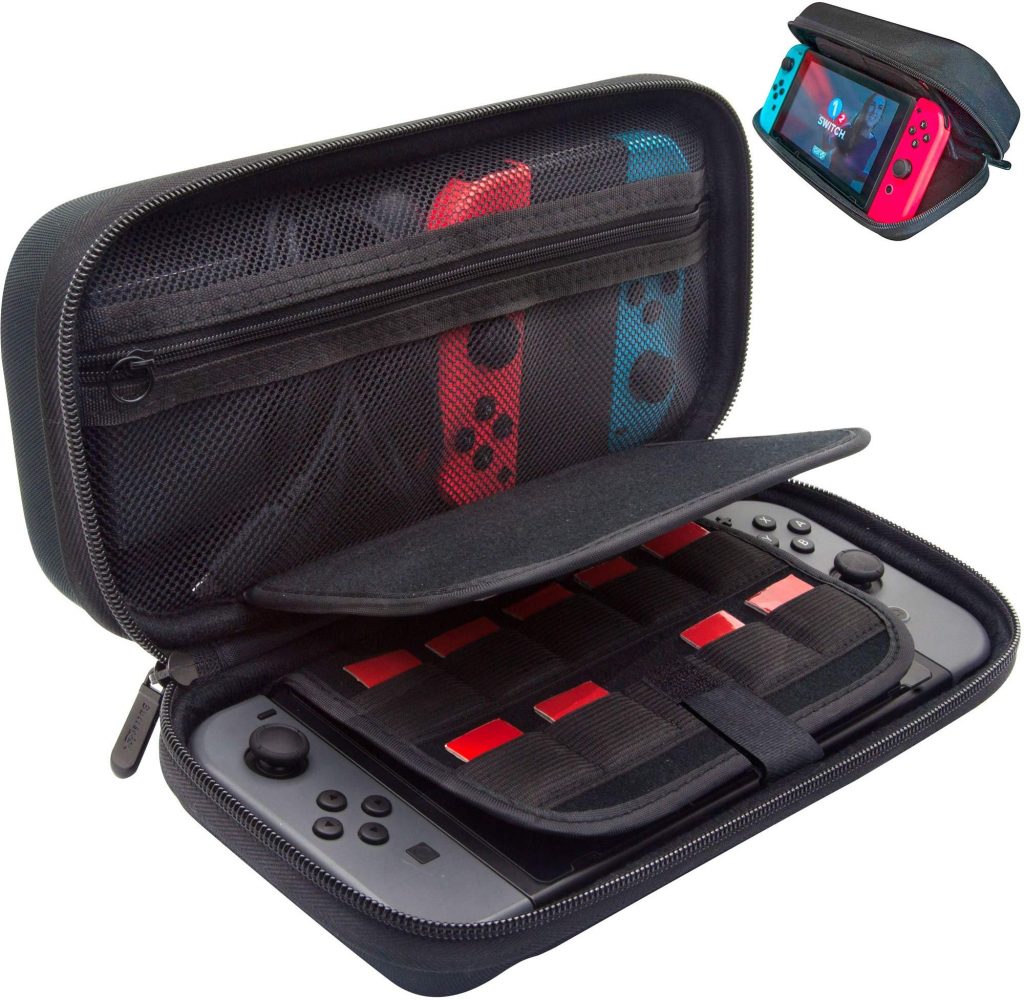 The Butterfox Carrying Case has been a fan favorite of many people due to its inexpensive pricing. And right now, the guys who made that item possible has released a larger model of the original Butterfox case. For something worth under $20 right now, the large model case is basically a steal! It's the best Nintendo Switch carry case.
The external case is quite sturdy and claimed that it can protect your Switch from unwanted drops and bumps. When it comes to internal protection, the soft, inner micro-fibre brings you more than you bargained for: it helps cushion your Switch from bumps as well as protects it from being scratched inside the case. It also has a lifting strap that enables you to lift your Nintendo Switch off the case. That strap also doubles down into a stand if you want to play a game that way. Lastly, there is another strap that helps keep your Switch in place.
Storage-wise, the upgraded 'large model' of the Butterfox Carry Case holds more than what it seems it can. They advertised that it is "big inside but small outside," meaning there are no extra bulks that can be seen when storing your accessories. It can store the official Nintendo Switch charger, cables, headphones, power banks, the Hori stand, Joy-Cons and the charging grip, and way more. There is a total of 19 game cartridge slots on it if you feel that extra gamer moment to play multiple games in one sitting.
There is a current 100% money-back guarantee on the Butterfox Carry Case if ever you are dissatisfied with the product. And all of these for a meagre price. If this is not the greatest Nintendo Switch carrying case, I don't know what is.
8. PowerA Everywhere Messenger Bag
You can fit everything and the Triforce of Courage in this one
External Protection: Above Average / Internal Protection: High / Waterproof: No / Carrying Capacity: Extreme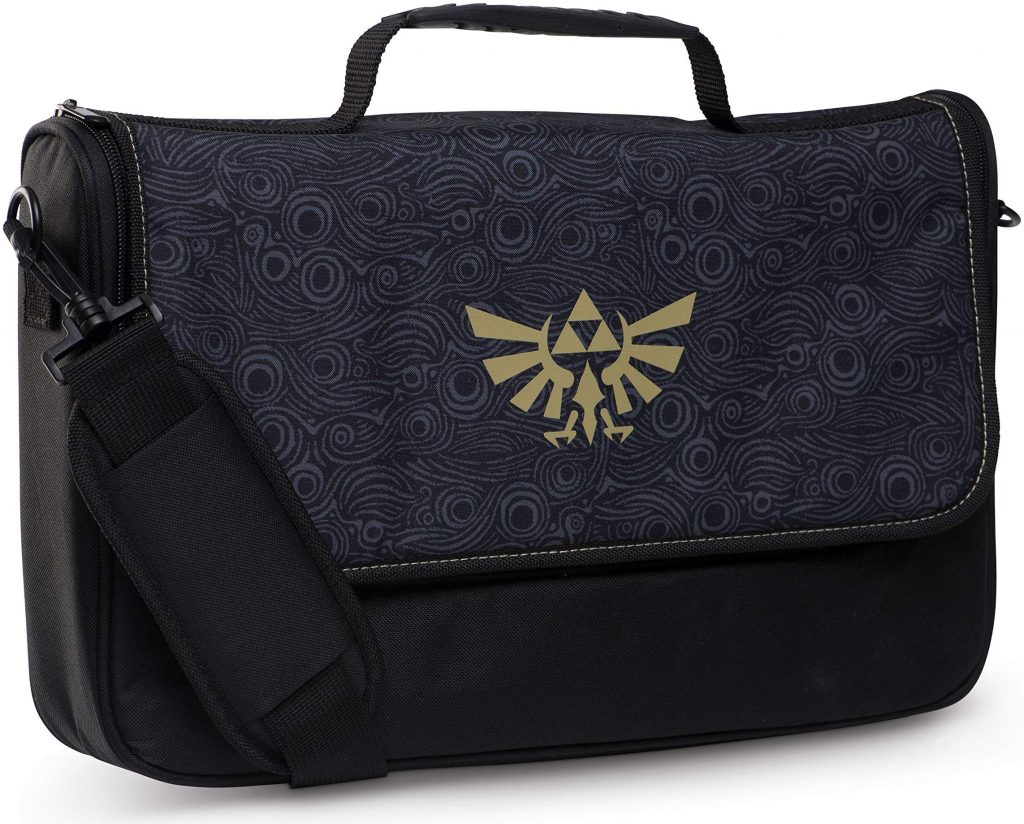 The PowerA Everywhere Messenger Bag can carry the whole Nintendo Switch gaming system in it that we have this inkling that the Legend of Zelda design is intentional just like a regular backpack. You know, since Link carries everything and his knapsack can fit almost all… nevermind.
Okay, so this messenger bag, again, allows you to carry everything your Nintendo Switch has to offer. That's right, the Switch console itself, the dock, HDMI cables, Joy-Cons, extra Pro controllers, chargers, earbuds, headphones, and way more. If you plan on traveling to a party or a friend's house to brawl in Smash, then this bag can help you do that easily.
The external protection the PowerA Everywhere Messenger Bag offers is above average, but not as sturdy as the hard cases in this list offer. Internal security, though, is a different story. With padding all over it, it ensures that all your Switch gear won't get in trouble. It even has a separate carrying case for the Switch console itself, as a double-layer of protection.
The carrying case has a strap that will keep your Nintendo's accessories in place to avoid shock-related accidents. This case can be taken out and can act as a handheld protective case. When the guy said it's dangerous outside, then you really have to take this case with you.
It's stylish to boot!
Speaking of style, the bag comes in three different designs. They have a grey-black plain design for those minimalists out there, a Super Mario Bros. themed, and the Zelda design with a Hyrule logo on the front. The Mario and Zelda brands are officially licensed by Nintendo. We highly suggest that you take the Zelda design, just in case you want to adventure as the Hylian Champion somewhere.
Zelda references aside, the PowerA Everywhere Messenger Bag is a good buy for those who often travel with their whole gaming system. Just in case they do not trust their roommate with anything if they feel that said roommate is a new reincarnation of Ganon.
Editor: John, stop with the Zelda references!
9. HORI Splatoon 2 Squid Plush Pouch
For kids and franchise lovers alike
External Protection: Below Average / Internal Protection: Average / Waterproof: No / Carrying Capacity: Average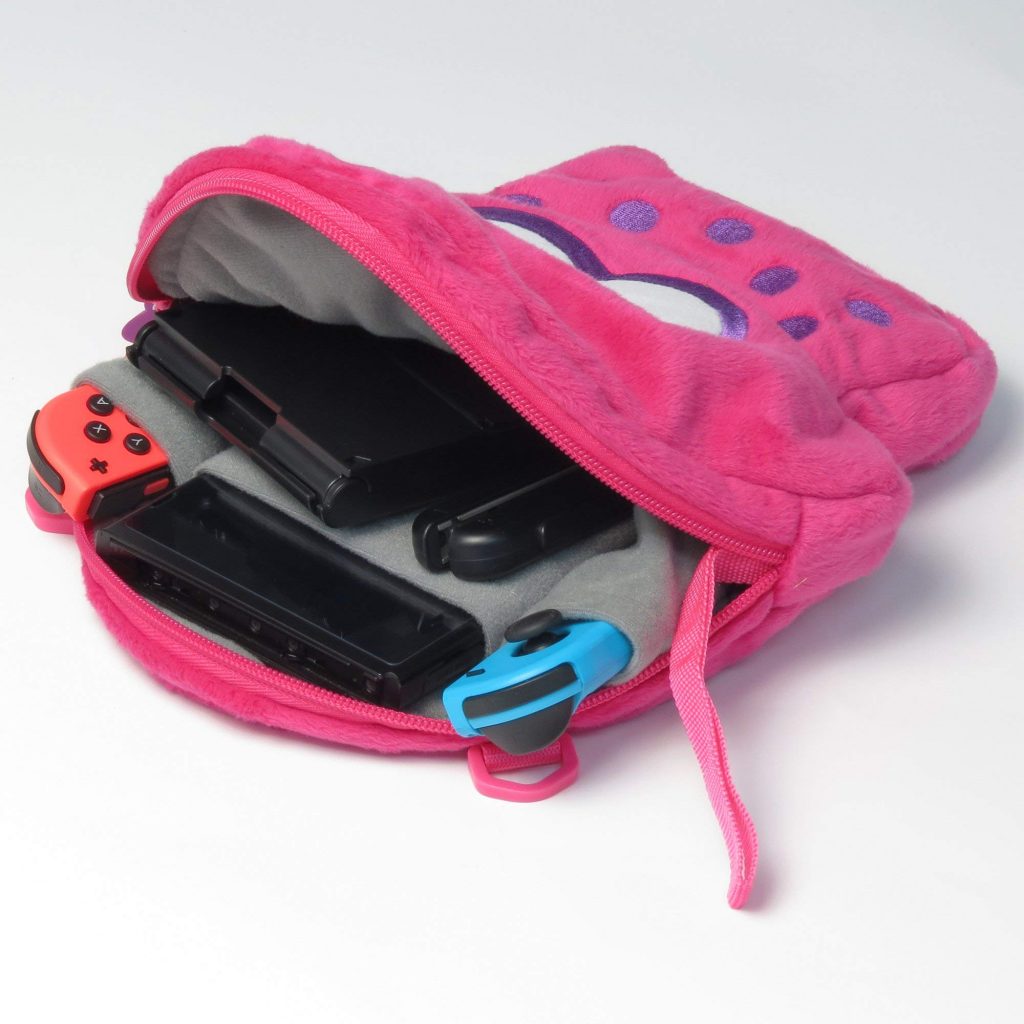 Kids are being that do not share the same taste as adults; that much is obvious. As adults tend to gravitate towards function over design, kids like colorful things more. So when HORI designed the Splatoon 2 Squid Plush Pouch, they have the interests of the younger generation in mind.
And it looks absolutely gorgeous!
The HORI Splatoon 2 Squid Plush Pouch is a beauty of a case that focused more on aesthetic. If you played (or at least heard of) Splatoon and Splatoon 2, then you would love the design of this carrying case. The pouch is shaped like a squid, reminiscent of the main character of the game, Agent 3. It comes in both Neon Green and Neon Pink versions, which are also 2 of the most iconic colors in the Splatoon franchise.
In terms of protection, there is not much we can say in the external protection department. The outer "shell" of the squid plush pouch is squishy, as it literally is a plush. It does protect your Switch from the wind and other particles that might enter it if you are carrying it around. The internal protection is a bit better, though. It is plush, so expect the inner padding to protect your Switch from some bumps here and there.
The storage capacity of the HORI Splatoon 2 Squid Plush Pouch is enough to get the basics of the Nintendo Switch System inside it. It can hold Joy-Cons, Joy-Con straps, and a vertical stand. There is even a pouch for the Joy-Cons, to protect them from moving and shaking, which can damage their internals.
The plush pouch will not be able to give hardcore protection for your console that much is true. But we still feel that this carrying case is worthy of being included in this list. This is all due to one reason: the involvement of parents and guardians. If you want to teach your kids how to take care of their things, then try the HORI Splatoon 2 Squid Pouch. It does not offer much flexibility in terms of protection, but you, as a parent, can fill up that space.
10. Funlab Travel Carrying Case
Its-a-me, and-a my Nintendo-Switch
External Protection: High / Internal Protection: High / Waterproof: Somewhat / Carrying Capacity: Very High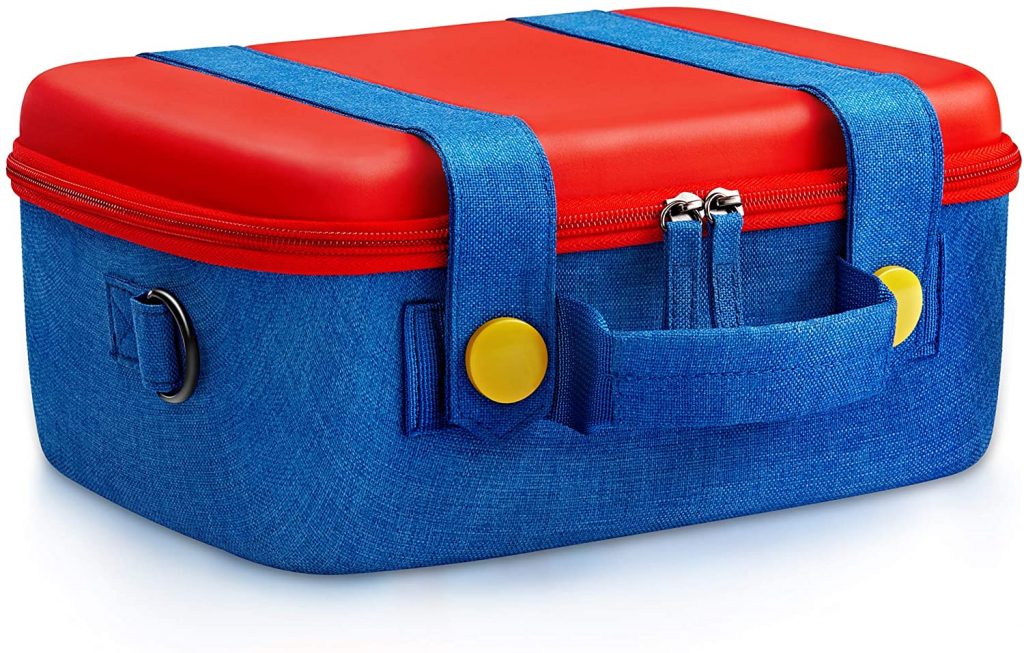 So we had the Zelda messenger bag before. It looks classy and is a great carrying case. But sometimes, you feel that you want to get that wacky side of you out. Gaming is supposed to be fun, and you want to get yourself gear that reflects that belief.
Why not get a legendary plumber's lunchbox look-a-like? Except, instead of food, you put top-of-the-line gaming gear in it? Also, it doesn't really look like a plumber's lunchbox. And it's also made of top-of-the-line materials. Welp.
Meet the Funlab Travel Carrying Case!
This carrying case is quite sturdy looking at one glance, but still has the feel of fun on it. There are two available designs, with blue overalls and "red cap" for Mario and the same color overalls but with a green cap for Luigi.
External protection is made from sturdy materials too. The overalls part look and are made up of denim fabric, and the caps are made from sturdy EVA material. This is shockproof material, so you can rest assured that any drops and bumps will not hurt your Switch in any way. For internal protection, there's also another layer of trapezoidal EVA. It is then layered with pre-cut foam, which protects your Nintendo Switch system more. There is a lot of padding that helps your console and gear stay safe if the case gets shaken. Carrying capacity is also no slouch. Your whole Nintendo Switch system can fit inside it. Those include the Switch console itself, the dock, the Joy-Cons, Pro Controllers, and the official Nintendo Switch charger. Not only that, but it can also hold all your other accessories like HDMI cables, earphones, another controller, and a stand. There are high-quality elastic straps and mesh compartments that hold these accessories. It can hold up to 14 games, which is a bit lower than some of the carrying cases here in this list.
Although it is not that waterproof, the design, functionality, and durability alone make it a fierce candidate as one of the best Nintendo Switch protective cases in the market.
11. Hard Clear Case for Nintendo Switch Lite
External Protection: Average / Internal Protection: None / Waterproof: No / Carrying Capacity: None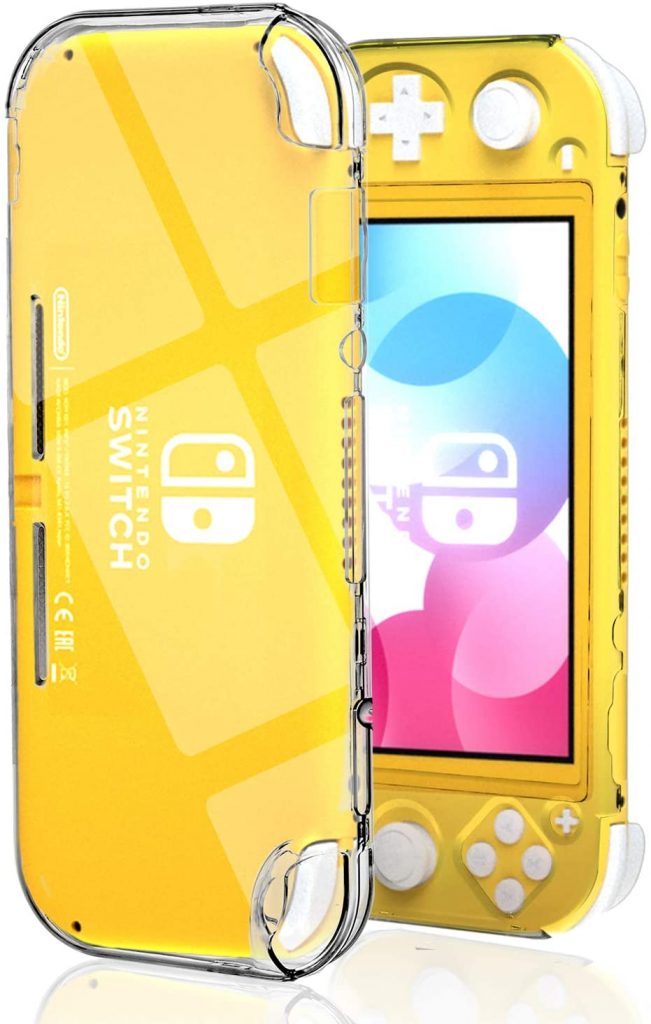 This is yet another clear protective case made specifically for the Nintendo Switch Lite, allowing for the color of the switch itself to be shown off inside the case. The hard plastic is durable enough to withstand everyday bumps, scratches, and drops without the Switch becoming damaged.
Although the protective case itself has no carrying capacity, it is sleek enough in design to fit inside of an additional carrying or travel case.
This case is extremely simple to put on the Switch, featuring two large plastic components that snap easily in place. The cutouts are precise, allowing for convenient access to all of the controls, ports, and speakers.
The corner buttons on the Switch benefit from additional protection with this case, which features slightly raised corners so that impact won't break the buttons or apply too much pressure.
Some of the downsides of this hard shell case are that it features no internal padding or protection and it is not waterproof. It may not be the best option if you plan to carry your Switch in this case alone, but it is a great choice for everyday home use and protection.
According to Experts, Here are the Things You Should Look For in a Switch Protective Case:
Every type of screen protective case is built differently, which makes it crucial to know what factors you should look into before making any decision. This section specifically talks about the factors that experts say are the most important ones.
Know what type of material the screen protective case is made of. These protective cases are made out of different types of materials. Among the most popular ones in the market are made of leather, plastic, and silicone. Despite their differences, each has their own pros and cons. For example, a plastic protective case may be more durable than leather, but it can also be heavy enough when carried for an extensive amount of time.
Do you need to carry more than just the Switch? How they weigh or what they're made of aren't the only things that matter. There are other carrying cases that come with extra pockets so you can carry other accessories. While it may seem great to have them, having all these extra pockets may not be as appealing to someone who doesn't carry around extras. Ideally, you'll want to invest in carrying cases that come with pockets only if you are certain you'll be using them on a regular basis.
Consider the design. Some carrying cases look cool aesthetically but aren't as comfortable when used for extended periods. Some could even cause strains over time, which is why it's essential to check reviews ahead to see whether they are comfortable or not. Moreover, the ports should not be compromised at all, too. If you're planning on playing games using the most comfortable gaming headset, you'll surely want to ensure that the wires aren't compromised in any way.
Make sure it fits in just right. There are plenty of protective carrying cases in the market for Switch. Due to their popularity, some manufacturers make protective cases that don't even fit. Because of this, it's important to check the type of Switch model you have and make sure that the case is made specifically for that type of model. Never compromise the safety of your Switch by investing in a carrying case that doesn't even fit well with your Switch model.
It should have a way to protect the screen of your Switch. If it doesn't come with an external screen protector, it should at least have a screen protector. Two of the most common things that screen protectors are made of, are tempered glass and plastic. But between the two, the tempered glass wins the battle every time because apart from being more durable, they also boast special features such as oleophobic coating and are rated according to surface hardness.
Recap: The 11 Most Protective Nintendo Switch Cases
Hard Clear Case for Nintendo Switch Lite
Protection is the key to prolonging the lifespan of any gadget. Just like your Android, Apple iPhone, or Windows PC, the Nintendo Switch is no stranger to this, rather especially so, because of its multiple removal parts and delicate mechanisms for operation. As more and more people find time to pick up a Switch, the need for better gear protection becomes more apparent. Choosing the best Nintendo Switch protective case might be the difference between enjoying having one and returning to a boring lifestyle.
Choose wisely 😉