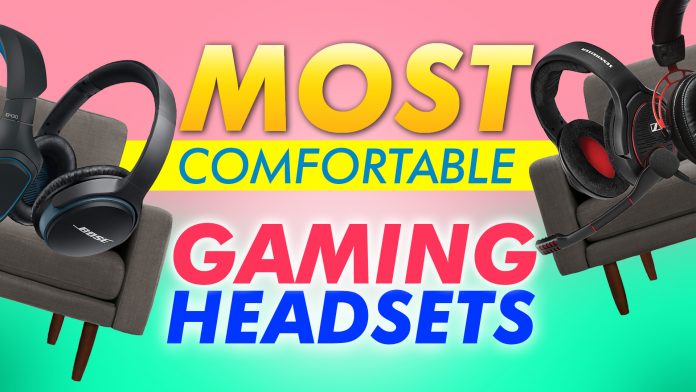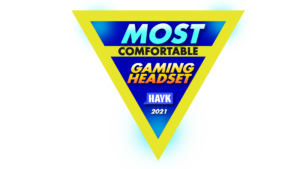 A big screen with advanced graphics and powerful hardware is essential for every gamer. However, the experience is not complete until you have a great sound. Instead of connecting some low-quality speakers or uncomfortable headphones, you can go for a very comfortable headset that offers the best sound.
As a gamer, you will probably be on your game for more than a few hours every day. As such, you need a headset with a comfortable fit and a sound that keeps off the noise. There are hundreds of brands to choose from. Below are some of the most comfortable gaming headsets in 2022.
Advice From the Experts…
There are so many self-proclaimed "best gaming headsets" or "the most comfortable gaming headsets" in the market without even considering the real aspects that determine the comfort and fit of headphones or even talking about safety volume use.
This section covers crucial items that experts would recommend you to look into when sizing up the right headphones.
Clamping Force
Depending on the headphone's clamping force will be how snug the headphones fit against your head. Unfortunately, visual representation isn't enough to gauge the headphone's clamping force.
This means testing the headphones is the only way to determine where the pressure points lie. When testing headphones, avoid products that feel like your head has been placed in a vice, especially if you wear glasses. On the other hand, you will also want to avoid headphones with a light clamping force, as the headphones are likely to fall off with a nod or turn of the head.
Ideally, you will want headphones that deliver an even amount of clamping force around your ear. Do take extra care if you wear ear piercings as this could lead to increased pressure or sensitivity. Lastly, there are certain types of headphones that need to be "broken in" and tend to feel stiff out of the box, so stretching it a bit might help speed the process up.
Ear Cup Size and Depth
Mind the ear cup's depth and size before anything else because if the cushions are too shallow, your ear might rub against the insides of the earcup and cause irritation, which is a total deal-breaker.
Even though headphone manufacturers incorporate a thin fabric over the metal drivers, it can still feel abrasive over time, especially when you constantly run a part of your ear on the fabric.
Typically, there are three cushion shapes you would fine: D, oval, and circle. But the round or circular cups are the most compatible with most ear shapes due to their spacious room when worn. The D-shaped cups and oval are a bit specific and might not always align with most ears.
Check the size of the earcups before making a purchase to determine whether they would fit on your ears just right or not. If you're interested, you can check out Phiaton Bluetooth Wireless BT 460, claimed and considered to have natural anatomy headphone design.
Ear Cup Rotation Reach
Apart from the clamping force, a headphone earcup's rotation range is just as important and must go hand in hand. Because there are varying degrees of vertical and lateral movement in today's headphones, it can be hard to find the right one.
Moreover, you'll also find headphones with different ear cup adjustment features that range from swivel to super compact and portable designs (for travelling). The rule of thumb when looking at this feature is to opt for one with earcups that let you adjust it– even a little can go a long way. When paired with a headphone with the right clamping, you get headphones that are super comfortable even when used for hours on end.
Ear Cup Extension
Headphone earcups come in a variety of designs to cater to specific purposes. But whether you would get an on-ear or over-ear headphone, you should choose a headphone with earcups that gives your ear some leeway for small adjustments.
You should be able to slide the band a tad forward or back across your head to adjust when needed. Having the option to do so allows you to find the perfect position at all times.
Cushion and Headband
Last but not the least, the quality of cushioning on both ear cups as well as the headband is something you should not miss. It may not seem much but the shape and size of the pads of over-ear headphones contribute a lot in terms of comfort and free space inside of your cups.
Thin cushions may feel comfortable at first but long-term use of thin cushions can lead to hitting the hardware around your ears. Similarly, thicker ones may seem comfortable at first as they give enough room for your ear to make necessary adjustments. However, they could put a bit of pressure around your ears which could irritate your experience when playing for long hours.
The unspoken balancing act between the headphone cushion and the headband is typically missed, which is why we specifically included this section so you will make an educated purchase.
When unsure, go for thicker foams with enough padding and space to make necessary adjustments when needed.
Most Comfortable Gaming Headset for Gaming
1. SteelSeries Arctis 7
Best Wireless Gaming Headset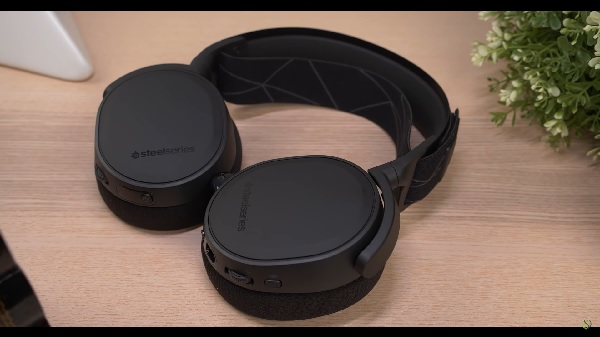 Tech Specs:
Frequency Response: 20–20000 Hz | Microphone Noise Cancellation: Yes | Driver size: 40 mm | Connection Type: 2.4 GHz (12m, 40ft) | Battery: 24+ hours
Rating:
Design: 4.7 / 5
Comfort: 4.9 / 5
Audio Quality: 5 / 5
SteelSeries is not a new brand. It has been among the top players in the audio industry and for a good reason. The SteelSeries Arctis 7 is a balanced headset that delivers great quality sound. It sports a sleek design and a comfortable fit that any gamer can wear every day. The headset accommodates wireless connectivity and connects to PS4, PS5, and even your PC. If you have any other device, such as Xbox, you will need a cable.
Besides the comfortable fit, the headset has a 24-hour battery life, so you can play for as long as you need. Unlike other headsets with a base, SteelSeries offers a low base and instead delivers subtle sounds to your ears. It has a retractable gaming headset mic that also offers the best sound pickup for gamers.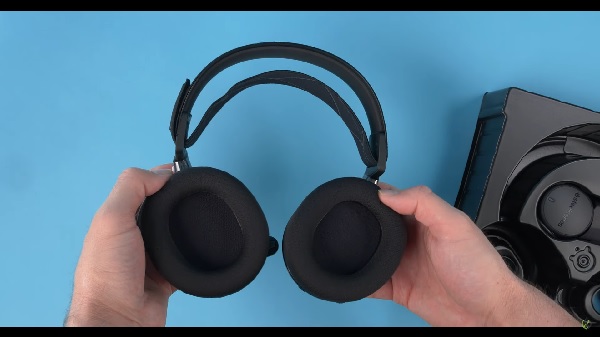 You can use it wirelessly with PC, Playstation 4, and Playstation 5. It connects with a cable to Xbox Series X/S, Mobile, and Nintendo Switch. If you want subtle sounds and the ability to play for long periods, the SteelSeries Arctis 7 is ideal for you.
It is often compared to the Corsair Virtuoso Wireless RGB SE headset but the SteelSeries Artcis 7 always stands out in all aspects– from comfort, better controls, security, balanced and neutral sound profile. But if you want the best gaming headset view the SteelSeries Arctis 7.
2. SteelSeries Arctis Pro
Best High Fidelity Gaming Headset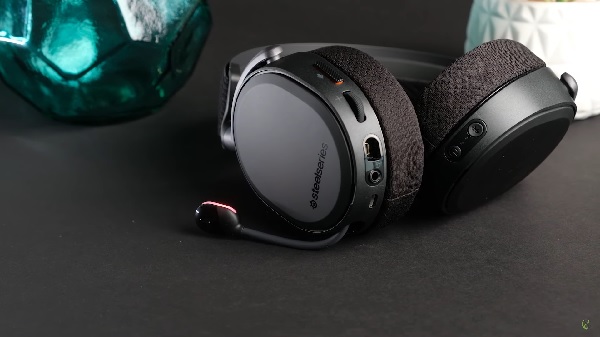 Tech Specs:
Frequency Response: 10–40000 Hz | Microphone Noise Cancellation: Yes | Driver size: 40 mm | Connection Type: Wired
Rating:
Design: 4.5 / 5
Comfort: 4.8 / 5
Audio Quality: 5 / 5
The SteelSeries Arctis Pro is an alternative to the SteelSeries Arctis Pro Wireless, which is more expensive. It offers a great wireless connection, allowing you to enjoy great quality sound at a competitive price. Inside, the headset features hi-res speaker drivers designed to deliver a rich sound for all-day gaming. It has a relatively high-frequency range, beating most of the headsets on the market.
It is highly comfortable, thanks to the fact that its ear cups sport foam cushioning. Further, the headband has a ski Google-style for a snug and comfortable fit. If you plan to play all day, the wired headset doesn't place any pressure on your ears and your head.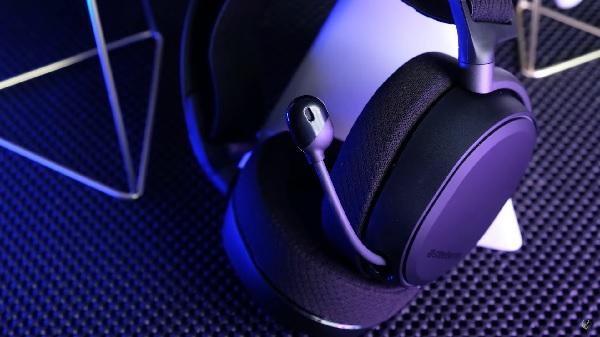 Each headset features a steel and aluminum frame that makes it light and ensures there is no creaking when you move your head. You will enjoy the clear audio from the Discord-Certified ClearCast microphone. This way, you never miss a call. There is a ChatMis dial that allows you to receive calls and listen to game sounds as you wish. With this dial, you can focus on the teammates or on the game sounds, whichever meets your needs.
The SteelSeries Arctis Pro is also usually compared to the HyperX Cloud 2/Cloud II but it easily beats the Hyper X the Arctis Pro allows you to customize the sound using graphic EQ and presets with the SteelSeries Engine.
The headset connects with PS4, PS5, and PC using Bluetooth and cable. It is partially compatible with Xbox X/S, Xbox One, Mobile, and Nintendo Switch.
3. Roccat Elo 7.1 Air
Best Inexpensive Wireless Headset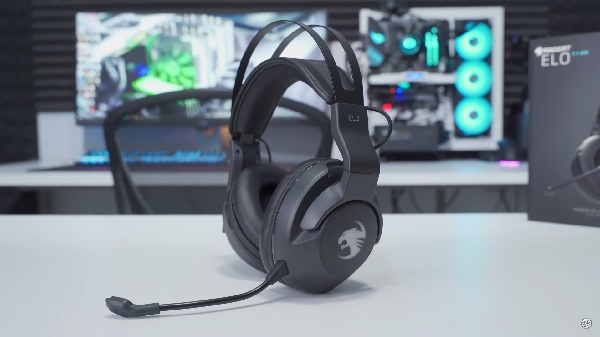 Tech Specs:
Frequency Response: 20–20000 Hz | Microphone Noise Cancellation: N/A | Driver size: 50 mm | Connection Type: Wired
Rating:
Design:4.0 / 5
Comfort: 4.5 / 5
Audio Quality: 4.8/ 5
If you want an inexpensive wireless headset, the Roccat Elo 7.1 Air is an ideal choice for you. This headset connects with your PS4, PS5, and your PC and delivers high-quality audio. The audio quality is decent, and its battery life and fit are also competitive. The headset features a host of controls, allowing you to turn it on and adjust the sidetone and volume.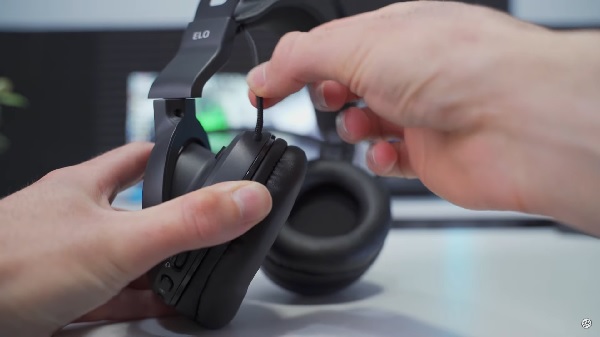 You have the ability to customize the audio from your speaker, thanks to the Roccat Swarm Software. From the software, you can tweak the lighting and the EQ of the headset. It delivers great gaming sessions, thanks to the well-balanced sound quality.
The battery of this unit can last up to 24 hours if you switch off the LED lights. Even with the LEDs on, it still lasts 18 hours. This means that you can play all day without the need to recharge. The padded ear cups, the comfortable fit, and the lightweight of the headsets make them ideal for all-day use.
4. LucidSound LS50X
Best Comfortable Gaming Headset for Xbox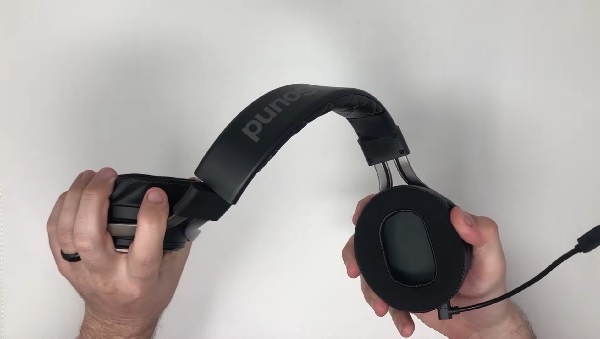 Tech Specs:
Frequency Response: 20–20000 Hz | Microphone Noise Cancellation: Yes | Driver size: 50 mm | Connection Type: Bluetooth 4.2 (30ft) | Battery: Up to 20 hours
Rating:
Design: 4.5 / 5
Comfort: 4.7 / 5
Audio Quality: 4.7 / 5
LucidSound has a series of high-quality gaming headsets. The LS50X combines a comfortable and stylish construction with high-quality audio and competitive price points. It works with the new generation of Xbox gaming consoles such as the X/S as well as the older generation, the Xbox 1.
It offers Bluetooth connectivity, which increases the range of compatible devices. The unit connects to your Xbox consoles in less than 10 seconds, so you can start playing immediately. The mic is flexible and removable and allows you to cancel echoes and background noise. Better still, there are five EQ modes to pick from.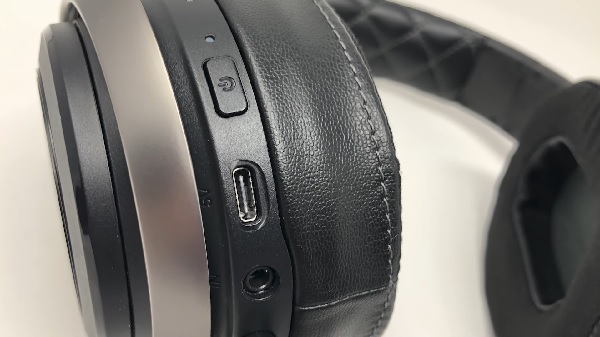 It has a wide frequency range (between 20 and 20,000 Hz), allowing it to connect to several devices. When connected wirelessly, the headset can pick up a signal from 30ft away. Plus, you can go up to 20 hours without recharging the speakers.
At only 408 grams, with the mic connected, the speaker is light enough for all-day use. It has the necessary padding to protect your ears and your head during long periods of use.
5. Bang & Olufsen Beoplay Portal
Best Noise-Cancelling Wireless Gaming Headset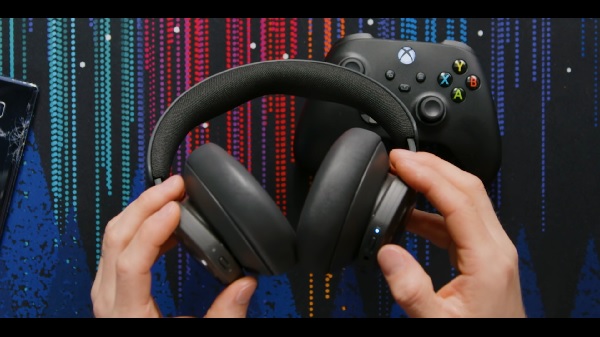 Tech Specs:
Frequency Response: 20–20000 Hz | Microphone Noise Cancellation: Yes | Driver size: 40 mm | Connection Type: Bluetooth 5.1; USB-A to USB-C cable, 1.8 m | Battery: Up to 24 hours
Rating:
Design: 4.7 / 5
Comfort: 4.6 / 5
Audio Quality: 4.5 / 5
The Beoplay Portal was engineered for gaming, and specifically for Xbox gaming consoles. It offers an impressive sound for gaming sound and in-game calls. The headset produces an immersive surround sound, thanks to the tuning Bang & Olufsen engineers and the partnership with Dolby Atmos.
A Beoplay Portal only weighs 246 grams, so you can wear it all day. Further, the headband has heavy padding that reduces pressure on your ears and your head. The memory foam ear cups further make it better for people who prefer to use gaming headset premium quality all day.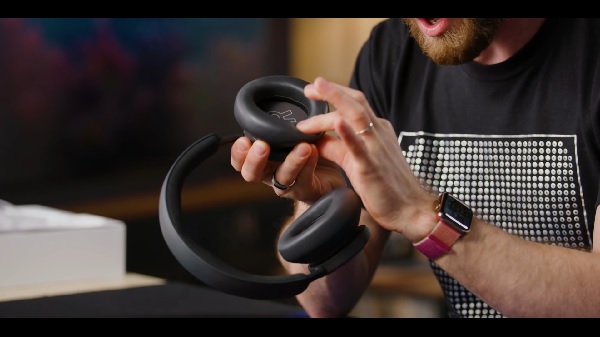 If you want to make calls in and out of the game, the headset offers beamform microphone technology. You can customize the sound you get from the headset, thanks to the ANC and Own Voice features. Its quick-touch controls allow you to connect the headset to your console and start gaming immediately. If you need even better customization, you can check out the Bang & Olufsen app.
Its battery lasts up to 24 hours when connected with Bluetooth and ANC. If you connect with Xbox Wireless, ANC, and Bluetooth, the battery only lasts 12 hours.
6. ASUS ROG Delta S
Best Multi-Platform Gaming Headset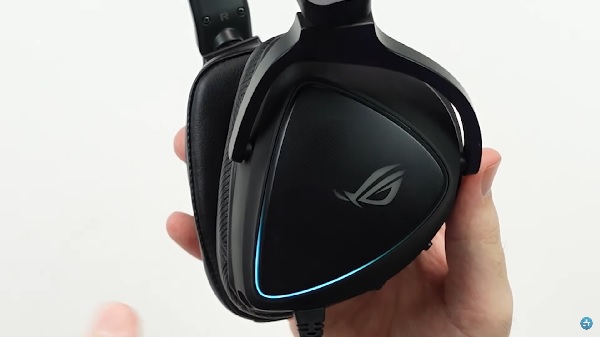 Tech Specs:
Frequency Response: 20–40000 Hz | Microphone Noise Cancellation: Yes | Driver size: 50 mm | Connection Type: USB-C cable, 1.5m
Rating:
Design: 4.7 / 5
Comfort: 4.6 / 5
Audio Quality: 4.5 / 5
The ROG Delta S is lightweight and engineered for all-day gaming. It features advanced AI noise-cancelling mic, Hi-Res audio quality, and RGB lighting.
Each headset sports QUAD DAC technology that enhances the listening experience. There are four DACs each for different audio frequency ranges; lows, highs, mids, and ultra-highs. When combined, these signals produce a clear sound with a high signal-to-noise ratio. This is for gamers who do not want to miss any detail from the game. ASUS further incorporates Master Quality Authenticated, MQA, technology to make the audio from the headset studio quality. With MQA, the headset produces every detail of the original sound. You can also connect it to MQA core signal for even better audio quality.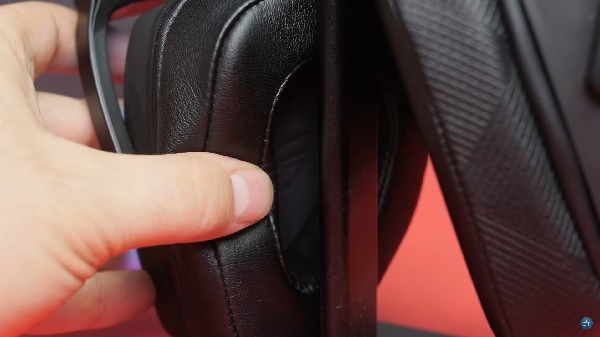 The ROG Delta S sports intuitive controls fitted on the ear cups. These controls allow you to control the speaker volume, adjust RGB lights, and mute the mic. Its AI noise cancellation feature can eliminate up to 50 million background noises to preserve the clarity of the original sound. This noise-cancelling speaker is detachable, unidirectional, and allows you to select TeamSpeak and Discord.
Other features of this headset include soundwave light effects, customizable RGB lighting with more than 16.8 million color combinations, and intuitive Armoury Crate Software.
7. Logitech G432
Best Surround Sound Wired Gaming Headset
Tech Specs:
Frequency Response: 20–20000 Hz | Microphone Noise Cancellation: N/A | Driver size: 50 mm | Weight: 280g | Connection Type: 2m, 6.5ft
Rating:
Design: 4.6 / 5
Comfort: 4.7 / 5
Audio Quality: 4.7 / 5
If you are looking for cinematic sound in a gaming headset, you will have that with the Logitech G432. It sports large 50 mm drivers that are able to deliver an incredible audio experience. It offers beyond 7.1 channels that immerse you in the middle of the action.
Besides the high-quality sound, the headset has a 6 mm boom mic so that you can converse with other gamers. When you flip the headset up, the mic mutes. It connects to your PC or your Mac via a 3.5mm cable or a USB DAC. It is compatible with PS4, Xbox One, Nintendo Switch, and even mobile devices. The headset has a comfortable fit. It sports lightweight leatherette ear cups with an ergonomic headband to keep off pressure from the ears.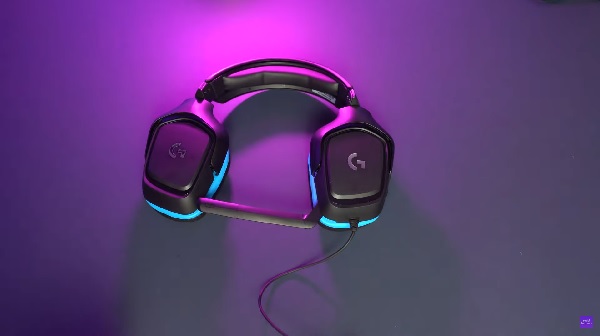 The ear cups rotate 90 degrees for enhanced convenience. You can combine the headset with a Logitech G Mouse and a keyboard and other gaming accessories from Logitech, most of which have next-gen performance. This headset is lightweight 300 grams, which is light enough for everyday use.
Although the headset has a narrow frequency range, which is between 20Hz and 40Hz, it still connects to a wide range of devices.
8. JBL Quantum 800
Best Bluetooth Headset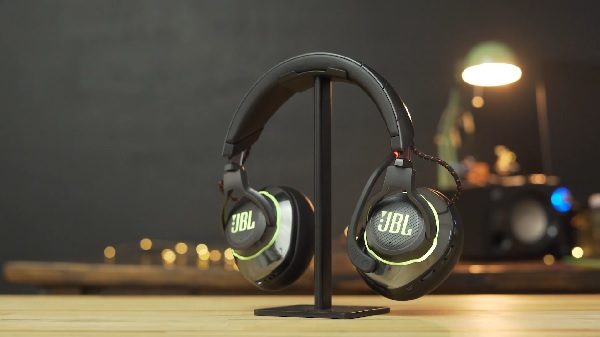 Tech Specs:
Frequency Response: 20–40000 Hz | Microphone Noise Cancellation: N/A | Driver size: 50 mm | Weight: 410g | Connection Type: 2.4 GHz | Battery: Up to 14 hours
Rating:
Design: 4.5 / 5
Comfort: 4.8 / 5
Audio Quality: 4.5 / 5
JBL offers the best sound in its headset. The headset is able to amplify sounds from your PC, Mac, Xbox, Switch, and PS4. It comes with surround sound technology that gives you a studio experience. It's engineered for accuracy and immersive gaming for a competitive gaming experience. This way, you never have to miss anything when gaming.
It has a boom microphone with echo cancelling technology that allows you to focus on the original sound. The headset sports memory foam cushions on the ear cups to reduce pressure on your ears. The cushioning has a soft leather cover that allows you to use it all day. With its Bluetooth 5.0 and 2.4 GHz wireless, the headset is able to connect to consoles and other devices fast.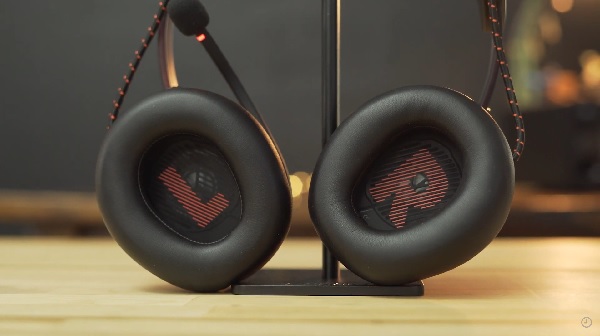 The RGB lighting on the headset produces effects that make gaming more fun at night. You can customize the sound from your headset to meet your needs through the Quantum Engine PC software from JBL. When not in use, the headset turns off automatically after about 10 minutes to save battery energy.
9. Audeze Penrose
Best Customizable Wireless Headset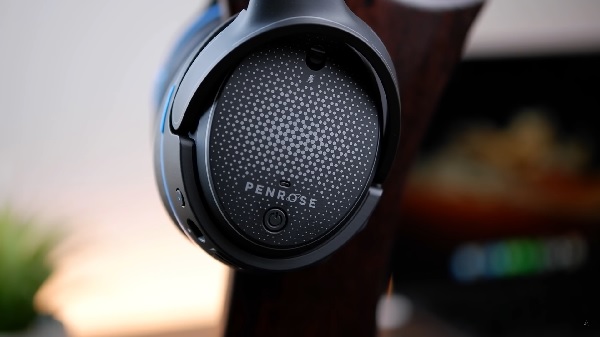 Tech Specs:
Frequency Response: 10–50000 Hz | Microphone Noise Cancellation: N/A | Driver size: 100 mm | Weight: 320g | Connection Type: 2.4 GHz Wireless (16bit/48kHz) + Bluetooth | Battery: 15 hours
Rating:
Design:4.5 / 5
Comfort: 4.8 / 5
Audio Quality: 4.5 / 5
If you want a comfortable headset that connects to both Bluetooth 5.0 and a low-latency wireless connection simultaneously, this unit will meet your needs. With these two features, you have to make calls and listen to in-game sounds at the same time. The headset takes from the Mobius headphones, which were known for their balanced sound and comfortable construction.
The Audeze HQ app accompanies the headset, allowing you to set the EQ settings, mic settings, volume, and allows you to update the firmware. There are easy controls on the left ear cup from which you can control different mic and headset parameters. Its boom mic is removable, and it has a foam cushion that keeps out breathing noise for clear calls.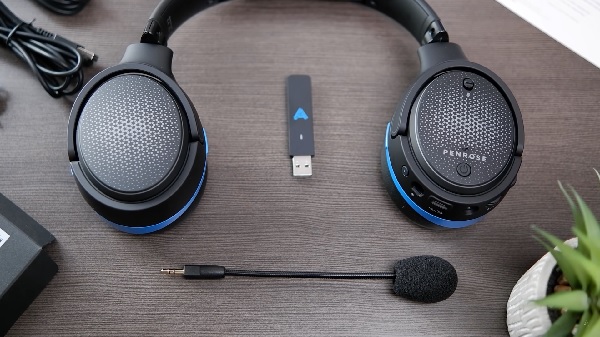 Penrose is compatible with PC, Mac, PS4, and PS5. Audeze created the Penrose X version that works with Xbox. The planar magnetic technology from Audeze means that your headset produces more accurate and clear sound. It further has ultra-thin diaphragms that ensure there is minimal distortion and there is also higher resolution.
The lithium-polymer battery that comes with the speakers lasts for up to 20 hours on a single charge.
10. ENVEL Gaming Headset
Best Inexpensive Gaming Headset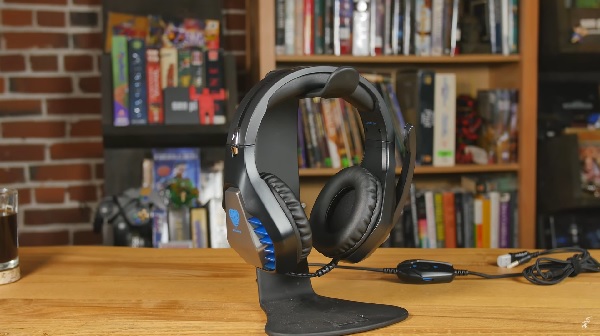 Tech Specs:
Frequency Response: 12–28000 Hz | Microphone Noise Cancellation: No | Driver size: Not indicated | Connection Type: 3.5mm jack (2m)
Design: 4.2 / 5
Comfort: 4.8 / 5
Audio Quality: 4.3 / 5
If you want cheap gaming headsets with immersive studio-quality sound quality, the ENVEL headset can be ideal for you. It offers 7.1 surround sound with a 50mm driver that enhances high-quality sound. It is also a comfortable unit for gamers who want to be at it all day.
For starters, the headset features skin-friendly earmuffs with thick padding for comfort and passive noise isolation. With the ear pads, not only will there be less pressure on your ears but you also save your ears from hearing loss. You will sweat less during those days you use the headset all day, thanks to the breathable construction.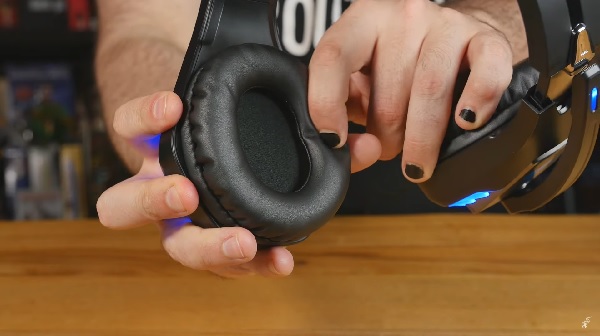 The mic attached to the headset is 120-degrees flexible, so you can bring it as close to your mouth as possible for clear voice calls. Further, when used at night, the LED lights on the unit make it look cool. The head beam pad is very soft further allowing you to use the headset all day.
Each headset features sturdy construction to resist impact and last long. There is an in-line volume control that makes it easy to adjust volume without stopping your game. This unit is compatible with PS4, new-generation Xbox One, PC, Nintendo 3DS, mobile devices, and any other platform that has a 3.5mm port.
How to Improve Headphone Audio Quality for Better Game Experience
Shopping Guide for Comfortable Gaming Headsets
What Makes a Comfortable Gaming Headset?
If you game for several hours every day, you need a comfortable headset. A comfortable headset is one you can use for a long time without feeling the need to take it off for a while. Some of the features that make a comfortable headset include:
Headband
The headband of your headset should be adjustable to accommodate the size of your head for a comfortable fit. Without a comfortable fit, you will feel the pressure on your ears and on your head. All the weight of the headset rests on your head through the headband. As such, it needs to have enough soft padding to make it feel comfortable on your face. If you do not notice that you are wearing the headset anymore, then you know you have a comfortable headset.
Ear Cups
The comfort of the ear cups is dependent on their size and shape, the material, padding, and whether they have an open or closed design. For gamers with small ears, you need to go for small, round, and on-ear cups as they will fit you best. If you have a large head and large ears, pick larger oval-shaped ear cups.
The ear cups also need to provide breathability to keep you sweat-free when you game all day. An open ear cup design is more breathable. This design doesn't cover the entire ear. The design will offer better acoustics for better natural sounds and keep you dry during warm days. These open designs will leak game sounds and those near you can hear the violence in the game.
You can go for a closed ear cup when you need passive noise cancelling. This design gives you better bass and locks you from the outside world. However, the design is not comfortable during warm weather.
Material
Memory foam and soft leather are the most common materials on the surface of headsets. The leather feels soft and comfortable on your skin, and it resists wear and tear for a long time. However, leather is less breathable, and you may not want to use it during warm weather. Cloth fabric is better during warm weather as it breathes more efficiently.
Most of the headsets above feature foam padding that makes the headset soft and also enhance breathability.
Weight
Weight plays a major role in the comfort of your headset. You should go for the lightest headset with the features you need. Lightweight headsets have an aluminum frame that is also strong and makes the unit durable. Others have plastic or steel frames that are heavier, but durable.
A headset that weighs 300 grams or less is light enough that you do not feel its weight when you game all day. If the headset is heavier, it shouldn't go higher than 500 grams with the microphone and other accessories connected.
Other Features to Consider
Besides comfort, you need to consider other features that the headset has to offer. The first step should be to choose the platform. It is advisable that you pick a headset with a 3.5 mm jack connection. This way, you will connect it to any gaming console or any other gaming device you have. Even wireless gaming headsets still allow a wired connection with a 3.5mm jack.
Should You Pick Wired or Wireless Connection?
Wireless headsets cost more than their wired counterparts. These headsets connect to a charging station, which is also the base station, which you connect to your console or PC. The headset then connects to the PC or console via Bluetooth or 2.5 GHz band. This way, you can talk even when you are 30 feet or longer away from the console or PC.
A wireless headset looks stylish and functional. However, you have to consider the battery life of the headset so that you do not have to stop often to charge. Some headsets will not produce sound when they are charging.
Wired headsets depend on a physical connection. You can use a 3.5 mm jack connection, or you can use a USB, depending on the design. Most of these headsets are lighter and the sound gets to your ears without any distortion. However, the length of the cable restricts you and the cable is also liable to wear and tear.
Sound Reproduction
Gamers want to experience studio-quality sound from their headsets. There are different ways that headsets reproduce sound.
Stereo headsets distribute sound over two channels. Most of these come with a simple 3.5 mm connection. They are compatible with most consoles, thanks to the 3.5 mm connection. However, you may not tell where the sounds come from, and you will react slowly to sounds.
Virtual surround sound gives the real studio sound quality. These headsets simulate seven sound channels so that you can hear clearly where the sounds come from. You can tell even the angle the opponents are coming from, and you have software to customize your experience. However, these headsets do not work with every console.
Dimensional sound headsets are the latest additions in the headset industry. These headsets use technologies such as Windows Sonic and Dolby Atmos to create a sound that matches the needs of the game and the size of the room they are in. These allow you to better hear whether someone is below or above you. However, not every console supports this technology.
Some gaming headsets only accommodate or are engineered for specific platforms. If you have an Xbox console, for instance, you need to ensure that the headset accommodates that platform. Some of the most common gaming platforms include PS4, PS5, Nintendo Switch, Xbox One, Xbox X/S, PC, and Mac. If your headset has a 3.5 mm connection, it accommodates all the above platforms.
Final Words
There are so many factors to consider when shopping for a gaming headset. Features such as noise cancellation, battery life, your budget and its cost, Bluetooth, and wireless connection range all matter. Even when you need a comfortable headset, you do not want to compromise on the quality of the sound or the method of connection.
As such, take your time and pick one that meets your needs. The SteelSeries Arctis 7 offers a great balance between sound quality, price, connectivity, and comfort. It is a lightweight headset, has padding on all the right places, and is adjustable to accommodate users with different sizes of heads. If this doesn't fall within your budget or doesn't accommodate your gaming platform, check out the other headsets on the list above.
Conclusion
1. SteelSeries Arctis 7 – Best Wireless Gaming Headset
2. SteelSeries Arctis Pro – Best High Fidelity Gaming Headset
3. Roccat Elo 7.1 Air – Best Inexpensive Wireless Headset
4. LucidSound LS50X – Best Comfortable Gaming Headset for Xbox
5. Bang & Olufsen Beoplay Portal – Best Noise-Cancelling Wireless Gaming Headset
6. ASUS ROG Delta S – Best Multi-Platform Gaming Headset
7. Logitech G432 – Best Surround Sound Wired Gaming Headset
8. JBL Quantum 800 – Best Bluetooth Headset
9. Audeze Penrose – Best Customizable Wireless Headset
10. ENVEL Gaming Headset – Best Inexpensive Gaming Headset