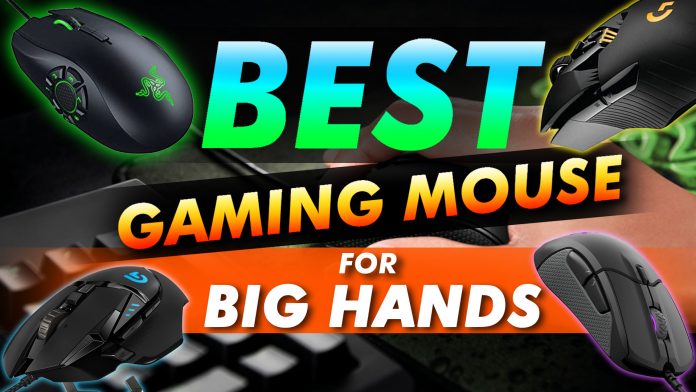 | Preview | Product | Weight | Sensitivity | Price |
| --- | --- | --- | --- | --- |
| | | 135g | 100 – 16,000 DPI | |
| | | 121g | 12,000 DPI maximum | |
| | | 147g | 7,000 DPI maximum | |
| | | 164g | 400 – 3,200 DPI | |
| | | 107g | 200 – 12,000 DPI | |
| | | 88.3g | 100 – 12,000 DPI | |
| | | 105g | 100 – 18,000 DPI | |
Gaming is not just a hobby for some gamers, it is a way of life. That is why it is no wonder that the gaming industry is doing its best to cater to everyone's needs. The market has them: all from budget gaming chairs, the cheapest 144Hz gaming monitors, best and fastest gaming routers–you can even find a gaming mouse for big hands if you needed one.
Like all other peripherals and accessories, gaming mice are super important to the truly serious gamer. Heck, some even specifically invest time, money, and effort to finding the best mouse for Fortnite. However, if you are someone with big hands, you might have a difficult time choosing the right gaming mouse that is both comfortable and functional. After all, not all mice are created equal, and grips and hand fit are vital considerations when choosing a gaming mouse.
Good thing that gaming manufacturers did not forget about gaming's not-so-gentle giants. If you have been searching for the best gaming mouse for big hands, you've come to the right place. In this list, we review the best mice perfect for you and your needs. We didn't just base our reviews on their in-game performance, we also took a look at their ergonomics and fit as well. Let's take a look!
Say No to an Ill-Fitting Mouse: Advantages of Owning the Right Sized Mouse
Excellent ergonomics that ensure you are very comfortable even during long, intense gaming sessions.

You minimize the risk of carpal tunnel syndrome and other aches in your wrist. By having a mouse that fits your hand perfectly, you can grip your mouse correctly without much strain.

Efficient finger placement for buttons. Since the mouse is perfect for your hand, you can easily access and press buttons with ease and without needing to adjust unnaturally.
The Best Gaming Mice for Big Hands: Our Top 7 Picks
1. Razer Naga Hex V2
Best 'Power User' Mouse For Gamers with Big Hands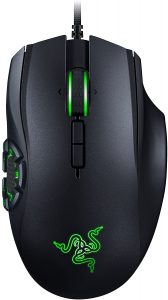 Specs
Weight: 135 grams | Sensor: 5G laser sensor | DPI: 100 – 16,000 DPI | Buttons: 7 | Size: 6.90 x 2.56 x 4.53 inches | Wired or Wireless?: Wired
Razer has been sitting at the top of the gaming peripherals mountain for many years now, so it is unsurprising to see their product on this list. Razer is famous among gamers because of its wide range of aesthetically pleasing peripherals that outclass most of the competition. The Razer Naga Hex V2 is one of their larger offerings that stand out because of the 7-button wheel on the side. 
These buttons are, of course, fully programmable via the accompanying Razer Synapse software. If you are a serious MOBA player who is tired of small mice, then the Naga Hex V2 will not only fit your hands comfortably, but will also let you map out all in-game functions for that edge in battle.
Now, while the Naga Hex V2 is indeed a large gaming peripheral, it is by no means ungainly or uncomfortable to use. In fact, the ergonomics almost makes it seem much lighter and agile than it is. Better, the build of the Naga Hex V2 is also pretty solid. The shell is nice and smooth to touch, and the materials used are typical Razer: premium and durable. Measuring 6.90 x 2.56 x 4.53 inches, it's certainly one for those with bigger grips.
As one would expect from Razer, it really delivers on performance. You can readily customize its sensitivity from between 100 and 16,000 DPI with the press of a button. This gives you finer control over just how quickly (and how far) it travels across your mouse pad. Now, the specific DPI stops can be easily adjusted via the user-friendly Synapse software. Here you can also customize the beautiful RGB lighting to your liking. It's an amazing level of customizability that extends, again, to every button on the Naga Hex V2.
So, if you want a gaming mouse built for big hands that delivers on comfort and performance, but don't mind the hefty price tag, then the Razer Naga Hex V2 is the one for you.
2. Logitech G502 Proteus Spectrum
Best Gaming Mouse for Big Hands with Customizable Weights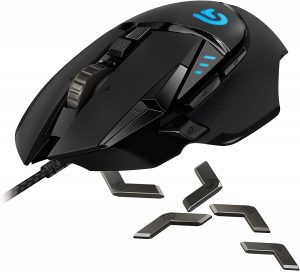 Specs
Weight: 121 grams | Sensor: ADNS-3310 optical sensor | DPI: 12,000 DPI maximum | Buttons: 11 | Size: 5.2 x 2.95 x 1.57 inches | Wired or Wireless?: Wired
The G502 Proteus Spectrum is an attractive pick for gamers who like Logitech's cool, sharp design sensibilities. Coming in at a relatively affordable price point, this mouse is both reliably functional and comfortable. Measuring 1.57 x 2.95 x 5.2 inches, gamers with big hands will find that the G502 Proteus Spectrum fits snugly and comfortably. It offers an especially satisfying gaming experience for those big-handed players who favor a firm palm grip.
The G502 Proteus Spectrum sports 11 programmable buttons that are both responsive to the touch and super easy to access. Except, that is, for two particular buttons on the side that are awkwardly placed further back on the mouse. It's not totally inconvenient, but claw grippers will find access very trying. 
There is a super convenient 'sniping' button that is conveniently placed near the thumb rests. Holding this down, lets you change sensitivity on the fly up to 12,000 DPI. Overall, the buttons are all tactile–giving a satisfying click when pressed–and all can be fully customized using Logitech's accompanying proprietary software which is very user-friendly and easy to navigate.
The Logitech G502 Proteus Spectrum is not just a worthy competitive gaming mouse because of its features and performance; its ergonomics are well-worth considering. For example, you can actually customize the overall weight of the mouse for those who might want a heavier-feeling peripheral.
Rounding out the package is the Logitech G502 Proteus Spectrum's PMW3366 optical sensor which has proven to be highly reliable–further enhancing your accuracy, especially with fast-paced games. The Logitech G502 Proteus Spectrum is an excellent, decently priced mouse that really takes comfort and functionality into consideration.
3. MIONIX NAOS 7000
Best Value-for-Money Gaming Mouse for Gamers with Big Hands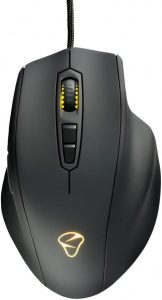 Specs
Weight: 147 grams | Sensor: PMW3366 optical sensor | DPI: 7,000 DPI maximum | Buttons: 7 | Size: 5.1 x 3.3 x 3.87 inches | Wired or Wireless?: Wired
If you're looking for something that is both budget-friendly but still highly functional, then the MIONIX NAOS 7000 is a great choice. This mouse feels premium yet falls within a reasonable price range. Aside from having excellent ergonomics that cater to gamers with big hands, it also suits palm grippers best. Fortunately, claw grippers can still join in on the fun, though they have to adjust their hands ever so slightly. Measuring 5.1 x 3.3 x 3.87 inches, this gaming mouse is wider than most. It is in a rubberized finish that's just smooth to the touch.
Aside from being designed to be big enough for big-handed gamers, it also performs very well as a gaming mouse. Its optical sensor is superb and has a decent maximum sensitivity of up to 7000 DPI. This gaming mouse also comes with seven programmable buttons that you can customize to suit your play style. It is not much if you are big into customization, but it's suitable for most first person shooters and for a  few macros.
This mouse is also supported by its own proprietary software that lets you personalize your gaming experience. From RGB lighting, button customization, and even mouse pad surface analysis and calibration, this mouse can be tailor-fitted to your needs easily. You can even adjust the scroll wheel's track speed if you so desired. A truly on-the-go gaming mouse, the MIONIX NAOS 7000 comes with built-in memory storage that allows you to save personal gaming profiles onto the mouse itself.
4. BenQ Zowie EC1-A
Best Esports Mouse For Big Handed Gamers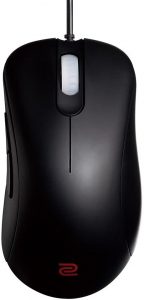 Specs
Weight: 194 grams | Sensor: Avago 3310 sensor | DPI: 400 – 3,200 DPI | Buttons: 5 | Size: 5.03 x 2.5 x 1.6 inches | Wired or Wireless?: Wired
The BenQ Zowie EC1-A is a gaming mouse that is made with esports in mind. With its minimalistic design, no-nonsense features, and a responsive sensor, this mouse means serious business. Overall, this mouse is loyal to BenQ's standard of simple yet effective peripherals.
Build-wise, this mouse is as simple as it gets and can seamlessly blend in with your basic, standard office mice. However, the curvature and the thumb placement are subtle giveaways of its true gaming chops. Plus, the way the mouse wheel itself changes color depending on the DPI setting is a nice touch to break the otherwise straightforward design. If you're into gaming mice that look the part, you might be put off by the BenQ Zowie EC1-A's modest flair. Make no mistake, though, this mouse is designed to allow gamers with big hands play comfortably and effectively for hours on end.
When it comes to gaming comfort, the BenQ Zowie EC1-A is ideal for extended gaming sessions. Big handed gamers will no longer have to deal with fingers cramps due to poor ergonomics and an ill-fitted grip. Measuring 5.03 x 2.5 x 1.6 inches, this mouse will fit snugly in larger palms.
Performance-wise, the BenQ Zowie EC1-A is powered by the Avago 3310 sensor, which is highly accurate and very responsive. Faster-paced games like Overwatch and Call of Duty will benefit from this mouse's precise tracking. The buttons are well-engineered and use Huano switches that are known for their satisfying clicks.
Overall, the BenQ Zowie EC1-A is a fabulous gaming mouse that boasts a minimalistic design and functionality that is on par with its more extravagant competitors.
5. Logitech G900 Chaos Spectrum
Best Ambidextrous Mouse for Gamers with Big Hands

Specs
Weight: 107 grams | Sensor: PMW3366 optical sensor | DPI: 200 – 12,000 DPI | Buttons: 6 – 11 | Size: 5.12 x 2.64 x 1.57 inches | Wired or Wireless?: Both
Right-handed gamers are quite fortunate as most gaming mice are made with them in mind. However, this is no longer the case, because more and more companies are making ambidextrous gaming Logitech, already a familiar name in the peripherals market, has developed the Logitech G900 Chaos Spectrum with lefties in mind.
This mouse boasts a large ambidextrous body and sports a newly designed hinge for its left- and right-click buttons. Left-handed people with big hands will appreciate this design, as they can use all the mouse buttons naturally and comfortably.
You can use this mouse in two different ways. First, you can use it wired by attaching its six foot long sturdy, braided cord. If you want to go wireless, simply remove the cable and connect using its accompanying  wireless dongle. Charging the Logitech G900 Chaos Spectrum's built-in battery will only take you up to 2 hours, and it will last you between 24 to 32 hours of gaming on a full charge..
In terms of performance, the Logitech G900 Chaos Spectrum is a wonderfully dependable peripheral thanks to its PMW3366 optical sensor. It features zero smoothing and has a high maximum sensitivity of 12,000 DPI. This combination means you have precise and accurate tracking that's crucial for fast-paced games..
6. SteelSeries Rival 310
Best Durable Gaming Mouse for Gamers with Big Hands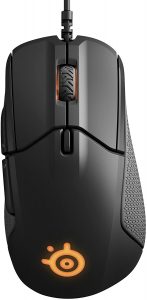 Specs
Weight: 88.3 grams | Sensor: TrueMove 3 Optical | DPI: 100 – 12,000 DPI | Buttons: 6 | Size: 5.03 x 2.76 x 1.65 inches | Wired or Wireless?: Wired
The SteelSeries Rival 310 is considered a very dependable gaming mouse. There's something about its smooth and simple curves that has made it very popular for so long. It is a true classic, really, thanks to its simplistic charm, sturdy build, and highly accurate sensor.
If the SteelSeries Rival 310 has any weakness to speak of, it's that it isn't ambidextrous. Also, compared to many gaming mice out in the market nowadays, It does not have many buttons–just six. These six buttons are programmable, though–including the DPI switch button–which is a big plus. But what makes this pick fantastic is its famed durability. This mouse can keep working at peak efficiency for years because of its premium materials and high-end Omron switches. The main buttons are the split-trigger type, which is known to be immensely durable. These switches are also rated for up to 50 million clicks–which should be enough even for the most hardcore of gamers.
It also really performs well across a wide range of games. Thanks to its TrueMove 3 sensor, you can expect steady and lag-free gaming performance and enviable accuracy. It even boasts a 1-to-1 tracking, which will ensure ultra-low-latency and accurate mouse movement. This sensor also utilizes an advanced jitter reduction technology without reducing response time.
7. Corsair Ironclaw RGB
Most Dependable Gaming Mouse for Gamers with Big Hands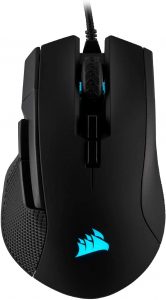 Specs
Weight: 105 grams | Sensor: PMW3391 optical sensor | DPI: 100 – 18,000 DPI | Buttons: 7 | Size: 5.12 x 3.15 x 1.77 inches | Wired or Wireless?: Wired
If you are tired of small mice, the Corsair Ironclaw RGB is a great contender for a dependable gaming mouse for gamers with big hands. Measuring 5.12 x 3.15 x 1.77 inches, this mouse is wide but still comfortable. The added heft seems to have imparted a rugged durability to this gaming mouse. That, and the fact that the Corsair Ironclar RGB is made from premium materials that are built to last. The buttons are a matte black and made from soft-touch plastic that feels nice to the fingers. The body itself is coated with a smooth finish that keeps away dust and grime. Finally this mouse's braided cable is reinforced so it can withstand wear and tear and even accidental snags without breaking.
The Corsair Ironclaw RGB is mainly marketed towards hardcore gamers who have big hands. Because aside from its durable build, it also boasts some pretty impressive specs. For one, it is not powered by a laser sensor but rather an optical one. That PixArt PMW3391 sensor offers sensitivity that ranges from 100 to a whopping 18,000 DPI. Its buttons and even light effects are fully customizable using the proprietary iCue software so you can tweak your Corsair Ironclar RGB to better suit your preferences.
This mouse also features a polling rate of 1,000Hz, which makes it super responsive. You won't encounter any input lag or other tracking errors, which may cost you games, especially if you play competitively. Overall, the Corsair Ironclaw RGB offers much despite its affordability. The construction is robust and feels both sturdy and reliable in your grip.
Hand Measuring Guide: Picking the Right-Sized Mouse for You
When you buy clothes or a brand-new pair of shoes, you wouldn't be paying for something that does not fit you, right? Following that logic, you wouldn't settle for a mouse that doesn't fit. That's especially true if you particularly enjoy gaming. 
Remember that ill-fitting mice are not just annoying to handle but can also cause painful strain to the wrist. But don't worry, there's a simple way to pick out a mouse that fits you, just follow these simple steps.
Step One:
Place your hand out in front of you, with your palms facing downward. Then rotate your palms sideways so they face each other. You should be able to see your palm's natural curve. Make sure that your chosen mouse matches this curvature.
Step Two:
Next, using a tape measure or ruler (either will work), start measuring from the base of your wrist's crease to the top of your middle finger.
Step Three:
Take note of the measurement. If it is 15cm or below, then you are suited to a small, ergonomically designed mouse. Mice with length of 4 inches and below are best for you.
If your measurement falls between 15-16cm, then a standard-sized mouse is your bet. These usually measure from between 4 to 5 inches in length.
If you measure above 16cm, then mice that measure 5 inches and above in length are your perfect match.
Wrap-Up
Buying a perfectly fitted gaming mouse can be tough when you don't know what to look for. Well, it is understandable considering how big the gaming market is. But if you have been gaming for years now and are still uncomfortable with the gaming mice you use–or have big hands, then this guide is for you..
Read this guide, and you will be on your way to having a big mouse that will fit your equally big hand!
Recap: The best mouse for big hands in 2020