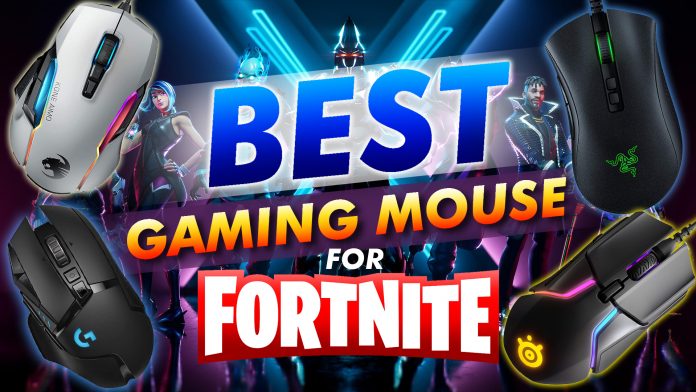 Shopping for gaming peripherals can be tedious. With all the offerings from different gaming companies, it is hard to choose the best one. However, it does not have to be complicated, especially if you already know what you are looking for. If you are currently on the market hunting for the best gaming mouse for Fornite, you've come to the right place.
| Preview | Product | DPI | Weight | Price |
| --- | --- | --- | --- | --- |
| | Logitech G502 Lightspeed | 16,000 | 114g | |
| | Razer Deathadder V2 | 20,000 | 82g | |
| | SteelSeries Rival 310 Gaming Mouse | 12,000 | 92g | |
| | Finalmouse Air58 Ninja | 3,200 | 58 | |
| | Razer Viper Ultimate | 20,000 | 74g | |
| | Logitech G Pro Wireless | 16,000 | 80g | |
| | Zowie FK2 | 3,200 | 81g | |
| | SteelSeries Rival 600 | 12,000 | 96g | |
| | Benq Zowie ZA12 | 3,200 | 83g | |
| | HyperX Pulsefire Surge | 16,000 | 104g | |
| | Corsair M65 Elite RGB | 18,000 | 97g | |
| | Roccat Kone AIMO | 12,000 | 130g | |
Fortnite is an FPS game, and performance is tantamount due to its competitive nature. It is critical to get a mouse that is precise, reliable, lightweight, and consistent that can keep up with Fornite's fast-paced gaming. After all, having the right gear for the job is crucial for winning. For example, owning the best headsets for Fortnite so you can hear sound cues better, getting the right rodent is the same.
So, if you are still undecided on what mouse to get, read on to know what the best mouse for Fortnite is. This article also leads you to find the best mouses for Fortnite, regardless if you have big or small hands.
Best Gaming Mouse for Fortnite Players at A Glance:
1. Logitech G502 Lightspeed
Sensor: HERO 16K / DPI: 16,000 / Weight: 114 g (extra weights: up to 16 g) / Buttons: 11 / Polling Rate: 1,000Hz (1ms) / Battery Life: 48 hours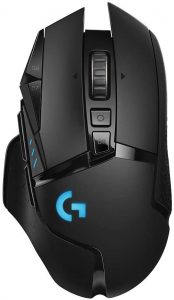 Classics are timeless for a reason, and this is the case with the Logitech G502 Lightspeed. This mouse is the reimagined version of the well-loved G502 Proteus Spectrum. It inherited all the good stuff from its predecessors and upgraded it.
This mouse retains the dignified and stylish look, thanks to its rubberized matte finish. It's angular design also added to its edgy looks that screams gamer. There are also two RGB zones if you are fond of fancy light shows.
The grip is also excellent and can keep you relaxed even at extended Fortnite gaming sessions. It also caters to both claw and palm grippers, but unfortunately, it is not an ambidextrous mouse, so lefties need to adjust their grip a bit. Unlike its predecessor, this mouse weighs less, at just 114 grams. As we all know, a lightweight mouse is preferred when it comes to FPS shooters. But for those who prefer their mouse heavy, you'll love the G502 customizable weights.
If you love to customize your buttons for quick casts, the 11 programmable buttons of the G502 Lightspeed will come in handy. It is also crisp and responsive and made from premium switches.
Performance-wise, you will have no problem with it. Powered with the HERO 16K sensor with up to 16,000 DPI, this mouse will deliver. Now you can snipe with ease as thanks to its 1,000 Hz (1ms) polling rate. Without a doubt with a sensor like this, the G502 is an excellent Fornite mouse and any other FPS title for that matter. Although it is a wireless mouse, you won't suffer from any lags thanks to it Lightspeed technology.
Overall, the Logitech G502 is a classic gaming mouse for Fortnite, that delivers extended battery life and lightweight body and premium sensor.
2. Razer Deathadder V2
Sensor: Razer Focus+ / DPI: 20,000 / Weight: 82g / Buttons: 8 / Polling Rate: 1,000Hz (1ms)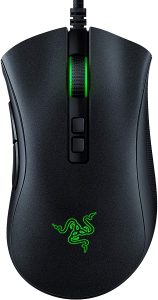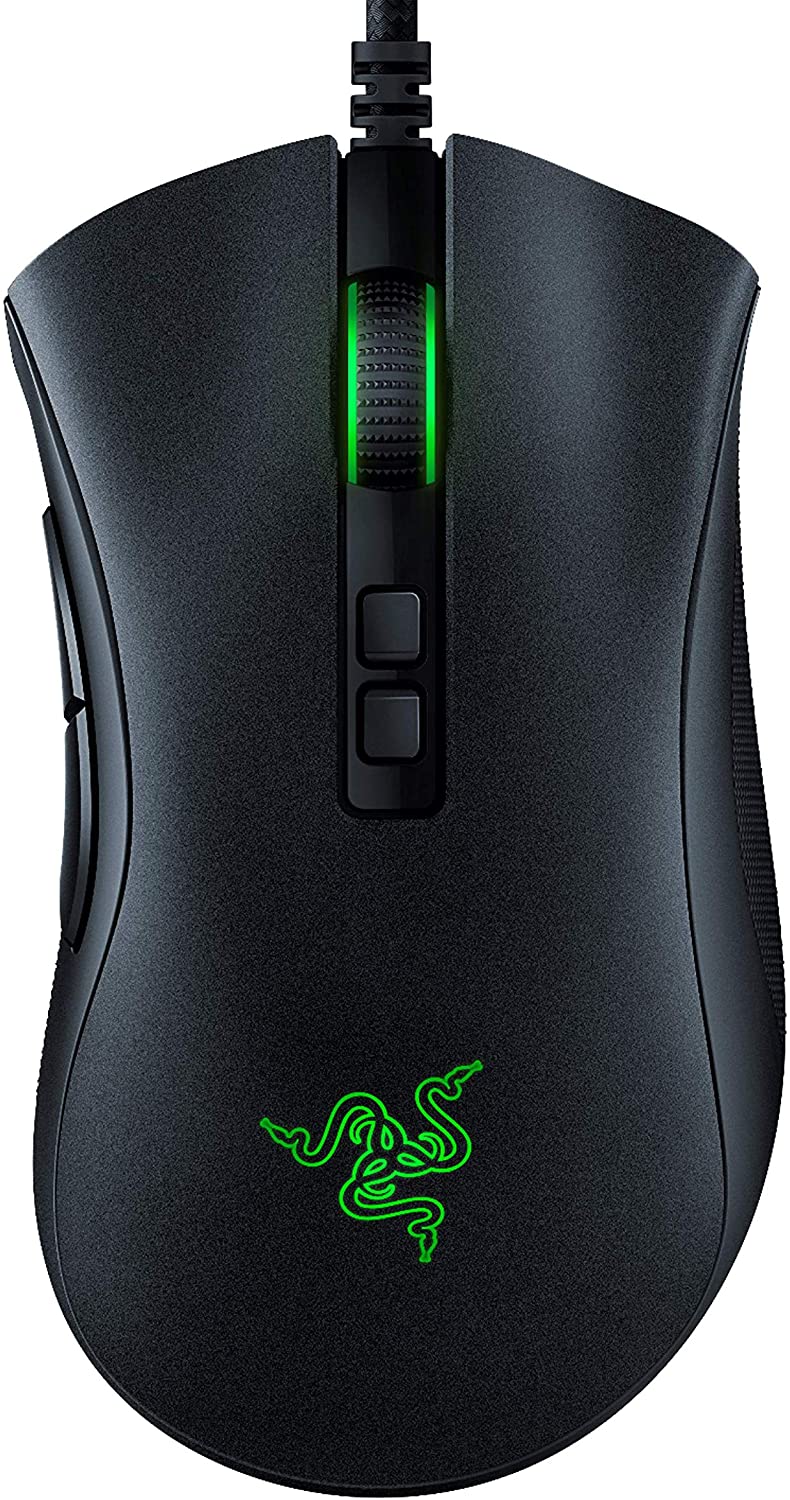 Razer is an institution when it comes to gaming peripherals, and the DeathAdder V2 is no exception. This model is equipped with Razer's brand-new cable. It is better compared to the older ones as it is more flexible and has less drag. The whole build of this mouse also feels well-built and premium. Thanks to its straight-forward black design and simple RGB lighting, it exudes a sophisticated vibe that will surely go well with your Fortnite gaming PC.
Like its previous iterations, the DeathAdder V2 is very comfortable is suited for right-handed gamers, sorry lefties, this is not an ambidextrous mouse either. But ergonomics wise, it can cater to both palm and claw grippers.
If you think that this mouse is all style, then you are wrong. Your Fortnite gaming session will be better, thanks to this mouse's very low click latency and adjustable DPI settings. The Razer Focus+ 20K DPi is top of the line and will not let you down. An excellent weapon for fast-paced games like Fortnite.
Overall, the Razer DeathAdder V2 is an outstanding gaming mouse for Fortnite. With its 1000hz (1ms) polling rate and accurate sensor, you are sure to play with precision. If you like customizing your buttons, then its 8 programmable buttons will come in handy. Now you can play Fortnite to your heart's content without worrying about an unresponsive mouse and poor ergonomics.
3. SteelSeries Rival 310 Gaming Mouse
Sensor: SteelSeries TrueMove3 / DPI: 12,000 / Weight: 92g / Buttons: 6 / Polling Rate: 1,000Hz (1ms)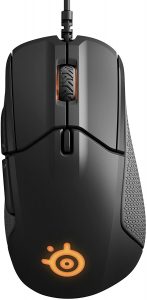 The SteelSeries Rival 310 is considered by many as an entry-level gaming mouse. However, underestimating this rodent is out of the question. As a Fortnite, you even invested on the best laptop for Fortnite, just to play smoothly, so accuracy is vital, and that is where Rival 310 shines.
Like performance, build is also essential. The Rival 310 blends durability, simplicity, and sophistication on this mouse. All six buttons are crisp and programmable. Powered by SteelSeries TrueMove 3 Sensor, which is engineered specifically for esports gaming, you can be sure that this mouse means business. It also delivers 1-to-1 tracking and has up to 12,000 DPI. You can also customize this mouse through SteelSeries Engine software, so you can make sure that this mouse performs according to your preferences.
Game-wise, the Rival 310 delivered exceptionally well in fast-paced games like Fortnite. All of your movements will be tracked well, and you are guaranteed not to experience lag during gunfights or when you are using skills.
Overall, the SteelSeries Rival 310 is a competent Fortnite gaming mouse. It is well built and responds accurately due to its TrueMove 3 sensor. The software is also one of its pros as it's great for customization purposes. Honestly, the Rival 310 mouse is easy to recommend, and will surely fit in perfectly in the hands of both casual and professional Fortnite players.
4. Finalmouse Air58 Ninja
Sensor: Pixart PMW3360 / DPI: 3,200 / Weight: 58g / Buttons: 6 / Polling Rate: 500Hz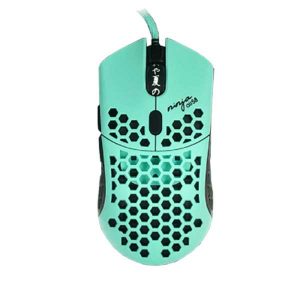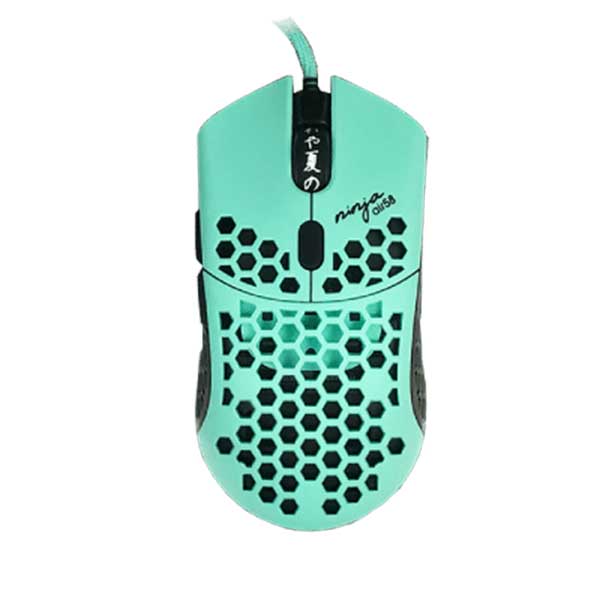 The Air58 Ninja is a super lightweight at only 58g mouse thanks to its honeycomb design. It is the mouse that Ninja uses and also the mouse that Bugha uses. So, if you are one of Ninja's fans, you will surely appreciate this pick.
Design-wise, the Finalmouse Air58 Ninja is an ambidextrous mouse. So, if you are a left-anded Fortnite player, you can join in the fun. The shape of the mouse is ergonomically designed and will better with palm grip style. Thanks to its elongated and broad form.
Due to its sheer lightness, the Finalmouse Air58 Ninja glides over mousepad with ease. It is super agile and easy to maneuver during intense games. However, those with Trypophobia should stay away from this mouse. After all, the honeycomb design is not for everyone.
Unlike most modern gaming mouse that goes with bigger DPI capacity, the Finalmouse Air58 Ninja settles at just 3,200 DPI. However, it is still an excellent sensor. Its PMW3360 optical sensor tracks flawlessly, with no pesky acceleration. Also, the liftoff distance is low and won't give you any problems with the tracking. Overall, it is a great pick, but the design might turn-off some games.
5. Razer Viper Ultimate
Sensor: Razer Focus+ / DPI: 20,000 / Weight: 74g / Buttons: 8 / Polling Rate: 1,000Hz (1ms) / Battery Life: 70 hours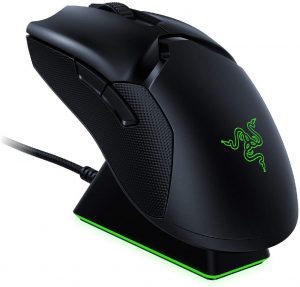 If you are following Tfue you can see that this mouse is the one that he chose. The Razer Viper Ultimate an excellent looking Razer mouse that performs well. First, build quality is superb, there are no flimsy parts on sight, and the sensor is top of the line. It also glides well, and the buttons are crisp and tactile.
The Razer Viper Ultimate is also lightweight at just 74g. It is definitely on the list as one of the lightest wireless mice out there. Performance-wise, it handles competitive games like Fortnite very well. No wonder that it is the mouse that Tfue uses on his streams. The latency is non-existent, whether you opt to use it with or without wires. Its ambidextrous design is also a huge plus for gamers that is coupled with a firm grip that favors claw grippers.
Overall, the Razer Viper Ultimate is a monster on FPS games like Fortnite. After all, if you are competitive, gamer delays and jitters can cause you a game, so a responsive sensor is a must-have. Since it is also lightweight, playing for hours is of no consequence.
6. Logitech G Pro Wireless
Sensor: HERO 16K / DPI: 16,000 / Weight: 80g / Buttons: 7 / Polling Rate: 1,000Hz (1ms)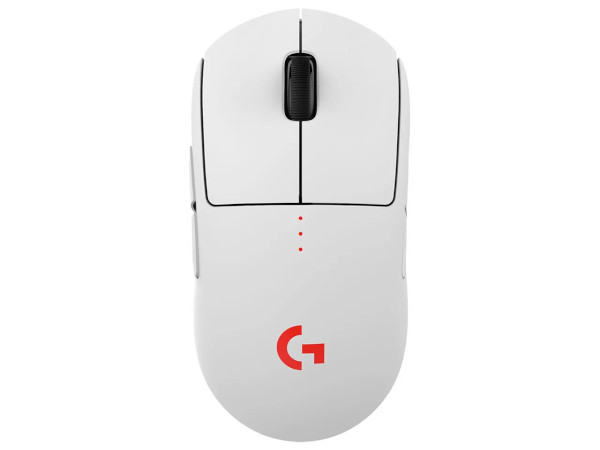 The G Pro mouse was developed in collaboration with top professional esports gamers. Even Shroud uses the G Pro Wireless in his streams, so you can be sure that this mouse is the real deal. This mouse is created to be both stylish and functional, and they succeeded. It is lightweight and designed well to look cool, but not too much to distract you from playing.
The grip is also fantastic and will fit perfectly in your hand. Since it is pretty lightweight, you will barely feel it there, which is vital during extended Fortnite sessions. It is also a wireless mouse, so you won't have to worry about cable drags or tangled wires.
Powered by the HERO 16k optical sensor, the G Pro Wireless offers accurate tracking and up to 16,000 DPI. You can be sure that this mouse is very responsive and without any lags. If you like customizing your peripherals, then Logitech G Hub will come in handy. Here you can tweak RGB lighting, DPI setting, and button customization.
7. Zowie FK2
Sensor: PMW3310 / DPI: 3,200 / Weight: 81 g / Buttons: 5 / Polling Rate: 1,000Hz (1ms)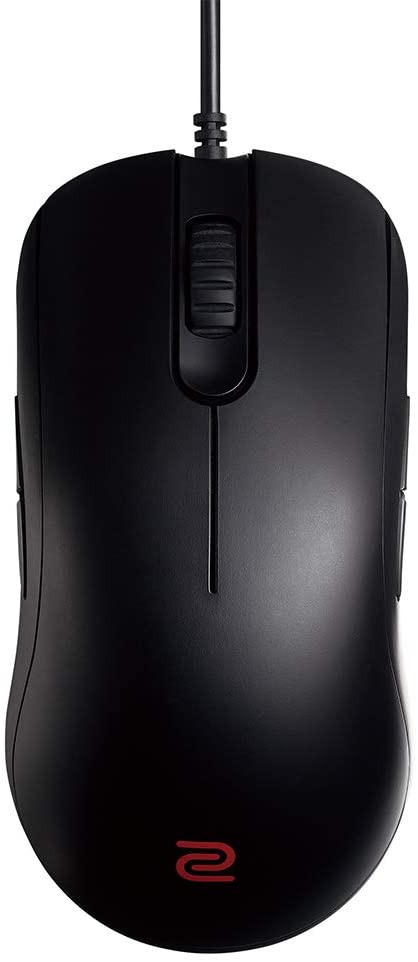 The FK2 is Zowie's FK series most popular ambidextrous mouse. Not surprising as Zowie is known to make gaming gears that are specifically for FPS games like Fortnite. Like most of its gaming mice, the Zowie Fk2 does not have any unnecessary features or fancy RGB lights.
Sure the FK is a bit old by now, but its popularity has not waned, and this says a lot. Aside from its comfortable shape, it is also a genuine ambidextrous mouse with side buttons on both sides. A great design, especially as tons of gamers are left-handed.
This mouse is also having a lightweight design at just 83 grams, so gaming for hours is no biggie. Even with its age, this mouse is still continuously chosen by seasoned FPS players today. After all, the ergonomics and weight rank as the most crucial factor when picking a gaming mouse for shooter games, and the FK is a testament to that.
Gaming wise, the PMW3310 maybe an old sensor, but it is still perfectly capable of accurate gaming. Its refresh rate of 1000hz will ensure smooth gaming and better Fortnite experience.
8. SteelSeries Rival 600
Sensor: TrueMove3+ Dual Sensor System / DPI: 12,000 / Weight: 96g (adjustable up to 128g) / Buttons: 7 / Polling Rate: 1,000Hz (1ms)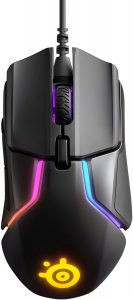 The SteelSeries Rival 600 is all about performance. From RGB lighting, weight customization, down to the high-end sensor, this mouse is a solid pick for Fortnite gamers.
Design-wise, the Rival 600 looks impressive and is coated with a rubber finish. The side grips also feel premium and are lined with soft pieces rubber that reinforces a comfortable and firm grip. Out of the box, the Rival 600 weighs 96g and can be customized to your liking.
Aside from being aesthetically pleasing, the Rival 600 is a real performer. Powered by TrueMove 3 sensor that makes the Sensei 310 timeless, this mouse will not let you down. This sensor offers a maximum sensitivity of 12,000 DPI and 1000hz. Playing Fortnite with this mouse is such a breeze and will surely add to the odds of you winning.
Overall, the SteelSeries Rival 600 is a jam-packed that is still within a reasonable price tag. With its extensive weight system, fully customizable RBG lighting system, and fantastic sensor, this mouse is such a great pick.
9. Zowie ZA12
Sensor: PMW3310 / DPI: 3,200 / Weight: 83g / Buttons: 5 / Polling Rate: 1000 Hz (1ms)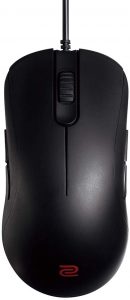 Zowie is known for its classic gaming peripherals, and the ZA12 is one of them. The most defining feature of Zowie mice is that they are minimalistic and straightforward, and the ZA12 continues the tradition with its sleek looking black shell. It is also ambidextrous, which contributed significantly to its popularity.
This mouse is part of the ZA series that comes in three different width and length sizes, and the ZA12 is the medium-sized model. It also weighs 84 grams and favors palm grippers. However, claw grippers can still use this mouse with a few grip adjustments on their end. The coating of the ZA12 is a mixture between matte and glossy finish, which dramatically reinforces the grip. For the buttons, it is tactile and responsive a feels premium.
Overall, the ZA12 is an excellent pick for Fortnite gamers thanks to its unobtrusive build and reliable sensor. The PMW3310 sure is old but it is still trusted by professional players even though it's been out for so many months or years now. The ZA12 is simple and gets the job done, and that is what matters.
10. HyperX Pulsefire Surge
Sensor: PixArt PMW3389 / DPI: 16,000 / Weight: 104g / Buttons: 6 / Polling Rate: 1000 Hz (1ms)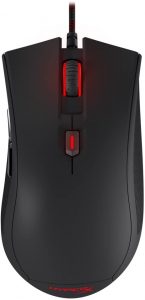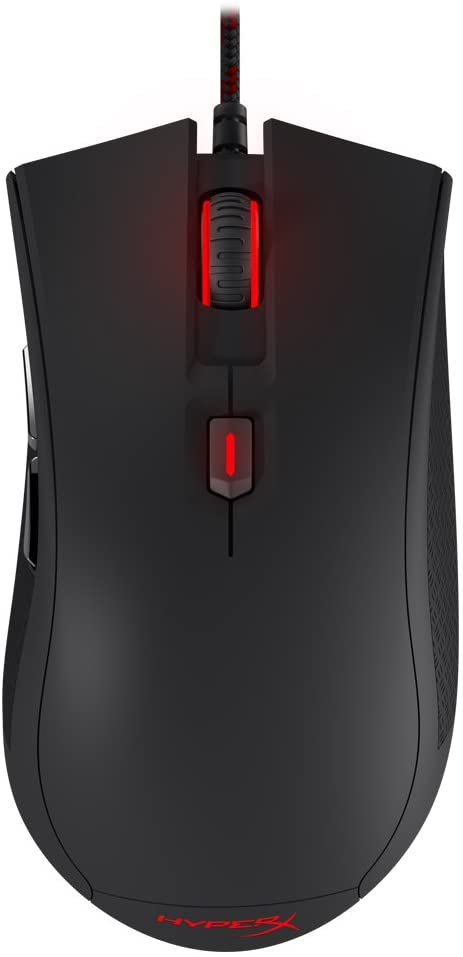 Fortnite is a fast-paced competitive game, so a well-performing mouse is what you need, and the HyperX Pulsefire Surge RGB is another excellent choice. Though it is a bit heavier compared to its competitors, it does not feel bulky at all. It also sports some really fancy, wave effect RGB lighting.
Aside from the light show, the Pulsefire Surge RGB sports a black design that would blend in any gaming desk.
Gaming-wise, the Pulsefire Surge RGB performs beautifully in Fortnite. Everything about this rodent is tailored to work at peak performance. From its Pixart 3389 sensor down to its durable Omron switches, HyperX has scraped all unnecessary things and focused on what matters. The Pixart 3389 sensor is capable of up to 16,000 DPI, which is critical when playing competitive shooters like Fortnite.
Overall, this mouse comes along with all the right tools for the job. The excellent switches, reliable sensor, plus the splendid RGB lighting is more than enough to make this mouse a strong contender. If you're looking for a well-performing Fortnite mouse that is budget-friendly, then the HyperX Pulsefire Surge RGB is your guy.
11. Corsair M65 Elite RGB
Sensor: PixArt PMW3391 / DPI: 18,000 / Weight: 97g / Buttons: 8 / Polling Rate: 1000 Hz (1ms)

The Corsair M65 RGB Elite is a nice looking mouse. It screams FPS as well, thanks to its pretty cool sniper button. This mouse also comes with two color variants, so you get to choose whatever fits your aesthetics.
Design-wise, this mouse is superb, and also feels great. The grip is steady while the hull is smooth and pleasant to touch. It is also ultralight, but if you want, you can add a little bit of heft as the weight is customizable.
During game time, this mouse will not disappoint. The Corsair M65 RGB Elite will be a great asset during your Fortnite sessions. The PixArt PMW3391 sensor is rated at 18,000 DPI, and can be furthered tweaked using the iCue software. You can also customize the buttons here. However, this software is not exactly user friendly.
But in terms of gaming, this is a fantastic Fortnite gaming mouse. It also won't break the bank, but it does not feel cheaply made either. With its precise sensor and 1000 Hz refresh rate, gaming is better and more accurate. Without a doubt, this mouse is perfect for shooters like Fortnite Battle Royale.
12. Roccat Kone AIMO
Sensor: ROCCAT Owl-Eye / DPI: 12,000 / Weight: 130g / Buttons: 10 / Polling Rate: 1000 Hz (1ms)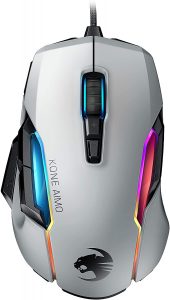 German gaming manufacturer Roccat has been in the industry for some time now, and have produced high-quality peripherals. The Roccat Kone AIMO, like its predecessors, has been a crowd favorite for quite some time now.
The build of this mouse feels premium and a bit curvaceous, which is excellent for palm grippers. The sides are also great, which reinforced a relaxed and firmer grip. Unfortunately, it is not an ambidextrous mouse, so lefties may need to adjust their grip to settle down. The switches made by Roccat and rated at with a 50-million-click lifespan. They feel crisp and tactile, perfect for extended Fortnite marathons. Each button is responsive, with all your presses accurately registered.
Gaming wise, the sensor is high grade and performs well in fast-paced games. Called Owl-Eye, it is actually just a 12,000 DPI Pixart 3361 optical sensor that is tweaked by Roccat. The refresh rate is excellent at 1ms, which is crucial for accurate tracking. Overall the gaming experience with this mouse is legit.
Essentially, The Roccat Kone AIMO is a rodent that offers a lot despite its reasonable price tag. While maintaining a competitive price, Roccat has succeeded in producing an accurate, controllable, and highly customizable mouse that is huge on performance.
Helpful Shopping Tips According to Experts
Similar to how each player prefers one weapon over the other, Fortnite players are also found to perform better when using their preferred gaming mice. Additionally, players are found to perform even better when they use the right mouse settings. This section specifically covers crucial aspects to look at when shopping for the best gaming mouse for Fortnite.
Know What Type of Sensor it Has
The lasers on the underside of the mouse have distinct technology types. Being able to determine the type of sensor it uses is a great way to also determine whether the mouse is great and helpful for your game of choice– in this case, Fortnite. We're not talking about lasers that come from an RGB gaming mouse but the one found on the underside of the mouse.
Ideally, you will want the latest sensors from known companies that have manufactured gaming mice for decades. Logitech, Razer, HyperX, and SteelSeries, are among the few companies you can 100% rely on to deliver high-quality sensors. You can visit and view their respective websites to learn more about their sensors.
Make Sure it's the Right Size for Your Hands
In line with its weight, each gaming mouse has a different size and even designs that could either make or break your experience. Because it plays a vital role in giving you the best experience, it is imperative that you choose a mouse according to your hand size.
Refer to our small gaming mouse article if you have small hands. Our roundup of the best mouse for big hands should help if you have big hands.
Note that there are some gaming mice designed for people with large hands while others are designed for people with smaller hands. Moreover, they also normally come with distinct designs according to at least one of the three claw types, namely, Palm Grip, Claw Grip, and Fingertip Grip.
What's Your Grip Style?
Among the three grip styles, claw grip and fingertip grip are the most popular types of grip styles to the general gamers, and that is because both these grips put the user in a convenient position to respond as soon as they can whenever the need arises. Below is a better illustration of what these look like.
Claw Grip
As the name suggests, claw grip strongly resembles the claws of birds. You rest your palm on your mouse and have your index finger as well as your middle fingers arched over to the mouse buttons. This grip lets you react quickly, which is ideal for FPS games like Fortnite, Valorant, Apex Legends, and PUBG.
Most FPS gamers prefer this because it allows you to glide fast with better stability and high precision. However, it also somewhat compromises your aim if the mouse is too light. Also, the finger arch can also cause strain and would become uncomfortable in long hours of gaming sessions.
Palm Grip
The palm grip is another popular grip type among FPS gamers. This puts your entire hand and fingers on the mouse. Your thumbs will also be resting gently on one side of the mouse with your pinky fingers on the other side.
The majority of work is done by your arms and not your hands, which is why it's highly recommended to have a large mouse pad to avoid compromising your gliding motions.
Fingertip Grip
The fingertip grip focuses on, well, your fingertips instead of your entire palm. There is minimum contact between your hand and the mouse for fast movements. Your fingers are still arched on the mouse buttons so you can still make fast clicks with this type of grip.
The downside to this type of grip, however, is that it's more difficult to master, and you need a mouse that isn't too light or too heavy for your hands. Furthermore, it is ideal to use a mouse that has an anti-slip surface feature to avoid overshooting when gliding. You might want to check our article about the lightest gaming mouse if you are a fingertip grip type user.
Know the DPI Range
Before we lose your interest with all the jargon in this part, let us first make it clear that DPI or Dots Per Inch, is the measure of video dot density. It's basically the number of individual dots that can be placed in a line within the span of one inch in a digital print.
CPI or Counter Per Inch, on the other hand, is the number of steps the mouse will report to the system when it moves within a span of one inch.
At the end of the day, even though they have been used interchangeably, you'll want a gaming mouse that presents a wide range of sensitivity to be able to attain the best setting for your gaming preference.
How Many Buttons Does it Have?
Fortnite isn't your ordinary FPS game because on top of the battle royale theme, it has building features that could put you in either a good or bad position, depending on how you use these different platforms in different scenarios.
Because of the complexity of the game, assigning different keys to specific building platforms will surely make things a lot easier. If you wish to have total control over everything in the game, a mouse that comes with more than the average number of buttons will surely come in handy. If you are comfortable accessing your keys from your mouse, then opt for a gaming mouse that comes with more buttons.
Best Mouse DPI Settings in Fortnite – Improve Your Gaming Experience
Best Mouse Settings for Fortnite: Acceleration, DPI, and Sensitivity
When playing FPS games like Fortnite, you need to have a precise aim. That's why it's important to properly configure your mouse settings. First off, you need to disable mouse acceleration. Then, you need to configure your sensitivity settings. Finally, you can try out these settings on Fortnite to check whether it suits you or not. Let's take a look at each in detail.
Deactivating Mouse Acceleration
This is similar to hitting the gas when driving a car. The mouse accelerates and precision increases as you move your mouse. It's a great feature for certain tasks, but not for Fortnite. So the first thing you have to do is to disable mouse acceleration.
Here's how to do it in Windows 10:
1. Type "Mouse Settings" on your Windows search bar. Then, select the settings app that will appear in the search results.
2. Once the window shows up, click "Additional Mouse Options" on the left. The Mouse Properties dialog box will appear. Go to the "Pointers Options" tab.
3. Uncheck the box next to "Enhance Pointer Precision."
4. Click "Apply" and click "OK."
You can check out how to deactivate mouse acceleration in Mac OS X below:
1. Open the Spotlight and type "Terminal" in its search box. Launch the Terminal utility once it shows up in results.
2. Type the command "defaults write.GlobalPreferences com.apple.mouse.scaling -1" and press Enter.
3. Exit the terminal window.
4. Reboot your Mac computer.
Find the Right DPI Settings
After disabling mouse acceleration, the next thing to adjust is your DPI setting. This is where a gaming mouse comes in. Regular mice don't allow you to adjust DPI levels. Modifying your DPI levels can be done through a software (of the mouse brand) or by pressing a DPI button on your mouse.
A high DPI (>1000) will enable you to make quick reactions. Aiming at enemies will require less effort. The disadvantage of a higher DPI setting is there's a lot of room for error. Moving your mouse for a fraction can cause uncontrolled cursor accuracy. High DPI settings are best for RTS and MOBA games where there's a big emphasis on map coverage.
On the other hand, low DPI (400 – 1000) is best for FPS games like Fortnite. It allows you to have better control over sensitivity. Thus, you can adjust Fortnite sensitivity easily with it. The exact number will be based on your preferences. It's best to stick to a low DPI to avoid too much sensitivity when aiming headshots.
Tuning the Sensitivity in Fortnite
Once you're in the game, launch "Settings" and open the "Mouse and Keyboard tab." The key things you have to pay attention to include:
1. X-Axis Sensitivity. The higher the setting, the faster the camera will move when using the mouse to look left and right.
2. Y-Axis Sensitivity. The higher the setting, the faster the camera will move when using the mouse to look up and down.
3. Targeting Sensitivity. When you set this to 100%, no slow down will occur when targeting. A lower setting will mean more slow down when targeting.
4. Scope Sensitivity. When you set this to 100%, no slow down will occur when using a scope. A lower number will pertain to more slow down when scoped.
What's Next After Fine-Tuning Mouse Settings?
Once you have fine-tuned your settings, try it out on a casual game with your friends. Check if you have the perfect mix of settings. Once you get it right, don't change it frequently. Make sure you use the same settings to develop muscle memory.
We don't recommend you to copy settings used by professional players. It may work for them, but may not be suited for you. Try to find out the best mix and match of settings for you. Don't forget to practice the best setting so you can execute quickly and automatically.
Frequently-Asked Questions (FAQs)
1. Is a lighter mouse better for Fortnite?
Fortnite is a first-person shooting game that requires mobility. This game requires quick movements and low sensitivities, which can be achieved with lightweight mice. To answer the question, a lighter mouse is better for Fortnite because it's easier to stop and move around.
2. Can I play Fortnite on a PS5 with a mouse?
Sony has confirmed that the PS5 will support the use of keyboards and mice at a system level. Although, it's up to the game developer to add support for their titles. Fortunately, Fortnite can be played with a mouse on your PS5. However, you may need to modify your settings to ensure playing on PS5 feels like that of your experience with a computer.
3. Is a controller or mouse better for Fortnite?
Each has certain advantages or pros over the other. For instance, if you're used to playing with a mouse, aiming will feel more natural. Plus, aim assist isn't available for the keyboard-mouse combo, which means you are in total control when aiming your shots.
On the other hand, Fortnite offers a certain degree of aim assist to those who use controllers. Make no mistake; you still have to practice working with the game's aim assist feature to perfectly land your shots.
With controllers, all buttons are easy to reach, whether you have small or large hands. If you're looking to purchase a mouse, you must consider if you can reach all the buttons with your grip for a better gaming performance.
4. Is 1000 DPI good for Fortnite?
A good rule of thumb to follow when playing Fortnite is to use a DPI level of about 400 to 1000. You have to tweak the settings to your preferences. So, you want to try out different DPI levels and check out which is the best for your gaming style. You can also check out our guide on Mouse Settings for Fortnite in this article.
Wrap-Up
Picking the best deals of gaming mouse for Fortnite need not be hard. Especially if you know what you are looking for. However, with many offerings from different gaming companies, it is hard not to get confused with a large number of selections.
But then again, a great gaming mouse, especially for a game as fast-paced as Fortnite, should be lightweight, accurate, and ergonomically designed for long gaming sessions. After all, Fortnite is a great game best enjoyed for hours, and having a reliable battle buddy is in order, am I right?
Recap: Top 12 Best Fortnite Mouse