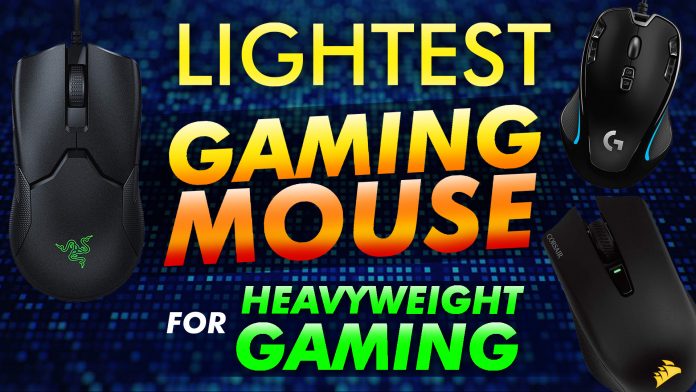 | Preview | Product | Weight(gm) | Sensor | Dimensions | Price |
| --- | --- | --- | --- | --- | --- |
| | FinalMouse Ultralight 2 Cape Town | 47g | PMW 3360 | 7 x 5 x 2.5 inches | |
| | Cooler Master MM720 Lightweight Gaming Mouse with Ultraweave Cable | 50g | PMW 3389 | 4.2 x 3 x 1.5 inches | |
| | Cooler Master MM710 Gaming Mouse | 53g | PMW 3389 | 4.59 x 2.46 x 1.51 inches | |
| | Air58 Mystic Blue | 58g | PMW 3360 | 7 x 4.5 x 2.6 inches | |
| | Glorious PC Gaming Race Model O | 67g | BAMF | 5.04 x 2.6 x 1.48 inches | |
| | Razer Viper Ultralight Ambidextrous Wired Gaming Mouse | 69g | 5G Optical Sensor | 4.99 x 2.61 x 1.49 inches | |
| | Logitech G Pro Wireless Gaming Mouse with Esports Grade Performance | 80g | PMW 3366 | 1.57 x 2.50 x 4.92 inches | |
| | Logitech G300s Optical Ambidextrous Gaming Mouse | 82g | Optical | 4.50 x 2.80 x 1.40 inches | |
| | Corsair KATAR Gaming Mouse | 82g | Optical | 4.36 x 2.52 x 1.51 inches | |
| | Logitech G203 Prodigy RGB Wired Gaming Mouse | 85g | Mercury | 1.50 x 2.45 x 4.59 inches | |
| | Corsair Harpoon RGB Gaming Mouse | 99g | Optical | 4.55 x 2.69 x 1.59 inches | |
Every gamer has different preferences when buying a mouse. Some like it fancy with lights and all while others prefer the ultimate minimalist approach. While other players are particular with weight.
So, what are the advantages of having the lightest mouse? One of the main reasons is accuracy. Most FPS players prefer their mouse with low sensitivity, and this results in them lifting the mouse often. Naturally, a lightweight mouse is perfect for easy lifting when aiming or making quick adjustments. You can check Bugha's mouse to read more about how weight plays an integral part in his gameplay.
Here's Why Light Gaming Mouse Are Becoming So Popular According to Experts
The popularity of light gaming mice isn't because popular YouTube gamers said so or perhaps an overhyped lightweight gaming mouse just got out a few days or weeks ago. It has something to do with the rising popularity of eSports and the kinds of games that are becoming popular now.
Because these gaming mice are lightweight, users are found to pinpoint with excellent accuracy, which is an asset worth investing in for popular FPS games and MOBA titles now. You can see why we've specifically rounded up gaming mouse for Fortnite. The lack of having to exert more effort also decreases the fatigue you get from extended gaming sessions. Due to such findings, ultralight gaming mouse are becoming more and more ideal for competitive eSports players, and those who just love to spend hours on end or even days playing games on their PCs.
Additionally, lightweight gaming mice are found to be much more portable compared to the traditional bulky gaming mouse on the market. So, regardless if you play games or use it for content creation, you will find these lightweight mice easier to carry around. It's even easier to carry them around if you're someone who frequently visits LAN parties and events.
Are Honeycomb Designs Mandatory?
You've probably seen and observed how most of these lightweight gaming mice tend to feature a honeycomb design. Hype or not, there's a deeper reason why manufacturers had to resort to these designs.
To make something as light as possible, manufacturers have to shave off as much weight as possible without compromising the essentials like the hardware, the lenses, sensors, and other mechanics under the hood.
By creating small holes in the plastic shell, not only do manufacturers achieve getting rid of weight but they also provide users a more comfortable experience since air can pass through the mouse, giving your palm fresh air at all times. If you're the type of gamer who sweats a lot, you will surely love the design.
Due to the new honeycomb design, some users might have to get used to it first before they start to actually feel the benefit of the lightweight feature.
Here are the 11 Lightest Gaming Mouse in 2022
If you are someone who prefers their mouse lightweight, then you've come to the right place. Here we have listed 11 gaming mouse equipped with premium switches, excellent sensor and lightweight design.
1. FinalMouse Ultra Light 2 Cape Town
Weight: 47 grams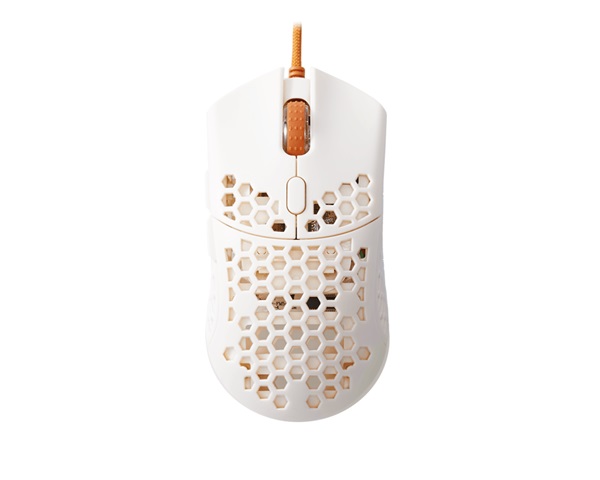 The lightest mice. Ultralight is not just branding for the FinalMouse Ultralight 2 Cape Town; it stays true to its name. At only 47 grams, this undoubtedlyis the lightest gaming mouse that you can buy today. For a FinalMouse device which enjoys a reputation of having high price tags, it is reasonably priced. Sure, not that budget-friendly but still lower compared to its peers.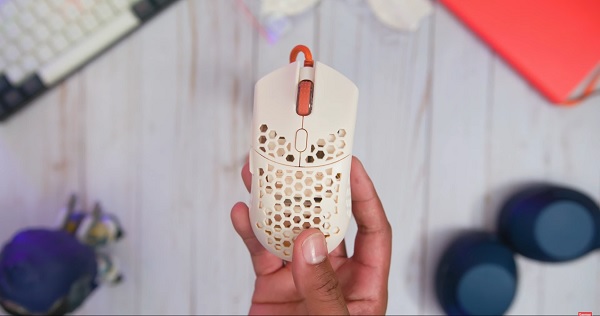 Gaming wise, the Ultralight 2 Cape Town is not all style and weight. It is powered by a PMW 3360 optical sensor. You can enjoy gaming with both precision and accuracy as this sensor is not just for show. The buttons feel marvelous as both the left and right clicks are made using Omron (D2FC-F-7N0) switches. This switch helped in making the FinalMouse.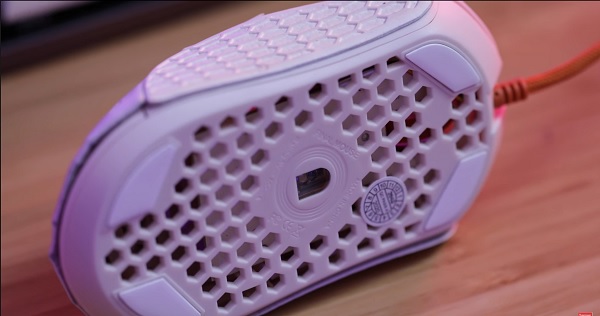 Ultralight 2 Cape Town tactile and snappy. They are also rated for 20 million clicks, so this purchase will last you a while. Though it is a wired mouse, the cable is thin, soft, and braided.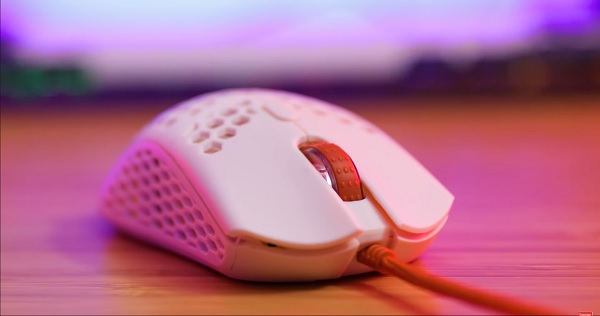 Design-wise, the Ultralight 2 Cape Town is both functional and appealing while still carrying the "lightest gaming mice" title. It is only 11.6 cm long and perfect for those with small to medium hands. This mouse also comes with an "infinity" skin, which is basically just a piece of foam that you attach to the mouse to make it bigger.
2. Cooler Master MM720 Lightweight Gaming Mouse with Ultraweave Cable
Weight: 50 grams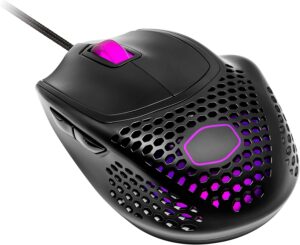 The Cooler Master MM720 mouse is a revived version of the Hornet gaming mouse from 2011. The MM720 has the wider body that the Hornet had but has all new hardware inside. This allowed Cooler Master to focus on new technology without having to worry about creating a new design. A black body and white body are the two models of this mouse.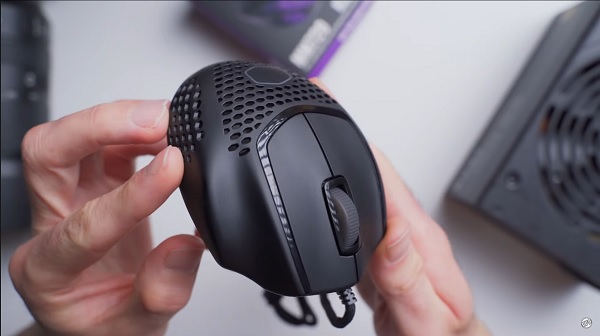 Right off the bat, gamers will have nostalgia for the original Hornet and the revived 2015 model. It is one of the lightest gaming mouse at only about 50 grams.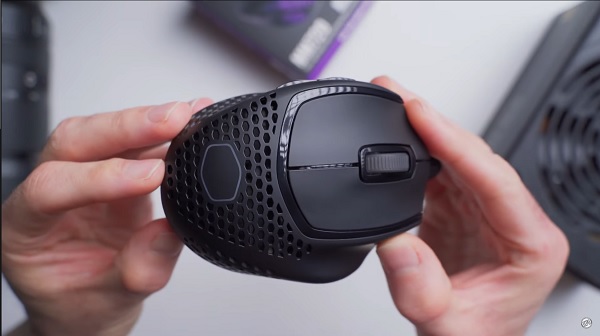 Its new optical switches have a lifespan of about 70 million clicks. There is an illuminated scroll wheel and bowl that shines through the grated holes of the mouse. The colors of the lights are all RGB, and the connected software can change it.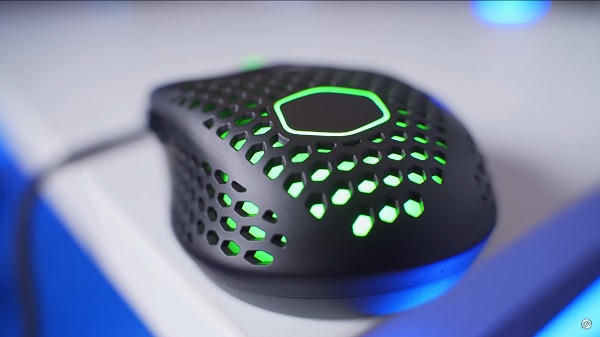 The mouse has curves in the right spots to support the thumb and pinky while gaming. This mouse is great for people with wider hands but also comes with grip tape for extra grip.
The sensor is a 3389. The seven DPI profiles you can make with the software can change by 100 DPI increments. You can disable profiles too.
The optical switch in the DPI software makes the system more confusing. Since this is software, the mouse should be as fast as possible without needing a delayed switch.
The white model feels sticky to help people grip the mouse better. This feeling on the mouse is not for everyone.
3. Cooler Master MM710 Gaming Mouse
Weight: 53 grams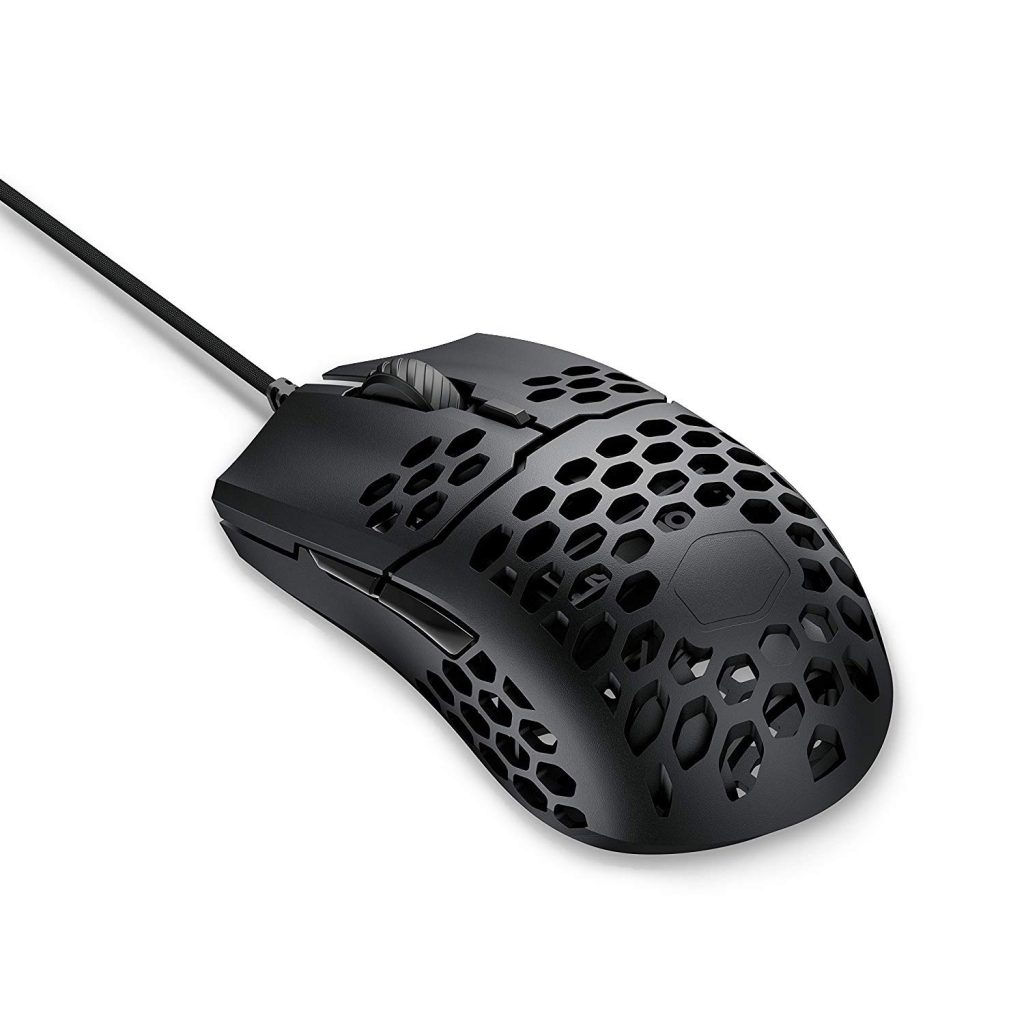 The common trait of some lightweight gaming mice is the 'honeycomb design.' The honeycomb design aims to decrease the weight by filling the mouse with holes. The Cooler Master MM710 followed this trend, making it one of the lightest gaming mouse in the market today.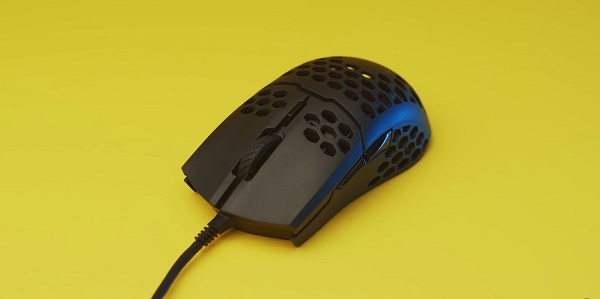 At only 53 grams, this lightweight rodent can be categorized as an entry-level gaming mouse. It is affordable and simplistic perfect for those looking for their very first mouse. This minimalistic mouse only sports six buttons, there is also limited customization options available that veteran gamers might find lacking. But then again, if you are a newbie PC gamer, this won't bother you as much.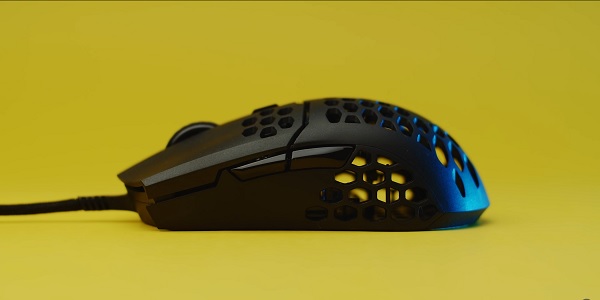 However, if you have a big hand, the MM710 can make you feel like a giant. So, if this bothers you, you might want to look somewhere else, But aside from this, the gaming performance of this mouse is unquestionable. Powered by PixArt PMW 3389, sensor gaming is a breeze. It is responsive and smooth, with no stutters or lags.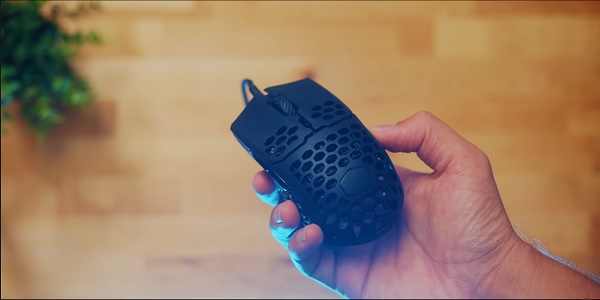 Both the Cooler Master MM710 and the Cooler Master MM720 are outstanding options in the lightweight category. However, one is better than the other but only in specific features and areas.
For example, even though they have the same sensor and have near identical features, the MM270 is lighter and is found to offer a more comfortable experience with more programmable buttons: 6 to 10 programmable button inputs.
If you're looking for a lightweight gaming mouse with as many programmable buttons, then you'll definitely want to pick the MM270. However, if you are more comfortable using a lightweight mouse with an ambidextrous design, then the MM710 is for you.
Shop around for a gaming mouse Amazon or Newegg and make sure it fits your needs.
4. FinalMouse Air58 Ninja
Weight: 58 grams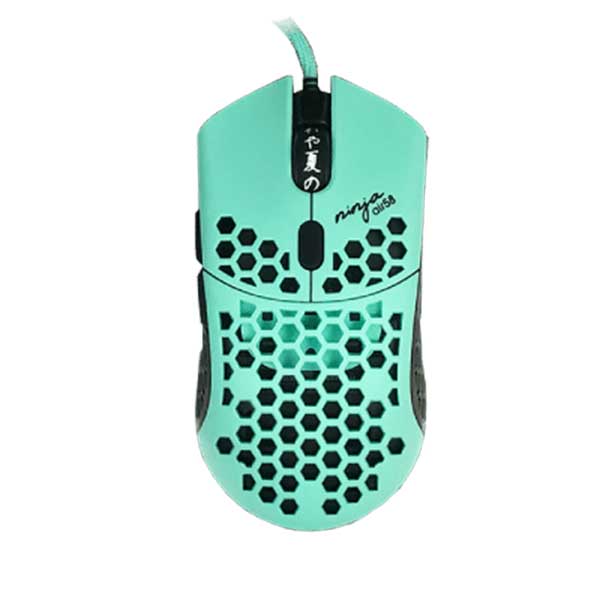 The Air58 Ninja is a lightweight ambidextrous mouse that is perfect for FPS gamers everywhere. The shape and ergonomics of the mouse are superb and can cater to both claw and palm grippers.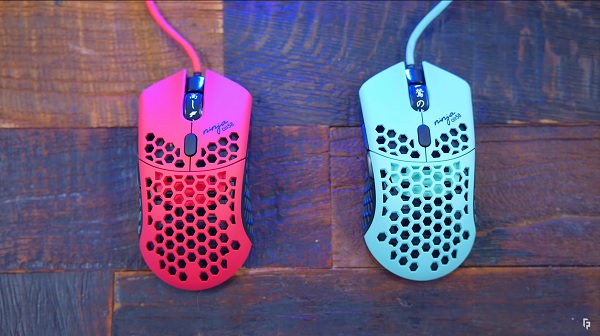 Though it does seem more inclined to palm grippers, thanks to its long body and wide frame. It is a pretty large mouse, and measures at 128 x 60 x 40mm.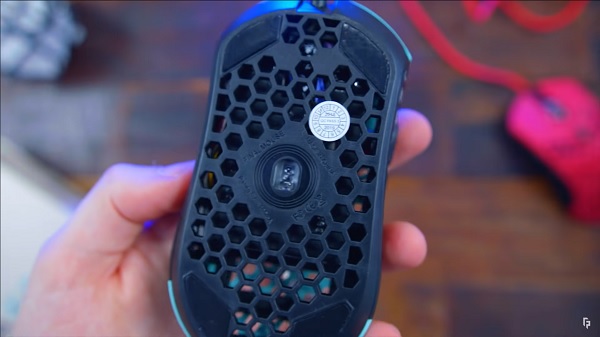 The matte coating on the Air58 Ninja also looks premium, which is to be expected considering at its hefty price tag.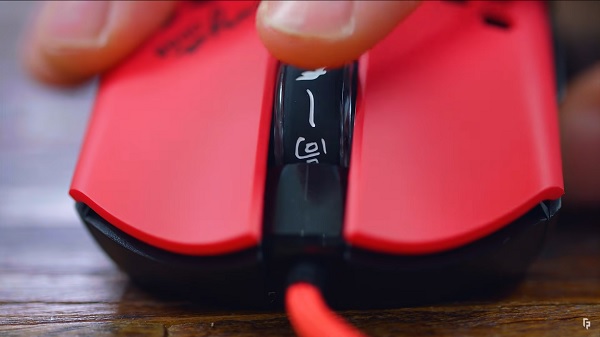 The surface is soft and pleasant to touch. It is also not prone to gathering grime and dust, so you won't have to worry about cleaning the mouse often.
The buttons feel crisp and tactile, they are not mushy and offers satisfying feedback. The scroll wheel is responsive with well-defined notches. One of the unique features of the FinalMouse is that each unit sports a hand-painted haiku in Japanese. The reason for this is that this mouse was the result of FinalMouse's collaboration with Ninja, a popular Fortnite streamer. Ninja also uses this mouse personally. However, the Japanese touch was a bit unnecessary, considering he is not related to Japan except his namesake.
When it comes to gaming performance, the Air58 Ninja is powered by Pixart PMW3360 optical sensor, so this mouse performs. The tracking is flawless, with no observable acceleration or smoothing. Though it is not a wireless mouse, the cord won't give you any problems either. It is smooth and flexible and drags well on any surface.
5. Glorious Model O
Weight: 67 grams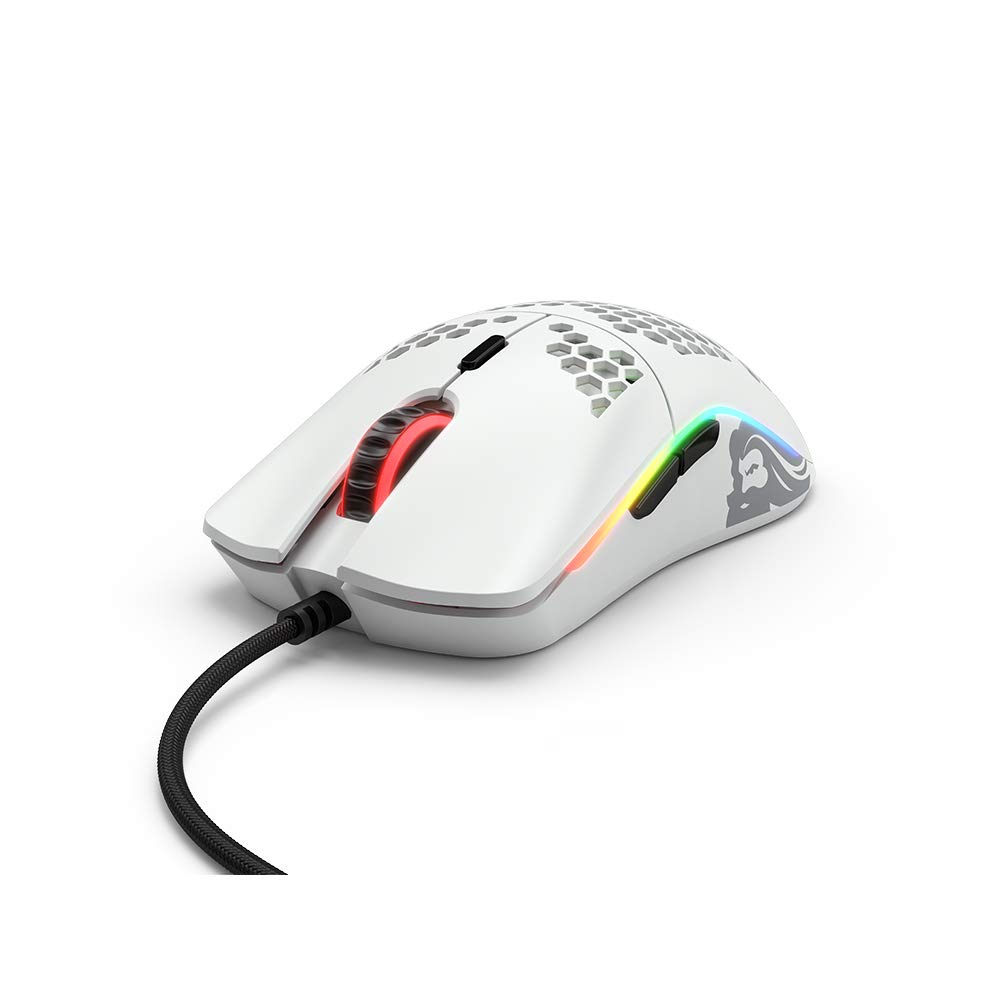 The gaming mouse Glorious Model O sports a honeycomb design and two customizable RGB zones. One on the scroll wheel, the other one inside the mouse itself, which can be seen through its holes.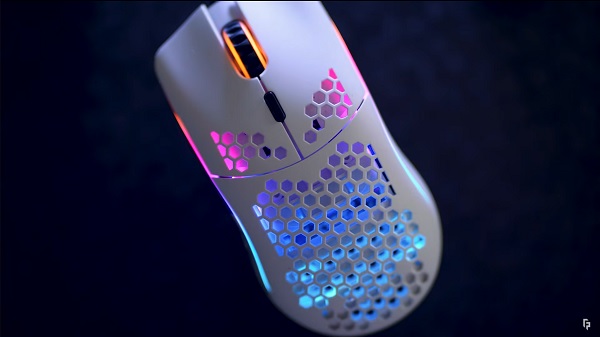 It is a well-built mouse, and while it is made out of plastic, it does not look cheap. The body itself is solid, with no visible gaps or creaking parts. You can be sure that this mouse can keep you company for a long time.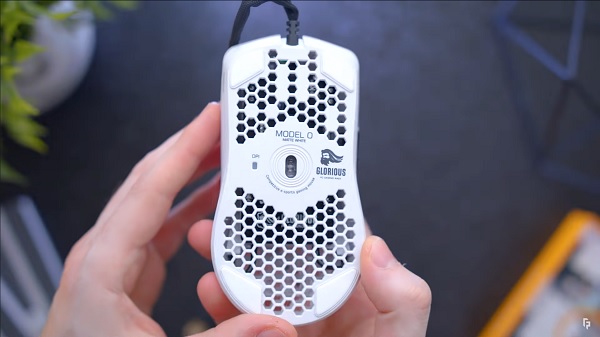 Gaming wise, the Glorious Model O is a superb mouse, especially for FPS games. It has a low click latency, excellent DPI settings, and a decent polling rate. Equipped with six programmable buttons, this mouse is highly functional as well.
It also seems well-built and boasts fabulous ergonomics, which should be sufficient enough to keep gamers comfy, especially for extended gaming sessions. After all, its a fact that gamers love to put hours of game time into games that they love. However, those with small hands may find this mouse a bit too large for them.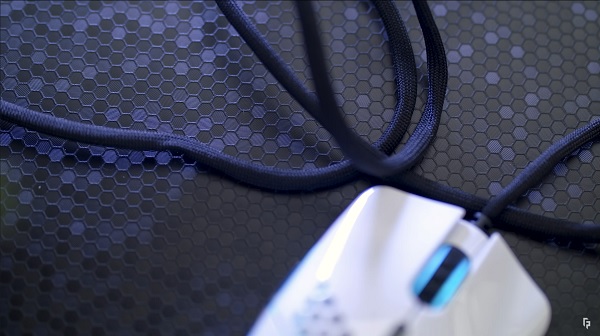 Both the Finalmouse Ultralight 2 – Cape Town and the Glorious Model O fall under the top-tier class category. But apart from the 20 grams weight difference (Finalmouse weighs at 47g vs Glorious Model O at 67g), the Glorious Model O is found to have better performance across the board.
Specifically, it has twice maximum DPI, double polling rate, and a lower lift-off distance. However, because the Model O is 20g heavier than the Finalmouse Ultralight 2, it isn't exactly suitable for small hands. For this matter, we recommend you to check our smallest gaming mouse article.
Fortunately, Glorious heed the feedback from the community and released the Glorious Model O-, which is essentially a smaller version of the Model O with near identical performance.
The same can't be said for the Finalmouse though, because if you have larger hands, then you're forever stuck with the small design of the Ultralight 2 – Cape Town and its lack of dedicated software for customization.
Overall, the Glorious Model O is an amazing ultra-light gaming mouse. Though it is a wired mouse, it will still appeal to fans of lightweight rodents. At 67 grams and customizable DPI, you are in for a treat. This mouse is well-built, sports an ambidextrous design, and can cater to any grip type.
6. Razer Viper Ultralight Ambidextrous Wired Gaming Mouse
Weight: 69 grams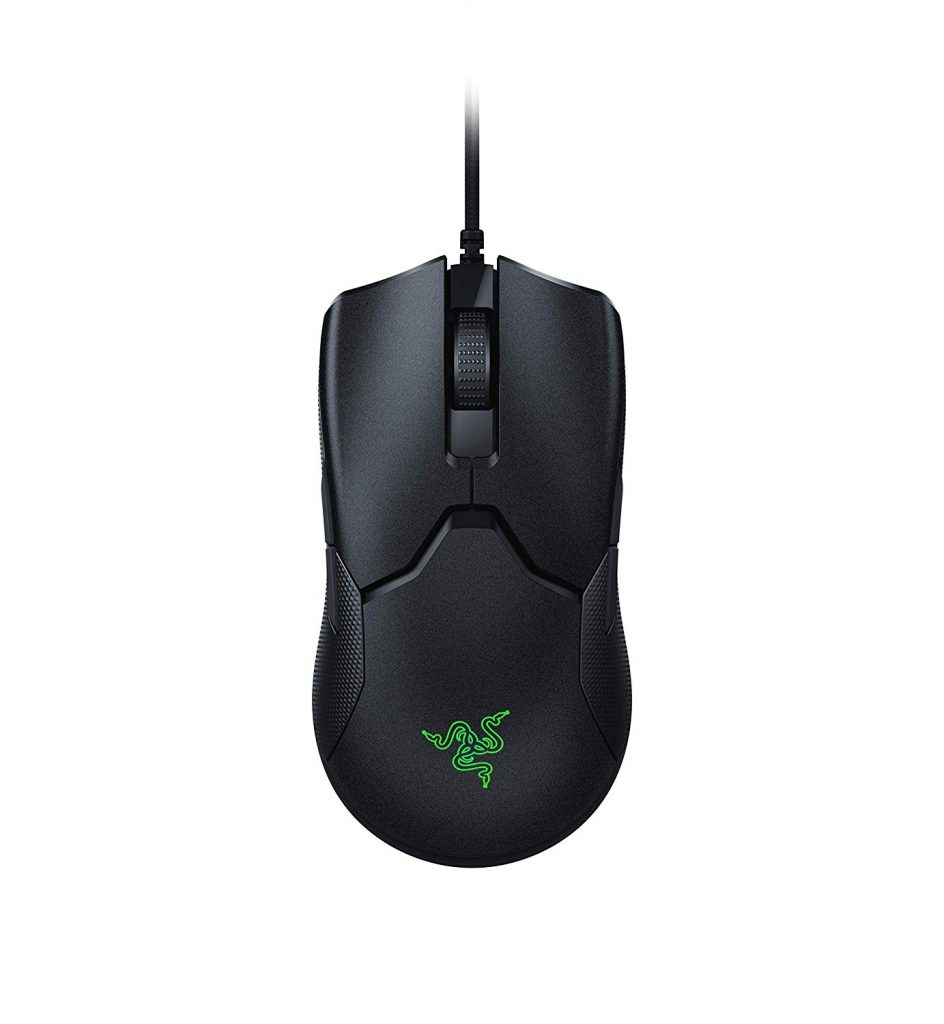 The gaming mouse Razer Viper Ultralight is a lightweight mouse at just 69 grams. Unlike other rodents who resorted to punching holes on the device to decrease its weight, Razer accomplished this while maintaining a solid-bodied mouse making it ultra-lightweight, highly functional, and without holes. If you suffer a bit of Trypophobia but want a lightweight mouse, then this pick is your best bet.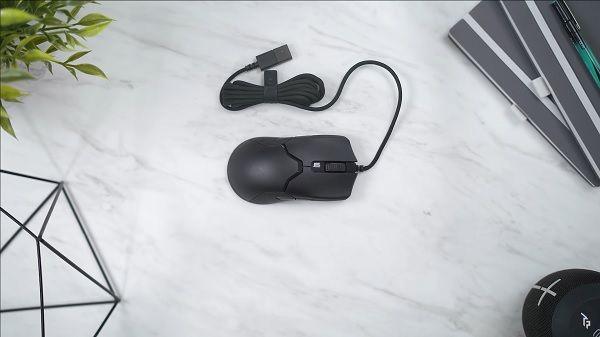 This mouse is also ambidextrous, so lefties won't feel left out. It is mainly for palm grippers, but claw grippers can also get comfortable with a slight adjustment on their part. Powered by Razer's 16,000 DPI optical sensor, you can be sure that this mouse performs flawlessly. The tracking is excellent, with no latency at all.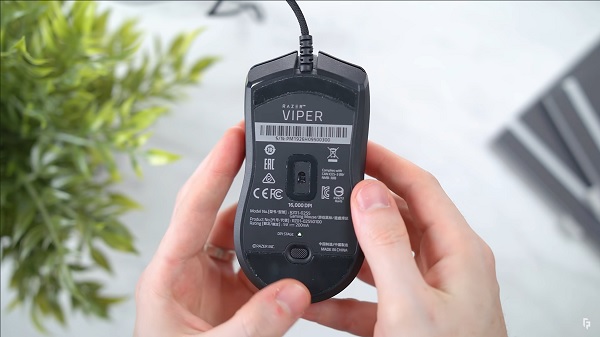 The switches are also equipped with a light beam based actuation, so button clicks are registered faster compared to traditional mechanical switches. It can also do some macros thanks to its 8 programmable buttons Just head over to Razer Synapse 3 and tweak to your heart's content.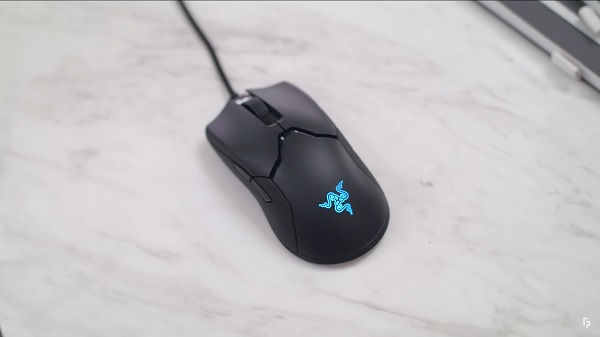 Like most modern gaming gears and Razer products as well, it is furnished with fancy customizable Chroma RGB lighting. So, if you want to customize this mouse, simply head over to the Razer Synapse 3 software. Unfortunately, this is not a wireless mouse, but the cord is designed well and drag-free, so there is no hassle in using it while gaming.
7. Logitech G Pro Wireless
Weight: 80 grams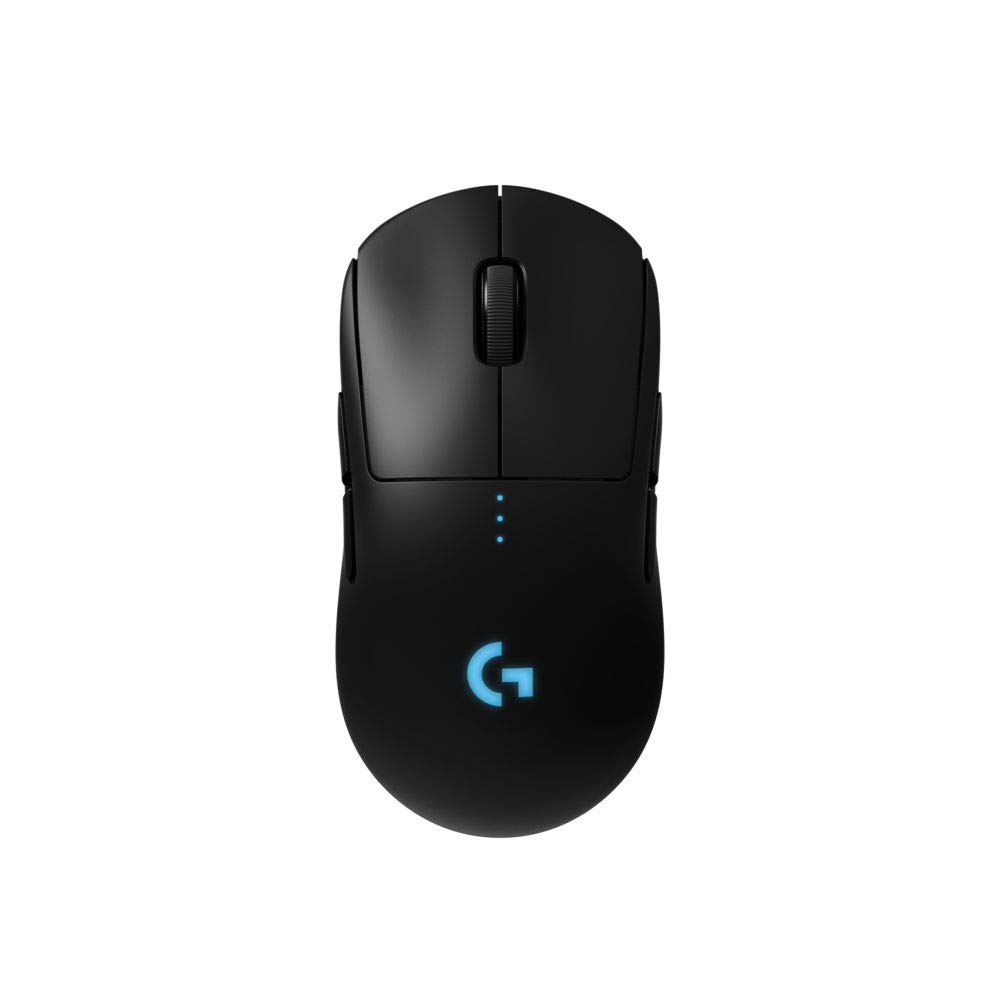 The gaming mouse Logitech G series has made quite a wave in the gaming market. Its products are known to be highly functional and reasonably priced. Though the G Pro Wireless is one of the brand's higher-end gaming options, the price tag is worth it. Though not as lightweight compared to other mice on this list, it is lightweight enough to be favored by esports professionals like Skadoodle.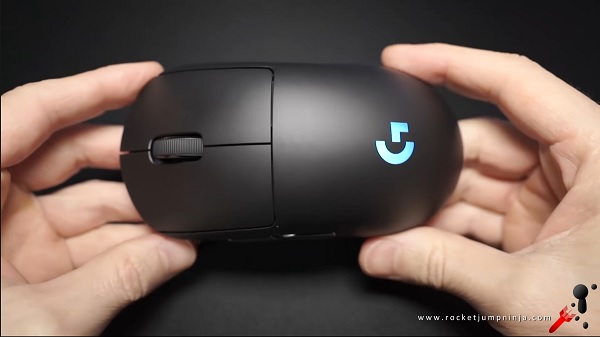 If you hate wires, then this pick will appeal to you. Though some competitive gamers might raise an eyebrow due to latency, you've got nothing to worry about. Thanks to Logitech's Lightspeed technology, you are assured that there is zero latency, and you also get to enjoy a 1ms response rate. Powered by the Hero 16K sensor, it is accurate and perfect for competitive gaming.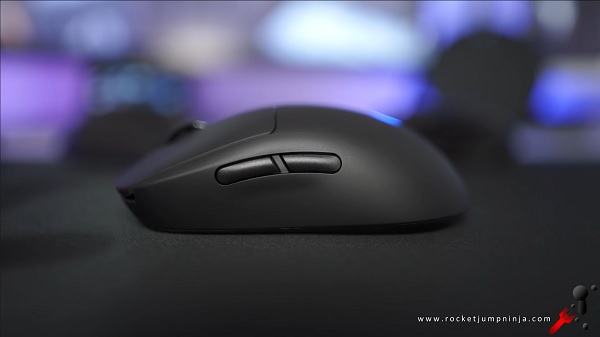 The button switches are amazing as well, they are crisp, tactile, and responsive. It also got eight programmable buttons. The four buttons are removable, though, so you can opt-out if you don't need it.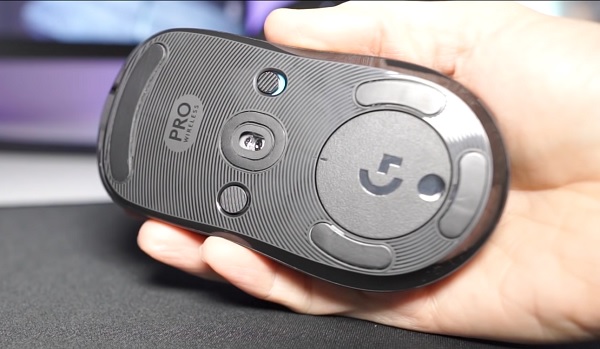 The left and right click are tactile and made from premium switches that are rated at up to 50 million clicks. It is also compatible with Logitech's Lightsync technology that lights up the G logo. With 48-hour battery life, this mouse is an amazing pick for gamers everywhere.
8. Logitech G300s
Weight: 82 grams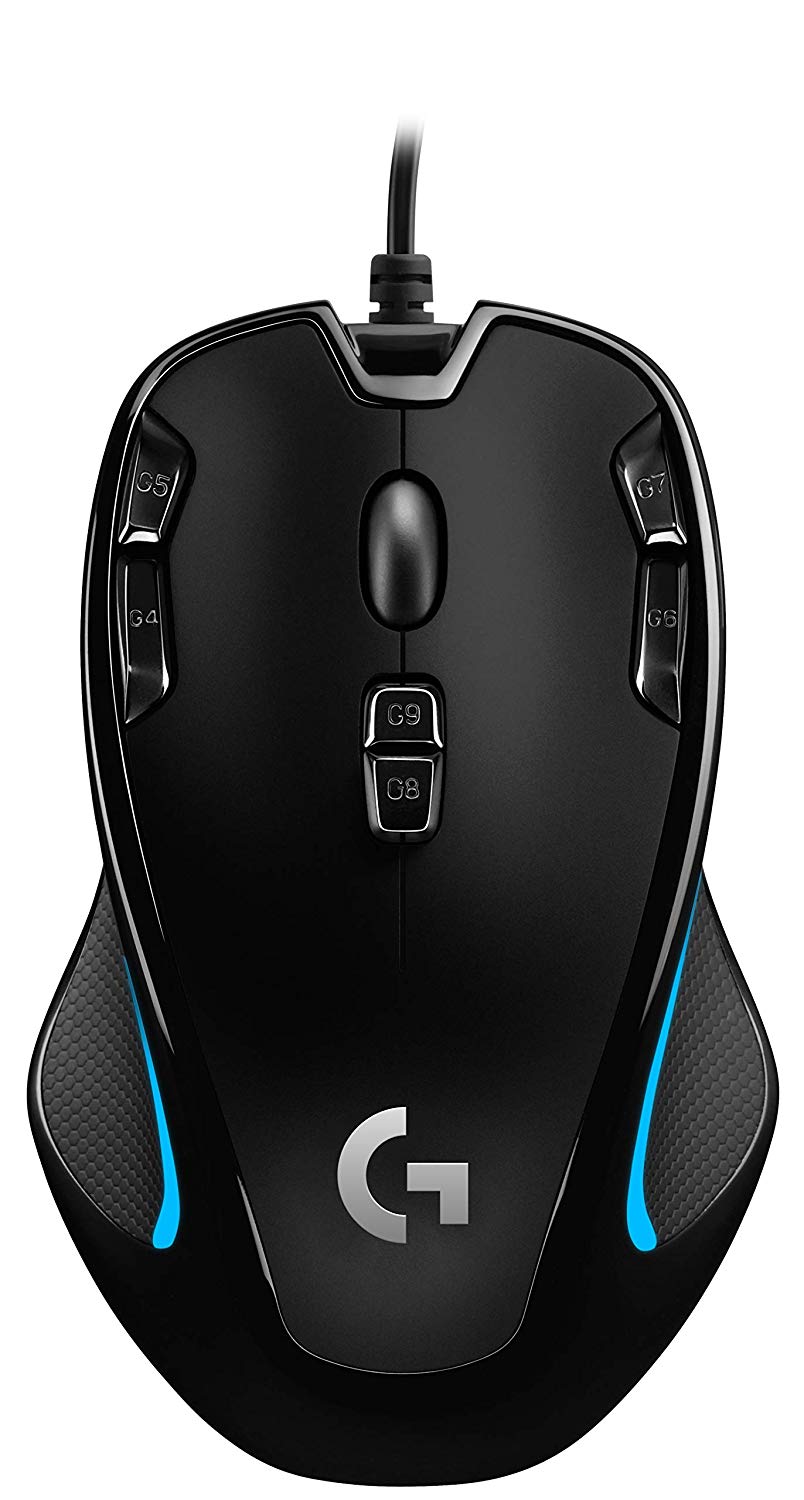 This another lightweight mouse from Logitech is also light on the budget, which is a huge plus. The Logitech G300s is an attractive option for gamers who are looking for a lightweight mouse that won't break the bank. After all, you don't need to splurge to own a decent gaming mouse.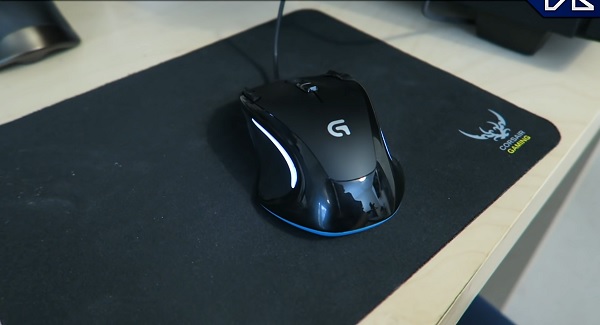 The Logitech G300s is also an ambidextrous mouse, so both sides are similar to each other. The top shell and the buttons are constructed using a blend of matte and glossy black plastic. On the other hand, the bottom part is made of blue plastic. This mouse is capable of a fancy light show, but just on the RGB strips and not on the Logitech logo on the back. You can tweak it using the exclusive software. It is easy to use so you won't have any problems with it.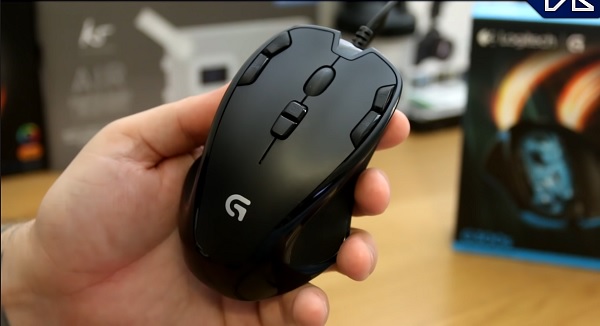 Overall, the G300s is excellent for FPS and other competitive games. The cable may cause some annoyance due to its stiffness but increasing your CPI may help you overlook this issue.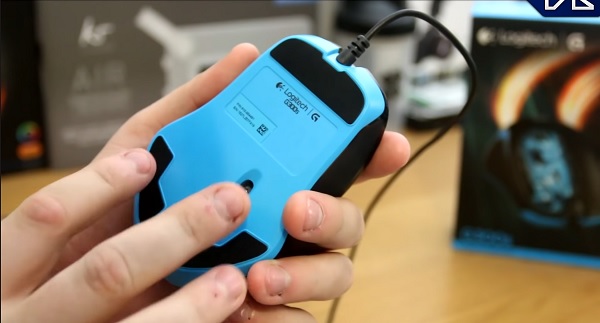 If you do have a large hand and uses palm grip, there's a slim chance of accidentally pressing the top buttons, particularly when playing fast-paced games.
9. Corsair KATAR
Weight: 85 grams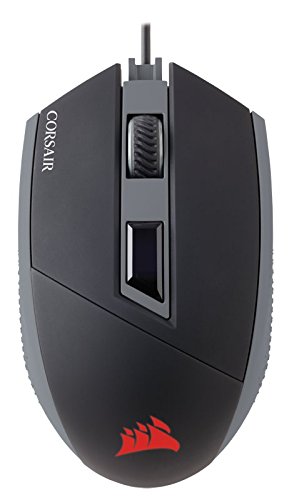 The Corsair Katar is perfect for MOBA and FPS gaming, thanks to its lightweight build and programmable buttons.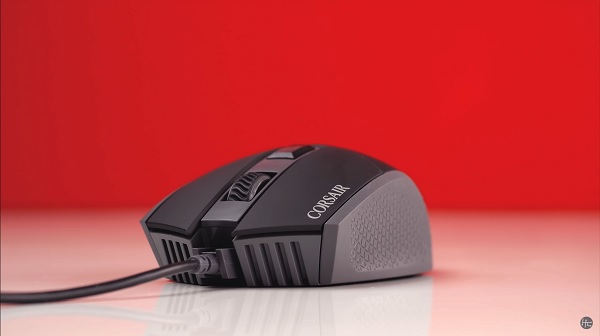 The design is simple and not too flashy, the material used in constructing this mouse is decent enough for its price tag. It is also an ambidextrous mouse, so whether you are a lefty or a righty, this mouse got you covered.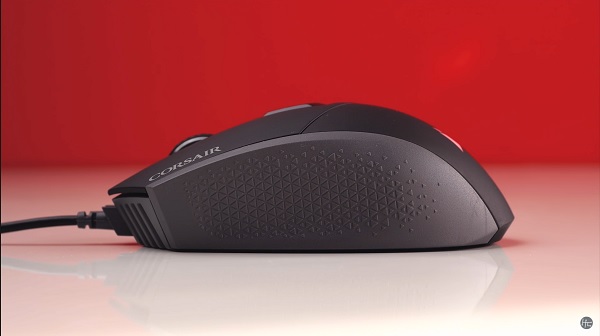 What makes this mouse unique is that it was designed along with the input of pro esports gamers who created their very own custom settings. By using the Pro Player Mode, you can try out their personal setting for yourself. The DPI can be set from 100-8000 and is easily adjusted with a button. The Katar also sports four programmable buttons that you can use for quick cast spells and other macros.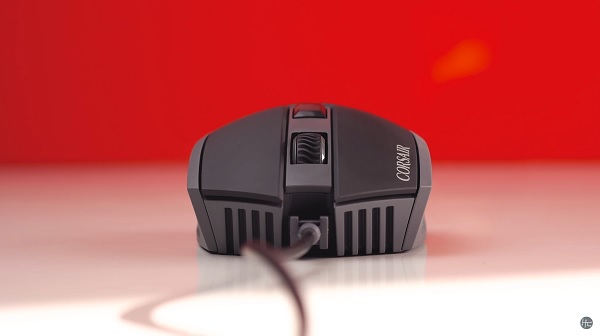 Though this mouse does not have any RGB zone, it does have red backlighting. However, for other customization, everything can be done by using Corsair's Utility Engine software. The mouse is also equipped with an onboard memory so you can store your profile anytime. Since it is not a wireless mouse, you have to live with its cable. Good thing that it is made from tangle-free rubber so no issues here.
10. Logitech G203 Prodigy
Weight: 85 grams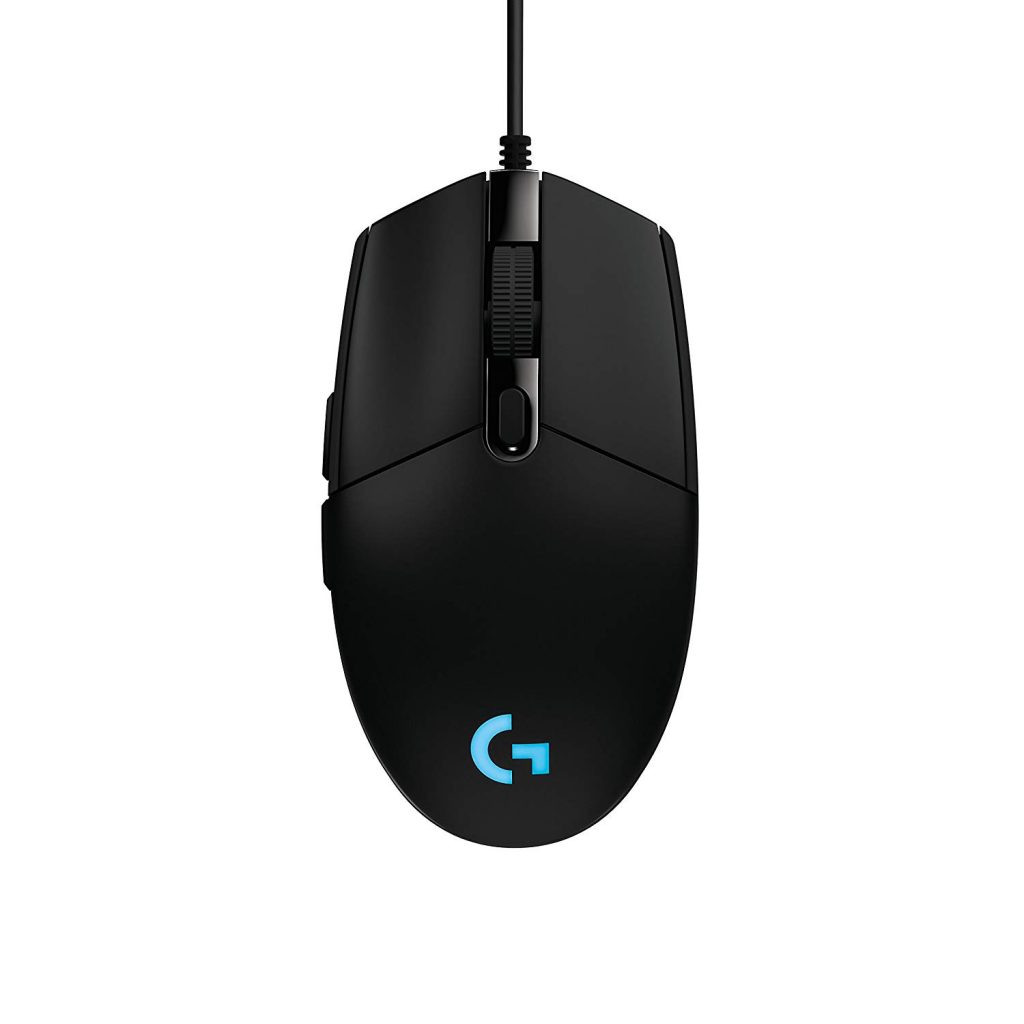 The Logitech G203 is a somewhat low-profile gaming mouse. It could even pass for a regular office mouse if it wasn't for the RGB Logitech G logo and the slim trim around the rear of the mouse.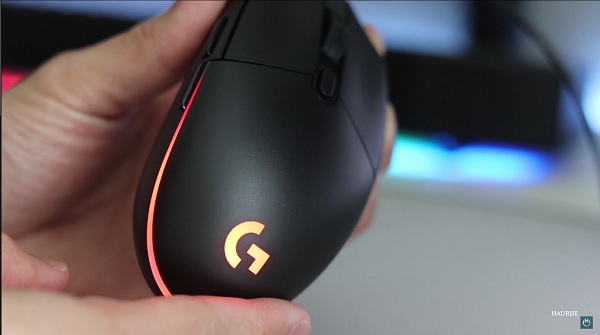 It is also a bit similar to the ambidextrous design of its predecessor, the Logitech G100S. The design is minimalist and does not have any fancy design that is common in most gaming mice.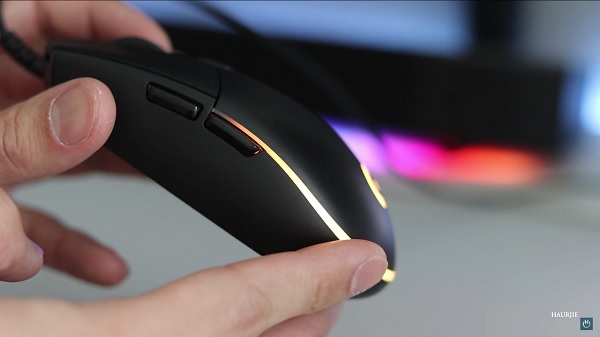 The build quality is also excellent. Though the mouse is constructed using hard plastic and it still feels strong enough to withstand daily use. Though you can hear a faint rattle when shaken, it is entirely minor and something you should not worry about.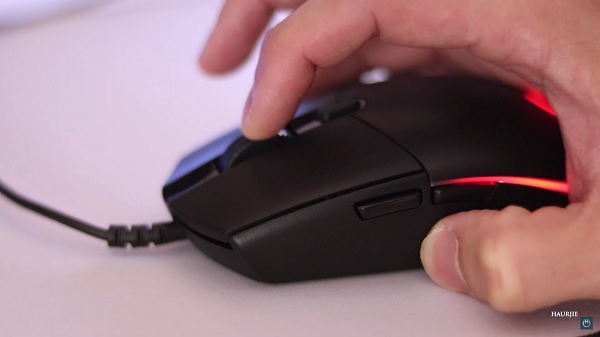 The buttons are also clicky and feel tactile while the scroll wheel notches offer excellent feedback. The overall build quality is pretty impressive, considering its low-price tag.
Gaming wise, it is perfect for FPS and other competitive games. The click latency is quite low, and the overall gaming performance is superb. The sensor is also extremely responsive, but the shape and size are not that ergonomic, especially for claw grippers.
11. CORSAIR Harpoon
Weight: 99 grams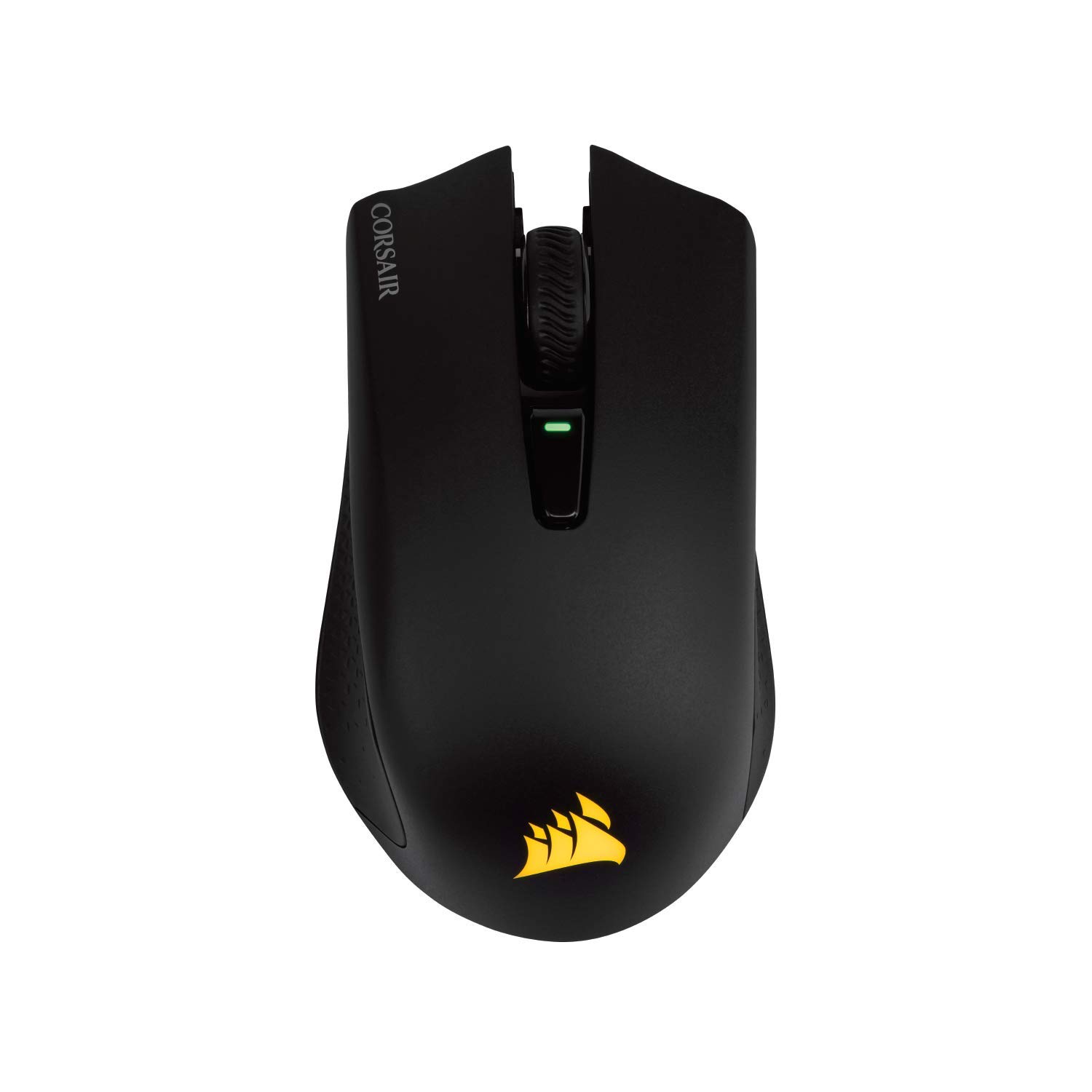 The Corsair Harpoon RGB Wireless is a lightweight gaming mouse that is marketed at an attractive low price. It has superb ergonomics and almost zero-latency. This mouse features an uncomplicated and minimalistic design that will surely appeal to gamers with simple tastes.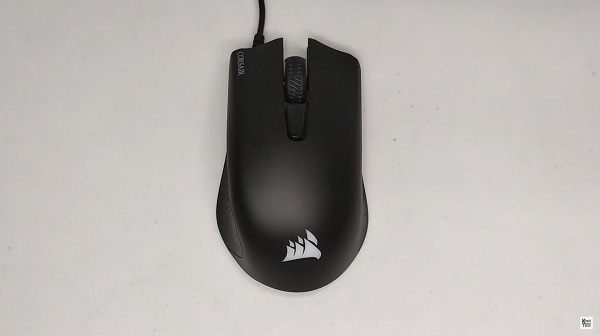 The entire shell is constructed using a single piece of hard plastic that begins from the back of the mouse. The sides, on the other hand, sports a rubber pad with diamond-texture, for that extra grip.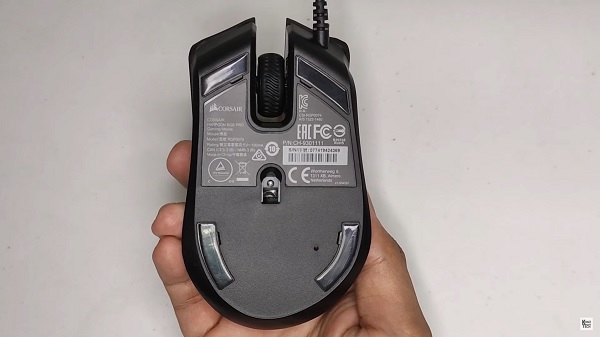 It also has a 10,000 DPI optical sensor tracks, even the smallest movement, so you can be sure of this mouse's responsiveness and accuracy. This means that whatever your preferred sensitivity level is, you can be assured that your commands will be registered instantaneously. All thanks to Corsair's Slipstream Wireless technology, which supports a sub 1ms latency. This technology also enables the mouse to automatically shifts wireless frequencies to ensure that your signal remains in the fast lane.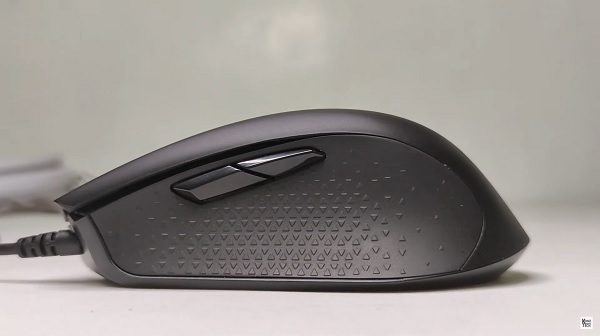 According to Corsair, the battery life of the Harpoon RGB Wireless is rated to up to 30 hours straight even with all the fancy lights turned on and while in its 2.4GHz Slipstream Wireless mode. However, if you want more game time, you could switch the connection to Bluetooth mode to gain another 10 hours of usage. But completely turning off the RGB lighting and activating the power-saving mode can ultimately extend its battery life to a whopping 60 hours of continuous game time.
What's the right DPI setting for you?
FAQ Revolving Lightweight Mouse Gamers (Including Wireless Gaming Mouse)
1. Is a heavier mouse ever a better choice for gaming, or is a lighter mouse always better?
It depends. While a lighter mouse is quicker to reposition, a heavy mouse has advantages when it comes to aiming and counteracting high levels of sensitivity. FPS gamers may want a heavier mouse for more accurate targeting. This is especially important for those who favor a high DPI setting, where less movement of the mouse results in a larger cursor movement across the screen. On the other hand, if fast acceleration and deceleration is the key to your game of choice, a light mouse may work best.
When choosing the ideal mouse weight, gamers should also consider their arm strength, hand size, and portability needs. A light mouse is well-adapted for travel and gaming in small spaces. But gamers with larger hands and stronger arms may struggle to achieve a satisfactory level of control with a lighter mouse. In this case, weight is a matter of personal preference. Modern gaming mice have adjustable settings to let gamers get exactly the right DPI and precision for their purposes, so weight is arguably less important than DPI and other programmable factors.
2. Is the red laser from an optical mouse harmful to vision?
While you probably shouldn't stare directly into it for long periods of time, the laser beam from a mouse is generally safe for vision. Gaming mice fall into two categories: optical and laser. Optical mice use a bright LED, which is no more harmful than any other type of LED light. Laser mice are sometimes preferred due to their versatility over various surfaces (they work on glass and are more sensitive to motion than optical mice). Although laser mice are powerful, the lasers built into them are not strong enough to damage the human retina when used properly.
3. What are the advantages of light mice for gaming?
Light mice and ultra-light mice use honeycomb designs to reduce mass for high-speed gaming applications. These designs weigh in the 40-80 gram range, as compared to standard gaming mice which weigh 100 grams or more. The speed and shape of light mice provide advantages for gamers who want to be able to aim accurately at low DPI, or transfer more motion with minimal effort — for example, to flick the camera to counter an enemy behind you.
Shooters like Fortnite or Counter-Strike require fast-twitch movements that are much easier to perform on a light mouse, where a little motion goes a long way. Since honeycombed mice are so much easier and quicker to move, they create a frictionless gaming experience that gives gamers the edge they need to be competitive in fast-paced games where every second counts.
Not only do light mice perform well in-game, but they also have physical benefits. Ergonomic shape helps reduce hand and wrist fatigue, giving gamers the ability to play longer at top speed. A variety of eye-catching designs and compactness make light mice an appealing choice for gamers who like a certain view and want portability along with performance.
Finding The Best Light Gaming Mice – A Simple Buying Guide
Are you still having a hard time finding the most reliable and lightest gaming mouse? To help you make a choice, we've prepared a simple buying guide.
Our simple guide will explore the important aspects (or buying factors) of a high-quality gaming mouse.
Important: What Kind of Games Do You Play?
While appearance is important in choosing a gaming mouse, you should also consider your favorite games. Whether you believe it or not, the games you play can affect the overall quality of your gaming mouse.
If you're an avid FPS player, for example, you'll spend many hours clicking mouse buttons and scrolling the wheel. Such a rate is higher than what you'd encounter while playing RPGs or casual games. However, if you love MOBA like DOTA 2 or League of Legends, your new gaming mouse is about to face a clickfest.
The best gaming mouse for click-heavy games is the one with thick yet responsive buttons. Thick buttons can withstand consistent clicks but they mustn't hinder your reaction time. Nowadays, you can find light gaming mice with durable buttons but they cost more than traditional brands.
Going Overboard With Side Buttons
Do you actually need programmable side buttons? Well, the question highlights your seriousness in gaming. The side buttons will make your life easy because you can program them with various commands and hotkeys. Through such commands, you'll save precious seconds while opening inventory, weapon switch, reloading, and even camera adjustment. Also, you can activate streaming or chat functions via the side buttons.
You don't need too many side buttons for a gaming mouse. Practically, two buttons are enough for an 'above average' gaming experience. But if you're planning to use lots of macros, you can try a gaming mouse with twelve buttons. Some exceptional brands for mouse with many side buttons are Razer, Corsair, and the classic Logitech.
Optical or Laser Mouse?
There's a little difference between an optical mouse and a laser mouse. Basically, an optical mouse relies on LED and has a higher accuracy rate. If you're an aspiring professional gamer, you'll admire an optical mouse's capabilities. However, keep in mind that optical mice are sensitive and won't respond to uneven surfaces. Better grab a high-quality mousepad while you're shopping around for optical mice!
A laser gaming mouse is an affordable solution. It can still function nearly as great as an optical mouse with the additional bonus of working on most kinds of surfaces – even bumpy ones. You still have to adjust because laser mice can pick up extra unnecessary movements. These movements can translate to game actions if you're not attentive.
Don't worry too much about DPI – it matters a little today because even the cheapest gaming mice, laser or optical, can reach a DPI count of 1,000 and above.
Focus Here: Your Grip Style
One factor that you shouldn't neglect is your grip style. The three major grip styles are palm, claw, and fingertip. It's very likely that your style falls between palm and claw because the fingertip manner is uncommon.
If you're a palm-gripper, you're more concerned of comfort and general responsiveness. You don't want tremendous pressure against your fingers and wrists. In this case, you'll experience great satisfaction by using large gaming mice, especially those with unusual designs and noticeable curves.
The claw style is all about accuracy and split-second response. If you're keen on using this style, you're probably a good (or semi-decent) FPS player who loves long-ranged weapons. Your index finger and middle finger are always on alert, ready to click away. This manner puts heavy strain on your fingers and not on your wrist. The best mouse for a claw-gripper is an ultra-lightweight variant with perforated casing (like the ones we've suggested).
At first glance, you might think that fingertip style is strange. Well, it is! The fingertip style takes time to master but it can help you become a competitive pro gamer. By using the fingertip style, you can react faster for long periods of time. It's like you're always on the edge, ready to drop the hammer against your foes. The downside is the strain that it can cause to your arm. To minimize the strain, you should try gaming mice with strong side grips, smoother buttons, and lightweight build.
Wired or Wireless – Pick One
The wireless gaming mouse represents a hallmark of technology. This mouse prioritizes convenience, functionality, and improved performance. Before picking a wireless mouse, you need to be aware of some disadvantages.
Some wireless gaming mice have poor battery life. Can you imagine your wireless gaming mouse shutting off while you're picking away against an impossible boss? A big yikes indeed. Another problem with wireless mice is responsiveness. You might encounter lagging cursors because of sensor issues, surface irregularities, and area disturbances. So, if you're planning to choose the wireless route, always pick the best gaming mouse with tons of positive reviews backed up by videos.
Wired gaming mice are almost always reliable. They have a continuous power source and a steady DPI rate. If you're worried about clutter, then you must pick a gaming mouse with an adjustable wire.
RGB Lights – Are You A Fan?
It's cool to have a gaming mouse with fancy programmable lights. You'll even see an awesome effect if you love to play in the dark. While you don't need RGB lighting for your gaming mouse, it's still a big plus.
Some players believe that RGB lighting can improve their game performance. This notion is purely subjective because lighting is just about aesthetics. Well, if you can extend your budget for a mouse with a dynamic RGB setup, you can always do so. Just remember that you shouldn't pay too much for fancy lights.
Wrap-Up: Lightest Mouse Ranked by Weight
Mouse weight preference varies, and that's okay. With how gaming companies go the extra mile to cater to every gamer, the market is super extensive. However, not all lightweight mouse can handle gaming, so it's better to refer to this list when making the decision.
Aside from its weight, you must make sure that the sensor is state of the art, and the button's switches are responsive and tactile. After all, with how competitive gaming has become, it only makes sense to keep yourself better equipped, right?