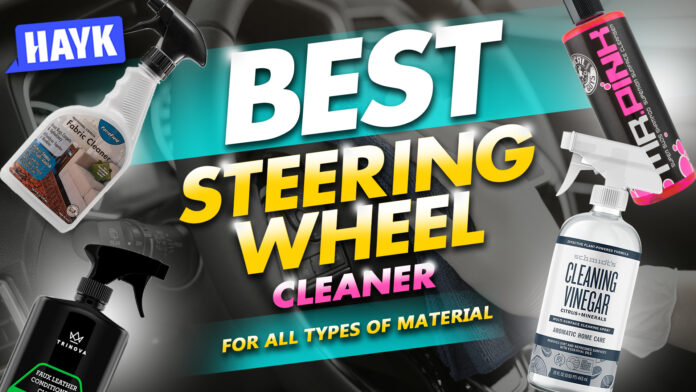 Steering system failures have caused about 2,000 auto accidents yearly in the U.S. Apart from maintaining your steering wheel's mechanical systems, cleaning your car steering wheel should be just as important.
You can find leather, wood, steel, aluminum, and plastic steering wheels. Because of the variety of options to choose from, finding the right one has to be done right, or you might end up damaging your steering wheel– and no one wants that.
This article features a detailed review of the best types of cleaners for all steering wheel materials, including console steering wheels. So, if you're wondering which type of steering wheel cleaner is best for your steering wheel, you're in the right place.
Why it's Important to Clean your Steering Wheel
Like any part of a vehicle, a car's steering wheel is sensitive to elements, especially sunlight. Furthermore, dirt and grime can also build up on the steering wheel, which leads to making your steering wheel feel slippery.
Steering wheels shouldn't be slippery as they can make for potentially unsafe driving. Similarly, slippery steering wheels can affect your driving skills in racing simulator games. While it's true that clean towels can help in removing grease and grime, this is only temporary.
Why You Should Trust Us
HaykSaakian is genuinely committed to sharing tips regarding console and PC gaming. For example, because racing simulator games are now following the designs of real-life steering wheels, we are happy to share steering wheel cleaners and products we've used, as well as tips on how to clean different steering wheels according to type.
We have a dedicated article that talks about the PS5 steering wheel and Xbox Series X steering wheel if you're into that.
9 Best Steering Wheel Cleaner for Different Types of Steering Wheel Material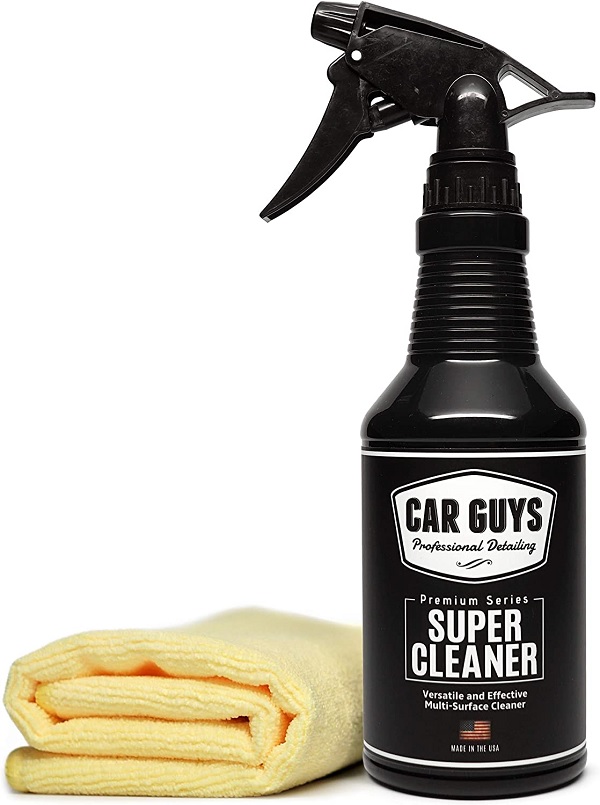 The CAR GUYS super cleaner is easily the best overall cleaner for steering wheels. No wonder it has over 17,000 reviews on Amazon. It can easily clean almost all types of material from genuine leather to vinyl. There are just so many uses of this apart from cleaning your steering wheels.
The product also has an easy-to-hold spray design that should allow you to get things done conveniently. Just spray this onto a microfiber cloth after shaking the bottle and wipe it on any type of steering wheel to see the material back to its former glory.
Furthermore, its ability to be used on just about any surface and its mild coconut smell is what make it popular among the customers. Most of the cleaning solution in the market has this minty, candy, and toilet-y smell and this unique smell is what really sets this apart from the competition.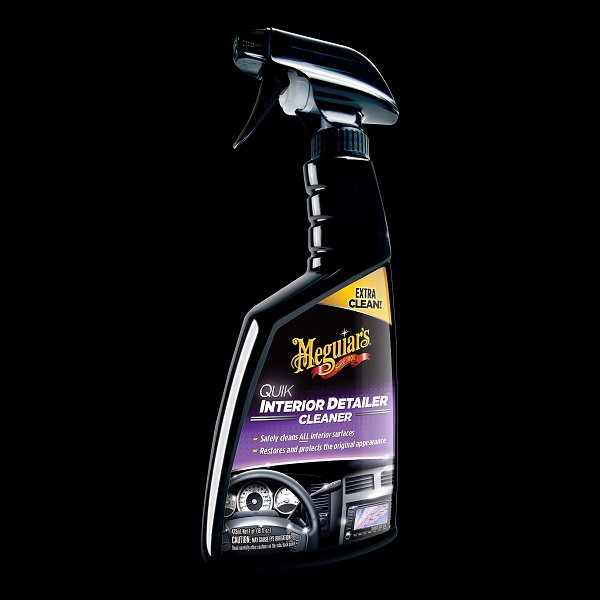 Meguiar's G13616 Quik Interior Cleaner is easily the best cleaning product for steering wheels made of plastic. Even though it's made for cleaning read leather steering material as well such as metal, vinyl, and metal, the output far exceeds when used on plastic materials.
Unlike other cleaning products in the market, the Meguiar G13616 doesn't leave a greasy mess. Spray a small amount on a microfiber cloth before wiping and you should see the difference after. The colors of the steering wheel will appear vibrant after and should look good as new.
Another thing we like about this cleaning solution is its built-in sun-blocking agent which prevents the colors on your steering wheel to fade. If your racing simulator is located in an area where sunlight can get to it, then the protection layer should keep it from losing its colors anytime soon.
Do note that it isn't indicated to have a fragrant smell but it sure does make your car smell luxurious inside. If you're easily irritated by strong smells, then this should be safe as it isn't too overpowering, unlike other products.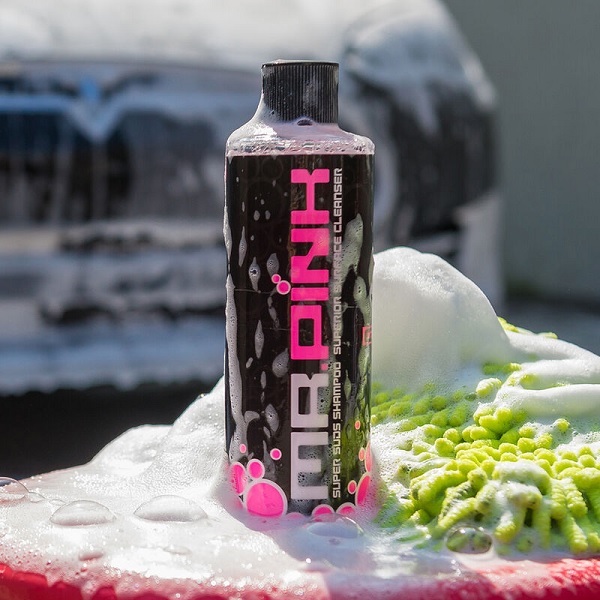 With over 37,000 reviews on Amazon at the time of this writing, no wonder this is Amazon's #1 Best Seller in Cleaners. After all, Chemical Guys (the manufacturing company behind Mr. Pink Foaming Card Wash Soap) has been in the industry of research and development for over 40 years and is also known as a worldwide leader in the detailing car care industry.
The company has a handful of cleaning solutions for Mr. Pink Foaming Car Wash Soap excels in terms of removing contaminants from your synthetic resin steering wheel. We also like how you can choose from different sizes, ranging from 4 Oz, 16 Oz, 64 Oz, and even 1 gallon.
The variety of sizes allows you to only invest in how much you need. It's also important to understand that the solution has to be mixed with water first to dilute the cleaning solution. Wea the included wash mitt and dip the tip or a portion of it into the solution before wiping the mitt onto the steering wheel.
When done, it's important to rinse the area with a water-dampened microfiber cloth to remove any residue before wiping it yet again with a clean, dry microfiber cloth or tissue towel.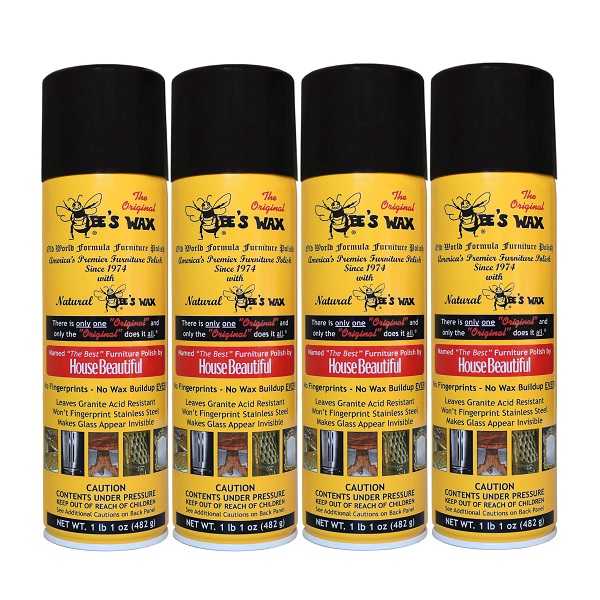 The Original BEE'S WAX has been in the industry since 1974. No wonder it's popular! The product may be advertised as a cleaning solution for multi surfaces but its environmental-friendly mixture is what makes it perfect for steering wheels that are almost entirely made of natural wood.
Despite the fact that it's unlikely to see a steering wheel for consoles such as PS5 and Xbox Series that's made of wood, the BEE'S WAX Old World formula still is a great choice for cleaning and maintaining your steering wheel since it doesn't leave trails of your fingerprints on the surface.
Moreover, it has a no-wax buildup on top of the anti-static properties, so specks of dust are kept at bay. Unfortunately, some batches of the Original BEE'S WAX Old World Formula were known to have a really tight lid. But apart from that, this is a great option for cleaning steering wheels made of natural wood material.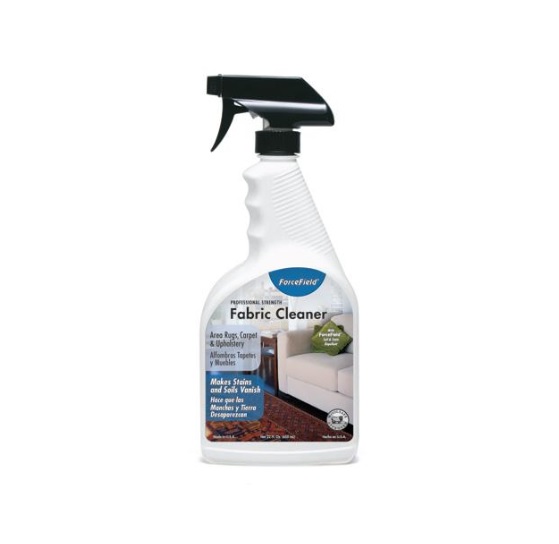 Cleaning microfiber material is typically a challenge because dirt and grime that's embedded deep into the material can be hard to get rid of. The ForceField Fabric Cleaner just makes cleaning a lot easier because it's a proven agent that can do so effectively.
Apart from its effectiveness in getting rid of deep dirt and grime with ease, the ForceField also adds a layer that acts as protection to prevent such re-soiling from happening.
Like most cleaning solutions, it's fairly easy to use this as all you need is to spray the cleaner directly on the spot of the steering wheel that needs cleaning– no need for indirect application as the material isn't capable of damaging microfiber material.
Do note that you'll have to leave the solution on the targeted spot for about 5 to 6 minutes before you start to get down to business. Doing so allows the cleaning solution to penetrate deep into the dirty steering wheel.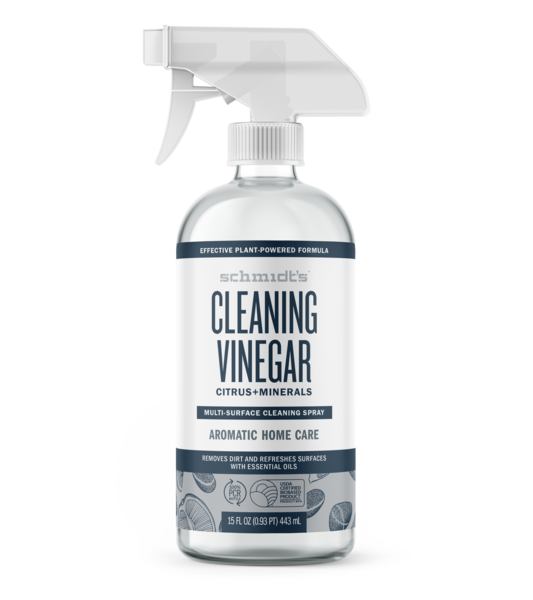 The suede material is a type of leather that has a fuzzy finish. Although they are commonly used for jackets, purses, and shoes, suede material is also popular in furniture as well as a steering wheel.
Because of its unique exterior skin layer that's less durable and softer, cleaning them should be done with the right materials. For this type of material, you'll only want to use Schmidt's Deodorant Vinegar Citrus.
There are a lot of products in the market that fit the cleaning needs of suede material but the Schmidt's cleaning solution has without a doubt excelled our expectations. However, users have reported that the scent isn't as advertised. See, even though it's advertised to have a citrus smell, it does have a scent similar to patchouli and citronella, which is a scent that not everyone is fond of.
If the scent doesn't bother you at all, then your suede steering wheel is safe in the hands of Schmidt's Deodorant Vinegar Citrus cleaning solution.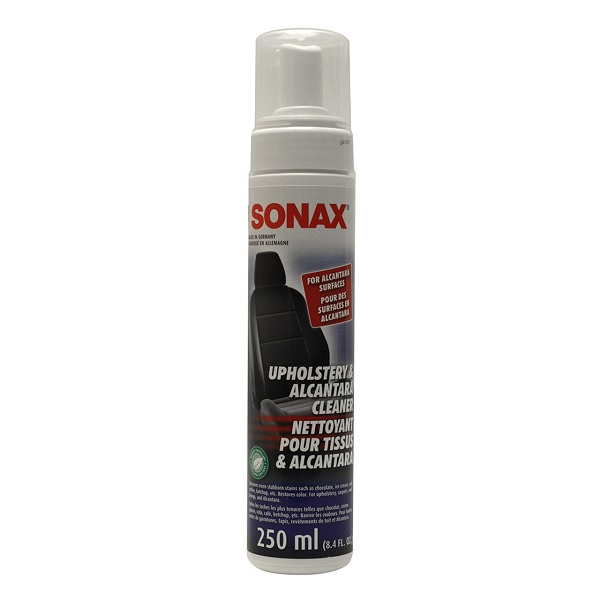 Alcantara steering wheels are similar to suede steering wheels which are soft and durable. In addition to these great features is its ability to provide a great and comfortable grip. Because of this, it's also just as important to make sure you choose the right cleaning solution for this matter. And for this case, we highly recommend the Sonax Upholstery and Alcantara Cleaner.
Do note that it's important to shake the cleaner first before using it. Furthermore, it's also important to moisten the soiled area before applying the cleaning solution to the area.
Once the area is moistened, shake the bottle first and apply the foam to the soiled area. Use a brush to rub the and ensure that the solution is spread entirely. Leave it on for 5 to 10 minutes before you rub it again using a damp cloth.
You can then let it dry to see the finished condition of the Alcantara steering wheel.
While we can guarantee that its effectiveness is achieved, there are minor things you should know about the product. The first is that the smell isn't for everyone.
To put it simply, the smell is pleasant but has a very similar smell to that of toilet cleaning agents. If you don't have any major issues with those kinds of smells, then this is the best you can get your hands on for Alcantara steering wheels.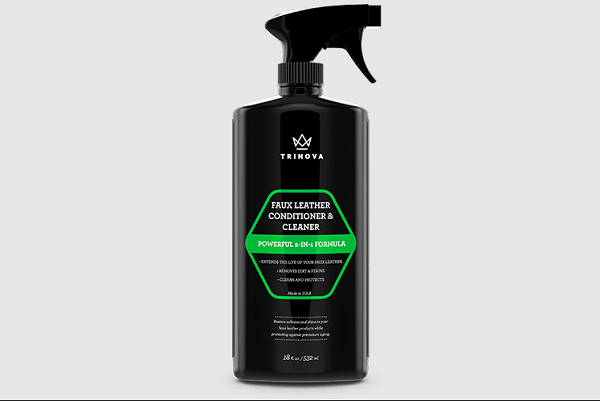 Faux leather is also known and referred to as leatherette or the more affordable version of genuine leather. Because genuine leather is expensive and in high demand, ensuring that your faux leather is cleaned and maintained is a feat you should not take lightly.
To clean faux leather safely, we highly recommend the TriNova Leatherette, Vinyl and Faux Leather Cleaner. This doesn't just get rid of a dirty steering wheel but also ensures it does so easily.
Unlike other cleaning solutions, it's required to shake the bottle first. Note that you will also need to spray the cleaning solution on a microfiber towel before applying it to your steering wheel. Circular motions should suffice when applying it to the steering wheel. Once you wiped the steering wheel, allow 30 to 35 minutes for it to dry.
When the steering wheel has dried off, use a dry cloth and apply the conditioner on it before polishing it to the surface of the steering wheel. To maintain the quality of your steering wheel, just apply the TriNova Leather Cleaner at least once a month.
Apart from the small spray design, which could help if it's designed to accommodate larger hands, the cleaning solution is also labelled to contain chemicals that can cause cancer and harm reproductive health. To ensure the product is safely used, follow the instructions indicated.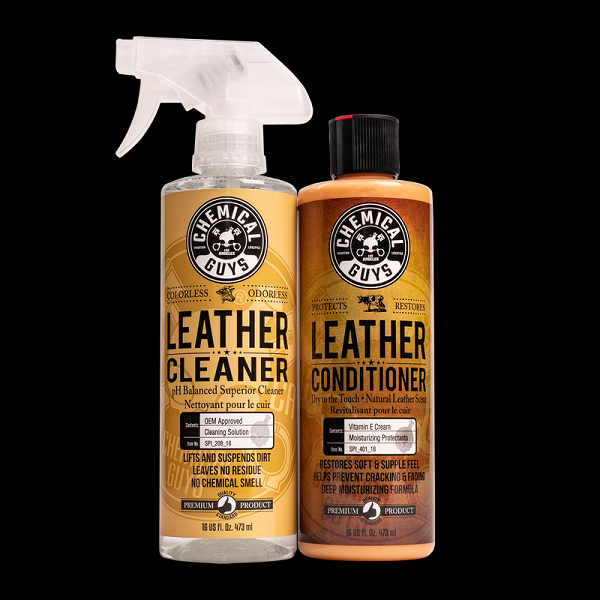 What we like about the Chemical Guys Leather Cleaner and Conditioner is how it comes with a conditioner. This means your purchase will do more than just cleaning but also considers long-term maintenance with the conditioner.
To get the best results, it's highly recommended to first wipe the steering wheel with a dry cloth or use a compressed air can so you can get rid of dirt build-up in tight places. Once done, apply the cleaning solution onto a microfiber and start wiping the steering wheel.
Note that you'll notice something coming off from specific areas of the steering wheel as you scrub it and that's totally fine. This just means that the product is working and is actually getting rid of the dirt, grime, and oil build-up from your skin to the surface of the steering wheel.
Despite its effectiveness in turning old leather quality looks new, we don't really recommend this product on modern leather. To make it clear, modern leather is already pre-applied with a layer that protects the material and could cause a chemical reaction when applied with a cleaning solution like this.
Because of such feedback, we only recommend you to use this only on old leather. For steering wheels made for console or racing simulation games, it's best to check with the manufacturer first before deciding on getting this.
How to Clean your Steering Wheel
Now that we've presented our recommended products for specific types of steering wheel materials, it's time to discuss the proper procedure on how to clean your steering wheel regularly.
Below are steps that are approved by professional cleaners and detailers when it comes to cleaning steering wheels.
What Materials Do I Need?
Microfiber clothes
Soft interior brush or soft bristle toothbrush (used)
Cleaning solution
Steam machine (optional)
Water
Gloves (to protect yourself from chemicals)
Step 1: Apply the cleaning solution to a microfiber cloth or towel
Depending on the type of cleaning solution you'll end up choosing, you either apply or spray it on a microfiber towel. Apply or spray the cleaning solution on the microfiber towel until it feels damp to the touch.
Take note that it's crucial to not spray the cleaner directly onto the steering wheel as the cleaning solution could get trapped in delicate areas of the card.
Step 2: Gently twist the towel around the steering wheel to clean
Place the damp towel on top of the place and turn the towel around the wheel to clean the wheel. Make sure to turn the towel around to clean the front, top, and back. Check the wheel thoroughly for dirty areas and work around the area to remove the build-up.
It's important to not apply too much pressure while you cleaning as it could risk damaging the material or removing some of the steering wheel's colors. Don't forget to clean the center of the wheel, too!
Step 3: Use a scrub pad for interiors for hard-to-remove grime
For dirt and grime build-up that's tough to remove, use a scrub pad designed for car interiors to make the job easier. If it still isn't enough, refer to the additional cleaning notes below.
Step 4: Wipe the steering wheel off with a damp cloth
After going through the entire steering wheel, wet another washcloth or microfiber to wring out excess cleaning solution or water. Make sure to go over all the dirty areas and grime build-up to remove excess cleaning solution on the area.
Wiping the steering wheel off ensures that the steering wheel avoids excess or prolonged contact with the chemical cleaners which could potentially damage the steering wheel. This also ensures you won't feel the chemical when you start driving again.
If you don't have an extra cleaning cloth, you can use paper towels as a substitute.
Step 5: Use another microfiber cloth to dry the steering wheel off
After wiping the steering wheel with water, make sure you dry the steering wheel off with a dry microfiber towel. This should remove any excess water on the steering wheel, ensuring that it's dry and should make it look shiny and new.
Additional Cleaning Notes
A soft interior brush or used toothbrush can be a great way to get into hard-to-reach areas of your steering wheel. Just spray or dip the end of the brush into the cleaning solution and scrub the steering wheel in a circular motion. It should start to bubble as you work into the steering wheel.
Use a steam machine to disinfect the steering wheel if you have one. We don't necessarily recommend you to buy a steam machine just to clean your steering wheel. But if you're looking to use this to also clean the interior of your car, then it will surely be a worthy investment. Just don't forget to wipe the steering wheel and your interior with a microfiber cloth when you're finished.
Effective Ways to Get Rid of Mold on Your Steering Wheel
While it may seem very unlikely, having molds growing on steering wheels is a lot more common than you thought. Regardless if the mold has just started or had already colonized the underside of your steering wheel, bleach is a very good solution to getting rid of molds.
Unfortunately, using such cleaning solutions could damage your steering wheel. Specifically, it could affect the color of the material.
Method 1 (Bleach)
To safely get rid of mold from your steering wheel, use a damp cloth and lukewarm water and wipe it on the infected area. Should you decide to use bleach, use the average ratio is 1:10 mixed with water.
Method 2 (Vinegar)
Another proven and tested household product for cleaning is vinegar. Apart from being effective, it's also cheaper and fully biodegradable. Furthermore, it's safe to use and guaranteed to be non-toxic.
The only downside to using vinegar to get rid of mold is that it smells. Fortunately, it's easy to use and all you need is to spray undiluted vinegar on the infected area, let it sit for a few minutes to dry up, and wipe with a damp cloth.
Method 3 (Baking soda)
Baking soda is another alternative to vinegar (and it's also just as cheap!). What's great about baking soda is how it also removes odor effectively. You can even use this together with vinegar for a more effective result.
A tablespoon of baking soda should be enough for your average spraying bottle. If you choose to add vinegar into the mix, then change the mixture to 50/50 water and vinegar. Spray, brush, and leave it for a few minutes before wiping it off with a damp cloth.
Method 4 (Borax)
The most effective agent for killing mold infestation is borax. Even though it doesn't give off fumes or emits chemical reaction smokes when in normal use, it still is toxic when ingested.
To safely use borax, all you need to do is dilute 1:10 borax to water and apply it to the area with a brush. Scrub the affected area a few times and let it sit for a few minutes. Use a damp cloth to wipe off the area. It's recommended to regularly clean the area with a towel to prevent the mold from spreading.
Can I remove scratches from a leather steering wheel?
It is very unlikely to remove scratches from a leather steering wheel without the help of fillers. Specifically, removing scratches is a repair process that requires fillers to fix the gap or damaged areas, followed by a sealant, and is then often finished off by sanding.
Here are some DIY methods to remove scratches on leather steering wheels:
Repair Kits
Getting rid of scratches on leather involves inserting a cloth on the area before painting the applied area.
Even though this makes the leather look close to being good as new, it requires a handful of work. But if the scratched area isn't as big, you can just go with the most straightforward approach, which is using super glue.
Using Super Glue
If the scratch on your leather steering wheel is only as small as rips, then the super glue method is best. In a typical scenario, these scratches appear when a bracelet or a ring is accidentally rubbed too hard across.
Apart from the super glue, you'll also need the following:
Sandpaper
Alcohol
Needle or small enough to fit inside the small rips
Once you have identified the ripped part of the steering wheel, dip your needle into the super glue. Use the needle and rub a thin layer of super glue inside the ripped area. Once the super glue is placed carefully in between the rips, push the leather down to seal the rip.
Push the area together to seal it properly. Note that depending on how fast or how long the super glue sticks together should be how long you should press the area together.
When done, wipe off any excess super glue. When the super glue dries completely, sand the area with the sandpaper until the texture smoothens out. We recommend you use a 600 grit sandpaper for this.
When everything is done, apply the paint on the area and your steering wheel should look brand new. You can also use the super glue method for deep cuts, however, you'll need to repeat the process a couple of times to completely fill the deep area.
FAQs for Cleaning Your Steering Wheel
What do I need to clean my steering wheel?
Ans: You'll only need a microfiber cloth or brush in most cases but you'll also want to have a compressed air can or air duster to get into tight spaces. However, this is only optional.
How do you clean your steering wheel?
Ans: Cleaning your steering wheel is as easy as applying the cleaning solution on the microfiber cloth and start wiping off dirty areas from your steering wheel. However, there are other cleaning solutions in the market that would require a specific cleaning method. So, be sure to check for these instructions first before anything else to ensure you're doing it safely.
How do you get the grime off a leather steering wheel?
Ans: The method on how to carry this out depends on the type of steering wheel you have as there are others that would require only a microfiber cloth to get rid of dirty areas and grime while others would require brushes to get into tight spaces.
Is there a way to prevent scratches on a leather steering wheel?
Ans: You have to know that scratches on steering wheels, especially leather, come from our accessories. Depending on what you have on, it's easy to forget that some of our clothing accessories have the potential to graze across the steering wheel and scratch it.
There aren't any products that would keep you from scratching your steering wheel but the best solution to this is just to pay attention to what you have when driving (or playing if you're into driving simulation games).
Removing your rings, bracelets, and other accessories first before you use your steering wheel could help you greatly in the long term.
What material type is best?
Ans: It honestly depends on your preference. But according to 47% of car drivers, leather steering wheels were the best overall. 35% of them chose wood as the best for steering wheels. 12% of drivers would choose a combination of wood and leather while 6% didn't have any preference at all.
Summary
Based on our findings, together with actual review and feedback from first-hand customers, the best cleaner for steering wheels is CAR GUY's Detailing Super Cleaner. And here are our top picks for different types of steering wheel materials:
Meguiar's G13616 Quik Interior Detailer Cleaner – Best Cleaner for Plastic Steering Wheels
Mr. Pink Foaming Car Wash Soap – Best Cleaner for Synthetic Resin Steering Wheels
Original BEE'S WAX Old world Formula – Best Cleaner for Natural Wood Steering Wheels
ForceField Fabric Cleaner – Best Cleaner for Microfiber Steering Wheels
Schmidt's Deodorant Vinegar Citrus – Best Cleaner for Suede Steering Wheels
Sonax Upholstery and Alcantara Cleaner (206141) – Best Cleaner for Alcantara Steering Wheels
TriNova Faux Leather Conditioner & Cleaner – Best Cleaner for Polyurethane / Faux Leather Steering Wheels
Chemical Guys Leather Cleaner and Conditioner – Best Cleaner for Leather Steering Wheels
What kind of steering wheel do you have and which among the featured products are you going to purchase?