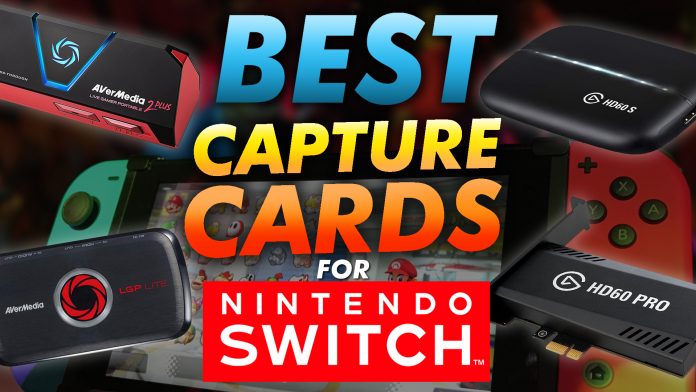 Entertainment in digital media is continuously evolving. In the gaming community, uploading and streaming videos were once seen as both strange and fresh back in the day. Nowadays, they are quite a common occurrence. What separates the professionals from the amateurs, though, is the use of high-quality equipment for recording and streaming. And now, we are going to tackle some gear reviews that compatible with a specific console.
This article will help you pick the best capture cards for the Nintendo Switch.
Nintendo has always been strict with uploading videos from their games and consoles. But now, they eased up on that policy. These internet entertainers to capitalize on this and make a living out of playing their games on Nintendo's newest console, the Switch.
Capturing gameplay from the Switch is on the rise these days. Yet, when you search "best capture card for Nintendo Switch" or some other related search terms, there really isn't anything specific that comes up. Capture card reviews and recommendations are often for the PC and other consoles like the PlayStation or the Xbox One. Hence, we would like to provide you with products that will be highly compatible with the Switch to jump start your streaming or video making career.
The Basics of a Capture Card
The term "capture card" is somewhat a misnomer. Technically, these are pieces of equipment that you slot in your PC to capture gameplay footage. The ones we are talking about here are external devices that practically do the same thing. While there are excellent in-slot capture cards out there, most of the popular ones today connect to your computer via a USB.
The capture cards that we will mostly be talking about here are pieces of equipment that will go in between your console (the Nintendo Switch in our case), a display, and a computer. You will connect the Switch to the capture card, then connect the latter to your TV. You need to be in Dock Mode by the way, if you plan to stream or create videos. Capture cards often work with HDMI cables as their primary source of connection. You will then connect the capture card to your computer to record your gameplay using a software. 
It might sound complicated at first for those who are non-techie. But the process is simple enough that it will become something akin to breathing once you have done it once. Also, newer versions of capture cards have a built-in H.264 encoder that lets you record high-quality footage easily. If a capture card does not have this, you might need a beefier computer to process your videos. Be sure to check out if the one you are eyeing on is compatible with what you currently have!
Now that we have all of those out of the way let us dive right in and check out the best capture cards for the Nintendo Switch!
Elgato Game Capture HD60 Pro
Best Overall Switch Capture Card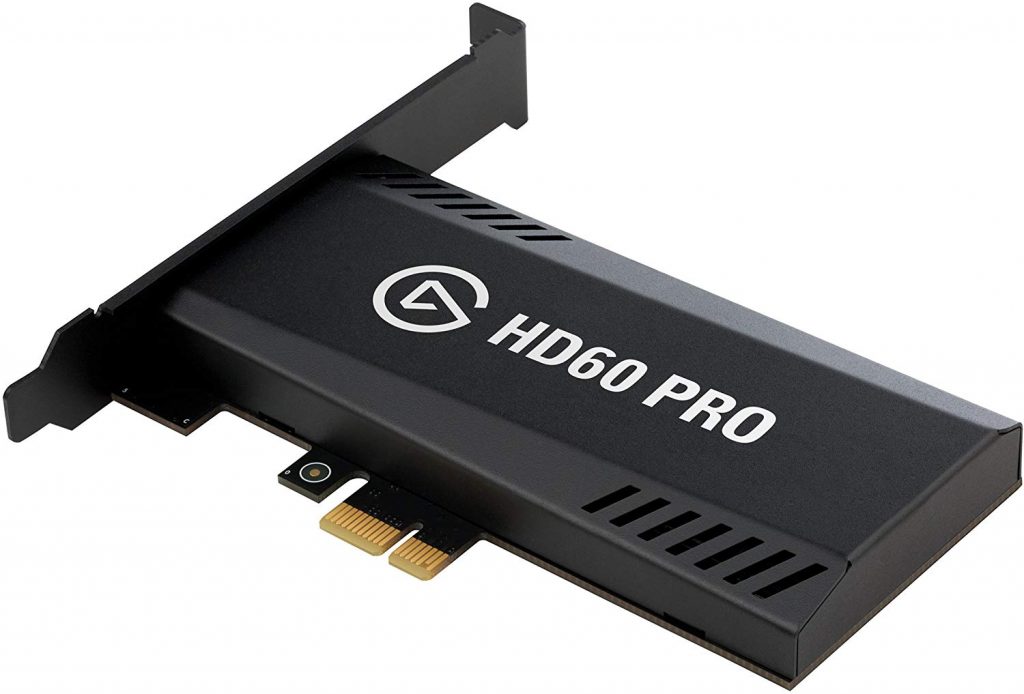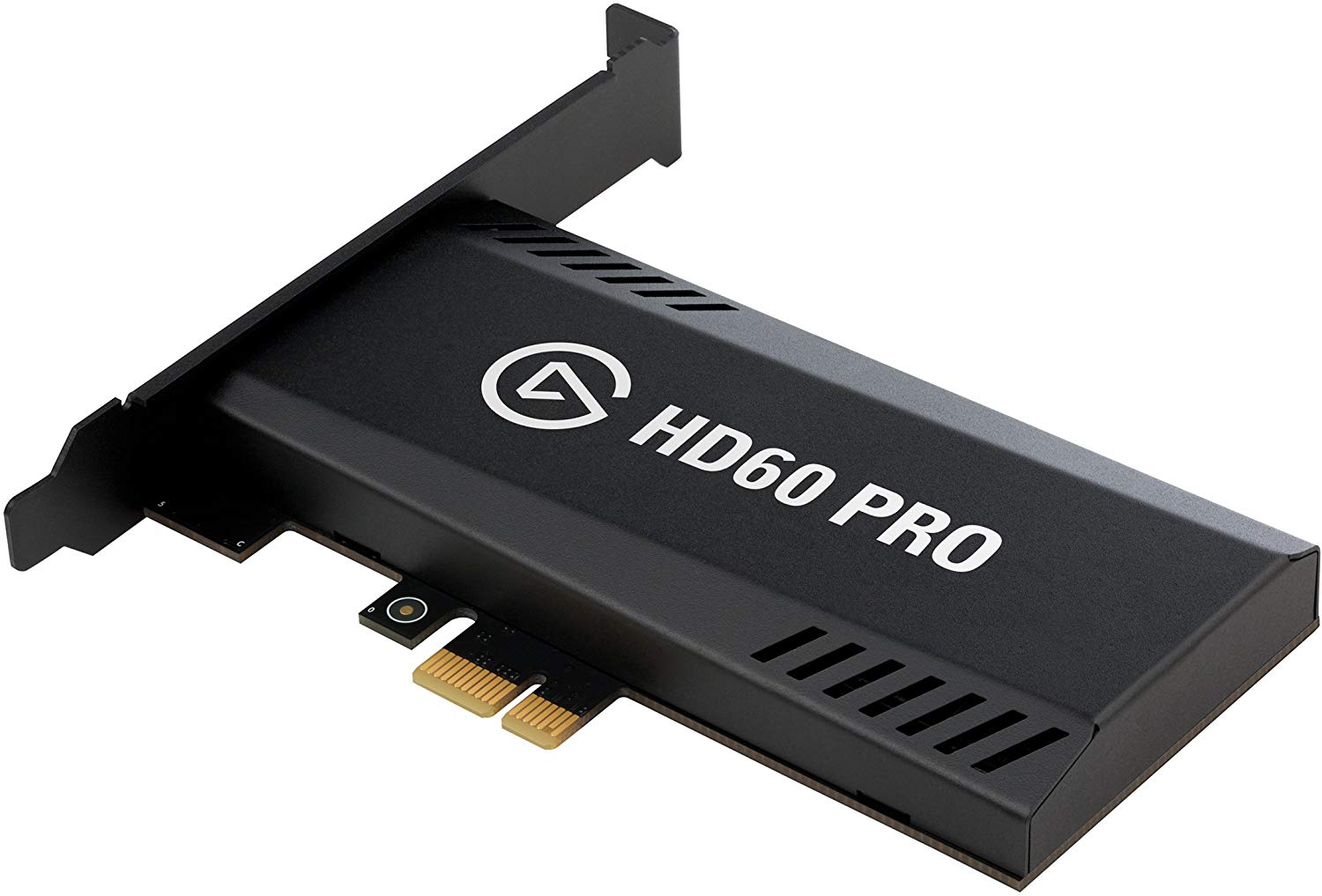 Elgato has been a forerunner when it comes to making high-quality capture cards. A lot of well-known streamers and gaming content creators have been using Elgato products as their go-to game capture device. Almost all of their products are connected via USB, meaning they are external capture cards. But the single in-slot capture card the company has developed might be the best out of them all.
The Elgato Game Capture HD60 Pro is an upgrade to the existing Game Capture HD60, albeit with a stark difference. The HD60 is an external game capture device, meaning you can just plug it into a desktop, mac, or a laptop and it's ready for use. However, the HD60 Pro is a PCI-e card. This means that you need to plug it into a free slot on your computer to reap the benefits. And by George, the benefits are way worth it.
The Nintendo Switch has been known to lose quality when in dock mode. Several games just don't reach that full 1080p potential. And when you stream or capture video footage, the video quality might drop a bit more. And we aren't even mentioning some lag that comes along with getting good footage.
However, the Elgato Game Capture HD60 Pro fixes almost all of those problems. A resolution of 1080p 60fps is possible with the HD60 Pro. Meaning that whatever Switch game you are streaming or capturing, it will present the highest possible quality to your audience. Since this capture device is a PCI-e card, it is integrated with your CPU on a deeper level. It reduces unwanted lag that USB capture cards are known for.
The HD60 Pro also has its "Instant Gameview" feature. This makes streaming from low latency becomes something you won't worry about anymore. Instant Gameview, as the name suggests, lets your viewers instantaneously view what is happening on your game screen.
If you are looking for one of – if not the – best capture cards for Nintendo Switch streaming, then this might be your best pick.
AVerMedia Live Gamer Portable 2 Plus
Best Portable Capture Card for Streaming Nintendo Switch Games

Here's something that has a stark difference with the first capture card we discussed. The Elgato Game Capture HD60 Pro is not that portable because it needs to be affixed to a PCI-e slot. But this next capture card we are going to review is as portable as it gets.
Weighing in just 1.1 pounds, the AVerMedia Live Gamer Portable 2 Plus is a joy to lug around. Never miss a record or a stream with this capture card. Just plug your Nintendo Switch on Dock Mode, connect your HDMI cables on the Live Gamer Portable 2 Plus, and you're good. Not even exaggerating, as this specific capture card has a "PC mode" and a "PC-free mode." As connecting a capture card to a computer is something all of these gear share, let's talk more about the PC-free mode.
With just a push of a button, you can record your Nintendo Switch games without hooking the LGP2+ to a computer. As long as a constant power source flows into the USB, then you should be fine. There's a status light that will glow blue to notify you that you are ready to record your next Pokemon gameplay. Once you press the record button, the blue light will turn red and will fade in and out slowly. This is an indicator that you are already recording. Once the lights are flashing rapidly, or if you are seeing other colors, then check the capture card. Make sure you have set your LGP2+ into the PC-free mode. 
You can also stream in PC mode. There is a RECentral software that you can use to overlay text and designs included on the LGP2+ package. There is a bit of a learning curve for this, but do know that this is very possible. 
Quality-wise, the AVerMedia Live Gamer Portable 2 Plus is a beast. It can record a stable 1080p 60fps video with a 130 MB per minute file size. No worries, as this is normal for capture cards that have good quality. If you want smaller file sizes, you can turn the settings down to a lower quality. This is quite good for Nintendo Switch games, as some games don't actually need a 1080p 60fps record.
Something extremely portable, can stream while it isn't connected to a computer, and can record good quality videos, which is a content creator's dream. And the AVerMedia Live Gamer Portable 2 Plus makes that come true.
Elgato Game Capture HD60 S
The Best Stable Capture Card for the Nintendo Switch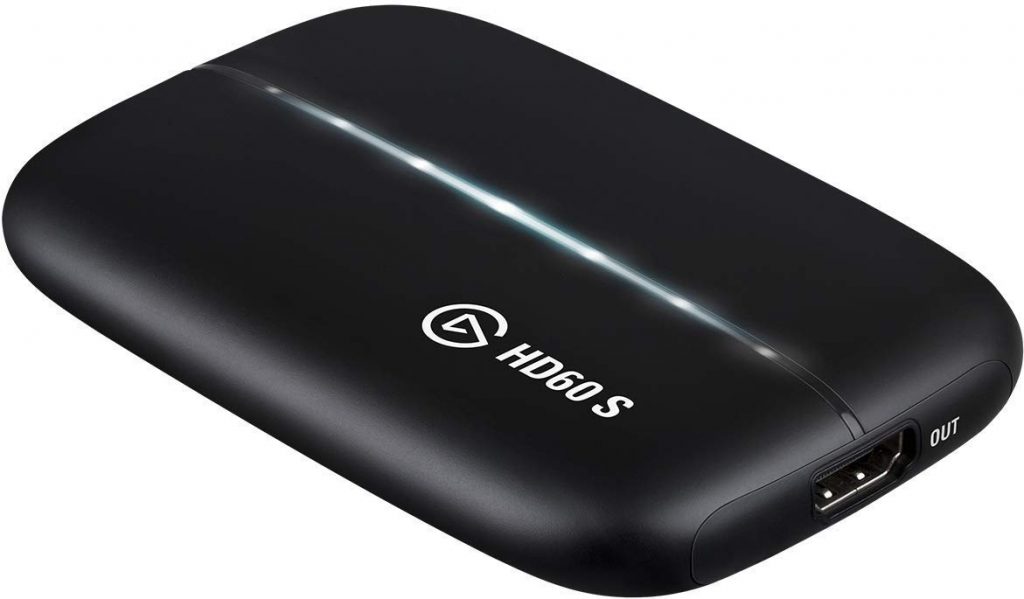 Another product from the Elgato is added in this list, just because the company makes such good quality capture cards. In fact, this one is related to the first one we have mentioned before. Introducing the Elgato Game Capture HD60 S.
Unlike the HD60 Pro, the Game Capture HD60 S is an external capture card. You can use it without installing it in a PCI-e slot. Just plug the HDMI cables on the HD60 S, plug in the capture card on the USB, and you can start recording or streaming. The HD60 S runs on the latest USB 3.0 connection, reducing latency-related problems. And of course, because you aren't using a PCI-e slot to connect the capture card, you can use it on laptops. 
Instant Gameview also helps reduce latency further. This software also lets you add your webcam footage and overlays if you decide to stream with it. If you wish to use third-party software such as XSplit or Open Broadcasting Software, the HD60 S also works flawlessly with them.
File sizes for video recording shoot up to 200MB per minute. It's a consistent 1080p 60fps video quality. You can further compress the file size if you have a streaming or recording software that has an H.264 encoder. Sadly, the HD60 S does not have this.
Besides the lack of an encoder, the Elgato Game Capture HD60 S is one of the best capture cards for the Nintendo Switch. It is portable and is a plug-and-play gear perfect for streamers and video creators that travel.
Razer Ripsaw HD Game Streaming Capture Card
A High-Res Capture Card for Nintendo Switch Streaming


Razer, the brand for gamers by gamers, has also released its series of capture cards. This is in the form of their Ripsaw line. The latest version is the Razer Ripsaw HD, and we are telling you this, it may change how Nintendo Switch streamers look at things.
Several days ago, an analyst speculated that the Nintendo Switch Pro, capable of running games in glorious 4K resolution, will probably be released this year. This sparked interest in the Switch community, which of course, included streamers and content creators. If the Switch Pro does get released this year, it will cause these creators to up their capture card game. 
This is where the Razer Ripsaw HD enters.
With a 4K pass-through capability, the Ripsaw HD is a tad-cut above the rest. While there are a lot of capture cards that have 4K pass-through, the Ripsaw HD does have some nifty features up its sleeve. First, it has hardware-based audio capabilities. This eliminates the need for software-mixing, easing up the process of streaming and video recording by a lot. Because of this feature, it has a mic hardwired to it, as well as headphone jacks for monitoring. The Ripsaw HD can also stream up to 1080p, perfect for that Smash,Mario Kart 8, or and other high-resolution game streams. 
But of course, something this great also comes with a downside. The Razer Ripsaw HD does not come with its own software. If you do plan on streaming with a 1080p resolution, you have to tweak your OBS to the finest or purchase an XSplit premium account. But these are just small caveats that do not ruin the experience.
If you are looking for one of the best 4K capture cards that do not cost you your life savings, then go for the Razer Ripsaw HD.
AVerMedia LGP Lite AVerCapture HD
Best Cheap Capture Card for the Nintendo Switch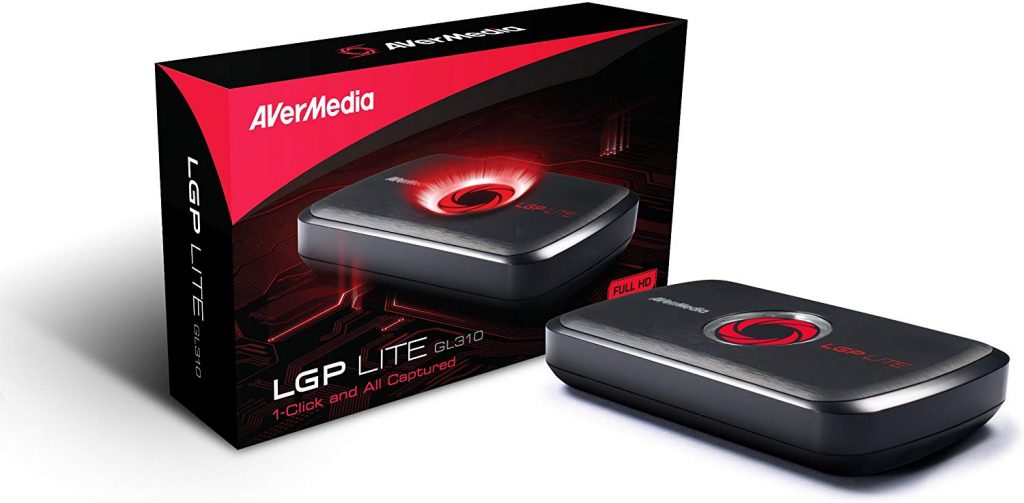 The best cheap capture card for Nintendo Switch video recording and streaming is the AVerMedia LGP Lite AVerCapture HD. The price is quite low for the string of features it has.
First, the LGP Lite has the H.264 encoder, lowering file size for your recordings. The record format is in MPEG-4, made possible by H.264 + AAC. It can capture in full 1080p HD. It also has the backings form RECentral software, which can help you moderate your stream with overlays. It is also compatible with third-party streaming and video capture software. This lets you put facecam layers for a more modern feel. The LGP Lite is connected via USB 3.0, allowing for very low latency. 
Sadly, it does have some glaring weak points. If it wasn't for these downsides, the AVerMedia AVerCapture HD would be higher up on the list. The LGP Lite does not support macOS 10.14 and above. And even if you have a lower MacOS version, RECentral still won't let you stream, but only record videos. This product also does not support HDCP signals.
But even though it has those weak points, the AVerMedia LGP Lite AVerCapture HD proves to be one of the best capture cards for Nintendo Switch content. If you are looking for a serious capture card that is easy on the wallet, then pick this up and give it a go.
Conclusion: The 5 best capture cards for the Nintendo Switch!
There you go! Those are the top 5 of the best capture cards for the Nintendo Switch. As the year has only started, we plan to update this list with even more products that fit the category sometime in the future. We also have other Nintendo Switch related articles that you can read, so go check them out.
If you have any suggestions for capture cards that are compatible with Nintendo Switch operations, do hit us up in the comments below!