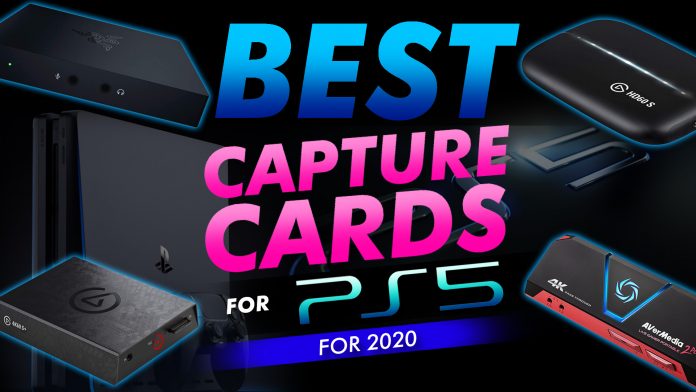 So you've got your PS5 monitor setup, or maybe you have something bigger, like a TV. You're done with cable management for your streaming PC. You've got a brand new microphone, a comfy gaming chair — all you're waiting for now is the PS5's release.
But wait. You can't just connect your PC to your TV and hope it sends your game to Twitch – you need a capture card. The best capture card for PS5, in fact. And we've listed down the cream of the crop, top-of-their-class capture cards for your PS5. Pick one and get ready to stream your PS5 games!
The Best Capture Cards for PS5 at a Glance
1. Elgato 4K60 S+ Capture Card | The Best PS5 Capture Card with 4K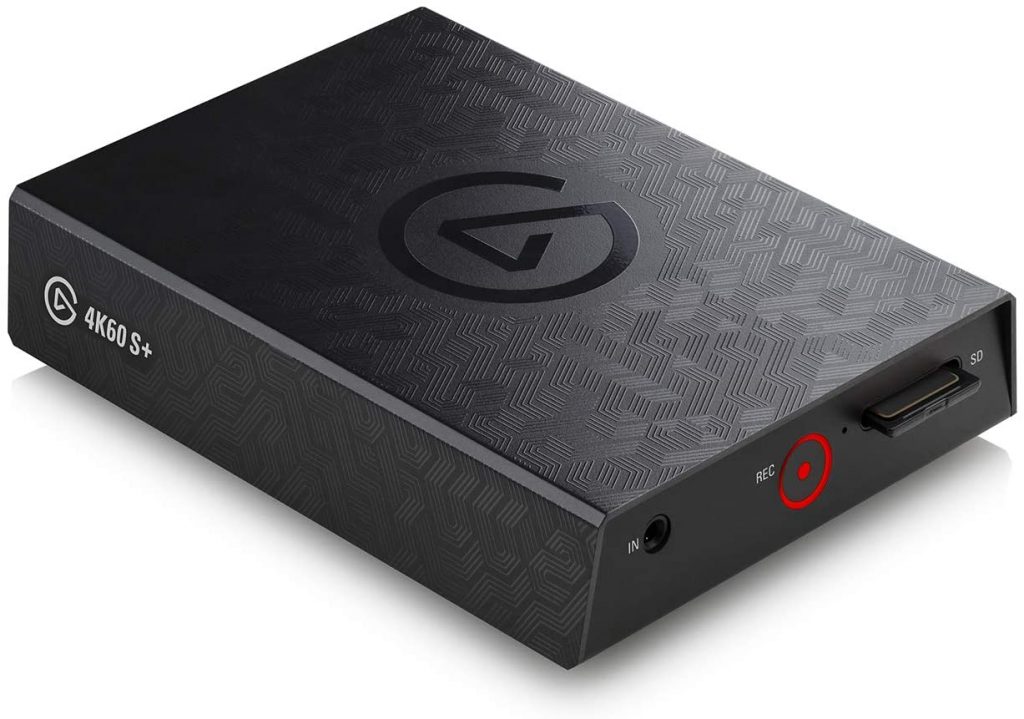 The easy choice for the best PS5 capture card is the Elgato 4K60 S+. For those who don't know, Elgato is the gold standard of capture cards, and they reminded us of why they're top dog with the 4K60 S+. This is a monster of a capture card that's capable of recording 4K video at 60 frames per second – the perfect capture card for recording and streaming PS5 games at their native resolution.
This is the capture card of choice for content creators that need the absolute best quality for their videos. With the new capabilities of the PS5 including 4K and ray-tracing technology, you'll need a beast like this so your videos do your games justice. The 4K60 S+ is built with ease of use in mind. It's programmed to adjust recording resolution on its own, as well as its bit rate and file format depending on what the card is plugged into.
Another great thing about this card is its ability to store videos into an SD card – perfect if you prefer to keep your hard drive clean and roomy. You don't even need to plug the 4K60 S+ to a computer to record anymore, just plug it back in when you need to start editing.
It's packed with nifty features that really enhance the streaming and recording experience – but it does come at a pretty steep cost. This is the best capture card there is right now, but for many, the price might be a bit prohibitive. We'd hold out until a sale comes on to pick one of these up.
2. Elgato HD60 S Capture Card | PS5 Capture Card for Beginners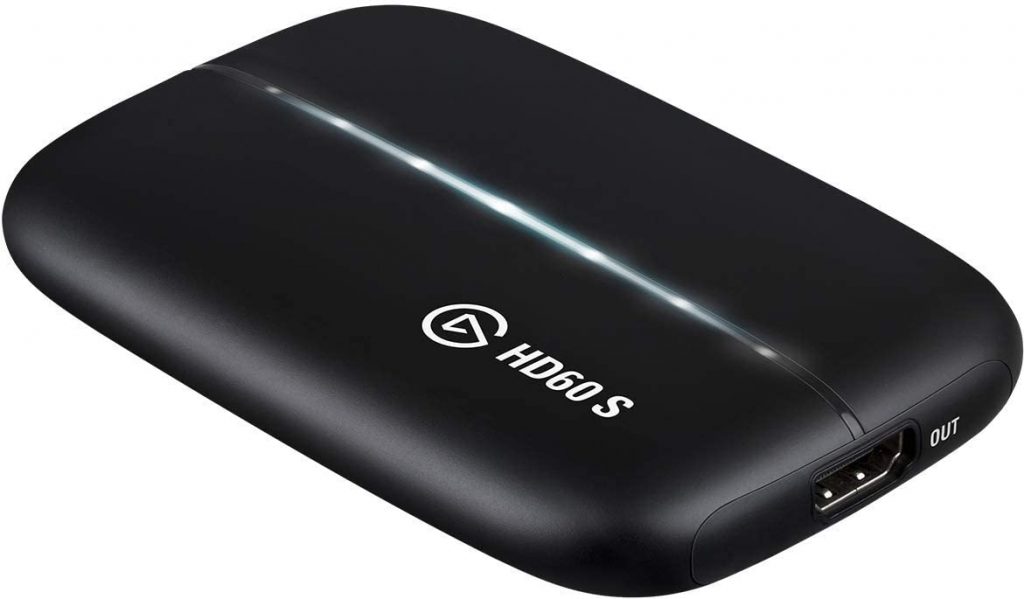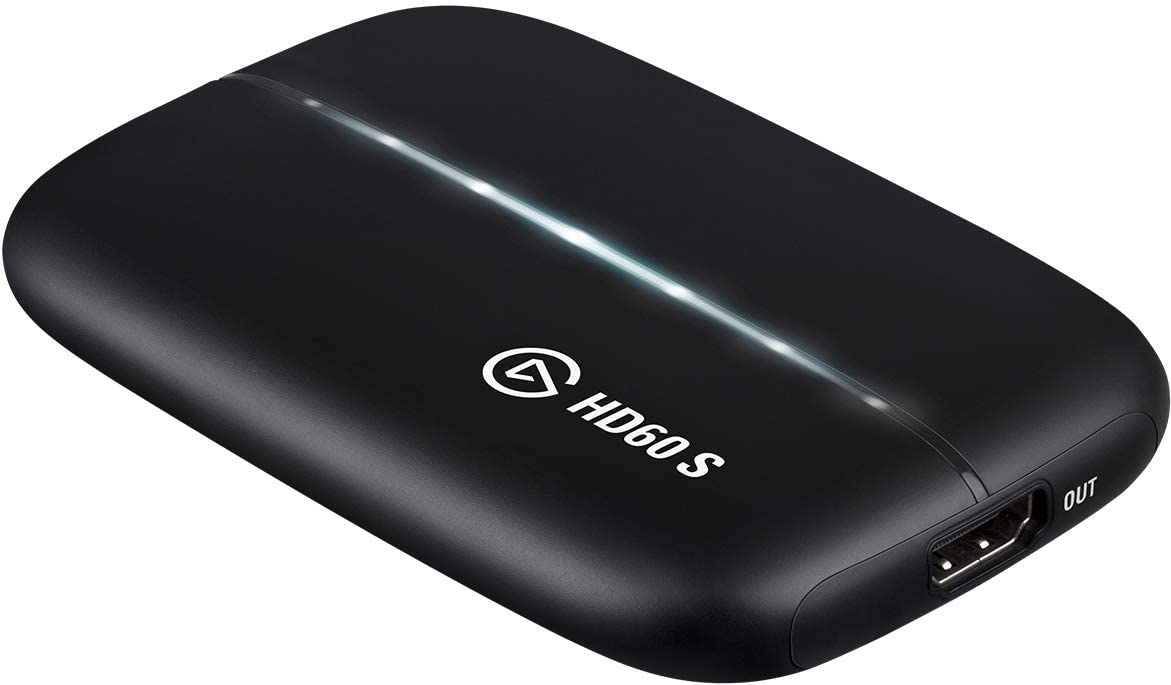 The Elgato Game Capture HD60 S has been featured in some of our capture card lists for Nintendo Switch and PC before, and with good reason. We're big fans of this capture card because it lets you set everything up with as little fiddling and hassle as possible. It's ease of use is second to none and the price isn't bad either. It's capable of lossless 1080p recording at 60fps, and features a high-speed USB 3.0 connection for even faster processing and encoding.
The HD 60 S comes with software built-in that lets you just hook up all your sources and outputs, and then start streaming immediately. It even has an onboard video editing suite for making quick cuts, but that's it. Another cool feature is its "Flashback Recording" function that lets you record a chunk of time before you press record – just in case you forgot to do it yourself.
3. Razer Ripsaw HD Game Streaming Capture Card | PS5 Capture Card with Audio Mixing

Well of course Razer has a capture card – why wouldn't they? The Ripsaw HD is a "gaming" capture card that comes with its own audio mixing that lets you tune your audio before the files hit the editing deck. It's capable of 1080p capture at 60 FPS, and also lets you play your game at native 4K on your display. This is the perfect capture card for streaming PS5 games.
It also looks very sleek. With the Ripsaw HD, Razer chose to stay away from their hard gamer aesthetic and made the Ripsaw HD in a rather conservative, minimalist design, keeping everything low key. All the ports are hidden in the back, while the front only has jacks for your streaming microphone and gaming headphones.
This is the perfect option for people who like to keep things sleek and low-key, and for streamers who want to stream at 1080p and 60 fps, but want to enjoy the 4K video capabilities of their PS5 from their 4K displays.
4. Avermedia Live Gamer Portable 2 Plus | Most Portable PS5 Capture Card

Since you route your display and console through the same capture card, it's natural that your display sees what your capture card sees. For many, it's at 1080p. The Avermedia Live Gamer Portable 2 Plus or LGP2+ does away with that limitation and lets you see your game in 4K on your display while delivering 1080p 60fps to your PC.
The 4K pass through allows you to enjoy your game in 4K if you wish. This makes it perfect for people who have a 4K TV for PS5 and wish to stream it through Twitch or Facebook Gaming at a more favorable resolution and framerate. It has USB 3.0 support, compatible with Macs, and flashing RGB just in case your setup needed to look any more gamer.
It's very portable too, measuring at least as wide as a RAM stick and thrice as thick. You also have the option of recording straight onto a Micro SD if you want to keep your HDD unburdened. This is a great tool to have when you're doing IRL streams when you're not playing with your PS5. The best thing about this is its plug n' play setup that works right out of the packaging.
5. AV.io 4K – Grab and Go USB Video Capture | Backwards Compatible PS5 Capture Card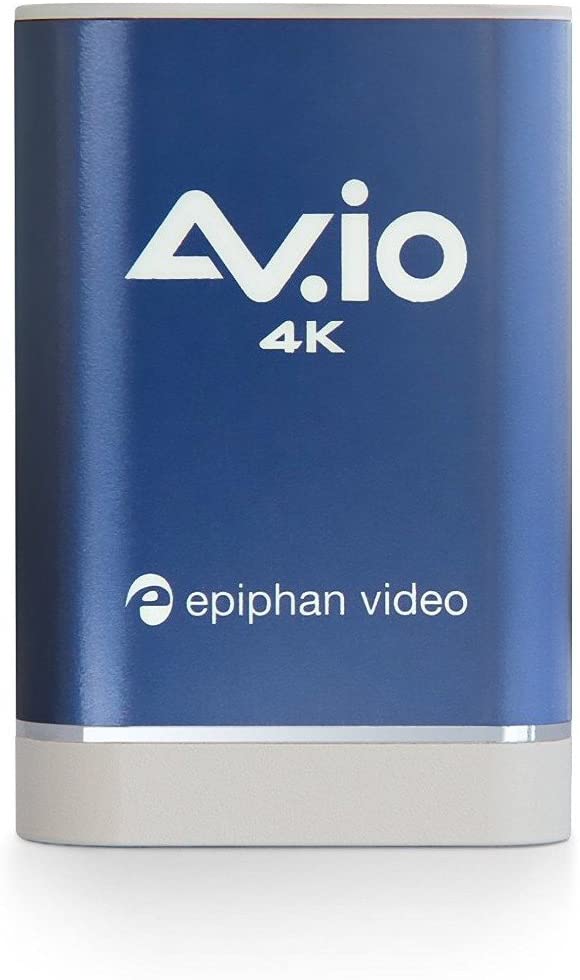 We like Epihan's AV.io 4K a lot. It's designed like a futuristic computer thingy, works like one, too. This is one of the most versatile capture cards available today, capable of recording from anything with an HDMI output. It's good at what it does – except it falls short of 60 fps when recording 4K.
It supports DVI-D and HDMI audio / video inputs, and can record ultra HD 4K at 30fps and full HD 1080p at 60fps. What it lacks in 4K recording, it makes up for in its customizability. The AV.io 4K supports every resolution between 4:3 and 16:10, making it one of the most versatile capture cards in this list. Literally anything that can have an HDMI plug is fair game for this capture card.
It makes use of USB 3.0 Superspeed technology that makes the AV.io deliver uncompressed, top quality video captures quicker. And while it does have USB 3.0 capability, it also supports USB 2.0 inputs for devices that can only support lower resolutions and frame rates. It works very well with any OS, from Linux to Windows and Mac.
6. QGeeM HDMI Capture Card: Best 1080p Capture Card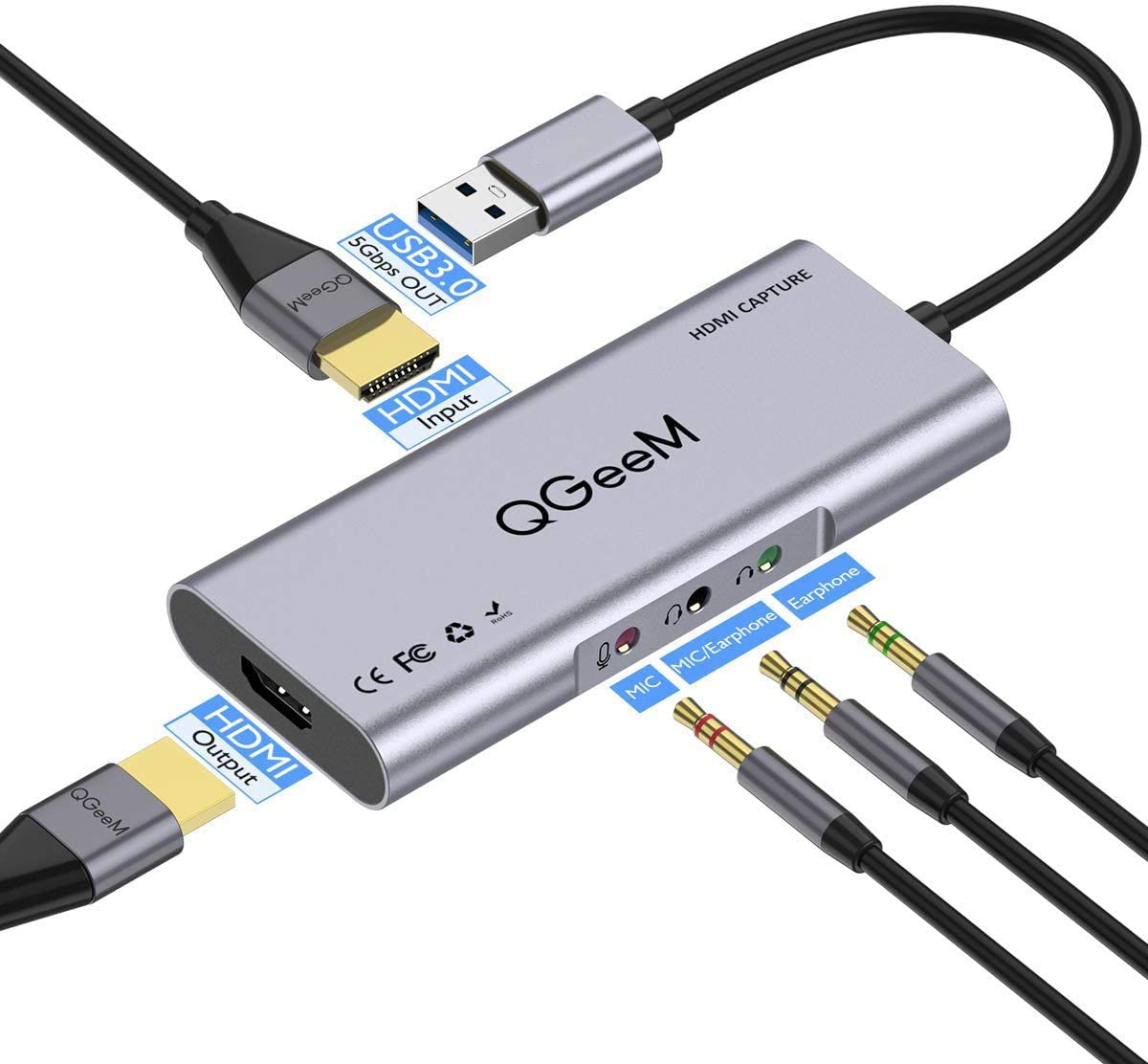 The QGeeM is the perfect capture card to get your foot in the door. It is best used in 1080p 60 fps mode, so this means you won't be capturing 4k 60 fps video; however, this isn't needed for beginners. The device uses HDMI.
Despite the size of this capture card, it is very high quality and sturdy. As for support, the primary port is HDMI and several ports for recording audio. It has a microphone port, a headphone port, and also supports passthrough. There are two LED status lights on the device as well. These alert you when your device is active and receiving power.
This is an older device, so do not expect modern support. The device doesn't use Thunderbolt, and it doesn't support more modern frame rates and resolutions. This is exactly what makes it a great entry level capture card. The device was originally made for Windows 7, so system requirements should not be an issue for anyone with a modern PC.
The variety of ports and options makes this a great entry level capture card for people interested in trying out video game capturing on their PS5. The manufacturer of the card recommends OBS, or Open Broadcaster Software, to help you with configuration and management of the device.
7. AVerMedia Live Gamer Bolt: Best Thunderbolt Capture Card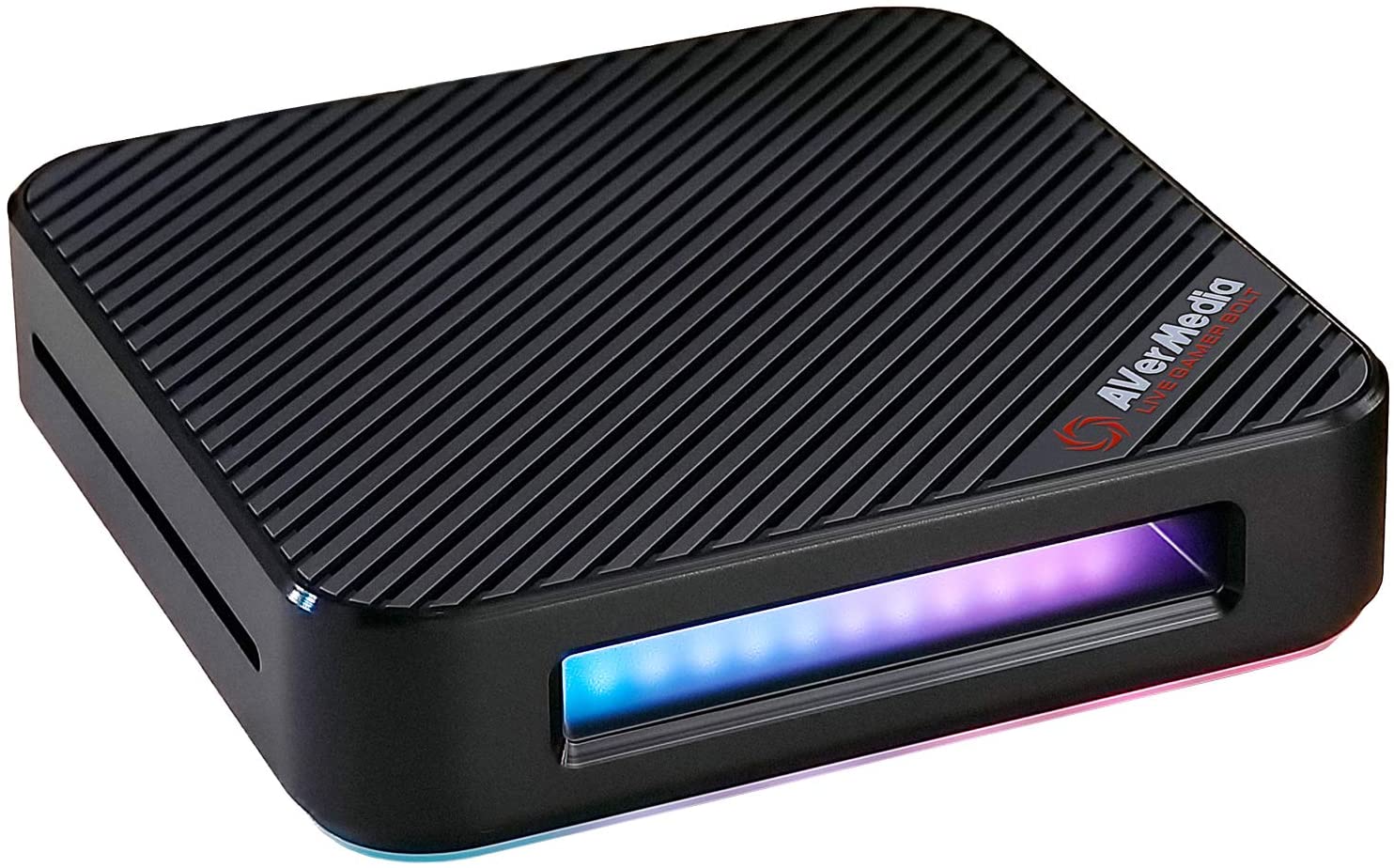 This is a great card for PS5 and for those with multi PC gaming set ups. The main advantage of this capture card is that it is totally external, even if you are using it on PC. The device connects via thunderbolt USB-C.
This card supports up to 4k 60 fps in both pass through and capture, meaning you can record your gameplay at the highest quality available today. If showing off your console's refresh rate capabilities is your goal, you can set the capture card to record at 1080p 240 fps and 1440p and 144 fps as well.
The AVermedia Live Gamer Bolt will also work with your older consoles. It is possible to get the capture card to work with older consoles such as the Nintendo 64 and the Super Nintendo. You are not limited to your new PS5 with the AVerMedia Live Gamer Bolt.
If you plan on using it on a PC as well, here are the system requiremeents:
Intel i7 7th gen/Ryzen 3
GTX 1050ti/RX 5700
8. AVerMedia Live Gamer Duo: Best Dual PS5 Capture Card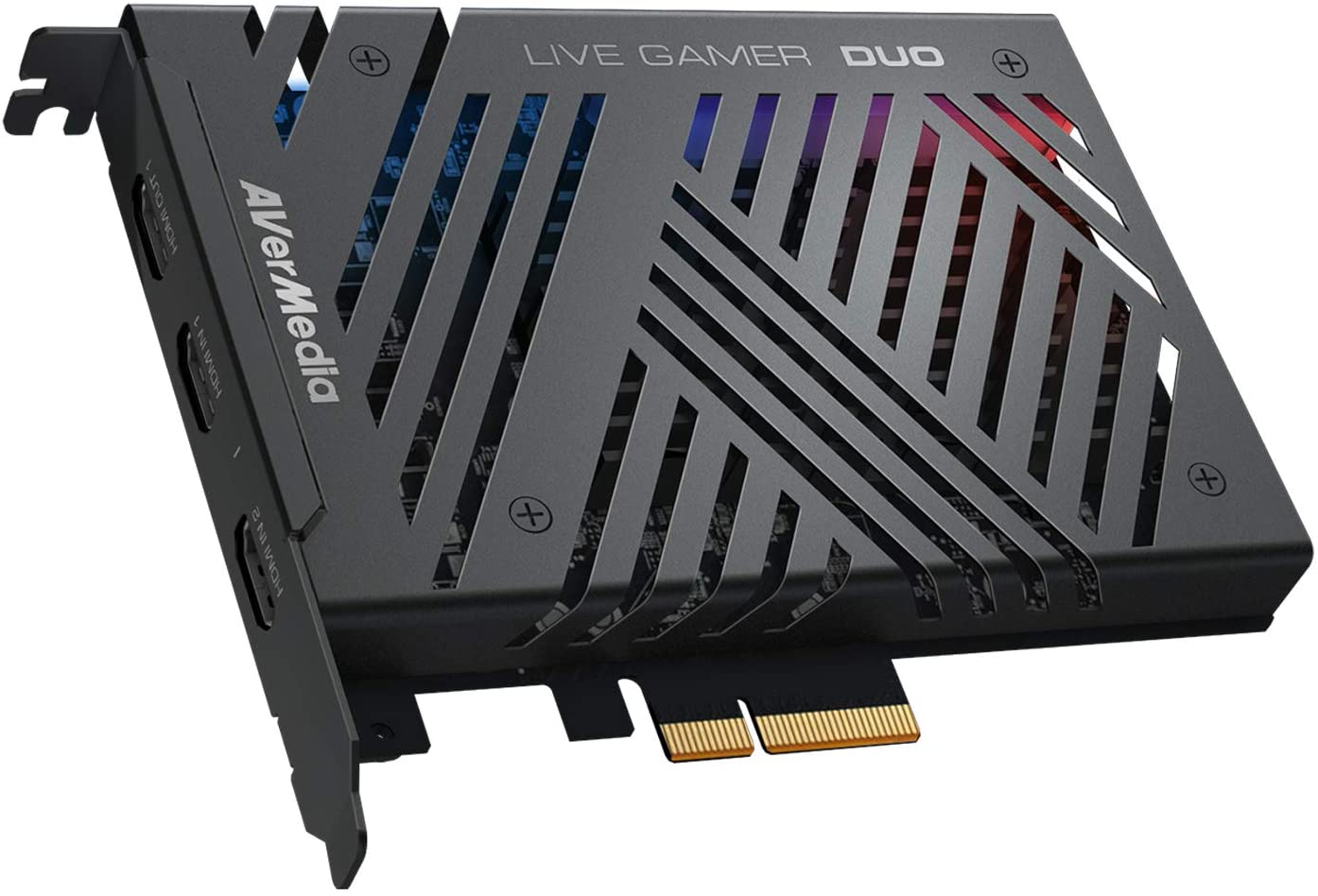 The AVerMedia Live Gamer Duo capture card allows gamers to connect to both a PC and a console at the same time. This means less hassle when switching platforms; the card can stay connected to both platforms no matter what you are currently using.
There are two inputs and one output HDMI ports on the back of the capture card. One port supports 2.0 and a variety of resolutions and frame rates. The AVerMedia Live Gamer Duo supports pass through for 1080p 240 fps, 1440p 144 fps, and 4k 60 fps. It also supports HDR capture. It only captures at 1080p 60 fps.
As for audio, the device supports 5.1 surround sound.
This card is an upgraded model of the company's Live 4k device. It features more HDMI ports, and it has the same RGB lighting as the Live 4k model.
If you plan on using this device with a PC, you should know that the device has some pretty relaxed system requirements, meaning even if you are running older hardware you will be able to make use of this capture card.
The system requirements are:
Windows 10 x64
Intel i5 6th Gen/Ryzen 5 1600 or higher
GTX 1050/AMD 560 or higher
8 GB ram
The Best Capture Cards for PS5: Frequently Asked Questions
What is a capture card?
Capture cards are input devices that convert gameplay signals into video data that you can record, stream, or upload to the internet. A lot of YouTubers, streamers, and gamers use their capture cards to record games for their channels and streams. Capture cards are also necessary when streaming console games, as consoles, such as the PS5, currently have no native streaming apps that allow players to stream or record their games to post on Twitch, Facebook Gaming, or YouTube.
Streamers with capture cards usually have a secondary streaming PC that they use so their main PC is unhindered by the streaming software. Some streamers that play console games use capture cards to record and stream footage from their console, deliver it to their streaming PC, and use that PC to stream on their platform of choice.
What do I look for in the best capture card for PS5?
There are a few things that decide if the capture card you want is the best capture card for your PS5. Depending on your needs and demands, your capture card should meet all of your requirements – and even exceed them – to ensure that the one you buy is one that will last you for a long time.
If you want to know how to choose a capture card, check this out:
Cost: This is the most important thing for a lot of buyers – can they afford the capture card they want? As always, the budget you should set boils down to your need. If you're only using your capture card to record the occasional gameplay video to share with friends, then a low-end capture card should be a good enough pick for you. For professionals that require really good quality video, such as streamers and YouTubers, a reliable but more expensive capture card is the way to go.
Video Quality: It's a given that every capture card should be able to give you that high-quality video you need – but it's not always about the pixel density. Depending on the resolution you game in, a capture card that records 4K will always be better than a card that records at only 720p. Given that the next-gen of consoles, like the PS5, will support 4K gaming, the choice has been made before you even started this article – you're going to need a 4K-capable capture card to record and stream your PS5 games at the highest quality possible.
Console: Make sure that the capture card you buy will be compatible with the console you're using. As reported, the PS5 will be supporting HDMI 2.0 as its display medium. Therefore, you're going to need to get a capture card that records 4K as well as supports HDMI 2.0. All of the video cards featured on this list will be capable of supporting HDMI 2.0. If you choose to pick a capture card that isn't in this list, please be mindful of the brand you're using for your capture card. Some capture cards cannot support consoles such as the PS4, and we assume then that they will not be able to support PS5. Buyer beware!
Ease of Use: The best capture cards for PS5 will come with a ton of features that enhance its performance – but is it really right for you? Some people might find the additional bells and whistles to be a bit overwhelming. Sometimes you just need something that works for you without much fiddling. Therefore, keep in mind the ease of use for your capture card as this will matter very much in streamlining your stream. (See what we did there?)
How does a PS5 capture card work?
Capture cards are actually pretty simple in terms of how they work. They provide a service that captures the video signal of an external device through an HDMI connection. The HDMI output from your PS5 will be routed towards the capture card. The capture card processes this video data and relays it to the streaming PC, who then encodes everything and streams it out to your streaming platform or recording software of choice.
It's a lot like using a projector for your laptop for work, only that instead of projecting images, it sends it over to another PC for encoding, processing, and streaming.
Why do I need a capture card for PS5?
The PS5 is a console, which as of the moment does not support native streaming from the console to your platform of choice, a capture card is essential if you want to stream the newest PS5 games. Recording footage also gets harder if you just use your console as it eats up your console's memory. Sending the footage over to a PC allows the console more breathing room, giving its full power to making the games you play run buttery-smooth.
Do I need a capture card to stream PS5 games?
Since there's no way – or at least, not right now – to stream directly from your PS5 to your streaming platform of choice natively, a capture card is essential if you want to start recording or streaming PS5 games the moment the console comes out. If you're a streamer or content creator getting ready for that (and that's why you're here, right?), a capture is an essential addition to your streaming setup. While you're at it, why not get even more ready by picking up some PS5 headphones and a PS5 monitor to go with it.
Will the best capture card for PS5 help with streaming games?
Oh, definitely. Just like how the best hammer will help with sinking those nails, the best capture card will help you in streaming those PS5 games. But of course, having the best might not be the best choice for you. All of your boxes have to be ticked before you make your decision:
Does it work with my budget?
Does it record the quality I need?
Does this capture card work with PS5?
Is it easy to use for me?
The best PS5 capture card doesn't always mean the most expensive. These capture cards serve a single purpose but in different manners, and there's no one capture card that's a good fit for everyone. Be mindful of your choices and figure out what the best PS5 capture card is for you.
What capture card do streamers use?
Many streamers right now are using the Elgato line of capture cards. Not only is it ubiquitous, it's also some of the most feature-packed and good value for money capture cards in the market today. Streamers who use capture cards also own streaming PCs which they use to stream either PC games from their main computer, or console-exclusive titles in their respective consoles.
Can a PS5 capture card work with a laptop?
You can use a laptop to encode and stream your PS5 footage from your capture card, provided that the laptop is powerful enough to handle the strains of streaming. Flip it around — if you want to record footage from your laptop, the capture card you get for your PS5 will work with your laptop – but you have to have another PC or laptop to connect your capture card to so you can encode the footage.
How do I set up a capture card for PS5?
Capture cards are surprisingly easy to set up. It's easy to route your capture card from your PS5 to your streaming PC. Follow these steps to set up your capture card, no matter what model it is:
Connect an HDMI cable between the console and the game capture card through the HDMI Input terminal.
With a second HDMI cable, connect one end to the HDMI Out terminal and route it towards the TV.
Plug the USB cord from the capture card onto your PC or Mac to start recording, encoding, and streaming your PS5 games!
Is a capture card for PS5 worth it?
If you want to get into recording and streaming your PS5 games the right way, a capture card is definitely worth it – even required. A capture card allows you to share footage from your PS5 to your recording or streaming software. Without it, you won't be able to store or broadcast your footage.
Which capture card should I get?
For us, most people would be more than happy with the Razer Ripsaw HD. It's simple to use and has enough power to record at 1080p 60 FPS, a resolution with which most viewers will be watching the footage from. However, if you're more on the recording side and need the best 4K quality audio and video from your games for editing, the Elgato 4K60 S+ is the ultimate choice for you.
Wrap Up
That's it for our list of the best capture cards for PS5. We know we're all excited for its release, and we're helping you out by preparing what you need for your first PS5 game stream. As streamers and content creators, being first matters a lot – so get yourself one of these capture cards and start recording on release day.
Recap: Here are the best capture cards for PS5 streaming