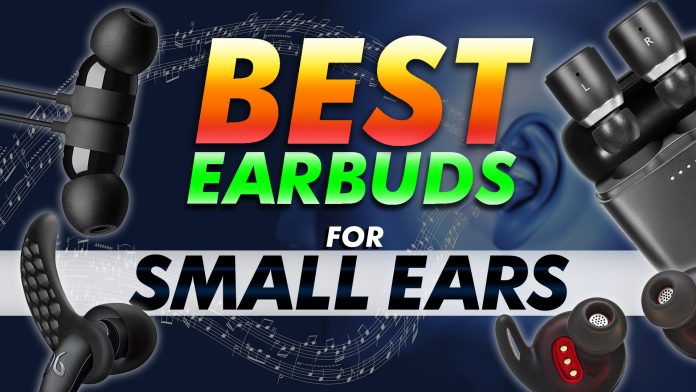 Not all earbuds are created equal. If you happen to have small ears, it can be very challenging to get earbuds that are comfortable enough, assuming that it will even fit in the first place. Unfortunately, many in-ear headphones sport massive earbuds, which can strain the ears of users with small ones.
Though soft earbuds help, the earbud tip designs are still bulky. That is why the best solution is to invest in earbuds that have an ultra-slim in-ear fit. Basically, buds that are small enough that it does not touch the outer parts of the ear canal.
Of course, it would be hard to try them all, that is why we did all the muscle work. All you have to do is sit back, and you are on your way of owning the best earbuds for small ears.
Best Wired Earbuds for Small Ears
The traditional pick and the most reliable ones. Since these are wired, you won't have to worry about latency nor dead battery during your music binges.
Beats urBeats3 Earphones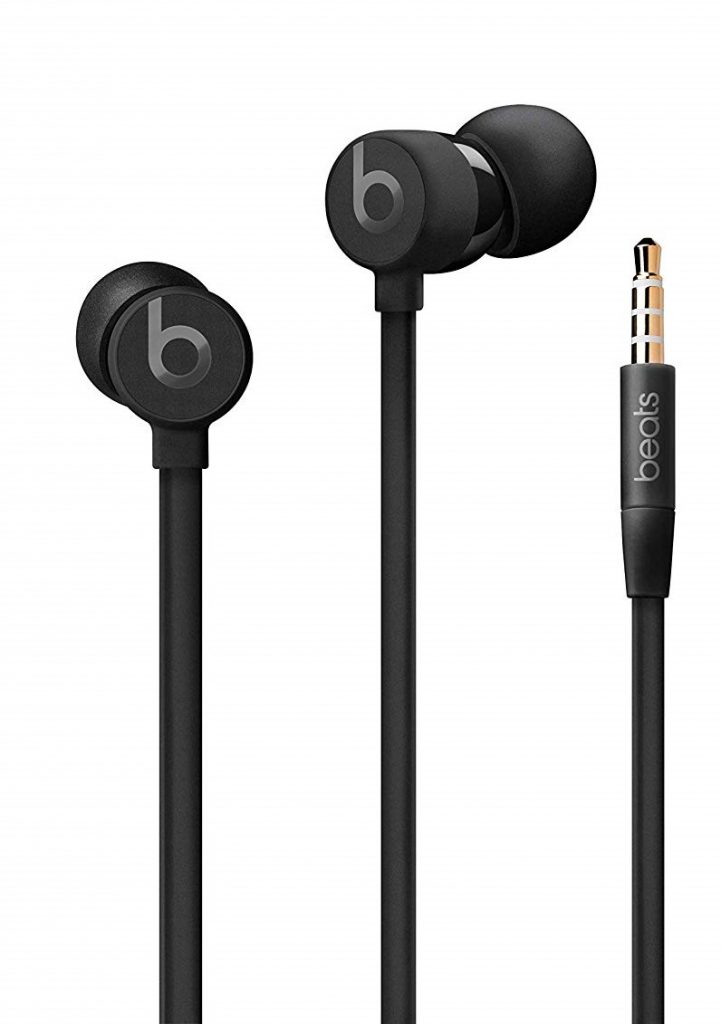 The Beats urBeats3 is one of the best picks if you want a stylish pair. These wired earbuds can be connected via 1/8″ TRRS connector or a lightning cable. So whatever you prefer, these earbuds got your back. They are also excellent for long commutes, especially if you hate keeping in-track with your earbud's battery life.
Build wise, they are decently put together, it has a charming rubberized design and a tangle-free flat cable. The package also comes with stability fins that support a stable fit. These buds also sport in-line controls, so you can quickly tweak your music on a fly, no more twiddling with your phone. However, the controls are more friendly in iOS than in Android.
The audio profile of these earbuds is well-balanced with a hint of bass thump that should satisfy bass-heavy music fans. But then again, they are still capable enough of covering most genres.
Once you find the perfect fit from the three different sized tips inside the box, they do provide a good seal, and will passively isolate background noise. They are not much, but they are enough to block noisy chatters in the office or on the train. Since this pair is wired and doesn't need Bluetooth connection, their microphone is superior to most wireless earbuds.
Bose SoundSport In-ear Headphones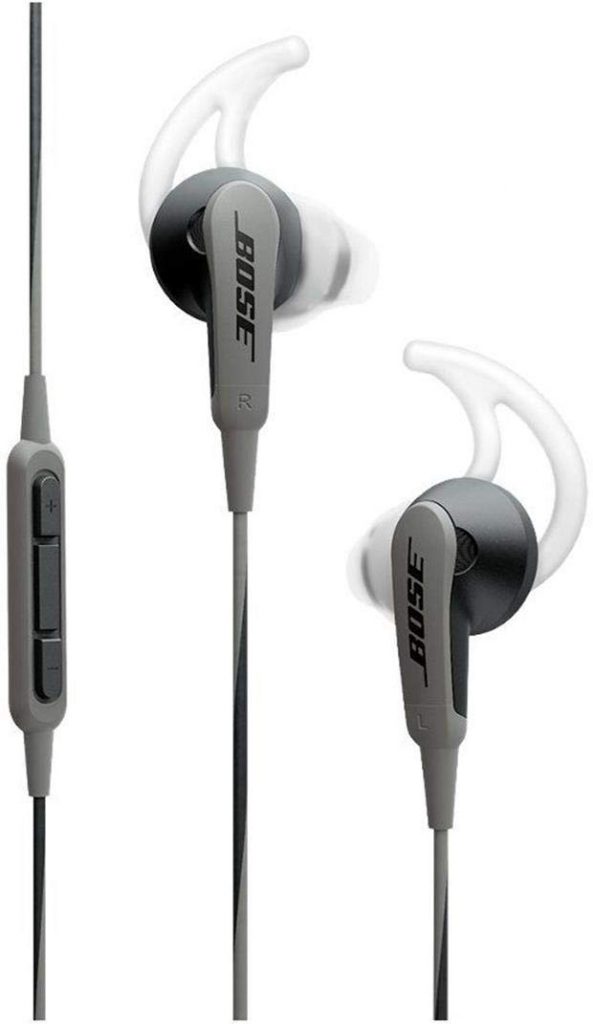 The Bose SoundSport In-Ear looks, well, sporty. It has a brilliant red and black color design that is flashy but still looks good. These earbuds sport a unique earbud tip design that is perfect for users with small ears. However, they still have a firm and open in-ear fit that enables users with an active lifestyle to wear them comfortably. They are also compact enough to bring around during your workout sessions.
These earbuds are intended for sports and other physical activities. After all, the lack of isolation, passive or active means that they are bad for keeping loud noises at bay when commuting. On the bright side, they do offer decent audio for most casual users. They are durable, compact, and breathable enough to run and exercise with conveniently.
Overall, the Bose SoundSport sounds excellent for casual listening but not suitable for critical listening. They also boast a comfortable fit compared to other in-ear models. Though they don't have passive isolation, the tips' design, lets you detect traffic cues while running, which is safer this way.
Etymotic Research HF5 Noise-Isolating In-Ear Earphones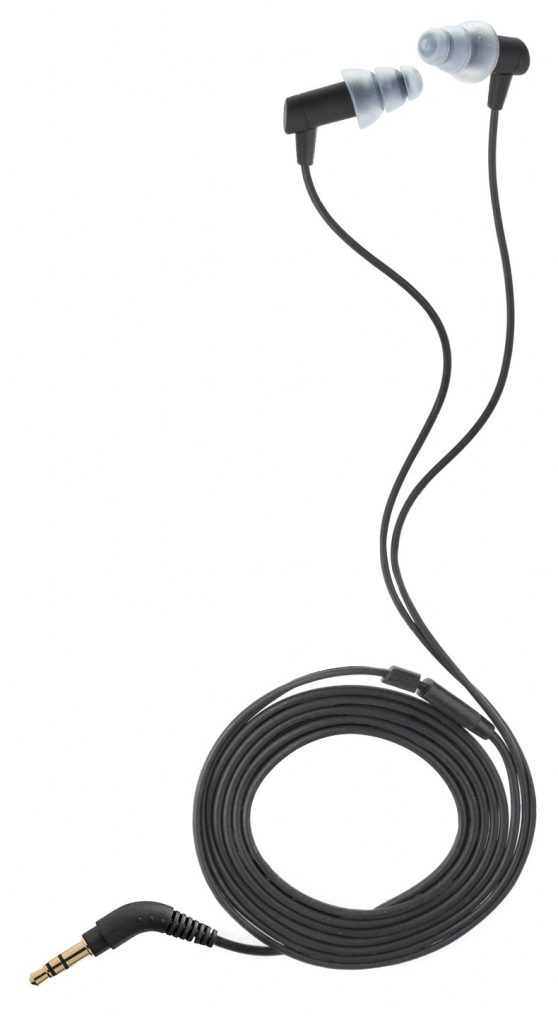 The Etymotic HF5 is a pair of earbuds that settles on a more straightforward in-ear design approach. This pair is well made but not enough to be called high-end. It is durable as well and will keep you company for a few years before retiring.
The HF5 is equipped with soft and generous buds, so putting them on is such a treat. The cable is also relatively thick, so they won't be easily destroyed when pulled accidentally. They sport unique tips that are common for the Etymotic product line. This quirk is what sets this pair from its other in-ear competitors. 
Sound-wise, they are great and will perform on mixed usage, whether commuting, music binging, or gaming. The Etymotic HF5 is constructed using a simple in-ear design that offers decent isolation in noisy environments. It is also portable enough to be carried around during your commute to work or traveling out of town. Sadly, they don't have detachable and replaceable audio cables, so be careful when stashing them in your bag.
However, they do shine in sports use. They have a stable in-ear fit and plenty of tip options to support the perfect fit. They are also very easy to bring around. Sadly, they do not come with an audio cable that has built-in in-line control, so you will have to tweak your music using your smartphone.
Symphonized NRG 3.0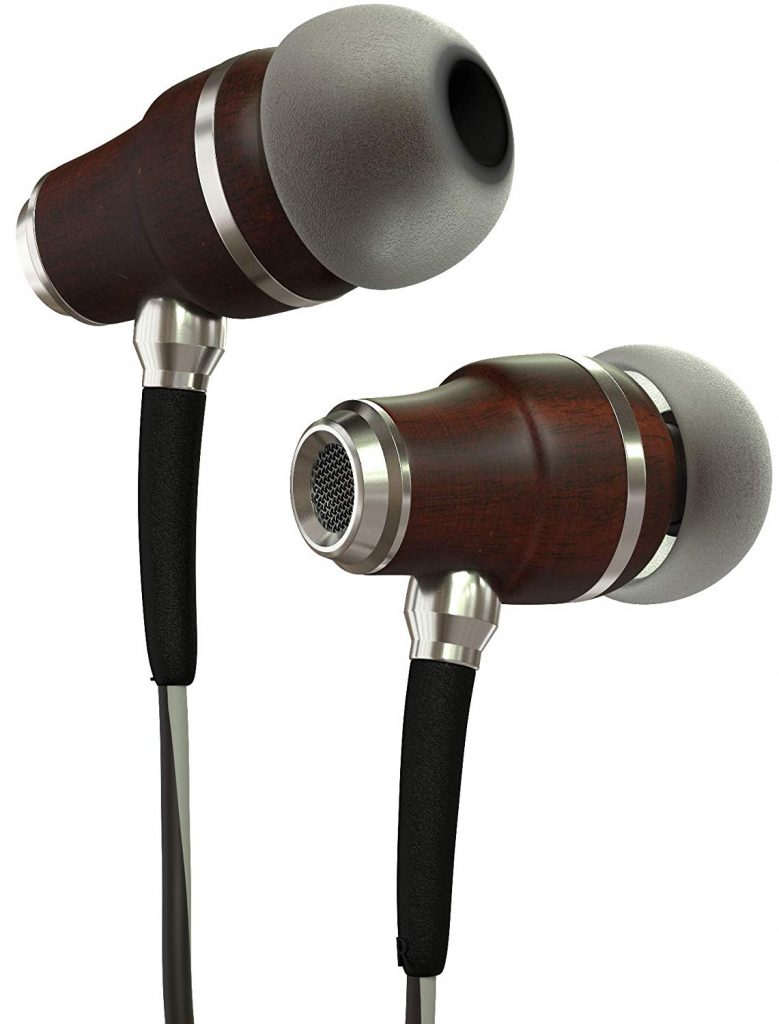 The Symphonized NRG 3.0 looks positively stylish. It exudes some rustic vibes that will surely appeal to the hipster in you. Aside from looking absolutely adorable, they are well-built and budget friendly. These in-ear headphones won't impress audiophiles, but they are more than enough for casual listeners. 
On the bright side, they are super easy to carry around, and they won't fall off your ear during your morning jog. These earbuds are also quite useful in blocking unwanted noises thanks to its passive noise cancellation. They are also sturdily built and boasts a convenient control scheme, now you can easily tweak your playlist without bringing out your smartphone all the time.
NRG 3.0 is also quite versatile. They perform well for office use as you can use them to block out office noise when you need to focus. They also don't suffer from audio bleeds, so they won't distract your officemates with your metal playlist if that is your thing.
These earbuds are also great for commuting. They are super lightweight and portable earbuds, and since they passively block out noise, you can commute in peace. Though, of course, they won't be the best choice in super loud environments, though they can do well in busy streets.
Shure SE215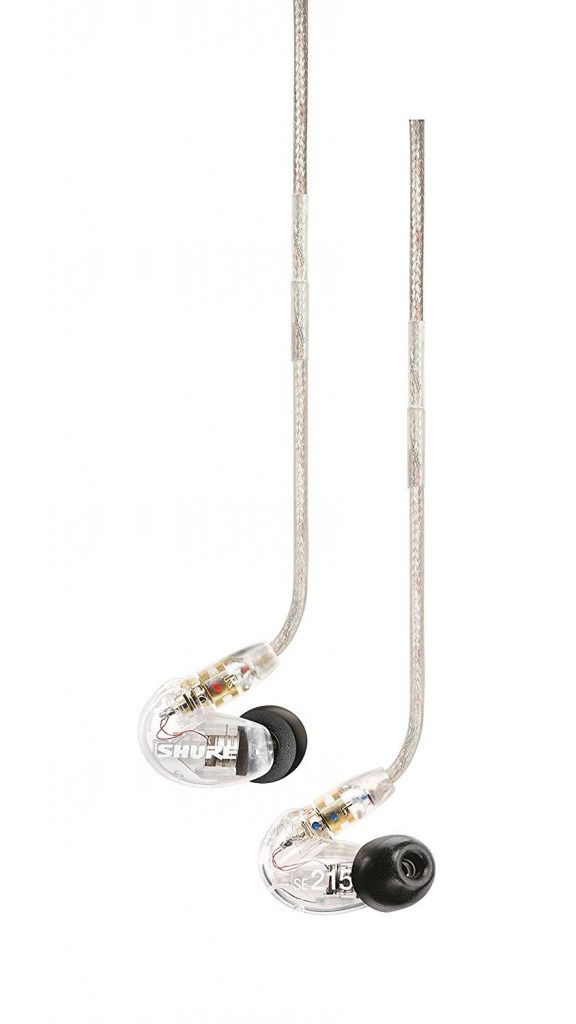 The Shure SE215 wired headphones are super durable and can withstand mishaps with no problems. Unfortunately, they are not fitted with in-line controls or a built-in microphone. However, this is majorly compensated, but its sheer comfort and durability. The fit is perfect as well, as the box comes with five distinct tip sizes. Now you can easily find the right size to ensure a more comfortable fit.
Though sound reproduction is not built for audiophiles, they are decent enough for casual listeners. The sound profile is decently well-balanced. The bass is there, not skull crushing but punchy enough. The mids and highs are clear and not muddled together. On the bright side, they offer excellent passive noise isolation, so they are great for commutes.
If you are prone to accidents, say your earbud's wire getting caught up in something or getting crushed inside your jean's pocket, then the Shure will, not let you down.
Best Wireless Earbuds for Small Ears
If you are not a fan of wires, then the wireless variant will definitely appeal to you. For those who can't be bothered with pesky wires connected continuously to your phone. If this sounds like you, then these picks are the ones that you are looking for.
Jaybird Freedom F5 Wireless
The Jaybird Freedom F5 wireless earbuds are one of the most popular picks for users with small ears. These earbuds are well-designed and sport a unique shape. The earbuds itself are exceptionally slim, so they will fit perfectly to small ear canals. They are also slightly tapered compared to other buds who are barrel-shaped. The overall build is sturdy, and the material used is premium.
These earbuds come with different sized ear tips so you can be sure to find the one with the perfect fit. Since these are wireless earbuds, you need to charge them. Unfortunately, their battery life is a bit disappointing at only four hours. Fortunately, you get an additional four hours of power from the charging clip. Sure, the clip is an extra bulk, but you'll feel grateful for them, especially on long commutes and travel time.
Sound-wise, these earbuds boast fairly balanced audio. Since it does not favor bass that much they can be used for any type of music genre. These earbuds also support the Jaybird MySound app. By using this app, you will have access to customization options so you can personalize your listening experience.
The Jaybird Freedom F5 also provides passive noise isolation. Since the buds are pretty small, they can create an air-tight seal, which is a rare commodity for users with smalls ears. This feat is possible thanks to Jaybird Freedom F5's unique ear tip design.
JBL Live 200BT Wireless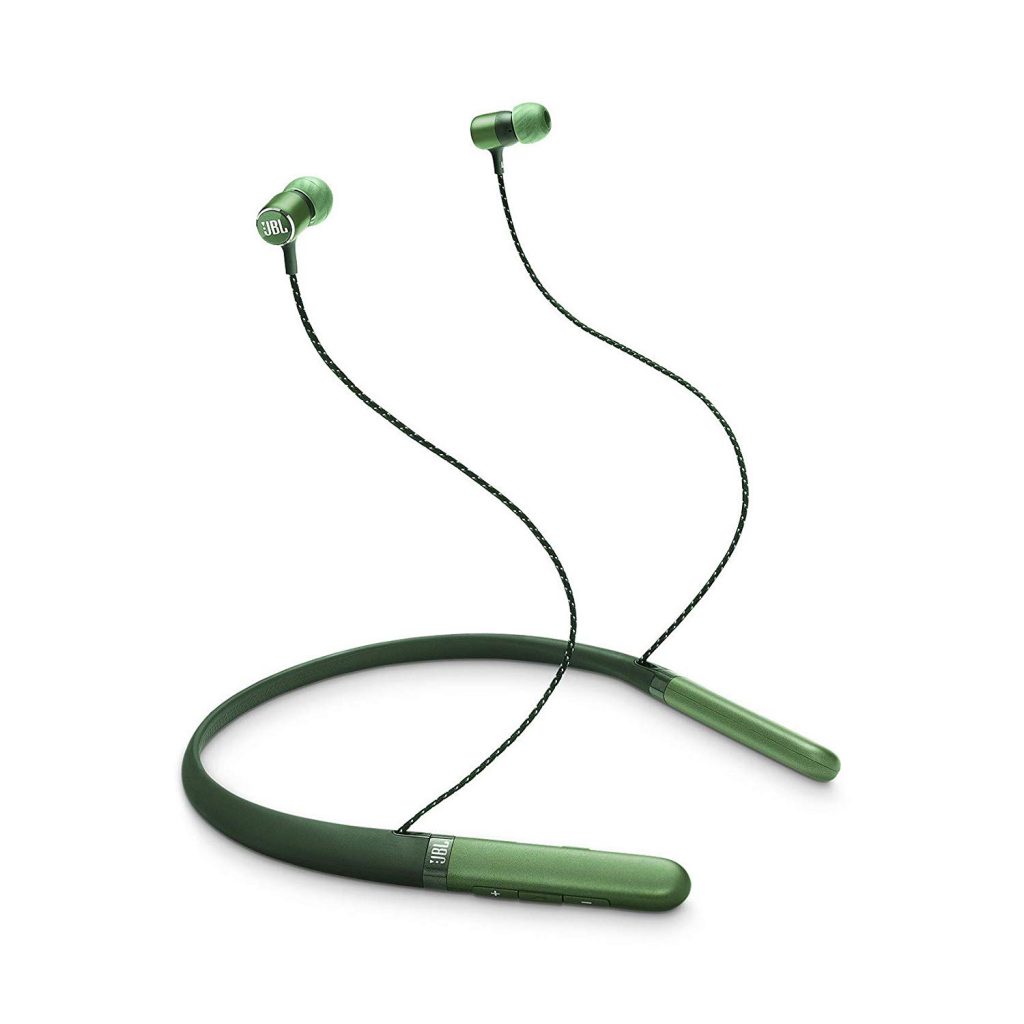 If earbuds attached to a neckband appeals to you, then the JBL Live 200BT is a good contender. These earbuds are well-rounded, can play any music genre. It also boasts a comfortable neckband design, so controls are always within your fingertips. The control scheme is also simple and convenient, and they function well without fuss. This model also comes with different sized ear tips, so whatever your ear size is, these buds can accommodate your needs. 
Sound-wise, these earbuds offer a neutral audio reproduction. The sound quality is well-balanced and is decent enough to get a nod from audiophiles. The bass is there with mids and highs easily distinguishable. Basically, they are suitable for any music genre. They also offer decent isolation, perfect for lessening office noises. Audio leaking is also not a concern, you can freely increase your music volume without disturbing your bus seatmate or your colleagues.
Sadly, they don't have any partner software, so you can't tweak them even if you want to. There is also no auto-off timer, so make sure you turn them off when not in use, or else you will be greeted with a dead batt when you need it. On the bright side, the battery lifespan is relatively decent at 10 hours, enough for a trip to the gym, daily commute, and long drives.
Jaybird Tarah Pro Wireless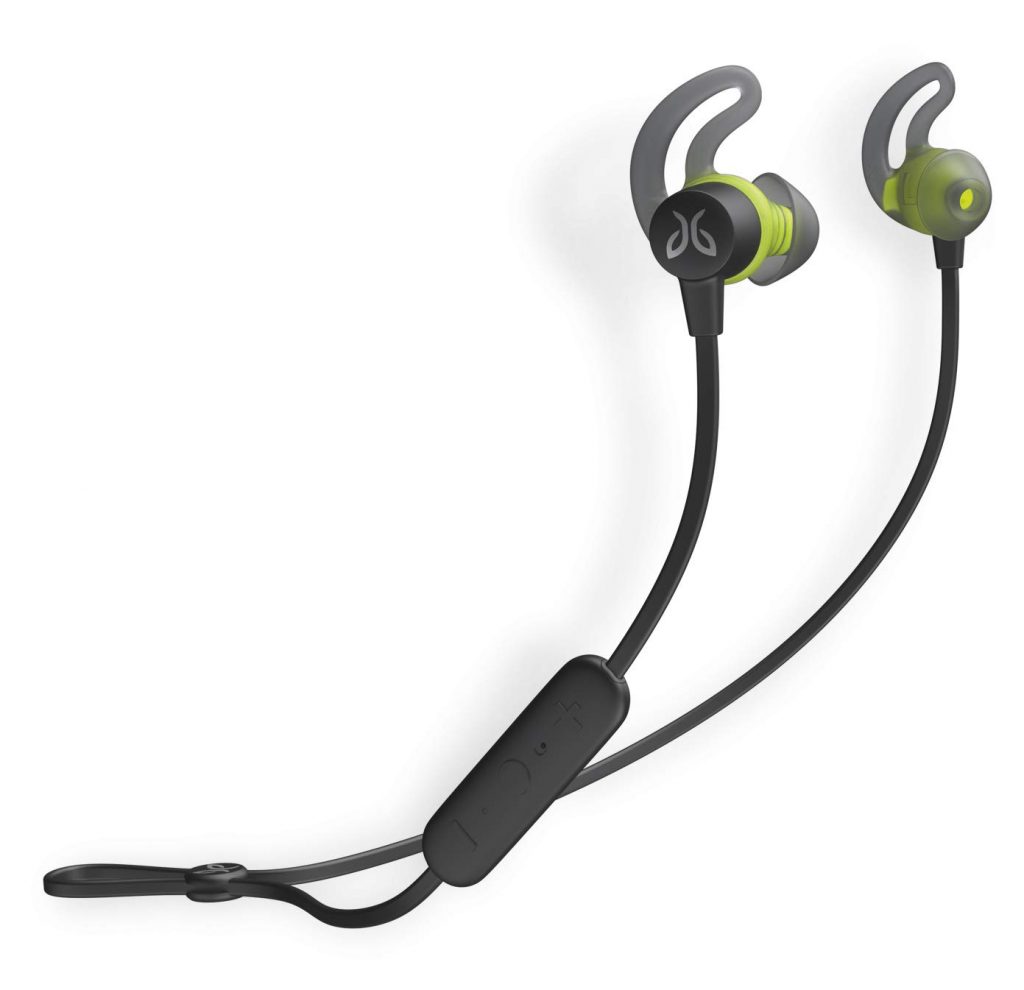 The Jaybird Tarah Pro stays faithful to the Tarah line. They look sporty and sophisticated.  These earbuds also sport a curved in-line remote for easy controls. They are also quite stylish and comes in three different color variants, Titanium-Glacier, Mineral Blue-Jade, or Black-Flash. The cable is also sturdy, they are not rubberized, but braided, the more reliable choice. You can wear these earbuds in two ways, either the standard fit or the one where you put them over your ears to get a better fit.
This pair is great for any listening purposes. The Tarah Pro has a high-grade sound quality and is comfy thanks to its soft ear tips. They also offer decent noise isolation, and the audio barely bleeds. Since they won't disturb your seatmate, they are an excellent choice for traveling or as a listening buddy at the office.
However, these earbuds shine in sports use. After all, these headphones are best for working out. They boast an IPX7 rating for water and sweat resistance, so whether you are running in a light drizzle or sweating like crazy in your cardio routine, this pair won't let you down. This wireless pair is super portable and has a breathable design, so even if you wear them for hours, you won't experience any discomfort. They also have a fantastic control scheme that allows easy access to uncomplicated and helpful functions. The battery life is also robust, so it should last you a while.
Bose QuietControl 30/QC30 Wireless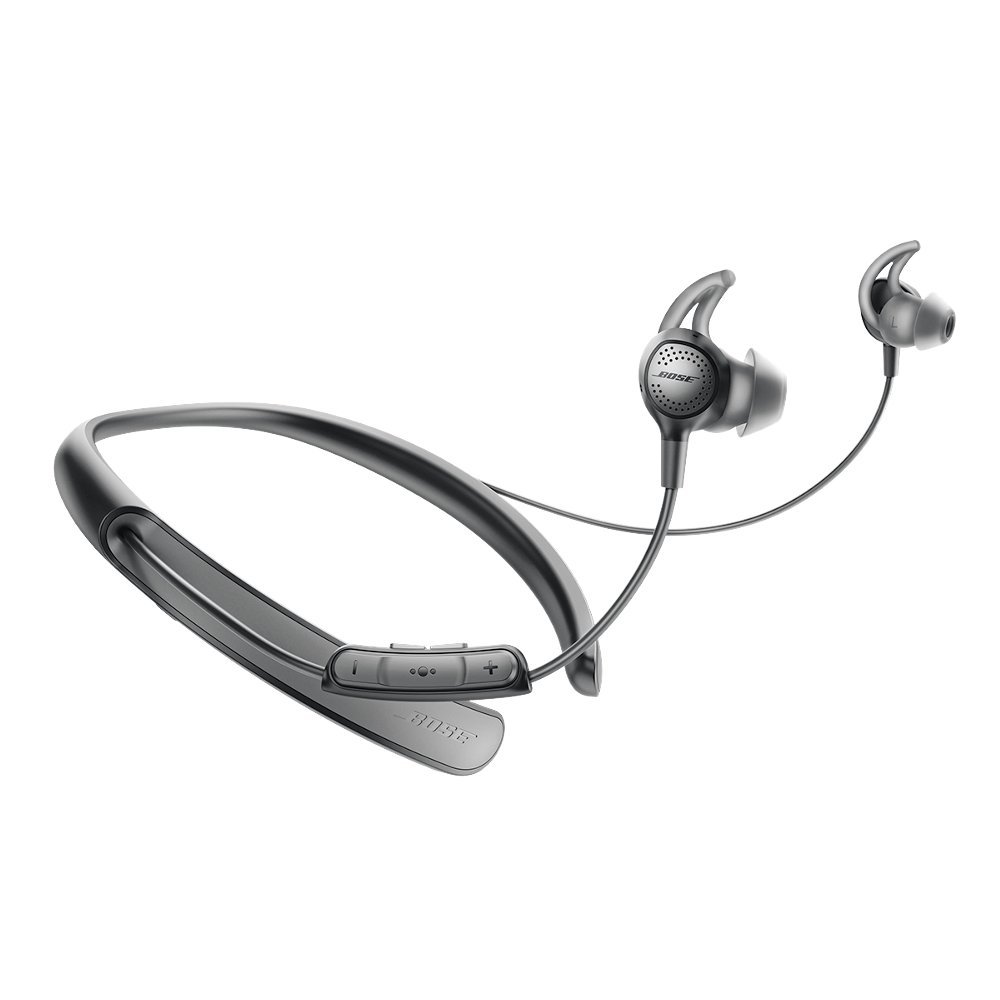 If you are a minimalist, you will love the simplicity and elegance of the Bose QuietControl 30. They are not flashy but still look high-end, as the materials used are premium. Its black color scheme is sophisticated and appeals to minimalist' aesthetic values.
Sound-wise, the Bose QC30 are excellent earbuds for most casual usage. They are comfortable to wear, compact, and isolate noise even in loud environments. They are also great for your daily commute and fit well enough to function as a gym buddy. Since they have a good fit, they don't suffer from any audio leakage, so they are perfect for office use. They also sound great to satisfy most casual listeners, but they may not be the right tool for the job for critical listening.
However, they are suitable for outdoor activities. The Bose StayHear+ tips and around the neck design offers a comfortable and firm fit. This means that these earbuds falling to the ground during intense exercise routines are unlikely.
Sony WI-1000X Wireless Earbuds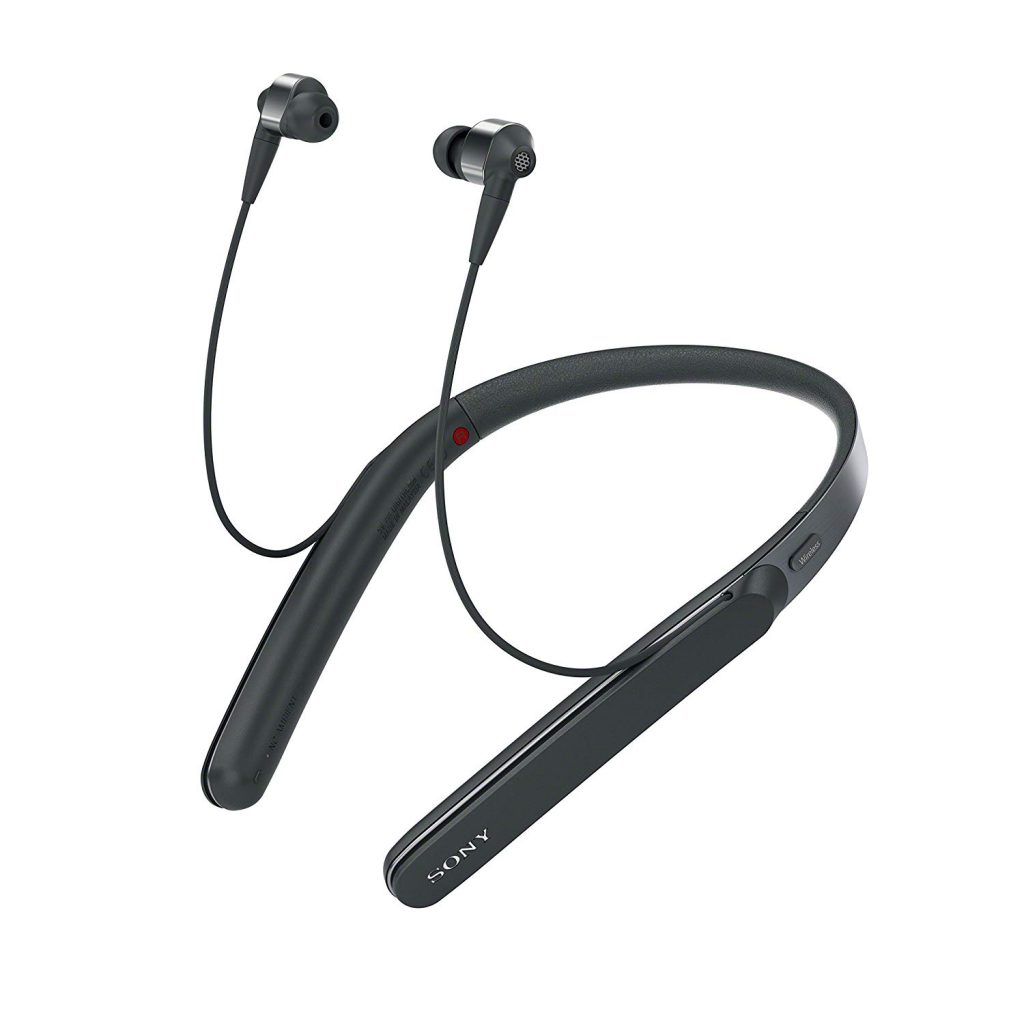 The Sony WI-1000X Wireless is not flashy enough to stand out. After all, it just sports an all-black and metal theme, nothing too extravagant, and that is not a bad thing. These headphones sport an around-the-neck design that feels high-end. Though if you want something unique, you can opt for the gold variant.
This pair of wireless earbuds are great for your daily commute. These are ANC (active noise canceling) headphones, so blocking out the noise in a busy street is a piece of cake. The tight fit is perfect for short trips, but they can be a bit tiring during long flights, so it is better to take breaks from them. They are also easy to pack but not as portable as other pairs that you can easily stash on your jean's pocket.
If you plan to use them during workout sessions, you may do so. They are suitable for physical activities since their fit is super secure. It also boasts a satisfying battery life so you can use it for a few gym sessions before needing charging.
Overall, the Sony WI-1000X is a pair of versatile earbuds that are ideal for daily casual use. They provide a reliable ANC feature, they feel premium without breaking the bank, and they come with tons of tip sizes. Unfortunately, they do have some latency problems, so they cant be classified as one of the best gaming earbuds. But aside from this, these are pretty good earbuds, and you can easily customize them, and that is a huge plus.
JBL E25BT Wireless Earbuds

The JBL E25BT is super budget-friendly, yet they can easily compete with premium-priced picks. These wireless earbuds sport a sturdy wire that connects the L/R earbuds. However, the material used is not that great as it is made of cheap-looking plastic. Fortunately, the cable is coated with durable fabric, so this pair can withstand some abuse before kicking the bucket. It also has an in-line control remote so you can easily tweak your music without fuss. They are also comfortable even during extended usage. 
Since these earbuds are perfect for users with small ears, they provide an excellent seal around the ear canal. The fit feels stable enough to withstand some physical activity but not for extensive workouts.
Sound-wise, they are a bit bass-heavy, it is powerful enough to give justice to EDM and metal music. However, they are not that great for vocal-centric genres like RNB and ballads. Though they do a very excellent job at blocking ambient noise, making this pair a decent pick for daily commutes. They don't bleed as well, so if you plan to bring them to your local library, you may do without the fear of the resident librarian chasing you out.
The JBL E25BT's battery life is also robust at 9.5-hours though there is a catch. They charge soooo slow, so make sure to have them juiced the night before. They don't have a power-saving feature, so make sure to turn them off when not in use.
MEE Audio M9B Wireless Earbuds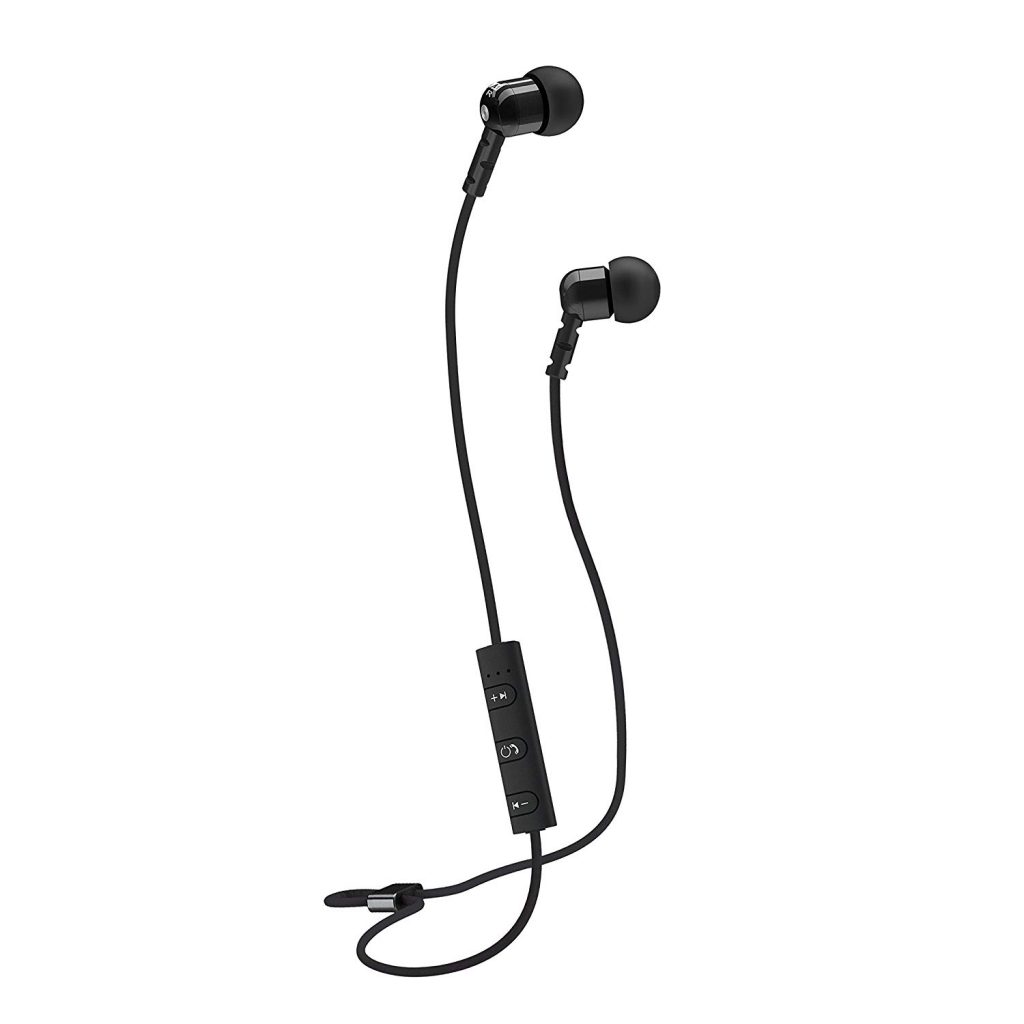 Though this list contains all the best earbuds for small ears, the MEE Audio M9B Wireless is one of the smallest. This pair is so small that they will easily fall off the ears of people with medium to large-sized ears. Though the battery is not that robust, they boast excellent audio reproduction that can quickly gain approvals from audiophiles. Not for critical listening, but they do possess a decent sound stage.
The fit of these earbuds is also great for long sessions. Because of their super-lightweight design, you can barely feel them on when music binging. However, it does have a downside since there is scarcely any weight the in-line remote and cable is too thin. Sure they still feel durable, but it is not that much.
Sound-wise they feel balanced. The bass is there, while mids and highs are not muddled together, no muddy notes whatsoever. They are also doing a reasonably good job at blocking noise, so they are an excellent choice for commuters. Overall, this pair is perfect if you are working on a tight budget but does not want to compromise quality.
Sony WI-C310 Wireless Earbuds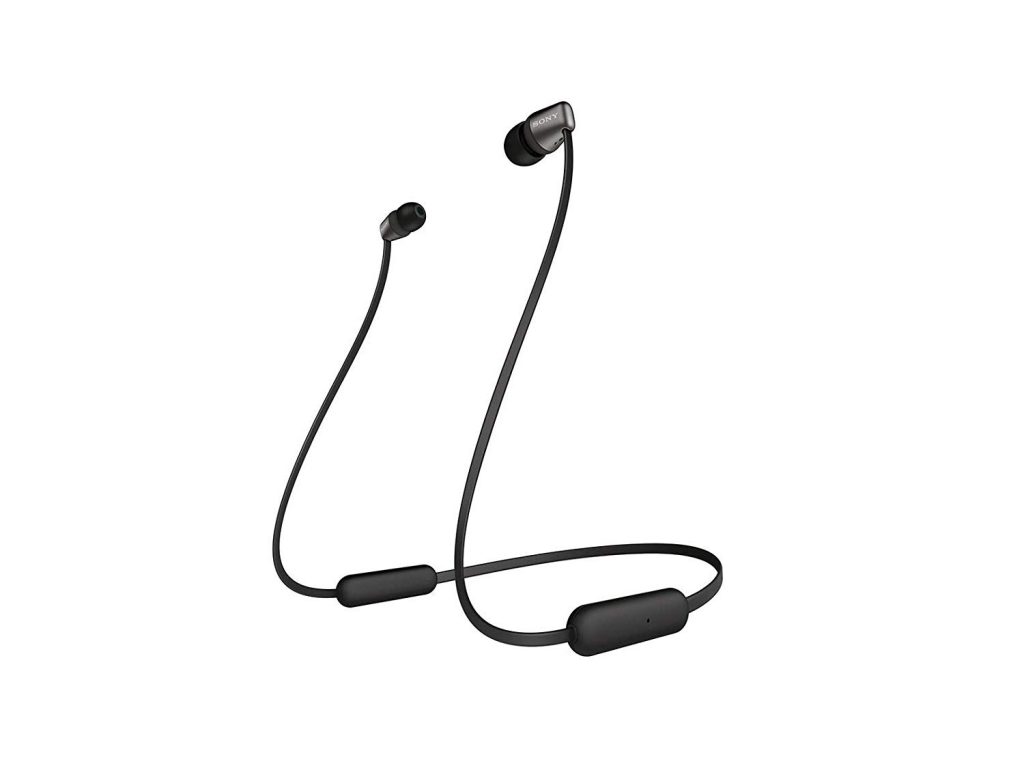 The Sony WI-C310 is another minimalist and straightforward pick for earbuds for users with small ears. This around-the-neck earbud sports a comfortable design that is perfect for extended usage. The cables are tangle-free, flat, and long, so you can easily create a loop around your neck when putting them on. They are also covered in rubber, so they are quite sturdy. The buds are also tiny perfect for small ears, plus they don't protrude awkwardly out of your ears. They also come in different colors variants such as black, white, gold, and blue. 
Sound-wise, this pair has a decent audio profile. The bass is powerful and robust, which in turn overpowers the vocals and lead instruments a bit. Not a bad thing if metal and EDM is your thing, but for RNB and rock, they don't shine as much. Sadly, they don't come with a dedicated app, so there is no way to tweak the EQ to your liking.
For commuters, they do isolate a bit of noise and should be excellent for canceling out office chatters. On the other hand, they are great to use in the gym due to their compact and breathable design. These earbuds also boast 17 hours of battery life, so you can enjoy your music binges without the fear of running out of power quickly.
Sennheiser Momentum In-Ear/HD1 In-Ear Wireless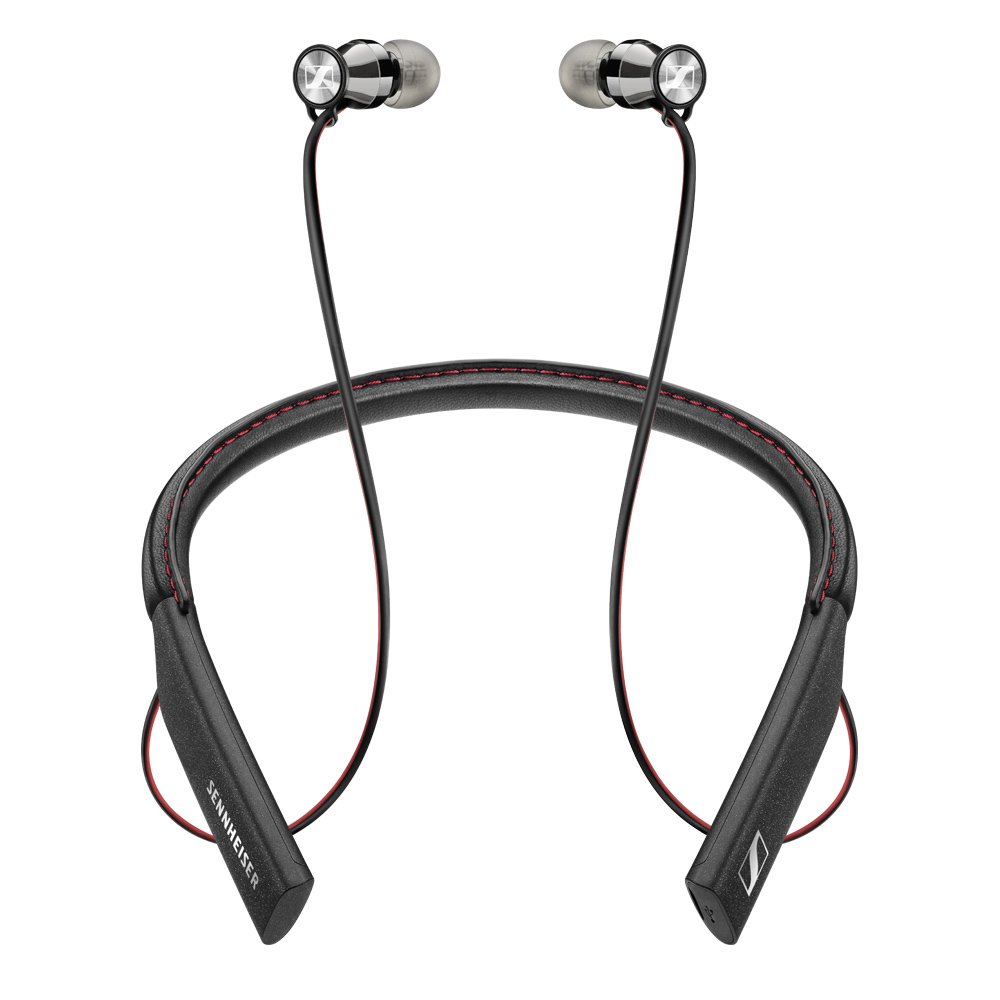 The Sennheiser HD1 Wireless In-Ear is a stylish pair of earbuds. Expected from a company like Sennheiser, so no one is amazed. The neckband is nicely designed and covered with faux leather that combines well with the earbuds red and black color scheme. The earbuds and the cables feel durable and premium and can withstand a fair amount of wear and tear.
Sound-wise, the Sennheiser HD1 In-Ear Wireless sounds good. Though they are more than enough for casual listening, they are not fit for critical listening. They are also a bit mediocre in blocking ambient noise, though their audio barely leaks thanks to its good seal around the ear canal.
RELATED: The Best Xbox One Earbuds for 2020
They will do well in the office setting as turning up the volume won't disturb your colleagues. But for commuting, they won't do as much as the busy street noises will still make way to your sound space.
On the bright side, this pair is excellent for outdoor activities since they have an around-the-neck design they offer a stable fit when running or doing your routine workout. They are also lightweight and portable, so lugging them around is super easy.
MEE Audio X6 Plus Wireless Earbuds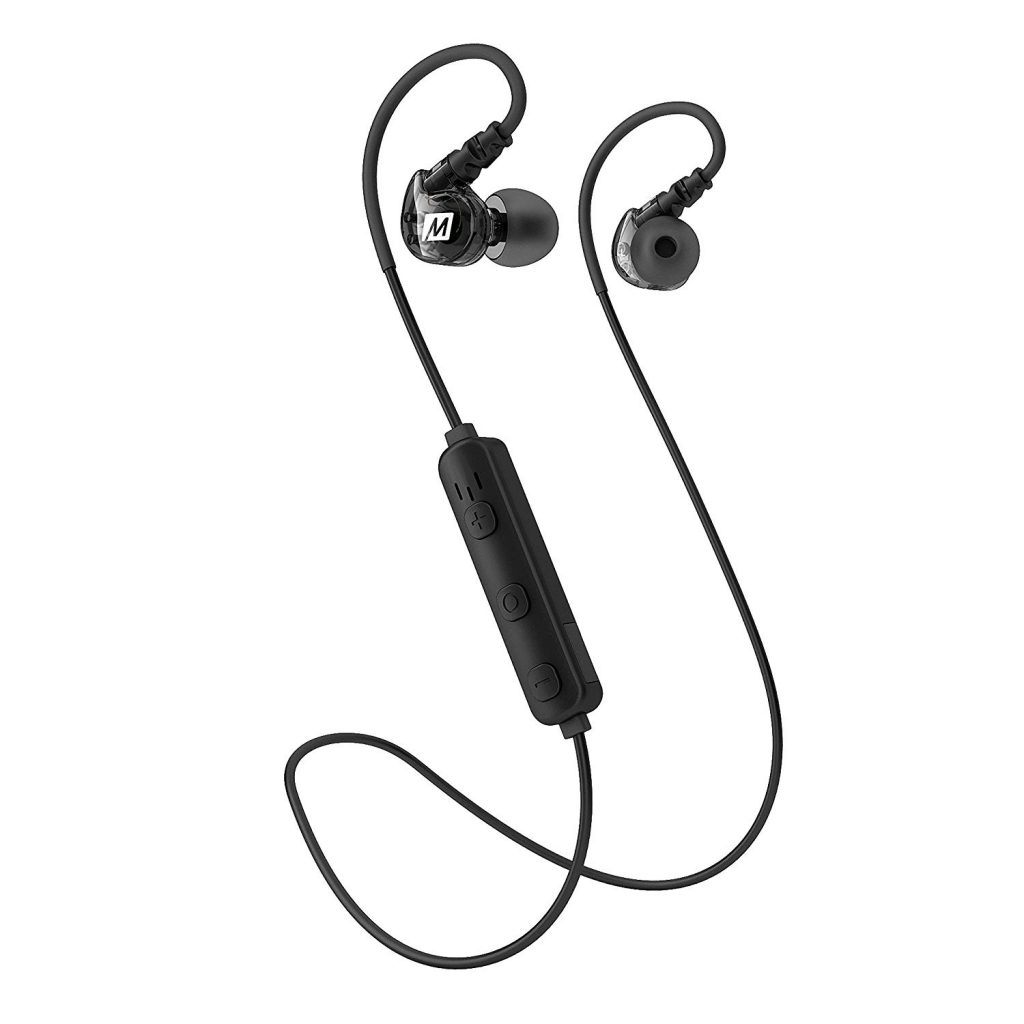 The Mee Audio X6 Plus is another budget pick in the wireless earbuds for small ears category. Their portable design makes them super convenient to carry around. Since they fit into your pocket easily, you can be sure to reach for them anytime, anywhere. They also have a great fit thanks to its ear-hook design that allows a sportier look, but unfortunately, they do feel a bit cheap, plus their inline remote is too bulky for my taste.
Good thing, the audio performance of the Mee X6 Plus is high though they really do have mediocre battery life. But aside from that, the bass is well defined, it is not muddy nor overpowering just right for casual music binges. They are also firm fitted enough for gym use so you can exercise to your heart's content without worrying about these earbuds falling off. They are also breathable, so you won't feel any discomfort while using them. 
Skullcandy Jib Wireless In-ear Earbuds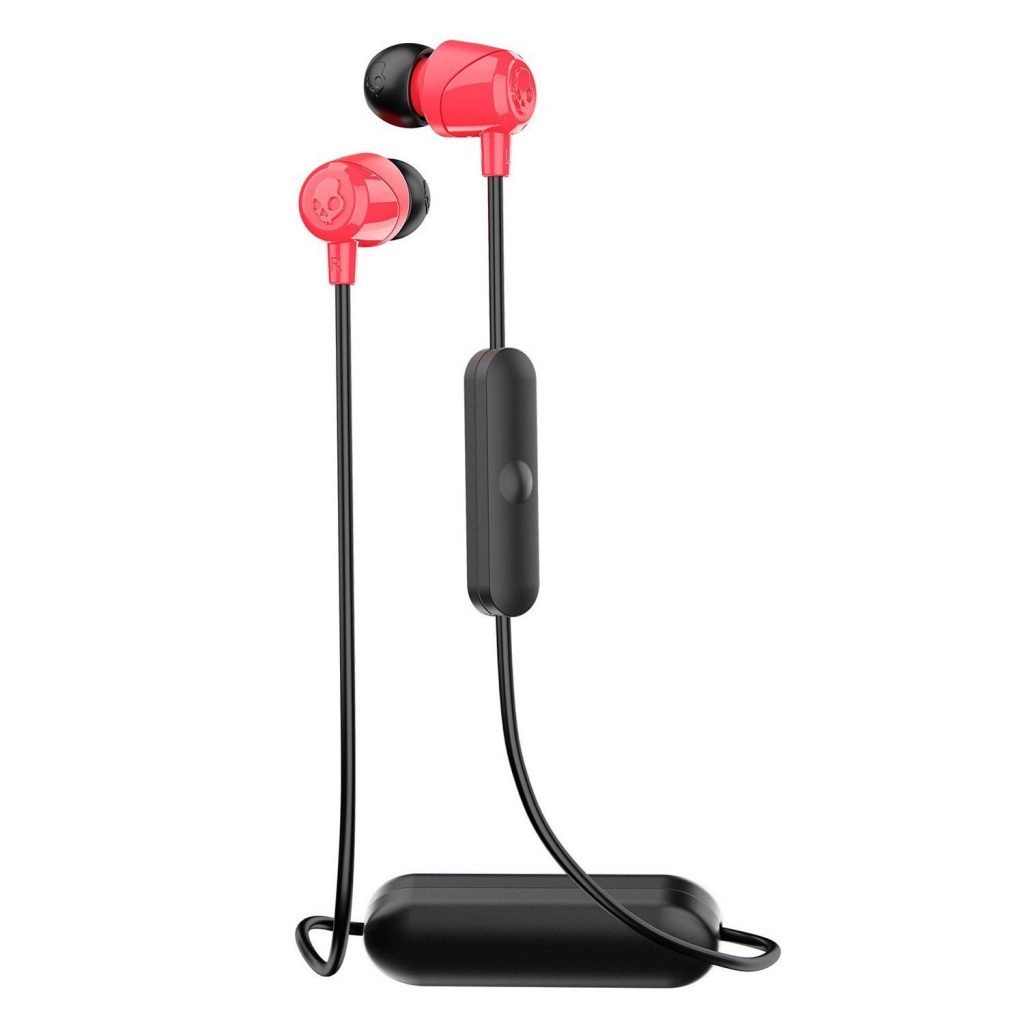 The Skullcandy Jib offers a simple yet straightforward wireless earbuds design for those who can't be bothered with extra shenanigans. These small in-ear buds look a bit cheap with its thin cable, but they are quite durable. The cable is also equipped with an additional module that stores the battery. This pair is also lightweight and compact, so stashing them in your pocket is no problem at all. It is also a bit stylish, and the earbuds come in different color variants.
If you plan to use them for commuting, they are suited for noisy environments. Since they have a simple control scheme, you can easily take control of your playlist without having to take out your phone. Sound-wise, they are great. They are a bit bass-heavy, so they shine on music genres like EDM.
MEE Audio M6 PRO in-Ear Monitors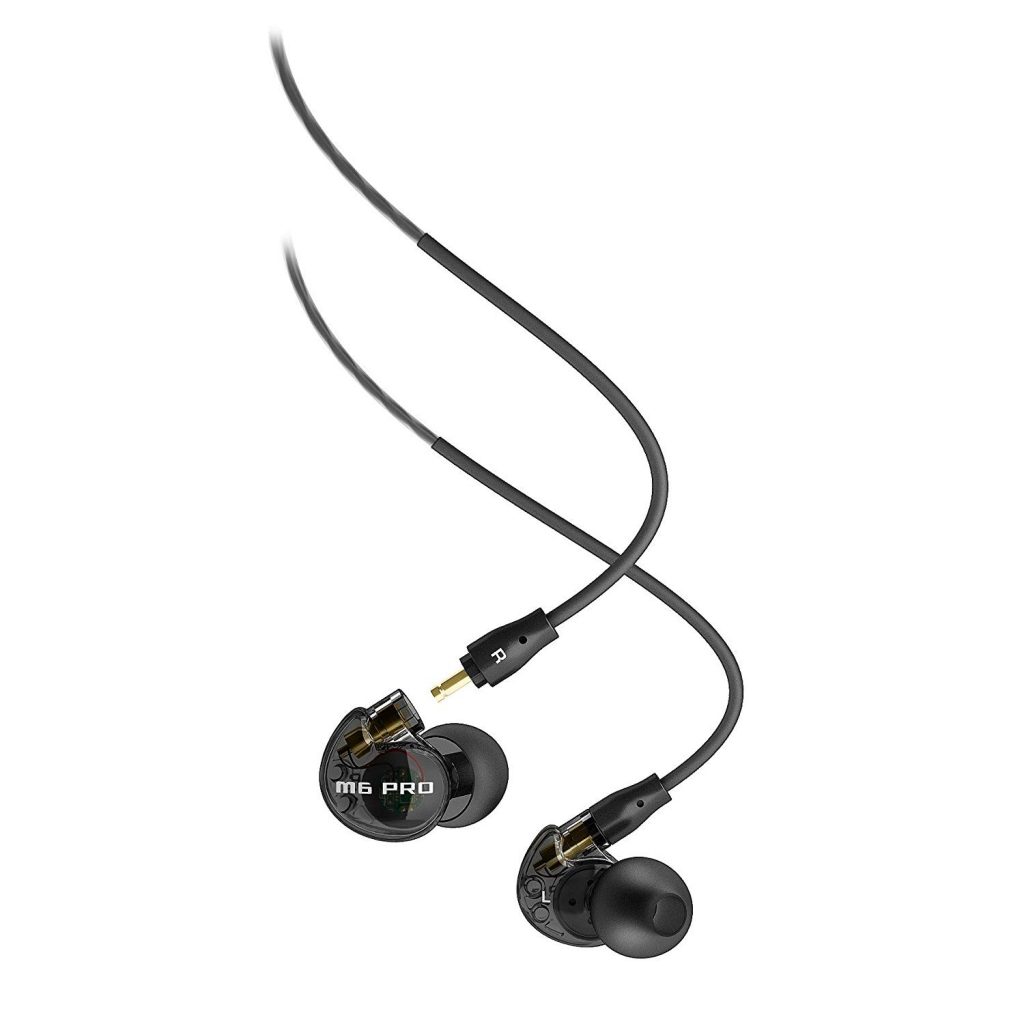 The MEE M6 Pro sports a detachable cable and cool looking transparent audio driver casing. This style makes this pair look premium than their price range. The fit is excellent too, as the ear-hook design settles in perfectly with the contours of your ear. The angled earbuds also add to the comfort, so wearing them for hours is no problem at all. Its cable is thick and fitted with premium rubber, so they won't easily break over small mishaps.
Since it is durable and enjoys a good fit, the Mee M6 Pro is an excellent option as a gym buddy. They won't easily fall off so you can run to your heart's content. This pair is also decent enough for commuters. They can isolate background noise quite well thanks to the bud's great fit. They are also suitable for quiet environments like the library as they don't leak audio that much.
Unfortunately, the controls are a bit difficult to recognize due to the transparent casing, but this is a small thing and can be easily memorized after a few days.
Best True Wireless Earbuds for Small Ears
Since the arrival of Apple AirPods, many manufacturers have released their own take to the no-wire approach. If you want to join in the craze but are hindered by your tiny ears, fret not as these are the best true wireless earbuds for small ears.
Amazon Echo Buds Truly Wireless Earbuds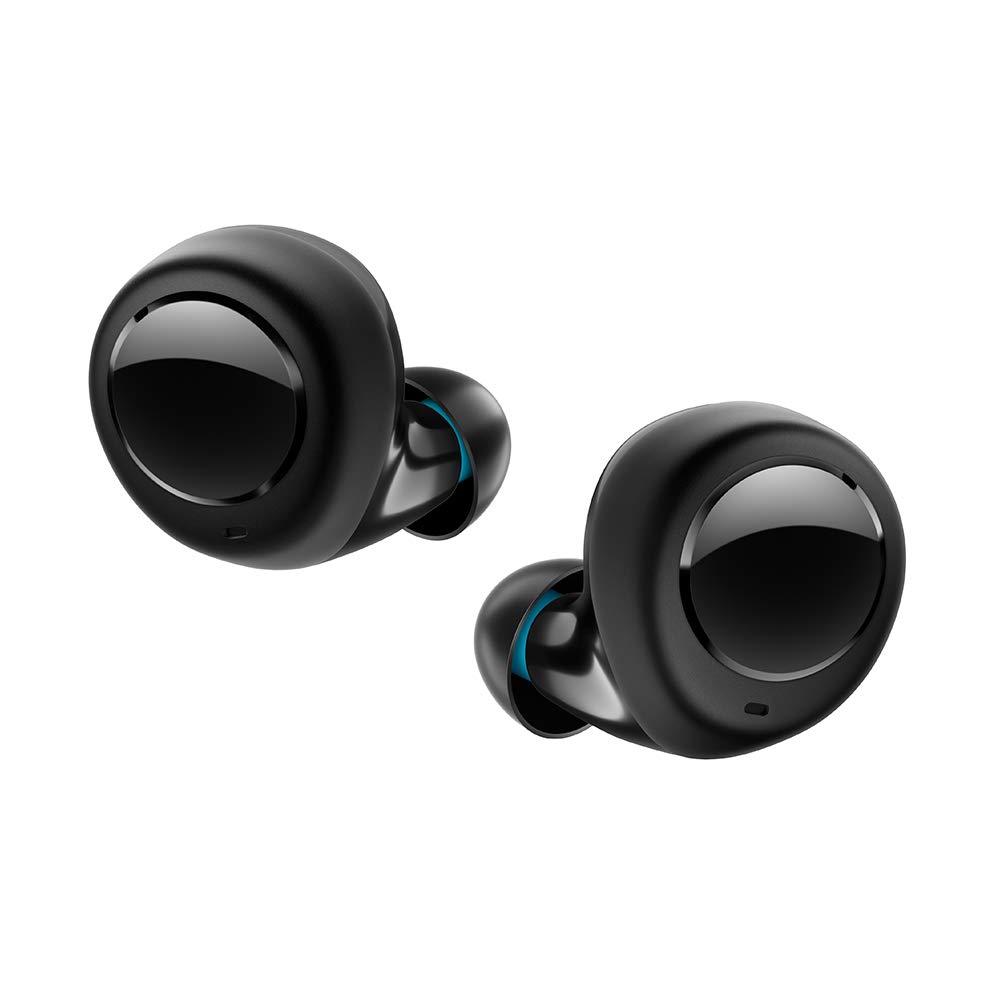 The Echo Buds are a pair of tiny truly wireless earbuds. They also don't protrude too much out of the ear, so that is a good thing. Design-wise, these buds look sophisticated with an all-black color scheme that is a combination of glossy and matte plastic finish. The backplate of each earbud is a bit glossy, the touch-sensitive controls are also located here.
Though not as popular as the Apple Airpods, the Echo Buds is still an excellent pick in the true wireless earbuds market. Their sound profile is well-balanced, not too much bass to overshadow other frequencies. So, it is suitable for most music genres. Unlike AirPods, this pair is super budget-friendly. So it is impressive to know that it is equipped with active noise cancellation (ANC) features.
These earbuds do an excellent job of blocking out the noisy background, so they are a reliable commute and travel buddy. The buds itself is lightweight, but the case is a bit heavy. We are not complaining, though, as it houses a total of 32 hours of playtime. Sweet!
The Echo Buds are also great for outdoor activities. If you are not comfortable with the stability fins, you can choose to ignore them, and the fit will not be affected that much. They do stay in the ear well enough during strenuous exercises. If you do choose to attach the stability fins, the stability will naturally be increased. The earbuds are also rated IPX4 for sweat and water resistance, so a light drizzle and sweating won't stop these buds.
Cambridge Audio Melomania 1 Truly Wireless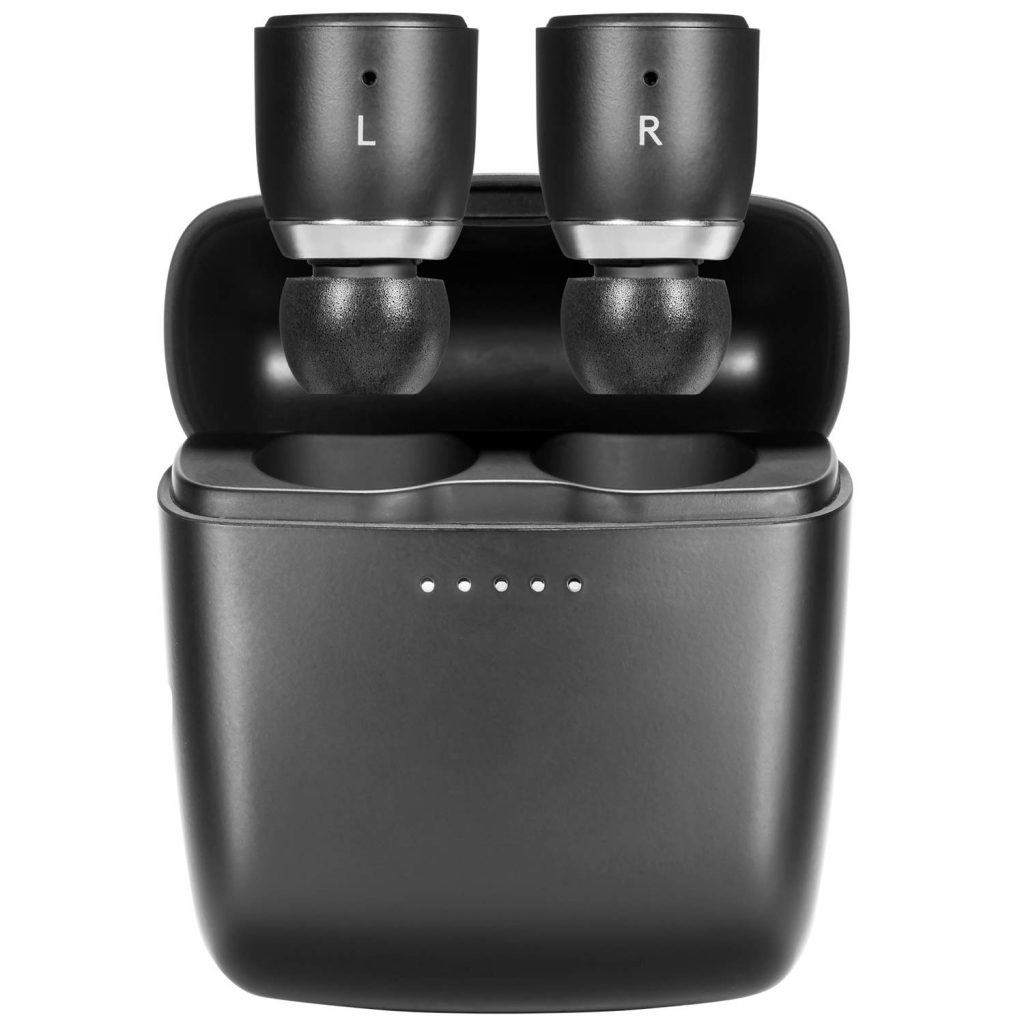 The Cambridge Audio Melomania 1 provides a good seal around the ear. Its earplug-like design gives passive noise isolation and a great fit. They are also stylish along with their case that is polished with a semi-matte finish and a few metal accents.
Each earbud is equipped with a circular LED light that tells you your current battery status, which is pretty cool. It also indicates when the bud is in pairing mode. They also come in two variants Black and Stone.
Audio-wise, their sound quality will greatly satisfy aficionados of bass-heavy genres. Since their earplug-like buds isolate a fair amount of noise, you can really hear the bass' powerful thumps. The mids and highs are also there but not as defined as the bass,
They are also an excellent choice for your daily commute as they block out busy street quite easily. If you plan to use them during your gym visits, you may do so. They have a great fit, so falling out of your ear is out of the question. They also feature an IPX5 rating for sweat and water resistance. So whether you are jogging in a light drizzle or sweating furiously during circuit training, this pair won't let you down.
Unfortunately, the battery life span is not that great, which is a letdown. But the controls are super easy-to-use, and they crisp and tactile. Overall this pick is perfect for those who like an earplug design in their earbuds.
JBL Reflect Flow True Wireless Earbuds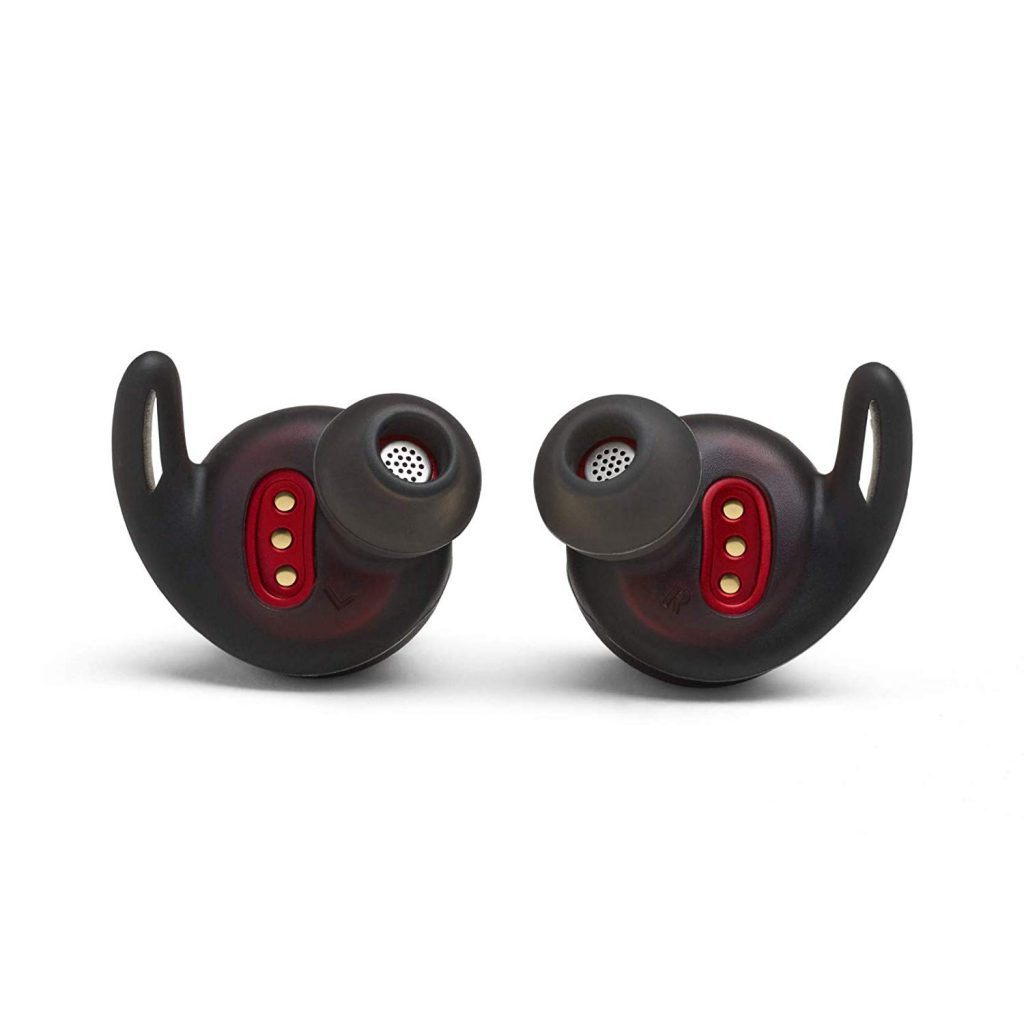 The JBL Reflect Flow True Wireless sports a sophisticated and sleek look thanks to their polished metallic sides. These earbuds do come in different color variants, but only the top button is changed, so it doesn't really matter whatever color you choose. They also protrude a bit from the ear, but this design is actually beneficial for easy maneuver.
This pair is also an excellent choice when going to the gym. Since the Reflect Flow boasts a stable fit, thanks to their stability fins, they won't fall off easily when you are exercising. They are also rated IPX7 for sweat and water resistance, so you can continue with your workout whatever the current weather is. They are also great for commuters as this pair is highly portable and boasts good passive noise isolation. 
Why Do Airpods Fall Out of Your Ear?
Wrap-Up: The Best Earbuds for Small Ears 2020
Etymotic Research HF5 Noise-Isolating In-Ear Earphones
The struggle is real! If you have small ears, the possibility of you owning ill-fitting earbuds is very likely. However, you don't need to suffer in silence. There are models for you, and the sound great to boot!
So, discard your current pair and make a move to better a better pair. After all, your earbuds falling off all the time is a buzz kill when you are relaxing and binging music, am I right?