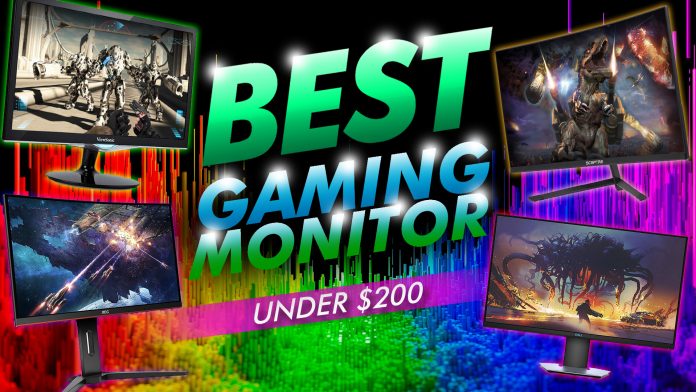 It depends on who you are asking, but the best gaming monitor award varies from gamer to gamer. Some want their monitors wide and curved, while others prefer 4k resolution with a response time that could make Flash blush in his red tights.
RELATED: Best Projectors Under $200
However, not all are blessed with deep pockets, and if budget is tight landing, a high-end pick is unlikely. Fortunately, the world of gaming retail is full of wonders and securing a good quality monitor for under $200 is possible. So, read on and score that budget monitor of your dreams!
Before You Buy
First of all, ask yourself what your priority is when it comes to specs. Do graphics take the number one spot? How about refresh rate and response time? Whatever the case may be, here are the features you should look out for.
Monitor Size and Resolution
This feature is for gamers who value high-quality graphics. Though remember that bigger isn't always better, it doesn't hurt to aim for 24 inches and above. However, make sure that your gaming desk space is enough for whatever choice you settle with. If you are planning to upgrade your desk, you can check out our guide for the best desk for gaming here. Okay, back to the task at hand, you should also be looking at a monitor's resolution. The most common recommendation for monitor picks under $200 is 1080p to 1440p. Keep in mind that the highest quality available in 4k will probably be outside your price range for now.
IPS, TN, or VA Panel?
The type of panel you should get depends on your priority. IPS should be for graphics-minded gamers as this panel specializes in the overall viewing quality. On the other hand, TN panels specialize in response time, suitable for competitive players. VA Panels, as you might have guessed already, offers the best of both worlds, but doesn't excel at either field. This makes it the perfect panel for those looking to dabble in both multiplayer and single-player games.
Refresh Rate
A feature that competitive gamers should look out for. A monitor's refresh rate can make or break your Fortnite or League of Legends match or any online game for that matter. This feature is measured from 60Hz, which is the most common, all the way up to 240 Hz, which offers the smoothest gaming experience. Since you're on a budget, you'd probably have to settle for something less than 240 Hz, still acceptable, and shouldn't put you in much of a disadvantage. Skill, after all, is the most crucial aspect of gaming.
The Best Gaming Monitors Under $200
With all those features covered, here is a list of the best gaming monitors under $200 to help you narrow down the search!
Sceptre C248B 
The Best Curved Gaming Monitor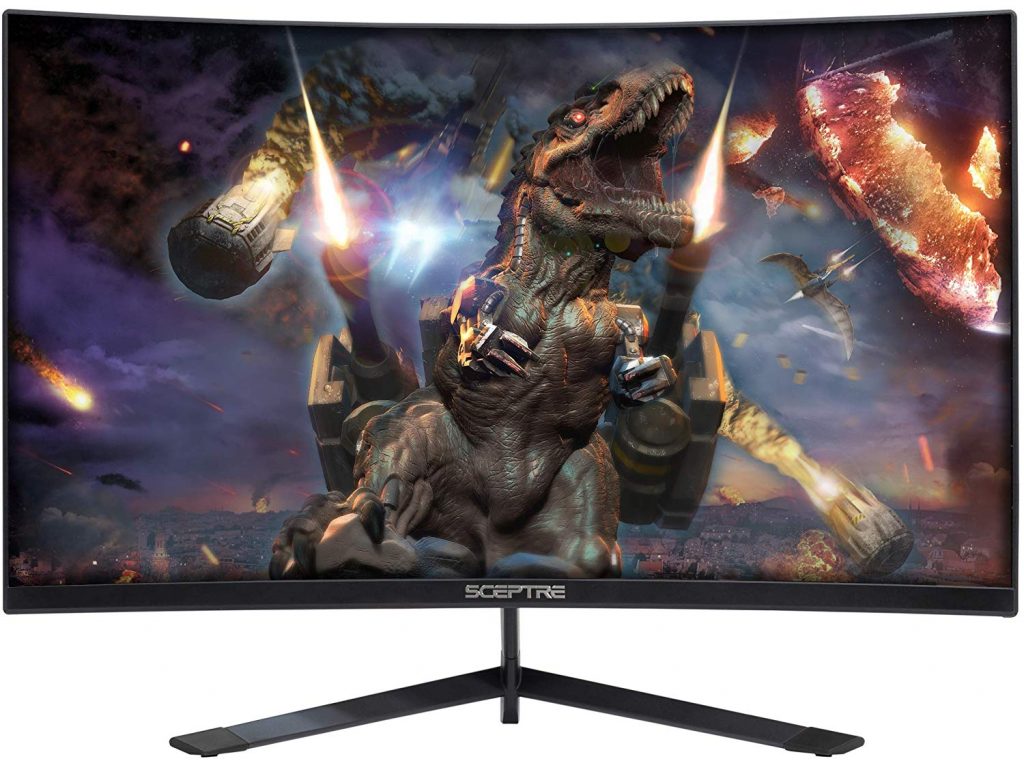 The Sceptre C248B-144R is a curved gaming monitor and sports loads of features than most of its 24-inch competitors on the $200 price range.
Aside from being curved, it also has adaptive video inputs, various gaming modes for FPS and RTS, and a stable 144Hz refresh rate.
Unfortunately, though it is curved, the viewing angles are narrow, mainly because it is only 24 inches in size. Luckily the AMD's FreeSync anti-tearing technology is more than enough to compensate for this. This pick is a real steal for gamers working on a tight budget. After all, the Scepter C248B looks premium, thanks to its minimalists black-and-silver finish. The metallic chrome trim really uplifts that gamer aesthetic.
When it comes to gaming performance, the 144Hz refresh rate works like a charm in fast-paced shooter games. So, strap in your Fortnite gaming headsets and game away! There is also no visible screen tearing or any sort of ghosting that is common on a low-end pick. From the fast refresh rate, shorter response time, plus the AMD's FreeSync technology, this monitor has successfully delivered crisp pixels for the better gaming experience. Picture quality is impressive as well, the display produces high-quality images that are perfect for gaming. It's 1920 x 1080 native resolution really shines on games with amazing graphics.
It is super rare to come across a gaming monitor under $200 that is loaded with gamer-centric features. The price point of the Sceptre C248B-144R is so attractive, not to mention how well it performs.
Dell D2719HGF Gaming LED-Lit Monitor
The Performance Powerhouse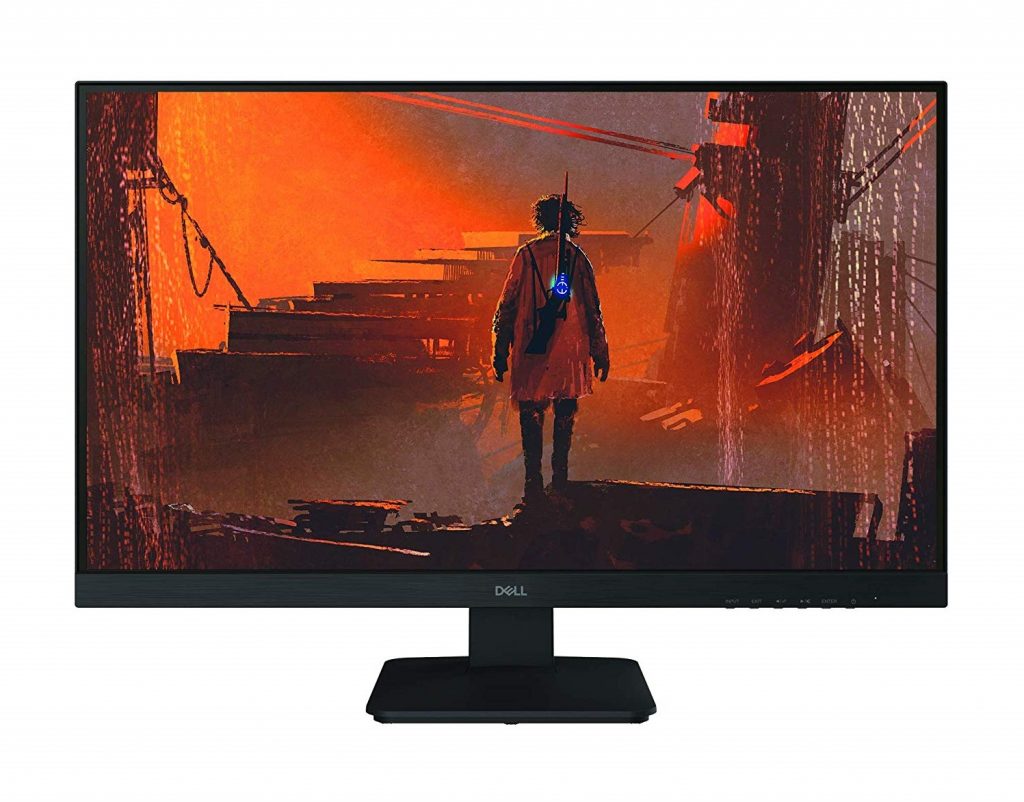 Are you a competitive gamer? Then the 1080p 27-inch Dell D2719HGF monitor is a good pick. This monitor is one of the most responsive monitors on this list, boasting a 144 Hz refresh rate and a response time of less than 5ms, 2ms to be precise. It won't be as pretty as an IPS panel monitors, but much cheaper than a TN panel, so responsiveness while gaming is assured.
The monitor also implements an anti-glare technology, and the display itself has a matte finish. This is good since, as a gamer, you are guaranteed to be staring at your monitor for long periods. The full HD 1920 x 1080 resolution is also incredible in games with excellent graphics as it was able to produce vivid and vibrant images.
The built-in speakers are not that clear and loud, but it shouldn't factor too much into your decision. You are most probably using amazing gaming earbuds  or gaming headsets anyway.
Usually, a PC monitor will have an on-screen display menu that sports plenty of customization options. Sadly, the Dell D2719HGF is not one of them. This monitor will only give you access to the most essential of options like the RGB color. That's completely fine since you'll be doing most of the adjusting from the PC itself, anyways.
One of the first things you'll notice is that the body is made of plastic. Basically, the bulk of this panel pays for performance and not the quality of the hardware. That said, there is nothing terrible about the body itself and everything should be fully functional, just make sure that it doesn't fall over or bump too hard on anything. For under $200, you are getting a decent quality with the Dell D2719HGF. Sure, you'll have to compromise with the build and customizability. Still, when it comes right down to features that matter, this will deliver.
Dell SE2717H
The Budget Beauty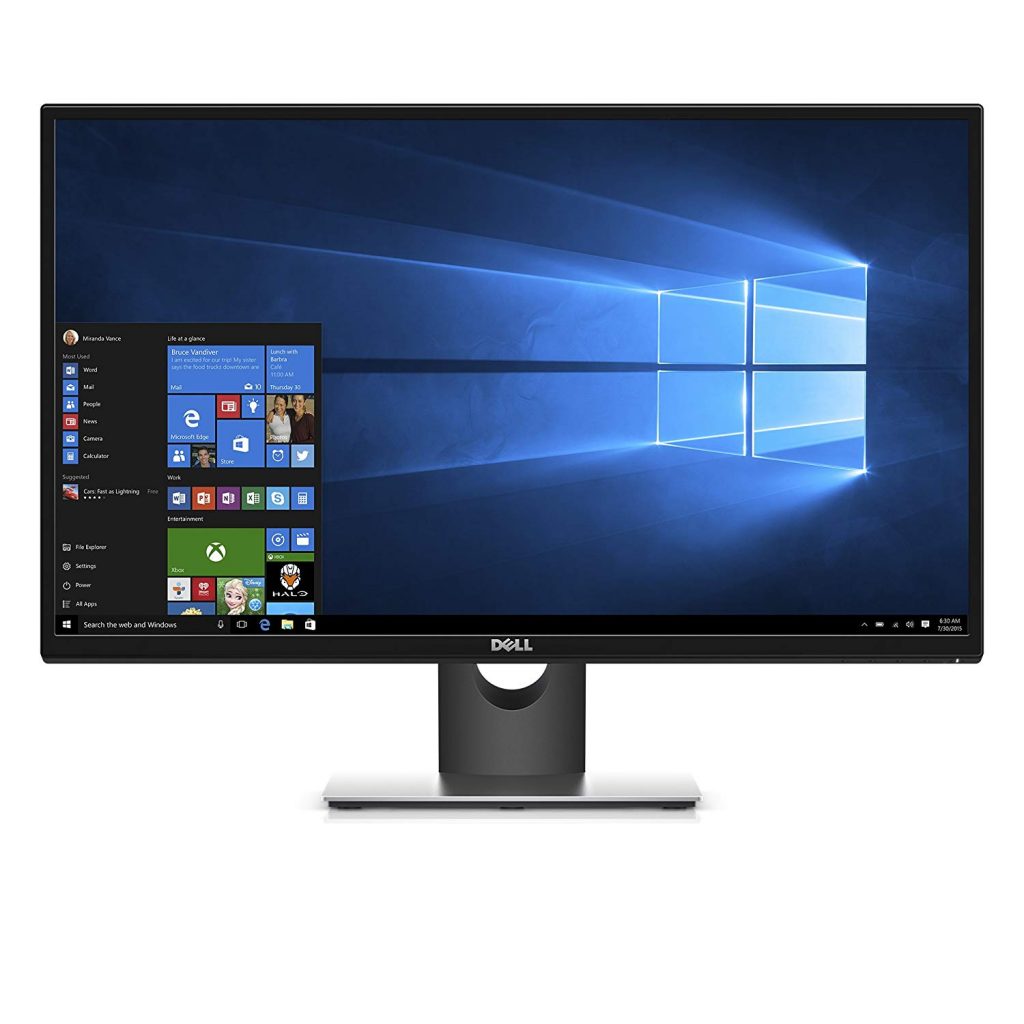 The Dell SE2717H, which is a 27″ monitor with 1080p IPS panel display. Sure, it won't look as good as a 4k monitor, but for less than $200, it's better than most. The built-in AMD Freesync technology also helps in achieving better graphics. While not as good as NVIDIA's G-sync, Freesync, it still helps with issues like screen tearing. Screen-tearing occurs when your rig's framerate isn't matching up with its refresh rate. But with Freesync, it should remedy this problem. The result will give you a smooth and beautiful in-game graphics.
The image quality of this monitor is also superb. This Dell 27-inch Full HD 1920 X 1080 monitor stayed true to its promise of uncompromising graphics. There is no color bleeding, and the picture quality is sharp and vibrant. Performance-wise, the Dell SE2717H has a 75Hz refresh rate and 6ms response time, which is a little bit more sluggish than the other monitors. This monitor is more ideal for those who prefer single-player games. After all, the 6ms refresh rate is by no means is a game-breaking hiccup.
Pixio PXC273 Esports Gaming Monitor
Sleek and Curvy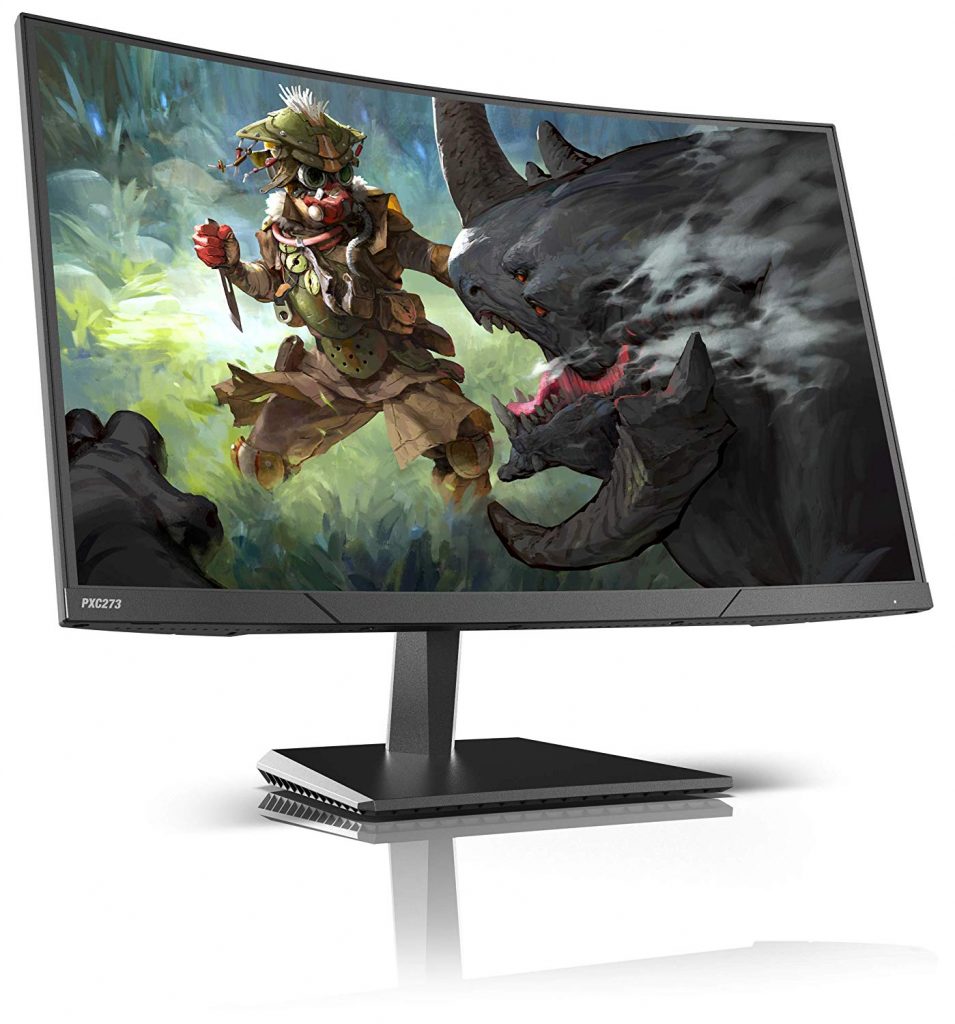 If you are looking for something sleek that looks good in a multi-monitor setup, then the surprisingly cheap and outstandingly sexy Pixio PXC273 is the right choice. This gaming monitor has a 1080p resolution VA panel, offering both fantastic picture quality and  performance. You will also find satisfaction with the image quality as it is sharp, and colors are vivid and precise. Its 1920 x 1080p native resolution is definitely not just for show. The biggest draw, however, is the unique, curved design of the monitor that gives you a 178º viewing angle. It is also perfect for multiple monitor setups.
Performance-wise, there's not much to complain about, as it covers the basics. It has a 144Hz refresh rate and a 3ms response time, sweet! Unfortunately, it lacks a bit on adjustability options, especially when you need to tilt the screen to your preference. The lack of HDR could also be seen as a turn-off for some. It also doesn't have any built-in speakers. 
AOC C24G1 24
The Best Budget Full HD Gaming Monitor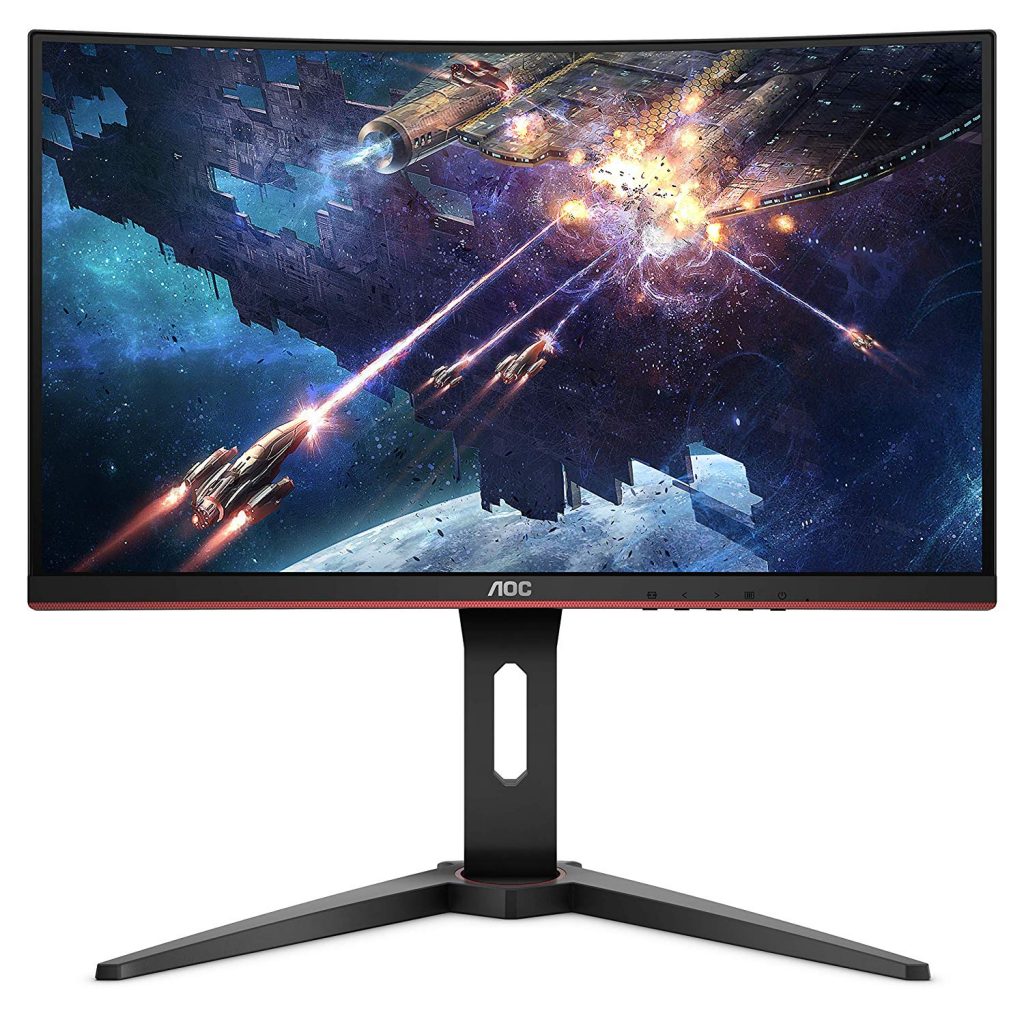 If you want to get the most out of your games, you need more than just a good computer – you'll also need a good monitor that's capable of displaying images with the level of detail that your video card can produce. Unfortunately, though, it can feel like getting one of these monitors is nearly as expensive as getting a good video card.
The good news, though, is that AOC makes a remarkably good gaming monitor for far less money than you might imagine. One of the best gaming monitors out there for under $200, you definitely wouldn't consider this a bargain-priced model at first glanced. Curved and capable of displaying HD images, it's an amazing piece of work.
If you're just looking at specs, you'll find a lot to like here. The 24-inch monitor is curved and displays images in 1080p. It has a 144Hz refresh rate with AMD Free Sync, which leads to incredibly smooth animations. The monitor even comes with a three-year warranty so that you never have to worry about dead pixels ruining your gaming experience.
You really don't have to pay a fortune to get a good monitor. If you are looking for something that will help you get an HD experience on a standard definition budget, this is definitely the monitor for you.
ASUS 24-Inch Full HD FreeSync 
The Best Eye Friendly Gaming Monitor
The ASUS 24-Inch Full HD 1080p FreeSync Gaming Monitor offers one of the best performance in the response time category for choices at the $200 price point. This monitor also comes with the GameFast technology that serves as a minimizer to input lags. In turn, this will allow you to expect optimum response times always.
For connectivity, it is super flexible, so you can expect more input options. It has a dual HDMI flexible connectivity that allows you to connect your consoles or your gaming rig without problems. If you hate messy wires, then you will be delighted to know that this model comes with a smart cable management system. No one loves a dirty table, so this inclusion is very much welcome.
Performance-wise, it is stable and high-grade as it supports AMD FreeSync technology. Super useful when playing FPS or any competitive games. Another advantage of this panel is that it promotes flicker-free technology. It utilizes ASUS EyeCare technology to help alleviate eye fatigue. This is a useful feature as more and more gamers suffer from eye strain. The image quality is superb as well, pictures are vibrant and sharp, the colors are precise too.
ViewSonic VX2452MH 24″ 2ms 1080p Gaming Monitor
Trusted Name in Gaming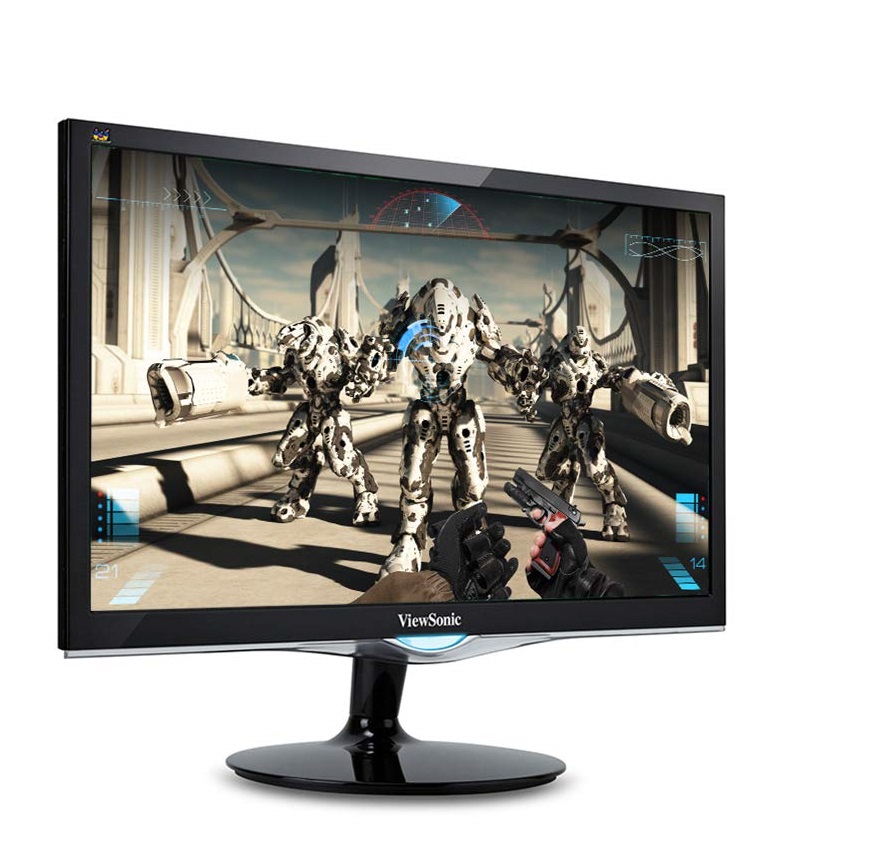 The ViewSonic VX2452MH is one handsome looking monitor. Because of the minimalistic approach, it is easy to incorporate this panel in your current gaming setup. ViewSonic is no newcomer when it comes to manufacturing displays. You can be sure that they know what works to secure that they deliver high-quality performance for gamers like your self. The body of this panel is glossy black with a thin bezel. Since it is one of the smallest bezels out there, having a multiple monitor setup is possible.
The oval stand is also sturdy on its feet. However, it will not allow you to make vertical adjustments, so you might be limited on this part. Good thing that the tilt and rotation adjustment is still available.
For the OSD menu it is user-friendly and easy to access. The control buttons are crisp and tactile. They are also quite responsive, so you won't have any problems accessing them.
Overall, this model offers a reliable gaming performance. The resolution is satisfying, so you can now enjoy HD experience without paying much. Picture quality its Full HD 1920x1080p native resolution is superb. Images are crisp, clear, and fluid. The colors are vibrant and accurate as well, and no backlight bleeding was seen during testing. This unit also comes with an anti-glare coating, perfect for easing up eye-fatigue.
Dell SE271H KYKMD 
Sleek and Sophisticated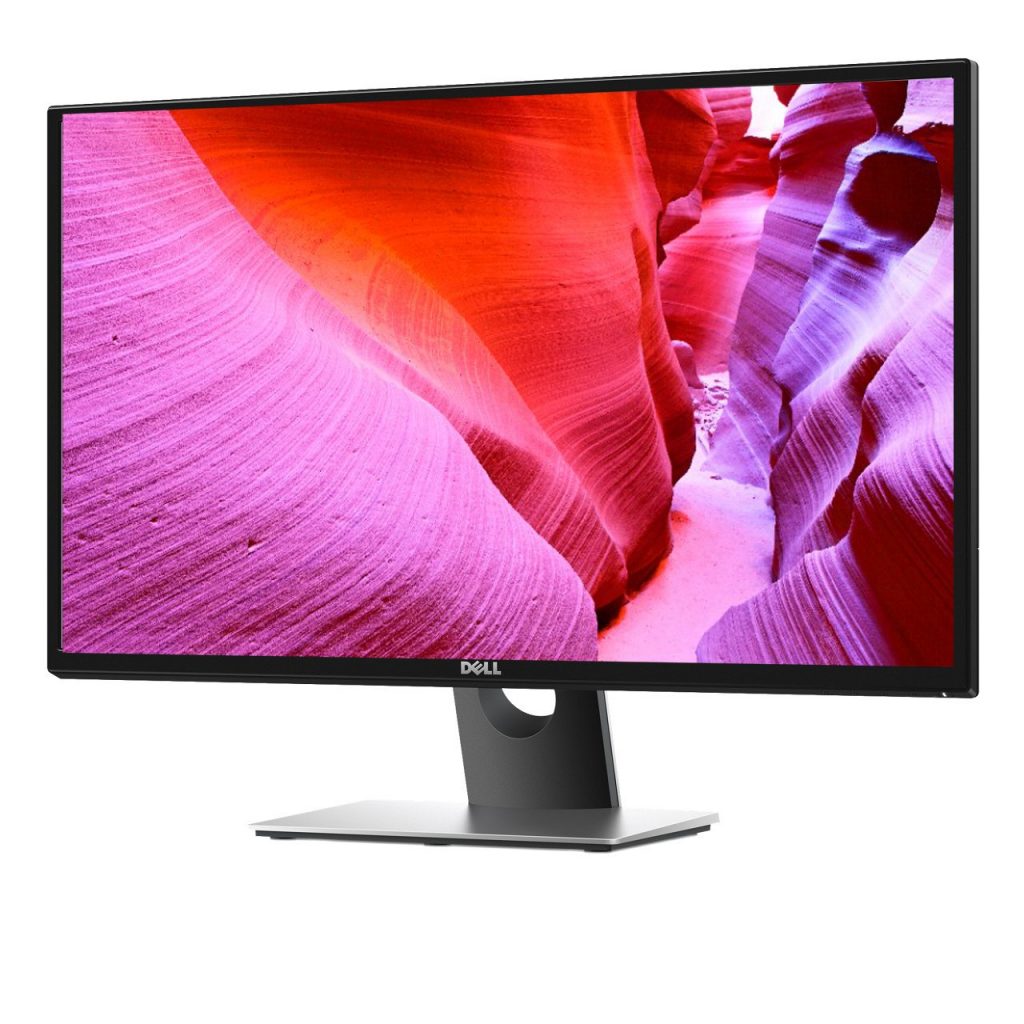 The Dell SE271H KYKMD is one of the panels out there that is cost-efficient. This monitor has a sharp design that looks classy without being over the top. The sleek and sophisticated look is made possible thanks to its slim frame. Aside from looking good, it performs well too.
This monitor is powered by the IPS panel screen technology that offers a full HD resolution. The monitor has no issue getting viewed at different angles, the image quality stays the same no matter where you are looking at. The display is impressive as well, the picture is crisp and bright. Games with great graphics are sure to receive justice from this panel. The 6ms response time is fantastic and does wonders in competitive gameplay. For a budget IPS panel, the Dell SE271H KYKMD really holds up its end of the bargain.
The response time really makes this panel ideal for heavy gaming usage. You will not encounter issues like ghosting, which is prevalent with the other budget picks. It also supports AMD FreeSync technology, so you are assured that gaming is a breeze on this monitor.
Acer GN246HL 24-Inch 3D Gaming Monitor
Saves More While Gaming More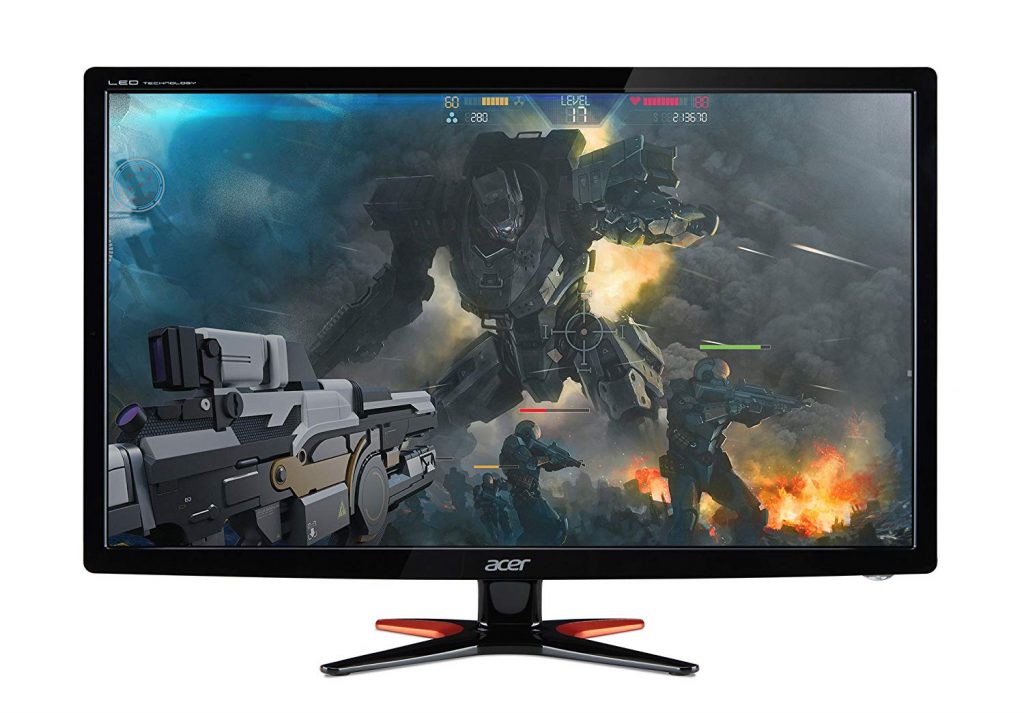 The Acer GN246HL 24-Inch 3D Gaming Monitor is one of those displays that does amazingly good with its job without charging too much. Thanks to its fast response time and high definition display, gaming is worthwhile when using this monitor.
From its sub $200 price point, it is undeniably one of the best models that you can score when it comes to fast response time. With its response time of 1ms, you are sure to enjoy a tactical advantage when playing highly competitive games. Remember that having a quick response time is advantageous to gaming as it decreases ghosting and trailing of fast-moving images. You are also assured that you won't experience any screen tearing or input lag when playing demanding games.
This model also supports an eco-friendly technology that is designed to reduce energy usage and keep your consumption to a bare minimum. It also uses a white LED backlight technology, which promotes eye care. The Acer GN246HL also enjoys a 1920 x 1080 native resolution, perfect for gaming with amazing cinematic graphics. The picture is crisp and clear, with no dead pixel in sight. Unfortunately, it does not have any built-in speaker, a minor hiccup considering the value that the Acer GN246HL already provides.
AOC G2590FX 25″ Framless Gaming Monitor
Performance Without Paying Extra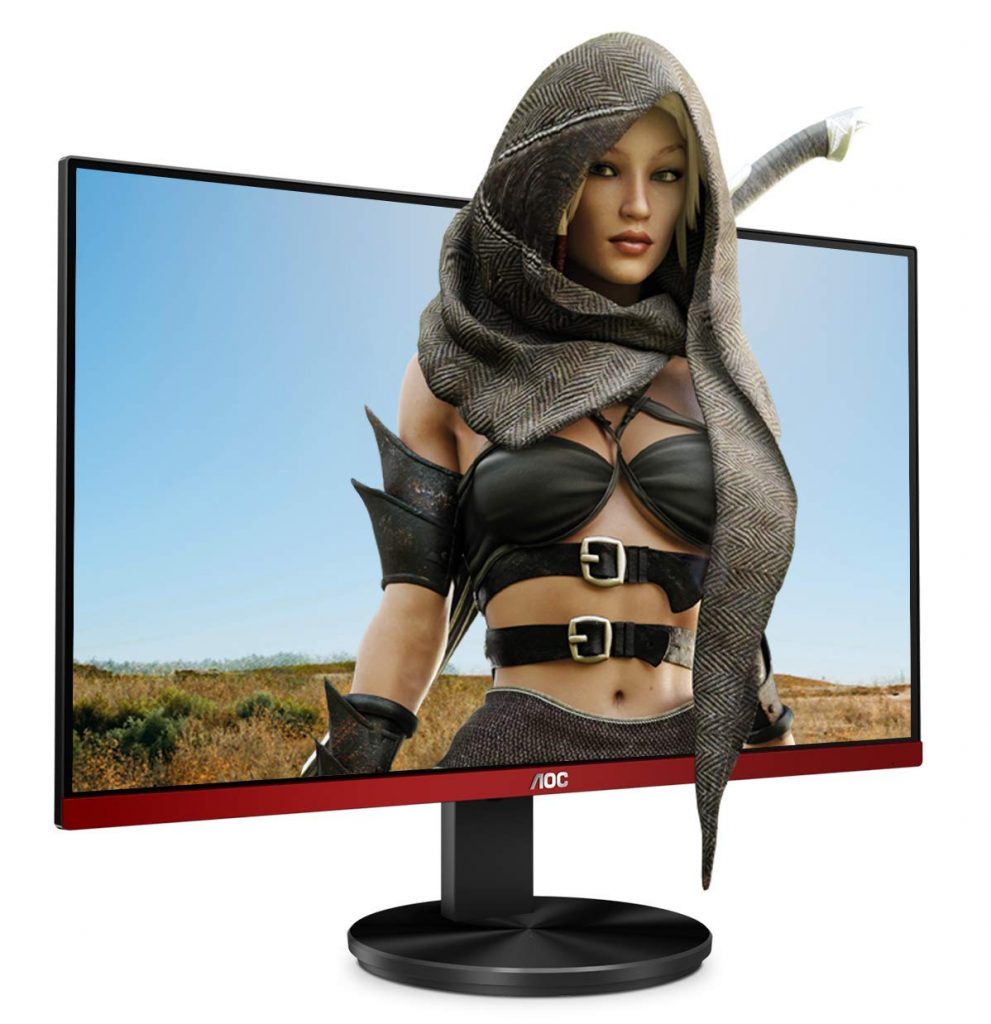 The AOC G2590FX is a 25-inches TN panel that has long been a crowd favorite. This monitor is great for handling graphic demanding games without charging extra. Though on the budget side of the pricing spectrum, this monitor will have no problem working with superior gaming rigs. This is a budget monitor, but it still packs quite the punch that you need when it comes to the best performance.
With a fabulous response time of 1ms and 144 Hz refresh rate, you can be assured that competitive gaming is a breeze with this panel. This is the main reason while tons of gamers favored this pick over competitors. With its more competent response time, you won't have to worry about ghosting during the heat of the battle. If you love playing fast-paced and competitive FPS games, then you are sure to enjoy the AOC G2590FX.
This display also boasts color precision and high-grade quality of colors. Thanks to its 1920 x 1080 Full HD native resolution, the picture quality is rich and fluid. You will also notice no color bleeding or mushy lines in any kind. The viewing angles are right, and the quality does not drop from any vantage point. There is also no issue with backlight bleeding whatsoever. It is also equipped with AOC Flicker-Free technology. This extra feature reduces flickering for a more comfortable gaming experience. Now say goodbye to eye strain and eye fatigue!
Conclusion
Gaming needs not to be super expensive as there are picks that can be gentle to your wallets. That is why being a wise buyer is important when building the gaming rig of your dreams. So, before you go out, make sure that you have read this guide so you will get the best deal out there!
Recap: The 10 Best Gaming Monitors Under $200 For 2020