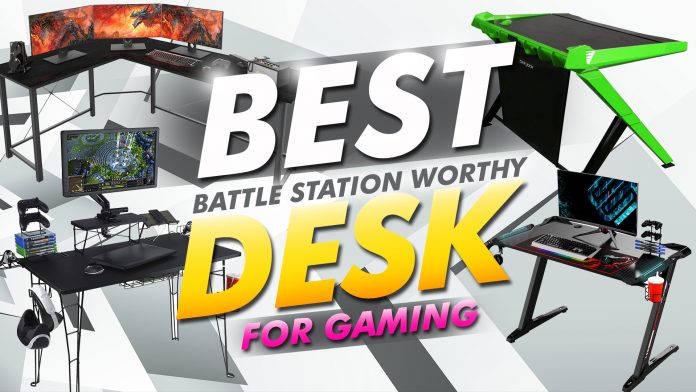 Ultimate Guide to the Best Desks for Gaming
Gaming is life. You devote time, resources, and energy to make sure that every gaming session is worthwhile. After all, when we game, we game for hours, so it makes sense that we want to be in the best gaming desk during those times.
If you take your gaming to the next level, it is practical to invest in a sturdy and reliable gaming desk. No, it doesn't have to be riddled with fancy LEDs. However, it should be enough to hold your peripherals and monitors securely.
But then again with tons of computer gaming desks available, it can be troublesome to check them all out. However, don't worry as I've already done the research and gathered the 15 Best Desks for Gaming that you can DIY today!
Arozzi Arena Gaming Desk
Best Overall Desk for Gaming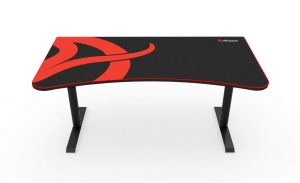 Specifications

Desk Type

Standard

Dimensions

32.2 x 63 x 31 inches

Weight

85.5 pounds

Colors

Black, Green, Pure Black, Red
The Arozzi Arena gaming desk is intended for gamers who own a multiple monitor set-up. This desk will give you loads of space to work two or three panels with no problems. If that is not your thing, ultrawide curved gaming monitors will also have no issues fitting in. This is the best gaming computer desk for multiple monitors in this list.
One of its unique features is that The Arozzi Arena is retrofitted with a mouse pad surface. So, if you are a gamer who takes too much space in navigating your mouse, then with this desk you'll never run out of space ever again. If that is cool enough for you, wait till you hear that this surface is waterproof!
As you have guessed, this waterproof desk is on the expensive side. However, I'm pretty sure that this investment will last you for years. Buy and never have to upgrade ever again.
DXRacer DGD/1000/NE Newedge Edition Gaming Desk
Premium Build Quality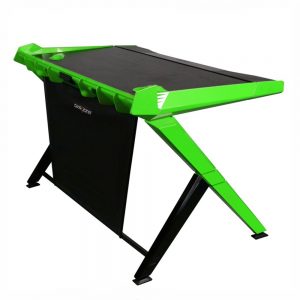 Specifications

Desk Type

Standard

Dimensions

31.5 x 31.5 x 47.30 inches

Weight

70 pounds

Colors

Black/Green, Black/Red
DXRacer has proved itself as a premium gaming brand. That is why the DXRacer DGD/1000/NE Edition making to this best list is not surprising at all. With its no-compromise engineering and top-notch build quality, the crowd favorite has done it again.
It is 100% a premium gaming desk that can fit multiple monitors at ease with its 31.5 x 31.5 x 47.30 inches dimension. If you are a gamer who can't stand a messy set up then, no worries here. As the DXRacer DGD has comprehensive cable management features as well.
Assembling this desk might be tricky for people who are not a DIY natural. Good thing that the instructions are clear and straightforward to follow, so you will be set in no time. The materials used on the DXRacer DGD are wood, metal, and carbon fiber. This is robust and durable table is sure to keep your gaming hardware safe while being stylish.
Bush Business Furniture Series
A Good Solid Desk for Gaming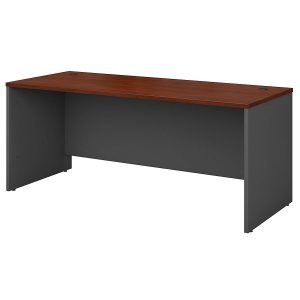 Specifications

Desk Type

Standard

Dimensions

79.4 x 33.3 x 3.6 inches

Weight

130 pounds

Colors

Auburn Maple, Hansen Cherry, Light Oak, Mahogany, Mocha Cherry, Natural Cherry
The Bush Business Furniture Series is solid for gaming, it has a robust build that can withstand years of use. Cable management is fantastic as the cable trays are well made. Gamers will find the mounted cable tray at the back to be convenient.
I'm also impressed by the laminated work surfaces. It is quite resistant to scratches and stains, and too easy to clean. Just wipe it with a clean cloth, and you are good to go. It has seven wood color variation, which is very classy and will fit any gaming set-up.
It is also quite sturdy, and with its 79.4 x, 33.3 x 3.6 inches surface, you are sure to have a big space to work with. We gamers are known to have knick-knacks on our table, so with this table, you have more than enough room for those.
Eureka Ergonomic Z1-S Gaming Desk
Best Budget Ergonomic Gaming Desk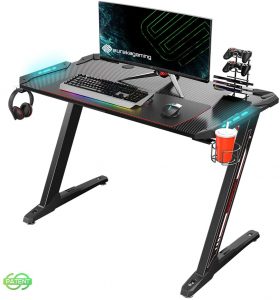 Specifications

Desk Type

Standard

Dimensions

44.5 x 24.2 x 30.5 inches

Weight

39.4 pounds

Colors

Black
The Eureka Ergonomic Z1-S Gaming Desk is a budget gaming desk that will give you all the bells and whistles found in more premium alternatives. It has a sleek yet durable carbon fiber textured tabletop that can easily handle dual-monitor setups. The surface is supported by four-level adjustable aluminum legs that also provide stability to prevent wobbling.
The Ergonomic Z1-S features ambient blue lighting on either side of the surface to make your room more suited for nighttime gaming. It even comes with a convenient cup holder, headphone hook, controller stand, and an extra-large mouse pad to keep your gaming peripherals neat and organized. Moreover, it has cable management grommets to prevent your wires from going all over the place.
For a budget gaming desk, the Ergonomic Z1-S comes with very few compromises. If we were to nitpick a drawback for this excellent product, it would be the lack of surface space to support your gaming rig along with the monitor and all other peripherals. Other than that, you can't go wrong with this option.
Coleshome L Shaped Computer Desk
Overall Best L-Shaped Desk for Gaming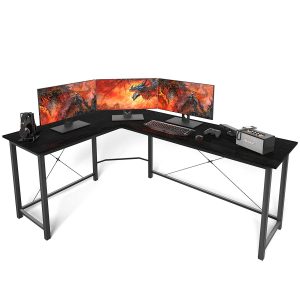 Specifications

Desk Type

L-Shaped

Dimensions

66.1"(L) x 49.21″(D) x 28.5″(H)

Weight

60 pounds

Colors

Black, Teak, White
What makes a good desk for gaming? While there are a ton of factors upon which players can argue, the biggest one on which most agree is almost certainly size. You need plenty of room not only for your various gaming accessories but also for a multi-monitor set-up if you want to get the most out of a modern machine. Fortunately, this L-shape desk from Coleshome has all of the space you could ever want.
The great part about an L-shaped desk is that it seems perfectly designed for a multiple-monitor set-up. It's incredibly easy to arrange three monitors on a desk this size, arranging them in a way that both centers them on the desk and that allows plenty of room for your mouse and keyboard.
Of course, size isn't everything when it comes to a desk. Fortunately, this one also has it where it counts in terms of stability. You're not going to have to worry about your monitors falling off this desk, nor are you going to have to worry about breaking it by placing a tower on top of it. It's a good, solid piece of engineering that's more than enough for the average gamer – or even for those who share desk space with a spouse or roommate.
Walker Edison Soreno Modern 3-Piece Corner Gaming Desk
An Easy to Modify Desk for Your Gaming Needs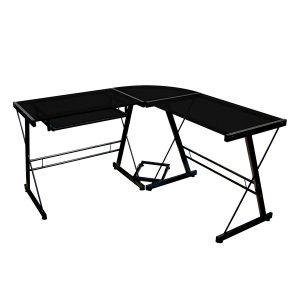 Specifications

Desk Type

L- Shaped

Dimensions

51 x 20 x 29 inches

Weight

62 Pounds

Colors

Black, Smoke, Multi, Clear, White
The Walker Edison Soreno Corner Desk is an easy to modify L-shaped gaming desk. Though there are plenty of competitors in the L-shaped category, the Walker Edison is one the best pick out there.
This L shaped gaming desk's surface has a beautiful glass color with options like smoke, multi, clear, white, and black. It is scratch-resistant and quite sturdy, so there is no problem with it breaking and crashing. The tempered safety glass, the black powder-coated steel frame, plus the smooth black coating makes the Edison an aesthetically pleasing sight.
The surface is 51 x 20 x 29 inches, quite spacious for your monitors but a bit lacking for a gaming rig. If you don't want to put your CPU on the table itself, you may place it on the allocated compartment on the bottom part.
Tribesigns Modern L-Shaped Corner
Gaming Desk
Best
L-Shaped Budget Pick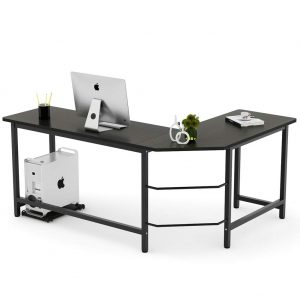 Specifications

Desk Type

L- Shaped

Dimensions

66.1 x 49.2 x 29.1 inches

Weight

53 pounds

Colors

All White, Black, Light Walnut Brown, Mahogany Brown, Oak Brown, White, White- Gold
This L-shaped corner gaming desk is a modern take on gaming desks. The surface is also nicely polished and comes with eight color designs. They look quite professionals and will definitely agree to style inclined gamers.
Like most L-shaped table, this comes with CPU stand to place your rig on a safe area above the ground. Its surface measures 66.1 x 49.2 x 29.1 inches, enough room for a multi-monitor set-up and gaming peripherals.
This desk is quite durable and will not wobble easily. You will also find assembling easy due to its M-Style buckle design. All you must do is just connect the edges; no more screws needed.
Atlantic Original Gaming Desk
Desk That Has a Place for Every Electronics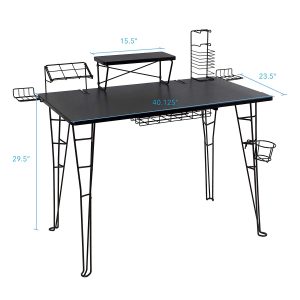 Specifications

Desk Type

Standard

Dimensions

44.8 x 26.2 x 7 inches

Weight

43.7 pounds

Colors

Black
If you don't have extra space to accommodate a big gaming area, then the Atlantic Gaming Desk is the ideal choice for you. However, the surface (44.8 x 26.2 x 7 inches) is still enough for you to game comfortably.
This gaming desk is also built with extra accessories, for convenience. My favorite is the charging station that is super useful for keeping your electronics juiced up. There are also speaker trays on either side of the desk, perfect for surround sound. A storage drawer is also available on the bottom perfect for stashing away extra cables or anything that you want.
A monitor stand is also included plus a game storage rack for your favorite title. There is also a headphone hook and a cup holder, it seems that the Atlantic Gaming Original Gaming Desk is full of convenient features. The cable management system is also a huge plus.
ALIPC L-Shaped Corner Computer Desk
Besk Desk for Gaming in Small Rooms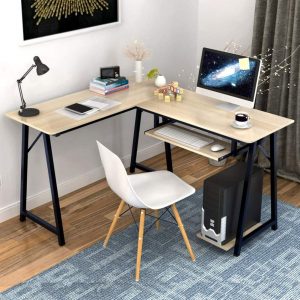 Specifications

Desk Type

L-Shaped

Dimensions

47 x 19 x 30 inches

Weight

N/A

Material

Wood
This ALIPC L-Shaped Corner Computer Desk helps you save more space in your gaming room. It boasts of a sturdy construction designed with a solid MDF board coupled with an eye-candy delicate wood texture. The smooth, natural finish is also sealed for added durability.
Although smaller compared to other gaming desks, the large surface area is suitable for laptops and full-fledged desktop computers. Foot pads prevent scratching and make the desk more stable.
This L-shaped gaming desk can be separated into two tables which makes it portable in any space. Plus, the sturdy frame crossbar adds to stability and durability. With regards to appearance, this desk is surely a treat. It complements most rooms with its wood surface finish. An added keyboard and CPU support make for a good-looking, organized gaming setup.
Origami RDE-01 Foldable Desk
Multi-Purpose Foldable Desk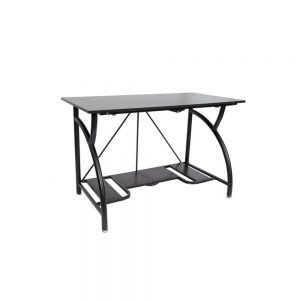 Specifications

Desk Type

Standard

Dimensions

47.2 x 23.6 x 29.9 inches

Weight

38.5 pounds

Colors

Black, Navy
The Origami RDE-01 Foldable Desk is sure to provide both comfort and support even after an extensive marathon gaming session. It is stable and a comfortable desk to answer your gaming needs. The design is simple, no-frills but the color variations are super stylish.
It is also lightweight but sturdily constructed, so any untoward incident is unlikely. If you are someone who loves to work with feet up, then the raised platform will prove to be useful. It also has a generous desk space of 47.2 x 23.6 x 29.9 inches. You can put up your monitors without problems and have ample space to maneuver your mouse too.
ApexDesk Elite Series Heavy Duty Gaming Desk
Flexible Desk for Work and Play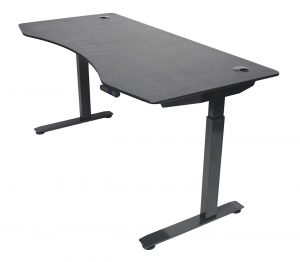 Specifications

Desk Type

Standard

Dimensions

71 x 33 x 48 inches

Weight

160 pounds

Colors

Light Oak, Black top & Black frame, Red Apple top & Black frame, Walnut top & Black frame, Black top & Black frame, Fox Teakwood top & Black frame, Red Cherry top & Black frame, Walnut top & Black frame, White top & Off-White frame
Sitting down for long periods is detrimental to your health. That is why Apex Elite's gaming desk's ingenious solution earns plus points on this list. By just pressing a button, this desk can be converted to a standing platform.
This heavy-duty steel constructed gaming desk features a one-piece center beam plus two integrated motors and a telescopic height adjustment. It can lift up to 225 lbs of added weight with no issues. The optional memory controller will also allow you to program to up to 4 preset heights.
Its 71 x 33 x 48 inches surface are is also enough for multiple monitors set up and even a dock for your extra gaming peripherals. This desk is simply a very convenient table best for gaming.
Respawn 2010 Gaming L-Desk
Ergonomically Designed for Arm, Head and Neck Comfort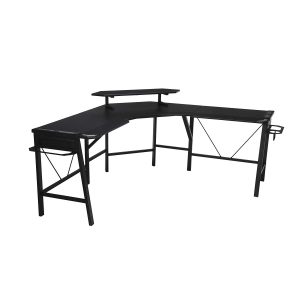 Specifications

Desk Type

L-Shaped

Dimensions

66 x 66 x 34.6 inches

Weight

128 pounds

Colors

Gray, Green
The Respawn 2010 Gaming L-Desk is specifically designed to handle your gaming rig without breaking a sweat. In the center, you can find a 10-inch high monitor shelf that is suitable even for ultrawide curved gaming monitors. If this is not your style and multi-monitor setups are your thing, simply remove it, and you are good to go.
There are also accessory shelves on the sides for gaming headsets and drinking cups or tumblers. Many gamers hate clutters with a passion so these extra storages will be super handy.
The 66 x 66 x 34.6 inches surface area was also generous enough for other gaming stuff. It can also house figurines and other personal and decorative effects with ease. Even with your gaming rig on this table, you are sure to not run of space for maneuvering.
Thermaltake Tt Gaming Level 20 Gt Battlestation
Full Surface Mouse Pad Included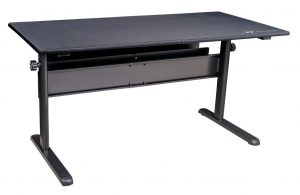 Specifications

Desk Type

Standard

Dimensions

59 x 27.5 x 28.9 inches

Weight

102.5 pounds

Colors

Black
If you fancy using your tabletop as a giant mousepad, then the Thermaltake Tt Gaming Level 20 Gt Battlestation will make your dream come true. After all, every inch of this 59 x 27.5 x 28.9 inches gaming computer desk is coated by one large desk mat. So, it makes the perfect tracking surface for any gaming mice. It is such a good deal that makes this desk one of the best.
Aside from providing you with a large play surface, the Level 20 Gt Battlestation is supported by adjustable height legs. It lets you get as low as 28.9-inches or as high as 40.7-inches on a fly. Another perk of this desk is its built-in cable management channels and trays.
The Level 20 GT BattleStation is specially designed for gamers like you who want to improve their gaming experiences. It is also sturdily constructed with a heavy-duty steel frame and a fiberboard.
Techni Mobili Tempered Glass Gaming Desk
Best Looking, Elegant and Sturdy Glass Desk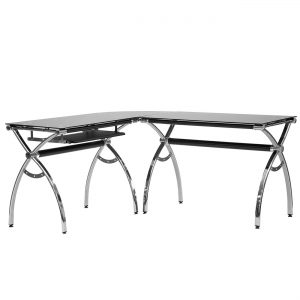 Specifications

Desk Type

L-Shaped

Dimensions

55 x 61.2 x 30 inches

Weight

102 pounds

Colors

Black
The Techni Mobili RTA-0039LC is a pretty handsome gaming desk thanks to its black glass surface and metallic curvy legs. The surface itself is measured at 55 x 61.2 x 30 inches and reinforced with safety glass. It is scratch-resistant, so it is sure to withstand a fair amount of abuse.
The surface area is also sufficient for hardcore gaming. You can set up your multiple monitors here with no problem at all and still enjoy extra space to maneuver your mouse. The curved legs are also scratch-resistant, and chrome finished. It is quite neat and aesthetically pleasing.
The desks were very easy to assemble and very straightforward. Once you get the hang of it, connecting the corners together is a piece of cake. You will also find the leg levelers useful as it helps in keeping the desk level and stable.
Z-Line Designs Glass L Gaming Desk
A Nice Modern Desk for Gaming at a Reasonable Price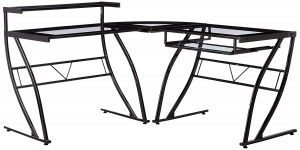 Specifications

Desk Type

L-Shaped

Dimensions

24 x 60 x 37 inches

Weight

110 pounds

Colors

Clear Glass
The Z-Line Designs Felix Glass L Desk is quite a chic piece of furniture. Aside from looking stylish, it also functions well as a gaming desk. It is outfitted with metal framed legs so you can be sure that it is prepared to do the heavy lifting.
After all, ensuring that your gaming rig is kept safe from any harm is the top of your priority. We don't need a gaming table, no matter how pretty it is if it can't support our PC well.
The surface area is 24 x 60 x 37 inches, plenty of room for your dual monitors or more. It is also enough to put your gaming peripherals without looking too crowded and cluttered. Overall this gaming table is not just fashionable and stylish; it is also very functional as well.
Cougar Mars Gaming Desk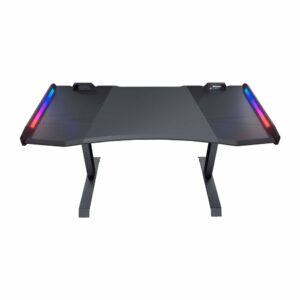 Specifications

Desk Type

Standard

Dimensions

750 mm x 800 mm x 850 mm

Weight

40.28 kg

Colors

Black
The Cougar Mars is one of the best gaming desks you can get your hands on. It features an unconventional design with exquisite accent lighting geared towards gamers.
This desk comes with a user-friendly instruction manual to help you get started. It should take you around 45 minutes to get everything together. Keep in mind that the package includes some large parts, so it's best to put it together in a spacious room. If you follow the manual, the desk should feel sturdy and stable after assembly.
The Cougar Mars has a metal box mounted between the two legs for cable management. You can tuck your cables and extension cords in this section to organize your gaming rig. This desk also has a USB passthrough and audio jack extension ports strategically placed for your convenience.
Overall, the Cougar Mars is designed for gamers who value functionality over aesthetics.
Why Do I need a Gaming Desk?
Benefits of Owning a Gaming Desk
You might be thinking, you already have your old trusty table, so why need a designated gaming desk? Well, the answer to that question is convenience and health reasons. Sure, your old computer table is still functioning as intended, but does it cover all your needs? If you are not sure, then read on to know the advantages of owning a gaming desk.
Sufficient Gaming Space
If you manage to land yourself with the right desk for gaming, you can be sure to have a larger surface area to operate with. Remember this not only help you to have more room to move that mouse around, but it will ensure extra space for other activities too. After all, knocking over your drinks all over your RGB peripherals sucks. So, having enough room to maneuver and place stuff out of harm's way is very important.
Aside from preventing spilled drinks drama, you can also benefit from reduced clutter and increase productivity. It will not just free-up loads of space, but now you will have enough room for putting one, two, or even three monitors on your desk. Multiple monitor set-up here I come!
Practice Healthy Gaming
Even when you are gaming, doing raids, grinding up levels, you must never neglect your health. Your health should always be taken into consideration and the ergonomics of all your equipment even your gaming desk is not an exemption.
Owning the proper combination of an ergonomically designed chair plus an excellent desk is a lifesaver. It can literally save you a lot of pain and trouble that you would otherwise endure if you opt to use a poorly designed or cheaply made desk.
Remember, if you spend most of your time sitting when you are gaming, make sure that you are free from aches and pains, and will be spared from any injury. After all, having the appropriate desk height will also help prevent carpal tunnel syndrome, which can severely hurt your normal motor function, not to mention your gaming life.
Convenience
Tons of well-made desks on the market are offering lots of space for you to make use of. This involves allocated spaces for you to put your awesome gaming rigs to preserve their safety yet putting them on display for your friends to see. They also frequently have allocations that let you use your mouse and keyboard with enough room to maneuver.
Some also have built-in shelves for office supplies or headset holders and cup holders. Drawers are also provided as an extra storage place for your cables, chargers and extra batteries. The more organized your game station, the more comfortable it is to play in peace.
Cable Management
Gamers hate cables, and this is evident with the rise of wireless gaming peripherals. From gaming mouse, headset and even keyboards, players are more than willing to ditch wires. However, as of the moment, we can't really eradicate the presence of cables yet.
So, if you want to keep everything in order and out of the way, especially with a complicated gaming computer set up, you need to plan. That is why choosing the best desks for gaming that are equipped with a cable management system is an excellent way to tidy up your complicated systems. Remember, cable management is an art, and if you own a superb gaming desk, it will be easier to work your magic.
Pure Style
Okay, not only are gaming desks amazingly convenient, but they are also renowned if you want to increase your style points. If you're going to look stylish while rocking your awesome LED rig and RGB fitted gaming gears, then owning one of the best gaming desk on this list is the way to go.
A well-designed desk will give your battle station a revamped vigor to further add to the epicness of gaming. It will also add to the professional player vibe that can help you focus more on competitive gaming. The best desk can make or break your gaming performance on different levels. However, aside from looking stylish, don't forget that it should be ergonomically designed as well. If you manage to find something elegant plus its well-designed too, then that is perfect.
What to Look for When Choosing the Best Desk for Gaming?
Now we have already established that you need a suitable desk. After all, you will be spending tons of hours on it, so it is imperative to get one that resonates with you. Though finding the perfect gaming desk can appear to be a very challenging task, especially when you are clueless as to where to start.
Computers have become an integral part of our daily lives, making it crucial to invest in workstations optimized for productivity and comfort. Some desks are designed for specific use cases, so it's important to identify our needs and preferences before making a purchase.
This section discusses all the essential things you should consider when browsing for gaming desks.
Dimensions
The most important factor you should consider when looking for a gaming desk is size. Make sure that it fits in your room and has adequate space for you to work around comfortably.
Form Factor
Once you have accounted for the size, it is time to consider what form factor suits your needs.
Most gaming desks are either rectangle or L-shaped. To make sure you choose the right design, check the area where you will place the table. For instance, if you have a corner gaming setup, an L-shaped desk is the more ergonomic option.
Aesthetics and Design
Depending on your preferences, gaming desks can be flashy or subtle. Some brands offer custom paint jobs, liquid cooling, transparent windows, and illuminated cables to make your gaming rig more personalized.
Some gamers follow a specific theme with their battle stations. So it makes sense that they are a bit careful in choosing a gaming desk. After all, that table must agree with their sense of style before they can commit to purchasing it. Do you follow a futuristic fighter pilot vibe? Then you might be looking at a metallic designed desk.
Then the next thing that you might want to consider is its build and design. First, you need to weigh your options. How many monitors are you planning to have? Will you have enough space for your extra peripherals? Are you planning a VESA mount set up? You must ask yourself these questions so in this way, whatever desk you decide on will be able to accommodate all of your demands.
Material and Build Quality
Build quality is another factor to consider when browsing for gaming desks. Some computer tables are made of cheap material, affecting the cost, weight, and even appearance.
Before you buy that desk, you need to be familiar with the different kinds of materials that are commonly used first. Remember, these will not only affect its durability but will influence its price point as well. The types of materials used in desk production will have the most significant influence on the final price of the product.
Steel and fragment board desks are arguably the most economical option because they are constructed out of inexpensive and visually-appealing materials. If you are a student, lightweight desks are the ideal alternatives. On the other hand, wood desks with glass tops are perfect for specialists and professionals.
Wood
Wood is one of the most popular materials used in desk construction. Tons of people prefer wood desks, mainly because of their timeless charm. However, they usually are quite heavy. Numerous gamers favor wood desks for their classical look, plus it is more manageable to fit in their existing theme. The favorites are either maple, oak, they are quite common due to their stability.
PVC & Steel
The PVC tabletops are held together by a solid steel frame. They are lightweight and portable, making them ideal for gamers who frequently change location. They are also known for being sturdy and easy to clean. This material can also withstand years and years of usage before needing replacement.
Glass
Glass desks are very sophisticated looking and epitomize modern style. These desks are typically supported by a steel frame. The only drawback is that they are fingerprint prone and are more delicate than other materials. Though tempered safety glass and fiberglass are robust, a bad case of falling objects still poses a threat to this kind of material.
Before deciding on a material make sure that it fits your sense of style, requirements and budget.
Ergonomics
If you sit at a desk for hours on end, make sure you remain relaxed by choosing an ergonomic gaming desk. A table with a comfortable keyboard tray should help you avoid repetitive motion injuries like carpal tunnel syndrome. Moreover, a desk with height adjustment options ensures that you maintain a safe viewing angle to prevent eye strain.
Assembly
You can purchase either pre-assembled or ready-to-assemble desks, depending on the available shipping options. If you don't want to put together a computer table yourself, pre-assembled desks are ideal, but they are slightly more expensive than ready-to-assemble desks.
Will you want to waste your precious time assembling your gaming desk? Though some desk manufacturers make the instruction guide simple to follow. Sometimes even the parts are limited as much possible. Good thing some gaming desk have their manuals available online. So before buying you could actually see them first so you will have an idea if you need help in building or you will be fine on your own.
Fit
Before buying, make sure that you have your measurements figured out. Especially if you are planning to put it in a corner or if your gaming rig is enormous. Though some gamers will not care as they are prepared for any adjustment, if you don't have this liberty, make sure you have your measurements down to the centimeter.
Storage Compartments
Functionality is equally as important as design. A gaming desk should have adequate room for all your hardware and peripherals. If you want some storage space on your desk, choose a table with drawers to keep your items within reach. It should also have cable holes and holders to hide messy wires from plain view.
Without proper ventilation, your desk can also be a source of heat for your computer and significantly affect performance. Make sure your system's fans aren't blocked to keep temperatures at manageable levels.
Wrap-Up
Gaming is fun. We plug our gaming rig, we select our favorite game, we choose our adventure and then we are lost in time. However, before we do that, having the right equipment for the job is important too.
Yes, the best gaming desk is a personal preference. Because after all that deliberation, everything will just come down to what you want on to have. Plus of course, the equipment that will grace your newest battle station.
Remember, any of these DIY gaming desks are reliable choices and will function as intended. But what's important is that your choice agrees with your overall aesthetics. And of course, it should be able to house your battle station with ease.