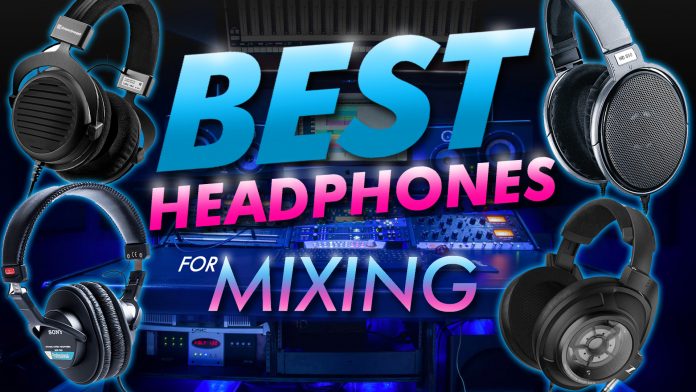 For the Aspiring Audio Engineer
If you ask people around why they own sound devices, they won't tell you that they love headphones. What they'll tell you is that they love MUSIC. After all headphones and other audio equipment are merely tools for enjoying our awesome playlist. Whether it be earbuds for gaming or gym buddies in the form of workout headphones, music is the reason for these devices.
However, if you are more than a casual user say, a sound engineer or a musician, then a normal pair of cans won't cut it. If that is the case, then a pair of studio-grade headphones is what you need.
But then again with literally tons of selection out there getting sucked in a retail nightmare is not far from the truth. However, don't worry as I've listed the Best Headphones for Mixing out there, so you won't have to try them all and you are welcome.
Sony MDR-7506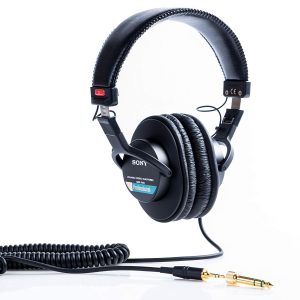 The Sony MDR-7506 is as minimalist as it can get, with a simple black profile they look classy plus it won't break the bank. These headphones also boast portability and are quite lightweight thanks to its all-plastic build. Though brows might raise due to the material used, know that a thin metal frame reinforces its build, so unless you throw them around carelessly these are sturdy. For the cable, it is not detachable, but you don't have to worry about it breaking as it's thick and won't wear out fast.
Sound-wise the MDR-7506 are an excellent sounding pair of closed-back headphones. They have a stable and punchy bass, not something bassheads will go wild for but it is powerful. It also has a prominent and distinct mid-range and a decent treble which is a bit harsh on vocals and cymbals.
They are competent for critical listening thanks to a well-balanced performance and boomy bass that doesn't sound muddy nor mess with the superb mid-range. Overall, the MDR-7506 is a versatile pair of headphones suitable for entry-level mixing or even for seasoned audiophiles who value cost-efficiency.
Sennheiser HD 650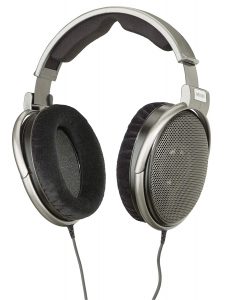 Sound quality comes first, but that doesn't mean we can't be stylish as well. When I first laid my eyes on the Sennheiser HD 650 its two-tone profile appealed to me. Its dark gray with black accents and glossy coating stands out. It screams sophistication which is to be expected from this brand.
The open earcups are furnished with suede-like material giving these cans a premium charm. The headband is not tight and is padded well, so no worries about comfort. Sadly, if you plan to bring these with you, they're not portable. The build is a bit bulky and you can't really fold them for better transport.
For the sound quality, the HD 650 didn't disappoint. These headphones have a good, steady yet boomy bass. However, they lack a certain thump that shatters eardrums, but it is not muddy nor cluttered. On the other hand, I'm impressed by its well-balanced and precise mid-range.
The treble has a good performance too. Low-treble and mid-treble are flat and even. For the vocals, they are clear and not overpowering.
All in all the Sennheiser HD 650 produces an outstanding sound quality that's excellent for critical listening. They're comfortable, premium build and have great audio reproduction. Though they won't be suitable for casual listening given their heft, they will fit well inside your studio.
Beyerdynamic DT 990 Pro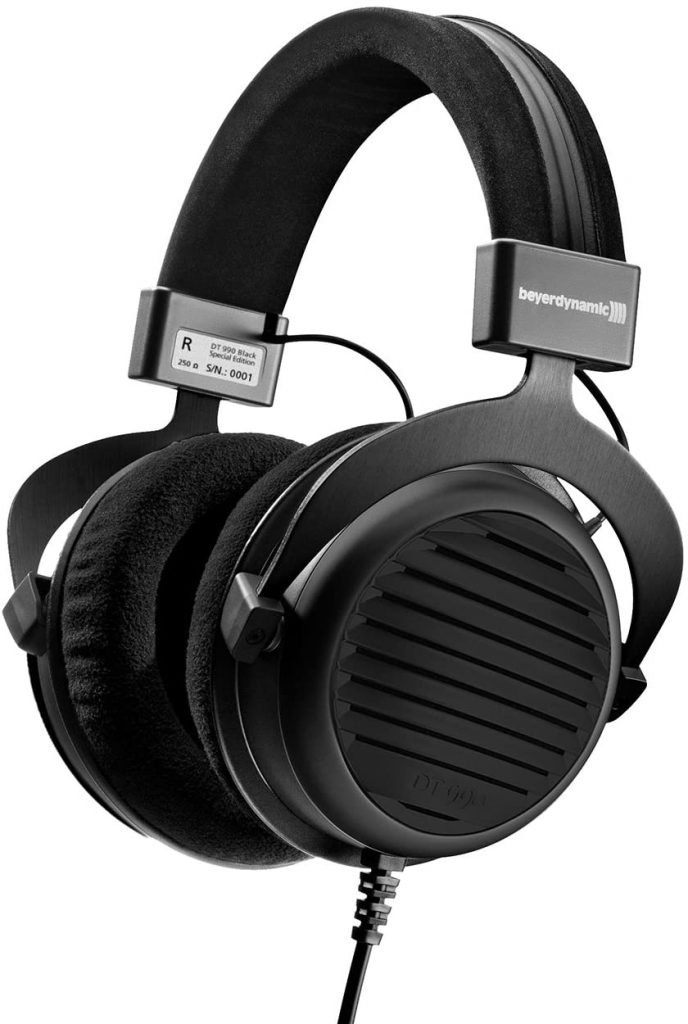 The design of the Beyerdynamic DT 990 Pro might not appeal to everybody but we can't deny that they are super comfortable. These headphones are mostly plastic except for the metal band that supports the ear cups. Though you might question its durability they are resilient and can withstand a fair amount of abuse. Now back to why I said they are comfortable, well its thanks to the memory foam padding in its earcups and headband. They are also wrapped in velour, so the overall feel is posh, plush and comfy at best.
Moving on to sound quality audiophiles won't line up to them but if you glance at their price tag, they are worth every cent. Basically, the DT 990 Pro is a very enjoyable and effective pair of open-back headphones, whether for music binging or mixing. They have a constant and well-extended bass range, especially when you think that these employ an open-back design. Their mid-range is nearly impeccable, and their treble is fairly balanced.
Beyerdynamic did a great job in making these headphones a competent choice for critical listening. They reproduce detailed high-resolution tracks that are clear and crisp. They also have a spacious soundstage. Though the treble may be a bit sharp considering its range is a bit emphasized, the overall sound profile is well-balanced. Technically the Beyerdynamic DT 990 Pro headphones are for anyone who prioritizes a clean yet precise sounding pair of cans.
Audio Technica ATH-M50X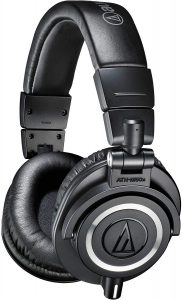 The Audio Technica ATH-M50X can be professional studio-only headphones and something that you can plug to your phone without standing out. They are stylish, fun and will fit any personality thanks to its four color variants which are Black, Blue, White and Gun Metal.
Aside from being stylish, they are also designed to stand the test of time thanks to its sturdy build. The materials used for the ATH-M50X though all-plastic is reinforced by a band of metal that is stuffed in the headband plus a few aluminum highlights for extra beef. The results of these materials are lightweight headphones perfect for long listening marathons. They are also quite portable as the cups can swivel by 90 degrees so you can fold them right up into the headband.
To be honest the Audio-Technica ATH-M50x is a mainstay in the audio world. We can credit its reputation thanks to it being a great device for critical listening. These headphones can render a balanced sound reproduction without the overpowering bass. The ATH-M50 also have a fairly balanced mid-range that makes instruments and vocals sounds accurate. The treble is not too sharp nor recessed, just the right amount for it to be distinguishable.
Overall the ATH-M50x headphones are difficult to nitpick. After all the tonal balance is accurate making it a sound choice for critical listening. It is also competent for mixing thanks to its detailed notes which is pleasing to those with perceptive ears.
Sennheiser HD 820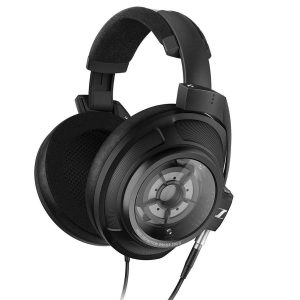 The moment that you lay your eyes on the Sennheiser HD 820 you can tell that these are premium headphones. They sport a well thought of design that many will love. Aside from looking classy, they are also premium priced. They have a closed-back build plus a fabulous looking glass back that allows you to see the drivers that power these pair of cans. Fancy. They are also comfortable to wear thanks to its luxurious pads. However, they are a bit cumbersome, so portability is a concern.
Checking the audio performance, the Sennheiser HD 820 is undeniably a solid sounding pair of headphones. The bass is neutral, not overpowering nor muddy, just enough to provide a thump. The mid-range is balanced, and their treble is quite good. Vocals and high notes are discernible and distinguishable, they don't sound muddled together and they are great for picky ears.
The overall sound reproduction is even and neutral, perfect for mixing. They are indeed a good pick for critical listening. The expansive soundstage and remarkably articulate distortion-free quality combined with its comfortable build make the Sennheiser HD 820 a worthy contender.
Beyerdynamic DT 770 Pro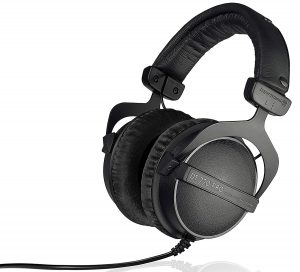 The Beyerdynamic DT 770 Pro looks all business. This recurring theme is proven by round ear cups, broad metal frame, and a detachable cushion band. It has a utilitarian vibe that is not flashy but exudes an aura of sophistication.
Comfort-wise the ear cups are overlaid with a microfiber fabric that feels soft on the skin. They have a luxurious feel to them that makes them comfortable even for extended usage. The DT 770 is also designed to be long-lasting as the solid metal frame are solid enough to survive drops.
The audio performance of the DT 770 is as robust as its build. They are very good sounding closed-back headphones that are perfect for critical listening. Beyerdynamic succeeded in delivering an impartial sound reproduction with an almost perfect mid-range. The bass is evenly powered too as it doesn't smother instruments and vocals. However, they don't have the spacious soundstage of the DT 990 PRO though they have a more solid bass due to the closed design.
Whether it is for starting your own recording studio or you simply want to have an efficient yet comfortable pair of headphones the Beyerdynamic DT 770 Studio is your guy.
AKG K 701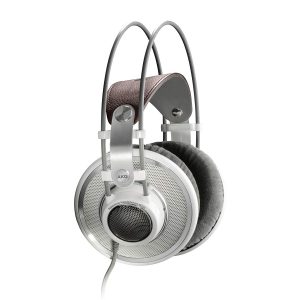 The AKG K 701 has an appealing retro design that will resonate with seasoned sound engineers. It sports circular ear cups and a headband equipped with a self-adjusting strap. The open-back ear cups are padded generously and furnished with suede-like fabric. This design and choice of material added to the AKG K 701 premium appeal.
However, I notice that they're bulky and a bit huge for strolls outside. Surprisingly they are fairly comfortable headphones and still lightweight for their size, making them great companions for extended music sessions.
The audio quality of the AKG K 701 is not subpar. They have a consistent bass, an exceptional mid-range, and a decent treble. Though bassheads might find the bass lacking in punch, it serves the sound balance well.
AKG K 701's sound quality will appeal to you if you like picking on fine details and wants to explore every note in a recording. If this sound like you then these AKGs will not let you down. They're detailed and depict notes with top-notch clarity.
Overall it is a wise choice for critical listening. Aside from being super comfortable plus having great audio reproduction the tonal balance is superb. These headphones offer a vast and immersive soundstage, if quality and value are your non-negotiables then this is it.
Factors to Consider in Buying Mixing Headphones (Buyer's Guide)
Before diving in into choosing the right pair for you, you first must know the different factors that make a great pair. After all, you would not want to go in blind and get bombarded with choices and features that you are unfamiliar with.
Can You Mix In Headphones? Closed vs Open Back for the Best Sound
Now in sifting through reviews, you might encounter these terms and you might ask yourself which is better? The answer is both. Let me explain.
These types have advantages and disadvantages and frankly, it is wiser to own both. But of course, if budget is your constraint then picking one is fine as well, as long as you know what qualities will resonate with you more.
Open-back headphones enable air to pass through the ear cups down to the speakers. This translates to pressure being unable to build up which will affect your sound. Most expensive and high-end headphones have opted to have open backs because it accommodates the sound to be more natural and clearer.
Open-back headphones are great for:
Critical listening

High-quality audio

Indoor sound binges
Closed-back headphones are audio devices that are totally sealed around the back. This means that they simply allow the sound to go straight to your ear. Though the music on these cans is not as natural-sounding as an open-backed, they still have their advantages. The closed-back headphones will block out a lot more outside noise. This just means that you will have a more isolated and uncorrupted listening space to mix well.
Closed-back headphones are great for:
Casual listening

Recording/Mixing audio

Public areas

Public Transportation
Comfort and Durability
Remember that when mixing audio, you can be lost with music and having a comfy pair of headphones around your ear is more beneficial than you might think. After hours with these devices, ill-fitted cans will take its toll on your ear and head and will cause discomforts such as stiff neck and smothered ears. So, pick something that you are comfortable with, don't gamble with comfort and your neck will thank you.
Budget
Now the tricky part, though we are led to believe that high price means high quality this may not be the case all the time. Audio companies are getting competitive in not just their products but with their prices as well. To pick the one that best suit your budget is to know what you need. Pick a cost-efficient pair without the excessive features, just the basics with solid performance. You get what you need without paying an arm and a leg, and that is a fair trade.
But if you have an extra dough to spare, then splurging a bit with all the extra bling is not a bad idea. After all sound mixing is not exactly a cheap hobby.
Sound Quality
The most important part, sound quality. As I have mentioned before, we are not buying headphones for the audio device per se. We buy the ability to listen to unadulterated music. Naturally, this takes precedence above anything else. Since your main purpose is for audio mixing then it is wise to get something with a balanced audio quality. Getting a heavy bass inclined pair might mess with your audio, so pick the neutral one.
Recap: The 7 Best Mixing Headphones in 2020
Finding the a headphone that is good for mixing audio is only hard when you don't know what you are looking for. After all, you can get bombarded with choices that will make it impossible for you to pick one. All of these selections are great, and they answer to different preferences. Evaluate your needs first, then carefully check all your options, and once you do this you will be mixing better audio in no time.