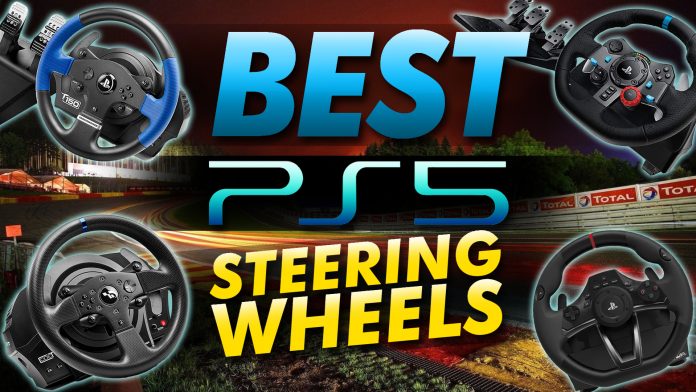 With the PS5 out on the market, more and more gaming peripherals are becoming available. From controllers, storage devices, and steering wheels, you now have an abundance of options to enhance your gaming experience.
Since Sony has announced that most current-gen racing wheels are compatible with the PS5, it's time that we cover PS5 steering wheels you can buy to get a taste of next-gen immersive racing simulation. One of the hottest racing-simulator games you would find today is the Forza Horizon 5 (Deluxe edition can be bought here).
Rank
Preview
Product
Rotation
Force Feedback
Price
1
Logitech G923 Racing Wheel and Pedals for PS 5
900

°

Yes


2

Thrustmaster TS-PC Racer (Racer 488 Challenge Edition)
270

°

Yes


3
Thrustmaster TM Leather 28 GT
N/A


4
Thrustmaster T300 RS GT
1080°
Yes


5
Logitech G29
900°
Yes


6
HORI Racing Wheel Apex
270°
No


7
Thrustmaster T150 Pro
900°
Yes


We've put together a list of the eleven best PS5 steering wheels for sale right now on Amazon. These brands are tried and tested by racing sim enthusiasts all around the globe, and we highly recommend that you pick one of these wheels right now, so you can head straight to the races the moment your PS5 comes in.
Here's an Expert's Advice to Maximize Immersion on a Gaming Wheel
Needless to say, playing on a steering wheel helps you attain a more immersive racing experience as opposed to playing on a PS5 Dual Sense controller. But do you know what makes that immersion even more immersive than it already is?
A cockpit.
Unfortunately, steering wheel companies don't typically include these in steering wheels as they are sold separately. Below is a video of exactly why cockpit is also something you should get yourself when you consider buying a steering wheel in the first place.
Just like steering wheels, you will find a lot of cockpits in the market that may range greatly in terms of design and size but are essentially compatible with most, if not all types of steering wheels. If you have already considered buying a cockpit, too, then just be reminded that it should not be machine-related so you can use any steering wheel on it.
It's also worth noting that apart from the price and size, steering wheels also vary on the quality as well as the type of material used. They may all share a similar function and purpose but having a unique set of features can result in better usage and even better comfort.
Regardless, cockpits will add another layer of realism and immersion when playing racing simulation games like Forza Horizon 5, Dirt Rally 2, Forza Motorsport 7, Project CARS 2, iRacing, among others.
Realistically, using a race car cockpit will aid with better reinforcement, stability, and experience since they are primarily designed to be compatible with steering wheels. Others would even go way beyond cockpits and invest in DD (Direct Driving) wheel base to achieve the ultimate immersion experience.
For those of you who don't know what DD is, it's essentially a motor where you mount your steering wheel to experience a force feedback similar to when you're driving a real car. Fanatec's GT DD Pro and Next Level Racing Wheel Stand DD is a good example.
If you are looking to get maximum comfort and stability with your steering wheels, then racing simulation cockpits are among the things you will get. So, if you are looking to shop for one, make sure to check trusted reviews and websites like these to ensure you're getting what you're paying for.
The Best PS5 Steering Wheels at a Glance
1. Thrustmaster T300 RS GT | High-End Wheel for PS5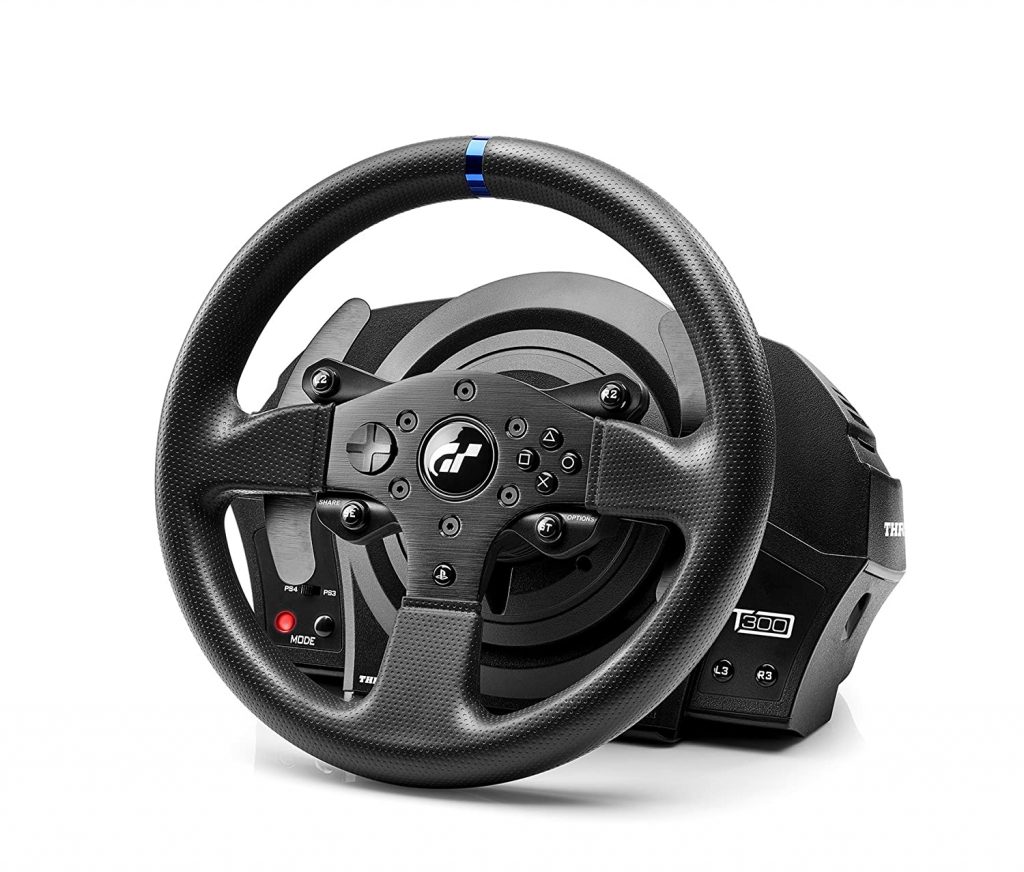 Rotation: 1080 degrees Pedals: 2 Buttons: 12 programmable buttons
If you're looking for one of the best but can't find Fanatec on Amazon (snooty af), the steering wheels Thrustmaster products should tickle your fancy. The T300 is their most premium and feature-packed steering wheel available, and is an excellent choice as a steering wheel for the upcoming console generation.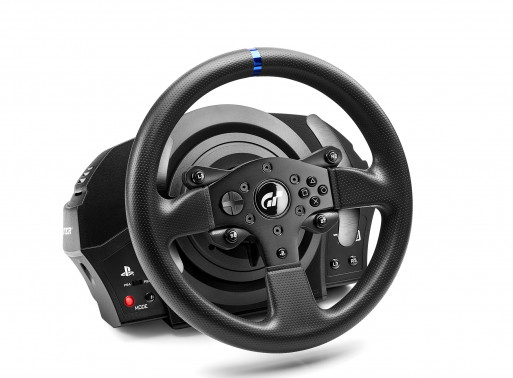 What really stands out with the T300 is not its Terminator-inspired name, but its incredible force feedback motor. It has strong push-and-pull force powered by a brushless motor inside the wheel. You can really feel how your car works on the surface of the roads you're driving on. If you still have your PS3, good news – it works just as well on that console as it does on PS4 and PC, and definitely on PS5.
The wheel quality is amazing. It feels hefty and solid, unlike the cheaper steering wheels in this list (such as the HORI RWA racing wheel.) It's modular in the sense that you can replace any of the peripherals, such as the wheel itself, on the T300. If you'd like a Ferrari-branded wheel, they've got you covered.
The pedals, while of great build quality, lack a clutch, so those steering stick will find themselves wanting for more. However, as for the accelerator and brake pedals, they feel surprisingly solid and responsive, compared to the Logitech G29. This is an amazingly well-designed piece of equipment that's sure to add value to the racing games you'll play on your PS5.
2. Logitech G29 | Overall Best Value Wheel with Pedals for the PS5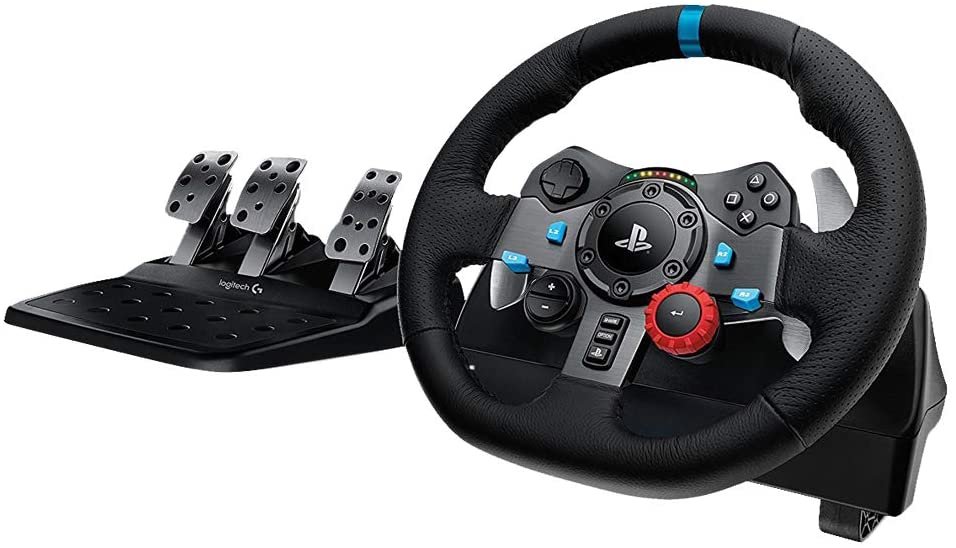 Rotation: 900 degrees Pedals: Accelerator, brakes, clutch Buttons: 16 programmable buttons
Logitech has long been a mainstay in peripherals for pretty much all platforms: PC, PlayStation, and Xbox. The G29 Driving Force is a fun little racing wheel that works just as well as the most expensive steering wheels for the PS5. This racing wheel is one of the best for us, thanks to its performance, quality, and price point.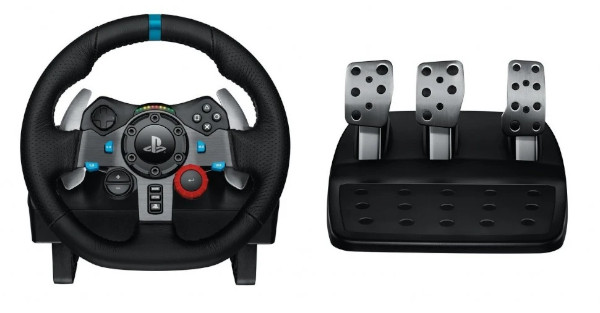 One of the first things you'll notice when you start steering with the G29 Driving Force is how powerful its force feedback function feels. It comes from a servo clamped to the wheel, which lets you set up and get moving on pretty much any desk.
The wheel quality is excellent too, with a smooth and plush finish that feels really great to the touch. It's something that we can keep using for hours on end without chafing the skin on our hands. The buttons aren't too far apart and are easily accessible with just your thumbs. Unless you want a stick shift, there's no need to ever lift your hands from the wheel thanks to the flappy paddles built into the wheel.
The pedal is something to note as well. While they do feel light and non-resistant, the build quality is still surprisingly sturdy. The fact that Logitech chose to attach a clutch pedal is a great touch, for people who like to have more control over how they drive. The only problem we have is that it's pretty small. People with big feet might have to worry about stepping on two pedals at once.
Both the Logitech G29 and the Thrustmaster T300 RS are other two sets of wheels that are popular for racing simulation games. Even though both are popular, they still have their fair share of pros and cons.
For example, prices obviously differ if we're going to compare the Logitech G29 Driving Force Racing Wheel and the Thrustmaster T300 RS.
Both have decent builds that are durable enough to last longer than you would normally expect. However, the Logitech G29 is the better heel in the build quality category as it comes with elegant outside leather while the Thrustmaster T300 RS doesn't.
Between the two, the ThrustmasterT300 RS doesn't require any software to work while the Logitech G29 requires you to install the Logitech Gaming Software.
It has to be noted as well that both the Logitech G29 and the Thrustmaster T300 RS have their own way of portraying force feedback. The G29 uses a dual-motor to simulate the effects while the Thrustmaster T400 RS uses a frictionless action and a 900-degrees dual-belt system for a seamless rumble effect.
It is also crucial to note that the Thrustmaster T300 RS is PlayStation exclusive while the G29 isn't. So, if you're planning on using the wheel on another console such as Xbox, the Thrustmaster T300 RS is automatically out of the question. Check our Xbox Series X Steering Wheel if that's what you're interested in.
3. HORI Racing Wheel Apex | Entry-Level Racing Wheel for PS5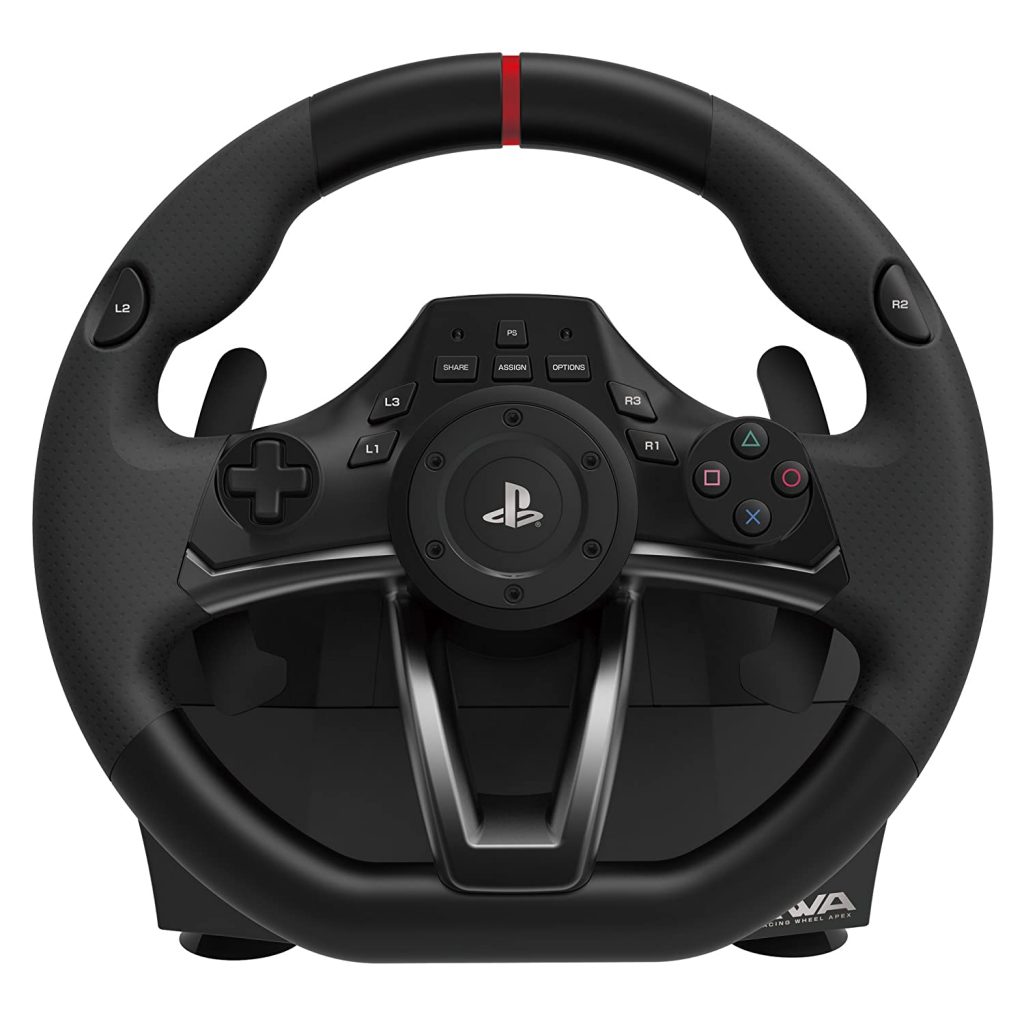 Rotation: 270 degrees Pedals: 2 Buttons: 16 programmable buttons
We've talked about HORI in this site before, featuring one of their mini keyboards. They've had a good track record with peripherals such as keyboards, fighting game joysticks, and controllers. The Racing Wheel Apex is their entry into the racing game sphere, and it's an admirable first attempt– but also a bit disappointing.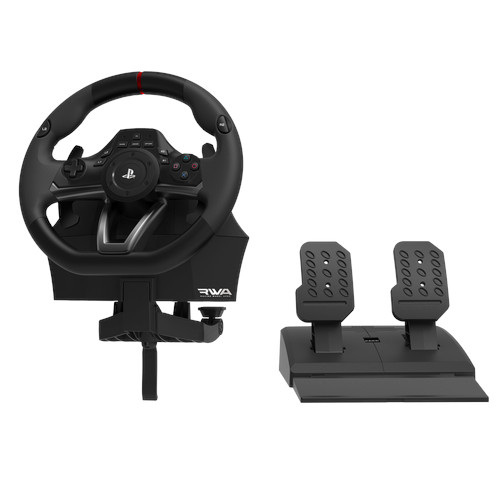 Being the value-minded people that they are, HORI chose to set the RWA as an entry-level, budget-friendly steering wheel to compete with what Thrustmaster, Logitech, and Fanatec have to offer. And, because it is a budget steering wheel, it comes with a lot of compromises. The entire steering wheel set is made with plastic, even the wheel. There's not a lot of weight to it, which makes it feel flimsy.
Another thing to consider is the lack of force feedback on the HORI RWA. It feels exactly like driving an arcade steering simulator game than a full-on video game. It feels fun to play with, really, but that's the catch: it feels like playing a game rather than being immersed in a steering simulator. You'll feel that most when you try to rotate your wheel. You won't even get to spin it all the way, as the wheel rotates only 270 degrees.
The pedals themselves are nothing to write home about. They have a cheap, plasticky feel and can easily move if you don't set it somewhere secure. There's no clutch pedal and the pedals are not as responsive as you'd expect them to be. The pedals sink way down without much resistance which kind of makes it feel very cheap. However, it's still a solid choice for your first steering wheel if you're trying to save enough for a PS5 monitor.
4. Thrustmaster T150 Pro | 1:1 Scale Steering Wheel for PS5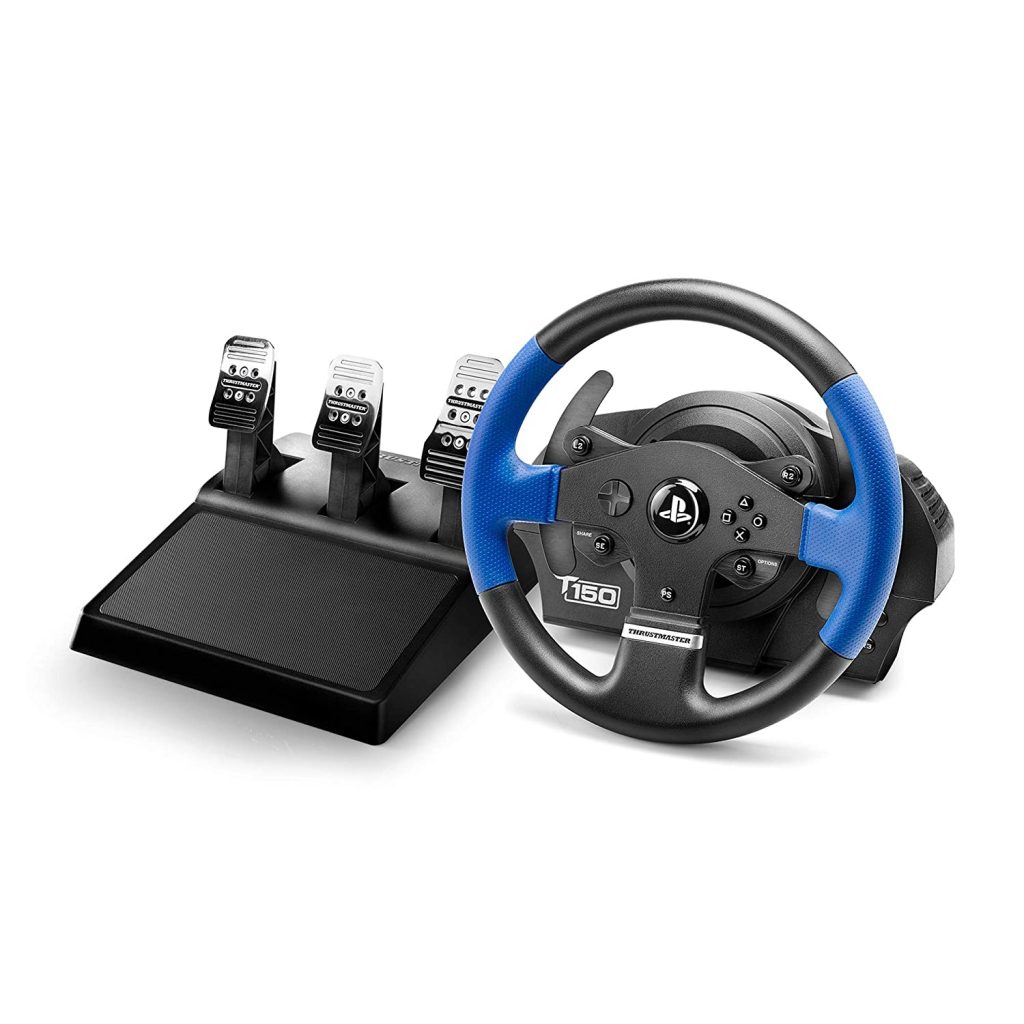 Rotation: 900 degrees Pedals: 3 Buttons: 12 programmable buttons
Don't call the T150 Pro as a lesser version of the T300 – it's something entirely different. Unlike the T300, the T150's design cues aim to be as accurate as it can be, with the Thrustmaster steering wheel having a 1:1 scale replica of an actual car's wheel. It's a fun steering wheel set that's easy to install and is PlayStation certified right out of the box, making it a solid choice for your PS5.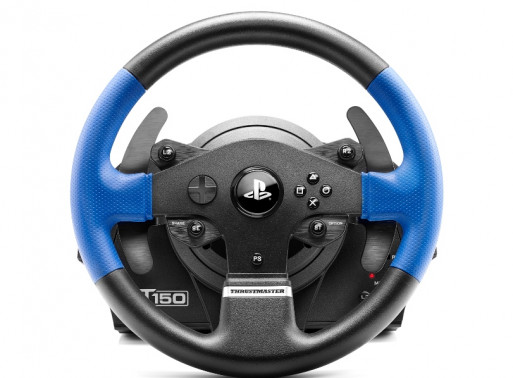 This steering wheel has a flappy-paddle setup that does away with stick shifts, but there's an option to purchase one if you so wished. However, we're big fans of the flappy paddles since it does keep our hands on the wheel at all times, which is kind of crucial when you move from driving souped-up sedans to F1 racers in-game.
Rubber grips come with the T150 Pro's box, but they're not exactly great for us. Rubber tends to chafe hands during long hours of use, which means if you get one of these, either limit your playtime or invest in some steering or driving gloves to keep your hands from getting too chafed. One upside to its rubber grips, however, is how it helps spread force throughout the wheel itself, so you don't have to exert too much effort trying to steer.
Speaking of steering, the force feedback engine in this thing is nuts, comparable to some of the more expensive racing wheels (looking at you, Fanatec.) The brushless motor built inside the wheel makes every bump, slide, and crash feel real and responsive. The same can be said about the pedals, whose resistance outclasses the likes of the Logitech G29 or the HORI RWA. This is a solid choice, and one that won't drain your wallet straight away. You could even buy some PS5 headphones with the change!
5. Fanatec Podium F1

| Best Racing Wheel for Experienced Users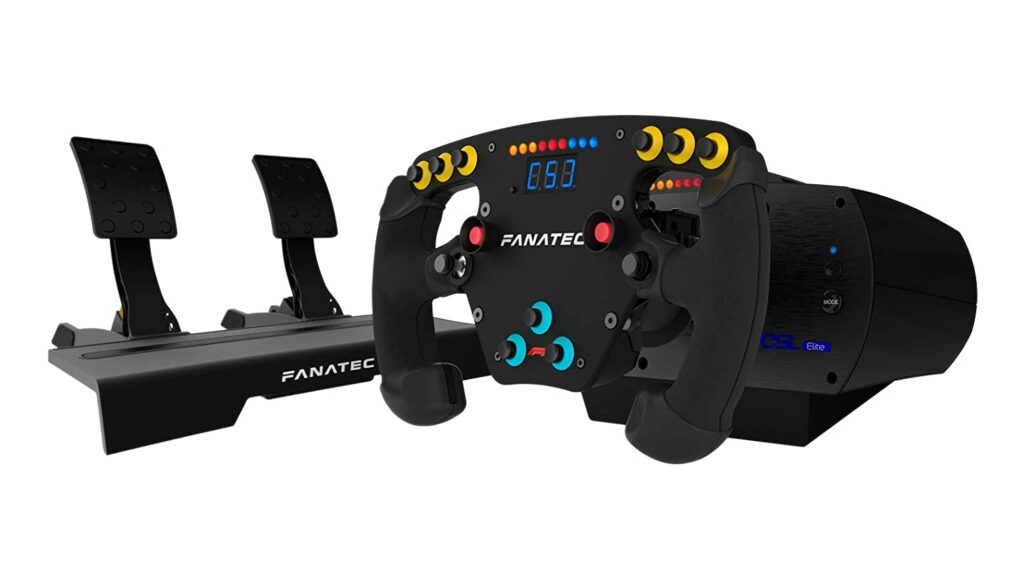 If you are looking for the best PS5 steering wheel, the Fanatec Podium F1 is the option that makes the most sense. It is widely considered to be the best F1-style steering wheel, and for good reasons.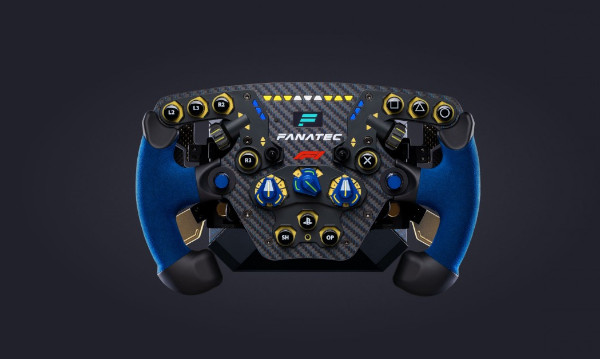 The Podium F1 is designed to bring wrist-breaking direct drive power to your simulation rig. Note that this racing wheel is cross-compatible, so you can experience next-generation simulation driving regardless of platform.
Included in the box are the following:
Podium DD1 Wheel Base

ClubSport Formula V2 steering wheel (the PS4 edition)

Advanced Podium paddle module

Extra set of button caps

Power Supply Unit (PSU) and cable

Braided USB cable

Torque key

RJ12 connection cable

A locking bolt (for older steering wheels)

Quick guide manual
It should be noted that the brake pads are sold separately, so keep that in mind to avoid problems down the line. The Podium F1 wheelbase is pre-drilled with mounting points. However, they are made to fit only to proprietary wheel base mounts.
In terms of performance, the Podium F1 is exceptionally detailed, to the point that you can truly feel the connection your car has with the track. You will sense even the most subtle bumps to seem as though you are one with the vehicle in the game.
6. Logitech G923

| The Best Budget Racing Wheel for the PS5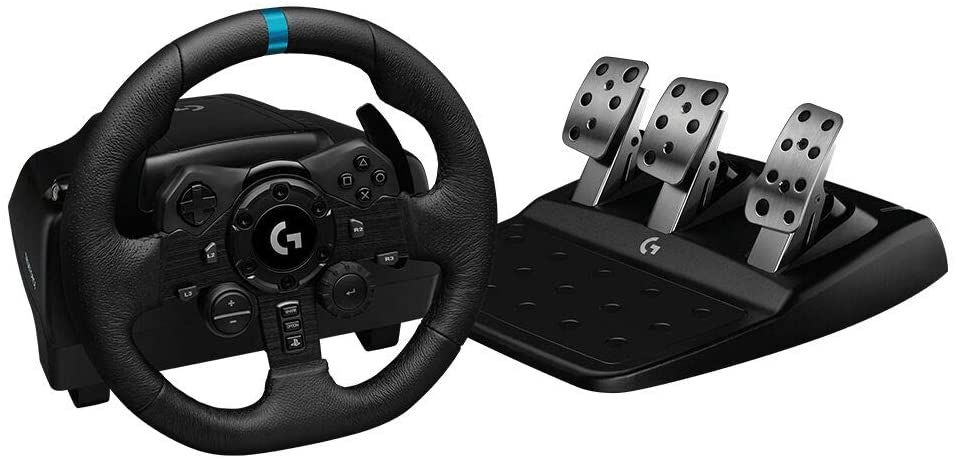 If you have owned the Logitech G29, you would think the G923 is just a reskinned version of the G29 because of their identical design. However, if you look close enough, you can easily tell the subtle upgrades or differences. The center logo looks different, the shifter's colors and the buttons are now in all black, and the TrueForce sticker is now found on the side of the wheelbase.
The G923 is widely considered the best entry-level steering wheel, and the hardware under the hood can easily back this claim. It features the TrueForce force feedback system that separates it from other steering wheels. This system utilizes in-game physics and audio to replicate precisely how engine vibration noises, gear changes, and road surfaces would feel in the real world to deliver an immersive steering or driving experience.
7.
Fanatec CSL Elite Racing Wheel Porsche 918 RSR
| Best Multiplatform Racing Wheel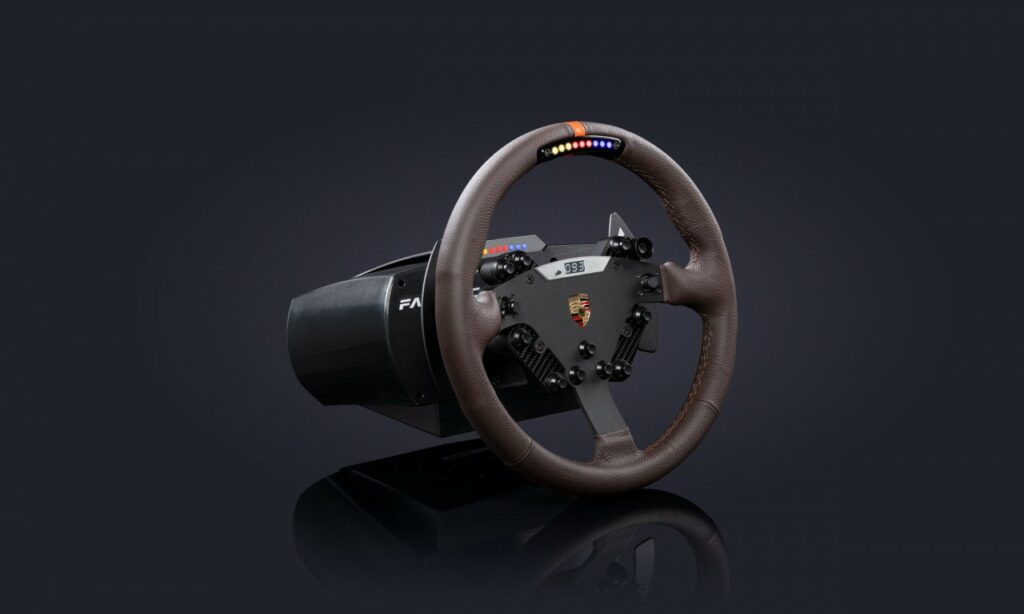 Rotation: 90 to 1,080 degrees | Pedals: 2 | Buttons: 11
If you are looking for a steering wheel that you can use on other platforms, then the Fanatec CSL Elite Racing Wheel Porsche 918 RSR is a solid choice to consider. Even though they offer a great experience if you are on PS5, they also do on PC.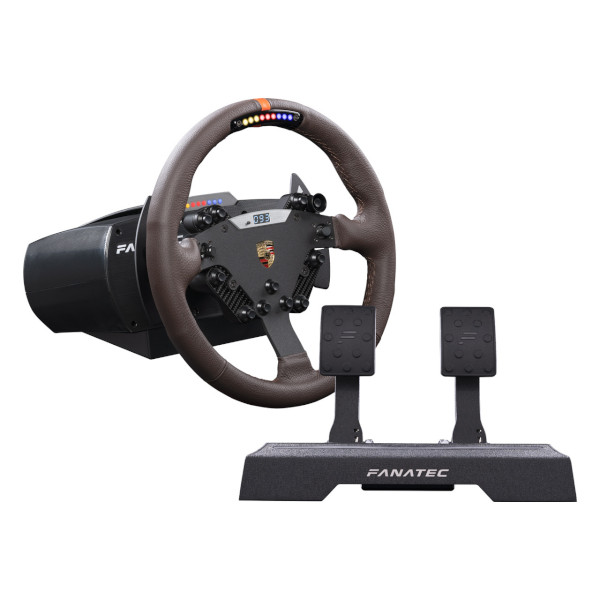 Fanatec's CSL Elite Wheel Base is designed to support interchangeable wheels, allowing the steering wheel to support Xbox One and Xbox Series X/S consoles apart from PlayStation 5. If you want to use this with both Xbox and PlayStation, just get the CSL Elite Wheel Base and pair it with a wheel that is compatible with Xbox since the PlayStation support is built into the base.
In terms of experience, you get an authentic driving experience with the CSL Elite Racing Wheel Porsche 918 RSR. All the smooth experience and power you get comes from the brushless force feedback motor that will throw out up to 6Nm of torque.
Thanks to the wide 12.59-inch Porsche steering wheel, you will be able to fight back against the torque smoothly while maintaining a solid grip. Note that the steering wheel is wrapped in automotive-grade leather, so you can ensure that you can maintain a solid grip when using the steering wheel.
Apart from the number of buttons on the steering wheel, it also has a telemetry display on the wheel itself to easily see when to switch gears and when to perform switch even if the wheel is covering the base and is turned.
8.
T
hrustmaster TS-PC Racer
| A Great Racing Wheel for PS5 and PC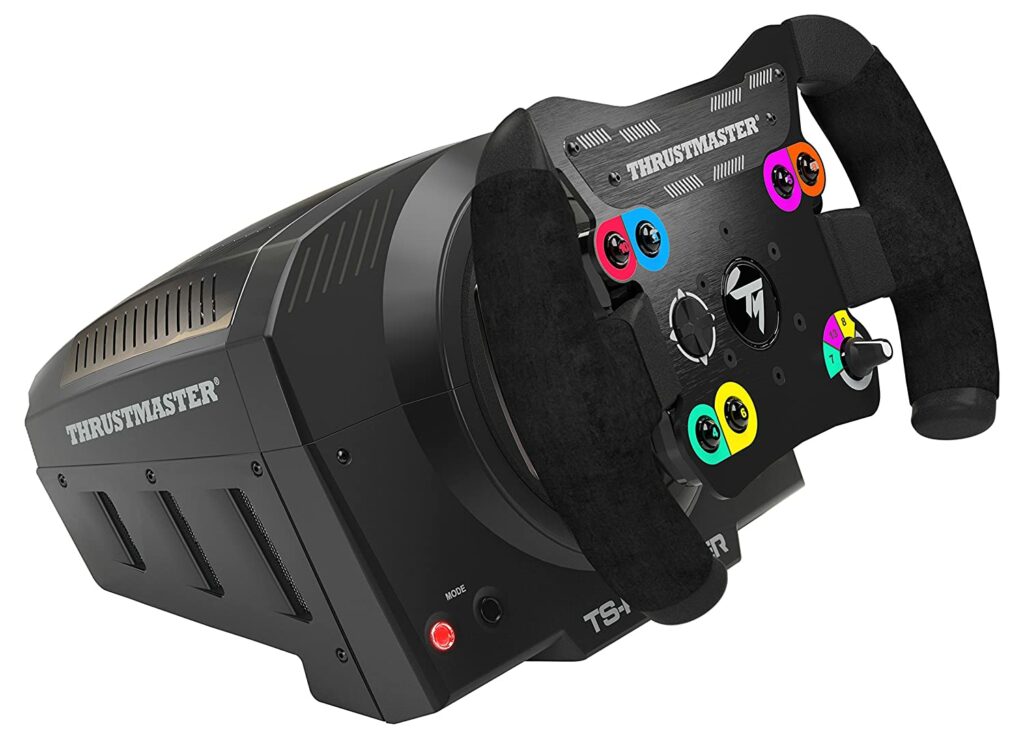 Rotation: 270 to 1,080 degrees | Pedals: 0 | Buttons: 6
Thrustmaster has been perfecting force feedback and tactile solutions in software for various applications for over 20 years. Racing wheel Thrustmaster products have been known to be top of the line, including the Thrustmaster TS-PC Racer.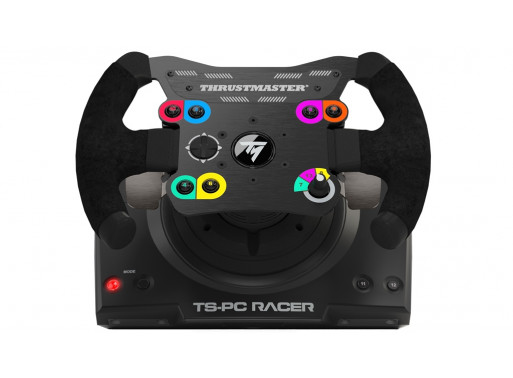 Note that the Thrustmaster TS-PC racer doesn't come with pedals of any kind, but it is still a little expensive compared to other steering wheel products in the market. Fortunately, the overall experience and the rest of its features make up for the hefty price tag.
Compared to previous models, the TS-PC has a slightly different external design but is not a significant step away in any way. Inside the small box is where you will find the motor and pulley components.
The overall steering wheel is a combination of plastic and metal throughout. The base plate has a reasonably thick metal to support both the clamp mechanism that attaches and detaches the base and the screw connections.
The TS-PC also has a decent number of cooling holes throughout, with an external fan in the rear to evacuate the case. The TS-PC racer's overall design is also attractive and sturdy, with features such as pedal ports, shifter, and USB placed on the back. On the front is where you will find the buttons and the light indicator for buttons.
The wheel's weight indicates that the steering wheel is strongly built, but most of the mass is in the unit's center. The steering wheel's weight is evenly distributed that rotating the wheel is easy and practical to the user's hands.
Moreover, the buttons and the shifter paddles have a tactile feel without being too stiff or too mushy, making them comfortable and practical. Overall, it is a sturdy steering wheel that can hold up reasonably well under intense gameplay.
9.
SimXperience AccuForce Pro V2
| The Perfect Direct Drive Racing Wheel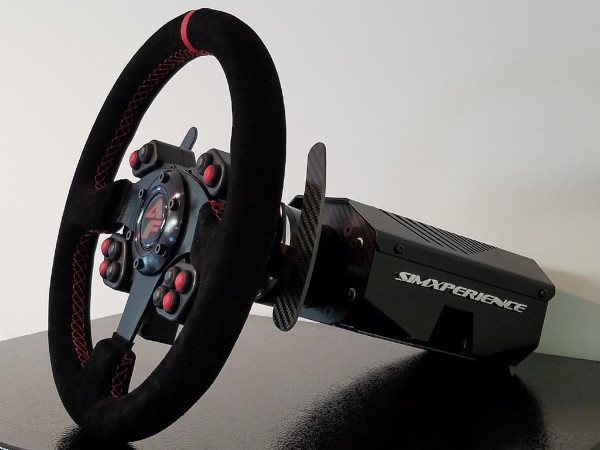 Rotation: 4,500 degrees | Pedals: 0 pedals, 2 paddle shifter | Buttons: 13
The popularity of direct drive is starting to become popular in mainstream sim racing now that people are constantly waiting for the price to go down.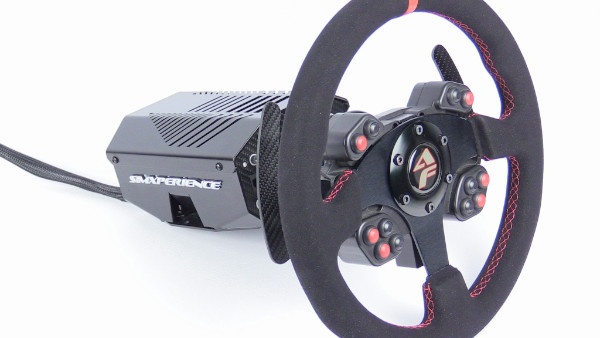 There are plenty of options in the market, but the SimXperience AccuForce Pro V2 is among the best you can hope for if your budget is limited. But is it really worth it?
The AccuForce Pro V1 has an outstanding build quality from the wheel, the wheel button box, wheelbase, and controller box. The only difference between the V1 and the V2 is the wheelbase. Because the V1's wheelbase is very expensive to manufacture, SimXperience redesigned the V2 to use a less expensive casing.
If there is something notable about the V2 wheelbase, it is the fact that it is shorter, making it easier to get all the parts of your rig in the right place. The carbon fiber front panel and 3D chromed SimXperience logo on the side are also present and carried over from the V1.
You will find a total of thirteen buttons between the four-button boxes with the horn button located in the middle of the steering wheel. Moreover, you will also find two bolts that can be used to adjust the engagement point and the shifter's throw.
Even though "direct drive" is likely the first thing that will pop into your mind when you hear the word AccuForce, its tuning is one feature that sets it apart from other steering wheels in the market.
Ultimately, its price makes it an excellent consideration for direct drive people since they usually cost around $1,000 and up. The SimXperience AccuForce Pro V2 costs about half the price of the average direct drive.
Unfortunately, the mounting and the cord are among the issues recognized as concerns as there is more clearance given to mount the wheelbase to your angle mount or simulator.
Overall, the SimXperience AccuForce Pro V2 wheel is the best you could get since it offers strong, smooth, and amazing force feedback. As long as the cons outweigh the pros, the AccuForce Pro V2 is a solid pick.
10.
Fanatec CSL Elite McLaren GT3 V2
| Best All-Around PS5 Steering Wheel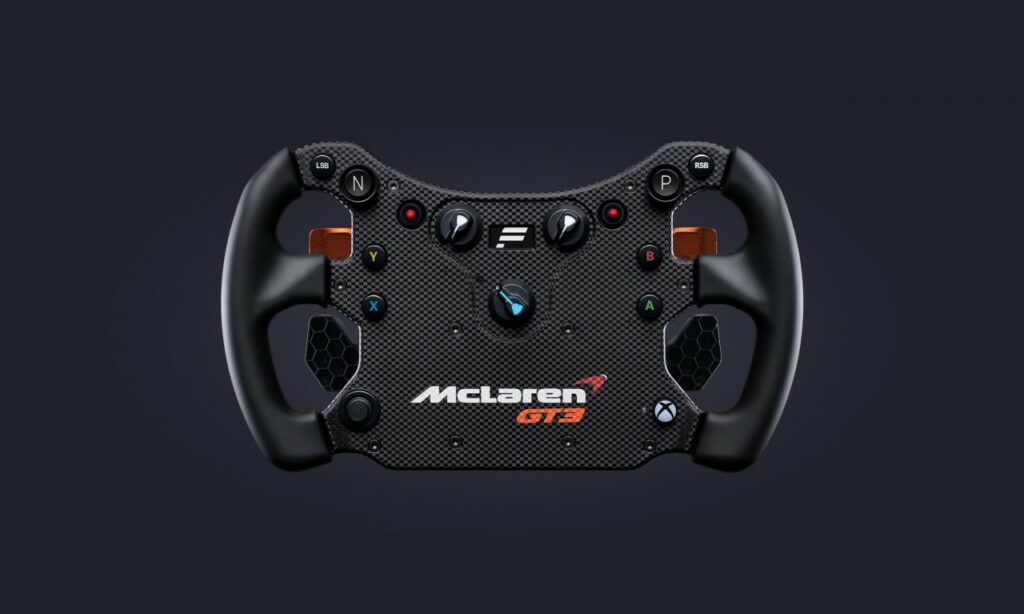 Rotation: 90 to 900 degrees | Pedals: 0 included pedals | Buttons: 7
The Fanatec CSL Elite McLaren GT3 V2 is a great steering wheel that performs marvelously, looks great, and feels good. We'll also look into why the CSL Elite McLaren GT3 is considered the best all-rounder PS5 steering wheel.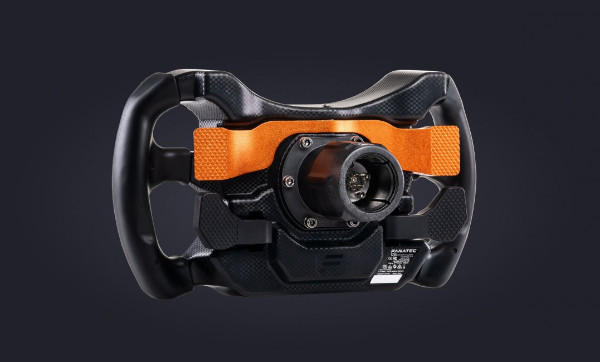 Apart from the improved compatibility, the shifters, paddles, and dual-clutch system feature a single piece of metal. The overall experience when upshifting or downshifting feels really positive as it features a push-pull mechanism. Having this feature allows you to change shifts even with one hand.
Moreover, the upgraded screen also uses modern OLED technology that displays a white readout of elements that show your RPM, speed, and other essential stats essential to your racing needs.
The quick-release system is also a noticeable improvement compared to the old model, which displayed a slight delay. But the price is what makes it worth considering since it is easily considered one of the cheapest wheel rims in the market today.
Overall, the price point, feature, and compatibility are what make this purchase worth considering.
11.
Thrustmaster TM Leather 28 GT
| Best Affordable Quality Steering Wheel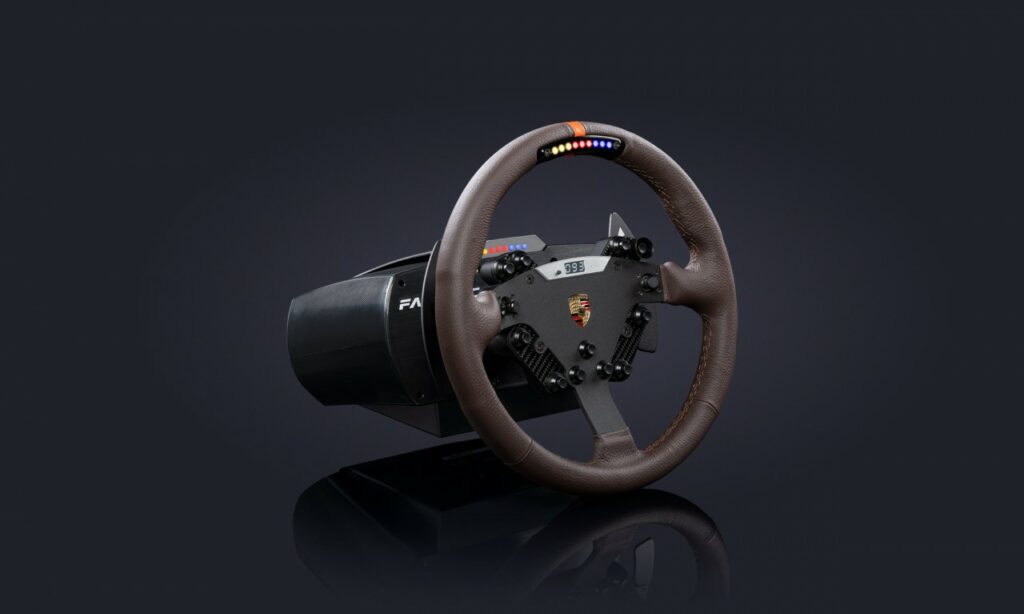 Rotation: N/A | Pedals: 0 pedal, 2 paddle | Buttons: 6
The Thrustmaster TM Leather 28 GT uses high-quality material. The main thing worth noting is the leather in its name, as it utilizes genuine hand-stitch leather wrapped around the steering wheel.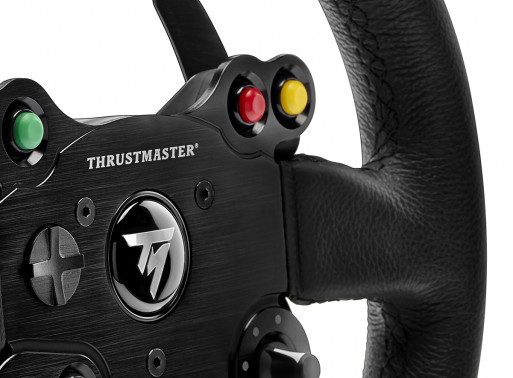 The wheel's leather wrapping covers a molded polyurethane ring and also has an internal hoop made of steel, ensuring the steering wheel's durability. The result shows a more flexible touch for enhanced comfort with the improved transmission of driving sensations and force feedback effects with all of these altogether.
Furthermore, the brushed metal is also another feature that is highly noticeable about the steering wheel, used for the whee's central steering plate and paddle shifters.
The weight of the rim is light enough to ensure optimized inertia and a more responsive force feedback. The buttons are also within reach, which allows the user to feel a smoother experience when playing.
Because it is very affordable, it is hard to look past the steering wheel, especially when you are on a budget.
Steering Wheel Shopping: What Should You Look for in Racing Wheels?
Apart from looking at how easy you can maintain and clean the steering wheel, you should consider the factors that matter to you. With so many options on the market, it is easy to get overwhelmed and confused.
To ensure you're guided accordingly, here is a racing wheel guide composed of the things you should look into when shopping for the perfect PS5 steering wheel:
Belt Drive
The belt drive is the most common type of force feedback system integrated into modern racing wheels. This system uses gears instead of belts, resulting in an experience that feels accurate to real-world driving. Since it utilizes rubber, the belt drive absorbs some of the force feedback even before it hits the wheel and your hands.
If there's a downside to belt drives, it is how they stretch and degrade over time and eventually require a replacement.
Gear Drive
Gear drives have the wheel's shaft connected to gears that are also connected to the primary force feedback motor. The primary benefit of this system is how the force feedback system aids in amplifying the torque.
On the other hand, the torque can jolt all over the place and can be extremely loud. Moreover, gear drive is among the oldest types of force feedback systems used on racing wheels, explaining why it is hard to find one on the market besides the Logitech G25.
Direct Drive
Of the three drive systems, direct drive is arguably the best type of force feedback. This system has the wheel connected or mounted directly to a monitor. With this type of setup, there is no delay or loss of torque.
Direct drive systems often require the use of larger motors since the wheel is mounted directly to it. Another benefit to this type of feedback system is that there is no delay or loss of torque.
Because this system is widely considered the best, the price of wheels that implement direct drive can be too steep, especially for beginners. So, when you're steering wheel shopping, consider looking into these aspects first before making a decision.
Best PS5 Racing Wheels: Frequently Asked Questions
Are PS5 steering wheels worth it?
If you're the type that values immersion and total control when playing your PS5 racing games, a gaming racing wheel for PS5 is definitely going to be worth it for you. It's a lot more satisfying to play racing games with a steering wheel, rather than with an analog stick or a mouse and keyboard. Steering wheels are designed to give you a truly immersive feel and more control over how you maneuver your vehicle when playing racing games. They're worth it to a lot of people, and we're sure it will be for you as well.
Should I get a wheel for the PS5 with force feedback?
It's no surprise that we will recommend that you pick up a steering wheel with force feedback. This feature on many steering wheels allows you to have a more immersive experience, as every bump, drift, and strip of gravel will feel real and tactile, which, for those used to driving, will only help them have a better sense of what kind of condition the road they're driving on is.
It's an amazing feature that has to be experienced rather than told. We highly recommend picking up a steering wheel with force feedback for your first one, especially if you can spare the cash for the best steering wheel for PS5.
Will PS4 (steering) wheels work on PS5?
Sony has announced that the PS5 will continue to support PlayStation-certified peripherals made for the PS4, which is good news for those of us who already own a PS4 steering wheel. All of the steering wheels listed here are compatible with PS4, Xbox One, and PC, which means that they will work with the upcoming PS5 as well.
There's no official word yet on whether Sony will release a steering wheel designed for the PS5 by themselves. Judging from the previous generation, however, it seems that Sony could be leaving the production of steering wheels for PS5 to third parties that have already made ones for the previous console generation.
Will a steering wheel for the PS5 work on PC?
The steering wheels featured here are mostly compatible with PS5 and PC. There are some, like the HORI RWA, that works exclusively with the PS4 and are therefore incompatible with PC unless you use third-party software to make it so. Therefore, if you own both a gaming PC or a gaming laptop as well as a PS5, you're going to have no trouble at all switching between platforms when using your racing wheels.
Will a steering wheel for the PS5 work on Xbox Series X?
Much like the PS5, Microsoft has stated that peripherals compatible with the Xbox One will be backwards compatible with the Xbox Series X. This is great news for those who have invested in a PS4 or Xbox One steering wheel and wish to bring over their peripherals to the next console generation. This bodes well for those who bought headphones for Xbox One too, because they won't need to buy a new one just for the Series X!
What PS5 games are steering wheel compatible?
Upcoming games such as Gran Turismo 7, Test Drive Unlimited, and WRC 9 are likely to have support for PS5 racing wheels. These games have realism and accuracy as top priorities for their games and will probably ship out with native steering wheel support. So if you're as hyped as we are to play these games, pick up one of these steering wheels and start driving the moment you get your PS5.
Wrap-Up
That's it for our list of the best racing wheels for sale on Amazon right now. Our most recommended product is the Logitech G29 Driving Force. Its excellent force feedback and great build quality are amazing value for money. It's sure to give you a great experience for what you pay for it. If you want something a lot more high-end (that isn't Fanatec) then we recommend the Thrustmaster T300.
Which of our list of the best racing wheels tickle your fancy, and which one did you end up buying? Let us know in the comments section.
Recap: The Best Steering Wheels for PS5 in 2022
1. Thrustmaster T300 RS GT | High-End Wheel for PS5
2. Logitech G29 | Overall Best Value Wheel with Pedals for the PS5
3. HORI Racing Wheel Apex | Entry-Level Racing Wheel for PS5
4. Thrustmaster T150 Pro | 1:1 Scale Steering Wheel for PS5
5. Fanatec Podium F1 | Best Racing Wheel for Experienced Users
6. Logitech G923 | The Best Budget Racing Wheel for the PS5
7. Fanatec CSL Elite Racing Wheel Porsche 918 RSR | Best Multiplatform Racing Wheel
8. Thrustmaster TS-PC Racer | A Great Racing Wheel for PS5 and PC
9. SimXperience AccuForce Pro V2 | The Perfect Direct Drive Racing Wheel
10. Fanatec CSL Elite McLaren GT3 V2 | Best All-Around PS5 Steering Wheel