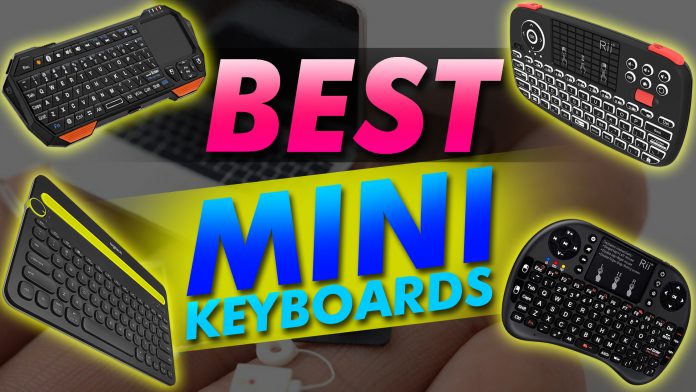 Ever feel so lazy when you're using your home theater remote control? When you have to type in anything on your smart TV, it's usually a very long, drawn-out, annoying process where you use the directional keys to select letters on the on-screen keyboard. It's very labor-intensive and we understand if you hate doing it – we do too.
That's why we're here today to introduce the best mini keyboards available right now, so you can say goodbye to having to use your clunky remote control to use your devices at a distance. These work with your media centers, PCs, Macs, iPhones, and Androids, and there's definitely going to be a mini keyboard that works for you.
The 9 Best Mini Keyboards at a Glance
What is a mini keyboard?
As the name suggests, a mini keyboard is a keyboard type device made much smaller than a traditional keyboard. This allows the user to have a convenient, mostly handheld input device for their PC, Mac, Android Box, Apple TV, phone, tablet, and other devices that accept keyboard input. It's a great thing to have if you're the type that likes to control their gadgets from a distance, use multiple devices and one input device, or people who just like novel tech stuff.
Many mini keyboards are wireless, but there are also wired options for people who want them. Whether wired or wireless, mini keyboards are a nice-to-have device that you don't really need, but will truly appreciate if you do have em.
Logitech K480 Bluetooth | Best Multi-Device Mini Keyboard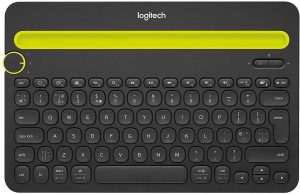 Logitech is no stranger to peripherals, being the go-to choice for many gamers for keyboards and mice. But the company also panders to the non-hardcore market as well: like mobile users. The K480 Bluetooth Mini Keyboard from Logitech is a nice choice for people on the go who depend on their tablets or phones to get work done.
In true Logitech fashion, the design is sleek and minimalist, like with many of their products. There is a nice groove on the top part of the keyboard that holds your phone or tablet securely. A dial on the left side allows you to control where your keyboard goes on up to three simultaneously connected devices.
While lacking a numpad, the keyboard layout is as bog-standard as it gets, which isn't necessarily a bad thing. This mini membrane keyboard has rounded square edges that keep each key distinct and separated. That said, it's not a very fun typing experience. There's not a lot of tactile feedback on each keypress so people who are used to mechanical keyboards might not find the response they're used to with this keyboard.
This doesn't mean that the K480 is a bad keyboard by any means. It's an amazing solution to people who need to have multiple devices. Connect your phone, tablet, and PC to a single keyboard like this, and enjoy a seamless transition between your three devices. If you don't have the budget for a thin laptop for work, this is also a solid option to keep yourself mobile.
Rii i4 Mini Bluetooth Keyboard | Baby's First Mini Keyboard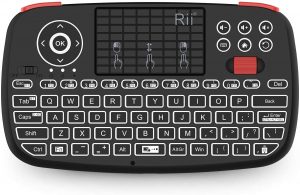 If you're looking for a keyboard that fits in your pocket and connects to literally everything you have – save for the fridge – you're gonna love the Rii line of keyboards. This particular model, Rii i4, is one of their best selling starter models. A truly mini keyboard with multi-touch gesture controls, this thing packs a lot in such a small package.
The build quality of the Rii i4 is completely plastic, but it doesn't feel cheap thanks to the matte finish. The keys are formed out of a rubber type material, reminiscent of the numpads of old cell phones and pagers. The keyboard itself is set in a standard QWERTY layout, with some of the keys, such as the brackets, were moved to the bottom part to save some real estate.
You'd be forgiven to think that this was a console controller thanks to the left and right bumper buttons, which act as a left click – right click with certain apps. On the left side are directional keys, while multimedia keys hang around the right flank of the keyboard. Under the multimedia keys is a roller that you can use to easily scroll up and down your pages.
This mini keyboard works with pretty much anything, from a PC to a Raspberry Pi, from a PS4 to a Smart TV. This multifunctionality is awesome and really gives a lot of value to your purchase. The only thing we don't like is how close the keys are spaced, and we see that it's going to be a problem for people with bigger hands.
Rii i8+ Mini Wireless Keyboard | Mini Keyboard for Home Theaters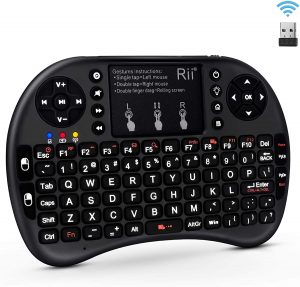 The i8+ from Rii is the cooler Chad brother of the i4, and it deserves to be in a lot of respects. An upgraded trackpad, better multimedia key layout, and the addition of a second directional pad make the i8+ a considerable upgrade from its forebears.
First, the build: the i8+ now mimics the shape of a console controller, in an effort to make things a lot more ergonomic. As we're no stranger to controllers ourselves, this fits rather perfectly in our hands. They also took off the L1 – R1 buttons, which didn't really click (get it?) with some of the users of the i4.
The keyboard layout is… still a bit weird, but we think that's something we should see as a consistent theme throughout this list. But the way they conserved the keyboard space still baffles us: why is the spacebar so small? And why are the punctuation keys at the very bottom?
It's not a bad keyboard, however, as it paired seamlessly with any Bluetooth-compatible device, such as our Smart TV. This made browsing YouTube and Netflix a lot easier for us.
Arteck HB030B Mini Keyboard | The Perfect Mini Keyboard for People On The Road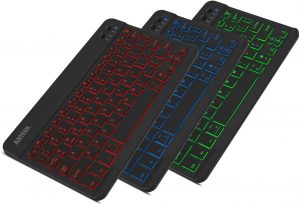 The Arteck HB030B is a Bluetooth capable mini keyboard that works with all major OS's that people use: MacOS, iOS, Android, and Windows. If you're the type that travels a lot with several devices, this might be the perfect mini keyboard for you.
Its light plastic chassis really helps with the lightweight feel of this keyboard, which is much appreciated since you want a mini keyboard to be light as possible. Keys are at a pretty standard layout as well. Each square key is nice and tactile, which reminds us of the Alcantara keyboard covers from Microsoft Surface products.
What we truly appreciate from this mini keyboard is the layout Arteck chose to go for – a standard layout, with all the keys in the right places. Granted, it's not as small as the first few we've added to the list, but not needing to learn a brand new layout is a welcome sight.
Another thing to note is the static RGB backlighting that gives the HB030B a nice little flair. The lighting's not as fancy as Shroud's mechanical keyboard, but it's a cool feature that helps your mini keyboard stand out, especially if you love your RGB peripherals. Overall, pretty decent keyboard with seamless Bluetooth connectivity, an amazing 6-month battery life, and a standard keyboard layout that feels natural.
Fosmon Mini Bluetooth Keyboard | Mini Keyboard with The Best Trackpad Idea Ever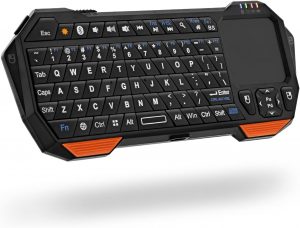 The Mini Bluetooth Keyboard from Fosmon has possibly one of the coolest designs available on the market today. It's a great keyboard to use if you happen to have a desktop PC or a Mac Mini installed in your living room as a home theater system. Never get off the couch or use a keyboard and mouse ever again!
One of the coolest features of this mini keyboard is its trackpad. It's controlled by your thumb and is wide enough that your cursor gets to at least half of a big screen, which is easily remedied by working at the sensitivity from your OS. The left and right bumpers act as left click and right click, which feels very intuitive indeed.
The keyboard layout is as standard as it gets, except for the Enter key which can be found at the very bottom. We don't mind this tradeoff as it keeps the layout a nice, perfect square. What's hard to do, however, is to type on it. Since the entire right side of this mini keyboard is taken over by the trackpad, you'll need to really reach out if you want to type on this thing. Annoying, really.
Besides that, everything else is stellar. It worked on all our Bluetooth-enabled phones and computers with no problems. It was so fun to use the trackpad and we easily got to where we needed to go in our browsers. We even tried to play CSGO on it, which was a huge mistake. Overall, pretty good mini keyboard that fits right in with your TV remote.
iPazzPort Backlit Mini Keyboard | Mini Keyboard for People Who Can't Let Go of The Laptop Layout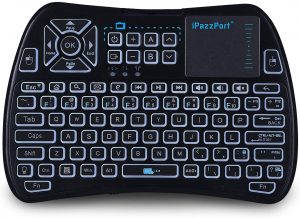 iPazzPort's updated Mini Wireless Keyboard adds backlighting and a more responsive touchpad to an otherwise mediocre first release. This is one of the most intuitive mini keyboards we've had on this list and is definitely a great addition to any PC or Mac setup.
One of the first things you'll notice is where the trackpad and d-pads are located. Just like a regular laptop, this mini keyboard's trackpad is located on the bottom. This makes it intuitive for people used to laptops. There's a helpful scroll section located at the right of the trackpad, which removes the necessity of multi touch support.
The keyboard itself is decent. Rubber keys but with great tactile feel, it feels pretty nice to type in this keyboard. The multimedia keys and d-pads aren't anything to write home about but are definitely nice to have. What's nice is that there's also backlighting on this thing. If ever you're running a late night movie marathon, you can comfortably control your PC or Mac from the comfort of your lounging area.
What we don't like is how everything is laid out – the backspace key is under the enter key, which gets weird. The place where the backspace should be has been replaced by the tilde key, which no one except gamers use, we think. However, it's not a deal breaker and we think the the iPazzPort Mini Wireless Keyboard is still worth your money.
ANEWISH Mini Wireless Keyboard | The Most Symmetrical Mini Keyboard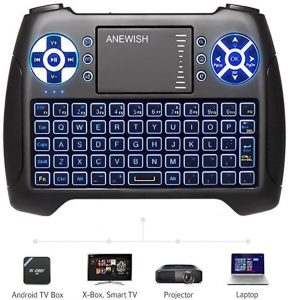 It seems like many companies that produce mini keyboards pretty much copy each other's designs. This case is very true with the ANEWISH Mini Wireless Keyboard, which adopts the same gamepad design that many of these keyboards use. This doesn't mean that the ANEWISH isn't unique in its own way, though.
One thing to note however that this keyboard isn't Bluetooth-enabled. It uses a 2.4GHz USB receiver that plugs into any available USB port. This means that this keyboard is best used with a Mac or a Windows PC. Think of it as a secondary keyboard rather than one you can carry around. However, if you really need to, you can use a dongle to connect it to your mobile device and it should work just fine.
Just like the Rii keyboards, the trackpad is located on top of the device. There's no multi touch support but it does have a scroll wheel on the trackpad itself. The keyboard layout is also pretty nice, with everything being where it should be. There's no trouble when it comes to getting used to this keyboard's layout.
This is a pretty standard wireless keyboard that works with Macs, PCs, and any media streaming device that has a USB input on it. It's a good secondary keyboard to have when you just can't be bothered to get up and pause your Spotify playlist. Its symmetrical design is sure to gain quite a few fans.
ANEWKODI Mini Wireless Keyboard | Large Touchpad Mini Keyboard for Android Box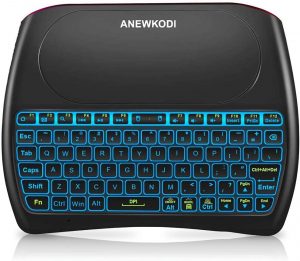 If you're looking for the best mini keyboard for your Android Box home theater system, this mini wireless keyboard from ANEWKODI is a great piece of tech that allows you to easily control your system from the comfort of your couch. This amazingly well-designed mini keyboard is a joy to use and an even bigger joy to hold.
This mini keyboard uses a matte plastic chassis that keeps things lightweight. There's no Bluetooth connectivity at all. Rather, his keyboard utilizes a 2.4GHz USB receiver that plugs into your PC, Mac, or Android Box. We haven't tried this with an Amazon Firestick or Roku but since those have their own USB ports, we imagine this will work.
The one thing that truly stands out for this mini keyboard is the huge trackpad on top. The width of this trackpad is really helpful especially for wide screen type TVs or monitors, as you don't need to lift your finger again and again just to reach one end of the screen to the next.
As for the keyboard itself, it uses rubber keys that let the red backlighting shine through pretty well. There's a nice, barely audible click every time you press a key that help you know that you've pressed the right keys. All other buttons are controlled by its Fn key, which is a welcome sight. Overall this keyboard is a pretty good buy especially for people who own an Android Box.
ILEBYGO Mini Wireless Keyboard | 100% Touchscreen Mini Keyboard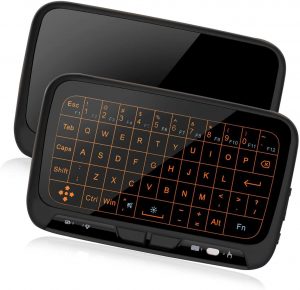 The future is here with ILEBYGO Mini Wireless Keyboard. It's kind of amazing, really – a touchscreen type keyboard and trackpad combo with haptic feedback that looks really, really cool. It's unlike anything we've ever seen or reviewed before in this site, and deserves its spot in this list of the best mini keyboard gadgets you can buy right now.
The keyboard uses a 2.4GHz wireless receiver instead of Bluetooth, which we understand – it must be complicated to transmit this kind of awesomeness to your device. So, if you want this to work with your tablet, you might need to attach an OTG dongle to your phone so you can use the receiver yourself.
To use the trackpad, you need to press a button under the volume rocker on the right side that switches the screen from keyboard to trackpad. It's a nifty feature but definitely annoying for some as you constantly have to switch between the trackpad and keyboard whenever you need to use one or the other.
The backlighting is pretty cool too, and customizable to an extent. There is haptic feedback on the keyboard that allows you to have a bit more responsiveness when you're typing, which is truly appreciated. Overall, this is a really cool, Star Trek looking device that looks amazing and is definitely a stand-out gadget that you can add to your home theater setup.
Do I need a mini keyboard?
As we always say in these kinds of articles, it all boils down to what you want to use it for. For many people, a mini keyboard is kind of like a remote control for their devices, such as their PC, Mac, Android Box, Apple TV, phone, tablet, and other devices that accept keyboard input. Whether you're on the go or incredibly lazy, there's always a use for a mini keyboard. The main deciding factor will always be how much you need it, in the end.
Can an iPad or Android tablet use a mini keyboard?
Many of the mini keyboards in this list have some sort of wireless connection, making them very much usable with iPads and Androids. In fact, some devices, such as the Logitech K480, are designed to be used with phones and tablets. As long as a device has Bluetooth or an OTG that lets them connect a receiver to their device, it can definitely handle a mini keyboard.
How to use a mini keyboard?
Using a mini keyboard depends on the design of the mini keyboard itself. Most mini keyboards, as a rule, are designed to be held with two hands. This means that most of the time you will have to type with your thumbs.
While that's not necessarily something we're not used to (since we all have smartphones), for some, especially those with smaller hands, it might be a bit difficult to get used to typing on such a small device. Also, with some devices such as the Fosmon Mini Bluetooth Keyboard, have unusually long designs that kind of make the typing experience even harder. In the end, using a mini keyboard is a matter of getting used to the layout.
How do I connect my mini keyboard to my phone?
Many wireless mini keyboards are capable of Bluetooth connectivity, so it's only a matter of pairing it up with your phone or tablet and just typing and scrolling away. However, for some mini keyboards that use a 2.4GHz receiver instead of Bluetooth, you might need to use an OTG or a hub to connect the receiver first before getting to use it. Also, some phones may not be able to support these kinds of gadgets, so pick out your mini keyboard carefully and make sure it will be compatible with your device of choice.
Can I use a mini keyboard for gaming?
Short answer: Yes. Long answer: Why would you? Mini keyboards are designed to work with a lot of devices, but they're mostly used as remote controls for other functions such as browsing and light typing. When playing traditional PC games that require WASD keys as input, you will most likely find it incredibly hard to use a mini keyboard to play at all. Some, like the Rii i8+, can function as a gamepad, but there are very few games that support them as controllers. But even if you use a gaming mouse with your mini keyboard…
Can I use a mini keyboard and mouse set for gaming?
We'd like to reiterate the above answer to this question: sure, you can, but why would you? But of course, this is a free country: we're more than happy to tell you to go try it out yourself.
We did. It wasn't that fun.
There's also the problem of many mini keyboards adopting the controller setup, which requires two hands to operate. Unless you have three hands, there's no discernible way to hold both the mini keyboard and the mouse. You can also use the trackpad built into the keyboard, such as the Fosmon mini keyboard, but it's usually pretty hard to play competitive FPS games with a trackpad. It would be a pity if you just dropped a cozy few hundred dollars on a brand new monitor for Valorant, but you can't play it well enough with a mini keyboard and trackpad.
Can I use a mini keyboard for my PS4 or Xbox One?
You can connect a mini keyboard to your PS4 or Xbox One, definitely. This allows you to type much faster in in-game chat, allowing you to communicate better if you don't use a headset with a mic, or if you just want to trash talk your opponents into submission. While there are mini keyboard attachments already available out there, grabbing a mini keyboard from this list is often the most economical option compared to buying branded peripherals for your PS4 or Xbox One.
Here is a sample of how a mini keyboard works in practice:
Recap: Best Mini Keyboard 2020
That's it for our list of the best mini keyboards money can buy right now. As always, it's going to be a matter of preference on which one you'll finally pick up. But our advice is always going to be: think about what you're using them for.
If you're using your mini keyboard for a home theater, we recommend picking up the Rii i8+ or the ILEBYGO Mini. If you want to use your keyboard with multiple devices, the Logitech K480 is the perfect one for you.