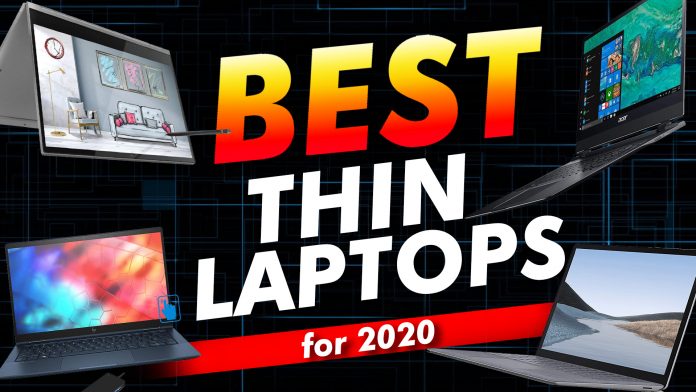 Now that the world is moving towards a more home-based setup for work and school, people are starting to take a better look at getting their own laptops. Most people who buy laptops are looking for portability, and there's nothing more portable and lightweight than the thinnest laptops you can buy right now.
There are plenty of choices out there, but picking the one for you is overwhelming. Let this guide help you in your final decision. We put down a list of 13 of the very best thin laptops available in the market right now, so you can find the best one that's a right fit for your needs.
The Best Thin Laptops At a Glance
What are some things to consider when buying a thin laptop?
Screen quality. You will be looking at your laptop screen a lot. It only makes sense that you like what you're looking at. A lot of thin laptops have sacrificed screen quality for its size. It's not necessarily a deal breaker for everyone except for people who need – or just plain want – better screen quality. Gamers, designers, video editors, and animators will need high quality screens for their work or leisure. However, if you don't mind not having a 4K screen, this probably wouldn't bother you. While there's always the option of getting a second screen, it does defeat the portability factor of your laptop.
Keyboard feel. You need to feel good when typing on your thin laptop. Some people prefer a more tactile feedback, while some prefer to type a little lighter, still others want to type silently. Generally, thin laptops use super slim keyboards that aren't that noisy. But for those who want a bit more clack to their clicks, you can either get a gaming laptop or use one of these mechanical keyboards.
Usage. What you mainly use your thinnest laptops for should influence your decision. Mostly, you're going to want something like the Dell XPS series or other gaming laptops if you need to do a lot of heavy tasks, such as graphic design, gaming, video editing, or coding. These usually have the power to run the tasks you need it to. Others may just want a thin machine for basic things like streaming, browsing, and media viewing, in which case laptops like the Surface Book should be plenty for them.
Storage. If you plan to install a lot of programs and files in your internal storage, you might need to consider getting a laptop with big storage. 1TB is usually the standard, but you always have the option of paying for a cloud system or getting an external hard drive or solid state drive.
Battery life. Battery life is important if you're picking up the thinnest laptop in the world to take everywhere. Depending on how mobile you are, you will need to invest in a thin laptop with great battery life. There is also the option to buy a power bank for your laptop if you need the extra mileage. However, if you're usually at home or within range of a wall outlet, you shouldn't have any trouble with low battery life.
The right ports. You should always make sure that you choose thin laptops with USB 3.0, and USB-C. Many peripherals, such as some wireless headsets, keyboards, and mice, require a USB 3.0 connection to work. USB-C is also slowly becoming a standard with a lot of gadgets, meaning it should be a must in any thin laptop for 2020.
Build Quality. This depends on your usage as well. Most thin laptops are pretty flimsy, a huge tradeoff for how skinny it is. Therefore, you have to make sure that you buy a thin laptop that has a metal chassis, or find a good laptop case for it.
Budget. Finally, your thin laptop choice should work with the budget you have set for it. Usually, the laptop pays for itself if treated with care. But be mindful of the specs before you purchase, and do your research to see which one works the best for you.
Acer Swift 7 | Thinnest Laptop in the World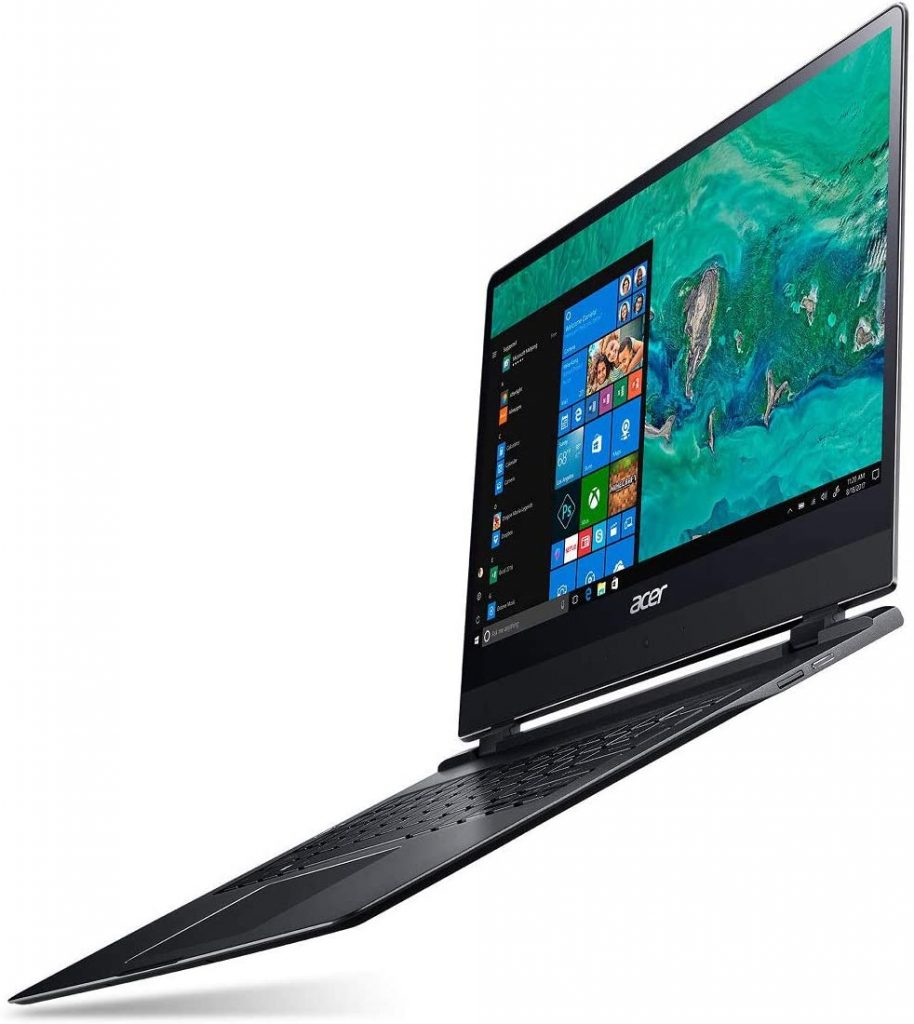 CPU: 1.5 GHz Intel Core i7-8500Y (dual-core, 4MB cache, up to 4.2 GHz)
GPU: Intel UHD Graphics 615
RAM: 8 GB LPDDR3
Storage: 512 GB NVMe SSD
Display: 14-inch Full HD CineCrystal IPS touch display
Size: 31.7 x 19.2 x 0.99 cm (12.48 x 7.55 x 0.39 inches)
Weight: 0.89 kg (1.96 pounds)
OS: Windows 10
If you're looking for the best thin laptop that's just that, you can't go wrong with the Acer Swift 7. It's a flagship Ultrabook holding the record for thinnest laptop in the world. At a third of an inch thick and weighing less than two pounds, you'd find burgers heavier than this laptop.
It's definitely the thinnest, but it's not a high performer by any means – the Swift 7 is a clear example of form over function. It features an underpowered Intel Core i7-8500Y, a dismal Intel UHD Graphics 615, and a mere 8 GB of RAM. Not to mention the woefully tiny 512 GB of SSD storage that comes with it. Given that this flagship product is at a pretty premium level that's not a lot of power.
Its saving grace that isn't its svelte form is the screen, which is a huge 14-inch Full HD touch display. Despite being capable of just 1080p, colors are still very crisp and clear. Touch response is nice and quick, and the games (those it can run) look pretty great at 1080p. However, when considering the cost of entry for this laptop, you'd expect at least 4K video.
Other nitpicks include the weird keyboard layout (easily remedied by plugging in an external mechanical keyboard of your choice) and the unusually rectangular trackpad, which we found always lacked enough vertical space when scrolling up. We want to like the Swift 7 – it's sleek, sexy, and definitely portable. But for what you get at such a premium level, it just isn't worth it for us. If you're just looking for a basic laptop that's really skinny, this is the one for you.
HP Spectre x360 | Thinnest Laptop with 4k AMOLED Display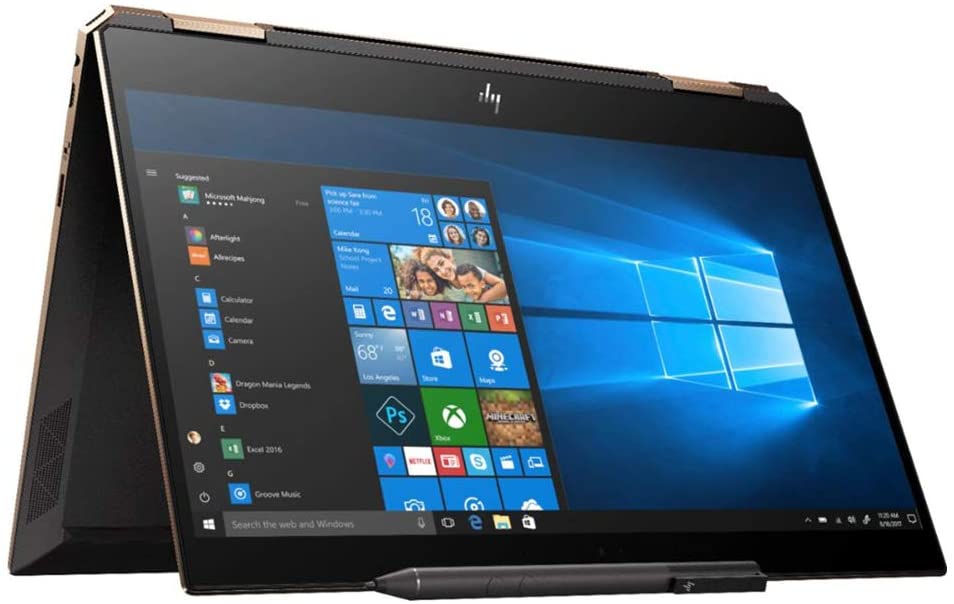 CPU: 1.3 GHz Intel Core i7-1065G7 (quad-core, 8MB Intel Smart Cache, up to 3.9 GHz with Turbo Boost function)
GPU: Integrated Intel Iris Plus
RAM: 16 GB LPDDR4 (3200 MHz)
Storage: 512 GB SSD (PCIe, NVMe, M.2)
Display: 13.3-inch 4K (3,840 x 2,160) AMOLED
Size: 12.04 x 7.66 x 0.67 inches (30.6 x 19.45 x 1.69 cm)
Weight: 2.87 pounds (1.3 kg)
OS: Windows 10
Welcome the HP Spectre x360, possibly one of the coolest looking laptops we've ever seen. HP really did their best to make this product look unique and premium, and we're all for it. It's a huge improvement over its 2019 brother, which boasted pretty good features and great battery life. However, better specs do come at a trade-off.
It's an amazing machine, with an Intel Core i7-1065G7 chip in it, boostable up to 3.9 GHz to handle those really processor-heavy programs, while 16GB RAM ensures that you can run a lot of those programs at the same time. The only thing we wish was better was the GPU, which is an underpowered Intel Iris Plus. Don't expect to see any heavy gaming with the Spectre x360 2020.
Something that's better than its futuristic cyberpunk looks is the screen: a 4K AMOLED touch screen. AMOLED tech has come a long way, and it truly shows with the Spectre x360's screen. Despite an underpowered video card, 4K videos still look very sharp and detailed on this screen and even third party styluses have great response times with it.
The only downside is that in upgrading everything else, HP seemed to have forgotten the battery. It's woefully short at only 4 hours per full charge at full performance. If you're looking to do some heavy lifting with this thin laptop, you might want to plug in. Otherwise, if you're looking to get a powerful laptop that makes an impression when you show up to a meeting, the HP Spectre x360 2020 is the laptop for you.
HP Elite Dragonfly | Thinnest Professional Laptop for Business and Travel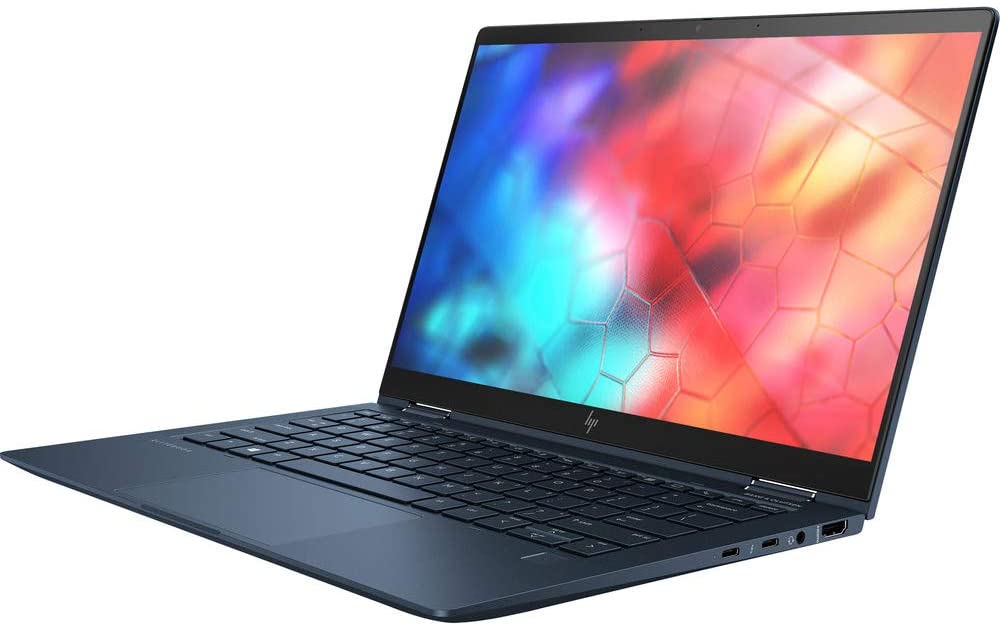 CPU: 1.8 GHz Intel Core i7-8565U (quad core, 8MB cache, boostable to 4.6 GHz)
GPU: Intel UHD Graphics 620
RAM: 16 GB LPDDR3 (2,133 MHz)
Storage: 512 GB PCIe SSD
Display: 13.3-inch, FHD IPS BrightView WLED
Size: 11.98 x 7.78 x 0.63 inches (30.42 x 19.76 x 1.6 cm)
Weight: 2.2 pounds (0.99kg)
OS: Windows 10
This is the thinnest work laptop ever that's aimed at people at the top. HP released the Elite Dragonfly as a professional laptop that's meant to have increased security, premium features, all the ports in the world, and a striking design that really catches people's eyes.
As far as professional laptops go, it's amazing. Its Intel Core i7-8565U is boostable up to 4.6 GHz, and is supported by 16 GBs of RAM – more than what strictly for work laptops need. Its SSD storage is upgradeable to 2TB, and a 2-in-1 13.3-inch FHD IPS WLED touchscreen. There are also Bang & Olufsen speakers, which by association alone deserves a name drop.
The screen is amazing to look at. HP's WLED screen is engineered to make colors pop. Also, even at a 60 Hz refresh rate, the screen is pretty good with high quality movies. Even CSGO looks pretty good, but we don't really recommend any PC games with this laptop. This is, after all, a laptop for lawyers, executives, and high rollers.
Finally, the security features. It's got a built-in fingerprint scanner, for one. Second is HP Sure Start covering its boot sector. Even if the PC is compromised, you will always be able to recover your files – even if your attacker deletes its bios. There's also HP's privacy camera, which basically adds a shutter to the webcam to cover it when you need to. Finally, HP's Sure View allows you to protect your screen from prying eyes.
Overall, the HP Elite Dragonfly is an amazing machine for work. The security features, incredibly quick performance, tons of ports, and strikingly good looks all work together to give you an amazing professional laptop experience.
Huawei Matebook 13 | Thinnest Budget Flagship Laptop
CPU: 1.8 GHz Intel Core i7-8565U (quad-core, 8 MB cache, up to 4.1 GHz)
GPU: Intel UHD Graphics 620 OR Nvidia GeForce MX150 (2GB GDDR5)
RAM: 8 GB DDR3 (2,133 MHz)
Storage: 512GB SSD
Display: 13-inch 1440p IPS touch display (2,160 x 1,440)
Size: 11.26 x 8.31 x 0.59 inches (28.60 x 21.10 x 1.4 cm)
Weight: 2.87 pounds (1.3 kg)
OS: Windows 10
Huawei is one of those Chinese companies that keep a close eye on what Apple and Windows users love about their respective laptops and then mesh those two together to create something great. The Matebook 13, Huawei's best thin laptop, is one such project for the company.
It boasts an amazingly quick Intel Core i7-8565U and a respectable Intel UHD Graphics 620 chip, both very good performers in the laptop hardware scene. Its crystal clear 13-inch 1440p display does games and movies justice. Everything is packed into a nice package that's less than an inch thick.
The great build quality is something to be loved here. It's on par with the aesthetic of the most premium Macbooks, with a tough and sleek aluminum shell covering everything. There's even a fingerprint reader that adds a bit more security compared to face recognition from Windows Hello.
However, what's really annoying is the limited amount of RAM for both the low and high end models of the Matebook 13. 8 GB of RAM in 2020 should be a crime, as it's woefully limited especially for those who need good processing power. It is to be noted, though, that the Matebook 13 is at a pretty low price range compared to most premium laptops. It's a trade-off, but a trade-off that we wish didn't happen at all.
ASUS ZenBook 14 | Thinnest ASUS Laptop with the Best Screen-to-Body Ratio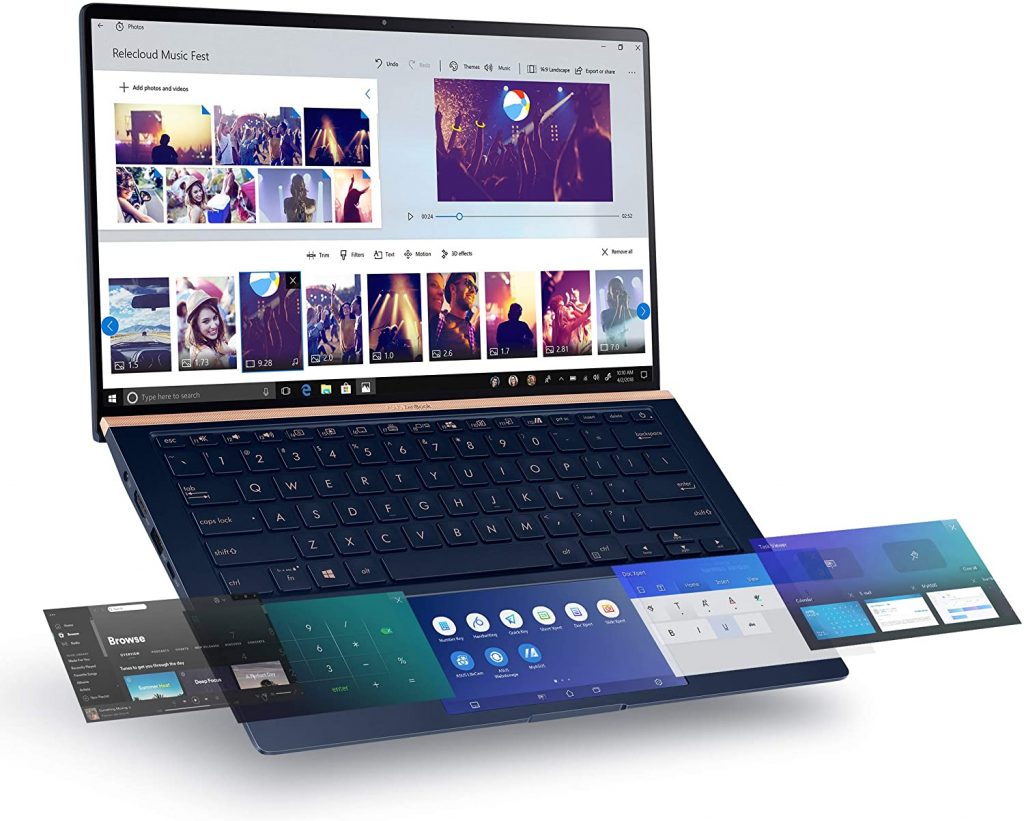 CPU: Intel Core i7-8565U
GPU: Intel UHD Graphics 620
RAM: 16 GB DDR4
Storage: 512 GB SSD (PCIe, NVMe)
Display: 14-inch 1920 x 1080 IPS display
Size: 12.56 x 7.83 x 0.63 inches (31.9 x 19.9 x 1.59 cm)
Weight: 2.62 pounds (1.19 kg)
OS: Windows 10
ASUS is one of the most ubiquitous PC brands in the market. That's why their claim of producing "the world's smallest 14-inch laptop" carries a lot of weight behind it. And boy, do those 14 inches really show, because the ZenBook 14 has a really huge screen for its size – but don't let that be the main thing for you, because that huge screen isn't really all that good.
That doesn't mean that it isn't a beast in a slim package, however. ASUS pulled out all stops and gave this book an Intel Core i7-8565U supported by 16 GB of DDR4 RAM, along with 512 GBs of SSD storage. This lightning fast machine also has an Intel UHD Graphics 620 to play with the famed 14-inch screen – which doesn't do the graphics chip a lot of justice.
The screen is dull compared to others in this list, and at how ASUS is pricing this thing, you'd think you deserve at least an AMOLED screen if not a Retina clone altogether. If you're looking to do gaming on this thing (and we think you absolutely should) you'd be better off plugging a better gaming screen to its HDMI port.
Otherwise, this little machine has a lot of wow-worthy features that are well worth the price tag. And if you're not that picky with how you see your content or games, you'd be happy enough with the screen. Overall, we do recommend picking up the ASUS ZenBook 14 is an excellent choice for either a primary or secondary PC.
ASUS ROG Zephyrus S | Best Thin Laptop for Gaming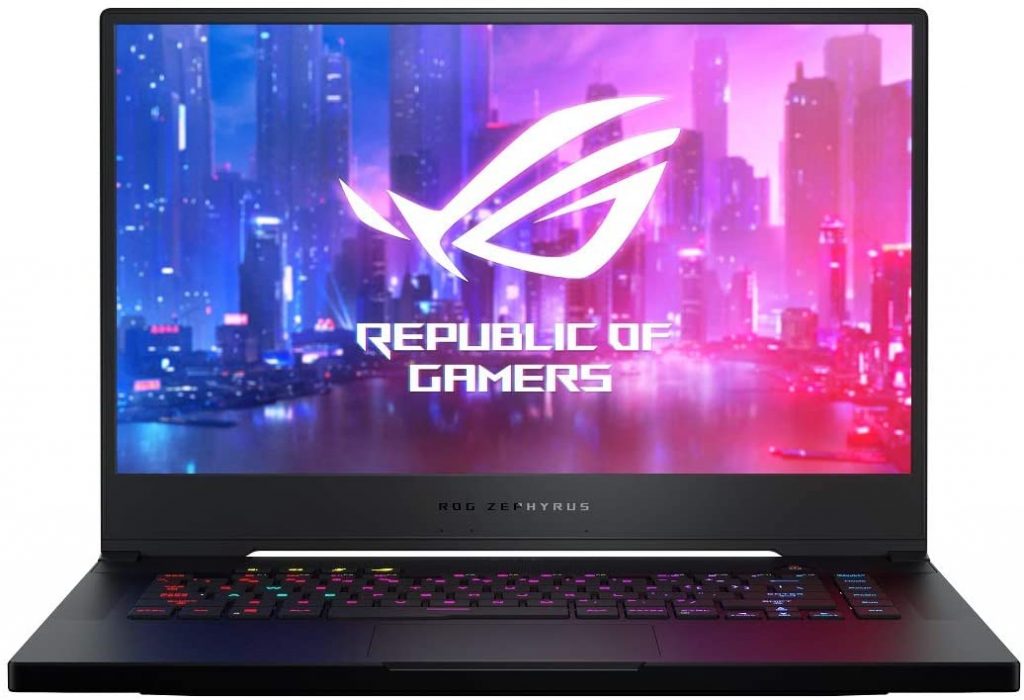 CPU: 2.6 GHz Intel Core i7-9750H
GPU: NVIDIA GeForce RTX 2070
RAM: 24 GB DDR4 RAM (2666 MHz)
Storage: 1 TB HDD (PCIe, NVMe)
Display: 15.6-inch 1920 x 1080 FHD IPS
Size: 14.1 x 10.5 x 0.63 inches (36 x 26.8 x 1.65 cm)
Weight: 4.62 pounds (2.1 kg)
OS: Windows 10
The ASUS ROG line of portable gaming setups has long been regarded as one of the greats by the PC gaming community. ASUS has really stepped up their game with the ROG Zephyrus S, the thinnest gaming laptop we've ever seen. This beast of a PC comes in at less than an inch thick and only 4.62 lbs heavy. If you want to start gaming but don't have the space for a full rig, this is the next best thing.
It sports a 9th generation 2.6GHz Intel Core i7-9750H, a possibly overkill 24 GBs of DDR4 RAM, and an NVIDIA GeForce RTX 2070. Yes, you heard that right – an RTX capable laptop, at less than an inch thick. This makes it the thinnest laptop with a good dedicated graphics card, working pretty well with the Zephyrus S' 15.6-inch FHD IPS screen, with a 144 Hz refresh rate. To top it all off, there's a 1 TB HDD to store all your games. A pity it isn't an SSD, but you can't have everything.
Suffice to say, this gaming laptop will be able to run anything you throw at it for the next 10 years. And you can run it for a long time too, with ASUS putting in highly efficient fans that keep thermals low, ensuring top performance from your i7 and video card at all times.
There's also an RGB keyboard that mimics the feel of a mechanical keyboard, if people who love RGB so much needed any more convincing to pick this bad boi up. We love everything about this machine, except for its battery life. Extended use sessions will always require you to plug into a wall outlet. The Zephyrus S can only be enhanced by plugging in a great pair of 7.1 surround sound headphones for that ultimate gaming experience.
Samsung Galaxy Chromebook | Thinnest Chromebook for Students and Writers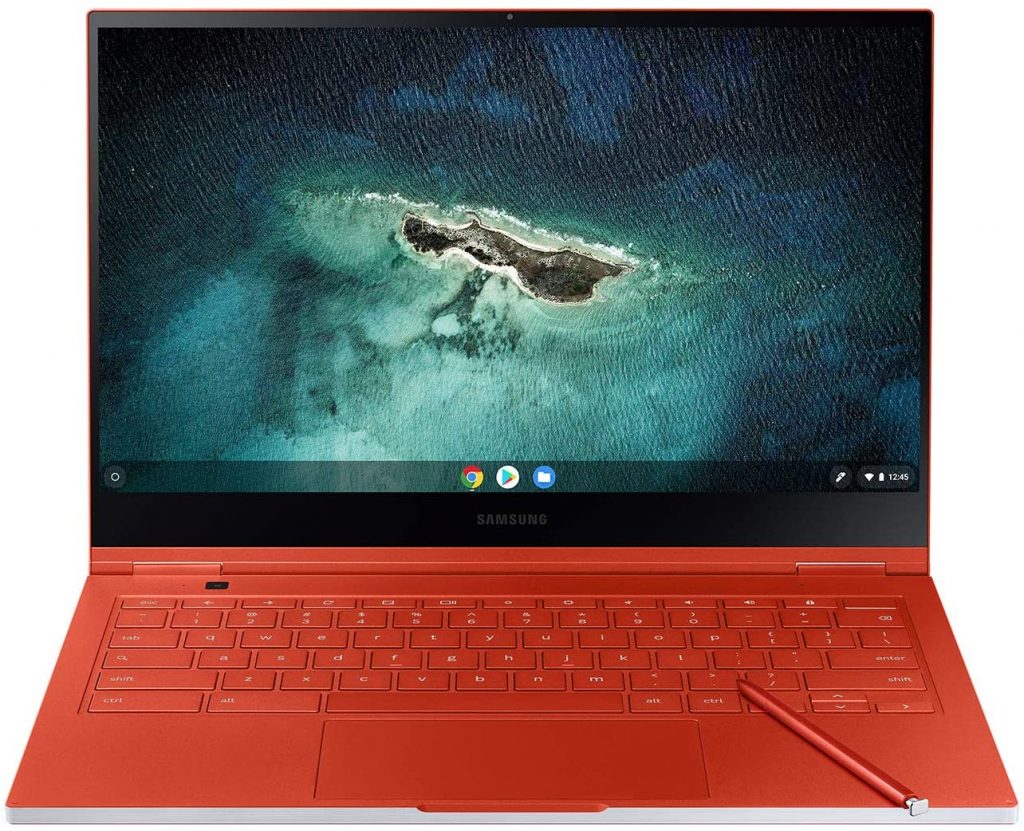 CPU: 10th Gen Intel Core i5
GPU: Intel UHD Graphics
RAM: 8 GB DDR4
Storage: 256 GB HDD
Display: 13.3-inch 4K AMOLED screen
Size: 11.9 x 8 x 0.4 inches (30.2 x 20.3 x 1.01 cm)
Weight: 2.4 pounds (1.08 kg)
OS: Chrome OS
Chromebooks are a great alternative for people who don't need a lot from a laptop. For people who work mostly in the cloud, who don't really use a lot of processing power with their apps, a Chromebook would more than suffice for them. But buyers of the Samsung Galaxy Chromebook may be in for a surprise: it's stupidly powerful for a Chromebook.
While Chromebooks are supposed to basically be bigger Android phones with keyboards, the Galaxy Chromebook comes with a 10th Gen Intel Core i5. Incidentally, this is also the thinnest laptop with integrated graphics: the Intel UHD Graphics chip. It's got 8 GB worth of DDR4 ram and 256 GB HDD storage, perfect for all the documents you're going to type. We might even say that this is one of the best laptops for writers around.
One thing you might notice is its screen. At 13.3 inches, its 4K display punches way above its weight but does it beautifully. There's nothing to hate about a 4K AMOLED display that works with an S Pen. Colors are beautifully crisp, videos are nice and responsive…. but gaming? Meh, it's a Chromebook. You're not going to be doing any gaming here. This is purely a work laptop.
You can connect your Samsung phone here without any problem and enjoy a seamless ecosystem ala Apple. The S Pen serves as both a tool for drawing and presentations, giving an extra edge to every Google Slides session. Besides the dismal battery life and the bad cooling, the Samsung Galaxy Chromebook is a stellar choice for those who don't need much from a PC, such as students and writers.
Microsoft Surface Laptop 3 | Thinnest Laptop for Work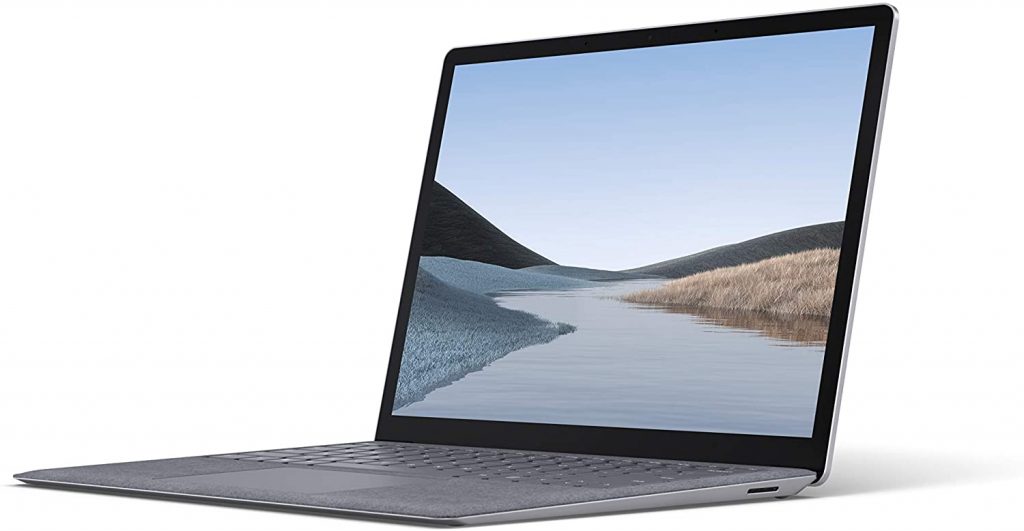 CPU: 2.1 GHz AMD Ryzen 5 3580U (quad-core, 4MB L3 cache, boostable to 3.7 GHz)
GPU: Radeon Vega 9
RAM: 16 GB DDR4
Storage: 256 GB SSD
Display: 15-inch PixelSense touchscreen (2,496 x 1664)
Size: 13.4 x 9.6 x 0.57 inches (34.2 x 24.3 x 1.4 cm)
Weight: 3.40 pounds (1.54 kg)
OS: Windows 10
The Surface line of laptops and 2-in-1s from Microsoft have always had the reputation of being the nicest looking Windows machines, albeit underpowered. The same thing happened to the Surface Laptop 3. As far as Windows laptops go, the Surface Laptop 3 is a definite looker in the best thin laptop scene – but not as powerful as those in the same line.
The Surface Laptop 3 features a quad-core 2.1 GHz AMD Ryzen 5 3580U that's boostable up to 3.7 GHz for that extra push, especially processor dependent apps such as Adobe Premiere. There are 16 GBs worth of DDR4 RAM. It sounds great on paper, but the AMD chip just doesn't do very well when it comes to processor heavy tasks.
It has an amazing screen however, featuring a 15-inch PixelSense touchscreen. Its capable of up to 1440p, and it really shows in the detail and quality that you get from HD movies and BluRay rips. Gaming would be amazing in 1440p on this screen – if it wasn't for the AMD Radeon Vega graphics integrated in the processor. This graphics chip isn't really built for gaming, but if you're playing low-graphics games such as MMOs and some isometric style RPGs, you should be good.
The battery life is amazing, as well, able to stand up to extended usage pretty well. Of course, there's going to be some slowdown when you run exclusively on its batteries, but plug it in and it will go as fast as it can again. The Surface Laptop 3 is a great choice for people who love portability and touch screens.
Microsoft Surface Book 3 | Thinnest Laptop for Creatives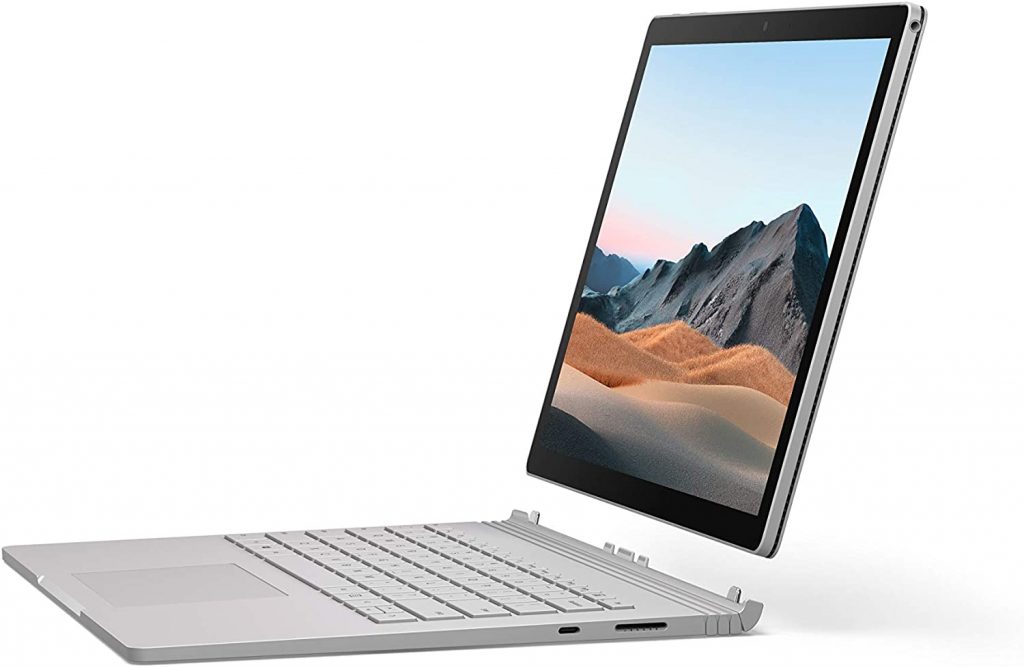 CPU: 2.3GHz Intel Core i7-1065G7 (4-core, 8 MB cache, up to 3.9GHz)
GPU: NVIDIA GeForce GTX 1660 Ti
RAM: 32GB LPDDR4x (3,773 MHz)
Storage: 512 GB SSD (PCIe)
Display: 15.6-inch 4K Pixel Sense touchscreen (3,240 x 2,160)
Size: 13.98 x 8.94 x 0.59 inches (35.5 x 22.7 x 1.4 cm)
Weight: 3.35 pounds (1.5 kg)
OS: Windows 10
Microsoft's flagship Surface, the Surface Book 3, is a 2-in-1 device that works as a tablet or a laptop whenever you need them to. It's the most powerful Surface yet, with Microsoft loading it with the most amazing features ever seen in a Surface. But will the high cost of entry justify it? Let's find out…
On paper, the Surface Book 3 is a dream. 2.3GHz Intel Core i7-1065G7, 32GBs worth of LPDDR4x RAM, and a 512 GB SSD for quicker loading times. It also features the best 4K PixelSense screen available, and is compatible, of course, with the Surface Pen. All this is packed into a package that's less than an inch thick, even with the keyboard attached. Incidentally, that keyboard also hosts an additional battery that further extends its battery life.
Puzzlingly, the video card the Surface Book 3 is the thinnest laptop with NVIDIA GeForce GTX 1660 Ti – an incredibly underpowered video card for 2020. At such a premium standard, you'd expect an RTX-ready video card, at least. This means that while you definitely can game with this machine, you won't be able to play it at more than 1080p. A shame, really, but for people more likely to buy this, it's not a problem.
The speakers are terribly disappointing, which is why we recommend getting a Bluetooth soundbar when you watch media on this. Creatives, video editors, and Netflix binge watchers will definitely fall in love with this machine. Being a tablet and laptop in one, it offers those who use it an unprecedented level of flexibility a pure laptop can never provide. No need to buy a separate tablet — unless you want to.
Dell XPS 15 2-in-1 | Thinnest High-Power Touch Screen Laptop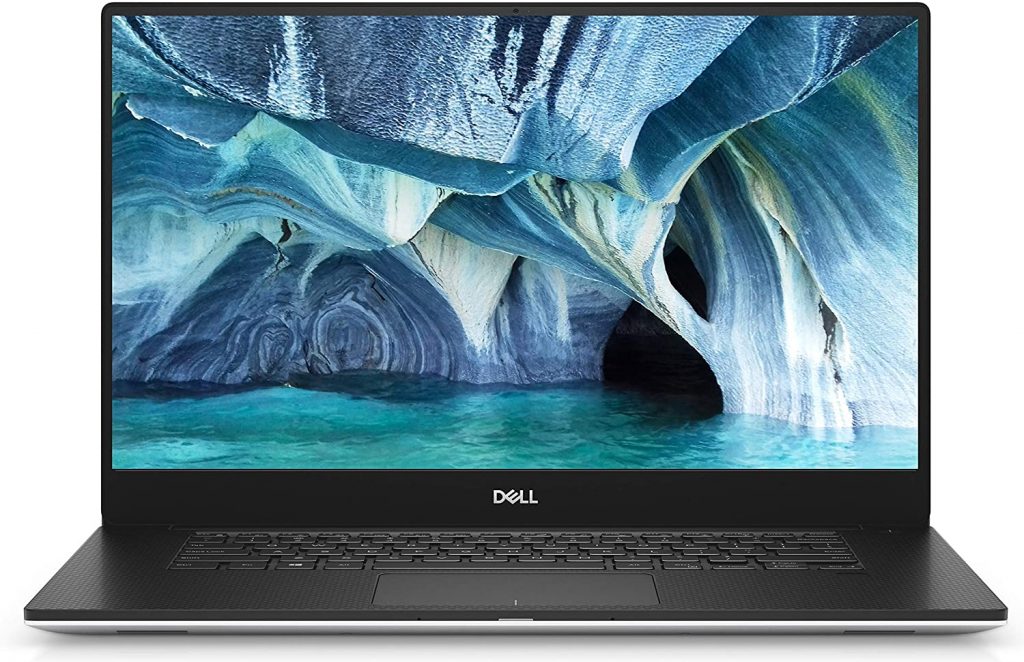 CPU: 3.1 GHz Intel Core i7-8750G Processor (quad-core, 8 MB cache, up to 4.1 GHz)
GPU: Radeon RX Vega M GL graphics, Intel HD Graphics 630
RAM: 16 GB DDR4 RAM (2,400 MHz)
Storage: 512 GB SSD
Display: 15.6-inch 4K Ultra HD (3840 x 2160) Infinity Edge anti-reflective touch display
Size: 35.4 x 23.5 x 0.9-0.6 cm (13.9 x 9.2 x 0.36-0.63 inches)
Weight: 2kg
OS: Windows 10
The Dell XPS 15 2-in-1 is a hybrid tablet / laptop running Windows 10. At first glance, it might look like it was designed for artists and designers because of the touch screen – but look under the hood and you'll find a massively overpowered machine that can please even the most hardcore of PC gamers. It's the best thin laptop for people who want to run the most powerful programs in the most powerful settings.
It features an 8th generation Intel Core i7 processor, 16 GB of DDR4 RAM, a hefty 8 GB of VRAM from the Radeon RX Vega chip, and a 512 GB SSD storage. Add in the 15.6 inch 4K Ultra HD touch screen that swivels up to 360 degrees and you have yourself an amazing piece of tech that's as versatile as it is powerful.
All this beautiful tech is packed inside a 4.36 pound package, with a height of less than an inch. It's amazing how powerful this beast is considering its weight. Hats off to Dell for creating such a great product in such a small amount of space. However, this space does come at a cost as the laptop does run hot when it comes to heavier tasks. There's no built-in cooler so you'll have to buy a separate laptop cooler for it for heavy tasks, which does limit its on-the-go factor some.
The Dell XPS 15 2-in-1 is a great choice not just for gamers, but for designers who need a huge screen and stylus for their projects, video editors, music producers, and graphic artists who need a workhorse they can bring everywhere, and students who don't really need a lot of processing power, but just want the option to game if they want to.
Razer Blade Stealth 13 | The World's First Thinnest Gaming Laptop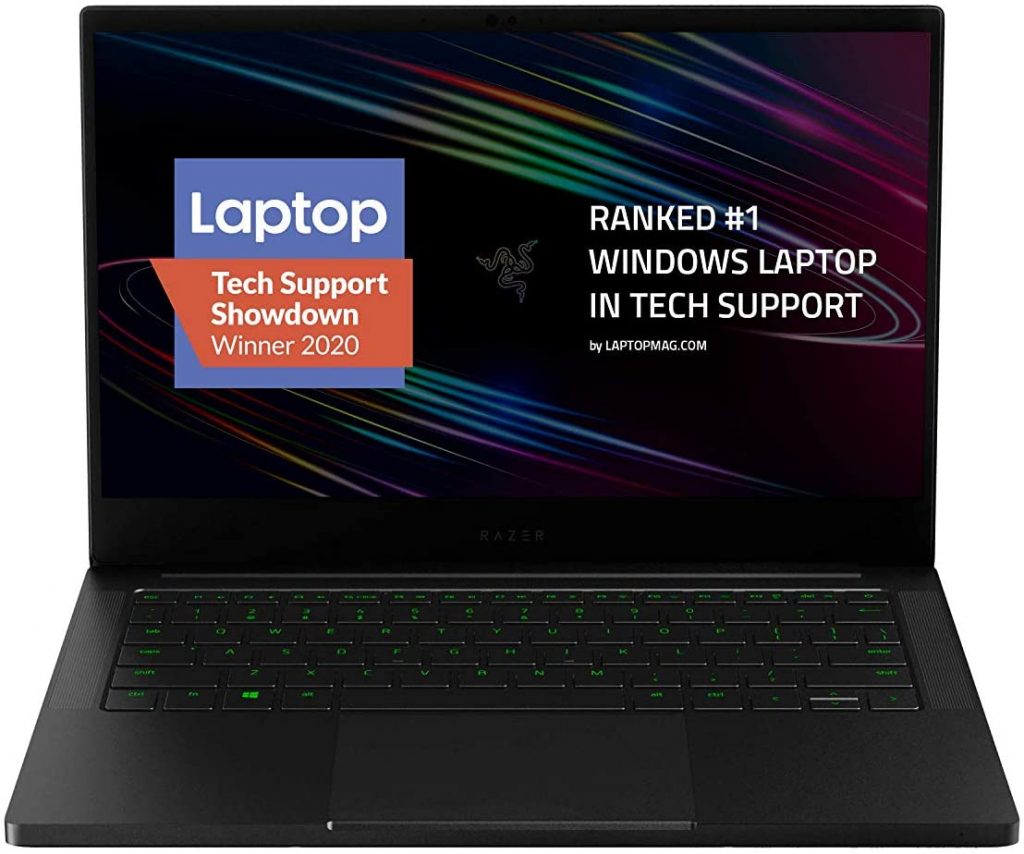 CPU: 1.3Ghz Intel Core i7-1065G7 (quad-core, 8 MB Intel Smart Cache, boostable to 3.9 GHz with built-in Turbo Boost)
GPU: Integrated Intel Iris Plus
RAM: 16 GB LPDDR4 (3733 Mhz)
Storage: 256 GB NVMe SSD
Display: 13.3-inch 1080p IPS
Size: 0.6 x 12.0 x 8.3 inches (1.5 x 30.5 x 21 cm)
Weight: 2.98 pounds (1.5 kg)
OS: Windows 10
The Razer Blade Stealth 13, released in 2019, is the company's foray into the thin, ultrabook-level market, targeting gamers who want a lot of power in a small package. Instead of using a dedicated graphics card, however, the Razer Blade is a thin laptop with built-in graphics thanks to the powerful Intel Iris Plus graphics chip. Don't discount this laptop as underpowered – if anything, it might be the most powerful thin laptop Razer has produced so far.
It packs a lot in the 2.98 pounds it carries: a 10th generation Intel Core i7-1065G7 and 16 GBs of LPDDR4 RAM. The GPU is Intel's powerful Integrated Intel Iris Plus graphics chip, displayed through a 13.3-inch 1080p IPS. This small machine is capable of running even the most graphics intensive games, such as Metro Exodus, at high settings – at the cost of not having 4K, because it's just not capable of it.
The build quality of the Razer Blade Stealth 13 is amazing. The brushed aluminum case is surprisingly un-gamer, with everything coated in Razer's Mercury White color. The keyboard is pure white with some RGB lighting underneath, to still make it feel like a gaming laptop. However, everything else mimics the quiet yet premium look and feel of Macbooks and Matebooks, keeping everything as sleek as possible.
It also sticks to its namesake: this laptop runs very, very quiet, thanks to very efficient thermal management under the hood. Even during benchmarking, you could hardly hear the fans. It's a testament to the power of the Intel Iris Plus integrated graphics chip, as having a dedicated video card in this would really make it louder. Overall, the Razer Blade Stealth 13 is an amazing piece of tech: the world's thinnest gaming laptop.
Lenovo Yoga C930 | Thinnest 2-in-1 Laptop for Artists, Video Editors, and Movie Buffs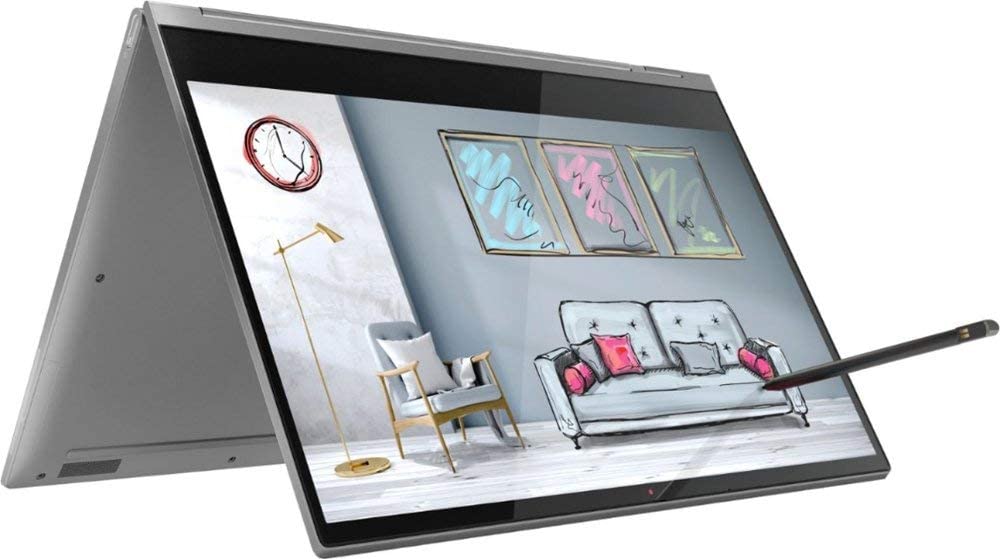 CPU: 1.6 GHz Intel Core i5-8250U (quad core, 6 MB cache, up to 3.4GHz with Turbo Boost)
GPU: Intel UHD Graphics 620
RAM: 8 GB DDR4 (2,400 MHz)
Storage: 512GB SSD (PCIe, NVMe)
Display: 13.9-inch FHD IPS touchscreen (1920 x 1080)
Size: 12.7 x 8.9 x 0.57 inches (32.2 x 22.7 x 1.45 cm)
Weight:
OS: Windows 10
These days, people demand a bit more from their thin laptops. A lot of the thin laptops featured in this list use touch input and sometimes even detach themselves completely from the keyboard to work as a tablet. The Lenovo Yoga C930 is a 2-in-1 that ticks off a lot of what people look for from ultrathin laptops, but with a few tradeoffs.
With an 8th generation Intel Core i5-8250U and 8GB of DDR4 RAM, plus the underpowered Intel UHD Graphics 620 chip, it's easy to pass off the Lenovo Yoga C930 as a bit weak compared to higher specced laptops in this list. However, that's not to say that no one would want it – there is a captive audience for this laptop, especially when we start talking about its biggest saving grace…
…the screen. The Yoga C930 is as bendy as your yoga teacher, able to bend all the way back using the keyboard as a kickstand to prop it up against any flat surface. This makes it easier for people to view media, or for artists to start drawing on its screen with a compatible stylus. It's one of the niftiest features this laptop has to offer, and for some, it's a major selling point. It would be great if you could game a bit more on the C930, but the underpowered processor, limited RAM, and weak graphics chip would probably restrict you to low-end graphics quality, which is unbearable to many hardcore gamers.
The battery life is pretty good too, and we assume that Lenovo thought about how people would be bringing this laptop to meetings and such. The Yoga C930 would work best with graphics designers, students, and people who do a lot of client meetings and need a good laptop that not only makes an impression, but makes presentations a lot easier to do.
Apple MacBook Pro 13 | The Thinnest MacBook Ever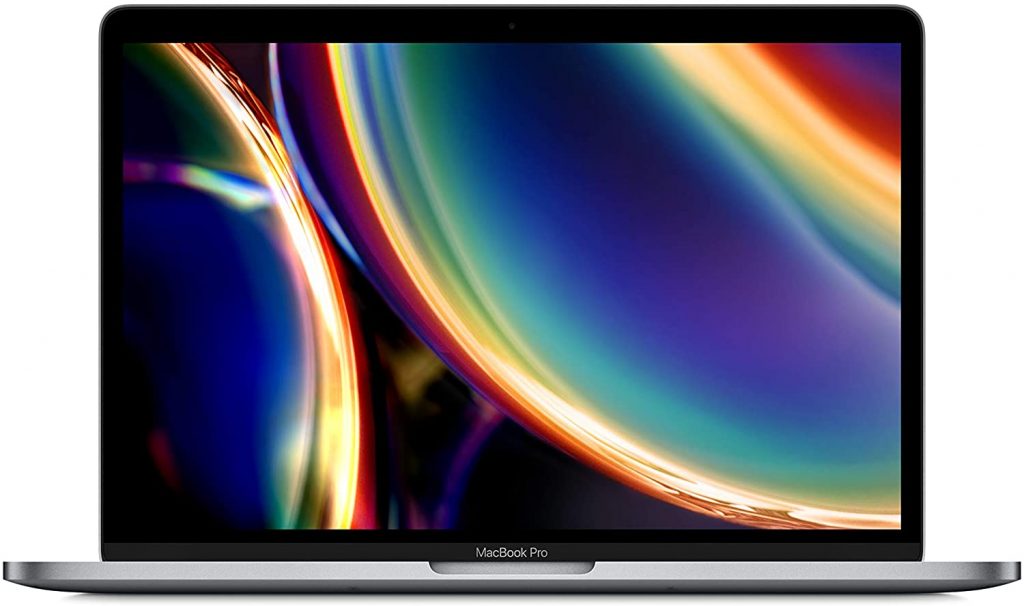 CPU: 2.0 GHz Intel Core i5-1038NG7 (quad core, 8 threads, 6 MB cache, boostable to 3.8 GHz)
GPU: Intel Iris Plus Graphics
RAM: 16 GB (3,733 MHz LPDDR4X)
Storage: 2TB SSD
Display: 13.3-inch IPS Retina display, with backlit LED and 500 nits brightness (2,560 x 1,600)
Size: 11.97 x 8.36 x 0.61 inches (30.41 x 21.24 x 1.56 cm)
Weight: 3.1 pounds (1.4 kg)
OS: MacOS
A list of the thinnest laptops in the world will not be complete without the MacBook Pro. Since dropping the MacBook Air, Apple has focused on making the Pro version of their eponymous MacBook thinner, sleeker, and faster. They might have goofed on the last part when it comes to the processor, but this is still a machine worthy of your time.
It uses an Intel Core i5-1038NG7, an 8th-generation processor, which will probably slow down as the years wear it down with updates. However, the MacBook Pro does have 16 GB of RAM, which is good enough for many of the heavy applications that the MacBook runs, like Adobe software and some animation software.
One thing we truly appreciate from Apple is its addition of 2 TBs worth of SSD storage. This means lightning fast load times, with a lot of space for your files. But of course, as far as MacBooks go, you'd expect at least this much storage for the price that you pay for it.
There's really not much to say about the MacBook Pro. It feels like an upgraded version of all the MacBooks that came before it. You would probably get this if you need it for work, have an iPhone, or just want to use the AirPods you got. Either way, the MacBook Pro is a solid choice if you don't want to use Windows 10.
Are thin laptops good?
Here are the pros and cons of the thinnest laptops:
PROS
Portable. Thin laptops have a small form factor, making them extremely portable. You can use it as a thin laptop for school as it will fit in even the smallest of backpacks.
Powerful. Technology has come a long way from old bulky laptops, and the hardware is keeping up by being slimmer and more powerful. The most powerful thinnest laptops are comparable to a full-scale desktop rig, down to having some of the best screens for gaming.
Versatile. Being thin can offer a lot of advantages – a lot of the thinnest laptops on our list can function as a tablet as well. This is great for creatives that use styluses, media viewing, and some light surfing on the web.
CONS
Pricey. Compared to their bigger cousins, the thinnest laptops also tend to have the biggest prices. Most of the thinnest laptops, with the exception of the Matebook 13, are very expensive. However, it's usually justified by having very powerful specs compared to regular laptops or even PCs.
Harder to self-service. For many PC users, they chose this platform because it is easier to service it yourself. Some laptops even advertise how modular their builds are. In the case of the thinnest laptops, they are a lot harder to fix or modify on your own. You will always need to take it to its service center if it ever conks out on you.
Not for everyone. The thinnest laptops are usually the best because of its weight and small form factor, but for some, it isn't. Some may prefer a heavier-duty type of laptop, and some who just prefer a certain heft for their laptops. That said, while they may be the best, they're not always the best choice.
Are thin gaming laptops good?
The thinnest gaming laptops always make good on their promise. Depending on the price range, you will always find a thin laptop for gaming that will work for you. Of course, the quality of their performance differs the higher up the price ladder you go, but they are definitely worth the money. Laptops like the ASUS ROG Zephyrus S are at the top of their class, and are also one of the thinnest in the world. You don't always have to sacrifice power for size.
What is the best thin laptop for students?
If you are a student, or are buying a thin laptop for a student, you might want to take a look at the Samsung Galaxy Chromebook or the Apple Macbook 13, the thinnest laptops for students. They're great in a way that it keeps students focused by not having the freedom to install distracting programs such as games. This allows students to use only what they need. Unless the student needs Windows programs such as programs from Adobe, having a thin laptop not running Windows would be a good call.
What is the best thin laptop for work from home?
As with all things involving laptops, you should think about what you do for work. Streamers, for example, need a powerful gaming laptop if they need to stream, as well as some peripherals such as webcams and microphones.
The same goes for people who do graphic design, animation, and video editing, as the programs they use tend to eat up a lot of valuable processing power. Graphics designers might desire to pick up the thinnest laptop with touchscreen functionality, so they can use their stylus directly on the screen without need for a drawing tablet.
For people who work with spreadsheets, word documents, and the like, any laptop will do, even underpowered ones, as long as they will only use the laptop for work from home purposes. Of course, you always have the option to get a more powerful machine if they wish to do other things such as play games, edit videos for their YouTube channel, record podcasts with their mics, or watch 4K movies (coupled with great audio from soundbars, as well.)
Wrap Up
That's it for the list of the best laptops in the world. We've ranked it in no particular order but in what you may be looking for. For us, our personal favorites would be the ASUS ROG Zephyrus S in terms of sheer power and gaming capability. But this is a gaming hardware website, so you know why we'd be biased.
In terms of the best laptop for work and travel, we'd choose the HP Elite Dragonfly or the Lenovo Yoga C930. Their screens and flexibility are features we love having when we're on the go. They're great tools for creatives and executives as well.
Finally, if we weren't such PC nerds, we'd opt for the Samsung Galaxy Chromebook or the Apple MacBook Pro, so we enjoy a distraction-free work environment. This is perfect for students and teachers as a starter thin laptop.
Whatever you choose, we hope this guide helped you find the right match for you. Let us know in the comments what you think, and if you picked up any of these laptops for yourself!
Recap: The thinnest laptops you can buy today:
2. HP Spectre x360 | Thinnest Laptop with 4k AMOLED Display
3. HP Elite Dragonfly | Thinnest Professional Laptop for Business and Travel
4. Huawei Matebook 13 | Thinnest Flagship Laptop for Budget Buyers
5. ASUS ZenBook 14 | Thinnest ASUS Laptop with the Best Screen-to-Body Ratio
6. ASUS ROG Zephyrus S | Best Thin Laptop for Gaming
7. Samsung Galaxy Chromebook | Thinnest Chromebook for Students
8. Microsoft Surface Laptop 3 | Thinnest Laptop for Work
9. Microsoft Surface Book 3 | Thinnest Laptop for Creatives
10. Dell XPS 15 2-in-1 | Thinnest High-Power Touch Screen Laptop
11. Razer Blade Stealth 13 | The World's First Thinnest Gaming Laptop
12. Lenovo Yoga C930 | Thinnest 2-in-1 Laptop for Creatives