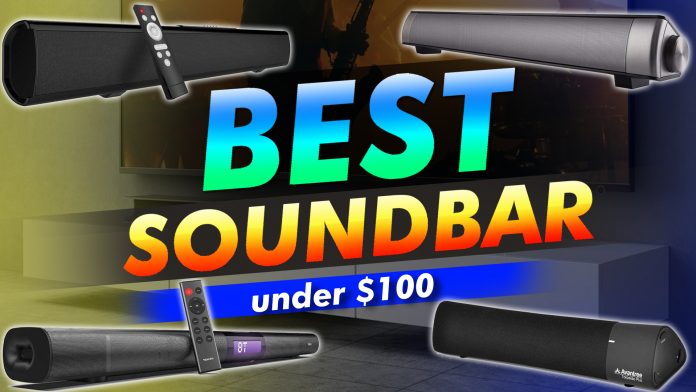 Great Sound Doesn't Always Come with A Huge Cost
Do you love binging on Netflix or listening to Spotify? Or maybe you want to upgrade your gaming experience? Whatever your purpose might be, you are looking for a high-quality soundbar, but there is a problem. You have a limited budget. Yikes!
However, don't be sad as there are some alternatives if you are tight on cash. There are gaming headsets under $100, so a soundbar on the same price range is not impossible. However, budget-friendly picks are not made equal. That is why we have listed the top options for the best soundbar under 100.
With the latest technology, soundbars have come a long way when it comes to sound quality. They're mimicking the same quality of audio of a 5.1 speaker setup, or even the 7.1 speakers set up. Considering that soundbars enjoy a much lower price point, they are slowly becoming one of the best alternatives for home theater setup.
TaoTronics Sound Bar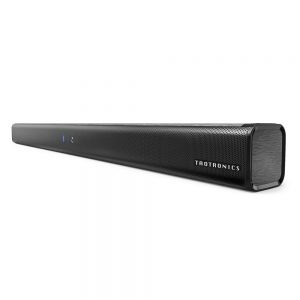 This is one of the best soundbars under 100 that you can buy right now. With its compact design, it can fit with most of the TV's, and it is an excellent replacer for its built-in speakers.
Main Specifications of TaoTronics Soundbar
TaoTronics have 4 full-range speakers and 2 passive radiators, offering 2.0 channel output with a compact 34 inches in size.

Connecting it through your TV is easy. It has Bluetooth connectivity that you can use to hook up with your TV wirelessly. But if you don't want audio quality to suffer or if your TV doesn't support Bluetooth, you can connect it through RCA, Optical, or through a Coaxial cable.

Taotronics is made with metal for a solid build and best audio output and has a modern design and technology ideal for your living room or mini home theater set-up.

It has a remote control for your convenience, and touch controls for better controls.

You can mount it on a wall or put it above or below your TV for the best experience.
Conclusion
Taotronics is one of the best sounding Soundbar out there. However, it does have some flaws like subpar Bluetooth connectivity and limited output. If you're focused on the audio quality and design and are okay with the limited feature, then this is right for you.
VIZIO SB2920-C6 29-Inch 2.0 Channel Sound Bar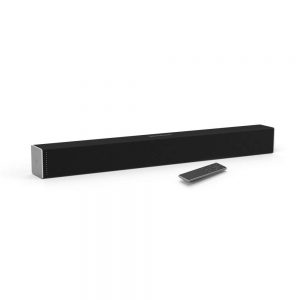 VIZIO offers a compact design soundbar, yet outstanding audio quality at its price point. It comes with DTS and Dolby audio coding techniques, which brings your listening experience to the next level.
Main Specifications of VIZIO SB2920-C6 29-Inch
The 29-inch VIZIO soundbar will not disappoint you when it comes to audio quality. It also has a decent sound range, especially with mids and highs, and suffers little to no distortion at moderate volume.

2.0 channel output and stereo sound for a better audio experience

DTS TruVolume and DTS TruSound Technology are some of the significant features and strong points of this soundbar. The DTS TruVolume sets a consistent volume for all kinds of content, ensuring clear audio and sound consistency. The DTS TruSound enhances surround sound for a more enjoyable experience.

Excellent Bluetooth capabilities that allow you to connect your TV, mobile phones, and other Bluetooth-enabled devices seamlessly and with zero effort.
Conclusion
VIZIO offers a wide variety of Soundbars to choose from. This particular model has surprisingly neat features that are uncommon to this price range. With an affordable price, this may be worthy of your consideration.
TENKER Soundbar for TV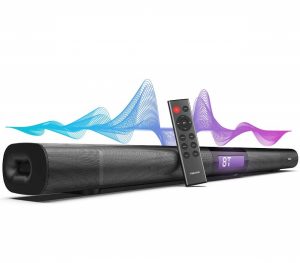 TENKER offers some neat features that you can't get on any other soundbar. It sports 3D sound effects and noise reduction technology. This soundbar promises authentic cinematic experience, even if it only has a 2.0 channel output.
Main Specifications of TENKER Soundbar for TV
Powerful surround sound experience in moderately-sized rooms. Full, vibrant, and cinematic audio with minimal static noise and distortion.

Besides connecting it to your TV, you can also hook it up to your PC, laptop, gaming console and other devices. It supports Bluetooth, line-in, Optical, and AUX cable configurations.

It comes with colored LEDs to quickly know what type of connection you will be needing.

Three different sound modes to satisfy your listening needs. You can choose from News, Bass and Treble and 3D.
Conclusion
TENKER may be the best bang for your buck soundbar. It has useful features that can deliver decent audio in almost all types of audio content. However, you need to take note of your room size, though, as it is not suitable for larger rooms. If you live in a small apartment or you plan to install it in a small room, then this one is enough for your needs.
MEGACRA Soundbar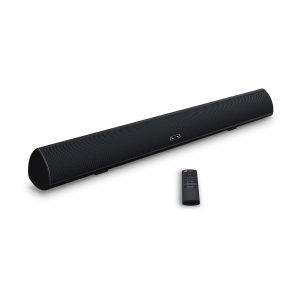 If you prefer a large, powerful sounding soundbar with heavy bass, MEGACRA soundbar offers that. With its 38 inches body, 3 inches full-range drivers, and dual bass radiators, it gets loud enough to fill a large room with full, rich sound. Let's see its benefits and compromises.
Main Specifications of MEGACRA Soundbar
Large soundbar on par with mainstream speaker setup offers loud yet full, rich sound suitable for large rooms

Enhanced bass with its full bass radiators and full-range drivers, with a total of 6 audio drivers, to deliver immersive and cinematic audio experience

3 equalizer modes to choose from, Movie, Music, and Dialogue to suit different types of content for the more luxurious audio experience

It comes with an 18-month warranty, lifetime technical support, and friendly customer service
Conclusion
This soundbar is suited for larger rooms. Undeniably MEGACRA soundbar could give you immersive audio experience without suffering your budget. With its necessary and useful configurations, you can definitely check this one out.
ASIYUN Soundbar Stereo Speaker for Smartphones and Tablets

The ASIYUN Soundbar Stereo Speaker is a versatile audio device that can be used in either wired or wireless mode so you can enjoy your playlists anywhere you go. It has an integrated subwoofer and stereo speakers to ensure high-quality and distortion-free sound at maximum volume. It is also very easy to set up and is compatible with a wide variety of devices.
Main Specifications of ASIYUN Soundbar Stereo Speaker
The ASIYUN Soundbar Stereo Speaker can connect to your multimedia devices in three different modes: Bluetooth 3.0, Audio Jack, or TransFlash Card.

It is compatible with a wide variety of devices, including smartphones, tablets, television sets, projectors, laptops, computers, and more.

The stereo speakers produce high-quality audio and distortion-free bass through the subwoofer.

This soundbar features a built-in microphone so you can use it to answer calls from your smartphone hands-free.
Conclusion
Whether you plan on using it as the primary audio device for your home entertainment system or as a portable speaker for your weekend getaways, the ASIYUN Soundbar is an excellent and convenient option. The only area it could improve on would be battery life since it doesn't seem to hold a charge very well, especially when continuously used at max volume.
Pyle PSBV600BT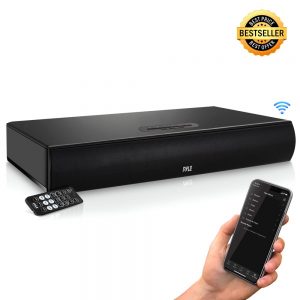 This 10.8 x 2.4 x 2-inches Avantree Torpedo Plus exudes a sharp look that is reserved for more premium picks. It is a bit surprising that it is priced this low when you consider its jam-packed features. Without a doubt, this.
Main Specifications of Avantree Torpedo Plus
It is equipped with a Digital Signal Processing that gives you the option to choose a 3D Surround Sound, Balanced Audio Mode, or a Bass Mode if you want to have that rumbling kick.

Has an impressive 5.5-hour battery lifespan, which makes this soundbar super portable
Conclusion
The Avantree Torpedo Plus is a good pick if you value aesthetic very much. It is also highly functional and not just look, but it still suffers some downsides. However, that doesn't change the fact that these soundbars are very much cost-efficient.
Insignia Mini 2.0 Soundbar NS-SB216

This compact and highly portable Insignia mini soundbar is perfect for those who want one but lacks the space to own one. Though it is a bit small, it still manages to meet the fundamental criteria for a performing soundbar.
Main Specifications of Insignia Mini 2.0 Soundbar NS-SB216
Compact at 1.8 x 12.6 x 2.7 inches, perfect for limited spaces

Supports Bluetooth so it can be wirelessly paired to any Bluetooth enabled device

Comes with a remote, an RCA Cables and a female to 3.5mm male adapter
Conclusion
The Insignia Mini is perfect if you want a compact solution to your audio needs. Because of its sheer size, it's better if you pair it with a modest-sized TV or a PC.
AmazonBasics 2.1 Channel Bluetooth Sound Bar

The AmazonBasics 2.1 Bluetooth Sound Bar is another perfect pick for budget-oriented users. This soundbar is fully packed straight from the box. It can be readily mounted on your wall, thanks to the bundled wall bracket. It is a complete
Main Specifications of AmazonBasics 2.1 Channel Bluetooth Sound Bar
It is powered by a 2.1 channel system and a built-in subwoofer ideal to produce powerful audio experience.

Compatible with Bluetooth v2.1's EDR technology. Now enjoy faster streaming and better battery life.

Features three sound modes; Movie, Standard, and News

Convenient controls as it comes with a remote control
Conclusion
The AmazonBasics 2.1 Bluetooth Sound Bar is a full package. Its bundle inclusions, not to mention its audio quality is on par with a higher-priced soundbar. If cost-efficiency is something that you want, then you can't go wrong with this one.
Meidong Sound Bar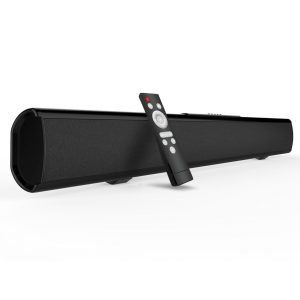 The Meidong Sound Bar with Remote Control is another budget pick that offers excellent value. It provides four built-in powerful speakers that can fill a large room with audio. They will surely upgrade your viewing experience for a small price.
Main Specifications of Insignia mini 2.0 soundbar NS-SB216
Loads of connectivity options like optical audio, RCA inputs, and a 3.5mm stereo jack.

This soundbar is made better by its 2.1 channel system that sports decent speakers. It also boasts a crystal-clear sound and a measly 1% THD or Total Harmonic Distortion.

Utilizes Bluetooth technology that offers effortless streaming from any Bluetooth supported devices
Everything You Need to Know About Choosing and Setting-up Your Soundbar
Now that you are properly introduced to the different product choices, next is to know everything about choosing and setting up your soundbar.
Things You Need to Ask
However, we won't bore you with pointers and whatnots. What we have here are the questions you need to ask yourself before deciding what soundbar to buy.
Where will you set-up your soundbar?
A vital part of your decision making is the location of your soundbar set-up. Where do you plan to place the soundbar? If you're planning to put it on a stand, consider its measurement first. We need to avoid having the soundbar hang over the edge of the rack or stand. Aside from looking bad, the sound will also suffer as the drivers are not correctly supported.
On the other hand, if you decided to mount it on the wall, check if the soundbar supports wall-mounting. Also, consider the subwoofer's positioning if there is any. Make sure that the subwoofer is close to the soundbar as it will significantly affect the sound quality.
How big is your TV set or gaming rig? (If you plan to use it for gaming purposes.)
How big is the audio source, aka your Smart TV or gaming rig? Make sure that the soundbar is proportional to the size of your TV and gaming set-up. You also need to consider the height as well. The soundbar should not block your TV screen or monitor.
What Ports and Connectivity Do You Need?
Most modern soundbars offer a wide range of connectivity options so you can hook it up to different sources. Here are some useful connections to watch out for.
HDMI ARC
The most basic connection. Simply connect your soundbar to the TV's audio return channel (ARC) input with using an HDMI cable. Plus, HDMI is fantastic for multi-channel soundbars. Most soundbars are packaged with an HDMI cable, but if not, you can get one from basically any electric and hardware shop.
Bluetooth
If you like wireless connectivity, then make sure that your soundbar is Bluetooth compatible. This way, you can easily stream music from almost anything, as long as it is Bluetooth compatible.
Wi-Fi
If you plan on streaming audio directly from online music streaming platforms like Spotify, and Pandora, make sure that your soundbar supports Wi-Fi connection.
Optical Port
An optical port offers a trustworthy and reliable connection between your TV and soundbar. Make sure that your soundbar has this, so you can ensure great audio all the time.
USB Inputs
You don't usually need this, but if you plan to play songs directly from your thumb drive, then it is a convenient port to have.
What are "soundbar channels"?
Channels are sound sources and individual speakers. If you may have already noticed, most tv shows and movies are digitally embedded with surround sound. To play the content the way that it should be played, you must have a soundcard that supports its format.
Here are the different soundbar channels:
| | | |
| --- | --- | --- |
| Channel | Number of Speaker | Speaker Position |
| 2.1 | 2 | Left and right |
| 3.1 | 3 | Center, Left and right |
| 5.1 | 5 | Center, left, right and two rear |
| 7.1 | 7 | Splitting surround and rear |
| Dolby Atmos (5.1.2 or 7.1.2) | 5 or 7 | With upward-firing speaker for three-dimensional sound stage |
Setting Up You Soundbar
Now that you know what factors to check, next you need to know is how to set it up. Whether it is connecting your soundbar to your TV, cable box, Blu-ray player, game console, or gaming rig, we've got you covered.
Connecting to your TV
Step 1: Determine what cable you need.
HDMI cable
For HDMI cable, you need to check and verify the input of both your TV and soundbar. If your TV supports an ARC input, then it is for HDMI connectivity. It is relatively easy to recognize; just find the 'ARC' text printed above, or if it is not there, it is probably next to one of the HDMI ports. You can also easily recognize the HDMI port on your soundbar, as it is clearly labeled with 'HDMI OUT' text.
Optical Cable
If your TV does not support an HDMI port, then you will need an optical cable. To find the optical input on your television, simply find the 'DIGITAL AUDIO OUT' text. You can't miss this port as it is hexagonal in shape and unique compared to other ports. The input itself is also protected by a plastic cover.
Step 2: Put the soundbar near your TV
Though you can put the soundbar wherever you want it, there is an excellent spot to place it. For optimal audio quality, either place the soundbar in front of the television or mount it above or below. Never put it in enclosed space, like inside a shelf or in a closed cabinet. This will prevent the sound from spreading out, plus the device will overheat.
Step 3: Connect your soundbar to your TV, check the wires properly.
Connect the HDMI cable or optical cable properly. On the TV connect the HDMI cable to the ARC port. For the soundbar, connect the other end of the cable to the HDMI OUT port. If you are using an optical cable, make sure to connect the TV end to the OPTICAL OUT port. For the soundbar port, simply connect it to the OPTICAL port.
With sound woofer:
If your soundbar comes with a separate subwoofer, connect it accurately as well. The sound woofer does not have to be visible, but make sure to place it near a wall. While some subwoofers are connected to the soundbar, some models connect wirelessly.
Step 4: Turn on your TV for soundbar set-up.
Play anything on your TV, then use the soundbar's remote control to choose the correct input. The button is usually called Input or Source, but you can check the manual if you can't find it. After pressing this button, look for TV, ARC or HDMI if you are using an HDMI cable. For optical cable, choose the Optical, Digital, or D-In.
Troubleshooting: Having problems with your soundbar? You can troubleshoot using these instructions below.
No Sound from the Soundbar or both TV and soundbar are playing audio.
If you are experiencing this error, you just simply need to adjust some TV settings. On the sound menu of your TV, find the setting called Output Device. Once you find it select External Speakers, and your TV will transmit all audio to the soundbar.
The images and sound are not synchronized
This can happen sometimes and can be easily fixed using the settings menu. Using your TV remote go to settings, find AudioSync, press to synchronize. If you are having problems finding this menu check your TV's manual.
Final Verdict
Looking for the best soundbar under 100 may be a bit challenging. But with this quick review, it will serve as a guide in making a wise choice. Make sure to check all the criteria like sound quality, design, size, connectivity, and controls before you make your decision. Do this, and you as well as your wallet will be happy and satisfied with this purchase.
Recap: Top Options for the Best Soundbars under 100$