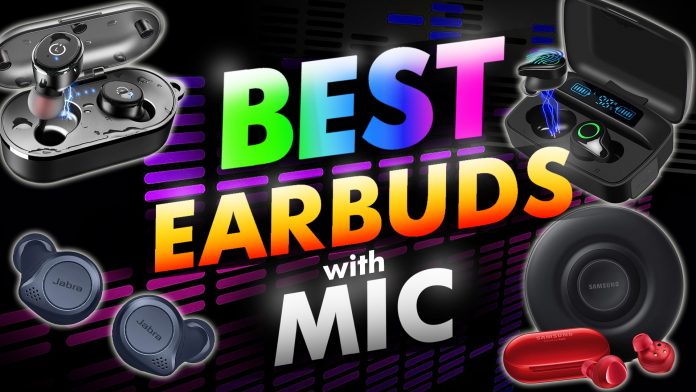 Earbuds have come a long way in the recent years. There was a time when they were a new thing. They came in the most basic design that you can think of — wired, one color, generally okay audio quality, no microphone, no remote control, and probably quite uncomfortable as well.
But technology has come a long way and earbuds sure have benefited. Wonderful features are now incorporated into a pair. You have the option of having great audio quality, grabbing unique designs, adjusting through remote controls, and taking advantage of built-in mics eliminating the need to remove the device from your pocket.
So, here are our choices of the best earbuds with microhone out in the market today!
The Best Budget Earbuds With Microphone
1. Panasonic ErgoFit Earbud Headphones with Microphone RP-TCM125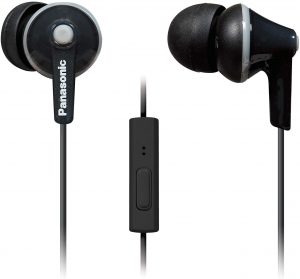 Specifications:
Connection Type: Wired
Cord Length: 3.6 feet
Date Released: August 2013
Frequency Response Range: 10Hz To 24kHz
Panasonic has been around since 1918. The company is one of the leading manufacturers of audio equipment practically since they began. With a tagline that says "ideas for life", they sure made it a point to make their products worthy of investing your hard-earned money into.
The Panasonic ErgoFit Earbud Headphones with Microphone RP-TCM125 is a prime example of how far this Japanese company from Kadoma, Osaka, Japan has come.
Otherwise known as the ErgoFit RP-TCM125, this August 2013 release is a wired set of earbuds that contain a single button with multiple uses and commands. It has a built-in microphone, comes in three different sizes (small, medium, and large), and can stretch 3.6 feet from your device thanks to its extended cord.
The ErgoFit RP-TCM125 is great for exercising since it has a perfect fit. It won't come loose from your ear while jogging. We recommend that you use the right size ear tip that comes in the box.
If you're a jogger, for example, you most likely have experienced earbuds coming off of your ears. With this set, you no longer have that irritating need to constantly place the earbuds back. When these fit you just right, they also aid in noise cancellation, leaving you at peace with your music or audiobooks while enjoying a nice workout.
The Panasonic ErgoFit RP-TCM125 also comes with a wonderfully-built microphone that allows you to take calls or input voice commands without the need to speak directly into your device. A call controller button enables you to answer and hang up the phone with the press of a single button attached to the earbuds. This gives you the option to tinker with your mobile devices without actually having to touch them.
As for audio quality, users will enjoy a perfectly-balanced sound experience with existent deep bass tones, crisp highs, and clear and precise mid sections. Made with 9mm neodymium drivers and a frequency range that's quite wide, the quality of these Panasonic's will not disappoint.
Considering all of these features and the fact that they come in 11 different colors, the Panasonic ErgoFit Earbud Headphones with Microphone RP-TCM125 will surely be a hit. It's great for anyone who simply wants a reliable audio and mic for everyday use.
2. Betron B25 Earphones with Mic and Volume Control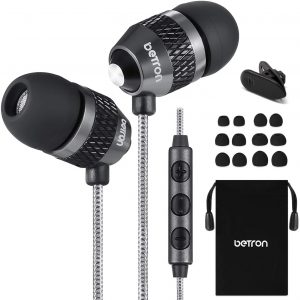 Specifications:
Connection Type: Wired
Date Released: July 2018
Designed in the United Kingdom, the Betron B25 Earphones with Mic and Volume Control is a relatively new earbud that has taken the market by storm. Proud of their achievements in the last five years, Betron is continuously researching and developing audio devices that have proven to be a shoppers favorite.
The Betron B25 Earphones with Microphone and Volume Control prides itself in providing users with great audio quality. It is made of a metal composite vibrating diaphragm with 10mm drivers that are sure to provide crystal clear music.
Aficionados can expect to hear awesome highs, perfect mids, and deep bass notes. They work particularly well in the bass department where a beat response control is incorporated into its system. When this is matched with the perfectly snug fit of the ear tips, it creates a brilliant noise cancellation feature. This allows users to enjoy their music without distraction even at low volumes.
These earbuds are light as well. To be specific, it weighs only 0.776 ounces. Thus, you can enjoy your music without feeling fatigued. Movie lovers will enjoy these as they deliver great audio for both music and films. Since they are wired, you never have to charge the earbud or worry about running out of battery. Speaking of wires, the B25's use a gold plated jack which pretty much eliminates any chances of corrosion that causes audio problems.
A remote control on the Betron B25 comes in handy too. It helps you navigate your phone without the need to actually hold your device. The button allows you to answer or drop calls, adjust volume levels, skip to the next track, and rewind to the previous track.
To top if off, the built-in microphone works like a charm. Using it for calls will work just the way you want them to — in a clear fashion. With this, the person you're talking to will hear your voice clearly and distinctly.
3. DuoTen Waterproof Wireless Earbuds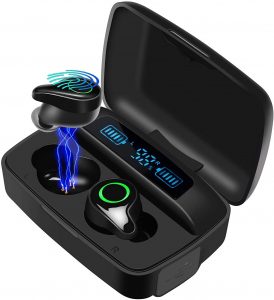 Specifications:
Connection Type: Wireless
Date Released: March 2020
Weight: 3.21 ounces
The DuoTen Waterproof Wireless Earbuds know how to make an impact! At first sight, consumers will instantly find their mouths agape while looking at the carrying case. Users will be even more impressed once they open it up.
Inside, you will find two wireless pieces of earbuds that are actually being charged. This astounding case sports a digital display reading showing you the battery percentage of each earbud.
The earbuds are stylish and have multi-functional commands over a single button. You may be surprised to learn that each earbud works independently of the other. This means if you want to wear one earbud alone, you can do so. For instance, you can even lend the other piece to your friend. In this way, you can both enjoy music or movies together.
Advanced 5.0 Bluetooth technology allows these beauties to easily and instantly connect to your mobile device. Naturally, the first time you connect it will take a tad longer. But once you choose to connect to your DuoTen Waterproof Wireless Earbuds again, all you have to do is open up its carrying case. It's that easy!
DuoTen's earbuds have audio quality that the company can be proud of. It offers the CVC 8.0 noise cancelling technology that lets you enjoy music without the noise and distraction around you. Plus, it gives you the pleasure of hearing all the essential frequencies of sound.
The perfectly snug fit also participates in making this possible. It keeps you comfortable and helps avoid ear fatigue — common in earbuds that aren't congenial. The earbuds have a built-in microphone that enables you to speak clearly on your phone during calls.
This pair is also designed to be waterproof. With an IPX7 rating, fitness buffs will certainly enjoy these as they're note prone to damage as a result of strenuous workouts. If you regularly run or jog but are afraid your sweat will drip and break them, you don't have to worry. These can easily take in your sweat without being impaired.
The Smart Touch Control is a thing of beauty too. This feature has all the functions one could seek in a wireless system. For instance, it can help you answer and drop calls, speak to Siri, play and pause your audio tracks, skip to the next track or head back to your previous track, and adjust volume levels. It offers unparalleled convenience in a wireless device.
Last, but certainly not the least, the portable carrying case also works as a charging station for your mobile devices. That's right! You can now connect the carrying case to your mobile device and charge it just like how a power bank works. Talk about multi-functional!
4. TOZO T10 Bluetooth 5.0 Wireless Earbuds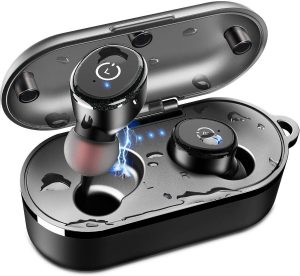 Specifications:
Connection Type: Wireless
Date Released: October 2018
The TOZO T10 Bluetooth 5.0 Wireless Earbuds came out in 2018 and have proven to be one of the most dependable earbuds in the market. Adapting the astounding 5.0 Bluetooth technology, TOZO created these waterproof earbuds for people who demand great audio quality while being able to get them wet with sweat, rain, and splashes.
The T10's are quite comfortable as well as they are fairly lightweight. The five ear tips help you create a perfect seal keeping them in place. Thus, you don't have to fiddle around with them every few minutes to keep them from falling out of your ears. It boasts of an ergonomic design coupled with gel flexible silicone ear caps that will keep you tuned into sounds without suffering ear fatigue.
The audio quality produced by the T10 is not bad either. On the deep end, the bass notes certainly do pack a punch, just as they are advertised. This probably works best with hip-hop or electronic music.
But that doesn't mean that classical or rock music won't do well with these earbuds. The sounds produced will keep listeners engaged. As for the midsection, the frequencies are fine while the vocals certainly do stand out and feel very life-like.
The high-end treble is clear and crisp. It's absolutely good enough to enjoy your music with. This is all thanks to the 8.0mm drive that is actually 1.77 times larger than the average drive area. It's probably the reason why bass delivery is so pronounced.
Pairing your TOZO T10 Bluetooth 5.0 Wireless Earbuds is effortless. You simply open the carrying case slash charging station, remove the earbuds, and they will automatically pair themselves to each other.
Once removed from the box, they need to be paired to your mobile phone, just as you would any Bluetooth device. However, once set up the first time, the next pairing sessions will be automatic.
The case also has wireless charging capabilities since it's compatible with wireless charging devices. Although this (the wireless charging device) is not included in the box. If you don't have this type of device, you can simply use the USB plug included in the package.
5. MuveAcoustics Drive Wired In-Ear Earbud Headphones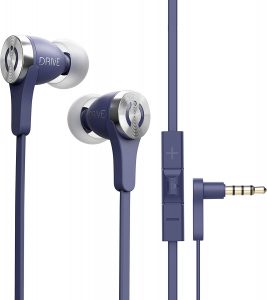 Specifications:
Connection Type: Wired
Release Date: December 2016
Weight: 100 grams / 3.52 ounces
The MuveAcoustics Drive Wired In-Ear Earbud Headphones offer improved sound quality. It even allows you to control your mobile device without having to pull it out of your pocket. Keep yourself in style while enjoying a strenuous workout without having to worry about getting them wet.
But enough of that. Let's get into the nitty-gritty of its features. First up, audio quality. The earbuds can isolate sounds thanks to the silicone ear tips that fit snugly into your ears. This seal helps the powerful and dynamic drivers pump the deep bass tones and crisp highs without the disturbing ambient noises coming from around you. Match that with three pairs of ear tips and you've got yourself a perfect marriage of comfort and quality.
The MuveAcoustics Drive Wired In-Ear Earbud Headphones also come with a remote control that has all the functions you need. Answering and dropping calls can be achieved through the press of a single button. Volume levels are easily adjustable through the remote and the mic is found on your control button panel too.
These earbuds are stylish as well. They come in many colors suitable for both men and women. The flat tangle-free wire stretches from your ear to your mobile device and is sturdy enough to handle occasional tugging. You don't have to constantly worry about breaking them through wear and tear. Since they're also waterproof, they can withstand splashes and drips without getting damaged.
6. Betron YSM1000 Earphones with Microphone and Volume Control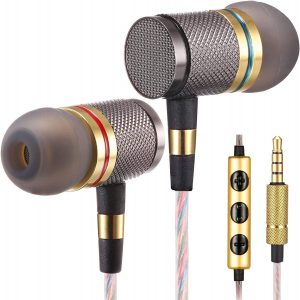 Specifications:
Connection Type: Wired
Frequency Response Range: 20Hz to 20kHz
Date Released: September 2017
Weight: 21.99 grams / 0.776 ounces
When you first lay your eyes on the Betron YSM1000 Earphones with Microphone and Volume Control, you can't help but be amazed by its glorious good looks. Between the gold-plated earbuds, the gold-plated 3.5mm jack, and the gold-plated remote control, these earbuds will surely catch your attention. And yes, that's three gold-plated parts. But, that's just at a first glance. So, what features do these earbuds offer?
To begin, they provide users an absolutely superior bass sound. The earbuds are built with 10mm neodymium drivers which deliver quality audio for any type of music. They're also designed for enjoying the pleasures of watching movies, videos, and taking calls. With crisp mids and clear highs, your auditory experience in these earbuds will never be a disappointment.
Now, let's talk about the cool little remote control found in the cord of the YSM1000's. First, they're gold-plated, which no one can deny looks cool. They also provide users with most, if not all, controls they need from a remote device on earbuds. Volume control, skipping to the next track, and controlling calls are just some of its capabilities. You can even call out to Siri making it very convenient. The remote control is easy to use and works quite well, all while looking great.
The noise isolation on this Betron model works pretty good too. With three sets of silicone ear tips, finding the perfect snug fit into your ear will not be difficult. With this, you can block out the ambient noises around you. Those beside you won't hear your earbuds either so this eliminates your concern for privacy. These earbuds are quite comfortable as well. Because they do not weigh much, you can stay in them for hours at a time.
7. Sony MDREX15AP In-Ear Earbud Headphones with Mic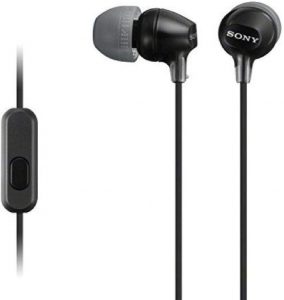 Specifications:
Connection Type: Wired
Frequency Response Range: 8Hz to 22kHz
Weight: 3.00 grams / 0.106 ounces
Date Released: April 2014
Sony is a household name for decades and have remained at the top of the food chain thanks to their amazing electronics. Whether these are television sets or stereos, consumers know the reliability and dependability of their products. The Sony MDREX15AP In-Ear Earbud Headphones with Mic are no different. You can trust that once you purchase these, they will fulfill your expectations.
The Sony MDREX15-AP In-Ear Earbud Headphones with Mic were designed to be simple in both design and function. It was made to deliver quality audio while still being comfortable. Plus, it comes with a mic to add convenience, especially when using your mobile device.
These were built with 9mm neodymium drivers to help you feel bass thumps. Plus, you can enjoy the clarity of the mids and the crispness of the highs. They also have one of the wider frequency ranges compared to similar products — 8Hz to 22kHz. This range guarantees you hearing every single note in an audio track.
They also come in a number of funky colors including pink and violet. Of course, it does come in the more common black and white colors. It weighs only 0.106 ounces and comes with hybrid silicone earbuds. Overall, the Sony MDREX15-AP In Ear Earbud Headphones with Microphone is great for users looking for basic earbuds with mic.
The Best Premium Earbuds With Microphone
1. QDC Neptune Full Frequency Dynamic Unit Earbuds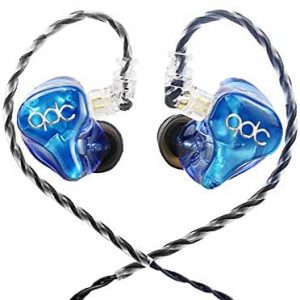 Specifications:
Connection Type: Wired
Frequency Response Range: 20Hz to 20kHz
Noise Reduction: 26dB
Cable Length: 125cm / 4.1ft
Date Released: December 2018
QDC is a Chinese manufacturer of speaker systems that supply celebrities with in-ear monitors. Their products are mostly monitors for live sound, studio recording, and Hi-Fi. They also offer consumers earbud personalizations wherein you can use materials such as wood, gold dust, and even mica. For this article, let's focus on their 2018 release, the QDC Neptune Full Frequency Dynamic Unit Earbuds, or Neptune for short.
These in-ear monitor earbuds are built for an amazing auditory experience. But, let's first dig into why the sound quality is so good. The Neptune is a full frequency single balanced armature which gives its frequencies a more balanced convergence. The tuning was completed with consideration towards the intermediate frequencies while taking the low ones a step back to add details to the high frequencies.
The ear hook design was hand-built and created out of the models of thousands of ear prints. It also comes in a blue transparent shell. The work put into this design will allow users to enjoy these earbuds for extended periods of time without the inconvenience of discomfort. Its port is a typical 3.5mm jack that is suitable for all, if not most, jacks found in mobile devices. The wire cord is a tightly-twisted, four-part, silver plated copper. It makes it more durable compared to the average earbud.
2. 1MORE True Wireless Earbuds
Specifications:
Connection Type: Wired
Weight: 0.28 ounces / 7.65 grams
Release Date: May 2019
1MORE True Wireless Earbuds are the future of sounds. Though it was released in 2019, it remained ahead of the pack. This is due to its amazing audio quality and state-of-the-art functions.
The dual drivers were carefully constructed with balanced armatures and separated dynamic drivers. This results in delivering top-of-the-line audio clarity. 1MORE went out of their way to add a dedicated digital signal processor able to analyze sound waves. This allows the earbuds to adjust in real time, thus producing the perfect balance. Users will lose themselves in listening to music with this item.
The earbuds also contain a mic on each side. Voice clarity is superb and the earbuds also offer a built-in environmental noise-cancelling system. This eliminates the ambient noises around you allowing you to focus on what you're listening to.
1MORE True Wireless Earbuds also have three levels of noise-cancelling features which work great for users who have different ambient noise concerns. The first is the 35db option which pretty much blocks out everything. The second is the 20db level that simply suppresses the ambient noises. While the third option is called the pass through that allows ambient noises in. This third option is useful if you want to be completely aware of your surroundings.
Your 1MORE True Wireless Earbuds connect to mobile devices via Bluetooth 5.0. Plus, the optimized Qualcomm chip guarantees a clear and stable connection. They can also be charged without a wire. However, you have to purchase the wireless charging pad separately.
Another wireless system in place is the use of the remote controls found in each earbud. This allows you to answer and drop calls, adjust volume, skip and rewind audio tracks, and activate voice commands. The final touch on these earbuds would be the infrared scanner which automatically pauses your audio track when it senses that you have detached the product from your ears.
3. Samsung Galaxy Buds+ Plus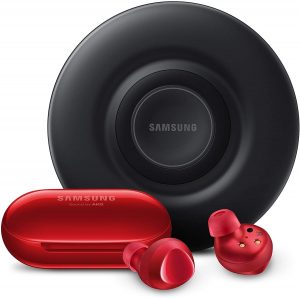 Specifications:
Connection Type: Wireless
Release Date: February 2020
The Samsung Galaxy Buds+ Plus is the perfect pair for those who need to be in earbuds all day long. They are comfortable enough to use for tons of hours. Plus, the battery lasts up to 11 hours on a single charge while providing different noise-cancelling options. Not to mention, the Samsung Galaxy Buds+ Plus also has mics allowing you to speak clearly without the hassle of having to pull out your phone. And have I mentioned that these are wireless and connect via Bluetooth?
Samsung released these in March 2020 and have not disappointed their fans. The best audio quality isn't its highlight, but they sure offer you a comfortable experience. The Galaxy Buds+ are designed to set your hearing preferences. Users may choose to block out all ambient noises giving you full audio immersion. You may also choose to allow some ambient noises to enter the earbuds, especially when you're out on a busy street.
As mentioned earlier, the battery of the Galaxy Buds+ Plus lasts a whopping 11 hours. If you're pressed for time, you can simply charge them for a mere three minutes and gain a full hours-worth of use thanks to its quick charging capability.
4. Razer Hammerhead Bluetooth Earbuds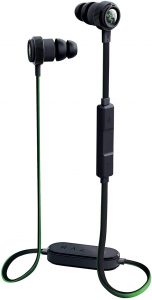 Specifications:
Connection Type: Wireless
Frequency Response Range: 300Hz to 3.4kHz
Date Released: N/A
The Razer Hammerhead Bluetooth Earbuds has features anyone would want in a decent pair. They're wireless and connect via Bluetooth, eliminating any chances of getting tangled or stuck.
Battery life lasts up to eight hours on a single charge, allowing you to enjoy uninterrupted audio. The 10mm dynamic driver offers deep bass notes and crisp treble which work great for any music genre. The microphone is clear while the in-line remote control lets you do a whole number of functions without ever having to actually hold your mobile device.
The frequency response range of the Razer Hammerhead Bluetooth Earbuds is at 300Hz to 3.4kHz. Its signal-to-noise ratio is at 55db, with an omnidirectional pickup pattern. Industry standard earbud drivers have a millimeter size of 6mm, however, the Hammerhead BT uses 10mm which helps deliver a powerful bass, perfectly clear mid sections, and beautifully crisp high frequencies.
The remote control is a stylish piece of hardware with the capacity to do a number of basic functions. Answering and rejecting calls can be done on the remote. You can also adjust volume levels through its buttons. Plus, users can skip to the next track and go back to the previous one easily.
The Bluetooth connection is very reliable as well. It offers Bluetooth 4.1 which applies aptX codec to avoid sacrificing audio quality. Since they are sweatproof, you can enjoy a jog in the rain or a really hard workout at the gym.
And by the way, these earbuds have a great fit which avoids the tendency to fall out of your ears. Finally, they come with interchangeable earbuds and bi-flange ear tips to really lock them into your ear canal and ensure a perfect fit. This leads to perfect noise cancellation capabilities that will surely have your ears delighted with the music you're listening to.
5. Panasonic Sports Clip Earbud Headphones with Mic/Controller RP-HS34M-A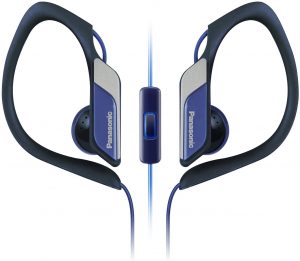 Specifications:
Connection Type: Wired
Weight: 0.35 ounces / 9.92 grams
Frequency Response: 10Hz
The Panasonic Sports Clip Earbud Headphones with Mic/Controller RP-HS34M-A was released in 2014 and continue to be a dependable set of earbuds that customers enjoy. These wired earbuds are light, comfortable to use, and produce sounds of decent quality.
With its name alone, these earbuds work best for athletes that are expected to jump around and sweat. The sports clip goes around your ear and defeats all chances of coming off your ears even during an extensive workout. A little splash here and there won't hurt as they're sweat- and water-resistant.
There's also an adjustable ear clip that allows you to place the earbuds exactly where you want them to be positioned. This further decreases any chances of them falling off. Plus, it adds comfort helping you avoid ear fatigue.
The earbuds are also made with 14.3mm neodymium drivers that are sure to boost your bass and pump up your highs for an invigorating audio experience. A microphone is also built into the remote control enabling you to take calls and manage music playback without having to hold your phone.
6. High-Performance Compact Portable urBeats In-Ear Headphones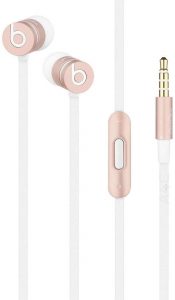 Specifications:
Connection Type: Wired
Cable Length: 1.2m
Weight: 0.63 ounces / 18 grams
The High-Performance Compact Portable urBeats In-Ear Headphones were built by a company called Beats Electronics. This was partially founded by producer and rapper Dr. Dre. Since these were founded by a world-renowned producer, you can be sure that they sound and look good.
Here are a few points to showcase what these earbuds offer.
Let's begin with appearance. The design looks much like a bullet, an apt look for a design created by a gangster rapper. These are complemented by a number of available earpiece colors such as gold, rose gold, and pink to name a few.
It is followed through with contrasting cord colors such as red, black, and the more commonly used white. Colors like these will surely create a statement that exudes your preferences and personality.
The cord is designed to be tangle-free. Considering that these are flat wires and come with a cable tie, it doesn't lead to tangling (even when it's 1.2m long). The cord also ends with a 3.5mm jack that fits into most ports.
A three-button remote control allows you to manage calls and media playback. It also contains a microphone that can distinguish ambient noises helping to further eliminate them from coming through. Thus, phone conversations are very clear on your end of the line.
As for the audio quality, consumers can expect the heavy bass sound that's a staple with all earbuds designed by Beats By Dre. The earbuds can also handle extreme volume without the painful sound of distortion. But. you may expect a bit of muddy-ness in the middle frequencies. However, the high treble will remain clear and crisp. Though these sound great, audiophiles who demand the best in audio quality may find themselves a little bit disappointed.
7. Jabra Elite Active 75t True Wireless Bluetooth Earbuds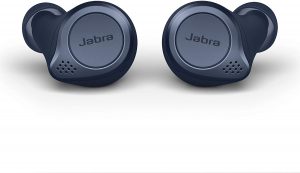 Specifications:
Connection Type: Wireless
Date Released: February 2020
Weight: 0.19 ounces / 5.5 grams
The Jabra Elite Active 75t True Wireless Bluetooth Earbuds are simply amazing! Originally built for athletes, the Elite Active is a lightweight and comfortable pair of earbuds that pair wirelessly. Plus, it's sweatproof and waterproof. Though these earbuds were built for an active lifestyle, they certainly work great for general use as well.
The earbuds come in three different sizes, small, medium, and large. These allow you to have a perfectly snug fit that leads to optimized audio quality. Ambient noises are kept outside of your ears.
The eartips are also lined with Jabra's grip coating. This assists in keeping the earbuds in place regardless of what you may be doing. It's worth noting that the Jabra Elite Active 75t's come with sensors that can detect if the earbuds have been removed from your ears. This sensor then causes your audio track to automatically pause. Conversely, putting them back in your ears will cause the music to start where it left off.
The Jabra Elite Active 75t True Wireless Bluetooth Earbuds are also sweat and waterproof with a rating of IP57. This guarantees that dust and water will be kept out of its circuitry. Though these earbuds aren't for hardcore swimmers and divers, they can live underwater for up to half an hour without breaking.
Personalizing the 75t's is a pleasant experience and can be done through an app. The MySound+ App allows you to customize their equalizers and even lets you create six different presets.
In addition, you can also select between three presets, one for a bass boost, another for a treble boost, and finally, a default one. In 2020, MySound+ even incorporated a hearing test that allows you to customize the output of the earbuds even further. A HearThrough mode allows ambient noises to come through. This works particularly well for situations where you need to hear the environment.
Bluetooth 5.0 is the firmware that these Jabras use. It allows a 10m distance between the device and the earbuds. Its multipoint connectivity is a great feature too. With it, you can connect two devices to the earbuds at the same time.
Its battery life is quite stunning as well. Imagine using these earbuds for over 7 hours straight without having to charge them? Include the case as a charger and chalk that number up to 28 hours. If that isn't enough, you can simply charge the earbuds for two hours and its battery capacity will pump up to a full state.
Buying Guide: How To Choose The Best Earbuds With Mic
Buying earbuds can be quite a harrowing experience. With countless options on the market, how can you choose the right one? Thankfully, there are a couple of conditions that you can pay attention to in order to figure this out.
More commonly, these factors would be design, cost, and brand name. Does the color match your style? Do they look good in your opinion? How much do they cost? Is that amount within your budget? Is the brand name something you're familiar with? If you've heard of them, do you know them to be reliable and have excellent customer service?
These are just some of the points you may want to consider when shopping for new earbuds. But of course, it's not an exclusive list. Below, we're going to discuss a few other matters that may come in handy when selecting earbuds with mic.
Audio Quality
Audio quality varies tremendously from one pair of earbuds to another. Some cover a wider range of frequencies while others do not. Earbuds are built with drivers and these range in size as well.
It's quite common to find 10mm drivers in earbuds and these do alright. However, some are made with just 6mm drivers that aren't the best in terms of audio quality. If you're an audiophile, you wouldn't want to get earbuds with less than 10mm drivers.
If you're using the earbuds for casual purposes such as listening while on a commute, you just need a healthy balance of bass and treble. If you're someone who wants to block off all noises coming from your environment, then you should go for earbuds with great audio quality and noise-cancelling capabilities.
Comfort
This factor is important as well/ Think of it this way, if they're not comfortable, will you even wear them?
Earbuds come in many shapes and sizes. Some have different material from others. These all matter when you're talking about putting them inside your ears. Thankfully, earbud retailers sell products with various silicone ear tips of different sizes. These are often in small, medium, and large. But, some also have extra-small tips. There are packages that come with up to five different ear tips to help consumers wear exactly what fits them best.
Earbuds also have various weights. So, if you are looking for a pair that you'll wear for an hour or less daily, if they're heavy or light. But if you plan on being in them all day long, you'll probably want a pair that;s lighter and has the best silicone ear tips.
Connectivity
There are basically two types of connection options when purchasing earbuds, wired and wireless. Both options have their pros and cons so picking one out of the top of your head may not be the best choice for this matter.
Preference is really the key in making this decision. Some folks prefer to be wired. They hate having to charge earbuds often. Other folks would rather not be bothered by a wire that tangles easily.
Noise Cancellation
Again, it seems that this is a no-brainer, but you will be surprised. I used to think that once noise-cancelling earbuds were invented, there's no need to ever use earbuds without this feature. But, I was wrong.
You see, as great as noise-cancelling earbuds are, some people still need to hear their environment. A common example of this would be for people who are at airport terminals waiting to board their flights. They need to make sure they hear the announcements. People who wear earbuds on the streets should also hear ambient noises particularly when crossing.
But on the flipside, noise cancelling earbuds are works of wonder too! Blocking out all the ambient noises at the gym helps you focus on your routine. At other times, it's best to be in noise-cancelling earbuds when on a long flight so you won't be distracted by outside noise.
Recap: The Top Earbuds With Mic: Wired, Wireless, Budget, Premium
The Best Budget Earbuds With Microphone
1. Panasonic ErgoFit Earbud Headphones with Microphone RP-TCM125
2. Betron B25 Earphones with Mic and Volume Control
3. DuoTen Waterproof Wireless Earbuds
4. TOZO T10 Bluetooth 5.0 Wireless Earbuds
5. MuveAcoustics Drive Wired In-Ear Earbud Headphones
6. Betron YSM1000 Earphones with Microphone and Volume Control
7. Sony MDREX15AP In-Ear Earbud Headphones with Mic
The Best Premium Earbuds With Microphone
1. QDC Neptune Full Frequency Dynamic Unit Earbuds
2. 1MORE True Wireless Earbuds
3. Samsung Galaxy Buds+ Plus
4. Razer Hammerhead Bluetooth Earbuds
5. Panasonic Sports Clip Earbud Headphones with Mic/Controller RP-HS34M-A
6. High-Performance Compact Portable urBeats In-Ear Headphones
7. Jabra Elite Active 75t True Wireless Bluetooth Earbuds
Earbuds, as we have now learned, come in all shapes and sizes. Each earbud has its own set of features that similar products may or may not have.
Ultimately, consumers looking to buy a pair of earbuds should really take a number of things into consideration. It's best to know what you like and do not like in a set. It also helps to know how you intend to use your earbuds.
Needless to say, earbuds are a wonderful invention. These have entertained us and kept us company in different situations. Considering the multitude of options available in the market today, you're sure to find one that will fit your needs.