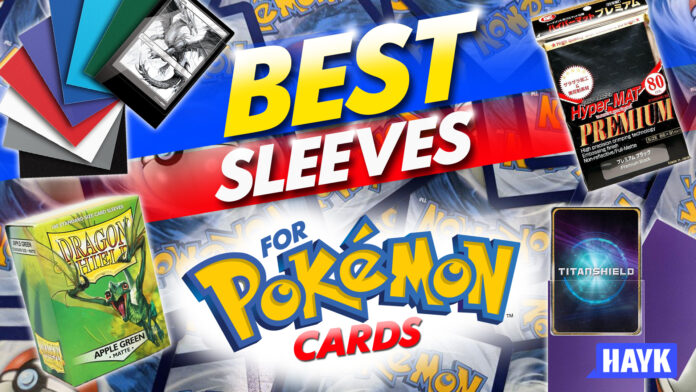 The value of Pokemon cards has become so expensive due to a variety of reasons, which range from stock shortages to scalping. Whether the Pokemon card is worth a lot of money or has pure sentimental value, keeping them inside sleeves is one way to ensure they stay in good shape.
But with so many options to choose from, picking the right one can be overwhelming. You see, sleeves come in plenty of shapes, sizes, and designs, all of which are designed to either feature the card elegantly or just protect the card from getting damaged.
In this article, we listed the best sleeves for Pokemon cards for different purposes, included seven more tips on protecting your cards besides just using sleeves, and even compared similar brands so you can pick the best one for your needs.
Best Sleeves for Pokemon Cards
1. Ultra Pro Eclipse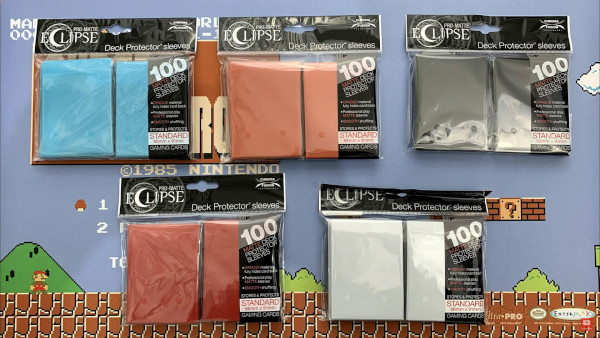 Specifications:
Sleeve Material: Non-PVC, acid-free archival-safe polypropylene film | Sleeve Dimensions: 2.4 inches x 3.5 inches (62 mm x 89 mm) | Sleeve Quality: Matte
Rating:
Durability: 4.2 / 5
Portability: 3.8 / 5
Quality: 4.3 / 5
Shuffle: 4.5 / 5
Fit: 4 / 5
The Ultra Pro Eclipse is thinner than other sleeves in the market, but that doesn't mean that they aren't durable because they can also pass a stretch test while different sleeves like the Dragon Shield Matte cannot.
In terms of quality and durability, the Ultra Pro Eclipse provides outstanding quality and will excel with flying colors. Speaking of colors, the Eclipse also comes in various color options that range from blue, red, green, black, and more.
Because the quality of the sleeve allows it to stretch further, the chance for the sleeve to split is meager.
Shuffling also feels smooth with the sleeves, and you can barely see or feel any pressure at all. Compared with the rest of the options in the market, you will see the difference.
The front of the card also offers an anti-glare feature that works great, especially if you plan to use this in tournaments.
Overall, the Ultra Pro Eclipse is a worthy option to consider if you prefer a slimmer profile that offers a clear front and is perfect for double-sleeving.
2. Dragon Shield Matte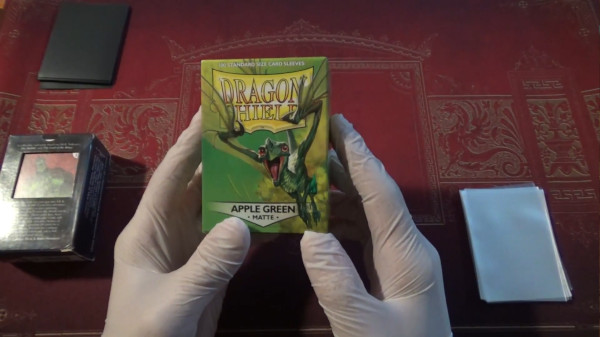 Specifications:
Sleeve Material: PVC-free polypropylene | Sleeve Dimensions: 2.5 inches x 3.5 inches (63 mm x 88 mm) | Sleeve Quality: Matte
Rating:
Durability: 4.2 / 5
Flexibility: 4.2 / 5
Quality: 4.3 / 5
Shuffle: 4 / 5
Fit: 4 / 5
You have probably heard about Dragon Shield and how they have been in the game for a couple of years.
Since they were out in 1999, the team behind the magnificent sleeve has been dedicated to creating the best trading card sleeve for casual players and collectors who regularly use their cards.
Players who play regularly are likely to cause wear and tear to their precious cards. This is what sleeves are for, to keep the cards protected from wear and tear. The team's experience behind Dragon Shield ensures that the cards are protected from various environmental elements such as ripping and grease.
Over the years, the team made improvements to the Dragon Shield sleeves, and they made the latest versions last longer and more durable. The team behind Dragon Shield now has plenty of color variations or "dragons" to match your preferred color preference.
Another thing you will indeed like about the Dragon Shield sleeves is the little box that holds the sleeves safely. This small box is convenient enough to get the cards in and out, great for when you have many cards or packs or even feature unboxing videos.
The size of the sleeve is also enough to let the cards slide inside smoothly. You can even double sleeve your Pokemon cards before putting them in, and they would still fit in.
The backside of the sleeves is not opaque, and you can tell since you can slightly see what's behind the sleeve. But keep in mind that it is not a significant issue, rather a thing you should know about.
Shuffling the cards is easy and doesn't provide any resistance, thanks to the sleeves' quality and material.
Overall, the cards provide outstanding protection and even include a portable box that provides even better protection for your card. If you don't mind the level of opaqueness at the back of the card, then the card should provide you with everything you need to keep your cards safe.
3. Ultra Pro PRO-Matte Sleeves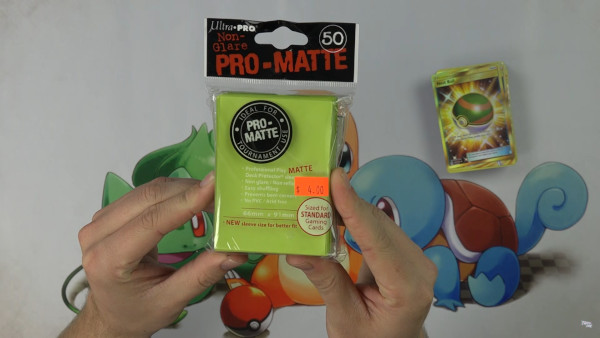 Specifications:
Sleeve Material: Eco-friendly non-PVC | Sleeve Dimensions: 2.6 in x 3.6 in (66 mm x 91 mm) | Sleeve Quality: Matte
Rating:
Durability: 4 / 5
Portability: 3.8 / 5
Quality: 4 / 5
Shuffle: 4.2 / 5
Fit: 4.3 / 5
The Ultra Pro PRO-Matte is another great sleeve on our list, and they are perfect for people looking for a slightly larger sleeve. The pack comes in either '50s or '100s so you can choose according to your needs. Moreover, they come in plenty of color variations.
It is also worth noting that the sleeves are not made to last long, especially from excessive use. So, if you are thinking about using them very frequently, then expect to see some sleeves that will break or show signs of wear and tear down the line.
Apart from the generally positive feedback, there are specific colors that offer poor performance. For example, some users have had the experience of breaking white PRO-Matte sleeves in the middle of a tournament and had to replace them while in the match. The black, however, have had positive feedback through the years, so that is another thing worth noting.
Without sugarcoating, the sleeve isn't designed to take extreme shuffling well. And if you are an extreme shuffler, it would be best to stray away from the white PRO-Matte sleeves.
Overall, the material of the PRO-Matte Sleeves is excellent and may appear to "easily glide" at first, making the sleeves slip off when you stack them. Regardless of the color variation, the sleeves tend to break after a couple of use. But there were some PRO-Matte sleeve color variations found to last longer.
If you are going to use these for tournament purposes, you will want to have some spare sleeves in your bag if they split in the middle of the tournament if you wish to use the white color variation.
On the bright side, the transparent side of the sleeve is clear enough and minimizes glare, perfect for tournaments as it allows you to focus more on what matters.
It is also claimed that Ultra Pro's PRO-Matte Sleeves use a new formula. While most of the features remain the same, one thing that isn't there anymore is the silver medallion located on the lower right corner of the sleeve. The new sleeves don't have the silver medallion anymore.
Even though the silver medallion is an excellent addition, plenty of dedicated users still prefer the absence of the silver medallion. It does not block out any of the card's information.
Now shuffling the cards with the sleeve on is just incredible, and they glide easily and effortlessly. The cards mesh perfectly on the hands as well, so it is easy to perform any form of shuffles, and you can guarantee that they don't go shooting off all over the place.
4. KMC Hyper MAT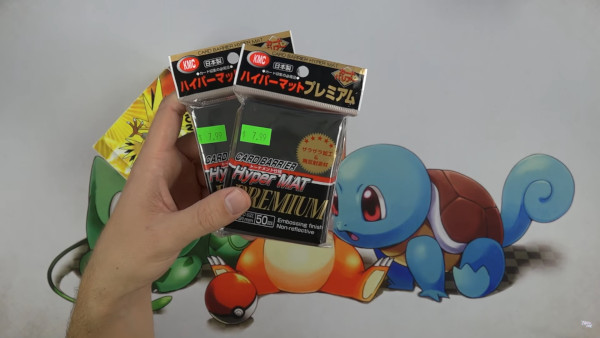 Specifications:
Sleeve Material: Plastic / Acid, PVC-Free | Sleeve Dimensions: 2.6 inches x 3.6 inches (66 mm x 92 mm) | Sleeve Quality: Matte
Rating:
Durability: 4 / 5
Portability: 3.8 / 5
Quality: 4 / 5
Shuffle: 4.2 / 5
Fit: 3.8 / 5
The new KMC Hyper MAT reverts to using the old formula in terms of quality and durability. The new formula they used wasn't as durable as it were and many have noticed this. There were a handful of new formula Hyper MATs that split at the end of the first tournament.
The old formula Hyper MAT by KMC took very well to a stretch test, and it's nice to see they reverted. So, durability is relatively reliable with the new KMC Hyper MAT.
If you are planning on going double sleeve, you can also do so with ease. The fit isn't too tight, nor is it too loose, so you can fit a double sleeve in without having to worry about damaging the card in the process.
The back of the card is also textured and feels excellent for casual and tournament use. Compared to other options in the market, the back is fully opaque, and you can barely see the image of the back of the card.
Shuffling the cards also doesn't show any form of resistance and just goes well.
All in all, the quality, durability, reliability, and shuffling experience are a tad better now that they used the old formula again. However, you will need to invest in a box or deck holder since this one doesn't have one.
5. TitanShield Card Sleeves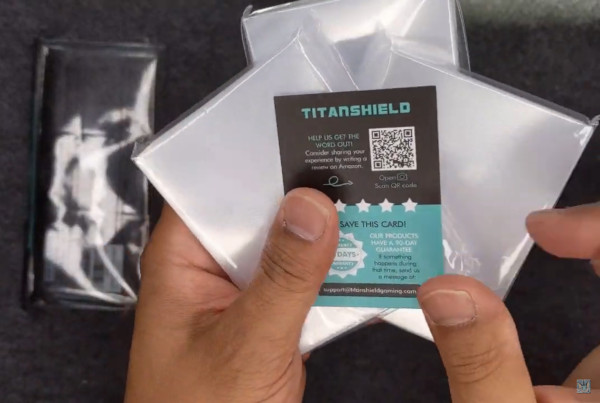 Specifications:
Sleeve Material: No PVC, acid-free | Sleeve Dimensions: 2.6 inches x 3.6 inches (66 mm x 91 mm) | Sleeve Quality: Matte
Rating:
Durability: 3.5
Portability: 3.8
Quality: 3.8
Shuffle: 4.2
Fit: 4.3
The TitanShield Card Sleeves are a great option to consider if you are new to collecting and playing Pokemon cards. Essentially, the sleeves have everything you need for the most part without compromising as much.
Starting with the card's durability, the TitanShield Card Sleeves aren't exactly equally durable. Some of the sleeves break off easily, while others take a little more strength to break.
The back of the card is also a tad translucent. Even though you can barely see the back of the card, it still isn't a significant thing to worry about. Furthermore, the back is a bit textured and feels nice because it doesn't slip out easily from your hand, perfect for both casual gaming and tournaments.
In terms of fit, the card slides right in and doesn't display any form of resistance compared to other sleeves in the market. You won't have to add any form of pressure anywhere just to get the card to slide in. Overall, the card first right inside and isn't too loose as well to fall out accidentally.
Shuffling them isn't the best feeling, but it does keep the cards protected from long-term damages caused by mixing the cards. It does, however, feel a lot smoother to the point that cards will just fall right in when you shuffle the cards than without the sleeves on.
Quite frankly, they don't offer the best experience in the world in most aspects, but they do perform just suitable for casual use. If you choose to put them inside binders, they also work perfectly and should get the job done.
7 Tips for How to Protect Your Cards Besides Just Using Sleeves
Apart from sleeves, there are several other ways for you to store or protect your valuable Pokemon cards. In this section, we will talk about seven more tips to protect your cards besides using sleeves.
1. Tins
Tins are typically acquired from buying Pokemon TCG Tins to store cards. While it's true that they keep the cards from environmental factors such as specs of dust or liquid, it does not keep the card's condition pristine.
Cards get damage inside tins because they have too much space inside to move around. With so much space inside, damaging the sides and edges of the cards are very likely.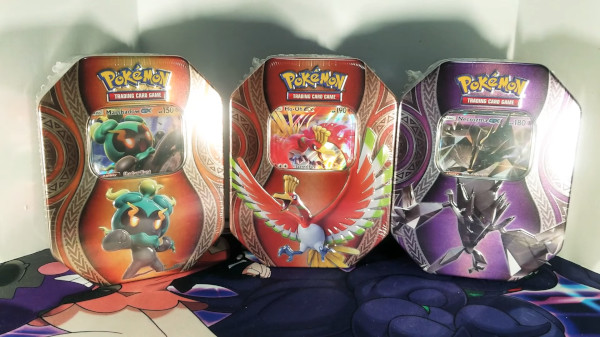 I will not recommend tins to protect your cards, especially if you are a collector. But you will surely like the following alternatives below.
2. Elite Trainer Boxes
If you have plenty of Pokemon cards you want to store, but don't want to risk damaging them inside tins, perhaps elite trainer boxes would do the job.
This method of storing is ideal for collectors looking to store large amounts of cards as trainer boxes are stored in a tight, compact space where cards won't move a lot, ensuring their safety.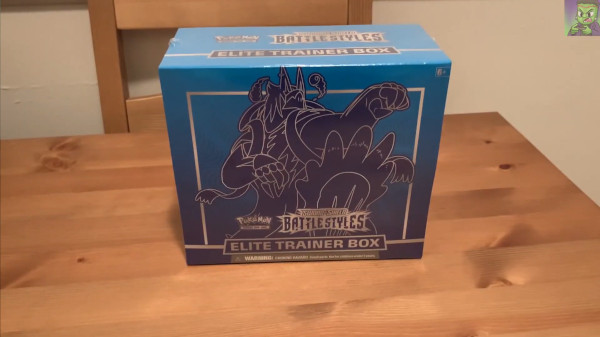 If you have plenty of cheaper cards you want to keep, I would recommend the elite trainer boxes than tins to keep their condition intact. The size of trainer boxes also saves a lot of space its size is perfect to fit your Pokemon cards.
3. Card Storages or DIY Boxes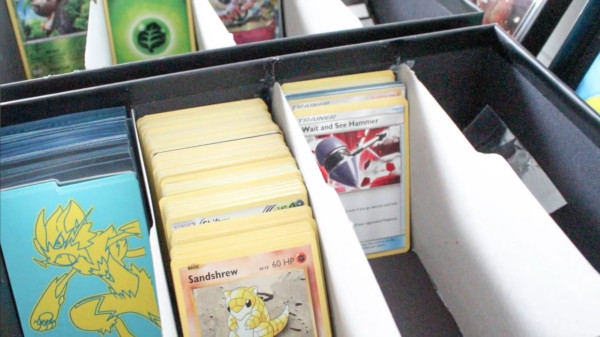 Card storages are an alternative to elite trainer boxes. The only difference is how they are made. Card storages are typically designed to fit various types of Pokemon cards.
You can design them to fit larger or smaller portions of cards or even customize them to separate various types or rarities of Pokemon cards in a single box.
4. Deck Box
Most of the time, players will just use their decks or even carry them around wherever they might be. If you're among those types of players, then it's logical to use your decks to store your most valuable cards.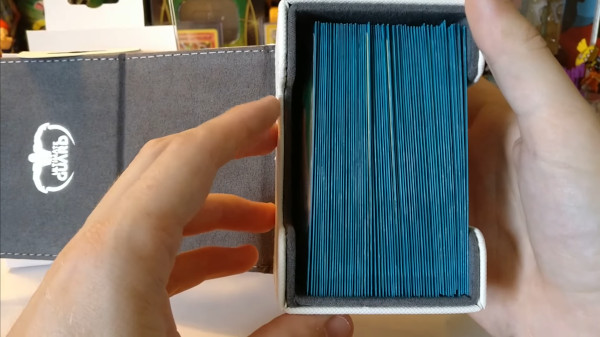 However, it is also essential to consider specific things before deciding and using a deck box to protect your valuable cards because they can range in shape, size, and even material.
Deck boxes made of leather, wood, and plastic are highly recommended as they do the job of keeping the card safe and in pristine condition.
5. Binders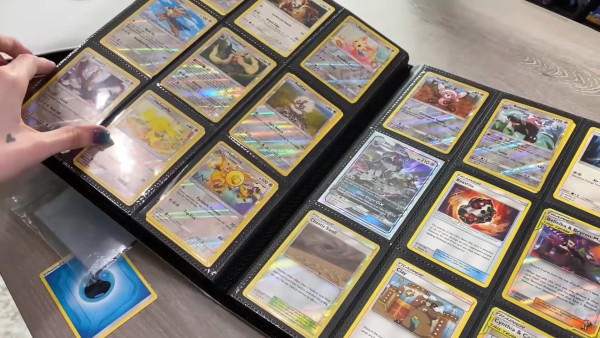 I would like to assume that you are old enough to have witnessed physical photo albums back in the days. But just in case, photo albums work similarly to binders where you put the cards in pockets and keep them from specs of dust, wear, and tear.
Using this method is a great way to store a collection or even sets of Pokemon cards. While binders are proven to keep cards in pristine condition, putting them in sleeves before putting them in the binder would provide extra protection for the glossy layer of the card.
It is also crucial to regularly check the condition of the cards inside the binders as leaving the card inside for so long could risk the cards "to stick" inside the binder.
6. Lockable Padded Case
Investing in padded cases is highly recommended for people looking for a way to safe keep their most valuable cards. Usually, lockable padded cases cost anywhere between $50 to $100 and over if you are looking for a higher-end lockable padded case.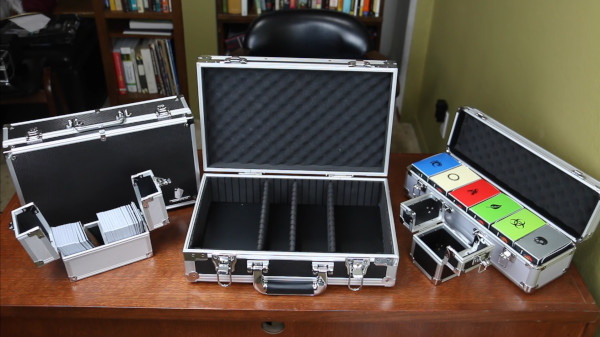 Padded cases don't just store your cards, but they also protect them from potentially all environmental factors, depending on the type of material the case is made of. There are even lockable padded cases that are water or air-tight, which significantly increases the security of your cards.
Ideally, you will only want to invest in lockable padded cases if you are serious about protecting your most valuable card.
7. Display Frames
Now, if you don't fancy hiding your cards and would rather have them displayed in your living room, display frames are the way to go.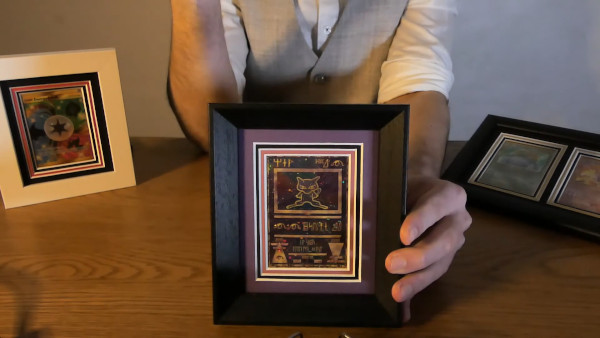 If you are a collector and want to show off your rare cards along with the rest of your miniatures from D&D, Warhammer, and others, then buying, ordering, or customizing your display frame will surely make your cards scream.
Going for display frames is the only way to go if you want everyone to know you have one, if not the best Pokemon card in the world. But if you prefer to customize your frame using balsa wood, make sure you use the suitable glue so it would stick and last long.
In terms of price, they range greatly depending on the size of the frame and the design.
Here's How to Choose Which Sleeve is Best For Your Needs
Consider the Size First
Size matters, especially when it comes to sleeving pokemon cards. Not only does it affect the quality of the card if it doesn't fit right but it also affects how you transport and store them. Pokemon cards have the standard trading card size, which is 6.3 cm x 8.8 cm or 2.5 in x 3.5 in. Any card sleeves that follow the standard size should perfectly fit Pokemon cards, MTG cards included.
Additionally, sleeves that have a constant size is something that should also be opted for. If sleeve manufacturers do this, you can ensure they've got the perfect size for all types of sleeves they have, unless they manufacture something that is out of the ordinary size.
Get Penny Card Sleeves if…
Among the three types of card sleeves, penny sleeves are the most affordable, which come in a pack of 100s for only a little over a dollar. But because manufacturers have to compromise a lot, you can't really rely on the penny card sleeves if you're going to use them in tournaments. However, using penny card sleeves for storing will still be the most cost-effective way.
Matte Card Sleeves Are Your Go-To if…
You want something with a balance between price and protection. These normally cost a little more than the penny sleeves but they are built to be more durable. There are a handful of our featured sleeves that are matte, and you can rely on them for casual and even in tournament cases.
Top-Loader Card Sleeves are Your Best Bet if…
You can easily tell that these are the most expensive card sleeves among the three types of card sleeves from their name alone.
They're translucent on both sides like penny sleeves, so they will expose both sides of the card. Unlike the penny card sleeves, these are made to provide the most protection to any card. Apart from being very resistant to tearing and bending, they also offer the most space for most cards, perfect for users who plan on storing multiple cards in one sleeve.
Ideally, you should go with whichever fits your needs. But to maximize the protection, users who value their card would often combine penny sleeves with top-loaders and use matte sleeves for both casual and tournament cases.
FAQ About Sleeves for Pokemon Cards
Which Way Do You Sleeve Cards?
There is no official way of storing your cards in sleeves, but there are logical explanations as to why you should put the sleeve opening in a particular direction.
Most people put the opening at the top. Still, some would prefer leaving the opening at the bottom to avoid spillage from drinks and other environmental factors, most especially from their opponent when playing with them.
Most people leave the opening at the top to keep the cards from falling accidentally. But as long as the sleeves are 100% airtight and are sized to fit a Pokemon card perfectly, this should not be an issue.
The bottom line is that the opening should not be an issue as long as the sleeve is sized specifically for the Pokemon cards– not too tight and not too loose.
Do Sleeves Damage Cards?
There are cases where sleeves do damage cards, especially when the sleeve is too tight as they might nick corners and damage the card's edges. The same can be said for sleeves that are just perfect for the cards.
Ideally, you want a sleeve that isn't too fit for your card and isn't too loose.
Should I Double Sleeve my Cards?
Depending on what kind of protection you want to put on your cards should be whether you go with double sleeves or not.
You see, single sleeving protects the card against wear and tear, while double sleeving improves the protection and makes your card waterproof and almost indestructible. Furthermore, double sleeving will keep your card from getting soaked in water or dusted.
If you have a specific card you want to protect, then it's a no-brainer to double sleeve the card to keep its condition pristine.
Can I Use Yu-Gi-Oh Card Sleeves on Pokemon Cards?
You can use any sleeve type on your Pokemon cards as long as the size is just right for your cards.
In the case of Yu-Gi-Oh sleeves on Pokemon cards, you have to remember that Yu-Gi-Oh cards are sized smaller than Pokemon cards, so make sure that if you use Yu-Gi-Oh sleeves, make sure that it fits.
What are the Dimensions of a PSA Graded Pokemon Card?
Sizes of cards vary greatly, a reason why PSA Holder sizes range greatly as well. Below are the current approximate cardholder sizes according to PSACard.com:
Standard – 2 11/16″ x 3 13/16″
Tall Boy – 3 1/2″ x 5 1/6″
Supersized (Ticket) – 3 5/8″ x 7 1/2″
Supersized (Check) – 4 1/4″ x 10″
T-3 Holder – 5 3/4″ x 8″
Jumbo – 8.5″ x 11″, 6.25″ x 8.25″, 7.5″ x 9.5″, 8.1″ x 10.1″
Brand Comparison and Pros/Cons
Ultra Pro Eclipse vs Dragon Shield Matte
The Ultra Pro Eclipse and the Dragon Shield Matte are 2 of the best sleeves you can get today. As per which performs best, you can't point a finger as they have standard features and unique to their own.
Ultra Pro Eclipse
Dragon Shield Matte
Both the Ultra Pro Eclipse and the Dragon Shield Matte are durable in their way, but the Dragon Shield is thicker compared to the Ultra Pro Eclipse. On the other hand, the Ultra Pro Eclipse offers a better shuffling feel compared to Dragon Shield.
Additionally, the Ultra Pro Eclipse can better fit double sleeves than the Dragon Shield Matte. But if you prefer a sleeve with better foils, the Dragon Shield Matte is your best choice, while it would be wiser to get the Ultra Pro Eclipse if you want a sleeve with an anti-glare feature.
Overall, both offer premium quality, and it boils down to which you think offers what you need from a sleeve.
Ultra Pro PRO-Matte vs Ultra Pro Eclipse
The Ultra Pro PRO-Matte and the Eclipse may be of the same brand, but the products have their strengths and weaknesses.
Ultra Pro PRO-Matte
Ultra Pro Eclipse
Even though the same company makes both, they offer different features that may make or break your experience.
Between the two, the Ultra Pro Eclipse is the superior option as it contains a better overall feel and better material. Even though they may look the same at first glance, the difference will slowly show up over time.
But looking closely, you will see how the Eclipse shows a more opaque back than the Pro-Matte. Unfortunately, both collect dirt pretty fast, so it is advisable to handle them with clean hands.
Fortunately, using them for a tournament deck isn't entirely game-breaking since you will most likely be using new sleeves for such occasions. Between the two, the Eclipse is the only card that can go up against the Dragon Shield Matte and should be the better option if you're torn between the two Ultra Pro sleeves.
KMC Hyper Matte vs TitanShield
KMC Hyper Matte
TitanShield
Both KMC's Hyper Matte and the TitanShield fall under the two least performing sleeves on our list, but it doesn't necessarily mean that they are the worst.
Both the Hyper Mat and the TitanShield are durable, but the TitanShield is slightly thicker in terms of thickness. But note that this isn't noticeable.
Shuffling with either sleeve also isn't entirely bad at all as it should still give you a more comfortable experience– just that they aren't as smooth as other premium-grade sleeves in the market.
The TitanShield also comes with a lot more sleeves than KMC's Hyper Matte. To be precise, the TitanShield comes with 150s, while the Hyper Matte comes in packs of '80s or '100s.
Overall, both perform great for what they are intended for and are durable enough to last a decent amount of time. But like any other thing, the longevity of the sleeve is greatly affected by how frequently you play with them.
Recap and Conclusion
Top 5 Best Sleeves for Pokemon Cards