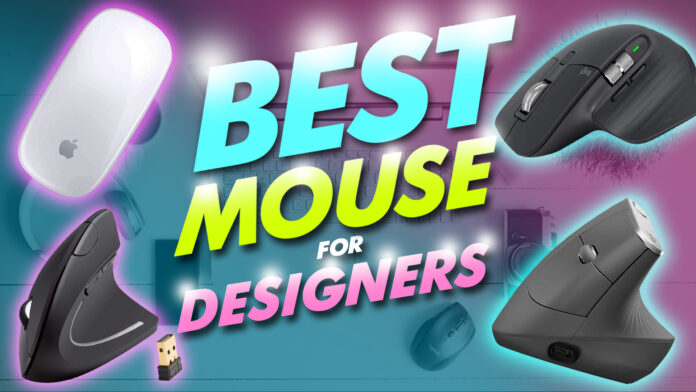 When delving into the world of professional design, you want to make a lasting impression on your clients. Since your output is dependent on the equipment you're using, you should make sure you're using nothing but the best.
For most graphic designers, the monitor is the first thing that usually comes to mind. Sadly, many designers (not you; otherwise, you wouldn't be here) forget about peripherals and how they contribute to your content.
It can be hard to find the right devices, especially with the sheer number of options on the market. That's what this article is for: to give a list of the best mouse for designers in 2021.
Why You Need a Specific Mouse for Graphic Design Work
Professional work requires you to execute the same operations over and over again. While keyboard shortcuts get the job done, having a dedicated mouse for designers to perform these actions in quick succession can harmonize your workflow.
Additionally, having a mouse with certain specifications at hand is a plus as it also speeds up your progress. Think of it as a tool to perfectly pull off quality designs like in typography or calligraphy where you need the right brush and tools.
Since most editing programs come with plenty of commands, having a programmable mouse should increase your productivity.
Best Mouse for Designers in 2021
1. J-Tech Digital Vertical Mouse with Good Sensitivity and DPI Adjustment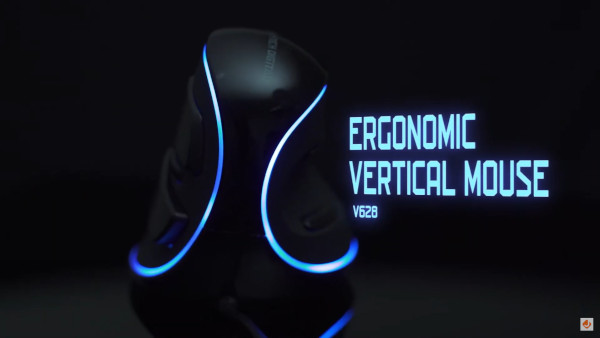 Rating
Versatility: 4/5
Responsiveness: 3.9/5
Style: 4/5
Value: 4/5
The J-Tech Digital vertical mouse is stylish and versatile at the same time. It sports a chrome black sheen, accentuated by a blue LED trim. The mouse's form is also exceptional, reducing physical strain as you work on difficult projects.
Unlike some popular vertical mice, the J-Tech mouse has a curved form that promotes natural muscle movement. An adjustable palm rest is also included, allowing better control for the user.
J-Tech mouse's button positioning is convenient. You don't have to worry about unreachable buttons since they are positioned along the mouse's vertical body. The buttons are also responsive, smooth, and quiet. If you don't like the button setting right out of the box, you can always change it through the J-Tech digital driver panel.
In terms of performance, the J-Tech vertical mouse doesn't fall short. It can reach as high as 1600 DPI, and you even have the option to adjust this rate to fit your current activity. Additionally, the mouse has an advanced optical tracking feature that complements DPI scaling.
One noticeable issue of the J-Tech mouse is its scroll wheel. You might have a difficult time using the scroll wheel because of its sideward position. Some users reported index finger strain, while others complained about scrolling delays.
Just like all vertical mice, the J-Tech mouse feels unnatural during your first time of using it. The awkward feeling is even stronger if you're used to traditional gaming and office mice. After a few days of using the J-Tech mouse, you'll get the hang of it, making it among the highly recommended magic mouse or mouse for designers in the market.
2. Logitech M570 Wireless Ergonomic Trackless Mouse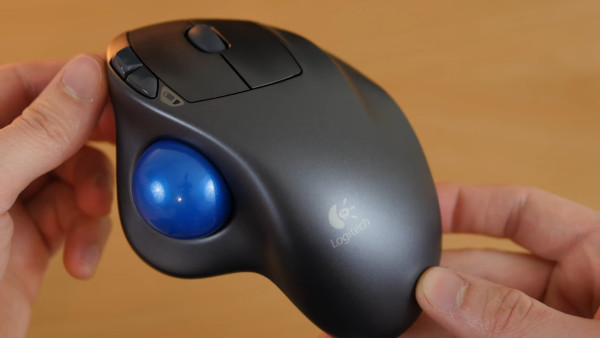 Rating
Versatility: 4.5/5
Responsiveness: 3.9/5
Style: 3.5/5
Value: 4.5/5
At first glance, you may think that the Logitech M570 mouse is something out of this world. The mouse has a distinct right-leaning curve and a bright blue trackball for increased mobility.
Due to its form, the M570 wireless mouse makes a fine choice for right-handed users. The mouse's surface is smooth, and the curve offers support for your palm. Your thumb can even reach the trackball easily, saving a few seconds every time you need to move your mouse.
The M570 trackball utilizes the advanced Logitech receiver. Just leave this receiver on your laptop so you can use the mouse anytime. The Logitech receiver will also let you add other compatible wireless devices.
Even though the Logitech M570's trackball is useful for many activities, it's not that good for gaming. The trackball intrudes with the mouse's natural movement, creating a short delay in average response time. Still, you can practice gaming with the M570 mouse but it won't reach the performance level of dedicated professional gaming mice.
3. Memzuoix Wireless Ergonomic Mouse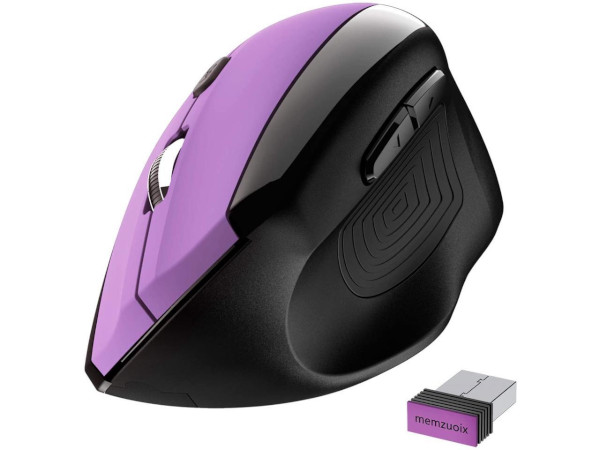 Rating
Versatility: 4.5/5
Responsiveness: 4/5
Style: 4.5/5
Value: 4/5
A responsive vertical mouse can improve your work efficiency. But how about a responsive and fast mouse with a unique sense of style? These are the qualities of the Memzuoix ergonomic digital mouse.
The Memzuoix vertical mouse boasts a neat combination of purple and black colors. Complementing these colors is the mouse's chrome scroll wheel and comfortable thumb rest. The mouse's form is easy to the eyes and comfortable to your wrist.
Flexible performance is also a strong suit of the Memzuoix vertical mouse. It features adjustable DPI rates of 800, 1600, and 2400. You can adjust the mouse's DPI by simply clicking the DPI button. Plus, the stylish Memzuoix mouse is plug-and-play, so you don't need a driver.
Even though the Memzuoix performs good, its battery life is subpar. If fully charged, the mouse can only run for more or less two weeks. Additionally, the Memzuoix mouse doesn't have a strong build, particularly in the button areas. To prolong the mouse's durability, you mustn't use it for click-intensive gaming.
4. Skyshadow Wireless Optical Pen Mouse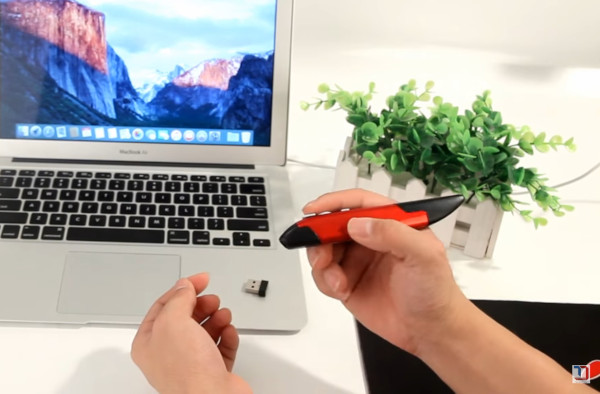 Rating
Versatility: 4/5
Responsiveness: 4/5
Style: 4/5
Value: 4.5/5
Are you looking for a mouse that can also work as a pen or pointer? In that case, you should take a look at Skyshadow's stylish optical pen mouse. This mouse is an exceptional choice for graphics designers, presenters, and even eBook readers.
The Skyshadow pen mouse is versatile enough to reach varying DPI rates of 800, 1200, and 1600. While these rates are not that high, they're enough for basic office and creative work. Since the Skyshadow mouse is similar to a pen, you can make easy handwriting and design strokes on a graphics tablet.
If you want to improve your efficiency in presentations, the Skyshadow optical mouse is the answer. This pen mouse is also a quick pointer tool, and it has a convenient scroll wheel that lets you breeze through one slide after another. Aside from presentations, the pen mouse will allow you to read eBooks while laying down or relaxing. You just need a tablet or a Kindle device for the mouse.
Don't expect to use the mouse for heavy gaming. The Skyshadow pen mouse doesn't have ergonomics form for gaming, and it can affect your reaction time negatively.
5. J-Tech Digital Scroll Endurance Wired Mouse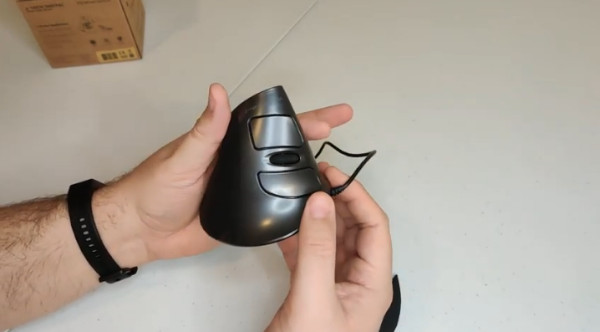 Rating
Versatility: 4/5
Responsiveness: 4/5
Style: 4/5
Value: 4.5/5
The J-Tech Digital scroll endurance mouse offers a trifecta of performance, style, and durability. In a way, this mouse is a beneficial investment for your graphic design or even CAD projects.
With its well-defined vertical form, the J-Tech endurance mouse can help reduce wrist strain significantly. The stable vertical form complements the mouse's thumb rest, and the extended wrist base helps in maintaining balance. The mouse also has a long rubber grip with protruding sections, creating a tactile feel.
With the mouse's scalable DPI rates of 600, 1000, and 1600, you can easily adjust from relaxed browsing to click-intensive content creation. Another strong quality of the scroll endurance mouse is an advanced, high-resolution optical sensor. This sensor further improves the mouse's accuracy and overall response time.
Since the scroll endurance mouse isn't wireless, you won't encounter battery or power problems. You just have to keep the mouse secured so it won't get in the way of your work.
If you're fond of lightweight mice, you might feel a bit disappointed with the J-Tech endurance mouse. This mouse is heavier than other J-Tech vertical mice, indicating tight parts and high-quality components. To solve this minor issue, you can use an ultra-smooth mouse pad and enhance the mouse's movement response.
A caveat: the J-Tech wired endurance mouse is not fully compatible with Mac systems. The mouse might work but its buttons won't respond properly. You'll even notice the mouse's poor response time once connection is established to a Mac system.
6. Logitech Optical Marble Trackball Mouse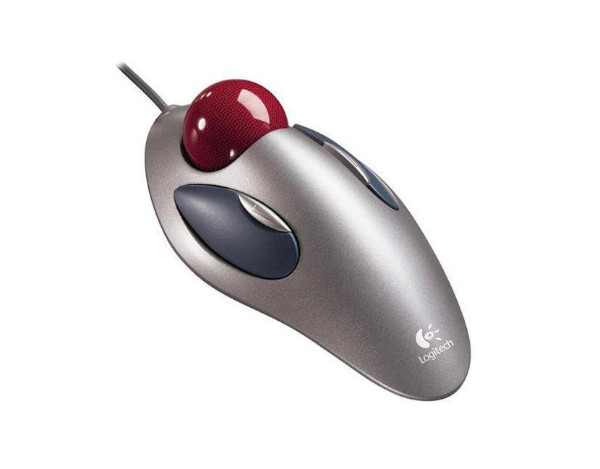 Rating
Versatility: 4/5
Responsiveness: 4/5
Style: 4/5
Value: 4.5/5
Logitech is one of the pioneers of versatile trackball mice. The company has numerous professional trackball mice such as M570 and the gray Trackman. A recent competitive trackball mouse from Logitech is the marble optical variant.
Built with an elongated form that accommodates buttons neatly, the Logitech marble trackball mouse is as ergonomic as it can be. There are no extra fancy curves or rubberized grips, but the mouse does the job well because of its impressive response time.
With the Logitech trackball mouse's button positioning, your fingers won't suffer from physical strain. The red trackball is always within reach, and the side buttons respond with gentle taps. The mouse's ambidextrous design is also good for left-handed and right-handed usage, making them among the highly recommended mouse for left-handed users.
The Logitech trackball mouse doesn't have a wrist rest, unlike some popular trackball mice. This isn't a big problem because you can just find a simple technique for handling the mouse. Just be careful with the trackball because it tends to fall out easily.
7. Logitech Trackman Wired Trackball Mouse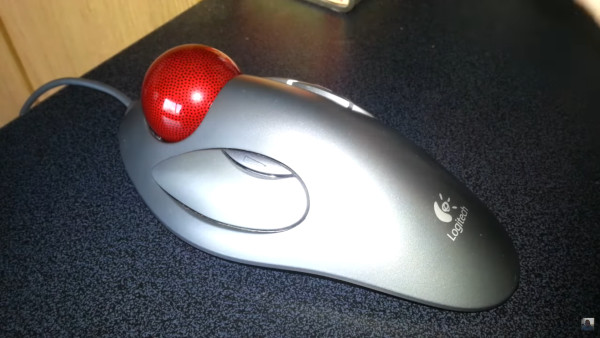 Rating
Versatility: 4/5
Responsiveness: 4/5
Style: 4.5/5
Value: 4/5
The Logitech Trackman is the stylish twin of the Logitech Marble trackball mouse. There's only a mild difference between the two trackball mice, but Trackman leads the game because of its strong wired connection type.
Due to its plug-and-play nature, the Trackman mouse allows quick usage right out of the box. You don't need to run a long setup process or a string of commands. Still, you can use the Logitech software to configure the buttons. Some of the connection associated with the buttons are application startups and exits, page flip, volume adjustment, and full-screen switching.
The Trackman mouse responds quickly to button clicks and movement. However, you might encounter some delays while constantly zooming in and out. These delays are not obstructive or problematic.
Despite its stellar performance and reliability, the Logitech Trackman mouse is only limited to office work, creative projects, and browsing. You can't use it for gaming because of the average reaction time, few programmable buttons, and the lack of a dedicated scroll wheel.
8. Kensington Expert Wireless Trackball Mouse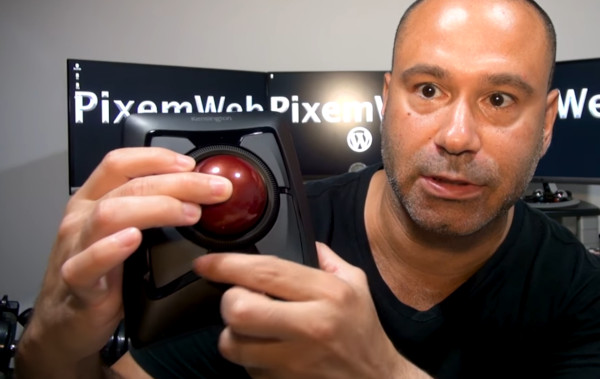 Rating
Versatility: 4.5/5
Responsiveness: 4.5/5
Style: 3.9/5
Value: 4/5
Professional trackball mice dominate a small section of the market. Many users are still reluctant to use trackball mice because of their price and strange form. But if you want to invest in your professional development, you need to have good gadgets or peripherals. One gadget that can improve your progress is the Kensington expert trackball mouse.
Built for precision and speed, the Kensington trackball mouse will help you finish multiple creative projects within a short time. The trackball mouse is twice faster when it comes to browsing, pointer movement, and page selection. There's also a scroll ring that you can use for browsing digital files.
With the Kensington mouse's ambidextrous form, you can use both hands. Simply adjust the wrist rest to a position that you're comfortable with. Plus, you can tinker with the Kensington control panel to find the best button customization. Having the option to such customization should make your work more efficient than it already is.
The Kensington expert trackball mouse is, indeed, made for experts, which explains the reasons of its range of prices in the market. Unlike Logitech's natural trackball position, the Kensington trackball takes center stage. This might feel unnatural at first, deliberately affecting your reaction time. Just keep practicing with the trackball mouse and you'll eventually see how it can improve your work!
How to Take Care of Your New Graphics Design Mouse
A mouse for graphic design typically costs more than the average gaming mouse. This is because of advanced features like vertical design, optical tracking, scaling DPI, and anti-strain curves. So if you don't want to waste money, you must take care of your new graphic design mouse and its features.
Here are some tips on how to improve the longevity of your graphic design mouse:
Clean the Mouse Every Week (Including buttons of the mouse)
The mouse is the second dirtiest part of your computer. On average, it has approximately 1,600 germs per inch, outmatching the toilet seat. While germs don't immediately affect your mouse's quality, the gunk build-up will soon hinder performance. Gunk can seep into small sections and corrode the mouse's internal parts over time. Also, a gunk-filled mouse doesn't look nice.
Before cleaning your mouse, unplug it to prevent short-circuits and any damage. Use a damp cloth to clean the mouse's base and sides. If your graphics design mouse has a vertical form, don't forget to clean the handle-like section as well. This section usually accumulates finger smudge and dust.
A Q-tip is also handy in cleaning the mouse's bottom surface, especially the lens area. Just be careful not to poke the Q-tip against the mouse's sensitive parts.
Get a High-Quality Mouse Pad
A regular mouse pad is not just for convenience. It also protects the surface of the mouse from bumps. Additionally, good mouse pads have soft, elevated areas that can reduce wrist strain.
As much as possible, don't pick a cheap mouse pad with excessive designs and colors. This type of mouse pad usually flakes off after a few months of usage. In this case, a mono-colored mouse pad is a right match for your graphic design mouse.
Mousepads with extra features are optional. If your budget is high, you can purchase a stable mouse pad with a lighting option. The light will enhance your hand-eye coordination, allowing you to maintain focus for a long time. Advanced rubberized grip is also a unique feature that improves your mouse's response.
Get a Carry Case for Traveling
Sometimes, you still need to work while you're on the go. You probably have to bring your laptop along with other important gadgets like headphones, a Wi-Fi stick, and graphic design mouse. Instead of putting your pricey mouse in a cramped bag, you can just use a durable carry case. This will avoid unwanted bump damage, as well as cord tangling if you have a wireless mouse.
Use a Separate Mouse for Intense Gaming
Even though graphic design mice can withstand heavy clicking and movement, they're not immune to wear and tear. Buttons will feel clunky over the years, and the mouse will become less responsive. If you're not cleaning the mouse frequently, you might even notice the damage worsening.
To prevent damaging your graphic design mouse further, you should use a separate mouse for heavy gaming. It's easy to find an affordable gaming mouse today due to the number of various branding available in the market. Some good mice branding are Razer, Logitech, and MSI.
Tie Your Mouse's Wire
One of the common problems with a wired mouse is its cord. Sometimes, the cord gets tangled with other peripherals or simple corners. This might hinder your work since a tangled wire can cause movement delays. The wire can even pull other objects and cause them to spill over your workplace.
To avoid having a tangled wire, you just need a simple rubber band. Simply tie this band around the wire's excess portion to shorten it. Another alternative to rubber bands is a reusable cable tie. You can order reusable cable ties from online shops, and you also have the chance to pick multiple colors for style. Most cable ties are made of plastic, but you can find other types made of leather and strong nylon.
Mind the Trackball
The trackball mouse highlights the fine line between performance and speed. With a trackball, you can move the mouse pointer to the desired location easily. Trackballs even allow faster page browsing and transition, cutting your working time by half. It's important to take care of your mouse's trackball right from the start.
Use a moist cloth to clean the trackball. You can start in the trackball's bottom casing and work your way to the trackball itself. If you want to wash the trackball with soap and water, make sure that it's properly dried before putting it back in the casing.
Remember the golden rule: don't drop the trackball! Since the trackball is sensitive, bumps, scratches, and dents can affect its performance.
Trackball Mouse Cleaning Video – A Basic Guide
Do you need a video guide on how to clean your mouse's trackball? Check out the video above and take note of the step-by-step process.
Best Mouse for Every Designer – Some Important Considerations
Aside from the points that we've covered in our buying guide, there are still some helpful factors that you must consider. These factors will not only help you save money but can save your precious shopping time as well.
The Need for Accessories
Accessories are always optional unless you have a big budget. Some of the common types of accessories are detachable grips, extra cords and wires, cable ties, stands, and travel cases. You don't have to search far for these accessories because manufacturers include them in every mouse item.
But how will you determine if an accessory is crucial? The answer is urgency. Try to check if your mouse is damaged or compromised by your workspace. In that case, you possibly need a small set of budget-friendly accessories.
Reviews and Recommendations
Finding authentic reviews of graphic design mice is challenging. You have to sift through dozens of real and fake reviews. While detailed user reviews are useful, there's no foolproof way of determining their authenticity. Plus, reading these painstaking reviews takes a lot of time.
Video reviews are more authentic than plain text reviews. In most various computer gadget stores, you can check out video reviews submitted by users. The best video review usually covers a mouse's advantages, disadvantages, and other features that you have to know about, including different view.
Brand Archetypes and Promos
Whether you believe it or not, branding have archetypes that affect users' buying decisions and digital responses. Take a look at Razer and its arsenal of premium-grade equipment. Razer depicts coolness and the enjoyment of gaming. The same thing applies to well-known mouse manufacturers like Logitech and Anker.
By keeping a mental note of brand archetypes, you can shop around for graphic design mice easily. Tag Logitech as a beginner-friendly brand and you can sort its products based on simplicity or complexity. Apply the strategy to other brands and you'll have the right information to help you buy a powerful graphic design mouse.
It's also possible that there is a connection between branding archetypes to promos. If you love availing of computer mouse promos, then you should know which brands have the best options. You can learn this information by checking out large marketplaces such as Amazon and Newegg.
All about Skill Level
A graphic designers skill plays a major factor in finding the right mouse. If you're a beginner, for example, you can always settle for a midrange mouse. The common features of a midrange mouse are programmable buttons, an adaptive scroll wheel, and extra RGB lighting. You don't need a complicated mouse right away unless you've taken a difficult graphics design project.
As your skill improves, you'll naturally feel the strong urge to buy an advanced graphics design mouse. Maybe you need the cutting-edge precision of a trackball mouse or the long-term comfort offered by a vertical mouse. Upgrading a basic mouse will often yield a strong advantage, improving your work output significantly as graphic designers.
Best Mouse for Designers FAQ
What's the difference between a graphics design mouse and a gaming mouse?
Answer: The difference is small. A mouse for designers has special features to make a designer's life easy. Likewise, a competitive gaming mouse has superb features that can increase a gamer's reaction time and proficiency.
What are the top brands for graphics design mice?
Answer: The best brands for graphics design mice are Logitech, Razer, and Anker. Logitech has well-rounded mouses (including the Lightspeed), while Razer dominates the market in terms of style. If you're concerned about your budget, Anker is the best option.
Why is a vertical mouse useful for graphics design?
Answer: A vertical mouse is useful for graphics design because of its unique ergonomics. This mouse also has a higher sensitivity rate compared to other common gaming or office mouses.
What graphics design mouse is great for beginners (Logitech MX Series)?
Answer: The Logitech MX Master 3 is a beginner-friendly mouse because of its ergonomics. Another strong point of MX Master 3 is its reliable battery life that can run for more than 10 days if fully charged.
Is a wireless mouse (like the Logitech MX) better than wired?
Answer: It depends on your priority. If you don't like the hassle of wires and cords, your best option is a Bluetooth or a wireless mouse. Just keep in mind that a Bluetooth or a wireless mouse has a limited usage time because of its battery. A wired mouse has an unlimited usage time but you need to be careful with its dangling wire, especially if you're always on the go.
Can a big scroll wheel affect the performance of a graphics design mouse?
Answer: No, but you need to ensure that the mouse has a responsive scroll wheel. Any delays can affect the quality of your work or gaming experience.
Should I get a vertical mouse?
Answer: By all means, YES. A vertical mouse is better than the average mouse because of its ergonomics, resembling a handshake. This form reduces wrist strain and prevents numbness. A vertical mouse is an excellent option for professional work or creative projects, but it's not efficient for competitive gaming.
Is a trackball beneficial for graphics design?
Answer: Yes. A trackball helps you move the mouse pointer fast, saving a few seconds of your operational time. You can even flip web pages easily with a high-quality trackball.
The Different Types of Graphics Design Mice – Explored
Sometimes, choosing a graphic design mouse is not just a matter of price and style. You must understand the most popular types of graphic design mice to make the right buying decision.
Basic Mouse (Wired and Wireless)
The basic mouse is the one that you'd see in many professional or casual computer setups. Since there are thousands of basic mouses in the market, it's easy to order one. Just determine if a wired or Bluetooth or wireless mouse is the best option for your work.
You don't need a mouse with many fancy lights and buttons. At least, you only need a responsive mouse that won't hinder your creative projects. A gaming mouse is even viable because it allows button programming and other efficient setups.
Trackball Mouse
The trackball mouse is the solution if you care about efficiency, reliability, and speed. You can roll your fingers over the trackball and the mouse pointer will follow accordingly. This saves time because you don't need to move the mouse at all.
Given its usefulness, the trackball mouse has a steeper cost than the basic mouse. On average, you can find trackball mouses within the range of $20-100. Anything higher than such a range is probably a five-star gaming mouse or a professional 'hybrid' mouse with advanced features.
Trackball mouses or mice are not efficient for competitive gaming. However, you can still use a trackball mouse to play light games or incremental clickers.
Pen Mouse
A pen mouse is an innovative tool for graphics designers. It looks like a pen, functions like one, and can navigate pages with a few clicks. In a way, the pen mouse also symbolizes the unique line of work of graphic designers.
If you think that a pen mouse is a right option, you should only settle for the best brands. Don't pick a pen mouse from any store because you might encounter glaring quality issues and compatibility problems. Pen mice are also prone to breakage because of their long bodies. You must buy a separate casing to protect your pen mouse from damage.
Vertical Mouse
Designed for raw efficiency, precision, and comfort, the vertical mouse is the unflinching option for creative people. A vertical mouse's form typically mimics a handshake, thus reducing wrist strain.
Some vertical mouses or mice are similar to arcade levers, while many others are stout and curved. You can find the buttons on the mouse's sides, and you also have the chance to reprogram such buttons through a manufacturer's software or program.
In terms of price, vertical mice are affordable. There are dozens of entry-level vertical mice in the market, and they have all the features you need. If you want to save money while buying a vertical mouse, try to look for sales promos and discount opportunities.
The Best Mouse for Designers [Summary]