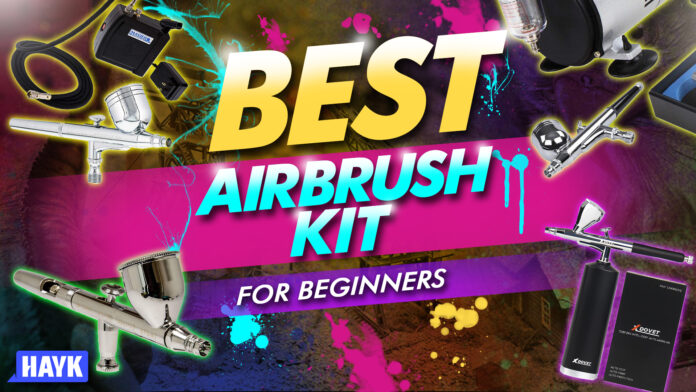 The modern airbrush is a godsend tool for creative professionals and hobbyists. This tool saves time and improves the overall color quality of a finished product. If you want to improve your painting skills or productivity, you need to have the best airbrush for beginners.
In this comprehensive article, you'll discover some of the best professional airbrush kits available. These airbrushes have their decent share of pros and cons to help you make the right buying decision.
Aside from the reviews, you'll also learn about some important airbrushing tips for beginners and veteran hobbyists alike.
The Best Airbrush for Beginners Revealed
Badger Co. Model 105 Fine Gravity Airbrush
Best All-Around Airbrush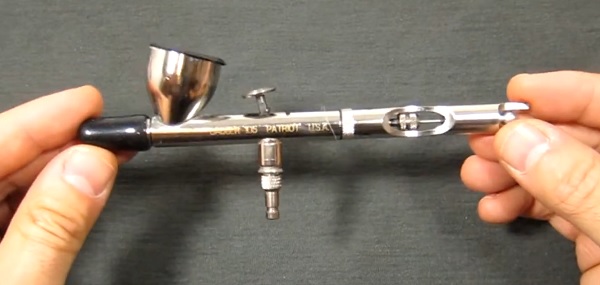 Specs
Airbrush Type: Dual Action | Feed Type: Gravity | Needle: 0.5
Max PSI: 30 | Weight: 0.5 pounds
Rating
Spray Efficiency: 4 / 5
Style: 4 / 5
Affordability: 3.9 / 5
The Badger Co. Model 105 airbrush is a top-tier option for beginners and mid-level hobbyists. This airbrush requires little maintenance because of a unique nozzle design and an efficient build.
Painting small and large models is a breeze with the Model 105 airbrush. The responsive trigger button releases paint and air with a slight finger tap, eliminating the need for constant tweaking.
In terms of precision, the Badger Model 105 airbrush leads the game. The airbrush's fine 0.5mm needle can handle small detailed sections as well as big areas. The needle is also versatile enough to work on various paints like lacquers, enamels, acrylics, streaking effects, and basecoats.
A common problem with the Model 105 airbrush is its irregular paint flow. Sometimes, you might encounter a continuous free-flow that requires constant adjustment. Irregular paint flow can mess up the quality of your work, especially if you're attempting to finish a large model with lots of details. You can work around this problem by testing a couple of sprays before airbrushing a complicated model.
Model 105 airbrush's hose also requires adjustment because it loosens up most of the time. You can try buying a new airbrush hose to fit into the Model 105.
Master Multi-Purpose Gravity Feed Airbrush Kit
Best Fine Detail Airbrush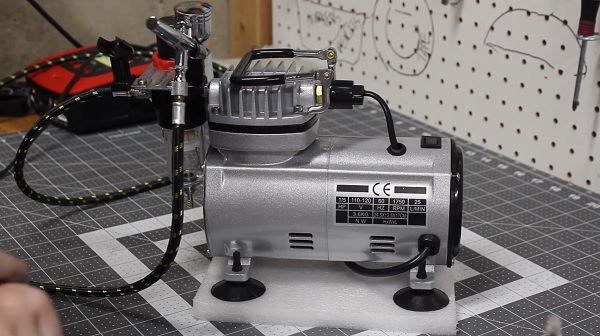 Specs
Airbrush Type: Dual Action | Feed Type: Gravity | Needle: 0.3 | Max PSI: 25 | Weight: 2.8 pounds
Rating
Spray Efficiency: 4 / 5
Style: 3.9 / 5
Affordability: 4 / 5
If you're tired of committing airbrush errors while working on a difficult model, you can try using a Master multi-purpose airbrush kit. The Master airbrush works on a fine level of detail because of its small and unique needle. Also, the whole Master kit contains the airbrush, a mini compressor, an AC adapter, and a standard compressor hose.
The Master airbrush compressor can reach a maximum PSI rate of 25. It also has an automatic start-stop mechanism that responds properly as needed. Due to the compressor's lightweight build, you can always bring it if ever you need to travel.
While the Master airbrush kit comes complete with all necessary parts, you still need to double-read the included manual. Since the manual is directly translated, you may find a few incomprehensible areas. Try to contact the Master store or website if you wish to request a new manual.
The Master airbrush has mild clogging issues. Even if you've painted a model for just an hour, the airbrush will start clogging. This will affect your paint's consistency, so you need to mix the paint vigorously before using the airbrush. Another solution is to switch paint brands whenever possible.
XDOVET Upgraded and Rechargeable 30-PSI Airbrush Kit
Best Rechargeable Airbrush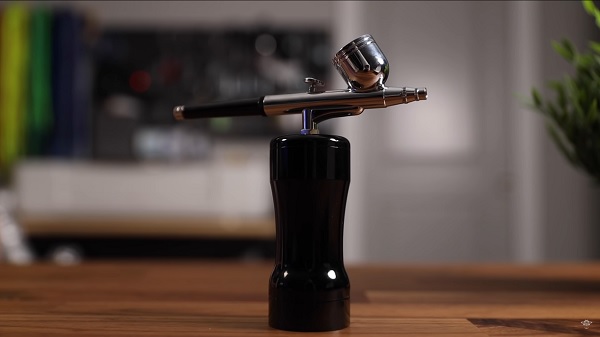 Specs
Airbrush Type: Dual Action | Feed Type: Gravity | Needle: 0.4 | Max PSI: 30 | Weight: 1.04 pounds
Rating
Spray Efficiency: 4.5 / 5
Style: 4 / 5
Affordability: 4 / 5
XDOVET'S new and upgraded rechargeable airbrush is a reliable option if you're always on the go. The airbrush weighs less than two pounds, and its battery can last for up to two operational hours. Charging the battery takes only an hour.
With a 0.4mm nozzle, the XDOVET airbrush can handle medium to large models. The airbrush's needle is also highly resistant to residue buildup. Whether you're a wargaming enthusiast or an avid decorator, the XDOVET airbrush kit will help you finish creative projects with ease.
The XDOVET rechargeable airbrush is almost perfect, but it's not totally effective with thick paints or formulas. Make sure that you mix the paint thoroughly to avoid clogging the airbrush. Cleaning the XDOVET airbrush is also an acceptable way to make it last a long time.
Gocheer 30-PSI Versatile Airbrush Kit
Best Versatile Airbrush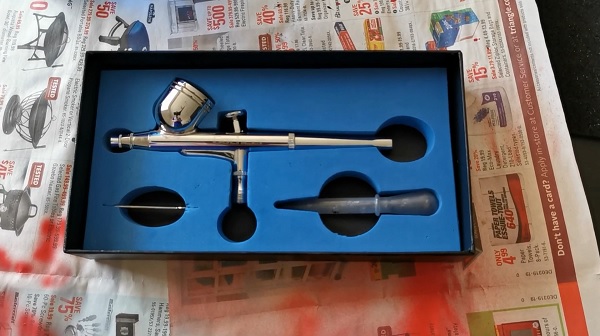 Specs
Airbrush Type: Dual Action | Feed Type: Gravity | Needle: 0.5 | Max PSI: 30 | Weight: 2.19 pounds
Rating
Spray Efficiency: 4.5 / 5
Style: 3.9 / 5
Affordability: 4 / 5
The Gocheer versatile airbrush is a unique option for beginners. This portable airbrush has the power of most airbrush brands, but it improved the game by offering three easy working modes. Plus, the Gocheer airbrush compressor is silent while operating.
Capable of reaching a continuous rate of 30 PSI, the Gocheer airbrush can deal with big creative projects. The airbrush's three working modes will also allow you to modify airflow with just one button press. Each mode is represented by a different color. Yellow is for a low 15-PSI mode, blue is for a medium 25-PSI, and green offers the maximum 30 PSI rate.
The default needle of the Gocheer portable airbrush is 0.5mm. While this needle size is meant for medium and big models, you can still use it for fine-detail spraying by simply adjusting your movement. You should also adjust the working mode to get an adequate air pressure delivery.
Despite being a powerful all-rounder, the Gocheer airbrush has a weak needle. If you use too much force, the needle might bend. Once this happens, you need to replace the needle as soon as possible or the airbrush's performance will suffer.
Iwata-Medea Eclipse Dual-Action Gravity Feed Airbrush
Best Premium Airbrush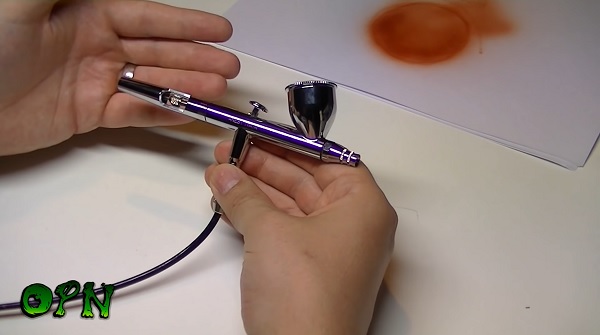 Specs
Airbrush Type: Dual Action | Feed Type: Gravity | Needle: 0.35 | Max PSI: 30 | Weight: 0.1 pounds
Rating
Spray Efficiency: 4.5 / 5
Style: 4 / 5
Affordability: 3.5 / 5
One tool that combines exquisite style and reliable performance is the Iwata-Medea Eclipse HP airbrush. Weighing only 1.6 ounces, the Iwata Eclipse airbrush will allow your hand to move dexterously without causing physical strain. The airbrush's chrome look also has a luxurious appeal that will keep you inspired to work on your craft.
Since the Iwata-Medea airbrush is labeled as HP (High Paint), it can distribute paint at a quick, consistent rate. Other airbrushes will require consistent paint thinning, but not the Iwata-Medea Eclipse. This Iwata airbrush model can handle heavy paint types such as acrylics and textile colors. Since you only need to spend a few seconds thinning a paint mixture, you'll have more time to airbrush your model. Plus, the Iwata Eclipse's 0.35mm needle offers the right balance to help you adjust from small to medium figures and vice versa.
If you're an absolute beginner, Iwata-Medea airbrush's ergonomic form can help improve your painting style. The funnel paint cup is located a few inches from the nozzle, and it doesn't interfere with the button. The airbrush's cut-away handle also allows easy cleaning and unclogging.
The Iwata-Medea airbrush is a wallet buster. It costs twice the amount of the average airbrush, and the price can even go higher if you want to add accessories. Still, the long-lasting performance of the Iwata-Medea airbrush is worth every penny.
TIMBERTECH Multi-Purpose Professional Airbrush Kit
Best Heavy-Duty Airbrush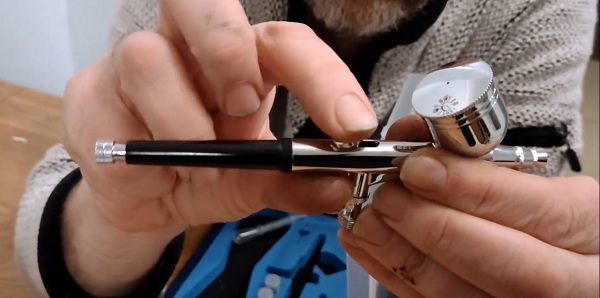 Specs
Airbrush Type: Dual Action | Feed Type: Gravity | Needle: 0.30 |Max PSI: 58 | Weight: 9.6 pounds
Rating
Spray Efficiency: 4.5 / 5
Style: 4 / 5
Affordability: 4 / 5
The TIMBERTECH professional airbrush is your best choice for continuous, heavy-duty painting sessions. Capable of delivering up to 58 PSI, the TIMBERTECH airbrush will help you breeze through a dozen small models per sitting.
TIMBERTECH's air pressure gauge is also better than what other models have. The gauge is readable, tactile, and responsive to any pressure change. The TIMBERTECH airbrush also has a high air volume trigger, auto-starting at around 42 PSI and auto-stopping at 58. With such a dynamic air delivery rate, the TIMBERTECH airbrush can spray atomized materials in a controlled manner.
It's advisable to use the TIMBERTECH airbrush for batch-painting. This way, you can finish more models without wasting paint. Alternately, if you're not painting models, you can handle multiple creative designs with decent color balance.
One compromise of TIMBERTECH airbrush is its overheating compressor. After approximately one hour of usage, the compressor will start heating up. To reduce heat, rest the airbrush for a few minutes. You can also take this time to relax and appreciate your progress.
Watch out for shipping problems as well. Some users have reported damaged parts right out of the box, particularly the compressor hose. Once you've ordered this TIMBERTECH product, always check the compressor, gauge, and airbrush tube as soon as possible.
Quick Tips for Efficient Airbrushing
Do you want to learn how to airbrush efficiently? In this article section, you'd learn some important airbrushing efficiency tips and paint guides.
Understand Your New Airbrush
A new airbrush kit with multiple fancy parts can be intimidating for many beginners. The compressor tank, sensitive gauge, air pressure hose, and unassembled airbrush tube are enough to deliver a sense of dread. If you feel intimidated by your new airbrush, just step back and examine its parts.
An airbrush kit has a manual included. Read this manual page to page, and follow the assembly instructions given. If you're confused about a specific part, go to Youtube and look for airbrush assembly tutorials.
Understanding your airbrush kit is the mandatory first step before the actual airbrushing process. Even if you're already experienced with airbrushing, you shouldn't hesitate to read the specifics of your new airbrush kit.
Thin Your Paints
Thin your paints – this is an overused yet essential piece of advice in wargaming and airbrushing communities. If you don't thin your paints, the resulting colors will look thick and amateurish against any model. In airbrushing, thick paints can clog the nozzle and affect paint distribution.
The easiest way to thin a paint mixture is to use water. It takes a couple of swirls to achieve a milky consistency that will blend with your chosen model. If you need faster and better results, just use a thinning solution.
Mineral spirits are the best solutions because they're safe and easy to use. Plus, mineral spirits can blend nicely with enamels and acrylics.
Tips on How to Thin Your Paints Correctly
Here's a detailed video guide on thinning your paints correctly:
Practice Consistent Spraying Motion
One typical mistake of beginners is holding the airbrush steadily and not expecting the spray's force. This creates a nasty combination of overspray and material backlash. Overspray will result into uneven paint distribution while material backlash can hurt your eyes (if you're near) and make your table messy.
Once you've activated the airbrush, move your hand in an easy, consistent pattern. Follow the outlines of your model, and don't change patterns abruptly. A sudden pattern change will create paint streaks and ruin the model's appearance.
A horizontal spraying motion is great for batch-painting small models. Simply spray the models from left to right, and then vice versa. Once you're done with the small models, you can shift to a vertical spraying motion for tall models. Building pieces and large terrain sets will also benefit from a vertical spraying motion.
Freeform motions are useful for other types of art like cake decoration and murals. Before shifting to a freeform motion, make sure that your airbrush is capable of strong air pressure delivery for a sustained period of time.
Don't Open A Model Kit Without A Plan
Working on a model kit requires persistence and dedication. You can't just open a box and paint any model without any plan. If you do so, you might end up with poor results or you'd have a longer time finishing the kit.
Your 'painting plan' must reflect your appreciation of a setting or a game. Take Warhammer Fantasy for example. Age of Sigmar, the latest version of Warhammer Fantasy, has majestic models that you can choose from. All models have unique fantasy armor that requires strange yet flashy colors. Therefore, you must allot a flexible budget for the paints alone.
A model kit will also determine the airbrushing skill needed to finish it. If the kit has many models, then you need an airbrush with a large compressor tank and some important accessories. A complete heavy-duty airbrush kit can set you back by as much as $180 above.
You must also understand that airbrushing is just one part of the entire project. Before airbrushing a model, you still have to thin your paints and assemble the models. Priming is another technique that must be considered, since it also goes side by side with airbrushing. After an airbrushing session, you mustn't forget to clean your workspace correctly. Proper cleaning will prevent the build-up of harmful chemicals.
And lastly, you should prepare your schedule ahead of time. Work and real-life situations often take precedence over your airbrush or painting sessions.
Choose The Best Paints
Even though your airbrush is great, you won't reach far if you have low-quality paints. But with thousands of paints available in the market, it's difficult to make a choice!
When it comes to choosing paints, you must start by analyzing the model kit carefully. Check out all required paints and research about them. Not all paints are the same, and they have specific categories that can confuse any beginner.
Acrylic is the first type of paint that you'd encounter. This paint type is beginner-friendly because of its short drying time and easy application method. Since acrylic paint is thick out of the bottle, you must thin it by applying water. If you have the budget for paints, you should get a proper thinning formula.
Next to acrylic is the popular enamel paint. Enamel paints create remarkable color combinations if you can mix them right. One problem with enamel paint is its thick consistency. You can't just thin enamel paint with water, so you must use a strong thinner. Many airbrushes also struggle with enamel paints because of their thickness.
Alcohol-based acrylic is a great choice because of its quick drying time and strong color composition. Just make sure that you use Isopropanol to thin an alcohol-based paint.
Currently, the best paint brands are Vallejo and Reaper. These brands have awesome color choices, primers, and weathering effects. Citadel paints are also great for making high-detail color combinations. If your paint budget is small, you should get an Army Painter starter kit. Read our article about Miniature Painting Supplies in this link to see more options you can choose from.
Develop Iron-Like Patience
Airbrushing is different from traditional brush painting. Even though an airbrush can make your painting sessions easier, it's still dependent on hand positioning, paint consistency, and air pressure. Given these conditions, your first airbrush sprays will always be messy and inconsistent.
To excel in airbrushing, you must be patient. Moving from the beginner stage to the early phases of mastery requires deep knowledge of the process. You can start by airbrushing small, inexpensive models to become more familiar with common techniques. Take a note of your mistakes and correct them in your next airbrush session.
Another way to improve your skill is to watch Youtube tutorials. Youtube has a trove of airbrushing tutorials ranging from basic guides, airbrush assembly, reviews, and even custom compressor rigs. You might also learn how to use your airbrush for other purposes.
If you're having a hard time perfecting a technique, don't panic. Try to join active wargaming or crafting communities to learn some essential tips and tricks. Nowadays, it's easy to find chatrooms and forums dedicated to airbrushing and painting in general. You'll also have better progress if you can find an accountability partner. Make sure that this partner knows their way around airbrushes and crafting.
Be Careful With Airbrush Cleaning Kits
In online marketplaces, you can find cleaning kits for almost anything – airbrush included. An airbrush cleaning kit contains several brushes and some plastic cleaning pots. While airbrush cleaning kits are affordable, they're not always effective.
A cheap cleaning brush can damage the airbrush needle if you're not careful. Instead of stressing yourself with a brush, try using a wet cloth. The cloth can remove material residue and paint clogs. It won't cost you a penny!
Airbrush Buying Guide – What You Need to Know
Before purchasing an airbrush kit, you need to learn and understand some important buying factors. These factors will help you find the best airbrush that matches your preferences.
Airbrush Type
There are two major types of airbrushes. The first type is a single-action airbrush, and the second type is a dual-action airbrush.
If you're a beginner, you can never go wrong with a single-action airbrush because it is easy to use. This airbrush releases air and paint once you've pressed the trigger button. Before airbrushing, you can adjust the paint volume. To increase or decrease the paint volume, you need to stop airbrushing and adjust manually.
The primary advantage of the dual-action airbrush is flexibility. If you push the trigger button down, the airbrush will release air. Pull the button back and the airbrush will release paint instead. Dual-action airbrush is the best option if you need to change paint volume on the fly. The dynamic paint levels will highlight model details and make your project stand out.
Needle Size
An airbrush's needle size affects the volume of paint being sprayed. Smaller needles (0.1-0.2) are excellent for painting fine details while larger needles (0.4-0.5) work on big surfaces or areas.
Midrange needles (0.3) are advisable for beginners because of their flexibility and adequate paint distribution. A midrange needle is even more useful as your painting skill improves over the years.
Airbrush needles are budget-friendly, but you must buy them by bulk. This way, you'd have lots of needle replacements. Don't forget to buy a simple needle cleaning kit as well.
All About Feed Types
The common types of airbrush feed systems are gravity feed and siphon feed. The gravity feed system is popular because of low pressure air delivery. By using a gravity feed airbrush, you can finish painting models without switching to high air pressure levels. The gravity feed airbrush also prevents overspraying, making it effective for small detail-packed models or minifigures. One downside of gravity feed airbrush is its small paint volume capacity.
For big projects, you should use a siphon feed airbrush. This airbrush has a cup underneath, allowing a bigger disposal of paint and liquid solutions. If you don't like refilling the airbrush often, a siphon feed system is the answer. After using a siphon feed airbrush, you have to clean it thoroughly because it is prone to clogging and huge residue buildup.
Rechargeable or Not
A rechargeable airbrush is the usual option for hobbyists who love to travel and freelancers with multiple projects. To use a rechargeable airbrush, you need to charge it for an hour or two. Once fully charged, the airbrush can run for at least 60 minutes non-stop.
Mobility is the advantage of a rechargeable airbrush, but its air pressure delivery is lower than average airbrush kits. You also need to recharge the airbrush a few times before finishing your also need to recharge the airbrush a few times before finishing your current creative project.
Consider Your Project
The nature of your project is another important factor that you should think about. Painting small miniatures is different than painting big ones. On the other hand, fantasy models have more eccentric details than realistic scale models.
Switching airbrushes is not always a great idea unless you have a thick wallet. To save time and money right away, you need to get a versatile, well-rounded airbrush kit. Through a versatile airbrush, you can switch styles easily without compromising paint quality and your overall speed.
Cleaning Pots
A cleaning pot is an important part of any airbrush kit. By using a cleaning pot, you can avoid harmful atomized materials and allergy-inducing vapors. You don't always need a cleaning pot, especially if your workspace is not messy and your painting session is quick.
Some rookie painters love to use buckets to clean their airbrushes. This method is unsafe because the disposed materials can blast back against your face due to the airbrush's pressure. The chemicals are enough to make you wheeze and cough. Plus, the force of the expelled materials can harm your eyes.
Best Airbrush for Beginners FAQ
What is the best airbrush for beginners?
Answer: The single-action airbrush is great for beginners because of its simple mechanism. Once you press the trigger, the air will release along with the paint. This process allows quick sprays over a model, but fine control is limited.
As you become more skilled in painting models, you can always shift to a dual-action airbrush. The dual-action airbrush's simultaneous release system is great for controlling paint distribution.
What types of paint are great for airbrushing?
Answer: Vallejo paints are excellent airbrush choices, especially the metallic streaks and weathering effects. Also, you can save a lot of money by purchasing Vallejo paints by bulk.
Another paint brand that you must consider is Citadel Paints by Games Workshop. While these paints are more expensive than Vallejo, they have richer colors and more choices. Citadel Paint kits are also big enough to last a long time.
How can I airbrush a batch of models effectively?
Answer: Try to use model holders while painting your figures. The model holders will keep the figures stable while you're airbrushing them. You should also use a model holder with multiple slots to make the process more efficient.
Is it worth it to buy extra compressor hoses?
Answer: Yes, but you shouldn't buy too many hoses. An airbrush kit has a compressor hose included unless you specifically bought the spray alone. At best, you only need one replacement tube.
What are some safety issues to consider before airbrushing?
Answer: Use a face mask while airbrushing because the vapour can cause allergies and eye irritation. Don't ignite anything while you're near the airbrush, paints, and air compressor. Make sure that you also use a cleaning pot after a painting session.
What airbrush brands are worth my money?
Answer: Iwata and Badger are the most reliable airbrush brands today. These airbrush brands have high-quality airbrush tools, as well as compressors and accessories.
Which airbrush is advisable for GUNPLA?
Answer: The best painting tool for GUNPLA models is XDOVET rechargeable 30-PSI airbrush. Since this rechargeable airbrush operates at low pressures, it can deliver atomized paint solutions accurately.
Are HP airbrushes great for small models?
Answer: Only if you have stable stands for your small precious models! High Paint flow airbrushes deliver high air pressures that can cause a model to topple over. Overspraying is also a common issue with HP airbrush kits.
Recap – Best Airbrush for Beginners
Final Thoughts
You don't need the fanciest airbrush to start working on your miniatures or models. Rather, you simply need an airbrush that will suit your painting styles, priorities, and project difficulty. If you also like doing other crafts, a versatile airbrush will help a lot.
Have you tried using other airbrush kits outside our list? Let us know in the comments below!