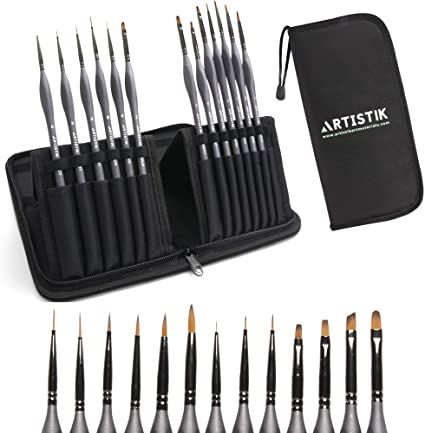 Painting miniatures is a rewarding hobby that can somehow strain your budget. Before you can even paint minis, you need to buy miniature painting supplies and tools. But don't let the cost of painting supplies deter you! There's always a way to get started in the hobby without paying too much.
This article will point you in the right direction when it comes to buying painting supplies. We've reviewed some of the best miniature painting products like brushes, palettes, and even brush cleaners.
Why You Should Trust Us
Here at Hayksaakian.com, we are truly committed to sharing the best tips when it comes to miniature painting, tabletop painting, and wargaming. We're happy to share the painting tools and products that we've used, as well as some cool wargames that we've played.
Top 6 Miniature Painting Supplies For Beginners and Pros
Best for painting minis with fine details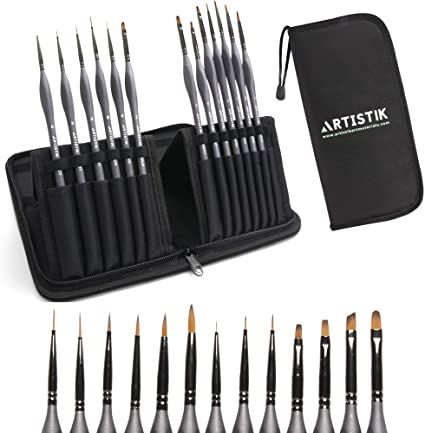 A set of multiple paint brushes will make your painting job easier. If you're only using one paint brush, your strokes will remain limited and you might have a hard time finishing a batch of miniatures. The solution? You can just get a miniature painting kit from ARTISTIK!
ARTISTIK's miniature painting kit contains 13 micro-detail brushes that can be used for different types of miniatures. The common brush types that you'd see in the ARTISTIK kit are super fine, round, flat, liner, and spot. Whether you're working on a single minifigure or a full-scale dragon figure, you won't be disappointed with the ARTISTIK micro-detail brushes. Plus, all of the brushes have ergonomic and sturdy grips.
The miniature painting kit also comes with a handy carry case that will keep all of the brushes safe. The carry case is easy to pair with other things because of its simple black color and minimalistic design.
One noticeable issue with the ARTISTIK micro-detail brush is the tip that splits easily. Using the brush for more than 30 minutes will split the tip, requiring adjustment. To counter this problem, you must dip the paintbrush thoroughly. Let the brush fully absorb the paint before resuming your work. Also, ARTISTIK brushes can't hold paint properly due to their fine bristles. Again, the solution for this minor problem is thorough paint mixing.
Best acrylic paint set for beginners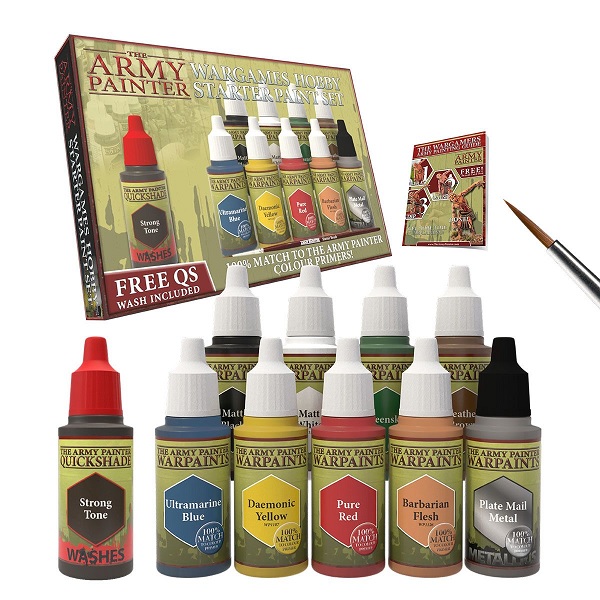 The Army Painter Wargames Starter Paint set contains everything you need for painting miniatures. Some of the basic paint colors included are leather brown, demonic yellow, lava orange, pure red, green skin, alien purple, and ultramarine blue. The paint bottles are divided into 12 acrylic paints, 2 quick shade washes, 2 metallic paints, and 2 effect paints.
Accessories are also included in the Army Painter Wargames set. These accessories are beginner brushes, mixing cups, non-corrosive steel balls (for mixing), and a detailed painting guide for beginners. The set is decent enough to help you practice the common painting techniques such as base coating, priming, quick shading, and adding effects.
If you're planning to bring the Army Painter Wargames set to a convention or a different location, you must prepare a separate carry case. The Wargames paint set is heavy enough because of the included bottles and accessories. A carry case will also minimize the chance for paint spillage and bottle damage. Also, the set's starter brushes are fragile. You should consider buying an affordable paintbrush set later.
Best for cleaning dirty paint brushes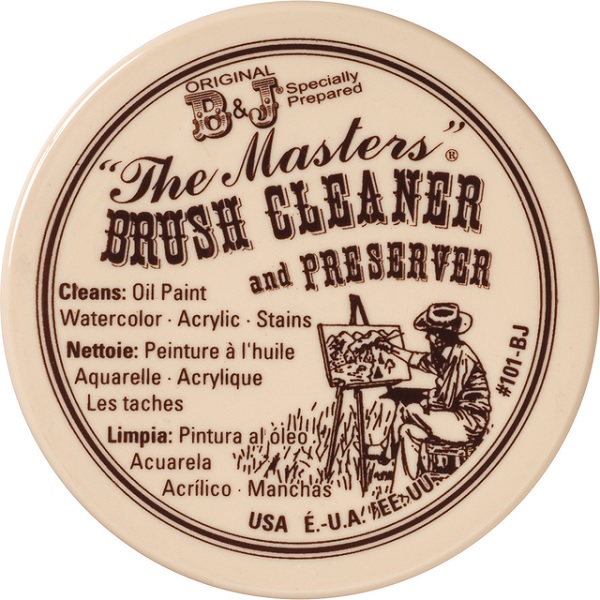 Are you tired of using paint brushes with annoying flaky residue? Instead of washing your brushes with water, you can just use the General Pencil Company paint brush cleaner. This powerful yet safe solution can remove paint stains, flakes, and color residue. Unlike other solutions, the General Pencil Company cleaner also has a nice citrus-like scent. No more harsh chemical-like smells!
To use this special paintbrush cleaner, you must dip your paintbrush in water and massage the bristles. Afterward, just run the brush onto the solution and use a piece of towel to remove flaky paint residue. If you don't mind the solution's texture, you can skip the towel and remove the residue using your fingers.
While the General Pencil Company cleaner can remove most types of paints (especially oil), it is not too effective with acrylic paints. You need to lather the acrylic-filled paint brush a few times before the residue can be removed. Sometimes, water and soap will remove acrylic residue better than the General Pencil Company cleaner.
There's also a mild issue with some of the shipped containers. You might receive a half-full cleaner or a container with a loose lid. This issue is possibly related to manufacturing mishaps or lack of product oversight. In this case, you can always contact Amazon (or any online marketplace) for a quick refund.
Best for keeping small minis stable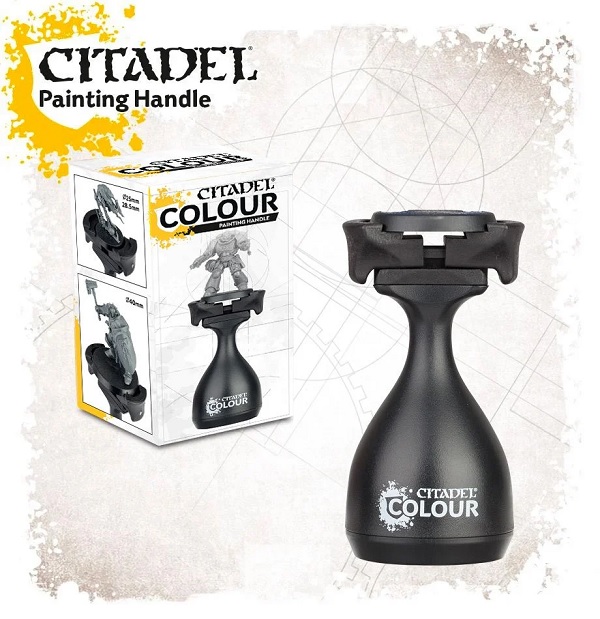 Do you have shaky hands or fingers? Or perhaps you're tired of using wooden blocks as improvised clamps? The immediate answer to your problem is the ergonomic painting handle from Games Workshop. This handle has spring-loaded clamps designed to lock a miniature in place. Once the miniature is locked, you can now paint the mini's difficult angles and parts.
Just bear in mind that the Games Workshop painting handle is not that great for minis with pure flat bases. The clamps might feel too loose, causing the miniature to pop out and tumble. If your minis have curve or bevel bases, they will stick firmly with the clamps. Also, the clamps can warp plastic bases so make sure that you adjust the spring-loaded clamps properly.
Best for mixing and thinning paints
The WetNDri Wet Palette is a remarkable product that will help you mix paints efficiently. This palette is designed to keep your paints wet for a long time. WetNDri's adjustable lid can also store leftover paint which makes it five times better than a disposable palette.
The WetNDri palette is great for all types of paint media. You can use it for long enamel-based painting projects or quick acrylic painting sessions. The WetNDri palette also has a unique multi-tray design that separates the functions accordingly. The cover is not just meant for overall protection but it also acts as a mixing area for your paints. Next, the middle tray is used for holding different types of paints and it has separated sections. The palette paper and gray sponge are used for accurate paint mixing while the bottom tray acts as the primary wet palette. Lastly, you can use the brush holder rest to keep your paintbrushes stable and secured.
Be careful with the WetNDri palette's acrylic sheet. The sheet is so fragile that one wrong move can fully tear it apart. The palette's magnet is also weak, causing the frames to disassemble with sudden movement. If you want to bring this WetNDri palette in your travels, make sure that you put it on a sturdy carry case or plastic container.
Best for keeping your minis safe and secured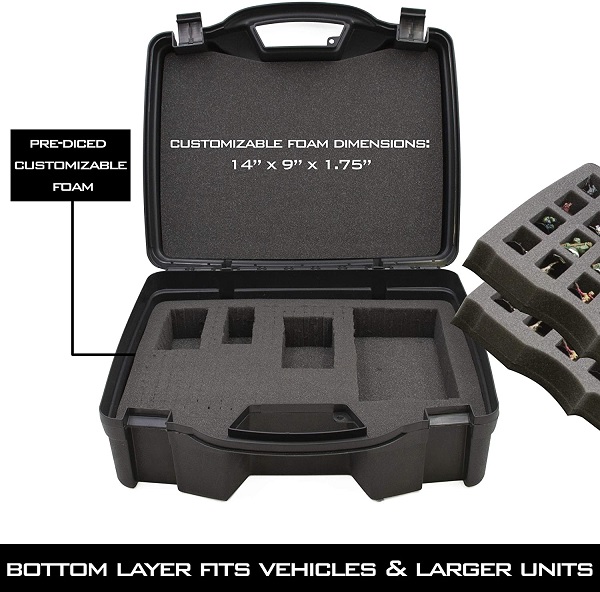 If you're looking for an ultimate military-grade case that can protect your minis, look no further than the CASEMATIX miniature hard storage case. This thick and bulky case has a tough exterior made with thick polymer composite plastic. The case's interior has tri-layer foam designed to protect your minis by absorbing shock damage.
The CASEMATIX hard case has enough room for 80 miniatures. It can store D&D adventurers, Warhammer 40K space marines, and even Vindicators from AOS. However, some bulky minis will have a difficult time fitting in the allocated case sections or compartments. So, good luck putting a big dragon in the case.
Security is not an issue with the CASEMATIX miniature hard case. It can be locked with durable snap-on security rings designed to last for a long time. Portability isn't also an issue because the CASEMATIX mini case has a sturdy, ergonomic handle. It's like a corporate briefcase but four times tougher.
While the CASEMATIX miniature case offers five-star protection for your minis, it can also cause mild damage every now and then. Take the hard case lid as an example. If you accidentally bring down the lid too fast, you will notice that some particular minis might break apart. To avoid this from happening, you should only store small minis. And don't try to slam the case too hard – especially if you're angry!
Buying Guide for Miniature Painting Supplies
Choosing the right tool is crucial for your miniature painting project. By using the right tool, you can finish the project ahead of schedule. Plus, you will even commit lesser mistakes while painting your favorite minis.
But sometimes, shopping for painting supplies can be overwhelming. There are lots of products to choose from, and most reviews are often misleading. In this article section, you will learn about the important factors that can help you shop around for the best miniature painting supplies.
Painting Kits Save Time
Recently, miniature painting has become more inclusive because of the newly released hobby paint sets. There are different paint sets for various titles such as D&D, Warhammer AOS, Warhammer 40K, WizKids, and Mage Knight. The purpose of these paint sets is to help beginners immerse in the hobby. While paint sets might feel restrictive due to the pre-made choices, they can actually help you save time.
If you don't want to buy a paint set, you must pick the colors one by one. The color breakdown depends on your chosen model or miniature. Choosing individual colors tends to be costly, and you might commit a few shopping errors along the way. At least, with a miniature paint set, you already have the basic colors nailed down. Any other included colors are happy bonuses.
Before you pick a paint set, make sure that you already have a chosen miniature project. This will minimize the chance of picking unnecessary colors or paints. You should also determine the type of paint that you want to work with. Enamel paints have richer, thicker colors and take a longer time to dry. Acrylic paints, on the other hand, can be thinned with a water solution and has a shorter drying time.
Pre-Painting and Assembly
In the world of miniatures, painting and assembly are two different things. Assembly is the first step where you build the model and prep it for painting. If you bought a mini that doesn't require assembly, then you can start painting as soon as possible.
In most cases, minis that require assembly are cheaper than assembled ones. This rule isn't always consistent because it's possible to find cheap assembled pieces, especially in secondary marketplaces. You should consider pre-painting and assembly because you might actually need nippers, files, and cutters. Don't use kitchen knives to cut off plastic parts!
Varnishes and Extras
A paint varnish will protect your painted miniature from chipping and damage. Plus, the miniature will end up with a fancy gloss. While you don't have to buy varnish during the early days of your painting journey, you must add it to your shopping list later. The best, well-rounded varnish that you can always trust is Army Painter's Anti-Shine solution.
Aside from varnish, you also need some extra tools and accessories. If you already have a growing painting backlog, the tools and accessories will speed up the process.
Take a note of these extra essential things for your miniature painting:
Lighting set for greater clarity and focus
A big desk to ease your workflow
Some shelves to store or display your finished models
Palettes for mixing and thinning paints
Plastic boxes to store your minis and prepare them for moving
Cleaners or cleaning solutions to keep your brushes clean
Water pot or paint mixing cups (an unused mug will do)
Additional airbrush needles – only if you intend to use an airbrush spray
Miniature holder for airbrush painting or quick positioning
Some essential painting tools can set you back by as much as $150. However, you can always improvise to reduce the costs.
All-In With Airbrushes
Using an airbrush will bring you to the next level of miniature painting. Airbrushes are fast, efficient, and can paint a large batch of miniatures. While fine paintbrushes are still needed for highly detailed miniatures, an airbrush spray can cut your working time by half.
Some of the best airbrush brands are Iwata, Harder & Steenbeck, Paasche, and Badger. These brands have their fair share of pros and cons, and they have a price range of $80-200.
If you're planning to buy an airbrush, you can prioritize some important factors. Capacity is the most important factor because it pertains to the volume of paint that the airbrush can hold. Durability is another thing because an airbrush is often subjected to long operational hours. And lastly, you should check the airbrush compressor strength. You don't need a compressor with monstrous HP and PSI. At best, a 1-HP compressor is always an excellent choice.
A Note on Bulk-Buying
Bulk buying is easier to do nowadays because of online shops and online deliveries. This is the reason why merchandisers have included multiple product deals with freebies and recommendations. In a way, bulk buying will help you save money and time.
However, some bulk offers are almost unnecessary to your early miniature painting journey. Online stores might entice you to buy additional paint bottles, brushes, and accessories. You don't need these things yet. If you buy many things at once, you'd end up with tons of unused products that will take up too much space. Buy the important products first before adding new equipment or accessories.
FAQ
Are miniature painting supplies expensive?
Answer: Not all miniature painting supplies are expensive. You can start with a basic painting set that costs less than $100. However, as your skills improve, you will definitely need high-quality painting materials and equipment. The cost will increase gradually, so you must be prepared at all times!
What are the tools I need for painting miniatures?
Answer: Some of the basic tools that you need are paintbrushes, brush cleaners, mixing cups, miniature holders, towels, palettes, and miniature stands. If you have enough money to spare, you can even buy an airbrush.
Is it hard to paint miniatures?
Answer: If you're a total beginner, you might encounter a bit of difficulty while painting miniatures. This is a normal part of the process because you're still learning the ropes of the hobby. As you become more skilled and experienced, you will eventually have an easier time painting miniatures.
What types of minis are best for beginner painters?
Answer: The best minis for beginner painters are small models (not too small) with simple details and styles. Celtos, for example, has fantasy minis with basic color requirements. You can make a Celtos mini as simple or as complicated as you want it to be. Games Workshop is also an excellent brand because it offers tons of starter kits with easy-to-use paints.
What miniatures are worth my money?
Answer: The miniatures worth your money are those that you truly want to collect. If you want to paint fantasy miniatures, then you can start with Warhammer Fantasy or D&D. Pick the Warhammer 40K route if you care for a grimdark space setting.
When should I use advanced miniature painting techniques?
Answer: You must use advanced miniature painting techniques if you're confident that you can do them. Additionally, you can practice the advanced techniques if you have some extra unpainted minis lying around. But remember: always be patient with your progress!
Why should I use enamel paint for miniatures?
Answer: Enamel is a versatile type of paint that can work on different miniatures. It is also cheaper than acrylic paint and readily available. However, you need to ensure that your working space has proper ventilation. Enamel paint takes a long time to dry off and it requires a strong thinning solution. If you're a total beginner, you should start with acrylic paint and move on to enamel paint later.
Do I need to use varnish for plastic miniatures?
Answer: While varnish is not totally required for miniature painting, it is useful for preventing paint chipping. The type of miniature also matters a lot when it comes to varnishing. Plastic minis don't need to be varnished often unlike metal minis. Most varnish sprays create a beautiful matte finish that can raise the aesthetic value of your miniatures.
How can I get discounts on miniature painting supplies?
Answer: There are numerous ways to get discounts. First, you just need to browse through the products offered by the online shop. Very likely, you will find discounts on multiple purchases or bulk offers. Second, you can visit active forums related to miniature painting. These forums might offer links to different miniature painting shops with discount vouchers.
Conclusion
Now that you're aware of some excellent miniature painting supplies that can be ordered online, you shouldn't waste time anymore. Order the products that you need and start working on your favorite kit.
Here's a quick run-through of the products that we've reviewed:
Have you recently finished a miniature painting project? Share a picture in the comments section below. We'll be happy to check out your masterpiece!