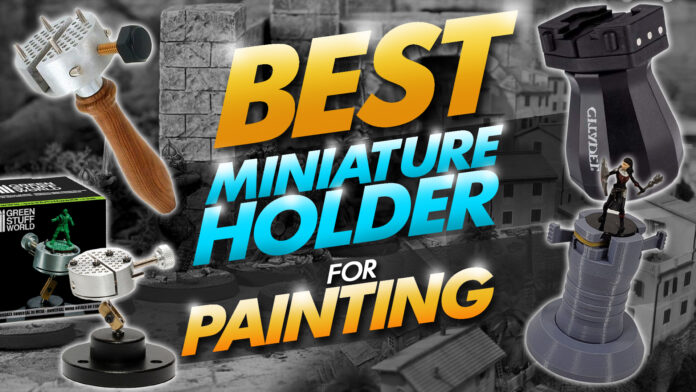 Painting miniature figures is already a daunting task that requires precision and accuracy. And the last thing you want when painting miniatures is to rub the paint off them when you make mistakes.
Having to rub the paint off on miniatures is a major problem that can be easily avoided if you have the minis mounted on a solid, sturdy base. Thanks to miniature holders, painting minis can now be easily done by "holding" the minis while you paint on them.
However, finding the right miniature holder for painting can be a daunting task. In this article, we will go through a list of things you should consider when browsing for the perfect miniature holder and review some of the best holders you will find in the market.
Benefits of Using Miniature Holders for Painting Miniature Sculptures
Before we dive into the best painting handle and miniature holder for your painting hobby, let's first talk about why it is important that you use miniature holders.
Reduced Pain and Injury
Painting miniatures can be a pain for both your wrist and hands because painting requires a firm grip on a very small object for extended hours.
Because your joints, hands, and muscles are not designed to do these kinds of tasks for hours, doing something that makes everything easier will surely help. This is where miniature holders come into the picture.
If you paint World of Warcraft characters or other tabletop wargaming miniatures on miniature handles and holders, you will see a huge improvement in comfort and see better accuracy.
Improves Comfort
Depending on the type of miniature holder will be how comfortable your experience will be. You see, there are miniature holders that are small enough to fit in your hand and those that need to be placed on a table.
Apart from that, your overall experience can also be affected by other factors such as whether or not you have sweaty hands as it could directly affect your painting sessions. When you are holding miniature models for extended hours, not only will you strain your hands but it will also make your entire palm or hand sweaty.
In most cases, people don't normally notice that their hands are sweating until it's too late or they made a mistake because their grip became slippery. With the right miniature handle, you can greatly reduce possible finger or hand pains and avoid mistakes from slippage.
Increased Painting Sessions
Because you will be handling the models more naturally now with miniature holders, you will be more comfortable in your sessions and should feel less fatigue overall.
In case you don't know yet, you can improve your productivity by up to 25% just by investing in the right miniature holder. So, if you haven't already, consider investing in the right miniature holder to get that extra boots and finally finish your unpainted collectible models.
Experience Better Painting or Sculpting Sessions
When you are more comfortable, you will start to perform better on painting miniatures since your sessions will come as naturally as possible.
The freedom to change grips and angles more easily with miniature holders for painting will allow you to access different parts of your model with relative ease and less effort.
It's important to be able to change the angle of your miniatures when painting them. And regardless of which direction or angle you want to turn your model, doing so should be easy. Plus, most miniature holder for painting is designed to hold miniature models securely.
Another plus with miniature holders is how you can paint without having to worry about messing with the model's painted areas since you won't be touching the model at all. Since oils easily get on your fingers, the freedom to not make direct contact with your minis will definitely make your painting sessions smoother.
On a similar note, you can avoid getting your hands dirty or in contact with materials you are allergic to. Even though wearing gloves is one of the things you can do to avoid getting in contact with oils and paints, you can still easily do without them to maximize the feel and experience during sessions.
Why Can't I Just Make Them?
It is true you can just make your own DIY holder from everyday household items. However, it takes a bit of work to make one that is functional enough to last and perform as intended.
Moreover, using one miniature holder can be great only for a while because as you paint different types of models, you will opt for a more appropriate holder to get things done more efficiently.
Apart from the types of household items, you can use as holders for your minis, the sticky adhesives are also among the things you will have to worry about. There are plenty of household items we could name but bottom line is that they can't be too sticky since you will have to remove your model when you are done painting.
To sum up, reasons why DIY holders aren't ideal for working include:
Could create to haphazard or messy work desktop such as button caps, and others.

Requires a specific type of sticky adhesive that won't normally last long

Could risk damaging models

Can be a poor option for painting larger minis

Are not ideal for working with plenty of projects simultaneously
Now, if you are serious about painting minis, then you will want nothing but a dedicated miniature holder for painting. With all that covered, let's take a look at the best miniature holders for painting miniature models.
Miniature Holders for Painting
1.
GameCraft Miniatures Figure Holder for Painting and Sculpting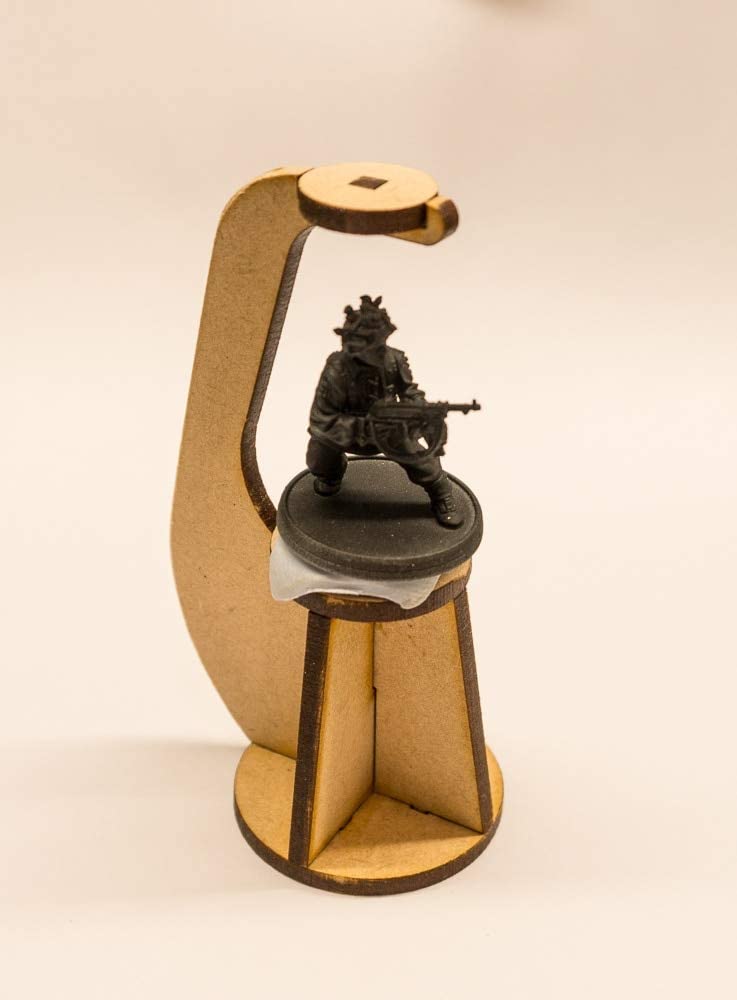 If you are looking for an inexpensive miniature holder that you can use, the GameCraft Figure Holder is easily among the budget painter's top options.
The miniature holder doesn't feature any fancy material composition or even a high-grade holder. If I am being honest, it's easily described as a step-up among DIY options.
The GameCraft Figure Holder is made of laser-cut and requires additional adhesive to keep miniature models in place. Furthermore, it also isn't designed to fit all sizes of models, so always opt to check that the model you will be painting will fit on the platform.
Fortunately, the design comes with a finger rest that goes around the top of the holder. Having a finger rest allows you to be able to grip the holder more securely and eradicate any possible wobbles. If you want something that you can hold securely as you paint your minis, then the GameCraft Miniatures Figure Holder is a great option to consider.
However, it has to be noted as well that the holder is lightweight and could potentially be an issue to some that would rather grip a holder that is slightly heavier.
Overall, the design and build may not be as sharp or as fancy as other high-end miniature holders but it does feel comfortable for the price.
2.
Games Workshop Citadel Painting Handle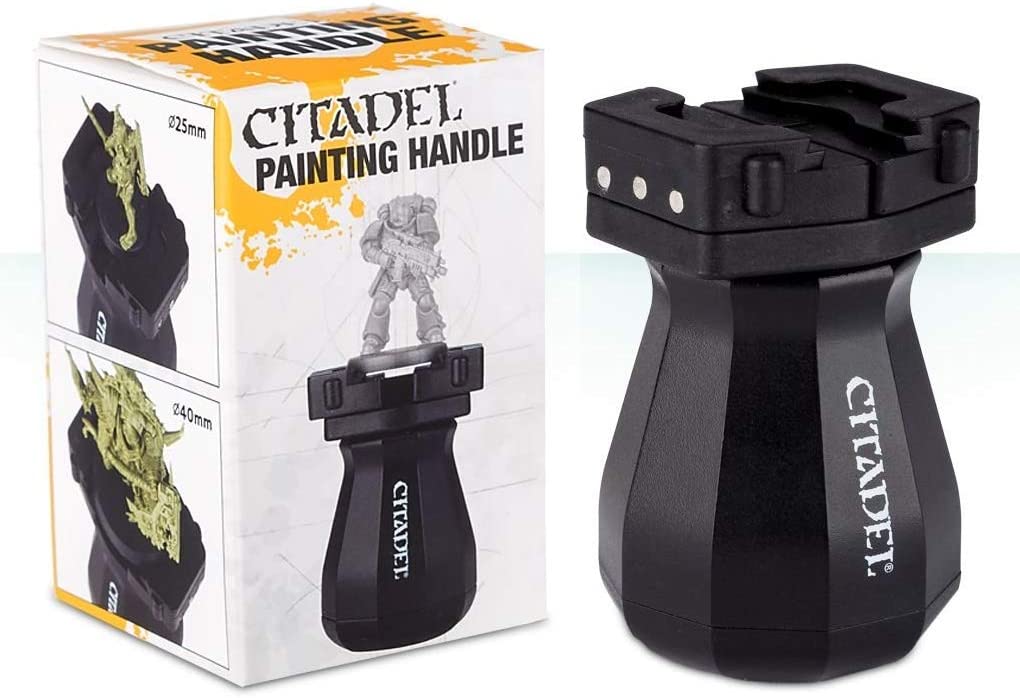 The Games Workshop Citadel Painting Handle is the perfect miniature holder if you paint several models of different sizes. The holder can accommodate various sizes of miniature models.
Apart from it being easy to use, the miniature holder also keeps the model securely in place with its spring-loaded clamp. It is strong enough to hold models securely but can be operated with just one hand.
The miniature base is also designed to hold not just round bases but is also designed to hold several other shapes and sizes, including models with square bases. Additionally, the holder can also accommodate larger models, although it may make the entire thing heavier. Even so, it still is well-balanced and comfortable to hold.
Note that the Games Workshop Citadel Painting Handle has a more recent version called the MK2. Almost everything about it is very similar and comparable to the original version. But the design features an upside-down wine glass.
Don't let the changes in design fool you, because it still is super comfortable to hold for extended periods of time. Note that the MK2 version also utilizes the same spring-loaded clamp design that also works well with various sizes and base shapes.
Depending which you prefer should be your choice. Note that the MK2 version is highly-recommended if you want to do paintings for extended periods as it is more comfortable to use compared to the original version of the Citadel Painting Handle.
3.
Game Envy Hobby Holder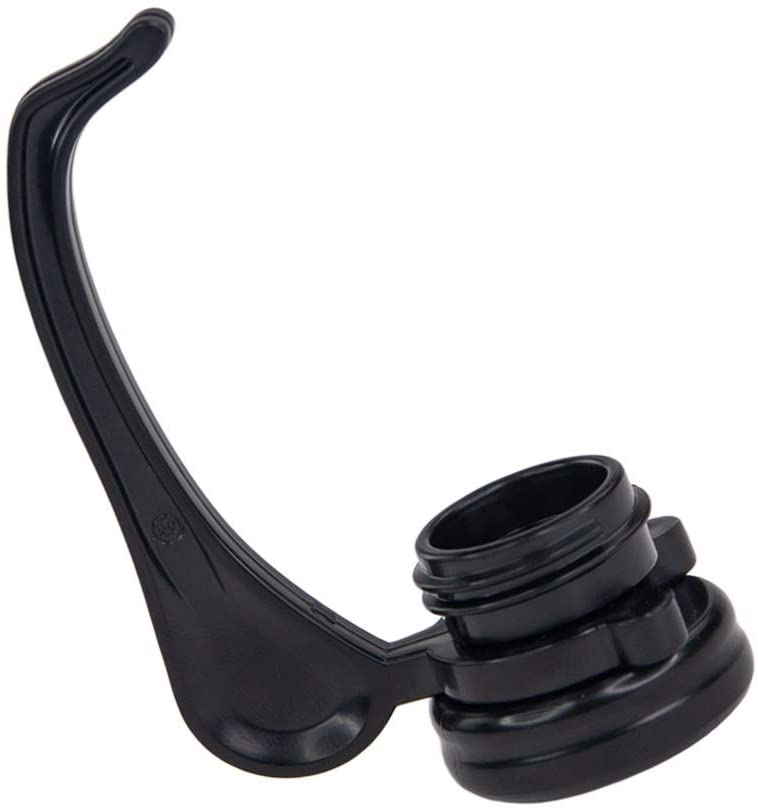 The company Game Envy has grown exponentially since it kickstarted the project with 3D printed prototypes. Among their products, the Hobby Holder is the most popular designed for miniature painters.
Keep in mind that the design isn't as complicated as other more expensive holders in the market and is very straightforward. The model is attached to an everyday bottle cap with the use of a sticky tack or a glue and is then screwed onto the hobby holder.
The holder also has a handle and a finger rest which can be adjusted to match your needs. You will also find a turnstile that is built into the frame, which is very helpful since it allows you to easily rotate the model with your forefinger.
Even though the use of a bottle cap is pretty easy, it can also be a problem. You see, adhering the model on a bottle cap requires you to leave them to dry for some time. That means if you are going to work on more than one miniatures at the same time, you will need more bottle caps or wait until the model partially dries so you can remove the cap from the base.
Overall, the design is intuitive but requires more than one bottle caps if you are going to work with more than one model at the same time.
4.
Rathcore V3 Series Miniature Holders & Grips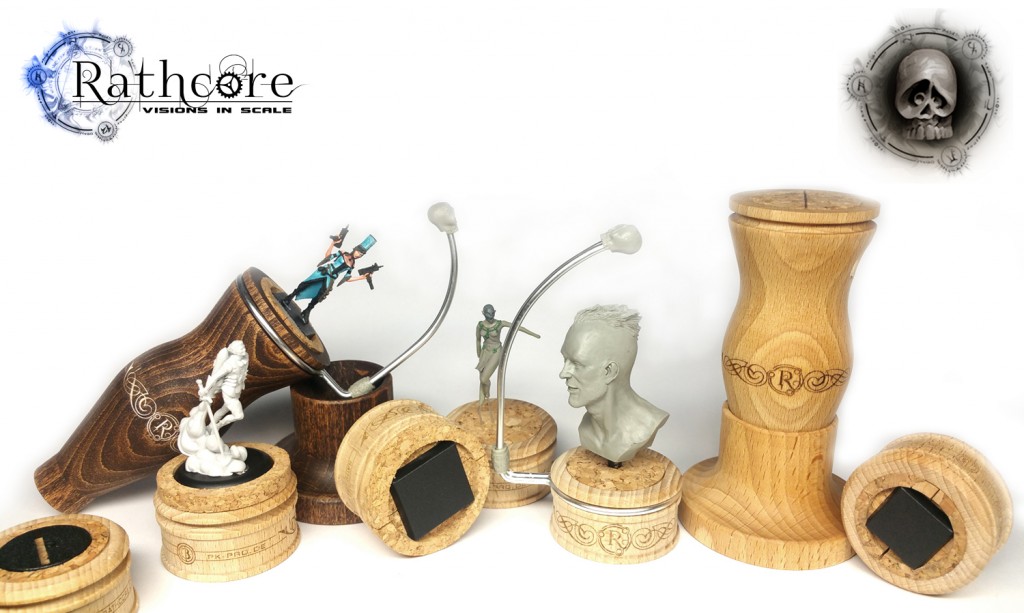 Are you looking for a very durable wood miniature holder? Then the Rathcore V3 Series Miniature Holders & Grips is the best you can possibly get.
The miniature holder features not just great aesthetics but also features great functionality and reliable durability. The holder comes in various configurations and gives you the option to choose your preferred attachment method.
In terms of construction, the holder has a smooth, varnished finish that feels great when held. The wood is also light and is comfortable for use for extended periods. Even though the holder is light, it still provides you with great stability and balance.
Apart from the balanced weight, the Rathcore V3 Series Miniature Holder also provides a metal finger rest that will surely prove to be incredibly useful to get the angles you need. Like other miniature holders for paintings, the metal finger rest can be removed should you need more space.
Because of its construction and quality, the Rathcore V3 Series Miniature Holders & Grips is a bit pricier than other options on the list. However, because of their overall functionality, versatility, and comfort, getting yourself one of these will surely be worth it even though the cork inserts will wear out over time.
5.
Universal Work Holder PEG CLAMP VISE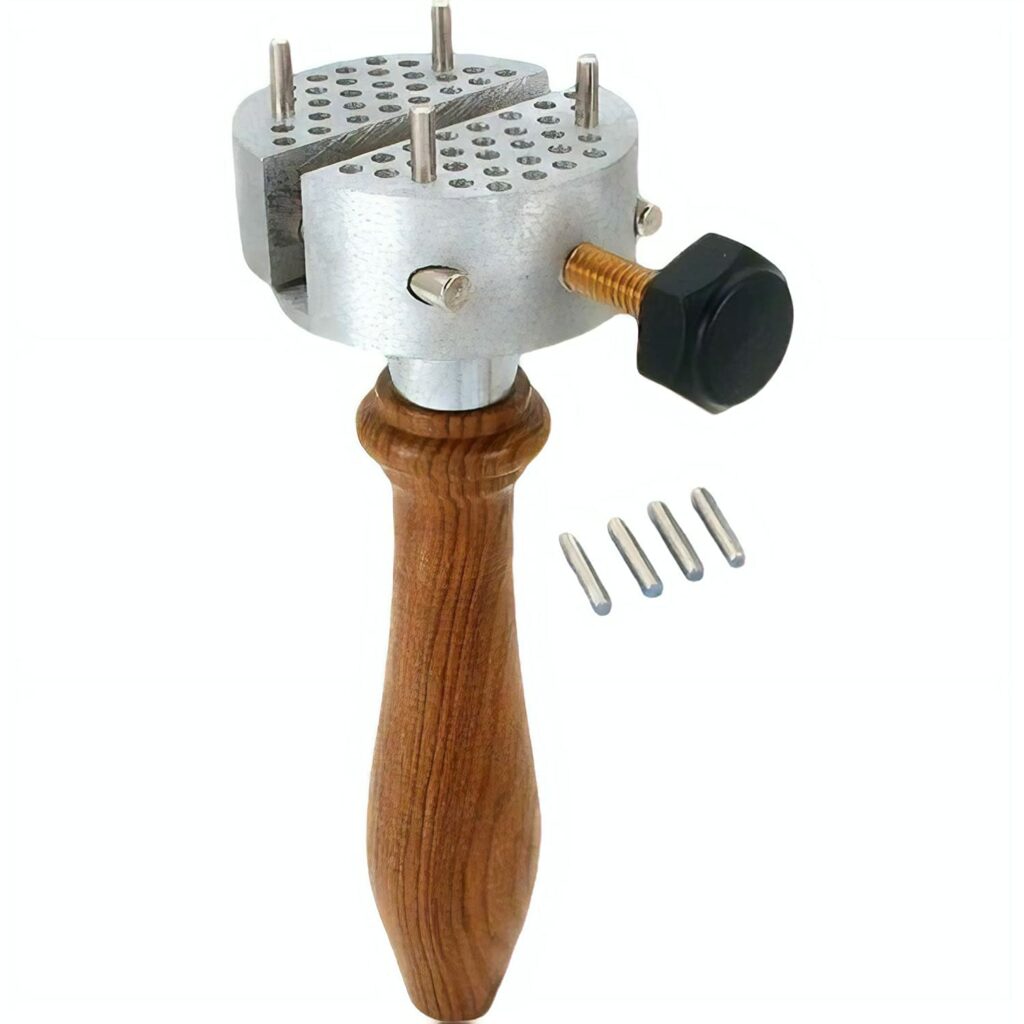 We highly recommend the Universal Work Holder if you want something that will hold your miniatures very securely. The holder has a metal vice clamp that is easily comparable to that of torturing devices.
The clamps allow you to manipulate the handle as perfectly as you want it to be. Furthermore, the pin vise system also gives you the option to grip miniature bases more firmly.
Because of its flexibility and adaptability, you can easily attach different model shapes and sizes. Moreover, the design is also great for painting scale mode sub-assembled parts and even scatter terrain.
Note that the vise is strong enough to produce enough friction to clamp on pins. The pins can also be used to insert into the feet of your models. With this, you can hold models that haven't been glued to a base yet.
Keep in mind that other miniature painters would prefer to paint their models first before assembling them. If that is something you would prefer, then the Universal work holders are perfect for pre-assembled paint work.
It is also a plus that the vise isn't dependent on the presence of a base, which means you can conveniently paint without having to worry about putting your model on a base.
6.
Tamiya Model Stand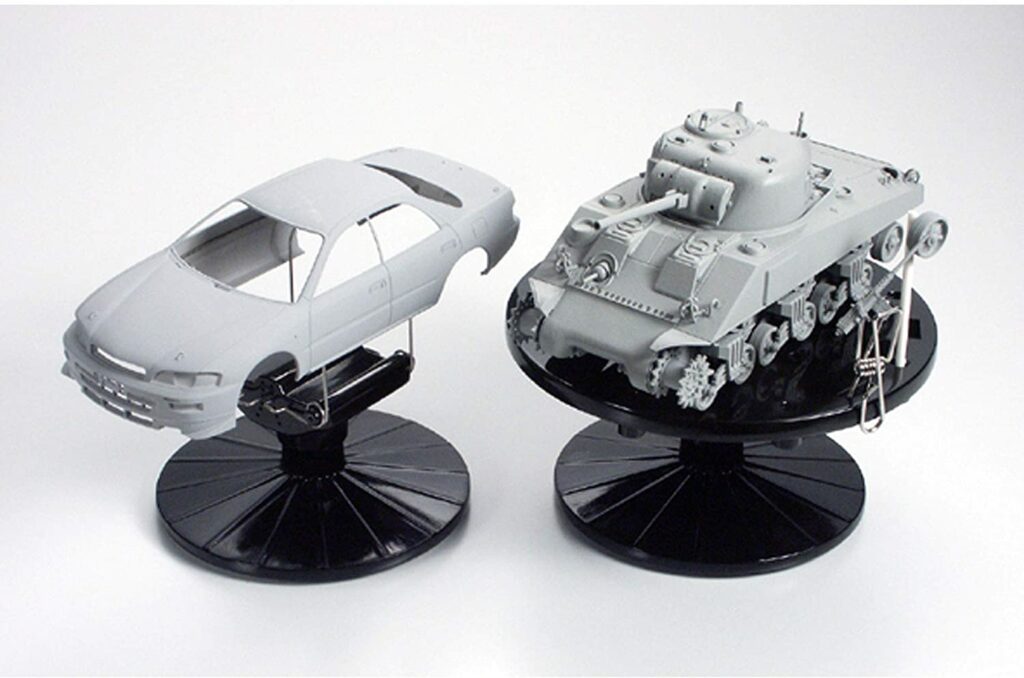 The Tamiya Model Stand is the perfect miniature holder for painting miniature vehicles. The holder isn't exactly going to hold your miniature model vehicle but is perfect for painting large models such as flyers or vehicles such as airships or warhammer tanks.
Unlike other miniature holders, the stand features a turnstile underneath the platform that can rotate 360 degrees without touching the working surface. Because of this functionality, the Tamiya Model Stand can be used to airbrush or spray can vehicle and aircraft models.
The design of the model stand allows you to turn the model without getting your hands wet from the paint. You can rotate the stand using the two rotating stands.
One of which has a conventional platform that comes with alligator clips that can also be used to insert on the sides so you can paint smaller parts. The other stand also comes with two metal arms which secures your model and also elevates your model.
If the model is hollow, the second stand that elevates your model can be used to spray the underneath of your model vehicle or plane.
Note that the Tamiya Model Stand is not ideal for small models. It also is large and requires a decent space. Because the design of the stand is intended to rest on a tabletop, you will have to angle your brush when painting your miniature model.
They may not be great for small models like troopers or space marines but they are great for spray painting and are a must-have for spray painters.
7.
Alligator Clip Sticks with Base Holder for Airbrushing, Painting, and Assembly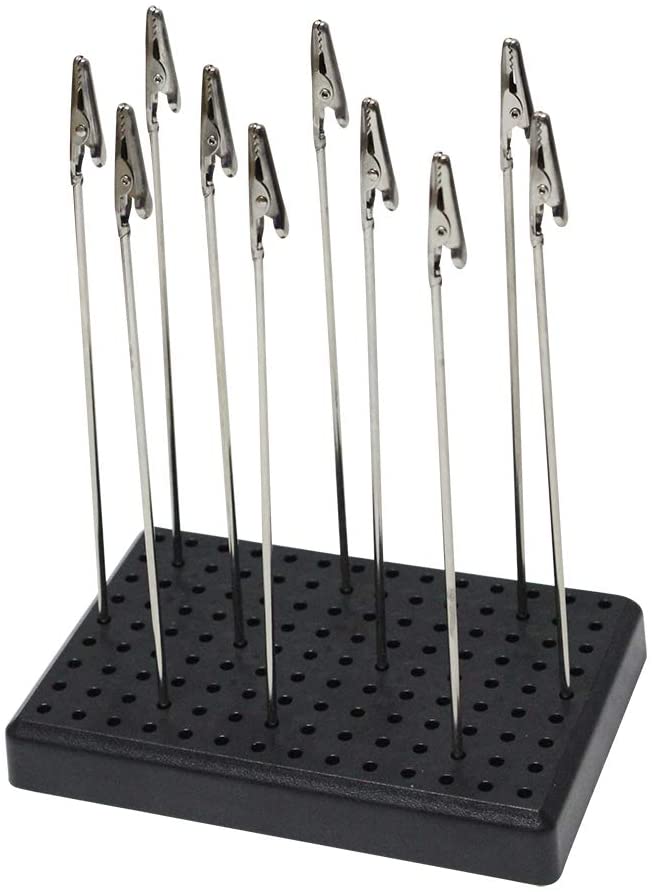 If you are planning on doing spray paints but find the Tamiya Model Stand to be too big, then the Alligator Clip Sticks with Base Holder will be the perfect alternative.
Overall, the Alligator Clip Sticks with Base Holder is intended to be used for painting miniature models or parts. More specifically, if you fancy painting subassemblies first before assembling them, this is the miniature holder for you.
The design of the miniature holder allows you to pick up the sticks with alligator clips on the other end so you can clip individual parts and spray paint them. Because of how it is designed, you can easily paint individual parts.
Remember that this is not designed to hold base miniatures or even large models. Because of this, you might want to resort to other options on our list. But if you are going to be painting multiple miniature parts, you won't find anything better than the Alligator Clip Sticks with Base Holder.
Keep in mind that the baseboard is very stable that even if you put and fill all the individual alligator clips, it will still stay stable. Unfortunately, the alligator clips won't hold heavy pieces or miniatures fairly well as it is only limited to holding small parts and subassemblies.
8.
Miniature Painting Holder from Fat Dragon Games for Dungeons and Dragons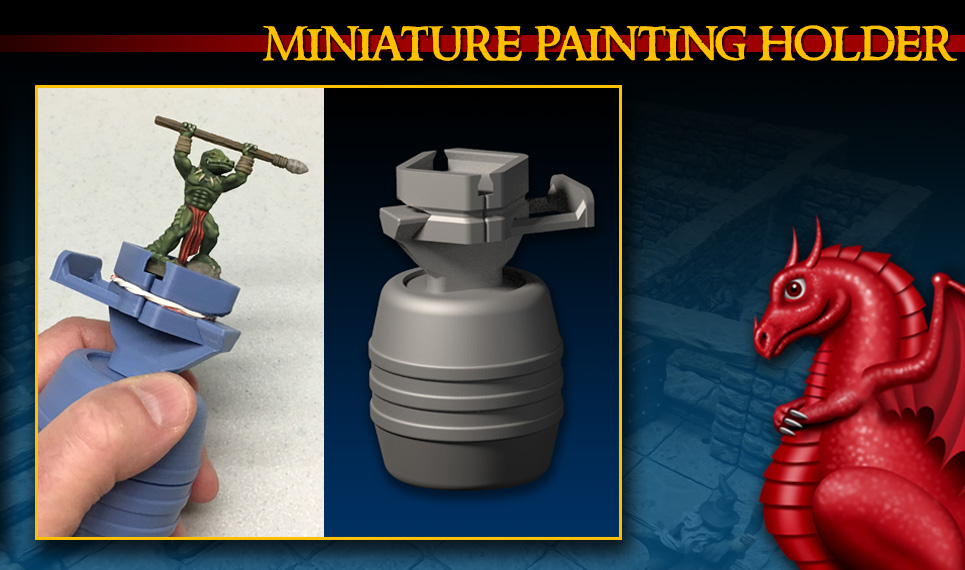 The Miniature Painting Holder from Far Dragon games for Dungeons and Dragons is a well designed holder that can hold miniature models. The product is specifically targeted towards painting Dungeon and Dragon miniature models or other RPG miniatures similar to DnD.
But apart from that, this still works just as good for other miniature models with 1 inch and 2 inch bases. The miniature painting holder may not have any specific clamps or vises like some of the above mentioned products but securing is still just as easy.
The clamp doesn't use any type of torque mechanism but instead uses a rubber band to secure the miniature model in place. For most miniature modes, this is more than enough. But you will surely want to use a stronger clamp if you are planning on using heavier miniatures.
Keep in mind that the 3D printable file may require sanding or priming to achieve a smoother texture. Since it comes at a relatively cheap price, investing in one of these will surely be worth it.
9.
Rotating Model Handle Kit
Before we dive to the good parts, let's first understand that the Rotating Model Handle Kit is not exactly a standalone miniature holder for painting because it is not a standalone miniature painting handle.
The Rotating Model Handle Kit is a type of adapter that you can use along with Games Workshop Citadel Painting Handle. With this Rotating Model Handle Kit, you can rotate your miniature models easily. This addition to your Games Workshop Citadel Painting Handle makes your projects a lot easier.
Having this included in the list is a great way to increase your productivity in case you are just here to find ways to improve your painting efficiency and performance.
It is also very easy to use this since you will only need your forefinger to rotate the miniature models. Furthermore, it doesn't need as much effort to make slight rotations, which is nice to make accurate painting outputs.
In case you are looking to improve your painting time and efficiency and you are using Games Workshop Citadel Painting Handles, then this is a great addition to your arsenal to achieve better results.
10.
Miniature Painting Holder (1″ Miniature)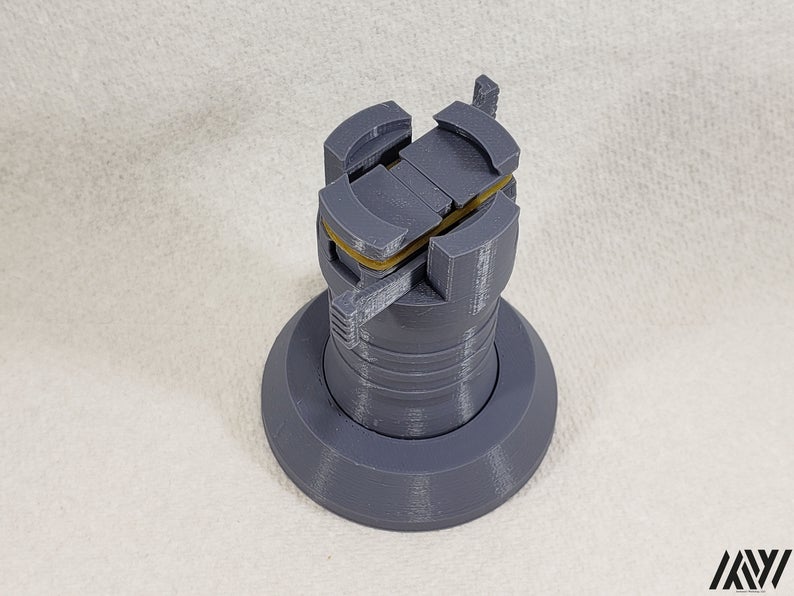 Another inexpensive miniature holder in our list is the Miniature Painting Holder (1″ Miniature). It is also 3D printed, which explains the very affordable price tag. The miniature holder also comes in four parts so you will have to assemble it first upon receiving the item.
Assembly isn't as easy as other products in the list because you will need a rubber band as a clamping force when securing miniature models in place. Keep in mind that this is lightweight as well and is primarily intended to take models with 1-inch base.
If you don't prefer to hold your miniature, you can leave this on a table since it has a wide base that can stand freely upright.
Specifically, the miniature module holder is intended for RPG game models such as DnD, Pathfinder, and more. Consider its price, we highly recommend you get these, especially if you are looking for a miniature holder that is lightweight and inexpensive.
Because assembly isn't as easy as other miniature holders, it can be a challenge to do multiple projects at once. Also, it is important that you sand the edges before using to smoothen out jagged areas.
Overall, it's a great pick if you are just going to paint a few models at a time.
11.
Red Grass Games Painting Handle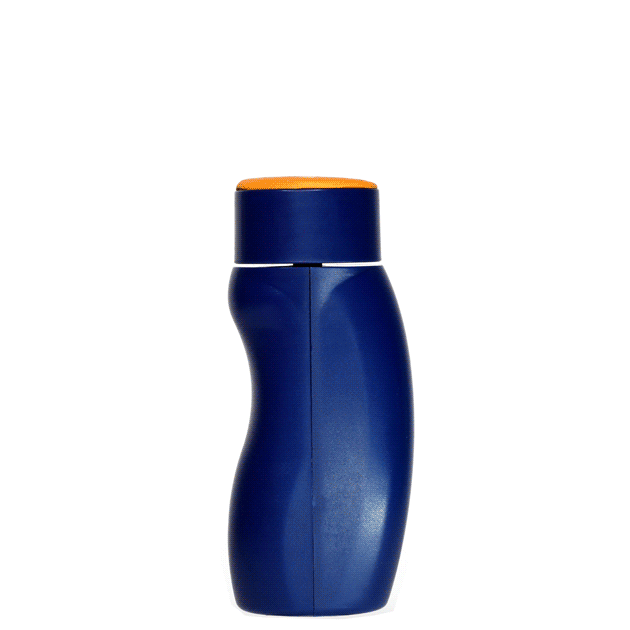 Another great option to consider in our list is the Red Grass Games Painting Handle. It has a design that is comfortable when held even for extended hours. Furthermore, the 360 degrees rotation wheel makes painting a lot easier.
Remember that the Red Grass Games Painting Handle is a small piece of holder that is intended to be used for small miniature models. The holder is also made of plastic but it does feel a lot more ergonomic than other paint handles.
So long as you have the right hand size, then the miniature holder should feel perfect. People with larger hands may have problems with this in terms of comfort, especially when used for extended periods.
The knob at the top allows you to rotate your models while painting. Also, the knob is tight enough to not turn by itself when you paint on your model but does feel smooth when turned.
You will be mounting the miniature on top of the adhesive stuff that comes with the handle. Even though it does seem to perform a tad better than the average sticky tack, it still dies out eventually.
Fortunately, you can cover the adhesive stuff up to increase its lifespan. But having to do these types of maintenance can be a problem for some users.
So long as the maintenance doesn't bother you as much, then this will be a good pick.
12.
Green Stuff World Work Holder on Stand for Sculpting Support Miniature Hobby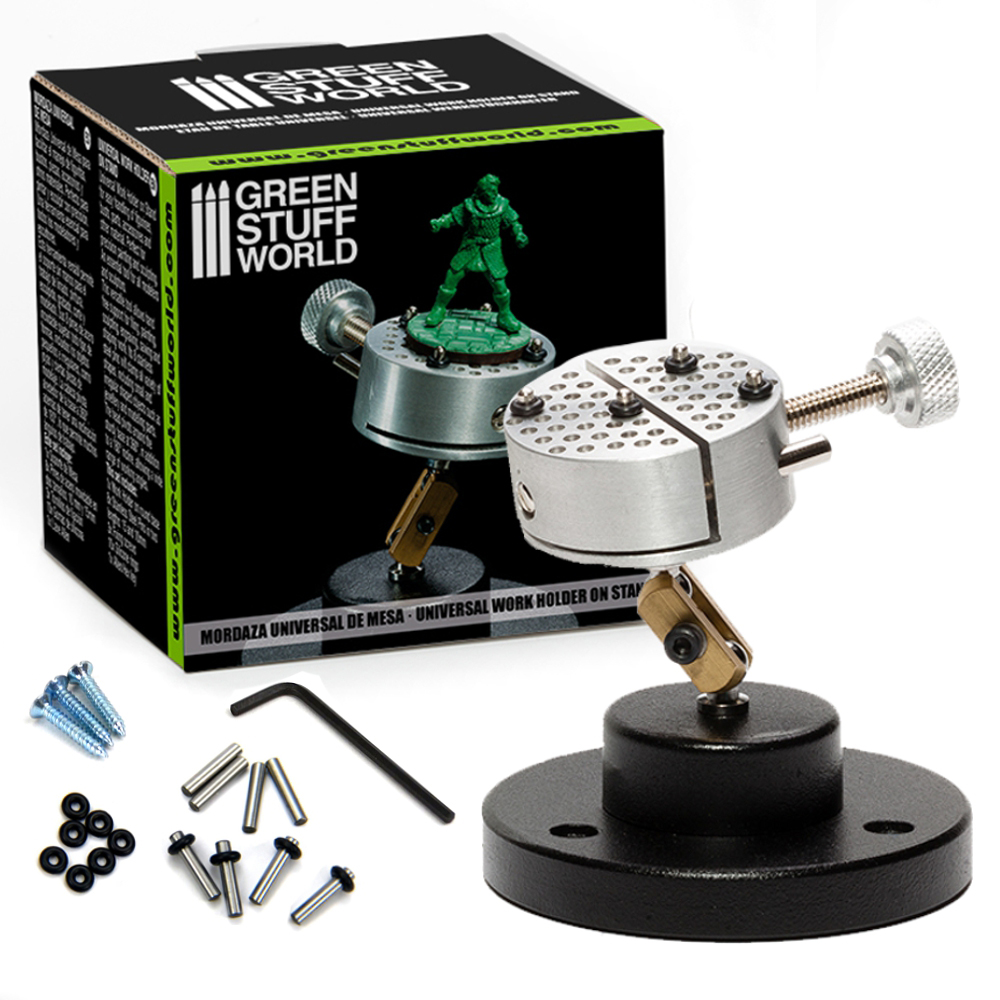 Last but not least is the Green Stuff World Work Holder on Stand. If you are looking for a miniature holder that has a solid weighted base that can securely hold minis in place as you paint them, you won't find anything similar– the Green Stuff World Work Holder on Stand is the perfect miniature holder for you.
It has to be noted that the design of the miniature holder is comparable to that of the Universal Work Holder PEG CLAMP VISE. However, the Green Stuff World Work Holder offers more.
Apart from the vise-like clamping holder, it is also attached to a swivel arm that allows you to swivel the model when being painted. Even though the swivel arm is limited, it still is a nice addition.
Furthermore, the base is heavy-weighted, so you can guarantee that your session will stay very tightly. Note that the miniature holder is intended to be placed on a flat surface, hence the weight of the base. This means you can't just carry this around.
Things to Consider when Buying Miniature Holders for Painting
You don't just buy a miniature holder because it has the highest sales over the past month or because it is the most popular for hobbyists. Instead, you will want to choose a miniature holder according to the following:
The holder should hold your miniature model firmly in place
This is a no-brainer. When shopping for a miniature holder, you want to get one that can hold the miniature firmly. Depending on the construction and the build, the miniature has to be kept firmly in place on top of the holder.
There are plenty of miniature holders for painting that don't hold minis firmly where models randomly fall off. Furthermore, some miniature holders also need to be kept in one angle only, or else the model will fall off.
When choosing a miniature holder for painting, always check how well it holds the miniature model in place.
Holder should keep your miniature models safe at all times
It has to be noted as well that holding the miniature model isn't enough to keep the model secured. The entire point in investing in miniature model holders is to ensure you don't have to get your fingers on the model and damage the highlights of the paint.
To ensure that your miniature models are safe, make sure that the holder is built with the center of gravity in mind. You have to be able to put the holder on a table without having to worry about it falling over.
Additionally, other miniature holders are specifically designed to be held instead of being placed on a table to stay put. So, unless you specifically want to paint and hold, then this should not be a concern.
If you are specifically looking for a miniature holder that you can hold in your hand, make sure that your fingers won't hit the model.
Holding the miniature holder should feel comfortable
Note that miniature holders vary in different sizes as well to match different hand sizes.
There are miniature holders that fit in all types of hand sizes and others that only match specific sizes. Choosing the right size is just as important as picking the right type of miniature holder. If the size of the holder is too small, chances are you would get cramps.
By picking the right size, you will be able to get your projects more efficiently.
Securing and taking the miniature models off the holder should be quick and easy
Last but not least, it is very important to choose a miniature holder for painting that utilizes a mounting mechanism that allows you to install and take off miniatures easily.
Some use a very tedious mounting mechanism to ensure that the miniatures are locked in place. While this may not be a problem if you paint one model at a time, it can be a huge problem if you are going to paint loads of army models at a time.
Extra Features
Note that among the biggest reasons why you should always opt for extra features is to add improvements to the way you paint. A good example is how you can rest a part of your hand or palm as you hold down the miniature model on one hand.
In some cases, this helps by keeping the model more secured. Other holders even utilize handles that give you the option to hold the model securely in place regardless of your angle. Moreover, other handles also give you the option to effectively glue fiddly parts of the model more comfortably.
Conclusion
And that is our list of the best Miniature Holder for Painting miniature models. Each offer their unique feature which should easily separate them apart. Depending on which you prefer or what you're looking for should be your final decision.
Which among our featured miniature holders is the perfect one for you? We would like to hear about them in the comment section below.