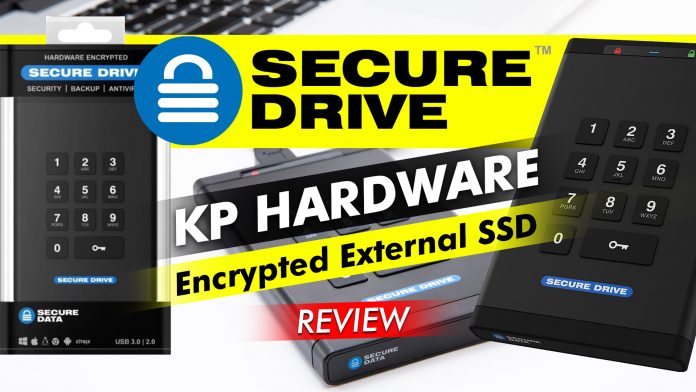 Quick Specifications
Storage Capacity
250 GB
500 GB
1 TB
2 TB
4 TB
8 TB
Federal Information Processing Standard (FIPS)
Level 3 Validated
Hardware Encryption
AES 256-bit XTS
Compatible Operating Systems
Windows
macOS
Chrome OS
Linux
Android
iOS
Interface
USB 3.0
Sequential Read Speed
300 MB/s
Sequential Write Speed
325 MB/s
Warranty
2 Years
SecureData is a data recovery and forensics provider that specializes in manufacturing encrypted storage devices with unique and cutting-edge security. The company recently sent over a review sample of the SecureDrive KP External Portable Drive so I can give my thoughts on the product.
As a software developer, data security of utmost importance, and the SecureDrive KP meets this demand through military-grade AES 256-bit XTS hardware encryption. It is available in a variety of storage capacities, but the subject of this particular review is the 500 GB SSD variant.
Box Contents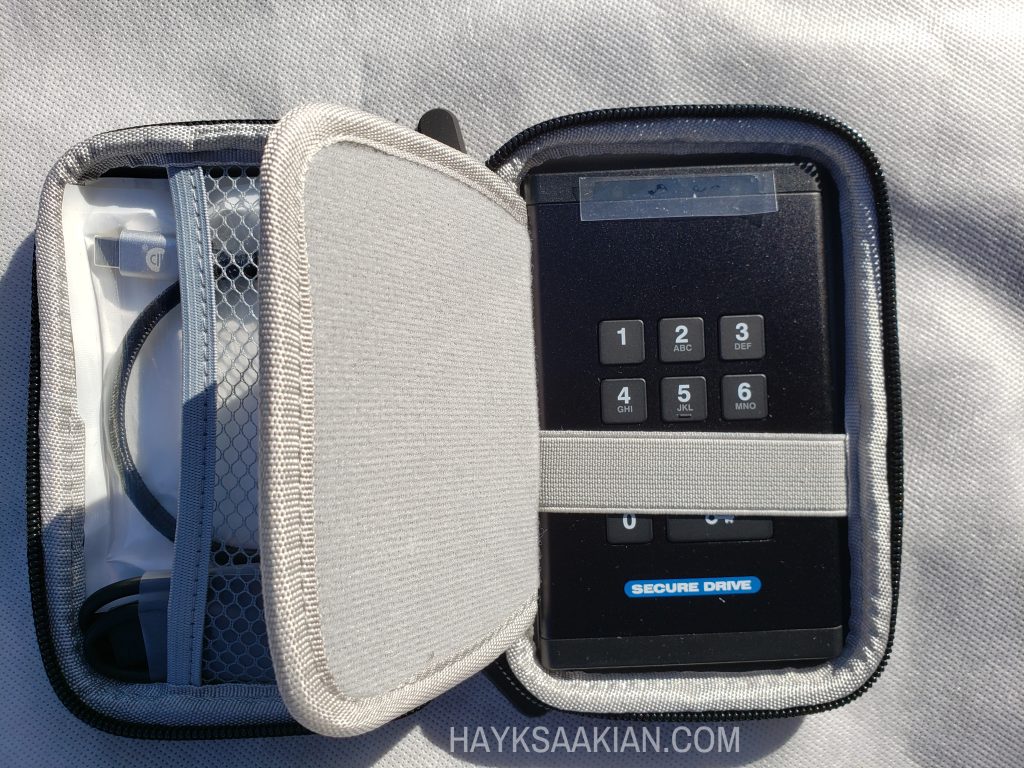 SecureDrive KP 500 GB External Portable SSD

EVA Shockproof Carrying Case

USB 3.0 Cable

USB Type-C Cable

Quick Start Guide
Design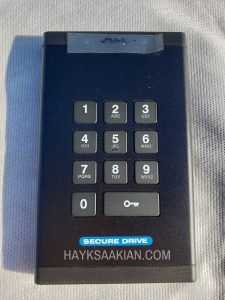 The SecureDrive KP features a sleek and durable black aluminum housing. It has a wear-resistant on-board keypad that is highly responsive and tactile. Towards the top of the device, there are indicator lights that help you determine when the drive is locked or unlocked.
Other than the subtle branding, there's not much more to say about the exterior design of the device. However, it is an entirely different story for the interior components, as all the vital pieces of electronics in the storage drive have a specialized epoxy coating to cement them into an indistinguishable solid capsule and make reverse engineering impossible.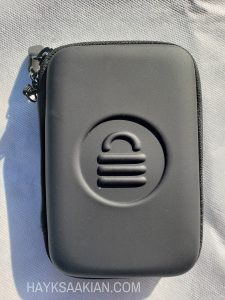 The package also includes a durable shockproof carrying case with a spacious mesh pocket and soft sleeve to hold all your cables and accessories. It is made of a water-resistant polyurethane hard shell to absorb the impact of accidental drops and protect your storage drive from scratches and dents.
Security Features
The SecureDrive KP automatically blocks any communication with the host device until you enter the correct PIN via the on-board keypad. This feature safeguards your data from unwarranted access and prevents malicious firmware modifications that might be intended to breach the security of the storage drive. Moreover, the drive is pre-loaded with ESET USB Antivirus to deliver real-time heuristic scanning. Even when you're not connected to the internet, the antivirus engine uses a custom algorithm to identify malicious files and deny them from being saved in the drive.
The SecureDrive KP also comes with a brute force anti-hacking feature that instantly erases all the stored files when an incorrect PIN is entered ten consecutive times. You can rest easy knowing that if the drive is ever stolen, thieves aren't going to be able to access your data. It is also Level 3 Validated for FIPS 140-2, which is a good compromise between adequate security, operational convenience, and choice in the marketplace. If you're unfamiliar with FIPS 140-2, it is basically the benchmark for certifying the effectiveness of cryptographic hardware. Level 3 Validation entails that a device has complied with the requirement of physical tamper-resistance and identity-based authentication.
Another feature I appreciate about the SecureDrive KP is the inactivity auto-lock. It essentially locks the drive after being inactive for a predetermined amount of time (1-60 minutes). However, I'd like to have the time limit extended to more than an hour so I wouldn't have to unlock the drive as frequently. This feature is disabled by default, so you'll need to configure it manually.
User Experience and Performance
The SecureDrive KP has a USB 3.0 interface that delivers decent transfer speeds. While it isn't as fast as SSDs that use a SATA III interface, it still performs much better than traditional HDDs. I tested the drive using AmorphousDiskMark on my 2017 MacBook Pro via USB Type-C and got a sequential read speed of 300 MB/s and a sequential write speed of 325 MB/s. If you have an older computer, you can still use this drive since it is also compatible with USB 2.0, albeit with slower transfer speeds.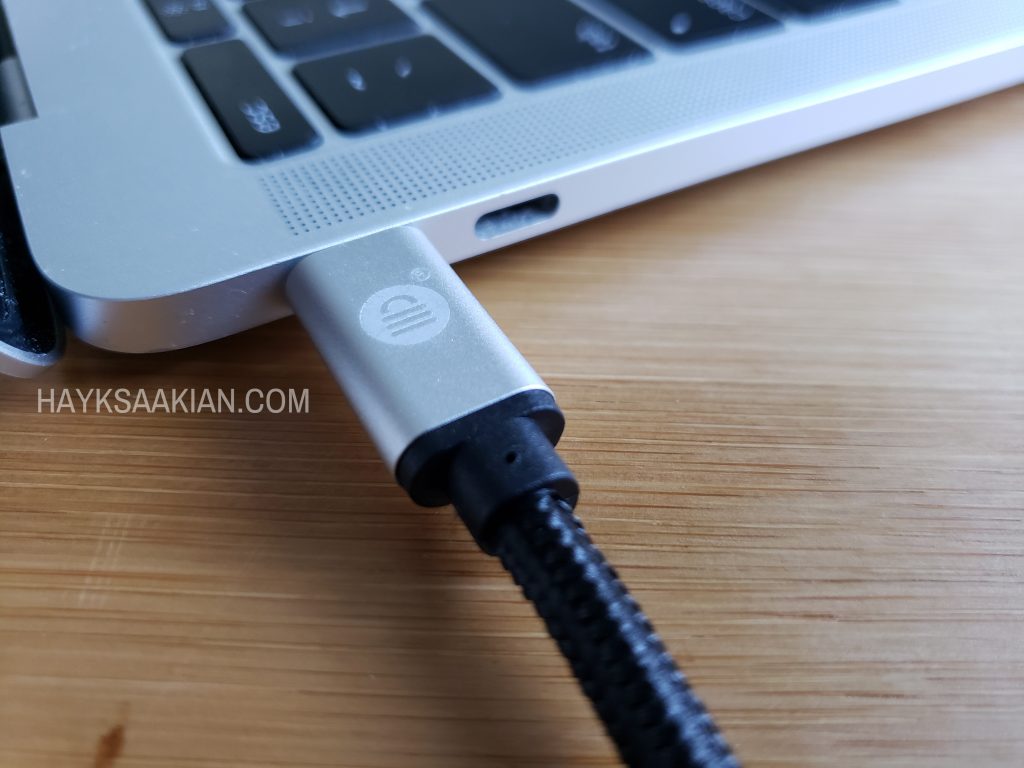 The SecureDrive KP is designed to have a plug-and-play functionality so you can use the device without performing any configuration. Moreover, it doesn't require drivers or software updates since all encryption and authentication is done directly on the drive. Just remember to change the password the first time you use it to avoid unwarranted access.
If your smartphone accepts USB Type-C input, you can also plug this hard drive directly into your phone. This feature comes in handy when, for instance, you're shooting videos from your phone, you can easily plug it into your phone to back up the videos securely without having to wait for your network connection or the cloud to load.
I initially thought the password protection functionality would be less effective on macOS, considering that the operating system doesn't support NTFS formatted drives. However, I tried reformatting the SecureDrive KP to exFat using the Disk Utility software, and it worked flawlessly. I even transferred a relatively large file (1.32 GB) from my MacBook Pro to the drive, and it took a meager 6.22 seconds, including the time it took to drag and drop the file to the right window.
Subsequently, I tried to use the SecureDrive KP as a backup drive. I was prompted to use the drive as a backup immediately after I formatted it to exFat, so the process was straightforward. This time, it took significantly longer since the drive is writing a massive amount of data instead of a single file. The process started at 6:35, and the drive successfully wrote roughly 800 MB of data by 6:39. At that point, I walked away and kept the time in mind so I could check on it later. When I checked back at 6:50, it had written 13.9 GB of my data and said the estimated completion time would be five hours.
The SecureDrive KP had backed up about 140 GB of data at 8:22 and completed the process at 9:40 for a total of three hours – 40% faster than expected! Overall, this drive shows excellent performance for writing large amounts of data while providing hardware encryption to prevent anyone else from having unsolicited access to your files.
Final Thoughts
The SecureDrive KP provides a compact and straightforward way to protect data from malware and unwarranted access. It is well-built and features cutting-edge technology to give you all the necessary security and peace of mind. Moreover, it works on any host operating system and comes in a wide range of storage capacity to fit your needs.