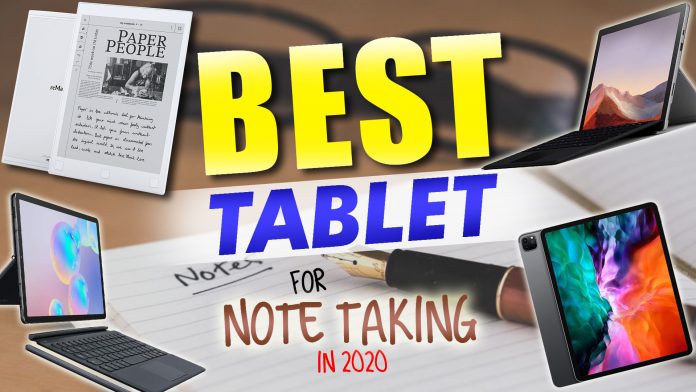 As schooling has become more readily available over the web, including webcam-based classrooms and presentations, the methods of note-taking and research have evolved past simple transcription with pen and paper. Additionally, this has been a staple of remote careers and global businesses, with project management and information sharing relying on apps to complete their everyday tasks.
This has translated to digital note-taking, documentation, and reading on tablet becoming the new standard of operation, creating a more efficient and effective method of information sharing.
Increasingly you'll see tablets such as the iPad Pro, Samsung Galaxy Tab, and the Microsoft Surface across the desks of students and tables of conference rooms alike. While these devices will all share similar core functionality, the differences in ecosystems and application availability could sway you as the consumer in one direction or another.
Whether you are looking to be able to sync across your iPhone and Macbook simultaneously, or you have a third party application that is only available through the Android operating system, the devil is in the details when it comes to productivity.
Below we will break down all of the differences between some of the most popular tablets currently on the market and which features will shine bright when it comes to taking notes. We'll also suggest some of the most well-rounded apps that you'll be able to implement with your new tablet and the best methods for note-taking once you've found your device.
The 5 Best Tablets for Note Taking at a glance.
1. Apple iPad Pro
Dimensions: 11.04 in x 8.46 in x 0.23 in | Screen Size: 12.9 inches | Resolution: 2732 x 2048 | Operating System: iPadOS 14 | Storage: 128GB, 256GB, 512GB, 1TB | Battery: Up to 10 hours | Camera: 12MP (rear), 7MP (front) | Weight: 641g (Wi-Fi models), 643g (Wi-Fi + Cellular models)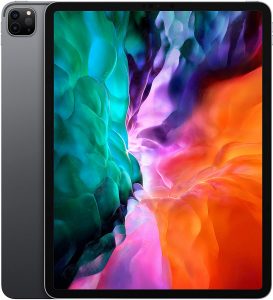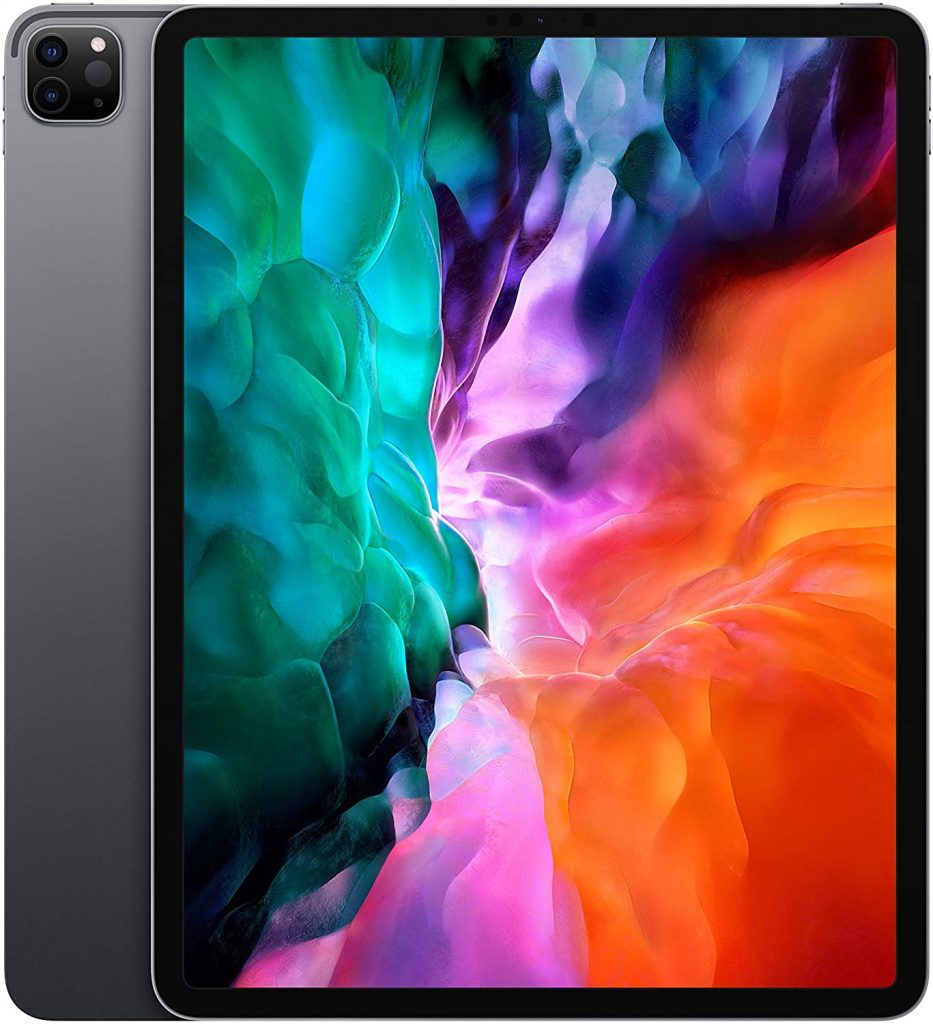 The Apple iPad has reigned supreme over the tablet competition since its initial release 10 years ago. The most recent iteration, the iPad Pro, has not only continued the excellence you'd expect out of Apple's signature tablet lineup, but they have introduced their most powerful and technically impressive device to date. Featuring a 12.9 inch Liquid Retina display, internal storage is offered up to 512 GB while running off of Apple's latest A12Z Bionic chip.
As with all of Apple's products, the iPad Pro runs the latest version of iOS 12 with tablet-specific optimizations and tweaks. Allowing for the addition of peripherals such as keyboards, wireless mice, and the latest model of the Apple Pencil, productivity and computing power on the iPad Pro rivals many full-sized laptops. However, the front-facing 7 MP camera and sensor (with Apple's patented Face ID unlock) and dual rear 12 MP and 10 MP cameras offer video chatting and recording unlike any standalone laptop.
Because of the added options for peripherals, the light-weight mobility and unparalleled power of the iPad Pro makes this a wonderful note-taking device in the classroom or while in meetings. The synchronicity across the entire Apple ecosystem means any notes or documents saved on your iPad Pro can be effortlessly accessed across your other Apple products. Whether it is a Macbook Pro, iPhone, Apple Watch, or your desktop Mac, you'll be able to handoff from one device to another without missing a beat.
2. Microsoft Surface Pro 7
Dimensions: 11.5 in x 7.9 in x 0.33 in| Screen Size: 12.3 inches | Resolution: 2736 x 1824 | Processor: Dual-core 10th Gen Intel® Core™ Processor (i3, i5, i7) | Storage: 128GB SSD, 256GB SSD, 512GB SSD, or 1TB SSD | Battery: Up to 10.5 hours | Camera: 5.0MP (front), 8.0MP (rear) | Weight: i3, i5: 1.70 lb (775 g), i7: 1.74 lb (790 g)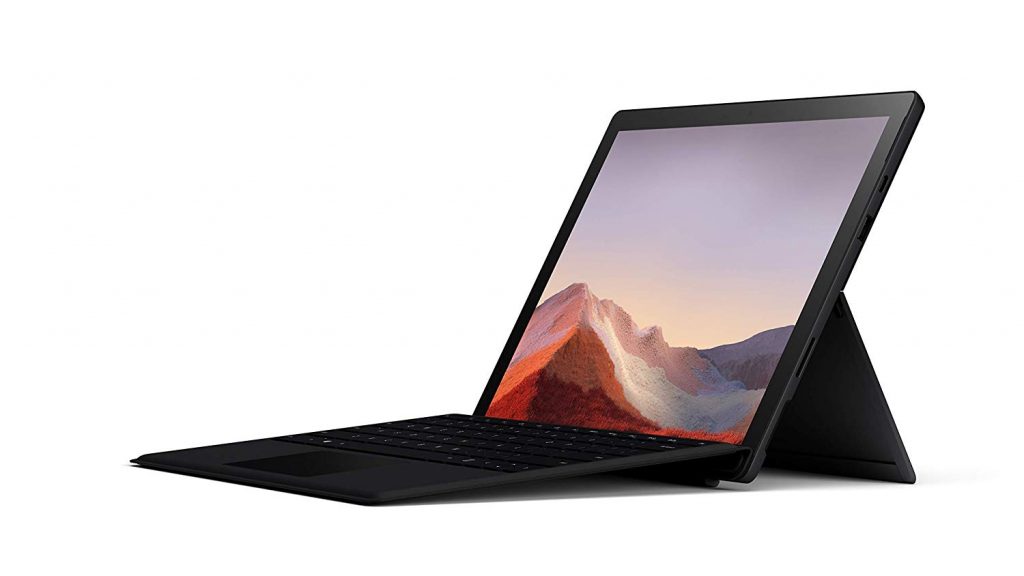 The Microsoft Surface Pro is a marriage between the mobility and ease of use popular with modern tablets, while also offering the full Windows 10 operating system experience. Unlike many popular tablets from Google or Apple, Microsoft has taken the step to ensure you'll be able to access all of the programs and applications that are available across standard computer operating systems. Whether it is Photoshop, Video editing, Microsoft Word or Powerpoint, or the thousands of third-party applications available, if it is available on Windows 10 you'll be able to access it on the Microsoft Surface Pro.
With mobile-optimized peripherals such as the Surface Pen, Surface Dial, and Surface Arc Mouse, this 12.3 touchscreen tablet offers up to 1 TB of SSD storage and 16 GB of RAM. Running either the Intel Core 10th Gen i3, i5, or i7 processor, this is a premier option for getting laptop functionality in a small tablet touchscreen form factor. The front-facing 5 MP camera offers 1080p full HD video, with the rear camera coming in at 8 MP. Another highlight of the Surface Pro 7 is the IO, offering connections for USB Type C, USB Type A, 3.5 MM headphone jack, and a MicroSD card reader.
3. Samsung Galaxy Tab S6
Dimensions: 9.63 in x 6.28 in x 0.22 in | Screen Size: 10.5 inches | Resolution: 2560 x 1600 | Processor: Qualcomm 855 | Storage: Up to 512 GB | Battery: Up to 15 hours | Camera: 5MP (front), 13 MP (rear) | Weight: 0.92 lb (420g)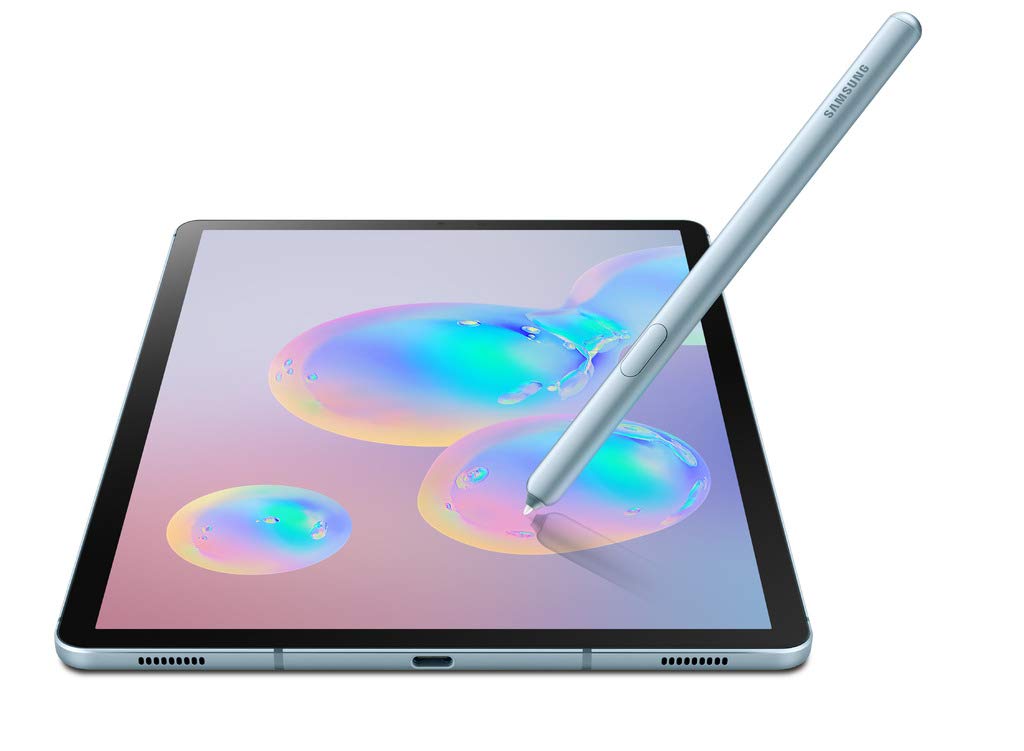 The premier Android tablet on the market, as well as Samsungs flagship device, the Galaxy Tab is a 10.5 inch Super AMOLED display tablet. With up to 256 GB of built-in storage, expandable up to 512 GB via MicroSD, it runs on an Octa-Core 2.8 GHz Qualcomm processor. Running the latest version of the Android operating system, you will have full access to the entire library of apps and games throughout the Google Play store, as well as any apps from third-party developers.
The included S Pen is Samsung's take on touchscreen writing and note-taking, allowing you to mark up documents and take notes on the fly within supported apps. It also functions as a remote shutter while taking pictures, a controller while watching movies, or remotely navigating through slide shows. Easily stored on the back of your device, it not only magnetically attaches but also charges simultaneously. Your productivity doesn't stop solely with the S Pen, as you'll also be able to use the optional Bluetooth keyboard for more extensive note-taking and word processing.
4. HP Envy x2
Dimensions: 8.1 in x 11.9 in x 0.7 in | Screen Size: 11.6 inches | Resolution: 1366 x 768 | Processor: Dual core Intel® Atom™ | Storage: Up to 65 GB | Battery: Up to 10 hours | Camera: 1080p HD (front), 8.0MP (rear) | Weight: 3.1 lbs

Another tablet that takes inspiration from traditional laptops, the HP Envy 2 is a 12.3 inch touchscreen tablet running the full version of Windows 10. Offering exceptional battery life with up to 22 hours of video playback, the Envy 2 also features fast charging with 0 to 90% charging in around 90 minutes. Internally, the Envy has 128 GB of built-in flash storage and 4 GB of RAM. Running off a Qualcomm Snapdragon 835 processor, it has options for up to 2.6 GHz of speed.
Designed for productivity, the HP Envy 2 includes a detachable keyboard with a built-in trackpad and a Stylus Pen for document mark up and note-taking. The front features a 5 MP camera for video chat, while the rear has an impressive 13 MP camera for detailed photos and video recording.
Similar to the Surface Pro, the advantages of running the full version of Windows 10 is obvious. You'll retain access to the full version of desktop applications and programs while having the mobility and flexibility of a touchscreen tablet.
5. reMarkable – The Paper Tablet
Dimensions: 6.9 in x 10.1 in x .26 in | Screen Size: 10.3 inches | Resolution: 1872×1404 | Processor: 1 GHz ARM A9 CPU | Storage: 8 GB internal storage | Battery: 3000 mAh | Camera: N/A | Weight: 0.77 lbs (350 g)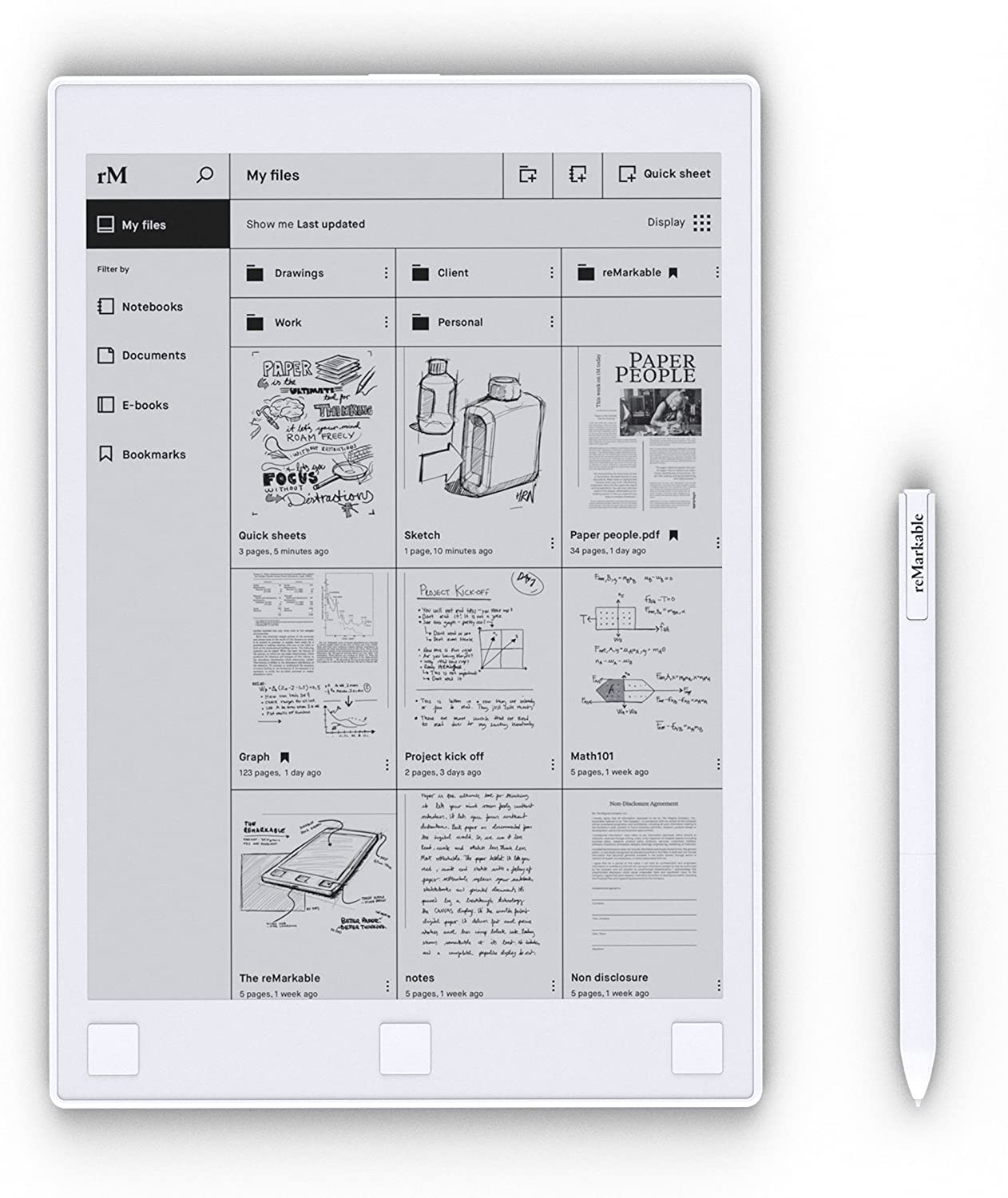 The most unique tablet on this list, the reMarkable tablet is a true replacement for the traditional pen and paper. Digitizing handwritten documents on their super-low latency display, you'll be able to replicate the process of creating handwritten notes and documents more accurately than any other tablet. In addition to the uncanny replication of the feeling of on-paper note-taking, this is also a great tablet for reading and for those who sketch and draw in conjunction with their normal workload. In addition to highly accurate handwriting and drawing, the reMarkable tablet also has the ability to transcribe your written words into typed text.
The screen is a 10.3 inch glare-free canvas design, coming in at 226 dots per inch. Due to the minimalistic design, there is a lean 8 GB of storage on the device resulting in only 0.77 pounds of weight. Because this device is the definition of minimalism, you will see an astounding 14 days of battery life on average. Supporting PDFs and Ebooks, the reMarkable allows for reading free of eye strain or fatigue.
6. Samsung Galaxy Tab S7 Plus
Dimensions: 7.2 in x 11.2 in x .22 in | Screen Size: 12.4 inches | Resolution: 2800 x 1752 | Processor: Qualcomm Snapdragon 865 Plus Mobile Platform 3.09GHz, 2.4GHz, 1.8GHz Octa-Core | Storage: 128GB (upgradeable up to 1TB) | Battery: Up to 8 hours (WiFi) | Camera: 13.0 MP + 5 MP (rear), 8.0 MP (front) | Weight: 575 g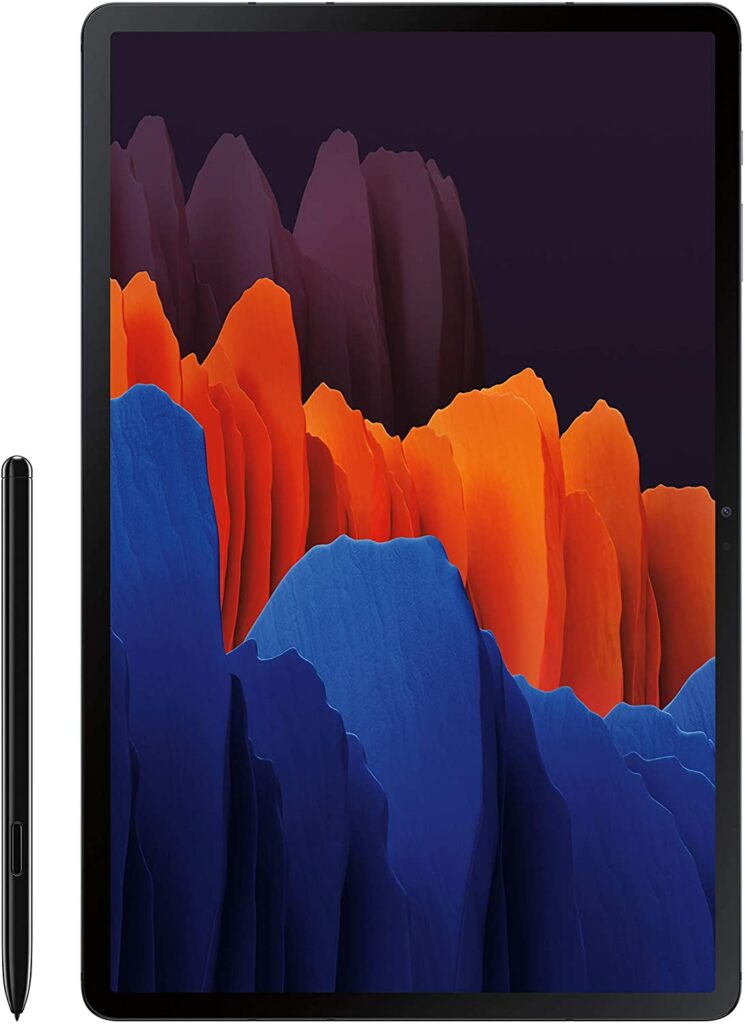 The Samsung Galaxy Tab S models have consistently shown excellent performance through the years. And their latest entry, the Samsung Galaxy Tab S7 Plus, is the biggest and best Android tablet.
Everything about the product, from the battery life, processor engines, and high-fidelity screens, is a considerable upgrade front their previous models. Apart from the significantly improved specs, the Samsung Galaxy Tab S7 Plus now comes with an S Pen as a standard in the box.
The display is excellent and feels even better with the higher refresh rates. Even though the processor is better than the previous models, it still isn't as smooth as an iPad OS. Compared to other tablets for note-taking, this can only last up to 8 hours.
Compared to the Samsung Galaxy Tab S7, the S7 Plus has a more extensive and broader display. It is also thinner at the same time. The S7 Plus also supports HDR10+, which will make everything look surreal.
The added features plus the included stylus for drawing and other note-taking tasks make the Samsung Galaxy Tab S7 Plus a solid option if you want a feature-rich tablet that is durable and reliable. However, if the price is too much for your budget, then consider other options in our list.
7. Wacom Bamboo Slate Smartpad (A4)
Dimensions: 12.9 in x 10 in x 0.27 in | Screen Size: 8.26 in x 11.69 in (Active area) | Resolution: 1920 x 1080 | Processor: N/A | Storage: 100 pages (internal) | Battery: Up to 2.5 hours of typical use | Camera: N/A | Weight: 0.03 lb (17 g)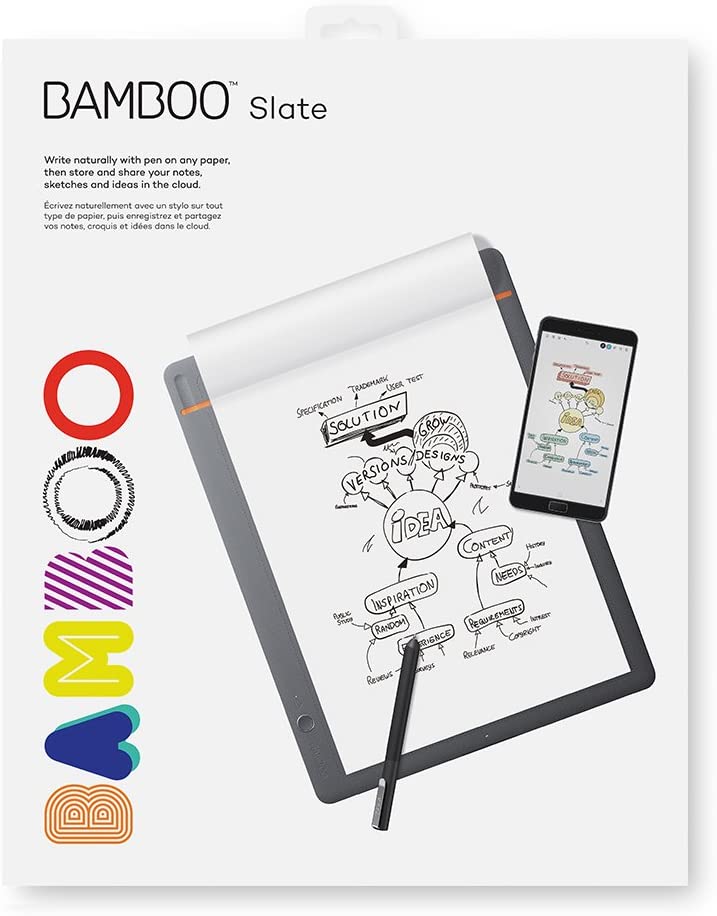 Another innovative tablet you can buy in the market right now is the Wacom Bamboo Slate Smartpad. The Bamboo Slate is a combination of both an old notebook and a good tablet.
The tablet is perfect for those who aren't used to writing on a glass surface as it allows you to write on actual paper, which can then be digitalized and edited later on. Depending on what you want to achieve, you can either save or edit your notes before sharing them online.
The Wacom Bamboo Slate allows you to get your notes off the physical notes and digitize them for other purposes. Just connect all the devices to the cloud so you can transfer the files quickly.
The huge writing surface is generous enough to give you plenty of space to write on, which is also perfect for artists. The Wacom Bamboo Slate Smartpad includes a clipboard apart from the pen to secure the paper in place.
The grey-colored writing material looks smooth in terms of quality, but it is made from high-quality polyurethane on the front and has nylon fabric material on the back.
The entire device is also stiff enough, allowing you to use it even without placing it on any flat surface. Moreover, the paper pad is also smaller than the actual device, so you can easily hold the entire device with one hand while taking notes or drawing with the other hand.
Setting the device is relatively straightforward as well. First, download the Inkspace app, which is available for Android and iOS devices, and then pair both devices via Bluetooth. Once the Bamboo Slate is paired with the app, you are ready to make notes.
8. Microsoft Surface Go 2
Dimensions: 9.65 in x 6.9 in x 0.33 in | Screen Size: 10.5 inches | Resolution: 1920 x 1280 | Processor: Intel® Pentium® Gold Processor 4425Y 8th Gen Intel® Core™ m3 Processor | Storage: eMMC drive: 64GB, or Solid-state drive (SSD): 128GB | Battery: Up to 10 hours of typical device usage | Camera: 8.0MP (rea), 5.0MP (front) | Weight: 1.2 lbs (544 g)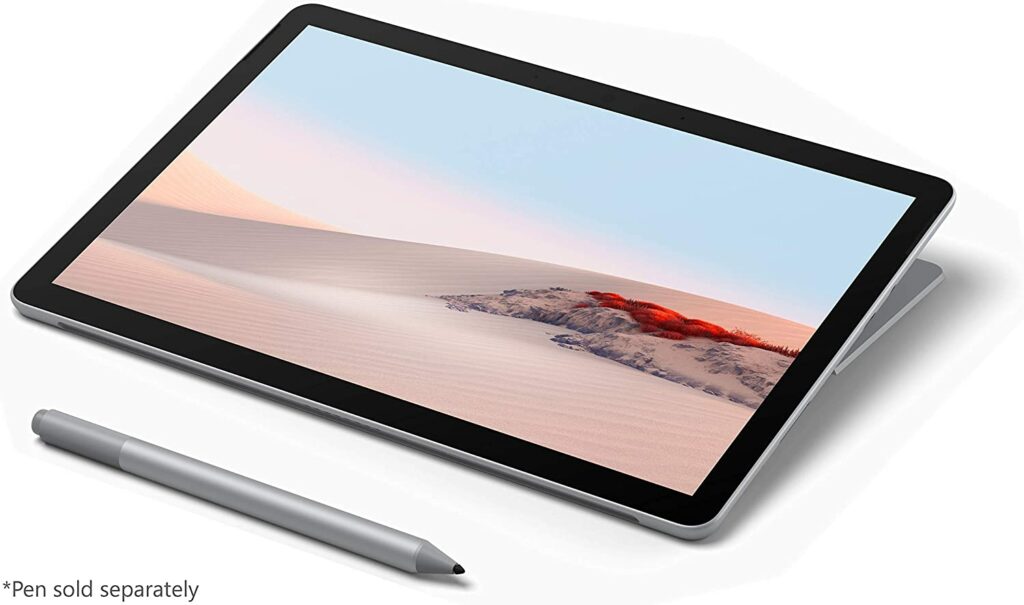 For many years now, Microsoft has been developing high-quality tablets under the Surface brand. The Microsoft Surface Go 2 essentially follows the basic principles of plenty of preceding Surface models.
In terms of build, you can undoubtedly rely on the solid design of the Surface Go 2 as it has a shiny premium design that features a silver aluminum body. Like most mobile devices, physical buttons are included on the device's edge for volume adjustments and power.
The screen size is also slightly bigger than the original Surface Go, from 10 inches on the Surface Go to 10.5 inches on the Surface Go 2. The 0.50inch difference may not look a lot, but it could make all the difference for productivity purposes since you will be using it for probably hours at a time.
It also comes with its signature kickstand on the rear, which is handy while watching videos. Because it has thinner bezels, you can see the improvement in terms of areas you can work on.
9. Google Pixel Slate
Dimensions: 7.9 in x 11.4 in x 0.27 in | Screen Size: 12.3 inches | Resolution: 3000 x 2000 | Processor: 8th Gen Intel Core M3 | Storage: 64GB/128GB/256GB | Battery: Up to 10 hours | Camera: 8MP (rear), 8MP (front) | Weight: 1.58 lbs (721 g)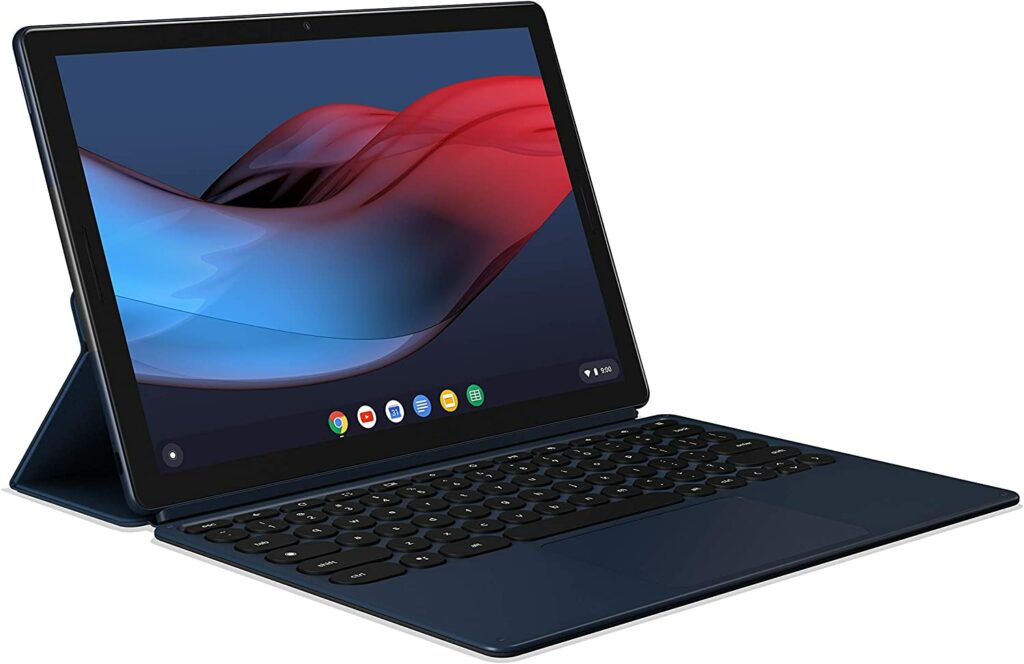 Probably the first thing you will notice about the Google Pixel Slate is its superb clarity and sharp image quality thanks to high resolution and impressive pixel density. Top that with up to 337 nits, and you have a display that looks surreal.
The Google Pixel Slate also comes with a Stylus Pen, which is easily considered a perfect combination on your hands. The screen can also take a decent amount of pressure to make your drawing ang writing experience smooth.
Despite the backlash it had during release, Google Pixel Slate has had plenty of software updates and support that it is now smooth to use. The price is also more affordable than it was launch and is likely even to go down as time goes on.
Ideally, you will want to get the 16GB or higher model, as it is noticeably smoother than the smaller tablet with only 8 GB of RAM.
10. Apple iPad mini
Dimensions: 8 in x 5.3 in x 0.24 in | Screen Size: 7.9 inches | Resolution: 2048 x 1536 | Processor: A12 Bionic chip | Storage: 64BG/256 GB | Battery: Up to 10 hours | Camera: 8MP (rear), 7MP (front) | Weight: 0.66 lbs (WiFi models), 0.67 (WiFi + Cellular modes)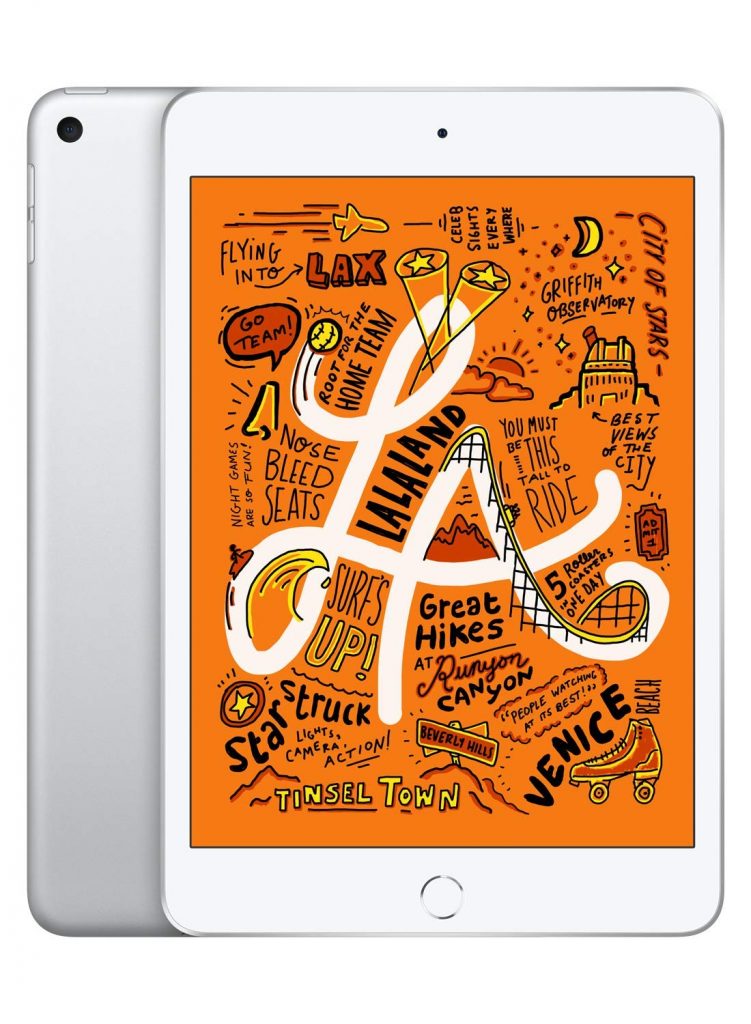 The Apple iPad Mini is smaller than the iPad Air, but it still features the same tech specs, making it a solid choice for people looking for a compact design you can easily carry around.
You can add the same apps as you would on your iPad and iPad 2, so you can set it to connect the iPad Mini into Apple's vast content automatically.
The battery life is said to last up to 10 hours, which is incredible considering its power for productivity. Unfortunately, the processor isn't as great as other modern processors.
However, the iPad Mini has a great display that makes everything look clear and sharp. Pair it with the Apple Pencil and you have a portable tablet you can easily carry around.
Which Apps to Download for Notes and Productivity
Finding the best apps to not only make use of on your tablet, but to sync across all of your devices, can prove to be a struggle with endless options and methods on the market currently. While you may have the perfect program on your laptop, will it be just as easy to access on your phone or tablet? We'll touch on some of the best programs and apps to use on your tablet below and how you'll be able to use them across all of your devices.
Evernote
One of the most widely used and critically acclaimed apps, Evernote acts as a central hub for saving web pages, taking notes, and sharing them between your devices as well as to others. Compatible with the full range of Android and iOS devices, it is free for personal use while also offering premium access for integration with Slack, Google Drive, and Microsoft Teams.
The full integration of your Evernote account across multiple devices is the most valuable aspect of this application. Using the Web Clipper extension for computer browsers, you'll be able to save images, web pages, and text which becomes accessible on any connected device. With easy organization of all of your notes, documents, and web pages, this free tool is a great option for those looking to simplify all of their online research.
OneNote
Similar to the above mentioned Evernote, OneNote is Microsoft's proprietary application that allows for the organization of notes in one easy to use and widely accessible location. Free on Windows, as well as downloadable through Apple devices, OneNote is a perfect application for those looking to make use of a tablet stylus and handwritten notes. Acting similar to a word processing program, you'll be able to mark up text, sketch, and take notes with embedded documents and media. The integration with Microsoft's suite of applications results in easy file sharing and organization of projects and research.
Apple Notes
While slightly more simplistic compared to the aforementioned programs, the simplicity is the biggest selling point among the Apple Notes program native to iOS and Mac OS. Effortlessly syncing across iPad, iPhone, Mac, and Apple Watch, your saved notes will be identical regardless of which device you have handy. This includes Apple's "Handoff", which will allow you to start taking a note on one device and be able to pick up right where you left off on another.
Other Notable Applications
Google Keep – A simple note-taking app for small lists and notes. Separated by labels and colors, this is a short form quick-look program for shopping lists, to-do lists, and short snippets of text.
Atom – This is a cross-platform project organization program designed specifically for developers and coding. Allowing for CSS implementation and collaborative text editing, this is a great option for productivity across Windows, Mac, and Linux.
Dropbox Paper – Released from the popular file-sharing company Dropbox, this is a cloud service compatible across most mobile devices. Allowing you to create and collaborate on documents with other users, this combines the easy file sharing Dropbox is known for, with the productivity you'd expect out of some of the more well-known project sharing services. With Slack, Google, and even Spotify integration, this is a free service well worth checking out.
Best Practices and Methods for Taking Notes
While you may have all the technological and physical tools for taking notes, whether it is a tablet or an all-inclusive program for syncing research, knowing how to organize the flow of information for easy readback is another skill in it of itself. There are numerous methods and techniques to employ to not only organize your notes and research, but allow for effortless consumption by yourself or another person at a later date. We'll touch on a few of the best ways to organize your notes and writing below, allowing you to efficiently save your information for later use.
Getting Into the Proper Mindset
Allowing yourself the proper preparation to get into a note-taking "mood" may be just as important as the process of taking the notes themselves. If you aren't prepared to simplify and summarize information into your notes quickly, then the information you are writing won't be as accurate or useful when you go back to review it at a later time. It is recommended to lightly research or review the subject matter you are about to take notes on. If you are a student, review the notes you took in the previous class or the topics that were covered in the lesson. Simply preparing your brain for history "mode", or science "mode" will allow for more efficient note-taking.
Reviewing the subject matter is even more important when entering a situation where you are taking in completely new information of which you aren't previously comfortable. Verbiage, acronyms, notable people, companies, or places will all be easy information to review prior to any new training or course. This will allow your notes to be more precise and coherent when reading it back at a later date, as you won't be lost in any simple inaccuracies caused by unfamiliarity.
Creating Effective Outlines
A tried and true method for effective note-taking, creating a simplified outline of information has proven to be an efficient technique for creating and reading back notes. Pre-selecting a number of key topics or points of interest before your lesson and then subsequently breaking down specific pieces of information into those groups will significantly increase note-taking speed. This will not only give you an organized reference point when reading back, but your comprehension of the information during the note-taking process will be increased due to the connection of relevant topics and facts.
Mind Mapping
A slightly more visual method for creating notes, this starts with a central idea or event in the middle of your notes and creating connecting facts, people, or events that branch off that central idea. With each subsequent fact or piece of information, you will then be able to branch off supporting notes into an interconnecting web of information. If this is done properly, you will not only have a fluid method of connecting your thoughts while taking the notes, but it will increase your comprehension when you go to review that information later on.
This is even easier when taking notes on a tablet, as you will be able to easily connect images, hyperlinks, and documents to their relevant topics. Creating these branches of media can be easily tracked back and used as a glossary of information later on.
Follow The Flow Notes Method
A method similar to mind mapping, this allows you to write down all of the topics and pieces of information gathered across your note-taking app. Instead of using word-for-word transcription, you summarize topics into your own words or even by drawing images or charts. Afterward, you connect these topics with arrows and supporting facts for easier reinterpretation later on.
Make Notations on Presentation Slides or Worksheets
Oftentimes you'll receive outlines or slides from PowerPoint presentations or documents during your lesson. These can be easy to expand upon while actively taking notes. While the bulleted points in the slides may provide the general information, being able to expand upon this information with anecdotes from the presenter or tidbits of extra information can be a great learning tool. This will not only ensure you are recording as much of the information presented as possible, but it will help with recollection during review. This will also give you the opportunity to note what the presenter emphasized as critical information, allowing you to disregard any unnecessary notes or facts.
Recap: Here are 5 good tablets for note taking.
Final Thoughts
Being able to effectively take notes is not only an important aspect of schooling, but it translates over into the professional world in numerous career paths. Luckily, the tools to be able to translate information into an easily readable document have never been more efficient with the implementation of tablets and their supporting applications. Not only are you able to quickly type and organize information, using the included digital stylus will allow you to draw and write with the same ease as pen and paper.
See which of the above-mentioned tablets can fit into your workflow and make use of the programs available through their respective app stores. You will not only have more effective note-taking at the moment, but your ability to organize, share, and study this information down the road will prove invaluable. In other cases, a tablet with a USB port also helps make things easier and more convenient.