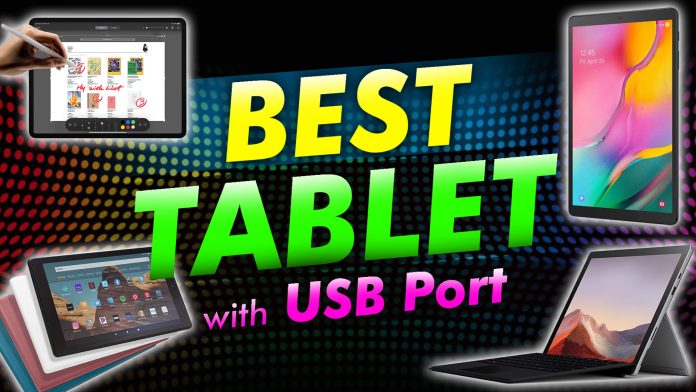 Over the past five years, tablets have increasingly become the hottest and most convenient device for everyday use, take some of the best tablets for reading as an example. Besting smartphones for media and traditional computer applications, the ability to game, video chat, and browse the web has transitioned over to tablet devices as the processing power and the ease of touch screens have made everyday work and leisure more convenient. The light weights, large screens, and thin designs have made traditional laptops seem monstrous.
Whether it is the Fire HD 10 from Amazon, the Samsung Galaxy Tab, or the Apple iPad Pro, brilliant high-resolution displays and seamless app store integration within mobile operating systems have made portable computing a breeze. The only downside of the past was your ability to connect peripheral devices such as keyboards, mice, and external memory, with the lack of proper USB ports and other inputs holding them back.
Luckily, tablets have made huge strides with their connectivity with the addition of full-sized USB and USB Type C ports in their most recent iterations.
10 Best Tablets with a USB Port
We will break down the 10 best USB connected tablets currently available, and their strongest specifications and features as compared to the rest of the lineup.
1. Best Overall: Fire HD 10 Tablet

Coming in a selection of four colors, the 10 inch Fire HD tablet from Amazon has taken a footing as one of the best tablets on the market. Featuring a full 1080p display at 224 pixels per inch, you will not only get a beautiful video streaming and gaming experience but also crisp text while taking notes or reading. Boasting 12 hours of battery life across a wide variety of uses, the Fire HD also supports USB-C 15W fast-charging.
Because the Fire HD is an Amazon product, seamless integration with Alexa smart devices comes standard out of the box. Playing media, searching for information, and even putting your tablet into standby mode can all be accomplished hands-free.
Featuring Dolby Atmos Audio with built-in dual stereo speakers, you can watch your favorite movies or TV shows on Netflix with their picture-in-picture viewing and immersive audio.
2. Best Android Tablet w/ USB Port: Samsung TAB A 10.1
The flagship device from tech giant Samsung, the Samsung Galaxy Tab boasts a full HD 1920×1200 display at 10.1 inches. Running the Android Pie 9.0 operating system, it gives you full access to the wide variety of games and applications from the Google Play Store.
A powerhouse internally, this tablet features the Exynos 7904A Processor with 3 GB of RAM and expandable storage up to 512 GB. With a respectable 5.0 MP front-facing camera, and an 8.0 MP rear autofocus camera on the back supporting 1080p video. The 6150 mAH lithium-ion battery will give you up to 13 hours of video streaming, web surfing, and gaming.
With the large screen and slim bezel, the aesthetics on the Galaxy Tab are on par with what you would expect from a top tier touch-screen tablet. Weighing only 1.03 pounds, Samsung is able to marry a large form factor screen while keeping the device thin and portable.
3. Best for iOS Users – iPad Pro – 12.9″ Display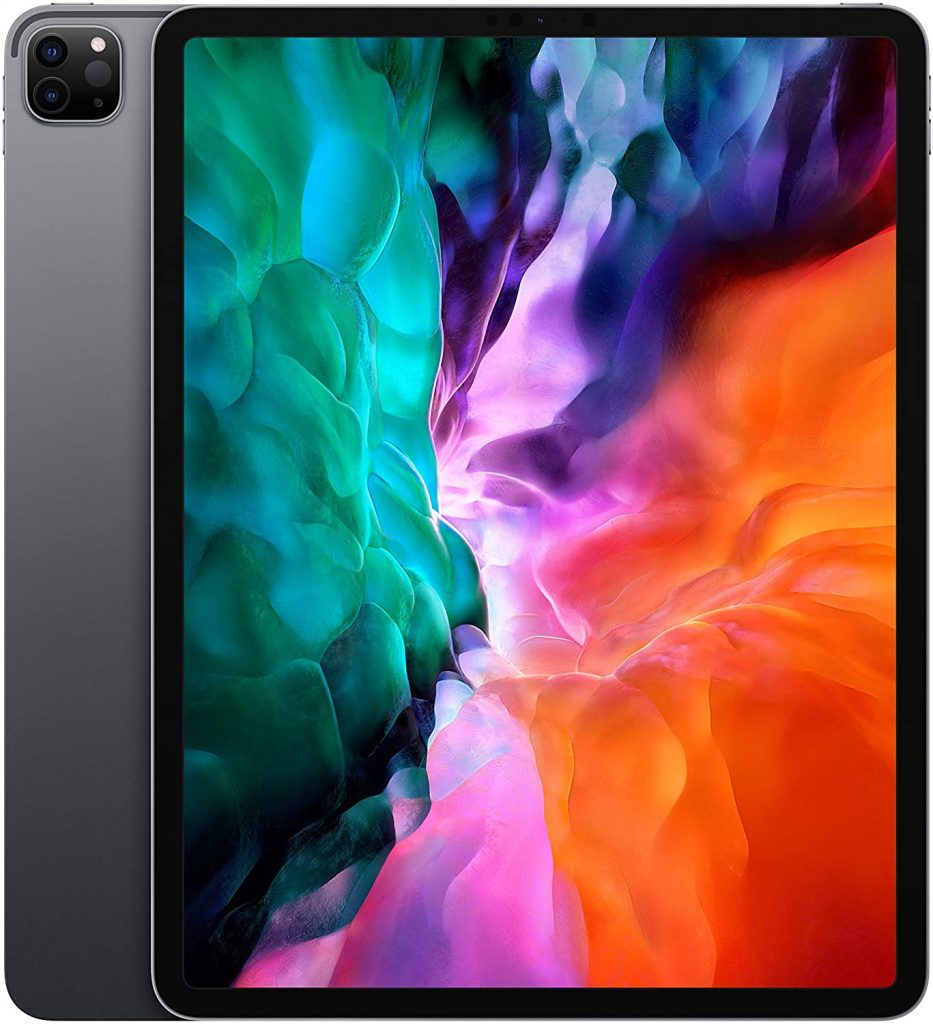 The newest release from the iPad lineup, the iPad Pro 12.9 inch features its largest and most accurate display to date. Built with an "edge-to-edge" Liquid Retina display, it offers True Tone, ProMotion, and P3 wide color. With a thin bezel and newly introduced flat-edged form factor, the light weight of just over one pound and sleek aluminum unibody design makes the iPad Pro not only one of the most powerful tablets currently available, but also one of the most visually attractive.
The A 12Z Bionic chip provides lightning-fast gaming and productivity, while the neural engine acts to adaptively improve performance and efficiency. The front-facing 7 MP TrueDepth camera provides crystal clear FaceTime video chatting, while the rear 12 MP wide-angle lens and 10 MP ultra-wide lens offers 4K video and high-resolution photos.
Built with the iPad OS, this is a slightly modified version most commonly found within the iPhone lineup. Allowing you to sync across all your Apple products, including Macbook, iPhone, Apple Watch, and Mac Pro, this means iMessage, notes, and other applications will easily handoff from one device to another. In addition, games and apps will be nearly universal from the App Store.
4. Best Windows Tablet with Keyboard and Usb Port: Microsoft Surface Pro 7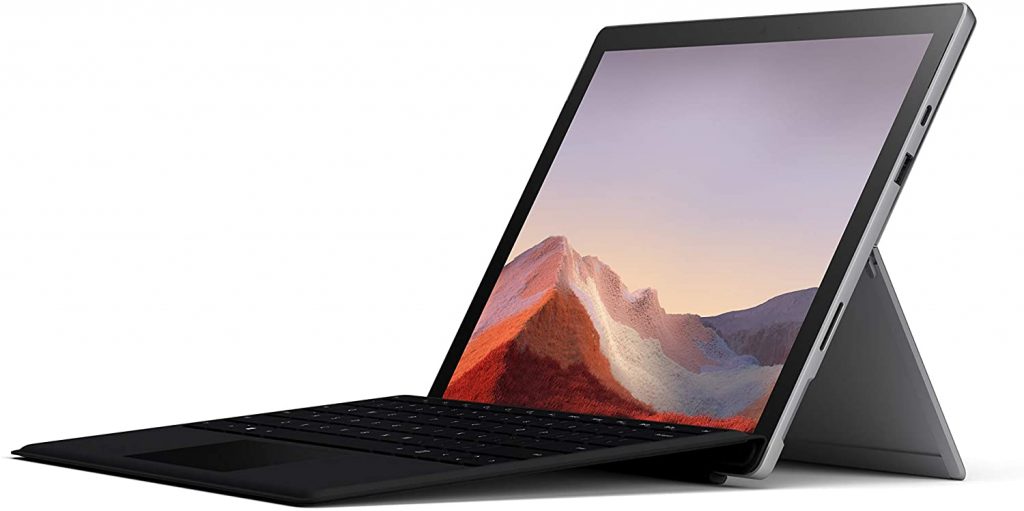 The latest addition in the Microsoft Surface lineup, the Surface Pro 7 finds its footing as one of the most natural traditional laptop replacements among tablets. Running Windows 10 Home, you'll get the full Windows operating system experience in a portable touch screen tablet form factor. Featuring a 12.3 inch 2736×1824 PixelSense display with the optional keyboard and Surface Pen, this is a great option for those looking to combine the productivity of a laptop with the convenience of a tablet.
With storage options up to 1 TB and options for 8 GB or 16 GB of RAM, the 10th Gen Intel Core i7, i5 and i3 processor gives you the option to run intensive programs or multitask with the fluidity of a normal laptop. While powerful, the Surface Pro still weighs in at compact and portable 1.7 pounds. Advertising 10.5 hours of video playback, the Surface Pro provides all-day battery life for productivity and media.
5. Best Usb Tablet with Immersive 3D Audio for Music – Huawei MediaPad M5 Pro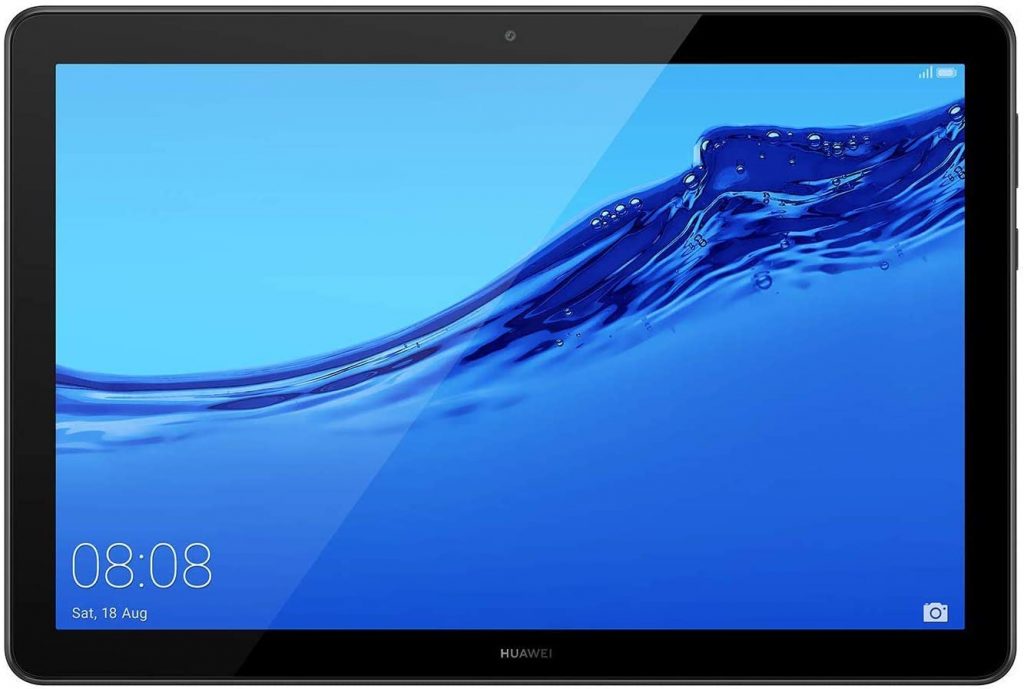 Gaining popularity in the smartphone and tablet world, Huawei has released high powered and affordable devices that rival some of the biggest brands. The MediaPad M5 Pro is no exception, with a 10.8 inch high-resolution 2K display at 280 pixels per inch. With 2.5D curved-edged glass, the M5 Pro has an 85% screen to body ratio, giving it a sleek and elegant design.
The biggest selling point for the M5 Pro is its Quad Harman Kardon-Tuned speakers, giving you realistic and immersive 3D audio for music and video. Also supporting HiFi headphones, the listening experience is second to none whether you are using the built-in speakers or your own headphones.
Additionally, the Octa Core 2.1 GHz processor, 4 GB of RAM, and Mali G71 will provide you smooth and snappy productivity and gaming. Running Android 8.0 Oreo, you will have access to the full range of features and games throughout the Google Play Store. The front-facing 8 MP camera is great for video chatting, while the rear 13 MP camera will provide you with high-resolution photos and video.
With up to 11 hours of 1080p video viewing, the 7500 mAh battery will easily get you through a full day of use with its "Smart Power-Saving technology." In addition, the USB-C quick charge will do a full recharge in under three hours, so getting back to full power is remarkably fast.
6. Best for Reading – Fire HD 8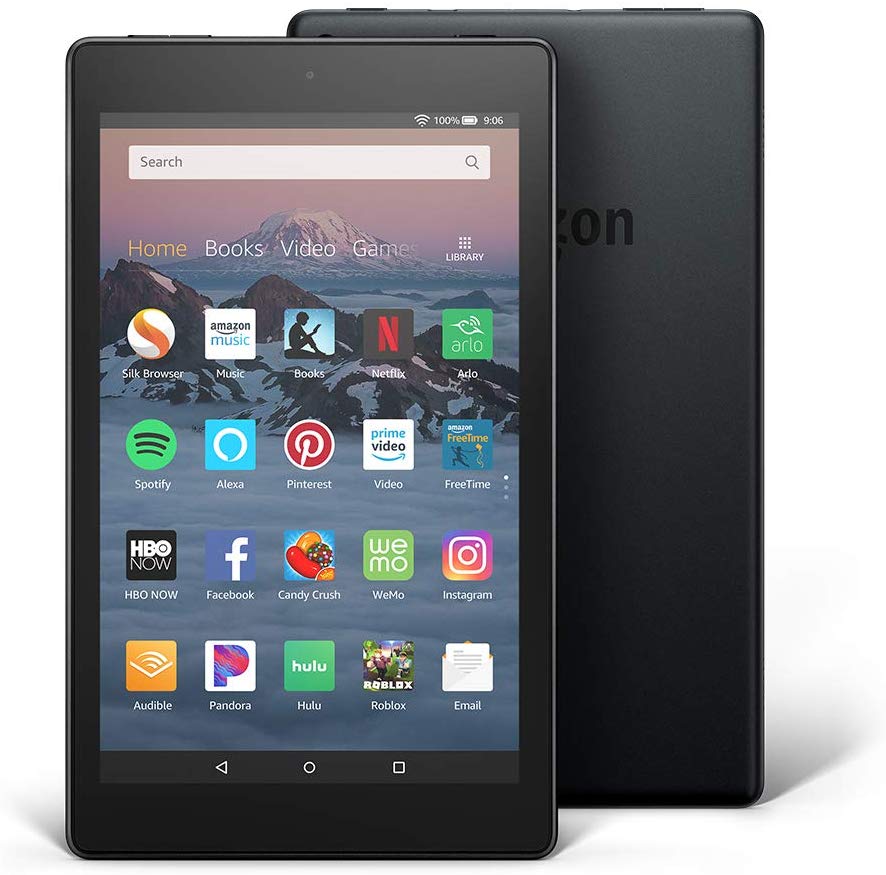 Another iteration of the Amazon Fire, the Fire HD 8 is compact and portable while also giving you an HD display. While not the largest screen among the aforementioned tablets, this is a great value option for reading or video on-the-go.
With an option for built-in storage of either 16 or 32 GB, you have the ability to expand via microSD card up to 400 GB. Similar to the Fire HD 10, this features 2 MP front and rear-facing cameras, supporting up to 720p video recording.
Fully supported by Alexa voice commands, calling, messaging, and controlling smart devices are all possible with the Fire HD 8. Additionally, the integration with Amazon's Kindle App and Store make this the perfect option for avid readers. If you are looking for all of the best tablets for reading, you can seem them here.
7. Best for Replacing Smart Home Devices – Lenovo Smart Tab P10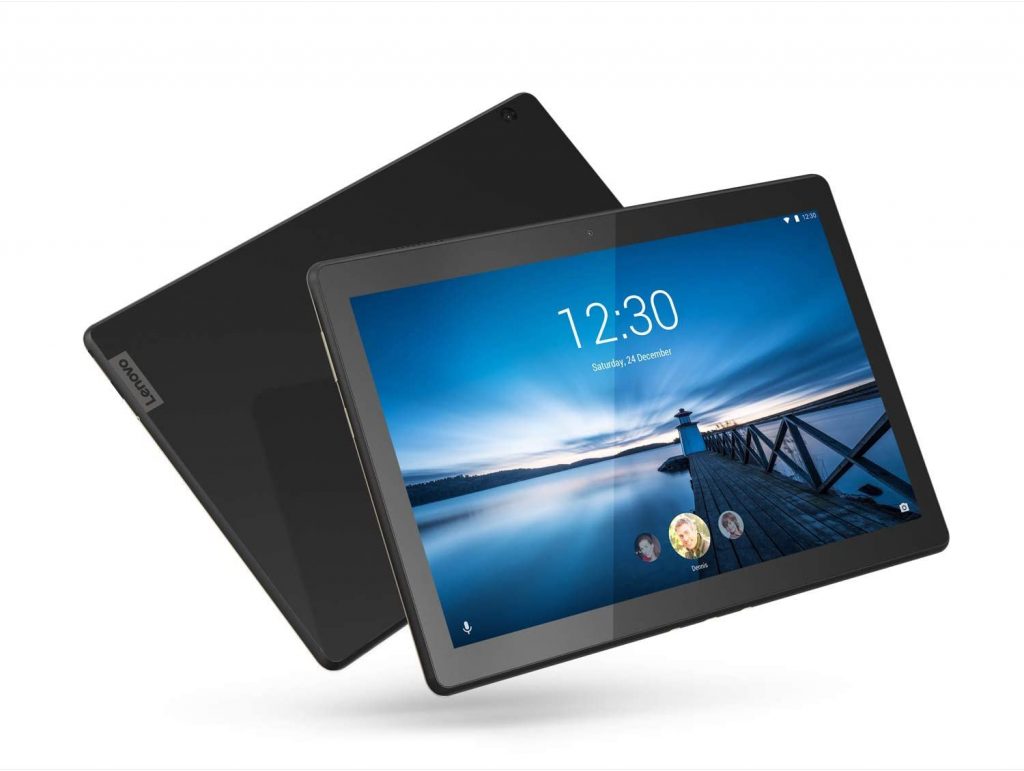 Acting as a middle ground between smart home devices and portable tablets, the Lenovo Smart Tab P10 aims to combine two common devices into an easily docked hub. Shipped with the Alexa enabled smart charging dock, this allows you to access voice-controlled commands while charging your device.
The Smart Tab P10 features a full HD 1920×1200 1080p display at 10.1 inches, giving you great video streaming while in-hand or docked. The four Dolby Atmos speakers built into the dock allows powerful music playing and ease of use with Alexa voice commands. The "Show Mode" switches from traditional tablet functionality while docked and allows for hands-free access to turn off smart lights, control your room temperature, or to check the weather.
While it may seem as though this tablet is best while docked, it is still a powerhouse for gaming and apps with its Qualcomm Snapdragon processor. In addition, the 4 GB of RAM and expandable storage up to 256 GB lets you play and store all of your games, music, and videos.
8. Best Value for Mobile Gaming – Dragon Touch Max10 Tablet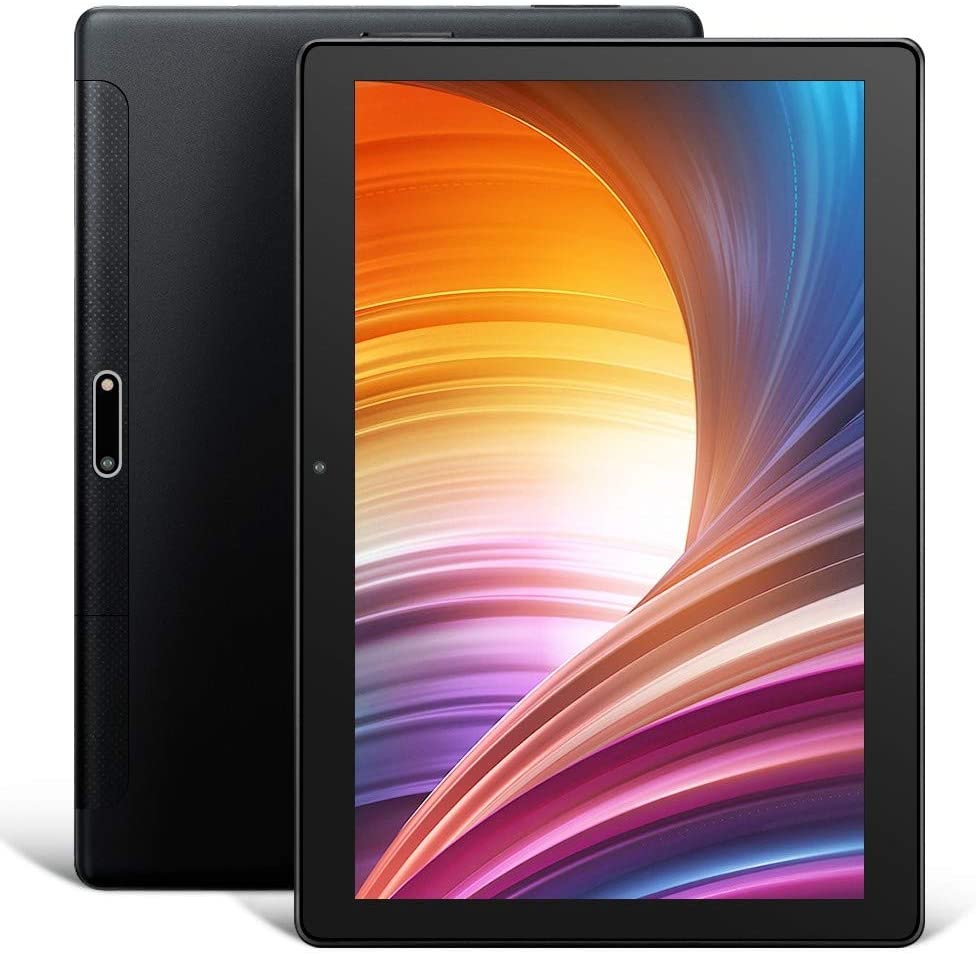 While slightly less name brand, the Dragon Touch series of tablets, including the aforementioned Max10 Tablet, is a great value for performance specifications. Natively running Android Pie 9.0, the Max10 boasts a 10.1 inch 1920×1200 full HD IPS screen. Featuring a 64-bit Octa-core 1.6 GHz processor, you will get impressive gaming performance and snappy operating system navigation. With a respectable built-in 2 GB of RAM and 32 GB of storage (expandable up to 128 GB), you'll be able to install all of your favorite apps and games.
The 5000 mAh battery will give you up to 10 hours of use while supporting "Smart Power-Saving Technology". The Max10 is GMS certified, allowing seamless use of the full suite of Google apps including Gmail, YouTube, Google Drive, and the Google Play Store.
9. Best Tablet for Multitasking – Fusion5 T60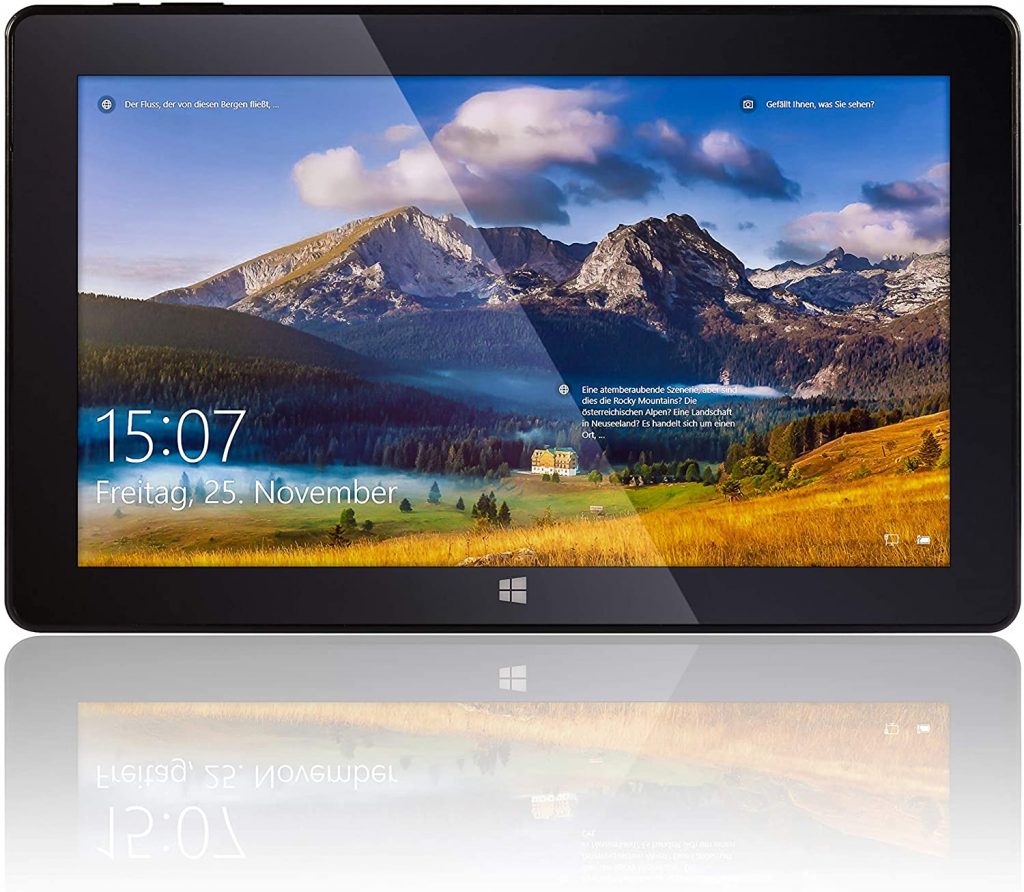 One of the few true tablets running the Windows operating system, the Fusion5 T60 tablet is a third-party take on Windows 10 Home portability. With a large 11.6 inch full HD IPS screen, this gives you the screen real estate for multitasking multiple Windows applications without the need for a full-sized laptop.
While less powerful than the aforementioned Windows Surface, the Intel Atom x5-Z8350 Quad-Core Processor and 2 GB of RAM will be able to handle light-weight applications on-the-go. With a full-sized built-in USB 2.0 port, accessing external thumb drives or peripherals is a unique benefit while running a full-fledged operating system such as Windows 10. Additionally, the micro HDMI port, USB 3.0 port, and headphone and microphone input will give you a laptop experience in a tablet form factor.
10. Best Value for Photos – VANKYO MatrixPad S30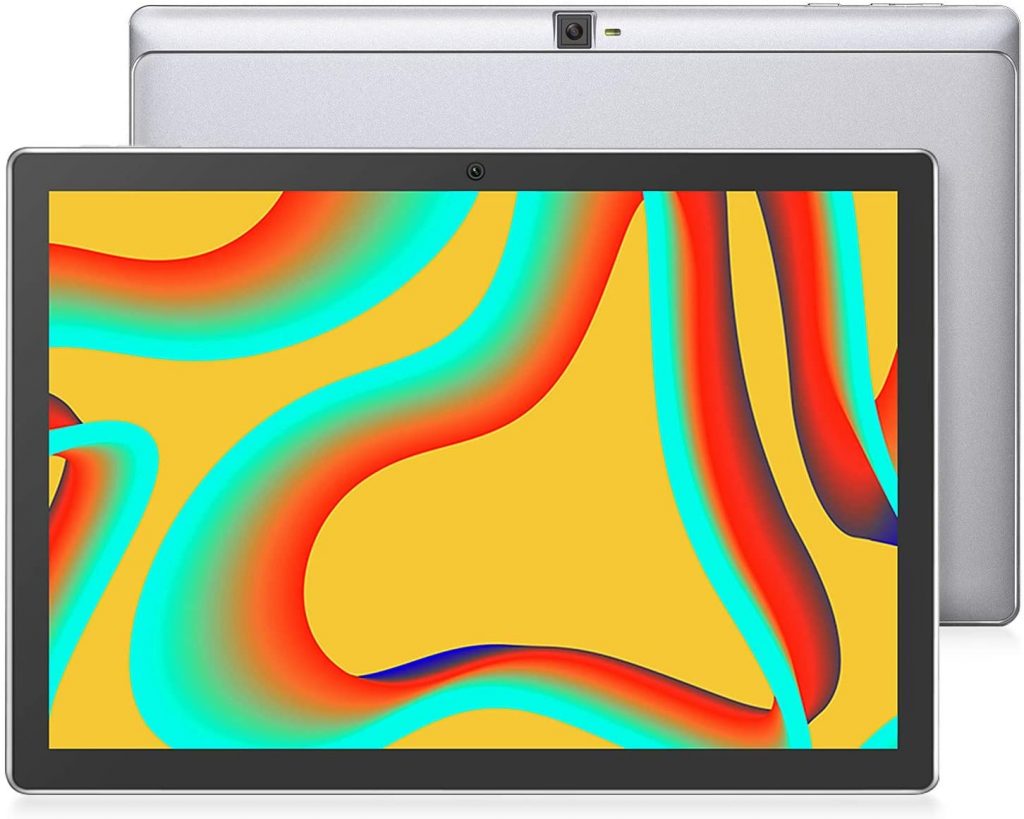 Another uncommon tablet, the Vankyo MatrixPad S30 hits many of the marks of high-end tablets at a great value. The selling point for this tablet is its impressive dual-camera setup, with 8 MP front and 13 MP rear-facing cameras. This provides the ability for crystal clear video chatting and photos. Furthermore, the full HD 10.1 inch 1920×1200 IPS screen competes with the visual experience of other flagship devices.
The MatrixPad S30 also features a 1.6 GHz octa-core processor and 3 GB of RAM, smoothly handling gaming and productivity. The onboard 32 GB of storage can be expanded up to 128 GB via microSD, allowing you plenty of space to store your games, apps, photos, and videos. Additionally, the 6000 mAh battery allows for up to 8 hours of video, 12 hours of web browsing, and 16 hours of reading.
Why Everyone Wants USB Ports on their Tablet
As tablets become more powerful, lightweight, and multiuse, their ability to replace laptops as the most viable portable device has become apparent. The ability to run either a mobile version of an operating system, such as iPad OS, or even a full-fledged operating system such as Windows 10, begins to make laptops obsolete for everyday use. Web browsing, YouTube or Netflix streaming, simple text editing, and gaming can all be accomplished in a more portable and battery efficient form factor.
While more intensive applications will require the additional processing power found with laptops, tablets such as the iPad Pro and Microsoft Surface Pro are also beginning to rival traditional laptops in terms of speed. So why haven't laptops taken a backseat? One of the biggest reasons may also be one of the simplest problems to solve.
Inputs and Outputs for Tablets
Because one of the biggest benefits of tablets are their slim form factor, additional ports have been sacrificed for thinner designs and lighter weights. HDMI ports, headphone jacks, ethernet ports, and SD card readers are usually thrown by the wayside for a more portable device. The biggest omission is often the USB port, which is the king of ports for external peripherals. Keyboards, mice, and drives are all reliant on the inclusion of USB ports for computers and tablets alike.
Luckily, companies such as Apple, Samsung, and Microsoft have begun to realize the mistake of not including USB access to their devices. This has resulted in full-sized USB 2.0 and 3.0, micro USB, and the most common, USB Type C, to be built into their newest tablets. Because of the wealth of adapters and USB Type C peripherals being released as consumer tech progresses, the ability to make use of them with your tablet has never been easier.
What is a USB Port?
The USB port, or Universal Serial Bus, has been the standard for simple data transfer on computers and electronics for over 20 years. Eventually becoming the standard power connection for smaller electronics, especially with the popularity of high speed charging with USB Type C, USB connections have been implemented with nearly every form of technology since its inception. Its universal use, reliability, and high-speed connections have made USB ports a necessity among all newer devices.
The Various Versions of USB Connections
USB Type A
USB Type B
USB Type C
Mini USB
Micro USB
Conclusion
As explained above, tablets have become the new wave of portable computing. As the internal components become faster and more powerful, the need for laptops will slowly diminish over time. The included high-resolution cameras, HD touch screen displays, and thin and portable designs have made lugging around a full-sized laptop increasingly unnecessary. The inclusion of USB ports, full-sized or otherwise, has made the sole downside of tablets nearly a thing of the past. So when looking for your next tablet, keep in mind the inclusion of inputs such as USB Type C for ease of use for your external peripherals.
Use Your Android Tablet as an Extended Monitor
Recap: Here are 10 tablets with usb port available in the market.