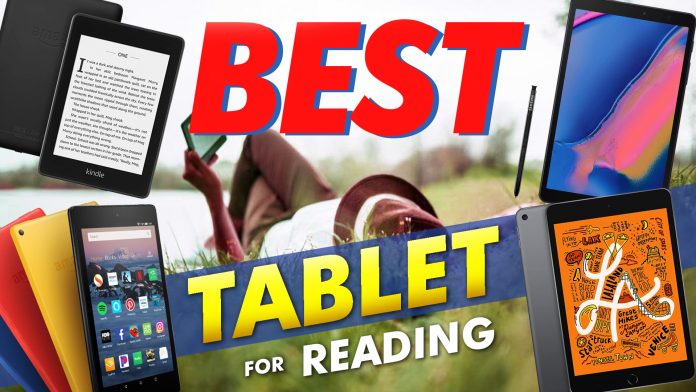 The latest tablets come with features that let you enjoy your favorite reading materials anywhere you go. However, the display on most of these devices can cause eye-strain during long reading sessions. If you want the best tablet for reading, look for devices that have specific features like an eye-friendly screen, extended battery life, and physical page turn buttons. For this reason, an eReader remains to be the preferred gadget for modern bookworms. Aside from having all the features a reader wants in a device, they are compact, cost-effective, and can store hundreds of books.
However, some people want to use their tablets not only for reading but also for watching videos and surfing the internet, which makes tablets with USB ports more convenient than other models. Moreover, eReaders are not the best alternative if you're going to use them for reading materials that have images like comic books.
List of the 11 best eReaders and tablets you can get today.
Amazon Kindle Oasis (10th Generation, 2019):
Editors' Choice Best Tablet for Reading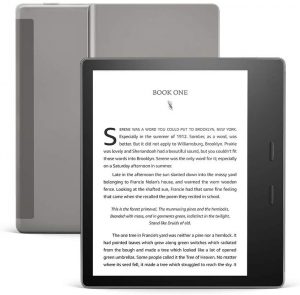 | | |
| --- | --- |
| Screen Size | 7" |
| Display Resolution | 1680 × 1264 p |
| Pixel Density | 300 ppi |
| Page Turns | Touchscreen + Physical Buttons |
| Connectivity | Wi-Fi or Wi-Fi + Free Cellular Connectivity |
| Operating System | Kindle Firmware 5.12.2 |
| Battery Life | Up to 6 weeks |
| Weight | 6.6 oz |
The Amazon Kindle Oasis is arguably the best eReader available on the market. It has a premium waterproof aluminum body that has been tested to withstand immersion in two meters of fresh water for an hour. The 7" high-resolution anti-glare display on this device provides a remarkable reading experience.
The Kindle Oasis gives you instant access to millions of books and newspapers from the Kindle Store. You have two storage options of 8 GB or 32 GB to hold your favorite books and audiobooks. However, you can only listen to audiobooks by connecting a pair of Bluetooth-enabled headphones or speakers since it doesn't have a headphone jack.
This eReader also lets you adjust the font size, font face, line spacing, and margins. It even has a feature called VoiceView that allows you to navigate the device and read books with text-to-speech.
Another downside we could point out is the lack of support for USB Type-C, which hampers the ability of the Kindle Oasis to charge much faster. Nonetheless, a single charge on this device can endure up to six weeks of moderate reading.
Amazon Kindle (10th Generation, 2019):
Best Tablet for Night
Reading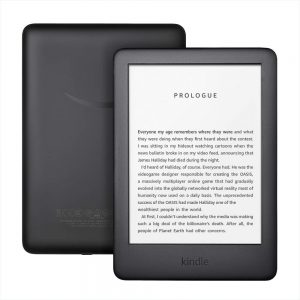 | | |
| --- | --- |
| Screen Size | 6" |
| Display Resolution | 800 × 600 p |
| Pixel Density | 167 ppi |
| Page Turns | Touchscreen |
| Connectivity | Wi-Fi |
| Operating System | Kindle Firmware 5.12.2 |
| Battery Life | Up to 4 weeks |
| Weight | 6.1 oz |
The Amazon Kindle is widely considered as the best low-cost tablet for reading. Despite its affordable price, it comes with all the features readers look for in its more expensive contemporaries. These include a glare-free display and access to millions of materials from the Kindle Store. However, the lower resolution and pixel density are immediately noticeable compared to the Kindle Oasis.
On a more positive note, the adjustable front light on the Kindle significantly improves night reading. It is also incredibly light-weight so you can free yourself from carrying a bundle of books when you go on trips. This device has 4 GB of onboard storage, which is good enough for eBooks but is quite limited for audiobooks. In terms of battery life, it can last up to a month of moderate reading on a single charge.
Overall, the Kindle is an excellent low-budget option for beginners. However, the device up next comes with more impressive features for a few more dollars.
Kindle Paperwhite (10th Generation, 2018):
Best Waterproof eReader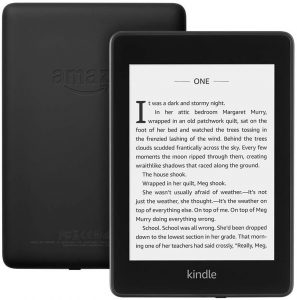 | | |
| --- | --- |
| Screen Size | 6" |
| Display Resolution | 1072 × 1448 p |
| Pixel Density | 300 ppi |
| Page Turns | Touchscreen |
| Connectivity | Wi-Fi or Wi-Fi + Free Cellular Connectivity |
| Operating System | Kindle Firmware 5.12.2 |
| Battery Life | Up to 6 weeks |
| Weight | 6.4 oz or 6.8 oz |
The Kindle Paperwhite is a feature-packed offering from Amazon that is considerably cheaper than the Kindle Oasis. It has a 6" high-resolution anti-glare display enclosed in an ergonomic plastic chassis. It performs well indoors and outdoors, day and night. Like the Oasis, it has two storage options of 8 GB or 32 GB to store eBooks and audiobooks.
One of the best features that make the Kindle Paperwhite stand out is the IPX8 waterproof rating. It can withstand two meters of freshwater for up to an hour. Moreover, it also has two models that weigh slightly different. The Wi-Fi variant weighs only 6.4 oz while the Wi-Fi + Free Cellular Connectivity model weighs heavier at 6.8 oz.
However, the Kindle Paperwhite has a couple of insignificant downsides. Although it has support for audiobooks, it doesn't have a headphone jack. You can only use your headsets or speakers if they are Bluetooth-enabled. Furthermore, it doesn't support USB Type-C. On a single full charge, it can last up to six weeks of moderate reading, and it takes about three hours to charge the device entirely.
Kobo Forma:
Best No-Frills Reading Tablet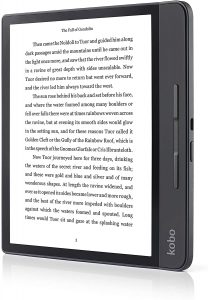 The Kobo Forma was designed with avid readers in mind. Those who cannot put down their e-readers and jump from one book to the next will find the Kobo Forma ideal. This is a no-nonsense e-reader that cuts out other frills in order to deliver a simple yet powerful device.
Because this device was designed with purely e-reading in mind, its design helps to maximize the potential of what e-readers can, and should, be. The Forma is ergonomically designed to help keep you reading for as long as you could possibly want.
Optimized for both left-handed and right-handed readers and designed for both portrait and landscape mode, readers will not have to worry about getting fatigued while holding this lightweight reader.
Those looking for the ideal reading experience without wanting any extras will likely enjoy all the Koba Forma has to offer.
BOOX Nova Pro 7.8 ePaper E-Reader:
Best Universal Reading Tablet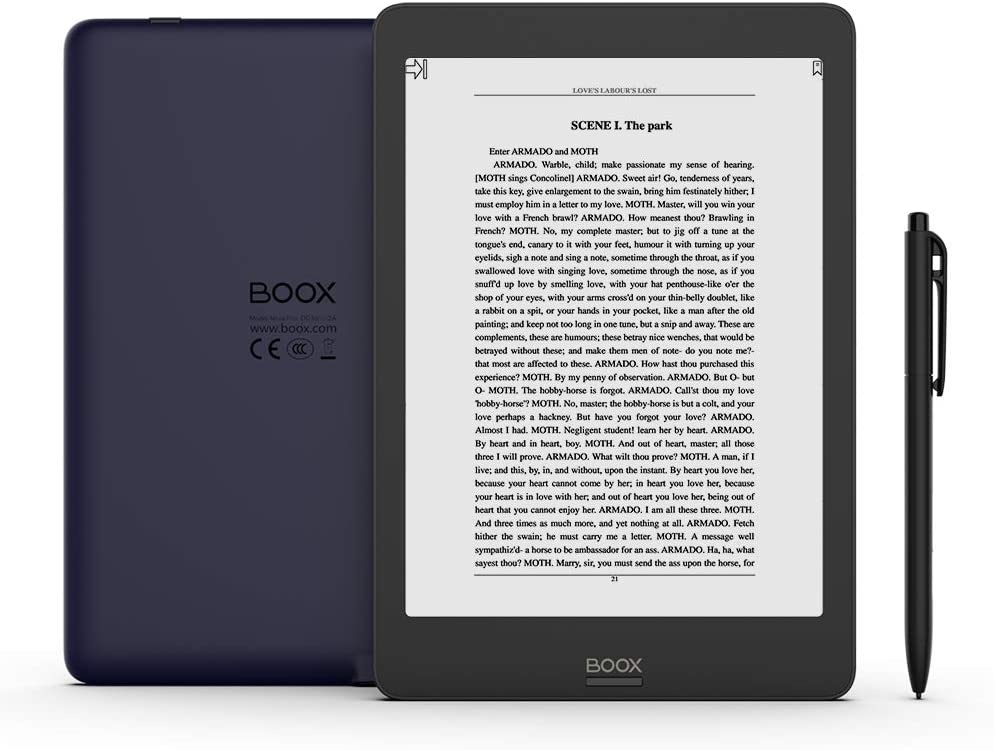 Because many popular e-readers are developed proprietarily, not all e-books are compatible with all devices. The avid reader looking for access to as many books as possible will likely find themselves looking for an e-reader that can serve as a universal key to as many of these books as possible.
This is where an e-reader such as the BOOX Nova Pro comes in handy. This e-reader is able to read books from all sorts of library apps, Libby, Overdrive, etc., as well as Kindle and Kobo books, Google Play books, and more.
In terms of tech, battery life-saving tech, and low-power modes allow for easy longterm reading.
What's more, the BOOX Nova knows that not all apps are created equal and do not expect users to utilize a one-size-fits-all approach. Each app allows users to customize ink settings and brightness, etc.
This is great for avid e-readers with already instilled preferences per each app they are accustomed to using. While this individualized setup may not be everyone's cup of tea, users less inclined can rest assured that the device's base settings are more than intuitive enough to provide a fulfilling reading experience.
Apple iPad Mini (5th Generation, 2019):
Best Reading Tablet for Comic Geeks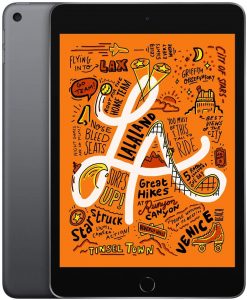 | | |
| --- | --- |
| Screen Size | 7.9" |
| Display Resolution | 2048 × 1536 p |
| Pixel Density | 324 ppi |
| Page Turns | Touchscreen |
| Connectivity | Wi-Fi or Wi-Fi + Free Cellular Connectivity |
| Operating System | iPadOS 13. |
| Battery Life | Up to 10 hours |
| Weight | 10.6 oz |
The Apple iPad Mini is a remarkable tablet that delivers crisp images for comic book reading. The Retina display on this device beats every other option on this list in terms of display resolution and pixel density by a considerable margin. Under the hood, it is powered by a Hexa-Core A12 Bionic Processor paired with 3 GB of RAM and onboard storage options of 64 GB or 256 GB. It also comes with the latest iPad 13.3 operating system.
Even though no other tablet comes close to the Apple iPad Mini when it comes to reading comics, the device still has its drawbacks. Its compact form factor can't compensate for its relatively hefty weight. The battery can only endure up to 10 hours, but it does have quick-charge functionality. Lastly, it is considerably more expensive than the other alternatives on this list.
Overall, if you want a display that is crafted to perfection for your comic books, you can't go wrong with the Apple iPad Mini.
Amazon Fire HD 8 Tablet:
The Best Budget eReader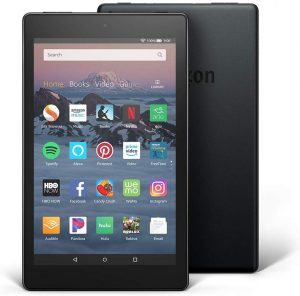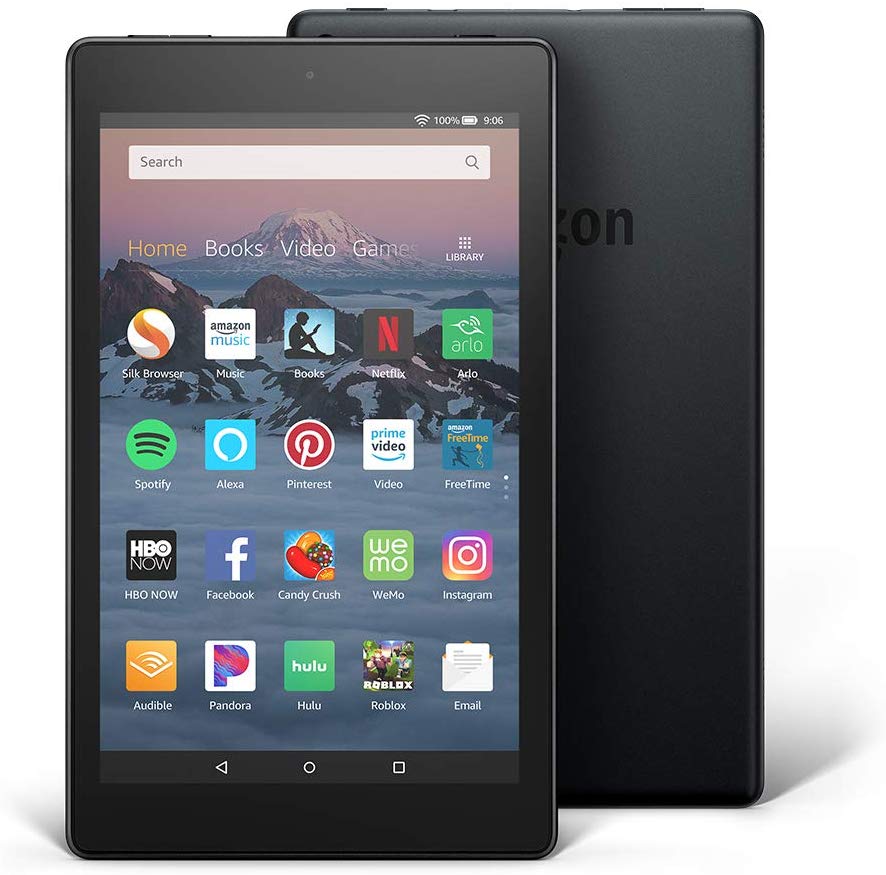 | | |
| --- | --- |
| Screen Size | 8" |
| Display Resolution | 1280 × 800 p |
| Pixel Density | 189 ppi |
| Page Turns | Touchscreen |
| Connectivity | Wi-Fi |
| Operating System | Fire OS 6 |
| Battery Life | Up to 10 hours |
| Weight | 12.8 oz |
The Fire HD 8 is an inexpensive tablet offering from Amazon that comes with Kindle and Audible pre-installed — having both these applications enable you to carry a library of your favorite books and audiobooks anywhere you go. Moreover, it gives you the versatility to use the device like a traditional tablet to watch videos or surf the internet.
The Fire HD 8 is powered by a 1.3 GHz processor along with 1.5 GB of RAM and a disappointing 1.6 GB of expandable storage. The device runs Fire OS based on Android 7.1.2, but you won't have access to the massive library of the Google Play Store. On the other hand, it has support for Alexa hands-free with an option to Show Mode Charging Dock.
The battery life of the Fire HD 8 is not necessarily travel-ideal since it can only endure up to 10 hours on a full charge. The device is also relatively heavy compared to the other tablets on this list.
Overall, the Fire HD 8 is an outstanding budget tablet that offers you practical features that traditional eReaders don't have.
Kobo Clara HD (2018):
Best Reading Device for Travel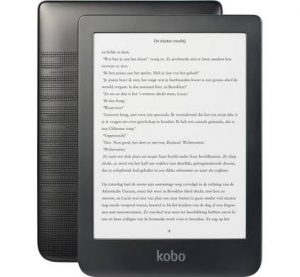 | | |
| --- | --- |
| Screen Size | 6" |
| Display Resolution | 1448 × 1072 p |
| Pixel Density | 300 ppi |
| Page Turns | Touchscreen |
| Connectivity | Wi-Fi |
| Operating System | Kobo Firmware |
| Battery Life | Up to 6 weeks |
| Weight | 5.9 oz |
The Kobo Clara HD is an excellent and affordable alternative if you don't want to get into the Kindle ecosystem. This 6" light-weight eReader tablet has an impressive high-resolution display that looks great, especially when reading at night. The front light on this device features Comfort Light Pro. It adjusts the amount of blue light and gradually softens the display throughout the day, so your eyes don't strain. However, it is not ideal for daytime outdoor use as glare is a persistent problem when reading at direct sunlight.
The official Kobo bookstore has a wide selection of books that you can store on the Clara HD. You can save thousands of books on the device with its ample 8 GB of onboard storage.
The most notable downside of the Clara HD is the touchscreen. It is not as responsive as the other picks on this list and sometimes requires more than one tap to turn a page. Getting used to the touchscreen can take some time. The software also tends to be buggy, but developers are working to improve the device in this aspect.
Nevertheless, the Clara HD is an outstanding travel companion. It has a battery that can endure up to six weeks of moderate reading. If you love reading at night and traveling with your books, this device is for you.
Samsung Galaxy Tab A 8.0 with S Pen (2019):
Best Tablet for Note Taking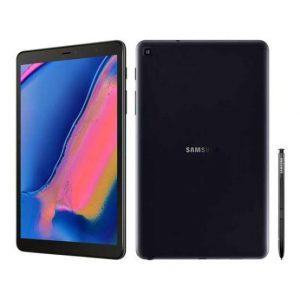 | | |
| --- | --- |
| Screen Size | 8" |
| Display Resolution | 1920 × 1200 p |
| Pixel Density | 283 ppi |
| Page Turns | Touchscreen + S Pen |
| Connectivity | Wi-Fi |
| Operating System | Android 9.0 Pie |
| Battery Life | Up to 14 hours |
| Weight | 11.4 oz |
The Samsung Galaxy Tab A 8.0 with S Pen is a remarkable device that a bookworm who loves drawing or taking notes on the go. It has an ample 4096 levels of pressure sensitivity that lets you take full advantage of the stylus while holding the device in one hand.
The thin bezels on the Galaxy Tab A 8.0, along with its vivid display and wide viewing angles make it a delight to view any type of content. The device is powered by the Octa-Core Exynos 7904 paired with 3 GB of RAM and 32 GB of expandable storage. It runs on Android 9.0 Pie and gives you access to the wide variety of applications and services on the Google Play Store.
In terms of battery life, the Galaxy Tab A 8.0 performs decently well, with a benchmark of 14 hours. Even though it can't compete with eReaders in this aspect, these numbers are respectable, especially when compared to traditional tablets.
Overall, the Galaxy Tab A 8.0 is a highly versatile device that offers readers a variety of useful features at a relatively hefty price.
PocketBook Touch HD 3:
Best Tech Savvy E-Reader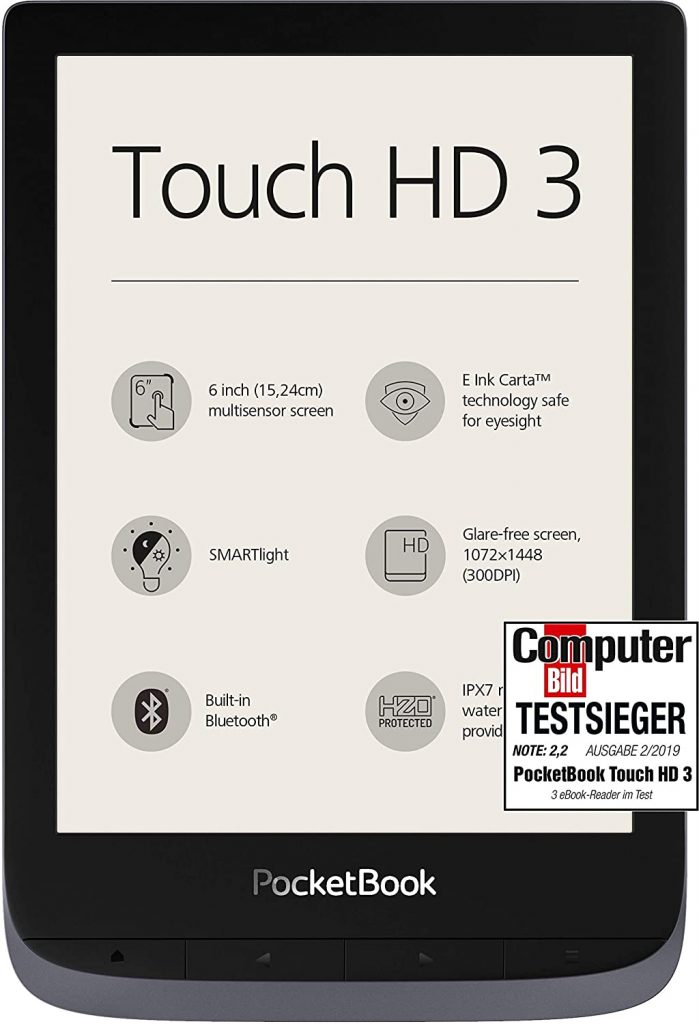 The PocketBook Touch HD is an e-reader that prides itself on its ability to provide a futuristic approach to e-reading. Improving on the e-reader technology that has been around for decades, the PocketBook Touch HD brings e-reader tech into the '20s.
The PocketBook Touch HD makes sure to utilize some of the best new tablet technology while maximizing e-reader screen tech. As such, these e-readers are waterproof both inside and out, making them the perfect companion to bath time. In fact, this waterproof technology is so advanced that this e-reader can be immersed in 1 meter of freshwater for as long as 30 minutes before beginning to show damage.
Tech like this is great, but e-readers need to be equipped with screens that are exceptionally easy on the eyes in order to be considered truly elite.
Such is the case with the PocketBook, which is equipped with their multisensor E-Ink Carta HD screen. This screen technology works to mimic the contrast and sharpness of a real book in order to provide readers with the most authentic experience.
Brightness and temperature can be easily changed without even exiting the current page. What's more, the equipped SMARTlight automatically adjusts brightness depending on the time of day in order to keep your sleep pattern maximized.
Kobo Libra H2O:
Best E-Reader for Comfort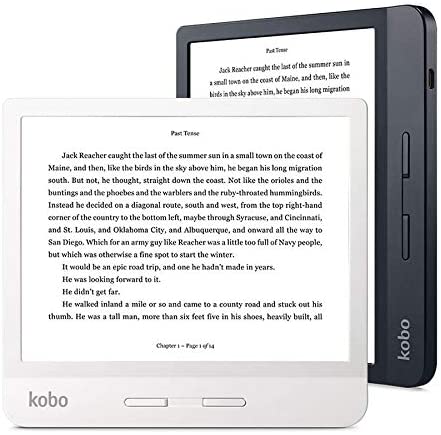 Finding the best spot possible to facilitate reading for long periods of time can be challenging enough. Then having to adjust in order to turn a page or adapt to changed lighting can throw everything off.
This is the problem Kobo attempted to correct in creating the Libra e-reader. Equipped with easily accessible page-turning buttons as well as easily-shifted screen orientation, this Kobo model is made for longterm use.
While some models of e-readers sacrifice either weight or portability, the Kobo Libra does neither. This model is lightweight enough to remain portable while still ensuring it is sturdy enough to take anywhere you go. With Kobo's patented waterproof design, readers will not have to worry about taking their Kobo Libra everywhere they go – and it's likely they'll want to.
The Kobo Libra is so easily transported and adapted to any reading style that it runs the danger of becoming an extra limb. With Kobo's access to many library apps, it is likely readers will not run out of reading materials. Those looking for one e-reader to stand the test of time will likely find themselves happy with the Kobo Libra's great design.
Students, Bookworms, Manga Readers Input on the Best Tablet for Reading
Personally, although it's on the higher end of the market, I don't think you can go wrong with the entry level iPad. Pro is overkill as a basic reading and studying device. The screen quality, battery life and portability of the normal iPad though make it a solid choice for reading both on the Library and Kindle apps.
I was a long term fan of the Kindle Paperwhite before this but upgrading made all the difference in medical studies. I need access to color images that pop (for anatomy, physiology and pathology) etc. The pixel dimensions on the iPad are such that it's the only tablet really suitable enough in that regard.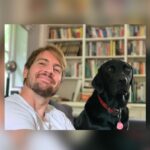 Will Peach
Non-traditional med student
WillPeachMD.com
---
I'm a 31 year old author and expert accessibility witness for many law firms. I also love to read, especially listen to audio books and consume E-Books.
Some of my favorite genres are Young Adult and Middle Grade because they tend to be the most diverse in terms of representation, but I like science fiction and fantasy as well.
In terms of tablets I'd recommend, I'd recommend an Apple IPod or an iPhone as an excellent choice of reading device because it has many features for Disabled students, including a fully functional screen reader called VoiceOver and a fully functional screen magnifier. Apple has made a huge commitment to Accessibility and their app designs reflect this. The Apple iBooks app is very accessible with VoiceOver. If you're looking for audio books, Libro.FM has a fully accessible app and website. I'm an accessibility consultant for them.
Robert Kingett
Blind Author
www.blindjournalist.wordpress.com
---
Currently, I am using Kobo Clara HD for reading almost every day and I love it. I used to use kindle for the last 5 years but gave up due to the reason that Kobo has this one feature that Kindle doesn't have which is the ability to read epub opensource book files. I can download and open any ebooks from online. Let me know if you need any further information on this.
Roksana
Lilypoly.com
---
I've actually written a whole article about the best tablets/e-readers for the Swedish market.
To summarize I'd say my favorite e-readers at the moment are:
Kobo Libra H20 works really well for people that read books in multiple languages (in my case, Swedish and English), as well as those that want to be able to borrow ebooks from the library.
Kobo Clara HD is a good budget friendly e reader.
Amazon Kindle Paperwhite 4 (and other Kindles for that matter!) is in my opinion the best option if you mainly read books in English.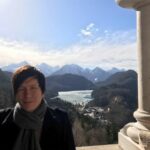 Andreas Johansson
https://alltomfantasy.se/lasplatta
---
I'm a clinician, a book lover and a lifelong learner.
I've spent thousands of hours on my tablets reading hundreds of books to prepare for exams and entertainment. My recommendation is the Apple Ipad mini 5 and here is why:
The size: It's just the right size for me. I can hold it for hours without stressing my hand and it's big enough to comfy my eyes.
The color: You will feel the beautiful color from the display, and it feels real. The brightness is also enough for some level of outdoor reading, when you're bored in your library.
The power: not only it can open heavy pdf files (I'm talking about thousands of pages textbooks), this iPad can run any available for your entertainment. Just remember not to procrastinate.
Last but not least, the price seems a little high – $400 for the standard Wifi version, but this iPad won't get outdated next year!
Those are my experiences with iPad mini 5, hope this can help you.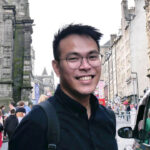 Chanh Ho (MD, MPH)
ConstantDelights
https://constantdelights.com
---
I used Apple iPad for 2-3 years. But once I used BOOX Nova Pro, i never shifted back to anything else. First of all its contrast options are amazing. Battery life is almost as good as any other. However, Nova is only for the use of reading comics books. it does not provide an all-rounder usage. I love that they give you a stylus to mark your personal favorite pages or paragraphs. It being light-weighted and compact is an added gift. Please feel free to reach out for any follow-up questions or more details.
Achintya Kolipakkam
Designation Content Marketer
https://elegance.tips/
---
The Best E-Reader for People On The Go and For Those Who Love Pools: I'll admit it – I'm a pretty big bookworm. I love fantasy series, such as Game of Thrones, Lord of The Rings, and what I'm currently reading – The Witcher Series. Last Christmas, my wife bought me the Kindle Paperwhite, as a bonus it's also waterproof. We have a pool in our backyard, and I always wanted to read while floating on the water. It's light, durable, and it even has a backup light for when I read at night. The best part about it is that as a daily ritual, I go to my backyard and read in the pool.
It's a form of therapy that I love to do, and it's a daily treat for my mind and body. If you have a bookworm in your life, who's also as aquatic as I am – I highly recommend the waterproof Kindle Paperwhite. You can bring it basically everywhere – and water won't damage it at all.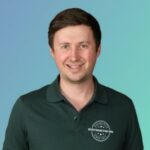 Eugene Romberg
https://webuyhousesinbayarea.com/
---
Buyers Guide
Tablets and eReaders have different sets of features and specifications that suit the preference of an individual reader. This section gives you an idea of what you should look for when shopping for the best tablet for reading.
iPad vs Kindle for Reading Books
Screen Size and Display Resolution
Reading on a tablet requires you to spend a significant amount of time with your eyes glued to a display. Tablets with large screens are generally the better options, but resolution plays an important factor as well.
The higher the resolution, the more pixels are visible on display. The recommended pixel density for reading is 264 ppi or above. A combination of the right size for reading and portability is also essential. If you travel often, it may not be the best idea to buy a large tablet.
Operating System
Your access to applications and reading materials depends heavily on the operating system (OS) of your device. It is important to get the right OS or you risk not being able to get your favorite eBook.
It is best that you do your research about the OS of a tablet or eReader and become familiar with its interface before deciding to buy a device. Otherwise, we recommend that you choose among the most known systems like Android or Kindle.
Battery Life
eReaders have far superior battery life than traditional tablets. However, this aspect also hinges on your usage. In other words, you won't need an extended battery life if you don't take trips often, or you don't read a lot.
If you read for hours daily or travel regularly, an eReader can be your best friend. On the other hand, a more versatile tablet is ideal if you want the ability to do other things with your device.
Other Features
Storage
A bookworm never gets rid of books after reading them. If you're going to have a reading tablet, you'll want to store as many books as possible without having to delete any of them. You can think of it as your very own digital library where you keep all your books. Ample storage capacity is necessary, so you won't have to worry about losing your books in the long run.
The flexibility that a microSD slot offers is also a bonus. It allows you to have extra storage capacity once you run out of space for your favorite eBooks and audiobooks. If you find that the onboard storage of a device is insufficient, see if it has an expansion slot and you should be good to go.
Keyboard and Stylus
If you are going to use the tablet for taking notes or writing your own content, make sure you check out its on-screen keyboard. See if the layout is easy to type on and be aware of its multi-touch capabilities.
Some keyboards also have useful accessibility features like swipe typing and support for one-handed use. Furthermore, a decent keyboard should come in handy if you're going to use the device for web browsing or social media.
Budget
Regardless of your budget, there is a reading tablet that is right for you. If you want the best tablet for your money, you can go with the affordable Fire 8 HD or the basic Kindle model. They all the essential features a reader can look for at a very reasonable price. They are also ideal for people who are new to eReaders and want to try them out.
On the other hand, premium offerings like the Kindle Oasis, Apple iPad Mini, and Samsung Galaxy Tab A 8.0 offer outstanding features that you can't get with the budget options. They are meant for hardcore bookworms who want to take their digital reading experience to the next level.
F.A.Qs
Can I Surf the Net While Using My Reading Tablet?
It depends on the tablet that you own. If it is a reading tablet like Amazon Kindle, you can browse the internet, but some features are turned off. For example, videos are not playable, and Java applets are not supported. But if you are using a standard smart tablet, then all browser features are supported. To be sure, read the tablet specification carefully.
Can I Play Games with My Reading Tablet?
Yes. But only on standard smart tablets.
Can I Listen to Audiobooks on My Reading Tablet?
Yes, you can. Audiobooks are fully supported by most reading tablet.
Is It Better to Buy an Exclusive Reading Tablet or A Multipurpose Smart Tablet?
It depends on your needs. If you just want a reading tablet, then an exclusive reading tablet like the Amazon Kindle is the way to go. Though it has limited features, compared to a standard smart tablet, the battery life is better and more user friendly for book worms. But if you plan to use your tablet for other means, it is better to invest in a smart tablet.
Thinking of buying an e-Reader? Should you consider a tablet?
Recap: Picking the Best Tablet for Reading Digital Content in 2021