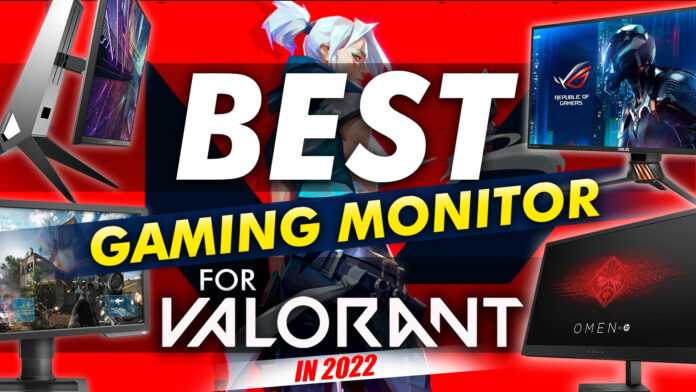 With the release of the Valorant Beta on April 7th, 2020, the long-awaited competitive first-person shooter has begun fulfilling the hype that has built since its announcement in late 2019. Released by Riot, who is most known for their esports dominating title League of Legends, they have taken their first real step into the tactical shooter landscape. Drawing inspiration from the highly competitive and popular game Counter-Strike: Global Offensive, it has introduced a futuristic approach to highly refined PC based first-person shooter games. Set to release in the summer of 2020, Valorant looks to take over the esports world as the next juggernaut in the tactical shooter genre.
Due to the intense speed of gameplay, high performing peripherals will be crucial for any serious competitive gamer. The most important peripheral, your gaming monitor, can determine whether you get that pivotal kill or need to respawn for the next round. We'll discuss the importance of high-end gaming monitors and determine which is the best monitor for Valorant.
About Valorant
With five versus five tactical team gameplay, you play round by round either attacking or defending a specific zone. Earning money with round victories and kills, you have the ability to purchase various submachine guns, assault rifles, sniper rifles, equipment, and sidearms as you progress throughout your match. In addition, specialist abilities are ingrained in the 10 different characters you can choose from prior to your match. With the ability to teleport, summon barriers, create smokescreens, fire recon bolts, and numerous other perks, Valorant's characters exceed the norms found with most FPS titles. With a maximum of 25 rounds, the first team to secure 13 round victories wins the matchup.
The 9 best gaming monitors for Valorant at a glance:
When sorting through the litany of monitor specifications, there are a few key aspects to consider when trying to run high-speed first-person shooter titles. Refresh rate, response time, screen size, color accuracy, and resolution will all dictate your in-game performance. We'll highlight the key benefits of each of the following monitors, and where you will notice the gameplay differences when entering the online battlefield.
1. BenQ ZOWIE XL2411P 24 Inch 144Hz Gaming Monitor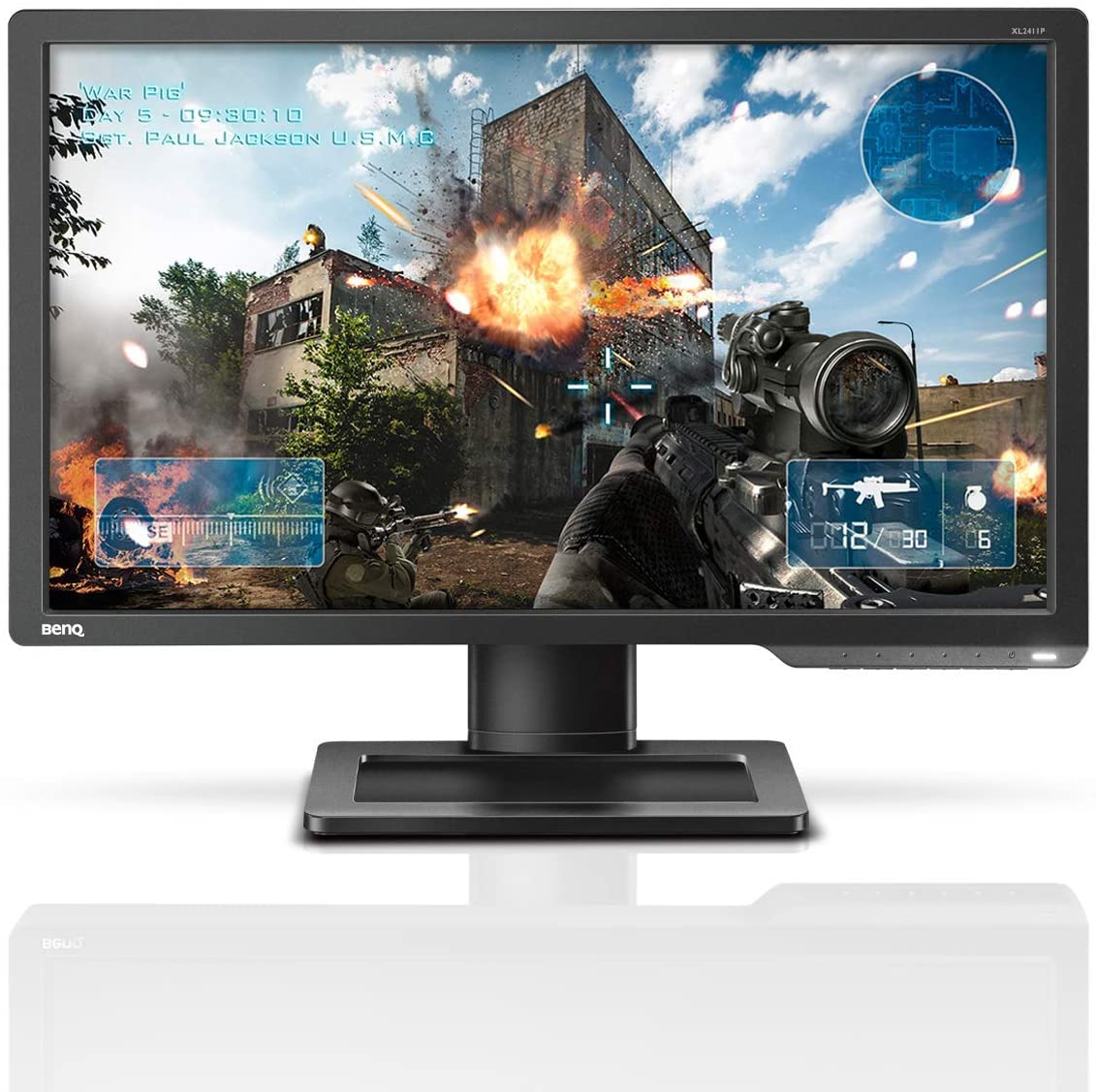 A staple in the competitive gaming monitor marketplace, BenQ has become the de facto king of reliable and high-performing screens. The ZOWIE XL2411 is no exception in this regard, featuring all of the key benchmarks needed when running games such as Valorant. Featuring a 144 Hz refresh rate and a 1 ms response time, input lag and ghosting is a non-issue with this lightening-fast monitor.
Coming in at 24 inches at 1080p (with an optional 27 inch model), this is the ideal size for competitive gaming, reducing the neck strain that can be caused by using bigger screen sizes. With industry-standard VESA mount support and full tilt, swivel, and height adjustment, this monitor can be placed for maximal comfort during long gaming sessions. Furthermore, their "Low Blue Light Technology" will reduce eye strain during the aforementioned gaming marathons.
Additionally, the black "eQualizer" technology will improve clarity and contrast during gameplay, which is an understated benefit when "eye-testing" certain monitors. With the ability to create custom color settings, you can adjust to your preferred color saturation, brightness, and contrast when switching through gaming titles.
2. HP Omen 25 Inch Gaming Monitor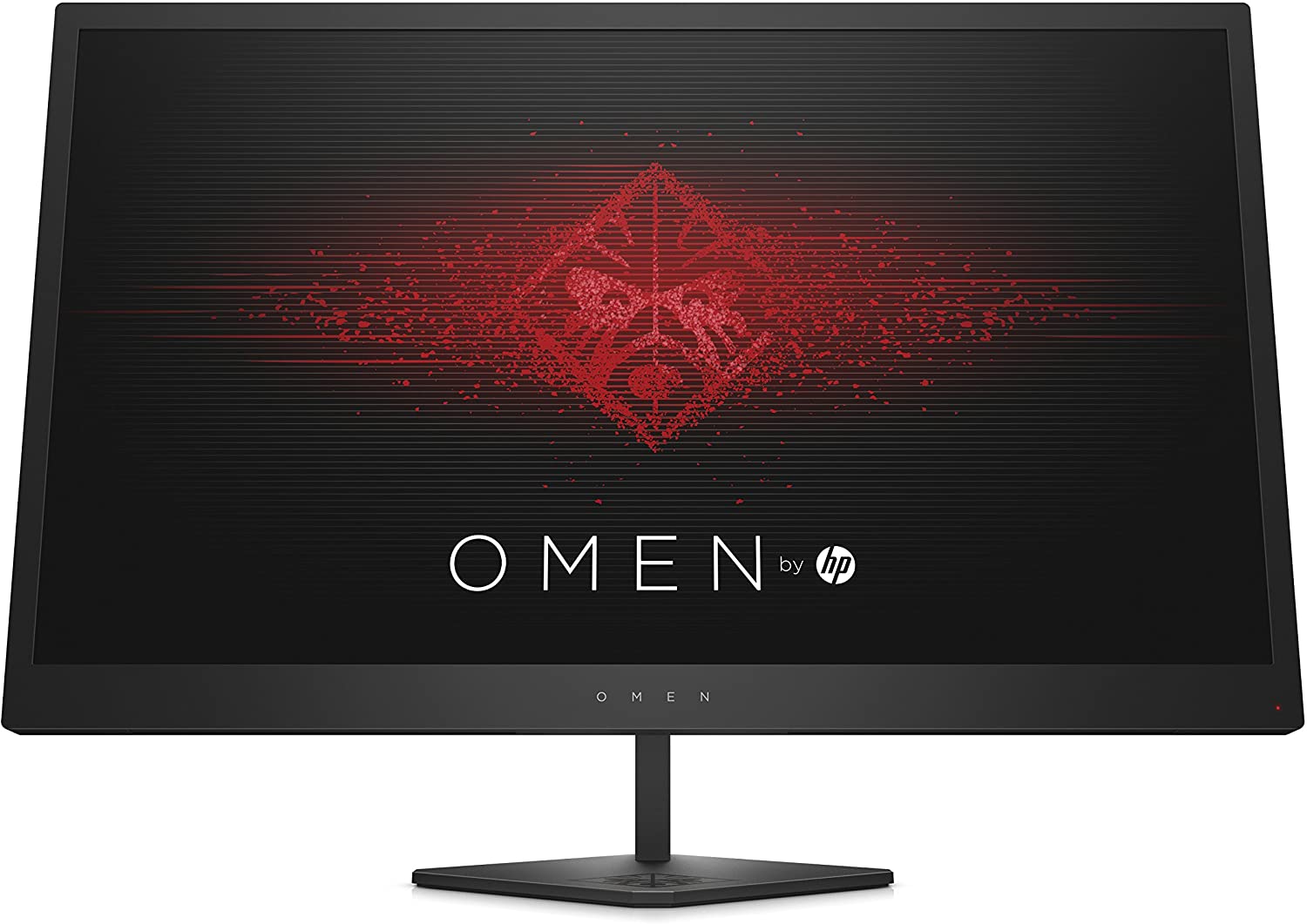 An understated contender in the monitor world, the Omen released by HP features all of the high-end specifications needed for serious gamers while also featuring a slick design. Coming in at 25 inches, this 1080p TN panel has a 16:9 aspect ratio with a small bezel design. In addition to this specific model, the Omen also comes in a 27 inch, 32 inch QHD, and 35 inch curved design.
With a 144 Hz refresh rate and 1 ms response time, it also boasts AMD's FreeSync technology to avoid the stutter or tearing found when running high framerate gaming titles. With multiple inputs including Display Port 1.2 and HDMI 1.4, you won't be hindered by your motherboard's output selection. In addition to this, it includes 2 USB 3.0 ports for powering any extraneous devices.
Combined with the sleek and small bezel design, the 170 degree viewing angle and -5 to 23 degree tilt makes this monitor perfect for a multi-screen gaming setup. With full VESA mount support, finding the ideal orientation for multiple screens is as simple as adjusting the arm of your mount.
3. Alienware 25 Gaming Monitor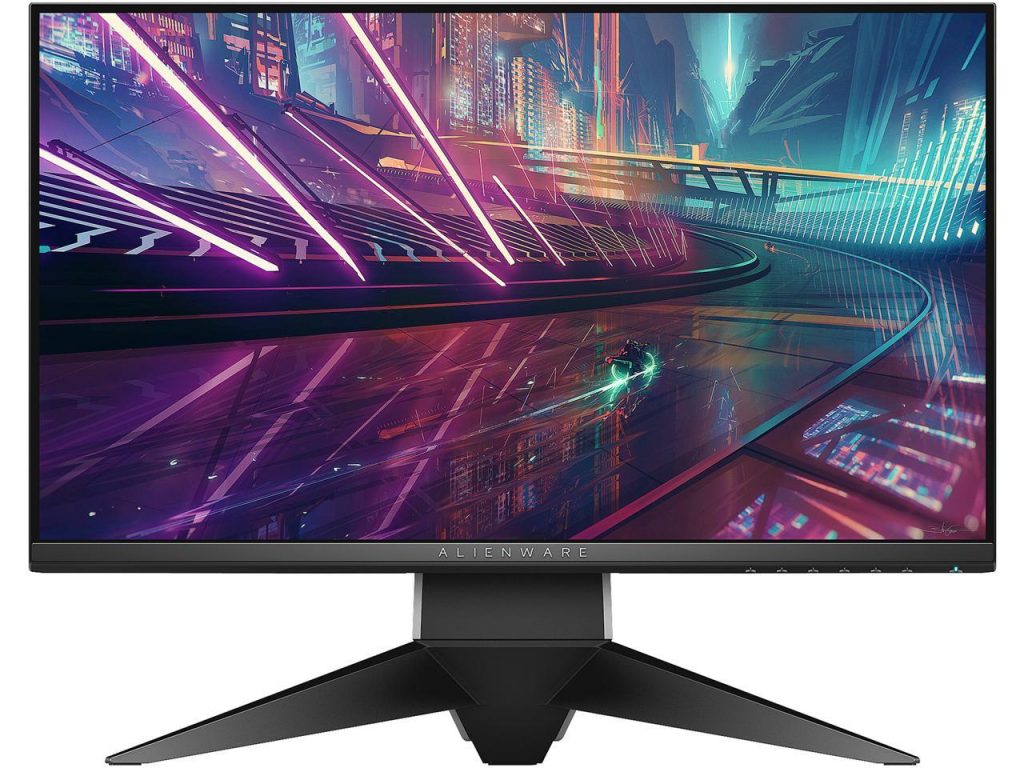 Known for their futuristic and stylized build quality, Alienware doesn't fall short when it comes to the specifications on this Alienware 25 monitor. Featuring a native refresh rate of 240 Hz and 1 ms response time, you won't find a snappier or smoother experience with these top of the line benchmarks. In addition to the nearly non-existent input lag, it also features the industry-leading NVIDIA G-Sync technology. This means minimal tearing and stuttering during gameplay on high framerate titles such as Valorant.
The 24.5 inch 1080p TN panel boasts a 16:9 inch ratio, with minimal top and side bezels. As usual with Alienware, they pull no punches when it comes to their futuristic body type featuring the iconic sharp-edged and silver aesthetic. In addition, custom RGB lighting on the back of the monitor syncs with AlienFX, allowing you to add your own custom spin to the design. Professional Battle Royale Player and Streamer Ninja currently uses this monitor.
4. Acer Predator XB241H 24 Inch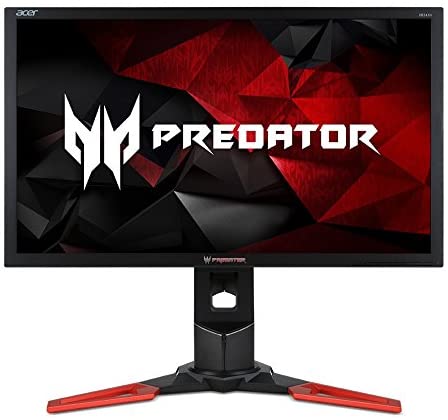 Another widely respected monitor within the gaming landscape, the Acer Predator has found its way in front of many casual and professional gamers alike. This 24 inch monitor (with optional 27 inch and 32 inch models), features a 1080p TN display at a 16:9 ratio. With a 144 Hz refresh rate and 1 ms response time, this monitor also claims the ability to overclock to a whopping 180 Hz. Another G-Sync display, this will give you a crisp and picture accurate gaming experience regardless of gaming title.
One of the more ergonomic and flexible monitors, the Acer Predator features an "ErgoStand" which allows for a complete 90 degree screen rotation for productivity or multi-screen setups. Furthermore, the 30 degree swivel and -5 to 35 degree tilt angles allow for a flexible viewing experience. The comfort doesn't stop with the viewing angle, as the Predator also includes "Flicker-less" technology for minimal eye strain during prolonged gaming.
5. Asus TUF Gaming VG27BQ 27 Inch Gaming Monitor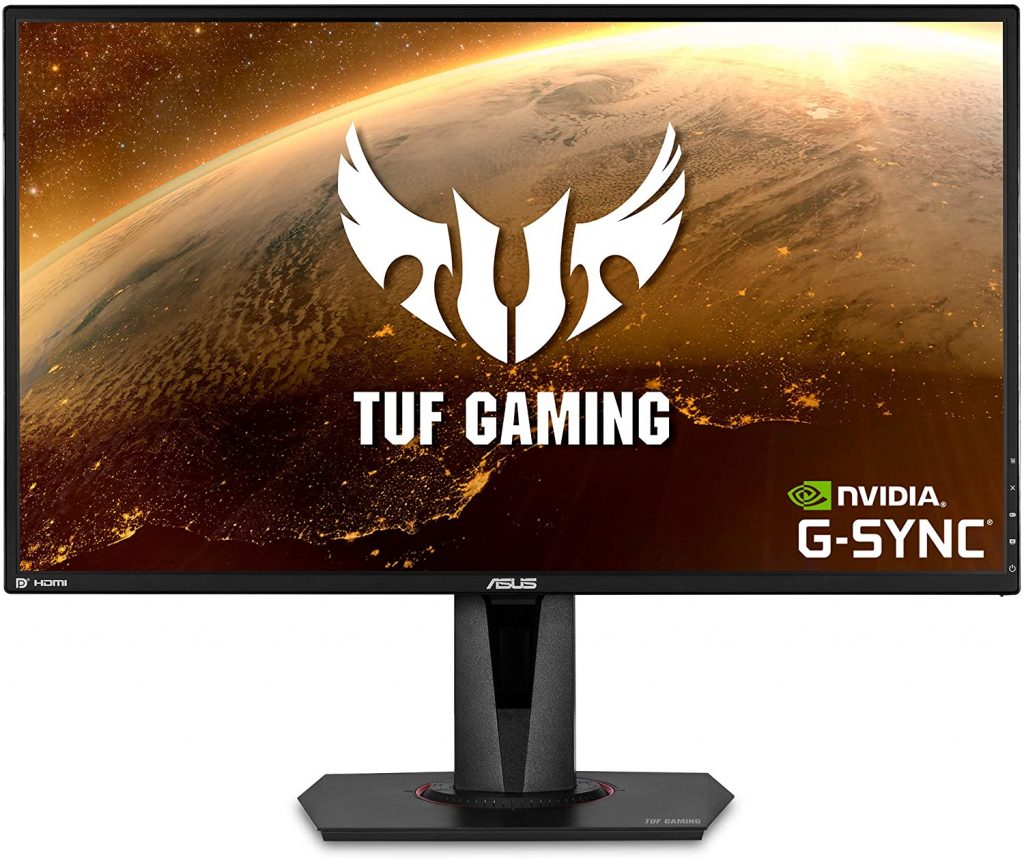 The Asus TUF is one of the first monitors on this list to up the resolution experience with their monitor, offering a widescreen 1440p display at 27 inches with HDR support. Although this LED panel may seem as though it was built for visual media, the gaming performance is also top of the line. The Asus TUF offers a 165 Hz refresh rate with a sub 1 ms response time, as well as extreme low motion blur using elmb Sync technology.
The build quality also stands out on this monitor, with a small bezel and subtle black finish. With full tilt, swivel, pivot, and height controls, combined with the additional Asus Eye Care technology, this results in a comfortable viewing experience for extended gaming sessions.
6. AOC U2790VQ 27 Inch Frameless Monitor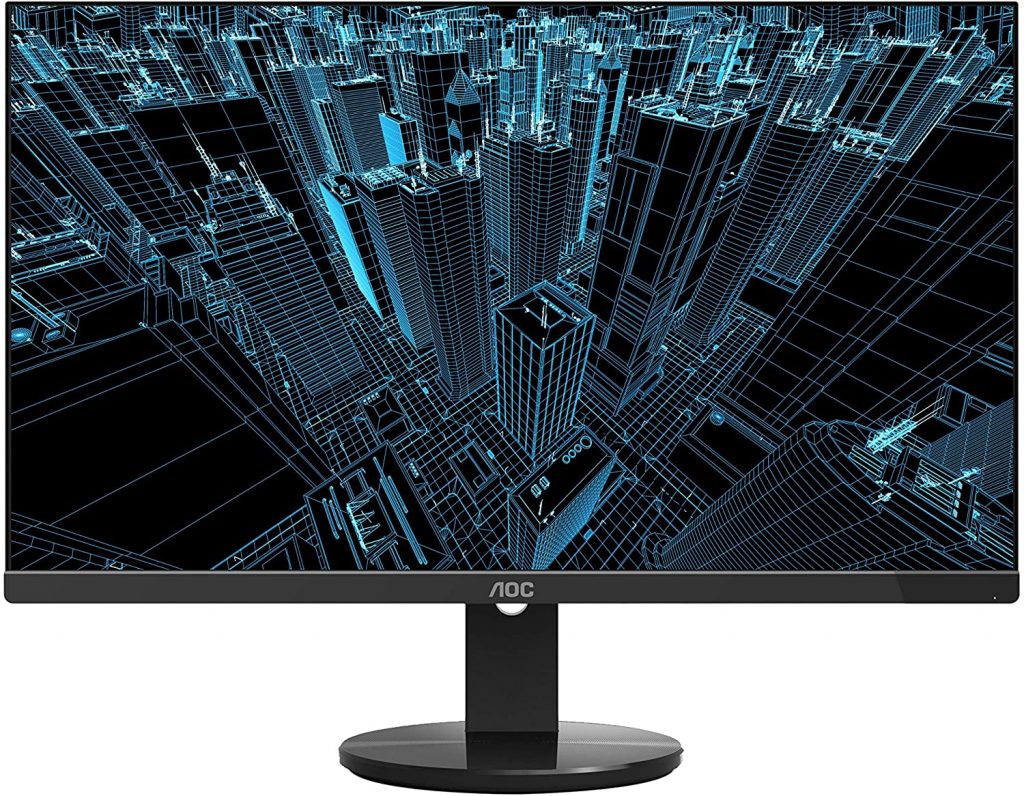 This AOC monitor pulls no punches when it comes to overall visual performance, with a large 27 inch 4k screen and frameless design. This monitor was built for detail and picture-perfect media consumption, with an IPS 10-bit panel for realistic and strong colors from any viewing angle. With over 1 billion colors, the AOC covers over 99% of the sRGB color scale, as well as 90% of the NTSC gamut. If you are a fan of video consumption or video editing, this is the ideal panel for you. In terms of gaming, this monitor offers a refresh rate of 60 Hz with a 5 ms response time.
The ultimate productivity monitor, the frameless design is perfect for a two or three monitor setup. Additionally, the VESA mount support will allow for a fully customizable monitor configuration regardless of your workspace.
7. ViewSonic VX2776 27 Inch Frameless Monitor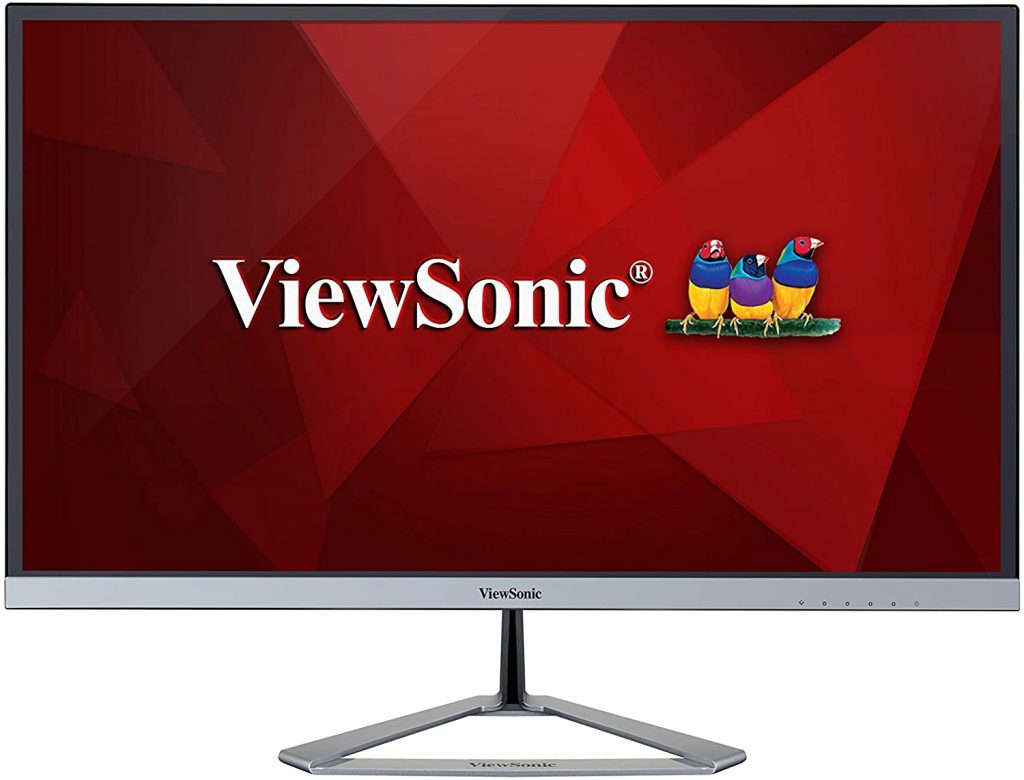 Another frameless monitor, the ViewSonic VX2776 comes in at 27 inches at 4k with full HDR10 support. With an optional 32 inch model, this is monitor provides the perfect media viewing experience with an 80 million:1 dynamic contrast ratio. The blue light filter and flicker-free technology provides comfortable viewing for hours on end.
The frameless design makes this another monitor which is perfect for multi-monitor computers, offering full VESA mount support. The Ultra HD resolution in conjunction with "SuperClear" IPS panel technology makes this a great addition to a video editing workstation.
8. ASUS ROG Swift PG258Q 24.5 Inch Gaming Monitor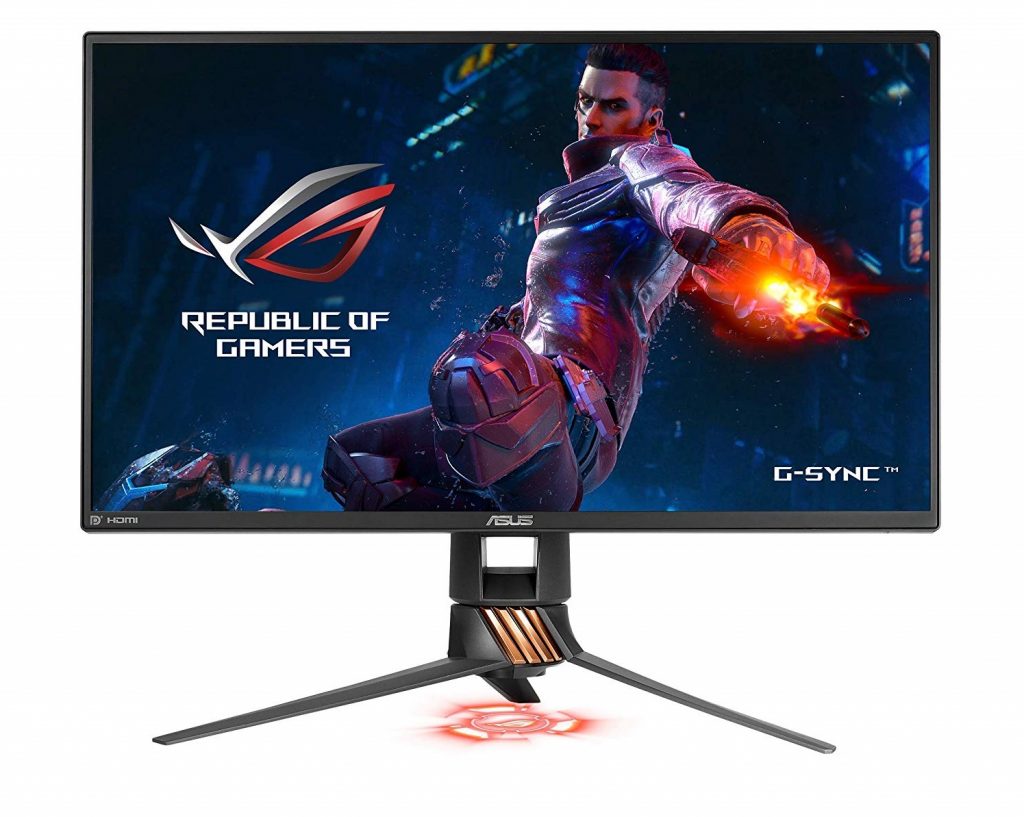 The Asus ROG Swift was built from the ground up as the ideal gaming monitor, boasting a top of the line 240 Hz refresh rate and a 1 ms response time. Furthermore, it offers a comfortable 24.5 inch screen size at 1080p resolution. In addition to the lightning-fast response times, this monitor is G-Sync compatible for smooth and crisp high-speed gaming. Because the performance is second to none, it has become an esports staple and the official monitor of BlizzCon. The Asus Eye Care technology, blue light filter, and flicker-free backlighting will ensure you minimal eyestrain during gaming marathons.
The ROG Swift is no slouch when it comes to build quality either, with a small bezel design, futuristic black paneling, and optimized airflow for quieter gaming. With VESA mount support, you not only will get high-end gaming performance, but also a perfect multiple monitor experience.
9. BenQ ZOWIE XL2546 24.5 Inch 240Hz Gaming Monitor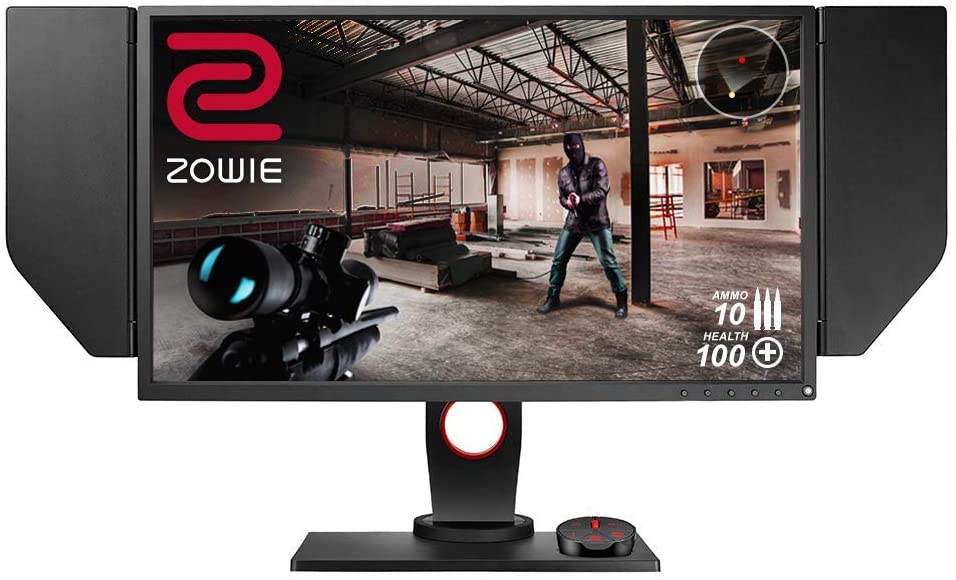 Another monitor from BenQ, the ZOWIE XL2546 is one of their strongest showings in the esports gaming monitor marketplace with top Fornite players like Tfue using this as their monitor of choice. With 240 Hz refresh rate, 1 ms response time, 1080p resolution, and a 24.5 inch screen, this is the ideal gaming monitor from the ground up. The proprietary "DyAc" (Dynamic Accuracy) technology reduces screen blur and improves clarity during high-speed in-game action.
Featuring a number of unique peripherals, this monitor was intended for serious console gamers. Built with a removable outer shield, these are monitor 'blinders', which eliminate distraction by limiting your peripheral vision outside of the screen. BenQ also includes the S-Switch, which allows for quick navigation through visual presets with an easy external button set and scroll wheel.
Built with a simple matte black finish, the ZOWIE supports Display Port, Dual-Link DVI, HDMI, microphone, and headphone jack inputs. Built with support for VESA mounts, you also get full tilt, height, and swivel adjustment.
What Should You Look For in a Gaming Monitor?
Refresh Rate and Response Times
The most important aspect of PC or console gaming is reducing your visual lag as well as your input lag. 'Visual lag' purely comes down to the ability to see fine details when running high framerate games. Screen tears, artifacts, blur, and slow pixel responsiveness will all lead to sub-par and messy visuals. Obviously the clarity of your vision greatly impacts your performance, so the crisper the image, the better your gameplay.
Input lag is another factor to consider, dictating how quickly your screen responds to the peripheral inputs you are giving it. The lower the response time, the faster your monitor will display the inputs from your computer. If you have ever played games on a large screen television, you will know how slow the input lag can be. You press a button, and it seemingly takes forever for your in-game character to perform the movement. High-end gaming monitors are built to compensate for these delays.
Screen Size
In addition to the slow responsiveness that naturally occurs with bigger monitors, understanding the most comfortable size for a gaming monitor also plays a part. You may have noticed a trend that most gaming monitors are around the 25 inch mark. Clearly not a coincidence, this takes into consideration how most gamers sit relatively close to their monitor, as well as the ease of viewing the entire screen from that distance. This should be considered when you are looking to buy your own monitor, and how comfortable each screen size is for you personally.
'Sync' Technology
Whether it is NVIDIA G-Sync, AMD FreeSync, or some other proprietary 'sync' technology, having the ability to compensate for screen tears and motion artifacts that come with high framerate gaming is a huge aspect when considering PC gaming monitors. While not nearly as important in console gaming, when looking to run Valorant smoothly at high framerates on PC, this can be another important specification when purchasing a monitor.
Resolution
For the most part, esports titles such as Valorant are consistently run at 1080p by most gamers. While resolution may be important when watching a movie on Netflix or editing a video through Final Cut, gaming relies on the aforementioned screen responsiveness and color accuracy for precise visuals. Naturally, you may use your computer as an all-purpose device, so if you choose a 4k monitor it may be best to lower the resolution in-game for best results.
What Specs Do You Need to Run Valorant?
Once you have figured out which monitor suits your needs best, the final step should include ensuring your PC can run the game smoothly. As with most new titles, there will be a bare minimum set of system requirements, as well as a set of recommended specifications. These include:
Minimum System Requirements
RAM- 4 GB
Graphics Card- Intel HD 3000
CPU: Intel Core i3-370M
Disk Space- 100 GB
Operating System- Windows 7
Recommended System Requirements
RAM- 8 GB
Graphics Card- NVIDIA GeForce GT 730
CPU: Intel Core i3-4150
Disk Space- 120 GB
Operating System- Windows 10
Obviously, your framerate, in-game graphics, resolution, and textures will all depend on the performance of your PC. Keep this in mind when troubleshooting any discrepancies when it's time to boot up the game. With the right monitor and PC you should be able to run Valorant with the speed and smooth gameplay that rivals the professional esports athletes.
Tips from Gamers
Valorant is a super competitive game that has attracted millions of players worldwide. So it is only natural that you want to have all the advantages that you can get, including investing in the best monitor for Valorant. So if you want more input on how to score the best gaming monitor, we took the liberty to ask gamers and some industry experts these questions:
What features to look for when buying a gaming monitor?
What is the best monitor size when playing FPS? Do you prefer a curved or flat monitor? Single or multi-monitor set-up?
As an avid CS:GO gamer I thought I'd share my input.
The single most important factor for hardcore gaming is refresh rate. Once you upgrade from 60Hz or below to 144Hz or up, you'll never wanna go back. In FPS games like in particular, refresh rate gives you a competitive edge which is paramount to success at a high skill level. LinusTechTips have tested and documented this up to around 240Hz at which point an even higher refresh rate seems to not make much of a difference.
Another key thing is to look for a monitor with an IPS panel as opposed to a TN panel. The colors are a lot better and the blacks are deeper on an IPS monitor. Also, IPS monitors have superior viewing angles so no matter if you look at the monitor at an angle, it'll be crystal clear. This also helps with sunlight shining onto your monitor so you can still scrim it out in the daytime. IPS panels are slightly more expensive but it's a justified upgrade.
Personally, I game on a 27 monitor and I find that to be the soft spot for my enjoyment. Anything bigger takes up too much space for me and smaller monitors don't really justify the high resolutions we have today.
The whole curved vs flat monitor argument really comes down to personal preference in my opinion. I prefer flat monitors but curved aren't that much more expensive nowadays and they're widely available.
I always prefer having a dual monitor setup. This gives me the freedom of having something on my 2nd monitor so I don't have to tap out of the game all the time. My tip would be to save a little money on your 2nd monitor by getting something with around 60Hz refresh rate and prioritize color clarity instead. You'll be able to get a crystal clear IPS 2nd monitor that runs a lot cheaper by sacrificing a bit of the refresh rate but it won't
matter as it isn't your main gaming monitor.
Alright, I hope that helps! Let me know if it was useful.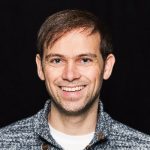 Paul Strobel
https://eridehero.com
2. There are many features to consider when buying a gaming monitor, these include the size of the panel and the resolution, the panel technology in use, TN or twisted nematic panels are generally a very good bet as they have great pixel response and refresh rates and of course the price.
A 27-inch screen is ideal if you have the space for it, anything below a 24-inch screen will dilute your gaming experience. Curved monitor always! They are easier on the eyes by virtue of how the image is projected, these monitors are more immersive and give you a wider field of view, making you feel closer to the action. A multi-monitor set-up is a
must if you plan to do twitch streaming as this way your additional monitor can be used to set up and run your stream and respond to your audience on chat while you game on the primary monitor.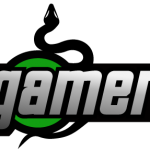 Pratik Jain
GetGamertag.com
https://getgamertag.com
3. Over the last 2 years, I've bought 2 different gaming monitors. I thought this was an interesting query.
When looking for a gaming monitor, you're playing a balancing act of resolution, refresh rate, and viewing angles. It's like the old adage of Fast, good or cheap – pick two. For example, if you want a 4k monitor, you'll be hardpressed to find anything over 60Hz refresh rate. If you want a high refresh rate, you'll be hard-pressed to find an IPS monitor with higher viewing angles.
It's extremely expensive to try and find the best of all 3 qualities in a single monitor, so you have to make a sacrifice and decide what's most important to you. There's no point in having a high refresh rate or a high resolution if your gaming PC can't even run games at higher rates.
Getting a 34 Ultrawide curved monitor running at 144Hz has been amazing for FPS games. I may not be playing the games in 4k, but the animations are smooth and the extra width makes the game feel more alive. I have a multi-monitor setup for work, but when I'm gaming, I turn the other monitor
off so I can immerse myself.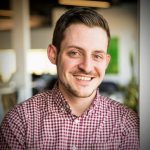 Blake Burch
www.blakeburch.com
4. If you're a PC gaming connoisseur, then the only number that should matter to you is the refresh rate, which is the rate at which your monitor updates images on the screen per second. You'll get a suitable all-around performance with a 75 Hz screen. However, if you play competitive multiplayer games your best bet would be a 144 Hz screen. That should give you lightning-fast loading speeds that will help you play and perform at your best.
Now for some specifics: if you love playing FPS games, go upwards of 24 inches with a 1080p resolution. With curved monitors becoming more common and as affordable as flat monitors, they're a viable choice that lends more immersion and less eye strain. Dealing with more than one monitor is a luxury that can come with a painful set-up, so a bigger single monitor is the way to go.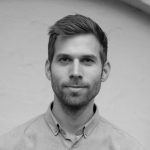 Daniel Juhl Mogensen
https://www.kodyl.com
https://www.linkedin.com/in/danieljuhl/
5. I am a competitive gamer myself, so I think my experience can definitely help you out if you're looking to add value to your readers.
First and foremost you need to decide on a screen size and correctly pair a resolution with it, because these two go hand-in-hand. For an FPS game such as valorant, I recommend a screen size between 24"-27" – anything higher than that will cause you to react slower to things going on on the side of your screen, or to not see them at all – talking from
experience.
Talking resolution, 1080p is completely fine on a 24" inch, whereas if you decide on a 27" screen, I definitely recommend 1440p – you don't want to go lower than 90 PPI (pixel per inch), as this metric ensures a sharp image – the more pixels per inch, the sharper the image on your screen will be. You can definitely get a 4k resolution, but it's going to cost you a lot more. Bottom line, if you're looking to spend as little as possible, while still having a sharp display, go with 1080p for 24" and 1440p for 27".
Another super important factor for FPS games is refreshing rate. Refreshing rate basically tells you, how many times per second are the pixels on your monitor able to turn on and off when changing colors to match what's happening on the screen. It is measured in hertz (hz), and higher the frequency is, the smoother the display will be. The most common
refreshing rates are 60hz, 144hz and 240hz.
If you're playing fps games like valorant, forget about 60hz – that's a thing of past. I recommend going for 144hz, as switching from 60hz to 144hz offers the most noticible difference, while not costing you too much. 200hz and above monitors are usually pretty expensive and the difference in smoothness of the display is not as apparent.
Another important thing is to choose a monitor with good panel. There are three types – TN (twisted nematic), VA (vertical alignment), IPS (in-plane switching). To put it simply, each panel uses a different technology to display colors on your screen, but luckily for you, you can't really make a mistake here.
Do NOT buy a TN monitor, as it offers the worst color reproduction and viewing angles. The only good thing about them is that they typically come with a high refreshing rates at a really low price. VA monitors are known to have the best contrast ratios, but slightly worse color reproduction and viewing angles then IPS. That means you will get more immersed in the game, but if someone will be watching next to you, they won't see a perfect picture of what's going on in your game. Lastly, IPS monitors have the best viewing angles and color reproduction. The bottomline is, If you go for a VA or IPS monitor, you will be satisfied either way. If you're on a rellay tight budget, your best bet is to grab a 144hz TN monitor.
These are, in my eyes, the most important factors you should definitely take into account while shopping for a gaming monitor for Valorant or any FPS game for that matter.
Do you prefer a curved or flat monitor?
I have personally played on many gaming monitors both curved and flat and the curved ones were always slightly better for me. For starters, they offer a bit more immersion – I can't really explain why and how, but it feels like you get sucked in the game and more focused.
Secondly, curved monitors let you opt for a larger screen size. By curving the sides towards you, you will find it much easier to capture the whole display with your eyes as opposed to a flat monitor of the same size.
Lastly. they just look better. I mean, you can definitely argue here, but which gamer doesn't care about the looks of their setup?
Single or multi-monitor set-up?
Definitely a single monitor setup. If you're not a streamer who needs to read chat during the game, you don't really need a second monitor for an FPS game such as Valorant.
Lastly, if you opt for a 144hz or 200hz monitor (or even higher), make sure your graphics card can put out the frames neccessary to fully utilize your monitor. If you have a graphics card that can only put out 150 frames and you buy a 240hz monitor, you will be stuck on 150hz. Then you will have to lower your settings, the graphics will look like crap and who wants to do that. Bottom line is to have a powerful graphics card if you want to buy a
high refresh rate monitor – or have the funds available for an upgrade.
That's it from me, hope you find this information useful.

Richard Nejezchleb
pcmecca.com
6. Refresh rate is a major factor when I choose monitors, especially with games that require fast reaction times like FPS. Most gamers would generally agree that 120Hz is the gold standard, but I think most could get away with 60 Hz for at least the next year or 2.
In addition, I'm partial to monitors with a high contrast ratio. This is more important with games with deep color differences such as the horror genre.
How big is too big? I don't think there is such a thing in gaming, though the line between a monitor versus TV screen has become increasingly blurred. I recommend something in the 26 – 35 range for FPS.
Curved monitors are still on the pricy side but if you can afford one I'd highly recommend it – they give more viewing room without sacrificing additional space.
Regarding single vs dual, I enjoy multitasking while gaming (playing music, watching YT), so a multi-setup is great for that.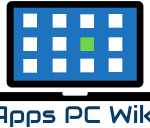 Matt | Owner
Apps PC Wiki
https://appspcwiki.com/
Recap: Best Monitors for Valorant 2020