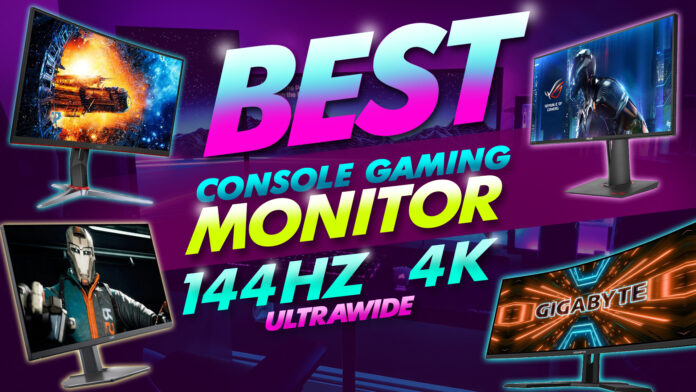 Preview
Product
Pros
Screen Size
Price

Dell S2721DGF
Wide viewing angles
Low input lag
Great motion handling
Handles reflections well
Low input lag
27"

AOC CQ27G2
Deep blacks thanks to high native contrast
Excellent SDR color gamut
Low input lag
27"

ASUS ROG Swift PG279Q
Great performance when viewed up close
Handles motion excellently
Low input lag
27"

Gigabyte M27Q
High refresh rate
VRR support
Great response time
27"

Gigabyte G34WQC
Excellent contrast ratio
Large screen with plenty of real estate
Handles reflections well
34"
The age-old paradigm of console gaming being something that happens on television is changing. Computer monitors have continued to improve, often with gamers in mind, and more and more console gamers are finding that a monitor is still the best way to enjoy their PS5 or Xbox Series X, even if they don't have a computer.
Of course, if you were to compare pure screen inches to cost, you would find TVs a better deal almost every time, take it from the best 8K 120Hz TV available today. The same can be said to why there are monitors for PS5 and monitors for Xbox Series X.
But you can't beat a monitor when it comes to high refresh rates, low response times, and form and function crafted with gamers in mind. Let's look at some of the best console gaming monitors.
Best Console Gaming Monitor
1. Dell S2721DGF
Best Console Monitor for Lightning Quick Response Times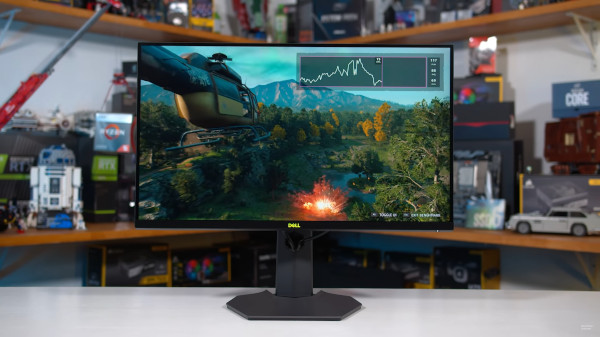 Display Type: Edge lit LCD monitor | Screen Size: 27-inches | Aspect Ratio: 16:9 | Native Resolution: (1440p) 2560 x 1440 | Dimensions (WxDxH): 10.9 in x 6.9 in x 7.9 in | Panel Type: IPS | Refresh Rate: 165Hz | Response Time: 6.3ms
The Dell S2721DGF is an excellent all-around gaming monitor that performs strongly in every area you would hope for, with the possible exception of contrast. It is a 27-inch, 1440p monitor with meager response time, making it ideal for those competitive shooters where every microsecond counts. And, as a bonus, it supports AMD's FreeSync variable refresh rate technology while also being certified to work with NVIDIA's similar G-SYNC technology.
With the S2721DGF, you will get full 1440p resolution along with excellent viewing angle and motion handling, so you shouldn't find yourself cringing during those moments where it's all action on screen. However, the panel can be a little bright in HDR mode, and the contrast hardly provides the deepest blacks we've seen-certainly not on this list.
Still, if the most vibrant display imaginable is not the top of your priority list, the S2721DGF's motion handling and super low response time make it an ideal companion for your PS5 or Xbox Series X.
2. AOC CQ27G2
Best Console Monitor for Deep Blacks and Rich Colors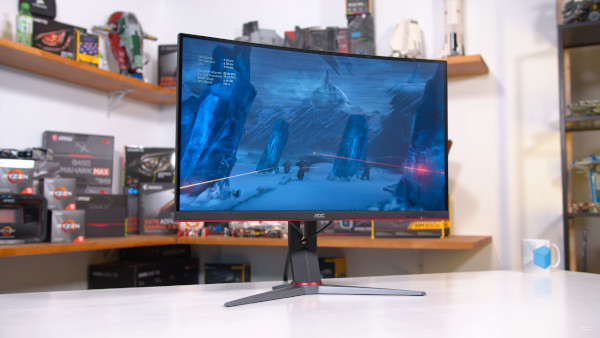 Display Type: Edge lit LCD monitor | Screen Size: 27-inches | Aspect Ratio: 16:9 | Native Resolution: (1440p) 2560 x 1440 | Dimensions (WxDxH): 17 in x 7.7 in x 9.1 in | Panel Type: VA | Refresh Rate: 144 Hz | Response Time: 13.1ms
The CQ27G2 delivers 1440p through a 144 Hz curved VA panel. It boasts an impressive response time and a high native contrast ratio, so you should get some velvety blacks and responsive gameplay out of this monitor. It also supports AMD's FreeSync technology.
The curved screen is subtle, and combined with a moderately-sized bezel, pulls of a suitably stylish appearance that looks good when turned off and doesn't distract the eye when in use. Speaking of distracting the eye, this monitor isn't the brightest, so you may find reflections to be a bit of a nuisance if you place them in a bright room. Also, while the contrast is high, there is noticeably motion smearing in darker scenes.
The CQ27G2 is undoubtedly best suited to a more intimate gaming experience, such as a low-lit gaming room, but if you have the right setting, this monitor will deliver 27-inches of 1440p gaming goodness, with fast response times and high refresh rates.
3. ASUS ROG Swift PG279Q
Best Console Monitor for Fast-Paced Action and Motion Handling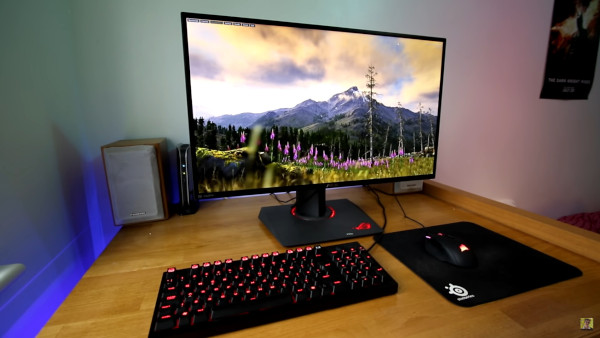 Display Type: Direct-lit LCD monitor | Screen Size: 27-inches | Aspect Ratio: 16:9 | Native Resolution: (1440p) 2560 x 1440 | Dimensions (WxDxH): 12.3 in x 8.1 in x 9.4 in | Panel Type: IPS | Refresh Rate: 165 Hz | Response Time: 8.2ms
Once again, clocking in at 27-inches with a 1440p display, the Swift PG279Q delivers low response times, high refresh rates, excellent motion handling, and compatibility with NVIDIA's G-SYNC technology. It sports a flat IPS panel and a flicker-free backlight for a smooth gaming experience.
The PG279Q features a small enough bezel that it does not feel intrusive, though the base could be considered a little on the cumbersome side if you are the kind of gamer who likes to keep things directly under the monitor. That being said, the ergonomics of this monitor are excellent, so ASUS knew what they were doing in that regard.
One area where the PG279Q falls a little short is contrast, with blacks appearing a little gray when viewed in a dark room. Fortunately, this monitor performs excellently with reflections and works well in bright areas, so the contrast shouldn't pose too much of a problem as long you are gaming in a relatively well-lit area. The PG279Q also performs well up close and from a range of different viewing angles.
4. Gigabyte M27Q
Best Console Monitor for High Refresh Rates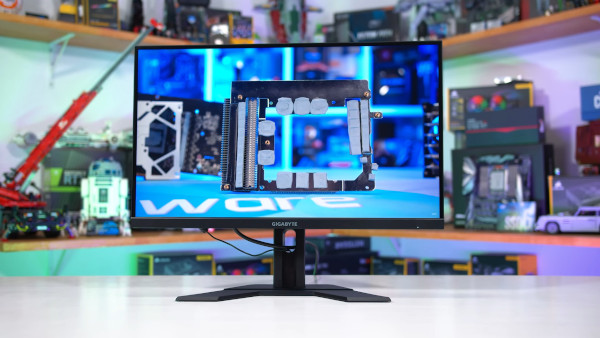 Display Type: Edge-lit LCD monitor | Screen Size: 27-inches | Aspect Ratio: 16:9 | Native Resolution: (1440p) 2560 x 1440 | Dimensions (WxDxH): 15.7 in x 6.8 in x 7.4 in | Panel Type: IPS | Refresh Rate: 170 Hz | Response Time: 8.4ms
At first glance, the Gigabyte M27Q may seem like just another 27-inch 1440p monitor. Under the hood of this unassuming screen are a low response time and high refresh rate screen of 170 Hz. Sporting an IPS panel, this monitor also supports AMD's FreeSync for variable frame rates. In addition to the regular fare, the M27Q also features several extras, such as picture-in-picture mode, picture-by-picture mode, and a USB-C port.
The M27Q boasts a tiny bezel, with just the "chin" being a bit on the chunky side. The build quality is sturdy enough, but the monitor cannot swivel, which may pose a problem for some setups. Similarly, it isn't the best choice for dark gaming environments, as the low contrast ratio tends to make the blacks look a little grayer.
However, in a brighter room, the M27Q delivers a lot of screen real estate with a clear, high-resolution display to keep you entertained as you dive into the next big Sony exclusive or take advantage of the wealth of games available on Xbox Game Pass. And all the additional features like picture-in-picture mode just add a little icing to an already attractive cake.
5. Gigabyte G34WQC
Best Console Monitor for Ultrawide Immersion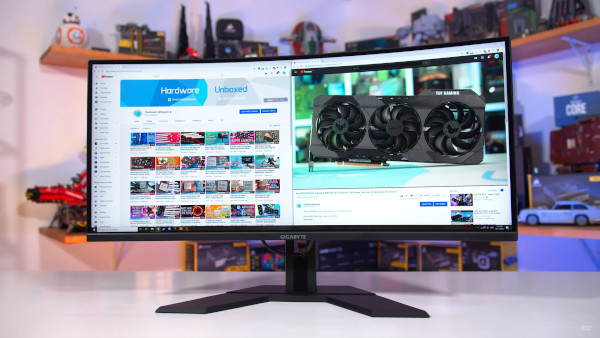 Display Type: Edge lit VA LCD Monitor | Screen Size: 34-inches | Aspect Ratio: 21:9 | Native Resolution: (Ultrawide) 3440 x 1440 | Dimensions (WxDxH): 19.4 in x 8.3 in x 9.3 in | Panel Type: VA | Refresh Rate: 144 Hz | Response Time: 12.7ms
The Gigabyte G34WQC has the distinction of being the only ultrawide entry on this list. With a resolution of 3440×1440 and an aspect ratio of 21:9, this monitor has the potential to immerse you in gaming goodness… just not from your console.
We weren't sure about adding this one, because as it turns out, neither the PS5 nor the Series X support 1440p ultrawide. The Series X does support 1440p, but only at an aspect ratio of 16:9. So, while your console games will still look great on this monitor (with vertical black bars on either side), it would be a waste of screen real-estate if you were only using it for console gaming.
Now, onto the monitor. Aside from the apparent standout feature, the G34WQC performs strongly in just about every area, with a low response time and an excellent 144 Hz refresh rate. It supports both FreeSync and G-SYNC and has an impressively high contrast ratio that makes those blacks really pop.
It should be noted that this curved, ultrawide display is designed for a single gamer who is positioned front and center, so viewing angles aren't great—something to bear in mind if you play a lot of local co-op games.
Why Choose a Monitor Over a Television?
At first glance, it is entirely reasonable to think that downsides outweigh the positives in choosing a gaming monitor over the traditional HDTV. After all, it does sports a more modest screen size and offers less functionality. However, if you look a bit closer and you'll see that a decent console gaming monitor can give you plenty of game-changing features that can make your trusted HDTV look vintage and obsolete in gaming terms.
Better Picture
The most important distinction that you'll see between an HDTV and a console gaming monitor is that the latter sports a better screen displays that ultimately translates to a better picture. Though many television manufacturers make sure that their devices appeal and sell to a wide range of audiences, the gaming monitor manufacturers, on the other hand, focus mainly on designing a panel that will make your gaming graphics pop. After all, many gaming monitors do offer exclusive technology that gives you more high-grade color saturation, deeper blacks, and steady preset color modes that are built for specific game genres.
Response Time
If you love following and watching professional eSports gaming leagues, you'll see that most players use gaming monitors rather than televisions when competing. No, not just because the console gaming monitor is more compact and portable than an HDTV. But ultimately because it offers a faster response time. Though most casual gamers won't really notice the slight delay that happens from the moment you press a controller button to when the action registers on the screen. But in a competitive setting, that slight delay might cause a devastating effect in a professional game. Many gaming monitors take significant steps to make the interval between pressing a button and displaying the action instant, which can, of course, give you the advantage in fast-paced games.
Price
Unlike HDTVs, console gaming monitors are much cheaper, and it also saves space. Also, to get the best possible picture, an HDTV demands you to spend anything from $600 to $700, while a gaming monitor can easily provide a better view at only a fraction of the price. Naturally, if you are a college student or a bachelor living with limited space or you simply don't have any room to spare, then a console gaming monitor is a perfect choice due to its compact size.
What to Look for Console Monitor Buyer's Guide
Gaming monitors offerings come in different shapes, sizes, and of course, price tags. Usually, picking the best gaming monitor is a personal matter. And it boils down to weighing out various aspects of choosing the monitor which suits your preferences. But what are the factors that you should check when choosing the best console gaming monitor?
Resolution
One of the most critical factors to consider when you are at your selection process is the display resolution. Remember, the higher resolution implies a bigger pixel count, which means better detail and image accuracy.
Refresh Rate
A gaming monitor's refresh rate is measured in Hertz (Hz). This measures how many times the panel can refresh the displayed image per second. This also defines how many frames per second the monitor can display.
Panel Technology
Today, monitors rely on two types of panel:
TN (Twisted Nematic)
TN is short for Twisted Nematic. This is a type of LCD, which is a form of LED panel display technology. TN panels are distinguished as being the fastest and budget-friendly among all the other main types of display panels.
IPS (In-Plane Switching)
IPS is the abbreviation for In-Plane Switching. IPS panels are often characterized to have the best color and viewing angles among all the other main types of display panels.
VA (Vertical Alignment)
VA stands for Vertical Alignment. It also offers has more advantages over the other two as it boasts, better color reproduction, higher maximum brightness, and better viewing angles. Unfortunately, they also have the worst response times among the three.
Response Time
Pixel response time is measured in milliseconds or ms. It represents how much time a single pixel requires to switch from black to white or change between different shades of gray. Know that the lower the response time is, the more fluid the camera movements will be. With, of course, higher response time translates to motion blur since pixels don't have sufficient time to shift between colors during fast camera action.
Conclusion
Gaming is such a big industry, with new and better gears getting released year after year, it is hard to keep up. Before gaming monitors became mainstream, your living room's trusty old HDTV is enough for your console gaming. But now, that simply won't cut anymore.
Gaming monitors are no longer limited to PC gamers, as console gamers are joining the action as well. If you are quite competitive in your gaming, prefer better graphics reproduction, perhaps investing in the best gaming monitor is in line.
Recap of the Best Console Gaming Monitors