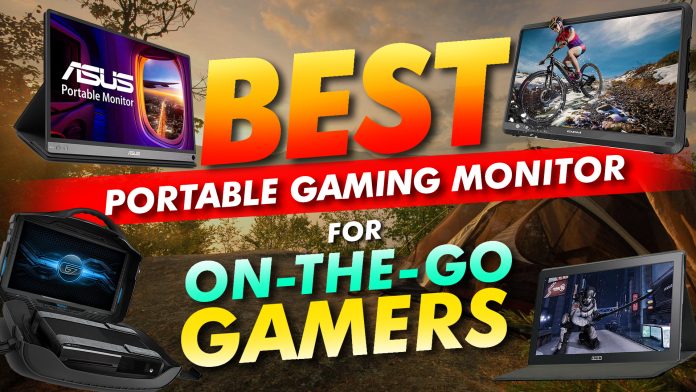 | Rank | Preview | Product | Resolution | Price |
| --- | --- | --- | --- | --- |
| 1 | | | 1920 x 1080 | |
| 2 | | | 1920 x 1080 | |
| 3 | | | 1280 x 720 | |
| 4 | | | 1920 x 1080 | |
| 5 | | | 1280 x 720 | |
| 6 | | | 1600 x 900 | |
| 7 | | | 3840 x 2160 | |
| 8 | | | 1920 x 1080 | |
So you're out camping, maybe chilling with a mug of hot chocolate and a s'more, enjoying the great outdoors. Suddenly, you feel the urge to game. You want to bring out your Xbox One X, break out your fancy monitor, and play some Halo with the boys. Sadly, you left your Xbox at home, your fancy monitor needs a monster power supply, and you're in the middle of nowhere. What are you supposed to do?
Well, Jack, you should have invested in a portable gaming monitor. One that you can bring along with your Xbox One X or your Switch, plug into a portable power source, and just game to your heart's content wherever you may be. But with so many to choose from, how do you know which portable gaming monitor is the best for your needs? We're here to help you find out.
The Best Portable Gaming Monitors at a Glance
What is a portable gaming monitor?
And how does it differ from smaller desktop monitors? Easy: they're a lot thinner. Think of these portable monitors for gaming as laptop screens with the rest of the laptop stripped away – only leaving enough room for a port, and – if they're lucky – a power source.
Many portable displays use a thin yet tough plastic board as a stand, much like you'd see in an iPad's case. Sometimes, they feature a detachable mount that you can attach to a laptop's screen, giving you instant access to a second screen for more productivity (or better procrastination.)
What are the uses of a portable gaming monitor?
Besides the most obvious use that many readers of this site would have (read: gaming), the main use of a portable monitor, for gaming or otherwise, is the ability to have a portable, easy-to-use external display available at all times. These lightweight displays can fit easily into bags, making them perfect for bringing along to social functions, LAN parties, the outdoors, or to a remote workspace.
For many professionals, they use portable monitors to increase their productivity. Business analysts, stockbrokers, designers, and even writers love to have a second screen they can refer to, as they work better when they can see more information on a wider area.
With all that said, let's take a look at some of the best portable gaming monitors you can get right now.
Asus ZenScreen MB16AC+ | Editors Choice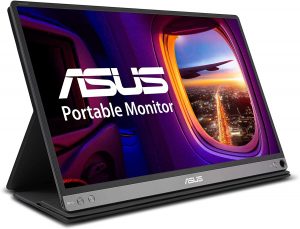 Our favorite of the bunch is the Asus MB169C+, the hipper, cooler brother of the earlier MB16AC. It packs a 1920×1080 resolution in a 15.6-inch screen, which is quite the accomplishment.
Gaming on a portable monitor such as this can get you as close to laptop-size as possible, at Full HD no less. And don't worry about other people sharing the screen with you, as the viewing angles on this thing is amazing – up to 3 people can view this screen, at 3 different angles, no problem.
Our favorite thing about this is the very simple and straightforward USB-C connection. It takes just one USB-C wire to stream audio, video, and power to the screen. Asus graciously provides customers with a protective sleeve/carrying case to keep them on the go without worrying about their monitors.
GAEMS M240 Portable Gaming Monitor| Best for Lag-Free Gaming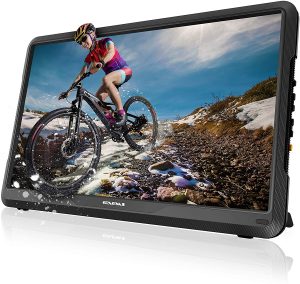 Yes, we know the name sounds liek a typo, but we think it's intentional. The GAEMS M240 is one of those "made for gaming" portable monitors, which makes it a shoo-in for this list. It's a 24-inch screen displaying a full 1920×1080 HD experience. It promises a lag-free gaming experience, and it does deliver.
An added surprise is its 4 speakers and subwoofer combo, giving you a great video gaming experience with the audio to back it up. If you're gaming somewhere silent, however, you can easily plug in your favorite pair of gaming headphones (we got some right here) into the audio jack and enjoy an isolated gaming experience.
It comes with PS4 and Xbox One compatibility straight out of the box, enough reason to make console gamers giddy with excitement as they add this to their Amazon shopping cart.
GAEMS Vanguard | Best Ready-to-Go Portable Gaming Monitor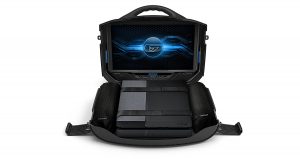 Think of the GAEMS Vanguard as the cooler younger brother to the M240. It's an 8-pound, 19-inch EL-LED portable gaming monitor with case that connects through HDMI to any device with that input. It features a built-in speaker system much like the M240, and a PGE sling and remote that makes traveling a lot more convenient.
It's certainly a looker, but it's not so hot with its 720p resolution limitation. The screen tech used here prioritized functionality over display. So while you get to carry around your console and game pretty much anywhere there's a power source, you're gonna have to make do without HD. But it's a small price to pay for gaming anywhere you want.
The case itself is a point of discussion as it's big enough to hold either an Xbox One or a PS4 slim, making this a great choice for portable console gaming. Your only problem now would be to find a power source.
Gechic 1101P Portable Monitor MiniDisplay | Best for Small Setups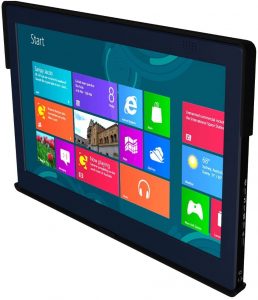 The Gechich 1101P isn't a portable gaming monitor in the strictest sense – but it's got a great screen that gamers will definitely love. Originally envisioned as a monitor for photographers and filmmakers, this portable monitor is designed to display up to 16.7 million colors on an IPS display – all in an 11.6-inch screen.
This monitor is great for very graphically impressive PS4 and Xbox One games, and even some Switch games. It connects via VGA, micro HDMI, and DisplayPort – which might mean you will need to pick up some adaptors along with this screen.
Unfortunately, the 1101P does not come with an onboard speaker or audio jack, which may mean you'll need to plug in your headphones or portable Bluetooth speakers onto your console directly if you want to hear anything.
Hori Universal HD | Best Lightweight and Portable Gaming Monitor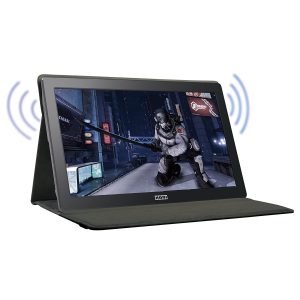 The Hori Universal HD is a bit of a misnomer – since it doesn't display Full HD, only 720p. However, that didn't stop it from displaying some of the best graphical fidelity a 720p screen can show. This 15-inch, 2.78-pound (!) workhorse connects via HDMI and is powered by an AC adaptor.
While it is limited by needing a power source, if you're using a console anyway – you're probably close to an outlet at least. This means that this portable gaming monitor with HDMI input is powerful enough to keep up with even the most graphics-intensive games on your PS4 or Xbox One.
The only poopy thing with this monitor is how its speakers sound like hollow milk cans. They're not the best; hell, they're not even good. We highly recommend that you connect these to a good soundbar, or maybe even some gaming earbuds if you want something a bit more low-key.
AOC I1659FWUX 15.6″ USB-Powered Portable Monitor | Best Value for Money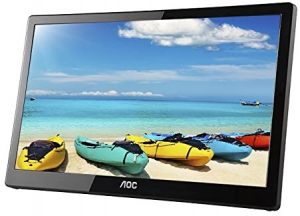 AOC has always been the go-to of the budget-oriented gamer, as their monitors are usually pretty affordable and give a lot of value for what you pay for. The E1759FWU (mouthful there) follows that tradition by bringing a large screen for those looking for a good low budget portable gaming monitor.
This monitor features a max resolution of 1600×900, rocking a 17.3-inch screen. It's a good enough size and resolution for casual gaming, a round of Smash with the boys. It's also good for streaming video on the go, or as a second screen for your laptop.
It's not full HD, which may disappoint some gamers. But if portability is an issue, then this is a fair trade-off for most. It doesn't need an external power source, just connect it through your HDMI port and you're golden. However, we still won't recommend using its onboard speakers as they can sound pretty quiet. The best bet is to bring headphones or earbuds along for the ride.
G-Story 13.3" HDR | Best Eye Care Certified Portable Monitor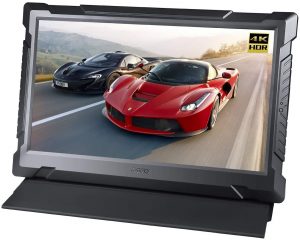 The G-Story 13.3" HDR makes our portable gaming hearts quiver with its amazing offers: USB-C and HDMI compatibility, 3840×2160 resolution…. What's not to love? Weighing in at 4.85 pounds, this portable gaming screen is an amazing find and a great screen for your portable gaming setup.
The 60hz refresh rate isn't bad, especially if you're not looking to play any competitive shooters on this thing. With its USB-C connectivity, you can even plug your smartphone in here and play your mobile games or emulators on a much bigger screen than your phone can. Best of all, it displays at 4k. At 4k! On a 13.3-inch screen! This'll never get old for us, especially as we mostly only see 4k on the best gaming monitors out there.
Whether you use this on a console, a smartphone, or as a supplement to your gaming laptop's screen, the G-Story 13.3" HDR is a great portable monitor for gamers and professional users alike.
Asus ZenScreen Touch | Best Touch-Enabled Portable Monitor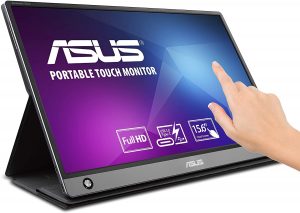 One look at the ZenScreen Touch and you might start asking yourself: do I really need a touch screen for my second monitor? The answer is yes, why not? It's one of the best selling points of the ZenScreen Touch, and Asus doesn't want you to discount this 14.2-inch monitor just because of its novelty.
This 1.8-pound portable monitor boasts a native resolution of 1920×1080 and a 60hz refresh rate, making it as close to a regular monitor as possible – except for the touch screen. If you're running Windows 10, this is a great way to explore the touch compatibility of this version of Windows – which is pretty good, as anyone with a Microsoft Surface would so happily tell you.
It allows for HDMI or USB-C inputs, and has a built-in battery – perfect for gaming on the go. It plugs into anything that uses these inputs, even smartphones. And that's one thing the ZenScreen Touch has going for it: it essentially transforms your Android's small screen into a behemoth, allowing you to play mobile games on an impossibly large screen. Now you'll be a force to be reckoned with on COD Mobile.
Why should I buy a portable gaming monitor?
If you have misgivings on buying a portable gaming monitor, that's understandable. It's hardly a need, and will only make sense if you really want to get into more "mobile" gaming. For those who play MMORPGs like EVE Online, they might want to get a portable gaming monitor to check their spreadsheets on the second screen as they mine on the main one.
For streamers who go mobile occasionally, having a portable gaming monitor connected to their gaming laptop can help them monitor their stream better, instead of tabbing in and out to check Twitch chat. And for gamers who know how to hook up power supplies to their pickups, it's so much easier to game outdoors by just bringing your console of choice – be it a PS4, Xbox One, or a Switch – and plug it into one of these mobile displays. Some displays even allow you to connect a smartphone, so you can enjoy your mobile games on a bigger display.
Are portable gaming monitors worth it?
Portable monitors, for gaming or otherwise, are worth it to the right people – but a nice to have for most. If you're a hardcore gamer that likes to bring their games around, then a portable gaming monitor will definitely give you a return on your investment pretty soon.
And if you're a professional, it's always worth it to have a second screen to monitor everything else – references on the second screen, main work on the main screen. If you were so pleased, you could even add a third screen and have so much more screen real estate. In the end, there is definitely always something to do on a second (or third) monitor, and that in itself can make the investment well worth it.
Wrap Up
And that is the list of our selections for the best portable gaming monitors! At the top of our list is the Asus ZenScreen MB16AC+. It's slim, truly portable, and has a decent screen size and a resolution good enough to do justice to your favorite PS4, Xbox One, Nintendo Switch, or PC games. If you're a gamer looking to expand your gaming sessions beyond your couch, then these portable monitors for gaming might be your next purchase.
What's your favorite of the bunch? And what other portable gaming monitors do you think should be on this list? Drop your thoughts in the comments and let us know!
Recap: The best portable gaming monitors for 2020.