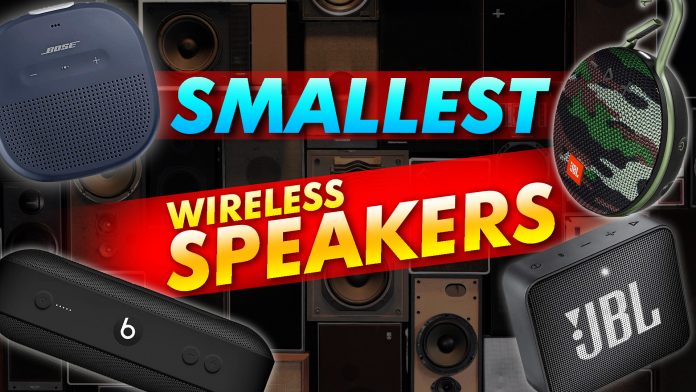 Music is a big part of your life. We get it, it is ours too. That is why it is no surprise if ever you own one of the best durable headphones out there, whenever you need your music fix outdoors. However, what if you need to share your awesome playlist with your friends?
You can't exactly bring an awesome soundbar on a camping trip, so what now? Good thing we can still expect to get our daily dose of quality audio wherever we go. Thank the heavens for portable wireless speakers, we can continue to enjoy the excellent sound without cumbersome luggage.
If you are looking for the smallest wireless speakers, you are in luck. We know you have no time to try them all, so we did all the heavy lifting. Now you can listen to music with your friends anytime, anywhere. The party should never stop, right?
Why Do I Need A Portable Wireless Speaker?
Need more convincing? Here are the reasons why you should own at least one of these excellent small wireless speakers.
You are a hiker and loves to bring great music during your nature trips. These speakers are small and can fit comfortably in your backpack.
You are an absolute beachgoer. You love to soak in the sun and party after. A small speaker will be your best buddy.
You do presentations on the go. Whether you are a professional or a student, a great sounding speaker is a lifesaver.
Music is your life. Need I say more? You love music, and cheap-sounding speakers offend you. Enough said.
18 small wireless speakers at a glance:
1. EWA A106 Pro Bluetooth Speaker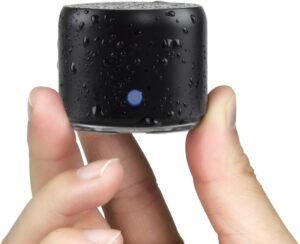 If you regularly listen to music and watch videos on your mobile phones, you want to achieve high quality and loud sound from your device. However, if you are also looking for a cool-looking gadget that also has a small profile to make traveling easy, then the EWA A106 Pro Bluetooth Speaker is for you.
The EWA A106 Pro is among the tiniest Bluetooth speakers you can find today. But even though the device is really small, the sound quality is still loud enough to make an indoor party possible.
Connecting the EWA A106 Pro is very straightforward as setting it up for the first time almost doesn't need any configuration at all. All you have to do to connect the Bluetooth speaker to your laptop, phone, or tablet is to turn the EWA A106 Pro on.
When the device is on, head over to your source device and search for new Bluetooth devices. Click or tap on "Pair" when the EWA A106 Pro is detected. That is it. In the event that you get a subsequent connection problem, restarting both the EWA A106 Pro and the phone should resolve it.
Playback time is very decent for something small because the EWA A106 Pro can last over five straight hours of use. In terms of standby time, the EWA A106 Pro will shut down automatically after 1 to 2 minutes of inactivity, to help extend battery power.
Keep in mind that the battery only has 700 mAh. And if you think this is too small, you are mistaken. You see, the EWA A106 is very small and its only job is to amplify the sound quality from a source device. And because it has very few processes to amplify the music, the battery will last long.
Depending on the power source, the EWA A106 Pro should last up to 2 hours to fully charge. And when the EWA A106 Pro is in charge, you can't use the device.
Now, let's talk about the sound quality of the device. Honestly, it doesn't sound spectacular like other high-end speakers but it does its job well and works for a small indoor music session. Note that the EWA A106 Pro may output deep bass but it isn't anything out of the ordinary.
The lack of a volume adjuster is a double-edged sword feature, as it can either be beneficial since you won't have to adjust the volumes on the device, or a problem since you will have to solely rely on your device's volume setting.
Apart from the size, the EWA A106 Pro comes with a small pouch with a ring so you can attach the pouch to your bag for a seamless travel experience. You can also rely on the A106 Pro to withstand a few splashes of water since it is rated IP67.
Unfortunately, the EWA A106 Pro doesn't have an SD card slot so you will have to rely heavily on hooking this up to a device. Moreover, the low battery alert can be a problem for users. Last but not least, the EWA A106 Pro doesn't have any microphone to pull out hands-free communication.
2. Insiq World's Smallest Portable Bluetooth Speaker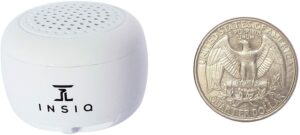 INSIQ's World's Smallest Portable Bluetooth Speaker really lives up to its name. The portable Bluetooth speaker is so small that it is the size of a quarter!
The device is so small you can bring the speaker conveniently anywhere you want to go. But, if you aren't careful enough, you can easily lose the device.
As long as you are always mindful of where you put the Bluetooth speaker, this should not be a problem at all. When connected to your mobile phone, you can play songs as far as 30 feet away from the source.
Apart from that, the world's smallest portable Bluetooth speaker doubles as a selfie button or even a separate button you can use to answer voice calls. And if you want to be a little more specific, you can choose among the seven colors available: gray, pink, red, green, blue, white, and black.
3. JBL Go 3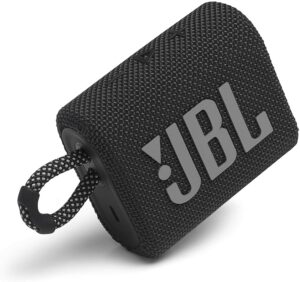 JBL is a trusted brand in the audio industry, and they have produced high-quality audio devices for years now. Even though a handful of JBL speakers are large, the JBL Go 3 isn't. That is because the Go 3 is designed to be portable and affordable.
Like most JBL speakers, the Go 3 comes in many colors ranging from gray, red, black, blue, or teal. The size is also very tiny that it can easily fit inside any bag or even your pocket! Thanks to the built-in hook on the side of the speaker, you can also hang the speaker from your bag.
The overall quality of the Go 3 is impressive as the materials feel very solid. Moreover, there is a tight netting that wraps around the speaker and a rubber finish on both sides of the Go 3. Keep in mind that the device has an IP67 rating, making it resistant to both dust and water.
In terms of sound quality, the Go 3 does have a bit of a punch in the bass department, although it isn't that great. Moreover, the overall sound quality is quite decent with less demanding tracks. Even though the Go 3 is small, the sound quality can go loud enough.
You might be thinking at this point that the Go 3 is the ultimate budget portable speaker on the list but one caveat of the Go 3 can be traced down to its battery life. Unlike other wireless speakers that can last up to 10 hours, the Go 3 can only last up to 5 hours, depending on the volume and usage.
It is also worth mentioning that the Go 3 uses upgraded Bluetooth 5.1 now compared to the Go 2's Bluetooth 4.1. But as long as the battery life doesn't bother you as much, then the JBL Go 3 will surely be a solid pick if you want a wireless speaker that sounds great, is compact and has a solid build quality.
4. Bose Soundlink Micro
Best Pocket-Sized Wireless Speaker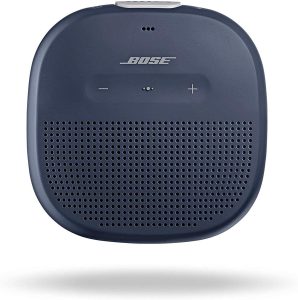 The Bose SoundLink Micro is definitely the smallest in its brand line. It is the most affordable model as well, but still a bit expensive compared to competitors. But that is to be expected since we are talking about Bose. Good thing that you get your money's worth as this small speaker delivers.
It has a crisp, well-balanced audio profile. Bassheads will also love its robust lows, which are impressive considering its size. It has a custom-engineered transducer and miniature dual-passive radiators that guarantees a rumbling bass. Wide-open spaces will not daunt this speaker as it can still play your favorite songs loud and clear. Though the audio is not perfect, it is still impressive.
You can also use this speaker to answer phone calls. It has a built-in mic so you can be assured to have a clear voice during calls. The Bose SoundLink Micro also supports voice prompts. Aside from taking calls, you can also access your smartphone's virtual assistant hands-free. It has a range of 30 feet, so you can move the speaker or your phone around without losing your Bluetooth connection. Now you can party anytime wire-free. However, the battery is not that great at only 6 hours. Still pretty decent, but some competitors offer more.
Design-wise it looks stylish and minimalist. It is also a bit rugged looking, perfect for outdoor activities. This model also comes in three color variants, Black, Bright Orange, and Midnight Blue. The surface is matted and pleasant to touch. It also comes with a tear-resistant strap for so you can quickly hook it anywhere when outdoors. If you plan to bring it to the beach, you don't have to worry about having water accidents. This small speaker is completely waterproof with an Ipx7 rating to boot.
5. XLEADER SoundAngel (2 Gen)
Best Affordable Small Wireless Speaker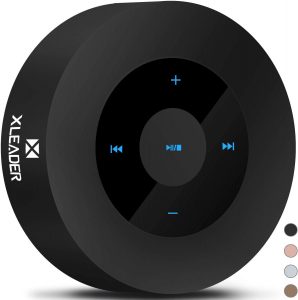 The XLEADER SoundAngel (2 Gen) boasts an excellent design that is perfect for the office, school, and home use. It also has a Smart Touch Screen technology for easy controls. If you haven't already noticed, it does bear a striking resemblance to the Amazon Echo Dot (International Version).
Not necessarily a bad thing as the Echo Dot's design is very stylish and highly functional. Like the Echo Dot, it also offers touch controls to easily find songs in your playlist without breaking a sweat. It also boasts a super compact design and measures at just 32 x 84 x 84 mm. Quite small considering that it is packing a 40mm 5W driver, a subwoofer resonator, and a digital audio processor.
Sound-wise, it is pretty decent. Not something audiophile will get excited about, but enough for listening to everyday music. It does not sound muddy even in high volumes, which is quite impressive. However, the bass is quite not there, so don't expect epic beat drops.
The wireless connection is also reliable and supports Bluetooth 5.0 technology. It also has a few power-saving features. You can check the remaining battery, the XLEADER SoundAngel (2 Gen), on your smartphone. So you will know when its time to juice up. The speaker will also automatically shut down when the Bluetooth is disconnected for 10 minutes. Super helpful when conserving battery or when you forgot to turn off after use.
However, even without these energy-saving features, its built-in 1200mAh is still the real deal. You get to enjoy up to 15 hours (at 50% volume) before needing a recharge.
6. Sony SRS-XB01 Compact Portable Bluetooth Speaker
Best Small Wireless Speaker for Minimalists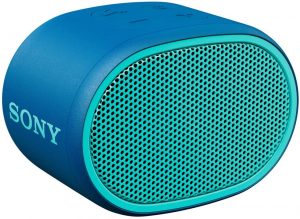 The Sony SRS-XB01 is a compact circular compact Bluetooth speaker. It is also minimalist in design, with just its speaker grilles in front and controls at the back. If you are a minimalist yet want a bit of spice in the design, this model comes on four color variations; Black, Blue, Gray, and Red. Overall, it has a fresh and simplistic design that oozes class.
Bringing this speaker around is no problem at all. It is lightweight and weighs at just 154 grams. Though pretty light, it does not feel cheap, the material used on the speaker feels premium. The Sony SRS-XB01 feels solid with a matte finish. The buttons on the back are rubberized, and there is also a gasket that covers the USB charging port and the audio input.
Like most wireless speakers, the Sony SRS-XB01 is water-resistant with an IPX5 rating. Which makes it a good companion for out of town beach trips. With a battery life of over 6 hours, you can be sure to enjoy great music while on the road and the beach. Sure it is not that much, but it is pretty average for wireless speakers of this size.
The audio performance is pretty good. The bass is there but not that powerful compared to bigger speakers. The mids and highs are not muddy and pretty clear. It is quite a treat considering how small this speaker is. It also sports a built-in microphone and functions as a great hands-free device. You can easily answer phone calls from the moment it starts ringing even though you are in the middle of your playlist.
Unfortunately, the microphone is not that great. It does not pick up your voice that clearly, and you always have to make sure to speak close to the speaker to be heard well. But aside from this, the Sony SRS-XB01 is still a highly functional speaker that sounds decent despite its price tag.
7. Anker Soundcore Mini Super-Portable Bluetooth Speaker
Best Valued Small Wireless Speaker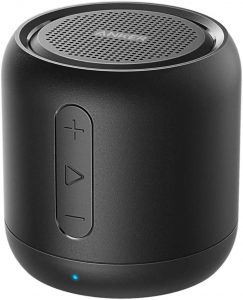 The Anker Soundcore Mini is an excellent offering with an attractive price tag to boot. Anker does a pretty good job of maintaining its reasonable price considering its build and sound quality. The shell is made of metal, which makes the Soundcore Mini look classy. It also fits perfectly in your hand, so carrying it around is no problem at all.
This speaker is definitely one of the smallest speakers that use a passive radiator. It makes the Soundcore Mini's bass more powerful compared to speakers of this size. Though the mid and highs are there, the bass does feel a bit overpowering.
However, be careful t listening to max volume. As it can distort the audio a bit. But overall, Anker still does a pretty good job audio-wise as this mini speaker packs a punch thanks to its active driver and a passive radiator.
With its price point and features, the Anker Soundcore Mini is still an excellent budget pick. It's FM radio, and MP3 player add-ons is a clever and surprising, extra. Though the Bluetooth leaves much to be desired, considering its only 4.0, it is still a great buy.
8. Sony SRS-XB23 EXTRA BASS Wireless Portable Speaker
Best Wireless Speaker for Beach Goers
Sony is one of the frontrunners in the portable Bluetooth speaker industry. It shows, as this speaker looks, classy, stylish, and fun with its five different color offerings. It also comes in six color variations, Black, Coral Red, Olive Green, Light Blue, and Taupe. Looking like fashionable tumbler, SRS-XB23 is an excellent choice for stylish people on the go.
This cylindrical speaker measures at just 3.0 x 8.6 inches, pretty slim and small to clip on your bag or tuck in your luggage. If you look beneath the wraparound cloth grille, you will find the dual full-range drivers.
These babies deliver a frequency response of 20Hz to 20kHz. With both ends of the speaker housing passive radiators, the SRS-XB23 can efficiently pump out extra bass. It is powerful to provide some loud thumps but not solid enough to excite bassheads.
The Sony SRS-XB23 is also pretty durable. It sports an IP67 rating, which means that it is dust resistant and can survive being submerged to a meter deep water for 30 minutes. You can even put it under running water and remained unscathed. Though make sure to keep the snap-shut cover firmly in place, so water can't enter the cable ports. Plus, this speaker is saltwater-resistant, so bringing it to the beach is no problem at all. Overall, for a speaker this size and price, Sony SRS-XB23 offers a great deal.
9. Tribit XSound Go Bluetooth Speaker
Best Wireless Speaker with the Longest Battery Life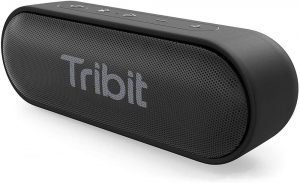 Sure the Tribit XSound Go's design is a bit generic, but don't let that fool you. This pill-shaped speaker, though humbly designed, is the real deal. It not just sounds good, but it is also durable enough to take beatings and still walks away fine.
The control layout is simple as well, you can find the speaker's controls on top, and around back the silicone flap that covers the charging port and the 3.5mm audio jack—a no-fuss, straightforward design. The Tribit XSound Go also comes with a lanyard that makes carrying around and strapping it on bags convenient.
Audio-wise, the overall tonal balance of this speaker highly favors mids and vocals. The highs are clear and defined as well. However, the bass is not that powerful bass. Nevertheless, the Tribit XSound Go sounds impressive considering its price tag, and that counts. However, refrain from playing music at max volumes as the sound tends to distort a bit.
But then again, what makes the Tribit XSound Go shine more than its competitors is its 24 hours of playtime. This is pretty robust, considering its size and price point. Now you can continuously listen to your playlist without worrying about juicing up often. When you did deplete its battery, prepare to charge it for a pretty long time. That is to be expected considering its extended battery life.
Like most Bluetooth speakers, the Tribit XSound Gois waterproof. Rated at IPX7, it is water and dust resistant, so a day partying near water is no problem.
Overall, the Tribit XSound Go offers excellent tonal balance and a decent amount of bass that lasts all day. Budget wise the XSound Go is a great steal. Sure the design may not be much, but the audio performance is what matters most.
10. JBL Clip 3
Best Clip-On Wireless Speaker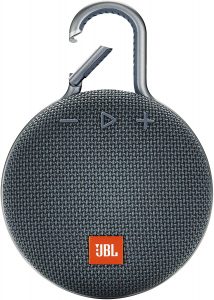 On the outside, JBL Clip 3 is quite identical to its previous version. However, further examination suggests that there are indeed some subtle differences. Yes, both versions have a carabiner. But unlike the older JBL Clip, this newer version has the carabiner built into the speaker's frame.
The controls of the JBL Clip 3 is quite handy. It has three playback buttons that are embedded on the front side fabric of the speaker. The back of the speaker is durable and made of solid plastic. You can be sure that this speaker will be able to keep up with your active lifestyle. It also comes with 12 different colors and designs. For those who love hiking and being with nature, the Camo version is for you.
As expected from JBL, the sound quality of Clip 3 is superb. The mid is excellent and well defined, while the highs are bright. However, if you like bass-heavy music, this might not do it for you. Since it is relatively small, the drivers were not able to give the bass enough depth.
Overall, Clip 3 is a good pick for small clip-on speakers. Not surprising, knowing that the JBL Clip series has continuously been a great choice. Clip 3 also boasts a much robust battery life at over 16 hours of playtime. Whether you love the outdoors, or you just want to hang it on your shower during your baths, Clip 3 will not disappoint.
11. Ultimate Ears WONDERBOOM 2
Best Wireless Speaker with a 360 Degree Audio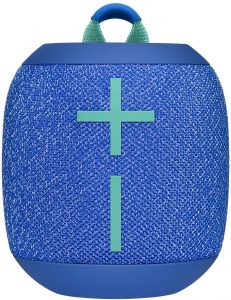 Most wireless speakers only have audio on the front part. This can be quite annoying, especially if you plan to put this speaker in the middle of the room. If you want a speaker that pumps music 360 degrees then, you will love the Ultimate Ears WONDERBOOM 2. Now you can enjoy great audio in all directions, regardless of the speaker's location.
This speaker is also great for outside as it features an outdoor boost. Just simply push the outdoor boost button, and the loudness will dramatically increase. This means solid audio clarity that is perfect for outdoors, aside from sounding great even when outside, it can also endure the elements. It has an IP67 rating which means that it's waterproof, dustproof and it even floats. You can freely use it near water without fear.
Sound-wise, it does not disappoint. It can keep up with your parties and available in mono or stereo mode. The bass is pretty decent, and the mids and highs are not muddled together. It is pretty great for listening to pop and rock. With its 13-hour battery lifespan, you can be sure that your beach party or trail hikes are filled with music.
Overall, the UE Wonderboom 2 offers a decent bass response and great battery life. The Outdoor Boost also makes it a more reliable companion for outgoing music lovers. Its ruggedness, audio quality, and other features further solidify the Wonderboom 2's position as one of the best smallest speakers you can buy.
12. Tribit StormBox Bluetooth Speaker
Best Wireless Speaker with Great Bass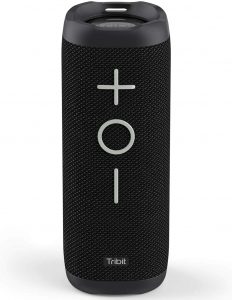 The Tribit StormBox Bluetooth Speaker packs solid bass, considering its size. Measuring 3.87 x 3.87 x 1.37 inches and weighing at just 9.9 ounces, you will be impressed by its output. It is also weatherproof with an IP67 rating, this means that this small speaker is dust and water-resistant. For convenient carrying and hanging, the Tribit StormBox is equipped with an integrated rubber strap.
Aside from its excellent design, the Tribit StormBox is a good pick thanks to its audio performance. This small speaker can deliver superb bass response compared to its competitors of the same size class. Equipped with woofers on each end of this cylindrical speaker, the Tribit StormBox managed to sound big despite its size. The overall audio is load, solid, and not muddled at all. It also managed to limit audio distortion at max volumes. Unfortunately, the battery life is not that great at only 8 hours.
Overall, the Tribit StormBox is a weatherproof, compact Bluetooth speaker that offers superb audio for its size and price tag. For a reasonable price, the StormBox provides quality and durability, which is a must for outdoorsy music lovers.
13. Soundcore Flare Wireless Speaker by Anker
Best Wireless Speaker with a Great App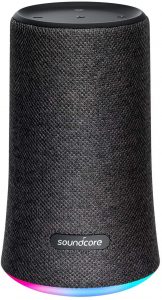 If you are an RGB and LED light shows fan, then you will find the Soundcore Flare Wireless Speaker by Anker interesting. It sports an LED strip on the bottom part of the speaker that follows your music's beat. Quite the gimmick but still definitely eye candy.
Design-wise, the Soundcore Flare is stylish yet not over the top. The build quality is solid and can endure abuse before crumbling down. It feels rugged and will definitely survive the outdoors. With its IPX7 rating, you need not worry about it, making it an excellent speaker to take to the pool or beach.
For the audio quality, the Soundcore Flare is well-balanced, but highs are a bit harsh, particularly when EQ is set to flat. If you are a basshead, enabling the Bass Up mode helps produce solid lows. Overall, the Anker Soundcore Flare is quite loud considering its size. The battery life is pretty decent at 12 hours. However, if you want to further extend its battery life, disabling the light show is the best way to do it.
Without a doubt, the Anker Soundcore Flare is an affordable package of both quality and performance. For its price point, the Flare gives good audio, a durable waterproof build, and superb user experience. It is also compatible with the newest Soundcore app. This app is simple-but-powerful, which allows complete customization of your Flare. In this app, you can easily adjust sound profiles, lighting, and more with your finger's tap.
14. Cambridge Soundworks Oontz Angle 3 Plus
Best Lightweight Wireless Speaker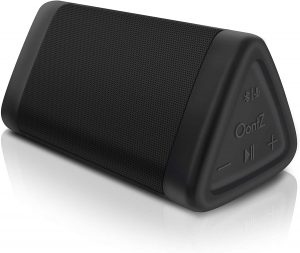 If you want a lightweight wireless speaker, then the OontZ Angle 3 is your guy. Weighing at just 9oz, this small speaker can fit right into your bag without you feeling its weight. This speaker is manufactured by a US-based audio company, Cambridge Sound Works. They have managed to pack a great sounding speaker in a pretty small body.
It has a clear overall audio quality, with defined mids and sharp highs thanks to its dual precision acoustic stereo drivers. The bass response is also enhanced by a passive bass radiator and reinforced by its triangular design. Unfortunately, even with the Volume Booster on the Cambridge Soundworks Oontz Angle 3 Plus still lacks the firepower for bigger areas.
But aside from that, this speaker still delivers. It is durable and will survive harsh conditions. Rated with an IPX5 certification, this speaker can endure getting wet, but make sure to avoid it being fully submerged. It also has a decent battery life of 14 hours so it can be a party buddy or a hiking buddy with no problems.
15. Beats Pill+ Portable Wireless Speaker
Best Stylish Wireless Speaker

Beats has been in the sound industry for more than a decade, and it has produced tons of iconic audio devices, and the Beats Pill+ Portable Wireless Speaker is one of them. With two stylish variants, matte black, and white, the Pill+ boast a sleek, elegant yet minimalistic design that will fit posh parties. Aside from the all too familiar Beats logo on the upper panel, the controls are neatly looking, adding to its simplistic charm.
Measuring at just 2.5 x 2.7 x 8.3 inches, the Pill+ has an elongated, slender body that will easily fit in your bag. It also includes a drawstring tote bag for easy transport. Since Apple acquired Beats in 2014, the standard micro USB port is replaced with a Lightning port. The battery life of the Pill+ is 12 hours, which is pretty decent for wireless speakers.
Audio-wise, the Pill+ delivers solid bass at average volumes. However, in max volumes, you will notice a slight distortion. The mids and highs, or the other hand, are well balanced. Overall, the audio is superb and will earn a nod to seasoned audiophiles.
Nevertheless, the Beats Pill+ offers clean audio that will give justice to your playlist. Its durable build is the perfect companion to your outdoor escapade, and its stylish design won't be out of place in a posh environment as well.
16. DOSS SoundBox Touch Portable Wireless Bluetooth Speakers
Best Touch Control Portable Speaker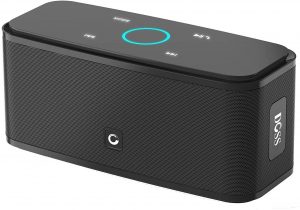 At first glance, the DOSS Soundbox is aesthetically pleasing and oozes premium design. It comes with five color variants, so this speaker will undoubtedly match any mood and personality. The touch controls are a pleasant addition to this portable design that boosts its sophisticated charms. Even though it comes with a competitive price, it does not look cheap. The DOSS Soundbox is protected by an aluminum grill that acts like its sturdy shell.
The touch controls are its primary selling point. They look great and respond quickly to light touches. With these controls, you can easily control your playlists with a simple touch system. Adjusting the volume is pretty cool; just make a rotating swipe on the blue ring, and you are good to go.
Sound-wise, the audio quality is rather good. Mids sound sharp, and highs are clear. It also has decent bass, not skull crushing good, but enough for some beat drops. Overall this small speaker delivers for its price and will not disappoint. If you are just planning on using this in your office or at home, then the DOSS Soundbox is an excellent choice.
17. JBL Charge 4 Waterproof Portable Bluetooth Speaker
Best Premium Wireless Speaker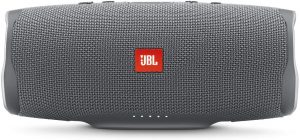 JBL is an institution in the audio industry, so seeing another model from its brand is no surprise at all. The JBL Charge 4 is another offering from this company that looks premium and sounds premium. Well, it does come with a premium price tag, so you would expect as much.
Like its predecessor, the Charge 4 still sports a cylindrical shape and is equipped with exposed woofers. It is pretty cool to watch, especially when the bass is kicking. JBL claims that Charge 4 can play non-stop for up to 20 hours, which is pretty impressive.
The sound quality of Charge 4 is also superb. JBL equipped this speaker with a single driver, but it still sounds pretty powerful. Its passive radiators ensure that users will get a satisfying bass output. Like the older versions, Charge 4 performs better in larger and open areas. So if you are planning to bring your party outside, this speaker is a great choice.
Ways to Improve Your Wireless Speaker's Audio
Factors to Consider When Buying Speakers
We've asked some audiophiles what factors do they consider when buying speakers. Here's what they have to say.
Being a founder of a Music Company, I think first you need to decide if you want your main source of the music from CD, MP3 or Vinyl? If CD, buy a dedicated CD player or CD transport and a DAC if you can afford it. If MP3 or Itunes, I recommend a dedicated DAC. If Vinyl, gets a nice belt drive unit but you also need a phono stage preamp.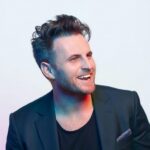 Sam Browne
CEO/Founder
http://www.findadj.co.nz/
I'm the son of Africans so I'm always looking for a fullness of sound, especially in the low-end. I'm looking for rich bass that permeates my soul, clarity of vocals and a crisp pop for percussion. I'm looking for that experience that makes me feel connected to all of the humans of time immemorial who came before. A good speaker is a sublime experience. But
they are rare. When you do get them, they change your life. I look for a speaker that can transcend that higher plane, that can resonate with my very cells.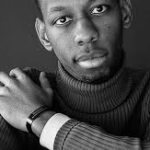 Brenton Weyi
Writer. Thinker. Renaissance Mind.
http://brentonweyi.com
Funny enough, all of my previous speakers have come as donations from people cleaning out basements and storage units. My uncle sent me the current pair, but I've also received them from friends, ex-lovers, and even a set from my landlord.
Might be an unorthodox answer, but I think that's what you wanted!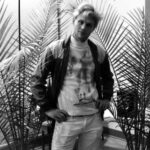 Ryan Lambert
flickpicking.org
I'm the founder of a skiing blog but also a huge audiophile. I love my music loud and clear and audio quality is a huge factor in any purchase I make.
For speakers, there's one main factor that I consider – low end. I really believe that you can judge the quality of a speaker by the low end they put out. I'm not all about the bass – there needs to be a good blend of mids and treble as well. But if that low end hits the spot, I'm on board.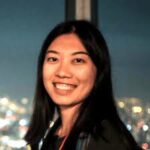 Christine Wang
Founder of The Ski Girl
https://theskigirl.com/
I'm NOCASINO, a hip hop producer and audio engineer, and when buying speakers, my main concern is their frequency response and subwoofer size. I look for speakers with a flat frequency response that are big enough to reproduce bass sounds accurately. I do most of my audio work in my bedroom, so I find that 7 inch speakers have the best low end without overpowering the room. Another thing to keep in mind is what kind of inputs are on the back. Not all speakers are created equal and the last thing you want is to get your speakers and not be able to hook them up to your sound system.
NØCASINO
@nocasinobeats
@nocasino
As a producer, DJ, & music enthusiast a key to my listening experience is ensuring even treatment across the audio spectrum. This means no bass boosting for heavy low-end songs and no mid-brightening for pop vocals. This is measured by researching the frequency response graph of the speakers you're considering.
This is an absolute must for any creative because it helps ensure that how you hear your music in the studio will be as true as possible across multiple sound systems. And it's important as a listener to appreciate the true levels at which the artist intended their mix to be heard.
Casey Bauer
The Channel ZERO Team
There's only two things I consider when I'm considering a speaker purchase: sound quality and useability. As a DJ I like to bring the best sounding equipment I can to any mobile gig, it's part of my responsibility to provide an audience with a sound experience..can't have weak distorted bass and painful highs, so quality is key. That being said I've also got to be
able to get sound there, set it up, and use it quickly. This is even more important when I'm playing two roles, setting up sound at an event before picking up my camera to be the photographer for the night. Ease of use, and good sound. I cannot compromise on those two areas.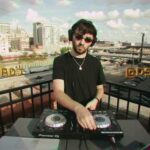 Sam Siegel
Photographer and DJ
https://www.instagram.com/dslrdj/
Speakers: Daniel Giulianti, a teenage electronic music producer, has a simple rule for speaker selection:
For me, speakers must be neutral; I don't want any colorization or frequency additives when I'm listening to a mix I'm working on. My best work demands a flat response across all frequencies. While perfection in that regard is not possible, I search out studio-grade monitors that will let me hear any mistakes I've made in producing a track, so that I can fix it. In terms of size, it depends on the room I'm working in. My larger home studio has both 5 inch and 8 inch monitors, which I switch between to get a better understanding of how my music will sound on various sizes.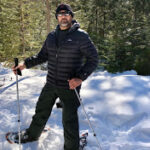 Mr. Stacey A. Giulianti, Esq.
Agent for Daniel Giulianti aka "Kill the Kitty"
Kill the Kitty – YouTube Playlist
Wrap-up
Finding small wireless speakers can be a chore, especially if you don't know what you are looking for. That is why I'm sure that after browsing this list, you will get an idea of what suits you best.
Are you looking for something waterproof? Lightweight? Or stylish enough to bring around and show off to your friends? Whatever your preferences are, I'm sure that you will soon mee the wireless speaker of your dreams.
TL;DR – These are the Smallest Wireless Bluetooth Speakers for 2021: