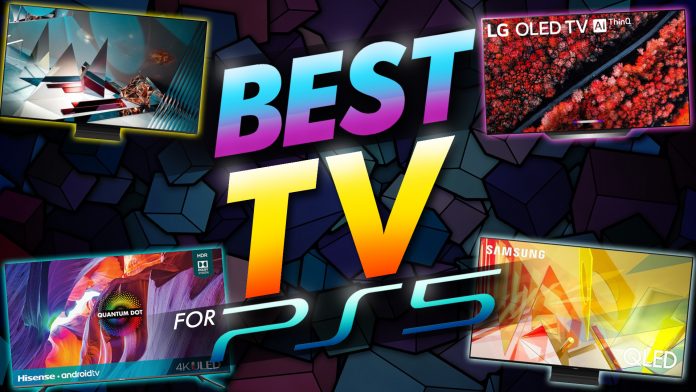 Here's a fun fact you may not know:
The next-gen consoles pack more power than most gaming monitors can handle. At the time of this writing, there are no available monitors that support HDMI 2.1, besides the ones announced by Eve and Asus.
Currently, TVs are your best bet to future-proof your holiday investment. But picking the right one won't be easy, as there are technical considerations that may make or break your purchase.
In case you would still rather pick a gaming monitor over TVs, then you should consider checking our best monitors for Xbox Series X article. Don't worry, it's still compatible with the PS5 console 100%.
In this article, we cover everything you should know when looking for the best TV for the PS5.
What is New with the PS5?
Arguably the most surprising upgrade for the PS5 is its support for 120 Hz at 4K resolution via HDMI 2.1. If you're careless when shopping for a new TV, you won't get to experience the console's full capabilities.
The Best TV for PS5 to Maximize Experience
1. LG C9 4K OLED TV
Best 4K HDR Monitor for PS5 and Xbox Series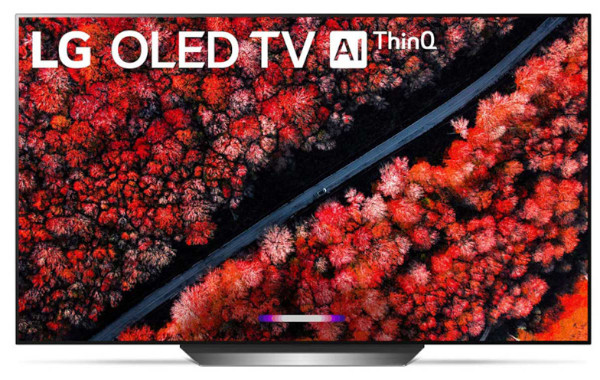 Tech Specs:
Panel Type: OLED | Screen Size: Ranges from 48 in, 55 in, 65 in, and 77 in | Resolution: 3840 x 2160 (4K) | Refresh Rate: 120 Hz | Response Time: 1 ms | Variable Refresh Rate: N/A
The LG C9 4K OLED TV is an excellent option that lets you make full use of the PS5's powerful hardware. It can push frames as high as 120 Hz and an OLED panel that offers stellar image clarity, outstanding color reproduction, and smooth visuals. Top that with its Dolby Vision, HDR10 capability, and HLG for wide dynamic range, and you're guaranteed an immersive gaming experience.
This TV comes with plenty of size options, including 48 inches, 55 inches, 65 inches, and 77 inches. Unfortunately, LG doesn't indicate if it supports AMD FreeSync or NVIDIA G-Sync to address screen tearing and stuttering.
On the upside, you shouldn't have problems playing games from different angles, as this TV has wide viewing angles (nearly 180 degrees). Moreover, HDR allows the display to show a more comprehensive color range to further enhance image quality.
In terms of build quality and design, this TV weighs 55.6 pounds without the stand, and it can be mounted on the wall since it's VESA-compatible. It also has elegantly thin bezels that contribute to making your viewing experience more immersive. Despite the sleek design, it holds firmly in place, whether mounted or placed on a table.
When it comes to connectivity options, this TV has four HDMI 2.1 ports, three USB ports, an RF connector, and tuner for the antenna, one composite input for legacy hardware, and an optical audio output.
This TV has a high peak brightness and extremely smooth movements on the screen.
So, how does it perform in competitive gaming? The TV supports every feature a competitive gamer could ask for, including 10-bit color, 120 Hz refresh rate, HDR10, and support for Dolby Vision content.
One of the features we appreciate the most on this TV is its capability to automatically switch to game mode for lower latency. Just turn the console on, and the mode is instantly enabled.
Everything about the TV is exceptional, and it should deliver the gaming experience you deserve.
2. Samsung QLED Q90T Series
Best 4K FreeSync Monitor for PS5 and Xbox Series X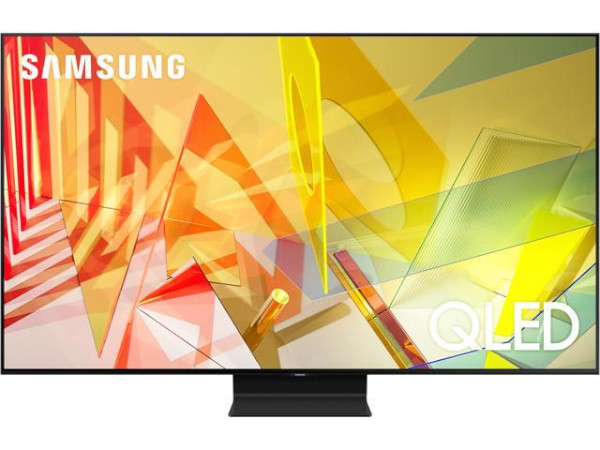 Tech Specs:
Panel Type: IPS | Screen Size: Ranges from 55 in, 65 in, and 75 in | Resolution: 3840 x 2160 (4K) | Refresh Rate: 120 Hz | Response Time: 4 ms (GtG) | Variable Refresh Rate: FreeSync
If you want to feel the PS5's sheer power, a premium 4K TV like the Samsung QLED Q90T is ideal. This TV comes in different sizes: 55 inches, 65 inches, and 75 inches– all of which ensure a vivid and comprehensive view of your games.
The Q90T is designed to display the best color reproduction in a well-lit environment, with its high peak brightness. It has a refresh rate of 120 Hz, which is a significant upgrade if you've been playing on a 60 Hz display all your life. Paired with AMD's FreeSync technology, you should experience nothing but visual smoothness in fast-paced competitive games.
It may not have a lightning-fast response time like our top pick, but 4 ms (GtG) is still excellent, even for competitive gaming.
As for its looks, you will be greeted with a very familiar design, with a base reminiscent of an iMac pedestal stand. You can't make adjustments like pivot, swivel, or tilt, but it has excellent viewing angles. If you want, you can also mount this on a wall since it's VESA-compatible.
The Q90T has an HDR option that can drastically improve image quality and enhance color reproduction for gaming and cinematic use.
3. Samsung Q800T Series 8K TV
Best 8K FreeSync Monitor for PS5 and Xbox Series X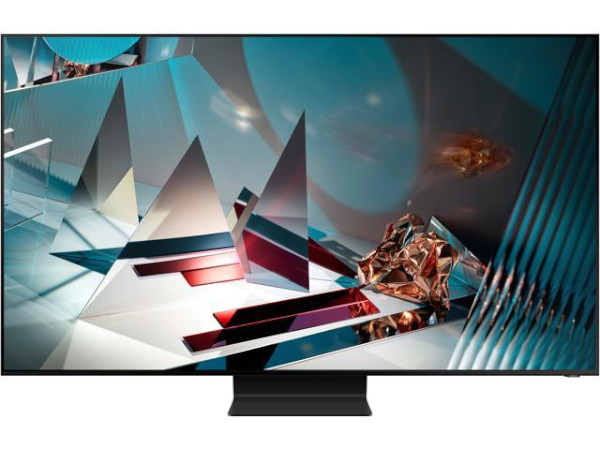 Tech Specs:
Panel Type: VA (QLED) | Screen Size: Ranges from 65 in, 75 in, 82 in | Resolution: 7680 x 4320 (8K) | Refresh Rate: 120 Hz | Response Time: 1ms (GtG) | Variable Refresh Rate: Free-Sync
The first thing you might notice about this monitor's spec sheet is its panel type. VA panels tend to be the least-preferred panel type since they don't perform on par with other types in terms of color accuracy and response time.
However, the case of the Samsung Q800T Series 8K TV is different, especially when you account for the latest HDMI 2.1 connectivity features.
Samsung promises a fast response time and incredibly low input lag performance for the Q800T. On top of that, it can output 120 Hz on 8K resolution. It also comes in three different sizes to accommodate your needs and preferences. You can choose to get the 65-inch, 75-inch, or 82-inch variant. Since it supports AMD's FreeSync technology, expect smooth gameplay without any screen tearing.
The Q800T features premium HDR10+, which means it can output deep contrast and stellar brightness for a highly immersive experience. Color reproduction also isn't compromised, as it covers 100% color volume with Quantum Dot. Simply put, this TV is not just suitable for gaming, but also for cinematic and multimedia use.
The PS5 also supports 8K resolution, which means this display meets the demands of the powerful console. Top that with Auto Low Latency Mode (ALLM), and you're guaranteed a smooth and lag-free gaming experience.
With stellar image clarity, excellent color reproduction, low input lag, high refresh rate, and native 8K resolution– you get a TV that can push the PS5 to its limits.
4. TCL 55R635
Best Budget 4K Monitor for PS5 and Xbox Series X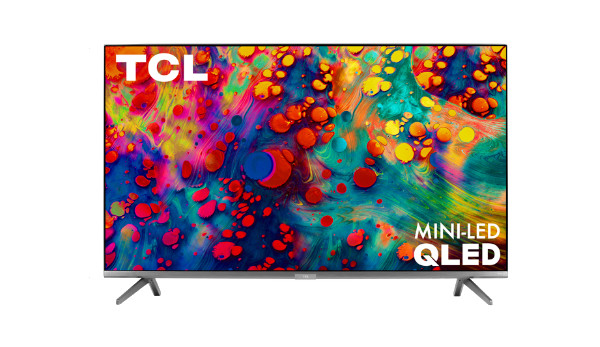 Tech Specs:
Panel Type: VA | Screen Size: Ranges from 55 in, 65 in, and 75 in | Resolution: 3840 x 2160 (4K) | Refresh Rate: 120 Hz @ 1440p, 60 Hz @ 4K| Response Time: N/A | Variable Refresh Rate: VRR/120Hz
Like most of our roundup articles, we make it a habit to include a couple of budget alternatives for people who can't afford premium options.
The first budget option is the TCL 55R635. It may use an LCD panel, but it's equipped with quantum dot enhancement and a film of nanoscale crystals that can compete with Samsung's QLED displays. You'll get vivid picture quality, deeper contrast, and stellar color accuracy.
It also features other desirable features, such as HDR, Dolby Atmos, Dolby Vision, and a microphone-enabled remote control that supports Roku voice search.
Unfortunately, TCL didn't provide any accurate response time nor indicate the supported Adaptive-Sync technology. Moreover, this monitor can't hit 120 frames per second on 4K resolution, which is really a bummer since the next-gen consoles can output up to 120 frames per second on 4K resolution.
Fortunately, the 55R635 does support 120 frames per second when downscaled at 1440p resolution. Its other notable features include THX Certified Game Mode, Auto-Low Latency Mode (ALLM), and Variable Refresh Rate (VRR).
In terms of performance, we can easily compare this with the feature-packed Samsung Q80T QLED TV. They both feature quantum dot technology for significantly better color accuracy, but the 55R635 is significantly cheaper.
5. Hisense 55H8G Quantum Series
Best Ultimate Budget Option 4K Monitor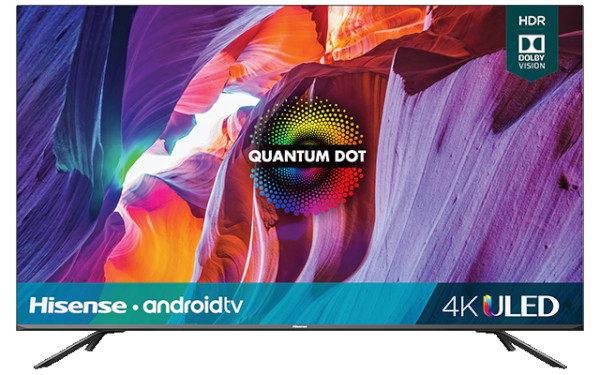 Tech Specs:
Panel Type: LED | Screen Size: 65 inches | Resolution: 3840 x 2160 (4K) | Refresh Rate: 60 Hz | Response Time: N/A | Variable Refresh Rate: N/A
Our second budget option on the list, and probably the most affordable one, is the Hisense 55H8G Quantum Series.
Even though it lacks features that come with HDMI 2.1, including 120Hz at 4K resolution, it delivers excellent color and contrast performance. On top of that, it also comes with a generous assortment of other cool features at a very affordable price tag.
Note that the out-of-the-box color setting isn't well-optimized, but it does offer stellar color contrast once adjusted. The panel supports 4K resolution with Dolby Vision HDR and HDR10. It also offers other smart features, such as voice control, pre-installed streaming apps, and an abundance of connectivity options.
The design of the 55H8G is borderline basic and boring. There's nothing spectacular about it, but the bezels are noticeably thin at only 0.7 inches. It is supported by two sleek metal legs that can accommodate smaller tables.
If you don't fancy placing your TV on a table, you can also mount the 55H8G onto a wall, as it comes with VESA-compatible holes. At the back, you'll also find four HDMI 2.0 ports and two USB 2.0 ports.
Aside from HDR and 4K resolution at 60 Hz, this TV also comes with two 10-Watt speakers that support Dolby Atmos. If your headsets or earphones are out of commission, using these temporarily until you get a replacement should be enough.
Overall, the 55H8G is a great budget option if you're in need of a new 4K TV for your PS5. Even though it cannot output 120 Hz, it still offers plenty of other features to make up for its drawbacks.
Things You Should Know About Before Buying a TV for PS5 Gaming
Picking the right TV for your PS5 is slightly different from choosing a gaming monitor.
You see, the new console is capable of features you'd typically find on high-end PCs, such as RTX and SSDs. It is also packed with more powerful hardware that current gaming monitors can't handle.
That's why you must consider specific things ahead to get the best performance out of the PS5, and we'll cover them briefly below.
Out with the Old (HDMI 2.0), in with the New (HDMI 2.1)?
The PS5 can output up to 120 frames per second at 4K resolution. In contrast, HDMI 2.0 can only display up to 60 frames per second. It nearly triples the bandwidth of HDMI 2.0, hitting maximum speeds of 48 Gbps compared to 18 Gbps.
If HDMI 2.1 TVs are way out of your budget, displays with HDMI 2.0 will work just fine.
Refresh Rate
The number of times the TV refreshes images on the screen per second is called the refresh rate and is measured in Hertz (Hz).
The higher the refresh rate, the smoother images will look on the screen. If you've been playing on a 60 Hz TVand haven't tried playing on a 120 Hz display (or 144 Hz), the difference will be night and day.
If a TV has an HDMI 2.1 port, that means it is capable of pushing 4K at 120 Hz. But if you don't have a monitor that supports this connectivity option, you can set the resolution settings down to 1440p or 1080p to get over 100 frames per second.
What Adaptive-Sync Technology is it Compatible With?
VRR (Variable Refresh Rate) or adaptive-sync, is a display technology integrated into HDMI 2.1 connections. This feature has been available in computer monitors for many years, and it eliminates screen tearing for smoother visuals.
Both the PS5 and Xbox Series X will use a semi-custom AMD GPU. That doesn't mean they're only compatible with FreeSync, though, as PS5 and Xbox clarified that the new consoles could still benefit from G-Sync-compatible displays.
Panel Type (IPN vs VA vs OLED vs QLED)
There are different types of panels that offer unique features. To get the best gaming experience, you need to pick the right one.
IPS or In-Plane Switching panels can produce vibrant and detailed images on the screen. But because they require more power to ensure color accuracy, they don't have the quickest response times. Most of them have a response time of 5 ms, and that's totally fine for casual players.
If you're a casual player who plays AAA titles to enjoy the scenic views, IPS panels will give you lifelike colors.
VA or Vertical Alignment panels may not display colors as accurately as IPS panels, but they offer good viewing angles and remarkable contrast.
If you're a casual player who wants to enjoy decent image quality but don't have the funds to invest in an IPS TV, VA panels might be the smartest investment for you.
OLED or Organic Light Emitting Diode completely eliminates the need for backlighting as each pixel in this type of display can be addressed individually. That is why OLEDs are found to produce the best blacks.
QLED or Quantum Light Emitting Diode is a marketing name by Samsung that essentially uses traditional LCD panels illuminated using LEDs. But between the LCD layer and the LED backlight, there's a filter with energy-reactive nano-particles that filters the light to produce more saturated and vibrant colors. It's like an IPS on steroids if you'll ask me.
Display Resolution
Monitor and TV panels have different resolutions. As the gaming industry progresses, higher resolutions are becoming the standard.
Currently, 1080p or 1920×1080 is still the standard for gaming. But with new graphics cards capable of even higher resolution and higher frame rates, the 1080p era is likely going to end soon.
4K and 8K are the target resolution for the PS5, so we opted to skip the 1440p resolution as a standard and go straight to 4K. To ensure you're making a future-proof investment, get a TV with a native resolution of 4K and a 120 Hz refresh rate. If it can also display 8K resolution (even at 60 Hz), even better.
Screen Size
The ideal screen size for a 1080p display should not be more than 24 inches. Some may go with 27 inches, and it's totally fine since it's a matter of preference.
In the case of the next-gen consoles, it's a different story. The hardware can display 4K or a resolution of 3840×2160 natively– that's about four times as many pixels as a 1080p resolution display!
That means you can get a TV with over 32 inches of real estate! If you sit close to the display, a 27-inch 4K monitor should show all the details you need with outstanding clarity. If you play further away from the screen, you'll want a larger TV so you can see the details clearly.
Most console gamers prefer sitting away from the TV, which makes 32-inches the perfect screen size for 4K gaming.
Should You Get a Curved TV?
Curved TVs are taking the market by storm, promising better and more immersive gaming experience than the average TV. But does that mean you should get a curved TV?
Like any other product on the market, they have their pros and cons. In the case of curved TVs, unwanted glare at certain angles could be a problem. On the good side, the curved design can indeed make your experience more immersive and less eye-straining.
Moreover, they provide a larger field of view. While most TVs support a 16:9 aspect ratio, some curved TVs support a 21:9 aspect ratio. Unfortunately, only a few titles support 21:9.
Ultimately, it boils down to preference, but note that curved monitors usually come with a higher price tag, especially those with 21:9 aspect ratios.
Response Time
Get a TV with a 1 ms response time, they said! It'll be fun, they said! Well, it's not entirely true, especially if you're not the competitive type.
Before we proceed, just what is response time, anyway?
Response time measures the time it takes for a pixel on a display to change colors. It is usually measured in milliseconds, from black to white to black again, or grey-to-grey (GtG).
Having a 1 ms response time only matters when you're the competitive type, as this gives you the edge to stay ahead of your enemies. If you're a casual player, you will barely notice the difference between a 1 ms TV from a 5 ms TV.
That means only get a monitor with a 1 ms response time if you want to stay competitive in games like Fortnite or Call of Duty. Casual triple-A gamers will do fine with a 5 ms response time TV.
Parting Words
When choosing a TV for your PS5 or Xbox Series X, you must know what it can and can't do. With this information at hand, you should be able to pick the best one for you. To recap…
If you're still unsure or confused, check our definitive buying guide, so you'll know what really matters when buying a TV for your PS5. With all that said, tell us which TV you will be getting this holiday in the comments section!