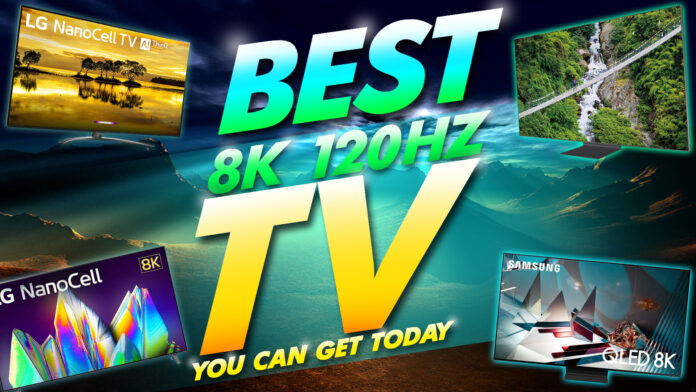 Just when 4K resolution monitors and TVs are starting to become popular and affordable, here comes 8K resolution.
The first 8K TV hit the markets in 2019, and after just two years, there are now plenty more you can choose from. With popular manufacturers like TCL, Sony, Samsung, and LG convincing consumers that 8K is worth upgrading, finding the right one for your needs can be a challenge.
To make it easier for you, we have compiled the best 8K 120Hz TV you can get today and include a definitive buying guide section so you know the things that matter when looking for an 8K 120Hz TV.
Best 8K 120Hz TV
1. LG Class OLED Signature ZX
Screen Size: 88 inches | Resolution: 8K Ultra HD (7,680 x 4,320) | Refresh Rate: 120 Hz | Panel Type: OLED | HDR Compatibility: Cinema HDR (Dolby Vision®, HDR10, HLG), Dolby Vision IQ, HDR Dynamic Tone Mapping Pro | Inputs: 4x HDMI 2.1, 1x USB 2.0, 1x 3.5mm jack, 1 Ethernet port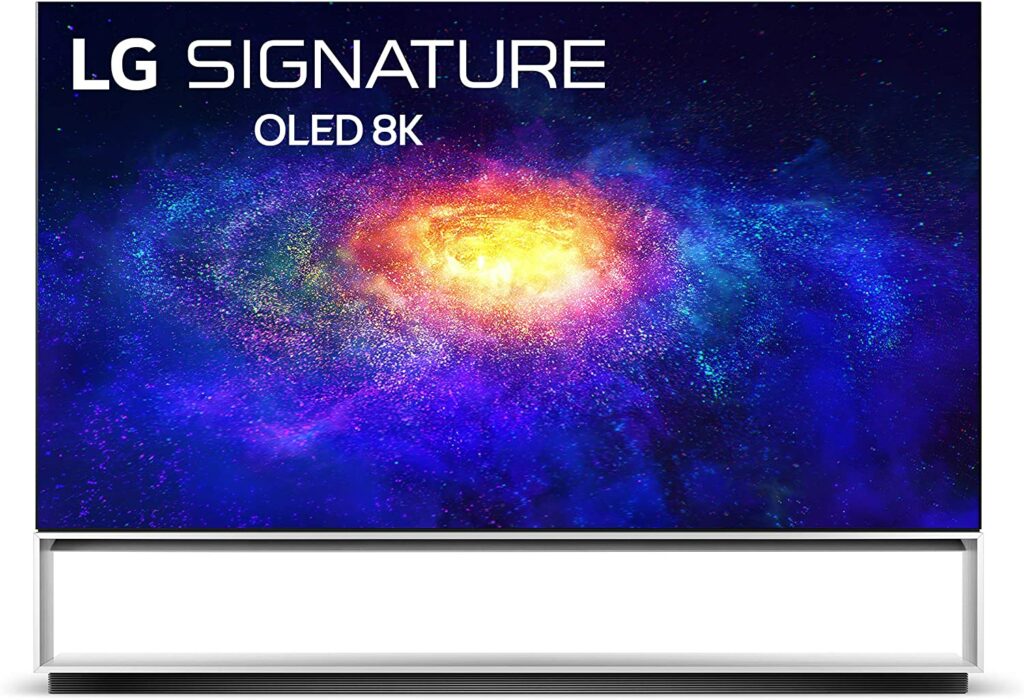 The Signature ZX LG television does not just offer a super widescreen size of 88-inches as it also offers a 77-inch model for those of you looking for a smaller alternative. Apart from displaying an 8K resolution, the Signature ZX LG television also offers the best contrast ratio for every pixel on your screen.
The design of the ZX series is very comparable to other Signature series TVs, with very thin bezels around the display and a stand that looks like a letterbox. If you look closely, everything looks really thin– including the chassis.
Apart from the looks, the overall picture quality also looks great. The Signature ZX is powered by the new Alpha 9 Generation 3 processor, which can support up to 120 frames per second Moreover, the Signature ZX also supports the latest HDR standard by Dolby Vision IQ, Dolby's latest HDR standard. Additionally, it also supports Filmmaker Mode.
What's great about the Dolby Vision IQ is that it uses the TV's built-in light sensors to give you accurate images on the screen depending on the environment you are in. By using the HDMI 2.1 connection, you can expect the television to output frames of up to 120 on 8K resolution.
Note that if you are planning to use the television primarily for gaming, you can use Nvidia's G-Sync technology to reap the benefits of silky smooth gameplay. Thanks to the advancing AI, the LG Signature ZX can recognize elements on the screen and determine whether it is a person's face or a text to output optimum image quality.
Moreover, the TV is able to analyze the type of content being viewed to apply the right presents so images will look stellar. For example, the presets applied when watching sports are different from when watching documentaries for animals.
When the content on the screen is finally analyzed, the Alpha 9 Gen 3 automatically applies sharpness enhancement and noise reduction to ensure that you get the best image quality on 8K resolution.
Apart from the enhanced image quality, LG's AI Sound Pro feature can also determine the audio quality and enhance the audio accordingly for better immersion. Note that because the TV supports virtual 5.1 sound, you can expect the TV to produce great audio quality if you pair this with the right sound system.
If you live in a smart house, where everything almost runs on voice command, you will love how the Signature ZX supports Amazon Alexa and Google Assistant support. With this feature, you can just command your TV and don't have to look for the remote.
All of these great features are so hard to miss. And if you can afford the steep price point, you can have yourself an 8K 120 Hz television you can use to watch movies and play with your latest-gen consoles.
2. Samsung Q950TS 8K QLED
Screen Size: 85 inches | Resolution: 8K Ultra HD (7,680 x 4,320) | Refresh Rate: 100 Hz (200 Motion Rate) | Panel Type: Quantum Dot LCD | HDR Compatibility: Quantum HDR 32x | Inputs: 4 x HDMI Type A, 1 x F-Type (RF Antenna), 1x Ethernet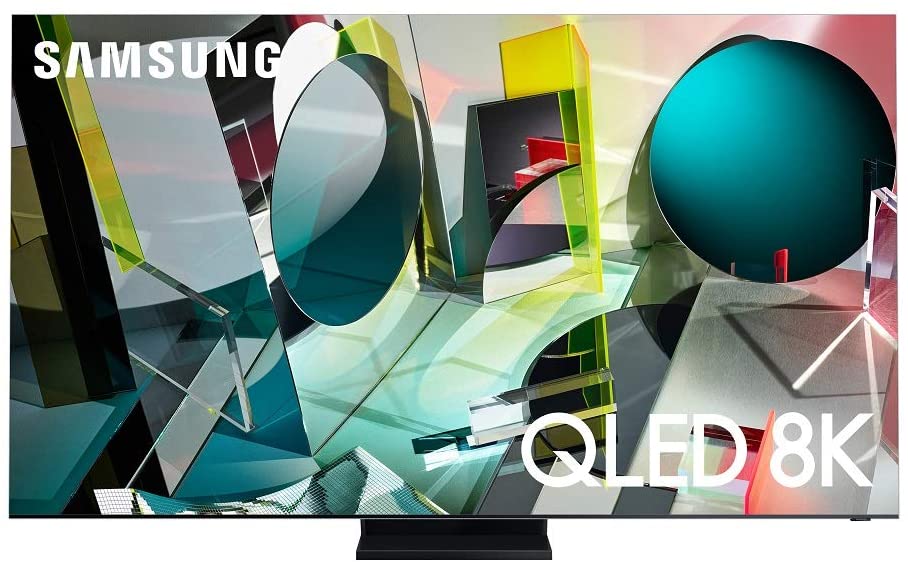 The price point of the Samsung Q950TS 8K QLED TV is obviously preposterous. But considering the technology it has and how it compares with the rest of the 8K monitors in the market is what makes the Q950TS 8K QLED TV worth getting.
Apart from having thin bezels and a super wide screen, the rest seems very straightforward– it's a wide TV that pretty much does its job, which is to show images on screen.
In any standard, an 85-inch television is big, and Samsung manages to incorporate very thin bezels to the point that they look non-existent. If you decide to sit at a sensible distance away from the TV, then the bezels will genuinely look like they didn't even exist.
The chassis of the Samsung Q950TS is also just as impressive as its bezels because it is only 15 mm in depth. The thin chassis design is made possible because Samsung took all the I/O ports and the power requirements off the board. Thanks to this new design, the Samsung Q950TS doesn't have an OLED-style bulge on the back of the frame.
Note that even though the I/O ports are off the board now, you still have a decent amount of I/O ports on the back. There are a total of four HDMI sockets (one is HDMI 2.1 specific), RF and satellite TV aerial ports, an ethernet cable, and three USB inputs inside a fairly sizable One Connect box.
Moreover, it includes a digital optical output that also holds the main power. Essentially, all the connection you need to the TV is packed into one. Because of the very slim design, you can mount the TV to the wall and it will look well and thin.
If the size of the TV is wide enough for your wall, Samsung is thoughtful enough to include a pedestal that will hold the monitor securely. When placing the TV on a flat surface, it is ideal to lean the monitor back a little more than three degrees to direct the screen to your eyes instead of having it facing your belt-line.
The Samsung Q950TS is a Smart TV that uses the Tizen OS. Because Tizen is a lightweight operating system, it starts up faster than Android OS. The overall layout is also similar to an Android OS, so everything should look familiar and still easy to navigate.
Like other 8K monitors, the Samsung Q950TS utilizes a smart AI that can cross-reference images against its huge database of information to then upscale the picture to fit the massive resolution and make it look as good as possible.
The clarity and the amount of upscaling done to make the image look remarkable is what makes this TV worth considering. Because of the staggering amount of pixels, there is less change of seeing jagged edges, overlapping, or grainy image quality.
Watching animations and images on the Samsung Q950TS look fantastic, and if you are planning to use this for gaming besides movies, you will not be disappointed by the quality of images you will see on screen. But it is still worth noting that this does not support Dolby Vision unlike other products on our list.
The sound quality also doesn't disappoint as Samsung is incorporating something called "Object Tracking Sound +", which essentially means there is an array of eight speaker drivers arranged in a 4.2.2 arrangement. Two midrange drivers are coming from the top of the chassis, another two are coming from the mids, and the remaining two firing from the bottom to give a whole new meaning of immersive soundstage.
Overall, the Samsung Q950TS is a worthwhile option to consider when browsing for 8K 120 Hz TVs because the 8K quality is great. If the lack of native content doesn't bother you as much, then getting the Samsung Q950TS is surely worth it.
3.
LG Class Nano99 Series
Screen Size: 75 inches | Resolution: 8K Ultra HD (7,680 x 4,320) | Refresh Rate: 120 Hz | Panel Type: IPS | HDR Compatibility: Cinema HDR (Dolby Vision®, HDR10, HLG), Dolby Vision IQ, HDR Dynamic Tone Mapping | Inputs: 4x HDMI, 3x USB Port 2.0, 1x 3.5mm jack, 1x Ethernet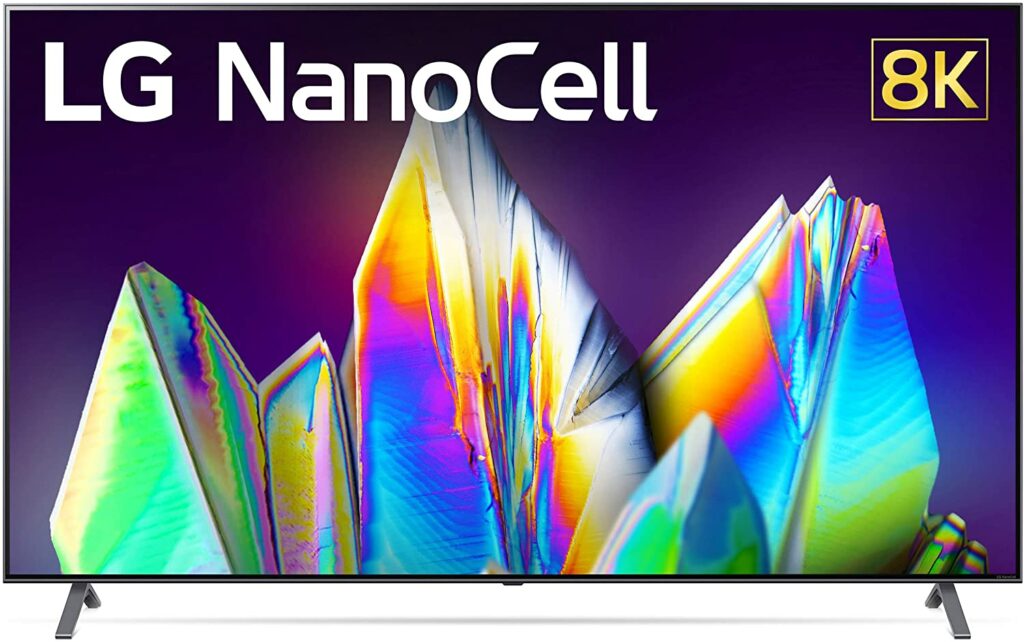 Another great option you should consider when browsing for an 8K 120 Hz television is the LG Nano99. The TV is a flagship LED TV with great overall performance out of the box.
Unfortunately, the jump in performance isn't that noticeable since there are only but a few 8K content available at the moment. But if you are looking to invest in an 8K 120 Hz television to pair with your next-gen console, then the LG Nano99 will surely give you surreal images and picture quality.
The Nano99 has an IPS panel, which means the monitor boasts a wide viewing angle. However, because the television is known to have a low contrast ratio, black scenes may appear grey, especially when the television is viewed in a dark or dim room. Even though the television has a full-array local dimming feature, it still doesn't make the images look better.
Another thing that is notable about the LG Nano99 is how it can upscale lower-resolution content really well. If you are going to play videos from DVDs or Blu-rays, the TV can display 8K content perfectly.
The LG Nano99 can also be hung on a wall through LG's Gallery Flush wall-mount. Unfortunately, you will have to buy the wall-mount separately as it is not sold together with the Nano99. But placing the television on the wall makes
Because the Nano99 has wide viewing angles, excellent reflection handling and a decent brightness peak, watching sports or TV shows will give everyone the best viewing experience possible. But because the television doesn't perform well in dark or dim rooms because of its low contrast ratio, it is highly recommended to place the television in a well-lit room.
HDR peak brightness, however, is decent on the LG Nano99 and the color gamut is good when watching HDR content. When you find the HDR to be too dim, just set the Picture Mode to "HDR Standard" with Brightness, LED Local Dimming, and Dynamic Contrast set to max on top of having the Dynamic Tone Mapping set to on.
Unlike other ultrawide televisions, the LG Nano99 isn't curved but it does have an outstanding style with very thin bezels and straight feet that follows the NanoCell lineup products. If you want a television that does look expensive and good in your living room, then the Nano99 is a good choice to show it off to most people.
Keep in mind that the stand is nearly as wide as the TV itself so you will need a table that is wide enough to cover the stand safely. Because the TV is wide, there will be a little bit of wobble, but rest assured, the stand supports the TV really well.
The back of the Nano99 looks really flat and even though it is made of plastic, it doesn't feel cheap at all as the smooth finish complements the overall chassis as a whole. Note that the panels for cable management have a textured finish and don't have the same smooth finish as most of the back.
In terms of overall build quality, Nano99 is outstanding and is better than most of the NanoCell TV Series. The frame also feels very solid and it doesn't flex as much. Furthermore, the frame feels very solid that it doesn't feel like it would break if you drop it.
4. LG Class Nano97 Series
Screen Size: 75 inches | Resolution: 8K Ultra HD (7,680 x 4,320) | Refresh Rate: 120 Hz | Panel Type: IPS | HDR Compatibility: Cinema HDR (Dolby Vision®, HDR10, HLG), Dolby Vision IQ, HDR Dynamic Tone Mapping Pro | Inputs: 4x HDMI, 3x USB Port 2.0, 1x 3.5mm jack, 1x Ethernet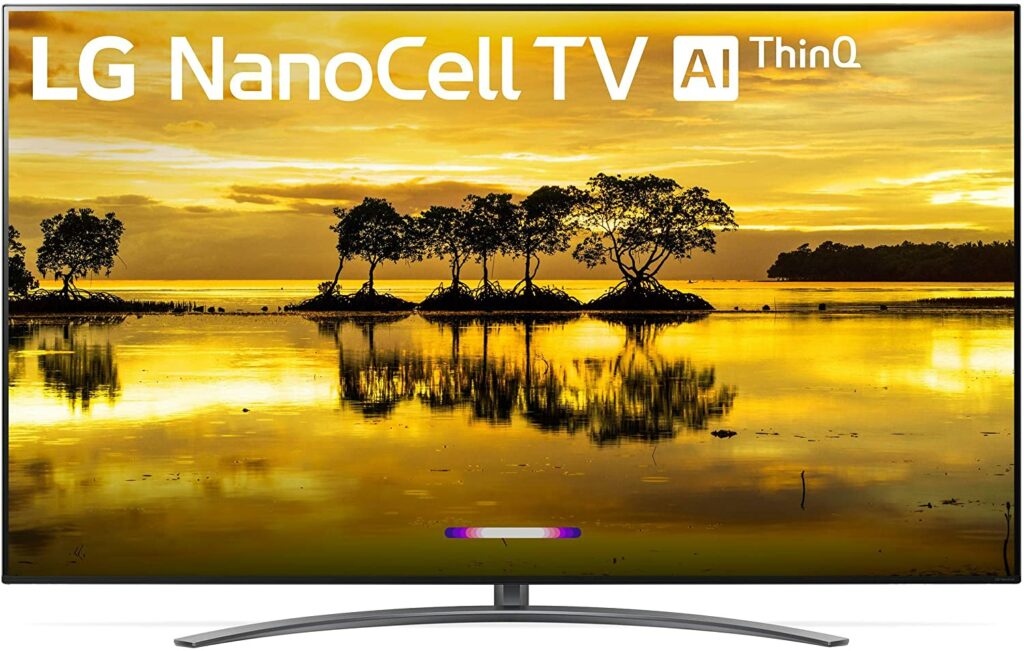 If you like the LG Class Nano99 Series but can't afford to pay the steep price tag, then theLG NanoCell 97 Series is the perfect alternative option for you. You see, most of the good stuff you find inside the Nano99 is still present in the Nano97– but compromises some features to compensate for the slightly affordable price.
Like the Nano99, the LG Nano97 gives you great overall performance in 8K resolution but because there is still not that many 8K resolution or content available, you won't really experience 8K resolution if you're just looking to buy just to watch movies.
The same can be said if you want to play games in 8K since there also are not that many games that support 8K. But since the release of next-gen consoles like PS5 and Xbox Series X, investing in an 8K television like the LG Nano97 is now worth considering as more and more game titles are starting to pop out.
Because the television has low input lag and outstanding response time, using the television as a video output for your games will be great. If you are going to play games with your friends at home, you can ensure that everyone will be able to understand what's going on from different angles since the television supports wide viewing angles.
Because the television uses an IPS panel, the image quality and clarity on the screen will be phenomenal. Unfortunately, the television still doesn't perform well in dark or dim rooms. The black uniformity is pretty obvious, and doesn't look anything better even with the television's local dimming feature.
The design still follows the outstanding looks of the Nano99 and it still features the thin bezel profile. Keep in mind that the stand is still nearly as wide as the television itself, which is why it's crucial that you place the television on a table that is wide enough to secure the safety of the television.
Don't worry if the television wobbles a bit because that is perfectly normal for a television with a 75-inches display. But rest assured that the television is fully supported by the stand. Now, if you need more security, you can choose to just hang the monitor on a wall instead.
Unlike other televisions and monitors, the Nano97 is only compatible with LG's Gallery Flush wall-mount. Unfortunately, the wall-mount doesn't come with the package and is sold separately. Regardless if you choose to hang the monitor on the wall or just use the included stand, the television will still look premium-looking.
Now that we covered the things that are present in both models, let's talk about the things that were slightly compromised to make the Nano97 slightly more affordable than the Nano99.
Starting off with the speakers, the sound quality is slightly lower than the Nano99. Furthermore, there are slight differences in the dimensions of both televisions. If the Nano99 uses a 4.2 channel, the Nano97 only uses a 2.2 channel.
In terms of HDR quality, you still have the same quality on the Nano97. Overall, it still features most of the good stuff but at an affordable price tag. So, if you think the Nano99 is out of your budget range, the Nano97 is the perfect alternative.
5. Samsung Class QLED Q900T Series
Screen Size: 75 inches | Resolution: 8K Ultra HD (7,680 x 4,320) | Refresh Rate: 120 Hz | Panel Type: Quantum Dot LCD panel | HDR Compatibility: Quantum HDR 32X | Inputs: 4x HDMI, 2x USB, 1x Ethernet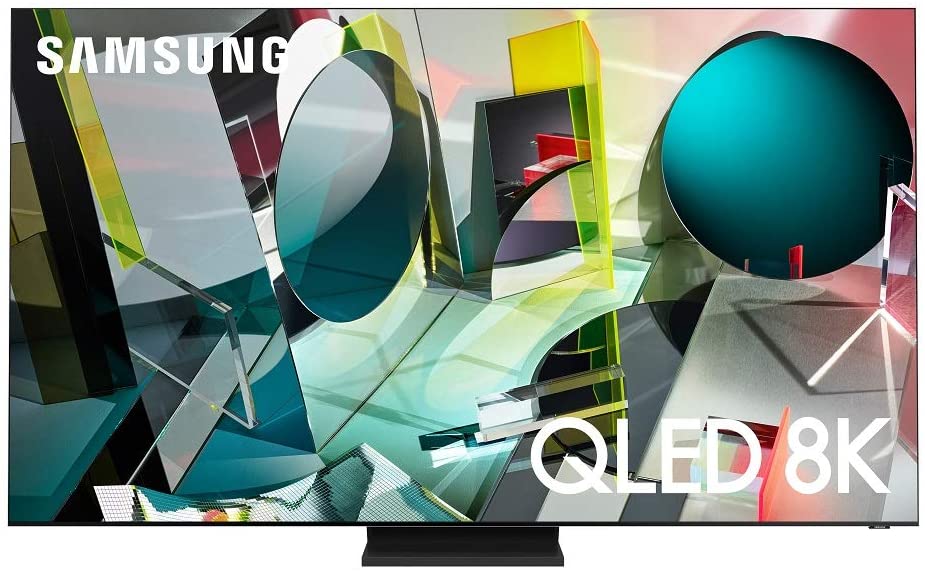 The Samsung Q900TS is a great all-rounder TV that gives you decent image clarity and brightness in both well-lit and dim or dark rooms. Because the Q900TS uses a VA panel and has a decent contrast ratio. Thanks to the local dimming feature, you get better viewing experience during dark scenes.
Because VA panels are known to have poor viewing angles, Samsung intended to incorporate an Ultra Viewing Angle layer that improves the viewing angles of VA panels. Additionally, the Ultra Viewing Angle layer makes the TV to have a decent contrast ratio.
Unfortunately, this is not the case with the Q900TS because the screen still has disappointing viewing angles. Instead of improving the viewing angles, the images even look washed out when viewed from the side.
But looking at the good side, the TV has a very fast response time and an optional Black Frame Insertion feature that will make fast-moving scenes look smooth. On top of that, the TV also supports FreeSync VRR (Variable Refresh Rate) that will greatly make your experience feel smoother.
In terms of design, there are plenty to appreciate about the design of the Q900TS. When compared to the Q950TS above, it shares the same 99% screen aesthetic that focuses on being sleek and perfect for minimalists. The overall design and screen of the television is so great to look at to the point that you will still appreciate the screen even when it is turned off.
The television has a full array of backlight behind the screen, which explains why it doesn't look as thin as other QLED products in the market. Thanks to the rectangular shape of the back, Samsung still manages to avoid the unsightly bulges on the back.
The sides and the upper edges of the television features a silver and gray color. Note that listening to the audio when watching movies on the Q900TS is also great since it features a 4.2.2 channel audio system. Specifically, Samsung has managed to build in a super-impressive OST+ audio feature that makes listening a lot better than most 8K televisions in the market.
Now setup is relatively easy and can be done in a few minutes. The package contains the TV stand that comes in two parts, which will only require eight small screws to secure everything in place. Do note that if you are planning to set up the television, you will need at least another person to help you with lifting the television as it is too large for one person.
Looking at the connectivity department, you will notice that the Q900TS has a total of four HDMI inputs but only one supports HDMI 2.1. If you have purchased an Xbox Series X or PS5 console, you will want to connect the console into the HDMI 2.1 input to reap the benefits of the 8K resolution tv for your PS5.
Compared to the Q950TS which has three USB ports, the Q900TS only has two, with an RF, Ethernet port, and optical inputs. Unlike other Smart TVs, the Samsung Q900TS uses Tizen OS, which is great for what it does.
The images on the screen look great and also upscales images to 8K really well. Note that the Q900TS doesn't support Dolby Vision but it does support HDR10+, which makes images look even colorful and surreal.
Overall, the Samsung Q900TS offers exceptional features at a reasonable price. If you are looking for an 8K TV to experience 8K in both movies and gaming, then the Q900TS is a great alternative if you fancy the Q950TS but can't afford the price.
6. Samsung Q800T QLED
Screen Size: 65 inches | Resolution: 8K Ultra HD (7,680 x 4,320) | Refresh Rate: 120 Hz | Panel Type: | HDR Compatibility: HDR10+ | Inputs: 4x HDMI, 2x USB, 1x Ethernet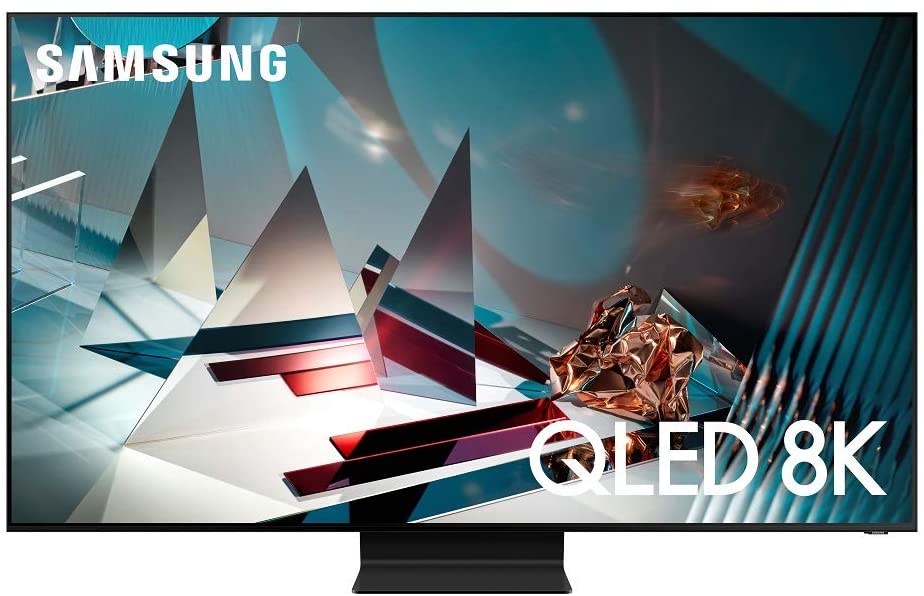 Investing in an 8K TV is not cheap because it utilizes high-end materials. And most of the time, if the 8K TV is too cheap, then it normally isn't worth investing– but not the Samsung Q800T QLED TV.
The Samsung Q800T is more affordable than most 8K monitors but compromised a few things to drop the price without compromising the quality and great viewing experience of 8K.
In terms of design, the Q800T doesn't look anything special or spectacular as Samsung's bezel-free flagship models, but it does look decent enough for an 8K monitor. It is also worth noting that all of the external One Connect boxes are installed on the main TV body, so don't expect it to look really thin like the rest of the TVs featured above.
Even though the Q800T isn't as attractive as the Q950TS, it doesn't mean that the Q800T isn't good-looking. The frame of the Q800T is trim, and the back still is thin enough to make the overall design look clean. Moreover, the centrally mounted stand also has a robust and modern-looking design.
Because the stand is smaller, you can place the TV on a smaller desk. Note that for a TV that is as big as the Q800T, there will be a little wobble but the stand is designed to ensure that the TV is secured.
The back of the Samsung Q800T has a total of four HDMI ports, but only one supports the HDMI 2.1. You will also find three USBs and WiFi and Bluetooth network options. If you are going to pair this with your next-gen console, make sure you use the HDMI 2.1 port to get the best experience from playing on the next-gen console.
Unlike other Samsung TVs, the Samsung Q800T ditches the external One Connect box. Nevertheless, the Q800T still looks cool despite having an obviously bulkier rear when compared to other premium TV designs.
Samsung also uses the Tizen OS, which is known to be lighter than Android OS. For the most part, the Tizen OS is a good thing as this makes everything feel more responsive. The interface, however, doesn't look too different from TVs that use Android OS, so, browsing should be just as easy.
The Samsung Q800T has also incorporated a new deep learning component to its AI picture processing to effectively upscale images into 8K. Paired with the HDR capability, the Q800T is ready to make a huge impact in converting images while making them bright.
When watching movies in 8K, Samsung's Q800T has an impressive motion handling feature that makes everything look sharper and more detailed. Even without using the TVs motion processing features, images still look sharp, detailed, and smooth.
To match the high-quality viewing experience, Samsung utilizes the most advanced form of Object Tracking Sound or OTS+, which comprises a 4.2.2 channel speaker system that fires audio queues from the top, sides, and bottom sides of the screen.
Things to Consider when Looking for an 8K 120Hz TV
When buying an 8K 120Hz TV, it is important that you know you're buying the right one for you. In this section, we'll briefly talk about the essential factors that matter to ensure you're making the perfect selection.
Know What Cable to Use
If you think you can just use your old HDMI cable sitting around to hook up to an 8K television, you are gravely mistaken.
You see, 8K resolution requires a ton of power to output such magnificent image quality. As such, a television that supports 8K resolution will require a new HDMI standard that is capable of pushing the number of pixels needed to display 8K over a single cable.
The new HDMI standard that can support 8K resolution is called HDMI 2.1. The HDMI 2.1 has three times the bandwidth of older HDMI connections. Because the HDMI 2.1 is backwards compatible, you can use this on your 4K television at home.
When browsing through HDMI 2.1 cables, it is very important that you check if the cables are certified to use the full bandwidth of the new connection type by checking if they are labeled Ultra High-Speed HDMI Cable since this is the first cable defined by the HDMI Forum.
Consider the Size
Regardless if you are looking for a 4K resolution or an 8K resolution television, the biggest factor in your decision will most likely be the size of the screen.
To come up with an ideal size, there are things you need to consider such as the number of people in your family who will be watching at one and where you are going to place the 8K resolution television.
Pick the largest screen size that will fit comfortably into both space and your budget. Ideally, for an 8K resolution television, you will want to place them in the living room, which is why they should range anywhere between 55 and 65 inches.
Furthermore, the screen size also depends on how close or far you sit away from the television. To be able to tell whether you are sitting too close or far away from the television, check if you can see the individual pixels of the screen. If the pixels are visible from where you are sitting, then you are too close to the television.
If you aren't sure, a good rule of thumb is that you should sit from the TV according to the height of the television screen. For 4K and 8K models, it is recommended to sit 1.5 times the vertical screen size of the television because individual pixels viewed from this distance will not be clear from the naked eye.
Here is an approximate viewing distance range from the television according to the TV size:
| | |
| --- | --- |
| TV Size | Viewing Distance Range (Approximate) |
| 55 inch | 1 meter / 3.28 feet |
| 65 inch | 1.2 meters / 3.94 feet |
| 75 inch | 1.4 meters / 4.60 feet |
| 85 inch | 1.6 meters / 5.25 feet |
However, it is still worth noting that despite the guides mentioned so far, no TV buying guide can replace your own judgment. If you can, visit a store and look at the TVs from a certain distance so you or your family can personally look at the TVs.
Additionally, consider where the TV will be placed inside your house. While the above advice is intended for living rooms, the size and the appropriate distance may differ if you place the TV in other parts of the house, like the kitchen, or bedroom, where a smaller TV may be necessary.
Do You Need HDR?
HDR is yet another feature that has been constantly improving over the past few years. Despite being featured regularly, only a few have actually looked into this.
Essentially, HDR makes your viewing experience better by showing you more contrast levels, increased brightness, and a vast range of brightness.
The HDR feature is first seen in 4K resolution TVs and over, and it makes your 4K viewing experience even better. The basic standard for high-dynamic-range content is called HDR10, which is set forth by the UHD Alliance. However, other companies are starting to support this feature and named them other things, such as "Ultra HD Premium", "HDR10+", "Dolby Vision", among others.
Ideally, you will want to choose the best one, but because the standard has not yet been settled, buying a monitor with an HDR set compatible with Dolby Vision is your best bet, since this format seems to be gaining more popularity than the rest of its competition.
What's the Refresh Rate?
For those of you who don't understand what Refresh Rate is, it describes the number of times a picture is refreshed on the screen and is described in Hertz (Hz).
In the past, 60Hz has been considered the standard refresh rate but with faster, newer technology, gaming monitors as well as televisions are now able to reach as high as over 240Hz. A good example is the Asus ROG Swift 360Hz, a gaming monitor advertised to display 360 frames per second.
However, there aren't many per-second images in original video content, which is why TVs handle high refresh rates in a different way compared to how it is handled by gaming monitors.
Instead of creating a frame-by-frame image to make things look clear, one method in high frame rate televisions is to insert black images between original pictures to trick the viewer's eyes into seeing a smoother, more solid picture.
Another method TVs use to make scenes look great is to generate and insert new images to show a state of movement in between two adjacent pictures. This process allows the video to show a more realistic-looking movement.
Still, it depends on how the video-processing is done, which explains why some images look either flat, poorly-lit, or old-time soap opera visuals.
It is also important that you keep an of technical specifications such as "effective refresh rate" as this means the actual frame rate is half the stated rate. For example, a television with a "120 Hz effective refresh rate" is actually a 60 Hz refresh rate monitor.
To make sure you are making the right choice, always check to confirm that the 8K resolution monitor has a refresh rate (NOT effective refresh rate) of 120Hz.
What is the Response Time?
Response time is often measured in milliseconds, which is why it is often confused with input lag. Even though they look the same, they are not.
Response time is the measure of how fast the pixels of a monitor change from black to white or between different shades of grey (GtG). If the monitor has a slow response time, you are likely to see "ghosting", or trails behind animating images on the screen.
When the television has a slow response time, chances are movies will look blurry. Because it can greatly affect your experience, it is important to look into this feature when browsing for a television. Fortunately, 8K 120 Hz TVs in the market are considered high-end so they usually have an excellent response time.
Mind the Input Lag
Input lag refers to the delay from when you press a button on your controller and seeing the effects on the screen.
There are plenty of factors that can affect a television's input lag. But in TVs, particularly, are known for having high input lag due to the amount of processing that happens behind the scenes.
Fortunately, TVs don't really need low input lag to work wonderfully. But since 8K 120 Hz televisions are becoming more popular because of the release of consoles, it still is worth checking. Ideally, you want the television to have below 30-40 ms.
In the case of 8K televisions, low input lag is not an issue since 8K televisions are made up of high-end displays and normally have Game Mode, which improves input lag and response.
Variable Refresh Rate AKA FreeSync
FreeSync technology or VRR (Variable Refresh Rate) isn't normally an issue if you are just watching movies. However, FreeSync technology support may start to become crucial if you are planning to buy an 8K 120 Hz television to game on your Xbox Series X or PS5 console.
So far, Samsung's Q900R is the only 8K TV that supports FreeSync. So, if you want to experience surreal gaming on your new Xbox Series X or PS5 console, this will give you the edge you need.
Conclusion
Finding the best 8K resolution 120 Hz TV can be a challenge. But knowing what factors matter and having an idea of which TVs are worth considering does make shopping a lot easier.
To recap, here are the 6 best 8K 120Hz TV you can get your hands today:
Which among the monitors do you like best? Share it with us in the comments section below.