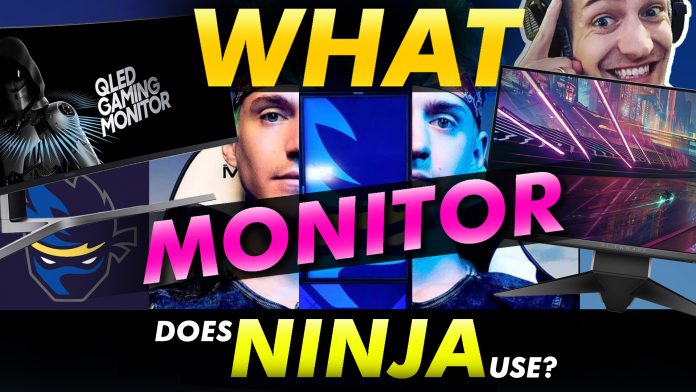 One of the most popular gaming streamers in the world, Richard "Ninja" Blevins has dominated the streaming world since 2017 with the increase in popularity of battle royale games, more specifically Fornite. Amassing millions of followers, he has become the biggest name in online streaming as well as esports.
Because of his massive popularity, there has been a great deal of intrigue around what one of the most popular gamers in the world uses for their gaming setup. What mouse and keyboard does he use? What headset does he use? What kind of PC can the millions of dollars in sponsorships and views build you? Today we will be specifically talking about his gaming monitors, which is one of the cornerstones of successful gaming and streaming.
Below we will break down what monitor does Ninja use currently in his day-to-day streams and which gaming monitors he has used in the past.
About Ninja
Beginning his career playing Halo 3 professionally in 2009, throughout the next 8 years he transitioned into playing H1Z1 and PlayerUnknown's Battlegrounds competitively. And although he began streaming in 2011, it wasn't until the release of Fortnite Battle Royale in 2017 that he started to reach the pinnacle of his streaming career.
The free to play juggernaut title followed in the footsteps of many other successful battle royal games before it. Valued at about $15 billion worldwide, Fornite not only changed the battle royale gaming landscape but the streaming scene as well. Major companies were looking to sponsor popular streamers, and online gaming streams were rivaling the viewership of nationally broadcast television shows. With the increased success and popularity of the game, the popularity of the streamers followed suit.
Earning over $10 million over the course of 2018, Ninja's content included collaborations with celebrities, major sponsorships from games and companies, and television appearances. Garnering tens of thousands of viewers during his live streams, as well as over 20 million subscribers on YouTube, Ninja cemented himself the king of not only Twitch streaming but of gaming personalities as a whole.
With the massive popularity, he has not only earned himself fame and wealth but a number of accolades as well. Earning the "Streamy" for the gaming category in both 2018 and 2019, he has also added Esports Personality of the Year, Content Creator of the Year, Twitch Streamer of the Year, and numerous other awards to his collection. Not only has he been recognized among the streaming community, but Ninja was the first esports personality to be featured on the cover of ESPN The Magazine.
Making waves throughout the streaming world, Ninja shockingly decided to move off the Twitch platform where he gained his massive popularity. Eventually signing a deal with Microsoft, he was reportedly paid $20-$30 million to exclusively stream his content on their new platform Mixer in August of 2019. Although it was met with some backlash from his viewers and peers, his success as the internet's most popular gamer continues to this day.
Ninja's Gaming Monitors
When you are the most popular PC gamer in the world, building the right computer not only improves your gaming experience, but it is also an important business investment. His computer reflects the level of his success, boasting top of the line peripherals and hardware.
As a streamer, one of the most important investments you can make is in your monitor. With full-screen games, additional streaming software, and chat boxes, having the proper amount of real estate for all these programs is pivotal. The same can be said for Ninja, who has a history of using a number of brands and styles of monitor.
Below we will touch on the monitors that Ninja has used previously in his gaming set up, as well as which one he uses now for his gaming and streaming.
What Monitor Does Ninja Use?
Currently, Ninja uses the Alienware AW2518H. It is truly a perfect blend of high-performance gaming and visuals. Offering 240hz refresh rate and a 1ms response time, it is also small enough to run a dual or three monitor setup.
Combined with the aesthetically pleasing custom lighting, it adds an extra layer of stream production quality to his viewers.
Alienware 25 Gaming Monitor AW2518H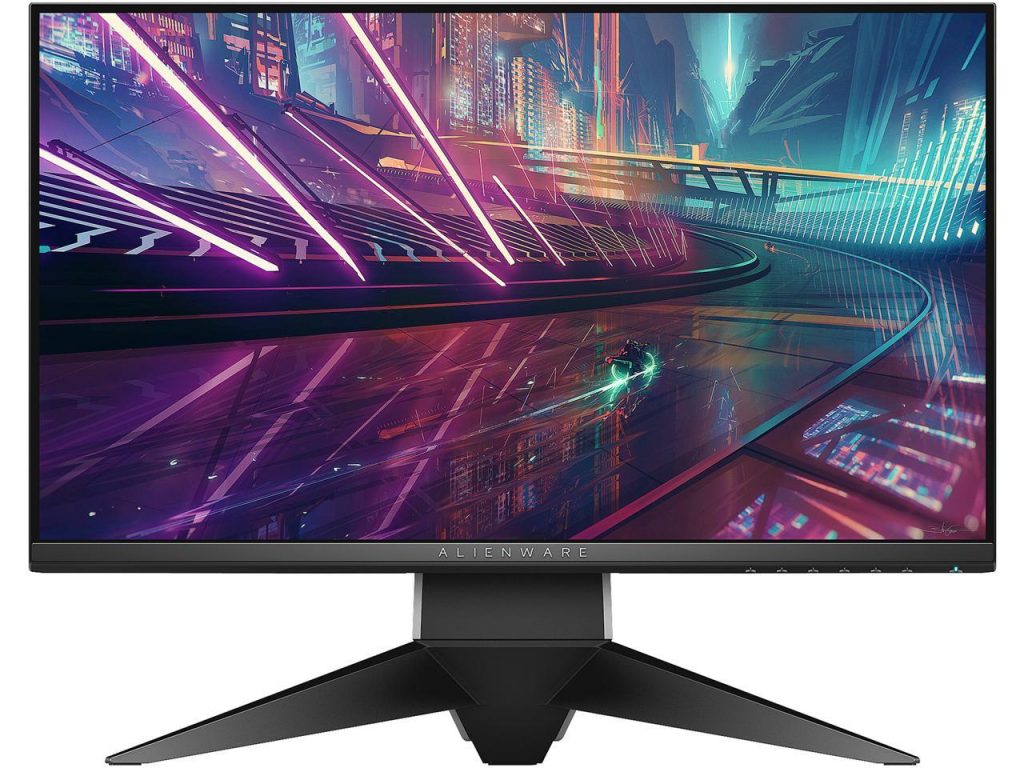 The best of both worlds, the Alienware 25 that Ninja currently uses is a marriage of the best qualities of his previous two monitors. Coming in at 25-inches, it is slightly bigger than the BenQ, but not as overwhelming as the Samsung. The Alienware 25 is top tier across the board, with every specification maxed out for serious gamers.
@Alienware https://t.co/CpMcvcolPJ

— Ninja (@Ninja) January 19, 2018

The most notable feature, of which is heavily emphasized by manufacturers and gamers alike, is the 240Hz blazing fast refresh rate. This results in crisp and seamless gameplay while avoiding tearing and other artifacts found in slower monitors. In addition to the refresh rate, the Alienware 25 also boasts a one millisecond response time for instantaneous input.
In addition to the refresh rate, this panel also includes NVIDIA G-SYNC technology for improved responsiveness and image quality during gameplay.
As far as the build quality is concerned, this monitor comes with the trademark Alienware design. Showcasing a sleek and futuristic back panel, it also offers fully customizable RBG lighting profiles. This also includes dynamic effects that correlate to your in-game action.
Ninja's Past Monitors
BenQ GW2470HL 23.8-Inch Full HD 1080p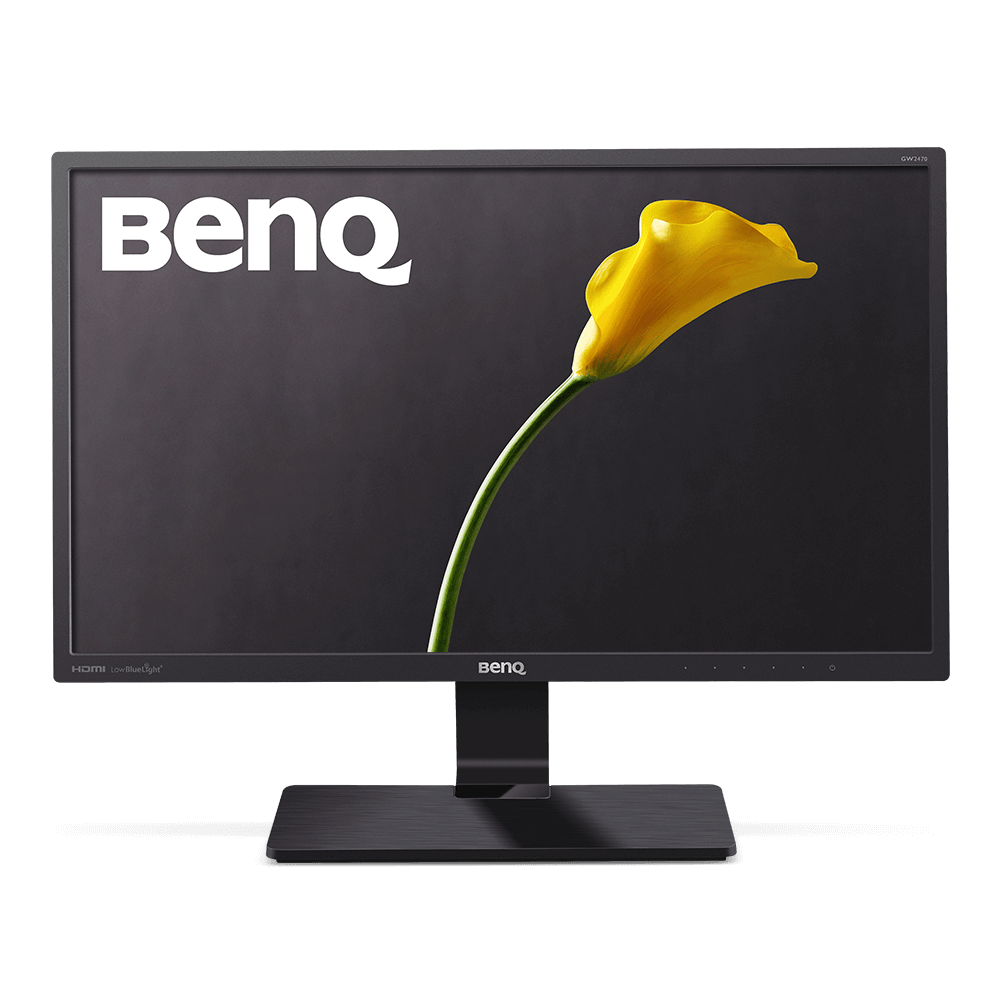 A staple in the monitor marketplace, BenQ has consistently produced high quality and simplistic monitors for both console and PC gaming. In addition to these monitors, BenQ also specializes in:
Video Post Production Monitors
Business Monitors
Specialized Photography Monitors
HD and 4K Projectors
Because of their long-standing reputation, it is not surprising that Ninja has utilized a BenQ monitor within his gaming set up in the past. Specifically making use of the BenQ GW2470HL 23.8-Inch monitor, this is a no-frills full HD 1080p screen. This is a great option when looking for a high performing but sensibly priced monitor.
Currently testing out H1Z1 on my new 144hz Benq monitor, and am 10x better also from watching @sxyhxy play last night <3

— Ninja (@Ninja) August 14, 2015

One of the notable aspects of the BenQ is its slim design. Because of the minimal bezel, these monitors are perfect for a multiscreen setup. As mentioned above, maximizing screen real estate for a streamer like Ninja simplifies managing all of your necessary programs running simultaneously.
The BenQ also features "low blue light plus technology", which adjusts the color levels for minimal eye strain. Extended exposure to certain blue level lighting produced by monitors can be harmful after prolonged use, which is a significant concern for gamers and streamers who spend the majority of their day in front of their computer. Acting similar to "blue light blocker" glasses, the BenQ is able to filter out this color range to actively protect your eyes during extended use.
As you can tell, the BenQ is meant for a long term visually pleasing and stress-free gaming experience. This extends to the BenQ's contrast ratio, which has an impressive 3000:1 native contrast ratio. What this means is whiter whites and blacker blacks in your picture, increasing definition and overall image quality.
In summation, the BenQ is a solid monitor for the price, however, it may lack some of the high-end specifications or amenities associated with other gaming monitors.
Samsung 49-Inch CHG90 144Hz Curved Gaming Monitor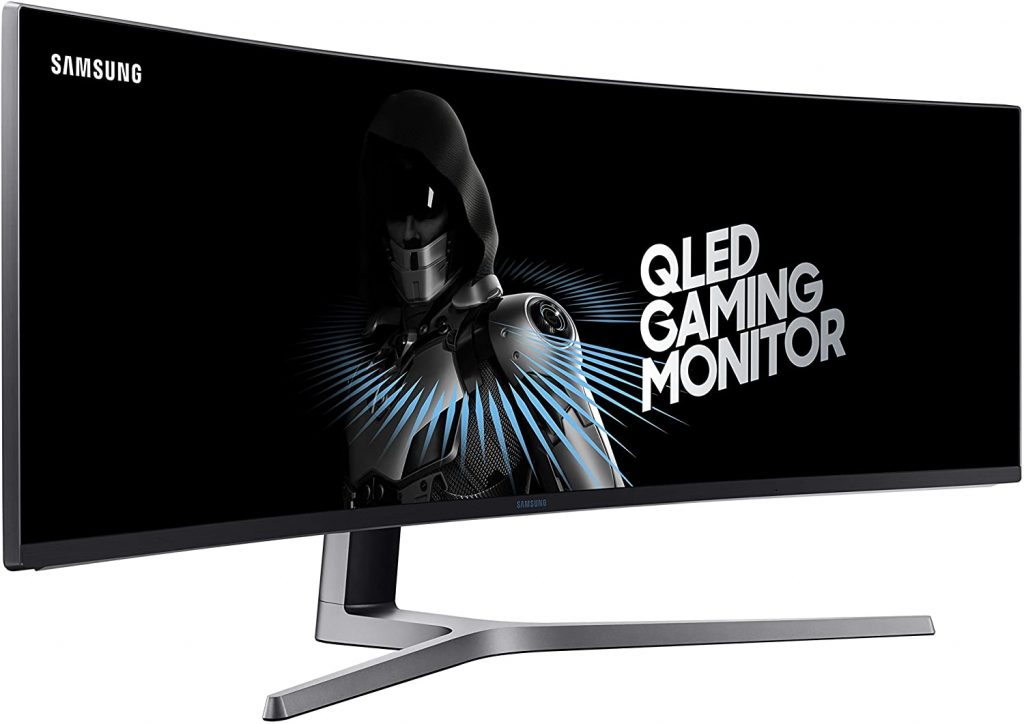 In stark contrast to the above-mentioned monitor, the Samsung Ultrawide 49-inch QLED is in a completely different league. Ultrawide screen monitors are the new top tier when it comes to gaming, providing essentially limitless screen real estate and an immersive curved design. Rivaling the width of many televisions, this monitor boasts 49-inches of 4k QLED screen quality.
This monitor is absolutely incredible pic.twitter.com/nOnqHZjHp2

— Ninja (@Ninja) October 7, 2017

Because of the massive size, this ultrawide replaces the need for extra monitors normally associated with streaming setups. In terms of gaming, Samsung states "the curved panel immerses you in gameplay", which is a unique experience you won't find with typical flat panel monitors.
Not only is the size impressive, the overall image quality doesn't disappoint either. Offering a 144Hz QLED 4k HDR panel, this is the top of the line viewing and gaming experience. With the gaming benefits of Freesync 2 and a one millisecond response time in conjunction with the 144Hz refresh rate, you can see why top gamers like Ninja would invest in this monitor.
In addition to the superior visuals for gaming, the 4k HDR means movies and other entertainment will be just as immersive. While these features can be found cheaper on other monitors, finding them in a 49-inch ultra-widescreen is far from the norm.
Although the Samsung is significantly more expensive than your average monitor, it simply has earned the price point. The features offered not only make it a top tier gaming and PC monitor, but the massive size and curve also amplifies the viewing pleasure of television and movies.
Conclusion
The value you derive from your gaming monitor depends on a number of factors. What is your budget? Do you plan on watching movies on your PC? Are you planning on multiple monitors, or just one? These are all personal preferences that can point you in the direction of your own gaming setup.
As it pertains to Ninja, the benefits of each of these monitors is obvious. The Samsung ultrawide monitor clearly provided an immersive gaming experience, while also affording him the space to run additional programs on the side. While this may have been the most elaborate monitor setup, maybe it wasn't as practical for his streaming space.
The gaming setup of one of the most popular streamers in the world will naturally keep evolving over time. However, the peripherals and components that Ninja and many other streamers use will continue to be a gold standard for gaming and streaming quality.