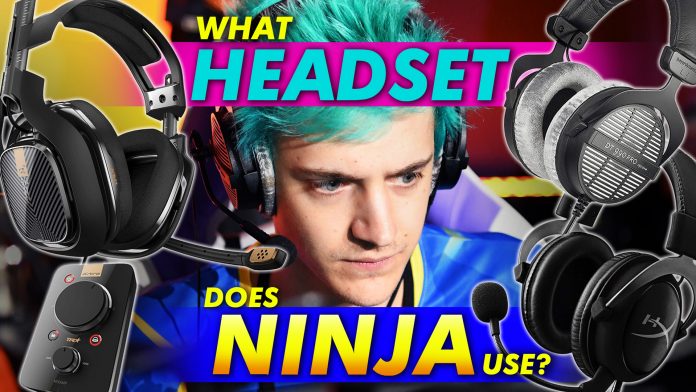 Whether he's sweeping up Battlegrounds or Halo 3 tournaments, Ninja relies on quality headsets to communicate with his team, speak with his stream viewers, and focus on strategy.
If you've spent any amount of time on the streaming platform Twitch, you've heard of Ninja. Love him or hate him, Ninja is currently the highest earning live streamer in the world with over 14 million active followers on Twitch and 22.8 million subscribers on Youtube.
Known for his aggressive play style, Ninja is one of the few professional video game players who's actually recognized by the mainstream public. Since 2018, Ninja has become most well known for streaming the competitive online game Fortnite Battle Royale.
What Headset Does Ninja Use?
Ninja is using the Beyerdynamic DT 990 Pro Headphones, a headset that is built specifically for those who rely on high fidelity sound, suitable for everything from professional studio mastering to intense game play.
You can also visit our list of the best headset for streaming if you are looking for the right type of headset for your streaming career.
Ninja's Current Headset: Beyerdynamic DT 990 Pro Headphones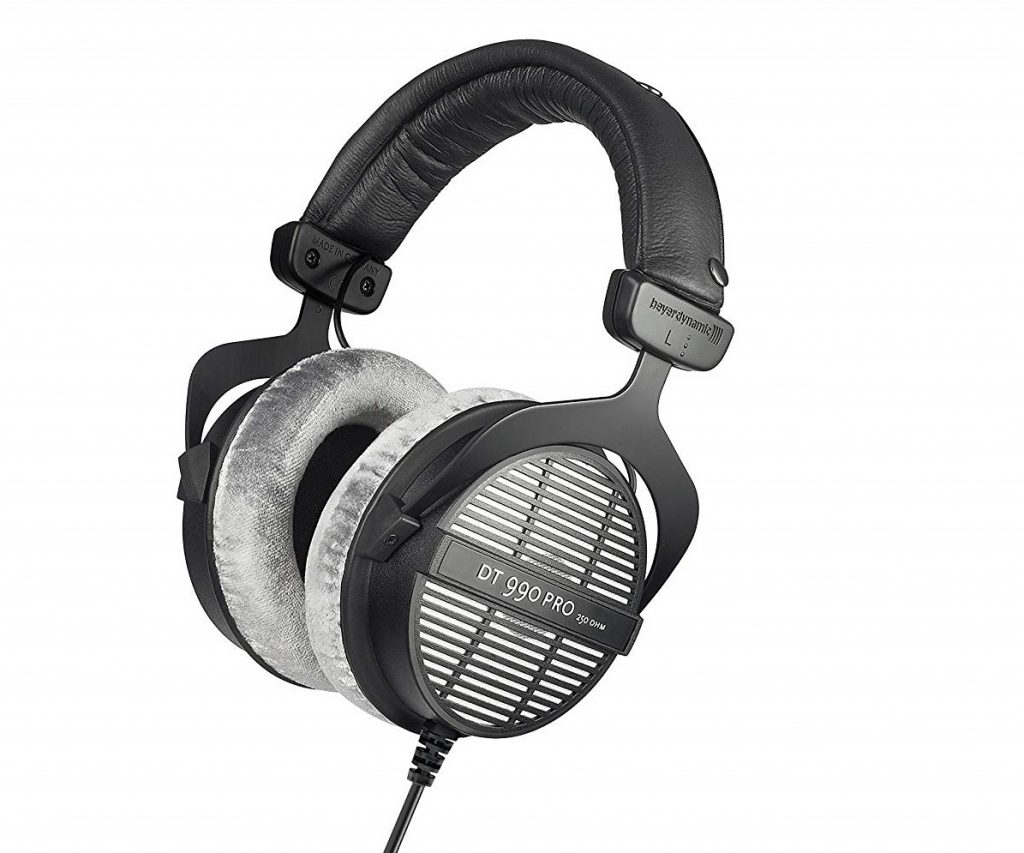 Available in muted shades ranging from Slate to Steel Gray, the Beyerdynamic DT 990 PRO doesn't seem like something Ninja would wear at first glance.
Despite their unassuming appearance, the Beyerdynamic headset boasts ideal over-ear performance.
Customers overwhelmingly mention the transparent, clarified bass and treble, as well as the strong mid-range provided through the Beyerdynamics.
The sound performance also parallels the comfort of this product. The soft, velour-based ear pads ensure all day comfort for even the most lengthy sessions.
If you've watched Ninja's recent streams, you've probably noticed the way he manhandles this headset. No worries: the durable, coiled cable and reinforced metal frame construction keep them resistant to everyday wear and tear.
Compared to previous versions in the DT series, this DT-990 headset create a somewhat more prominent bass and more spatially bifurcated soundscape that's recommended for high intensity gaming.
The only consistent complaint that some sound aficionados mention is that the high frequency range of this headset can be somewhat too intense. Around 10kHz, there is an aggravating peak in relative frequency response, which can create a slightly distorted and headache-inducing listening experience after several hours of continuous use.
Review of Ninja's Previous Headsets
We've collected some of Ninja's most recent and well-loved headset brands. Each headset has been selected for its studio-level performance and great reputation, in addition to Ninja's confidence in the brand.
Bose QuietComfort 35 Wireless Headset
Best day at work today cause I met @Ninja today pic.twitter.com/Kj32gYRkJ7

— 𝕯𝖎𝖊𝖌𝖔 🏴‍☠️ (@Market74) May 12, 2018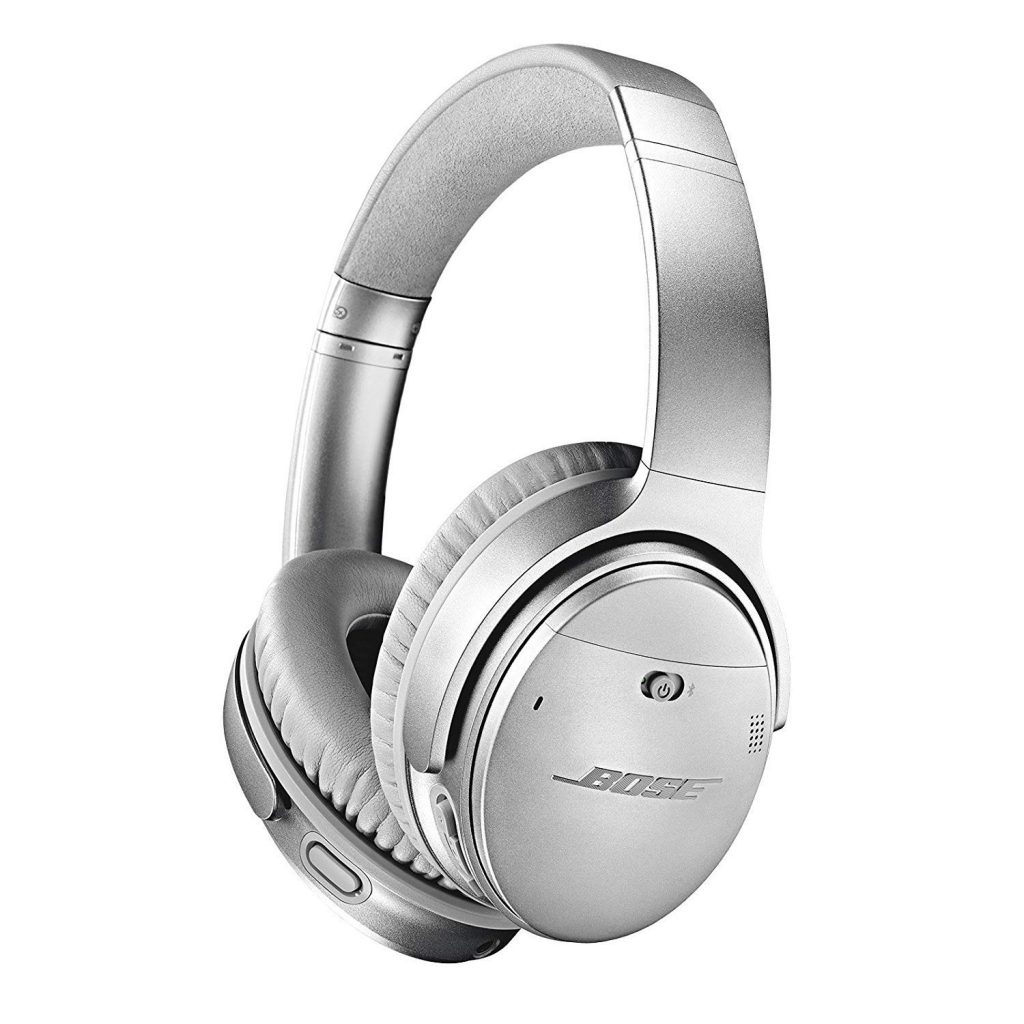 Before using the Beyerdynamic headset, Ninja relied heavily on the high quality performance of the Bose QuietComfort 35 headset. With Alexa-enabled voice access to music and smart device notifications, these tech-y headsets provide a hands-free way to adjust volume or locate your favorite audio files.
In a competitive environment, the voice-controlled aspect of this headset may just be a life saver. After all, who wants to shift their focus for even a moment to reduce the volume on their headset?
The Bose headset provides easy, consistent Bluetooth pairing to any smart device. Through the Bose connect app, it's even possible to receive headset updates for even more customized features.
Aside from these features, most customers appreciate the high degree of noise cancellation and sound spaciousness provided through the Bose headset. The closed back, flush design of the over-ear headset means you won't have to disturb (or be disturbed by) the external environment.
Ultimately, the Bose QuietComfort 35s are meant for those that want to optimize their workflow. Listening to distraction-free music and gameplay is a big bonus, but these headsets are specially designed to focus on studio work, creative projects, or competitive engagement even more seamless.
For Ninja, one of the largest benefits of this Bose headset was the noise rejecting, dual microphone system that allowed for higher voice clarity. The headset made it much easier for the streamer to communicate with teammates and fans.
Of course, the Bose QF headset's biggest bonuses are its biggest drawbacks. Customers are concerned that the headset's frustrating need for automated updates and automatic Alexa pairing is too intrusive.
If you'd prefer a less expensive pair that doesn't require such extensive software maintenance, it's best to avoid the Bose QuietComfort 35 headset.
Additionally, some customers are dissatisfied by the Bose QF's slightly murky midrange. Frequencies between 300Hz to 5,000Hz may sound somewhat recessed compared to high and low ranges.
Audio-Technica ATH-ADG1X Open Air Gaming Headset
I have played ONE H1Z1 game with these new headphones and listened to some music. Very happy so far https://t.co/gfRFxonCAT

— Ninja (@Ninja) July 22, 2016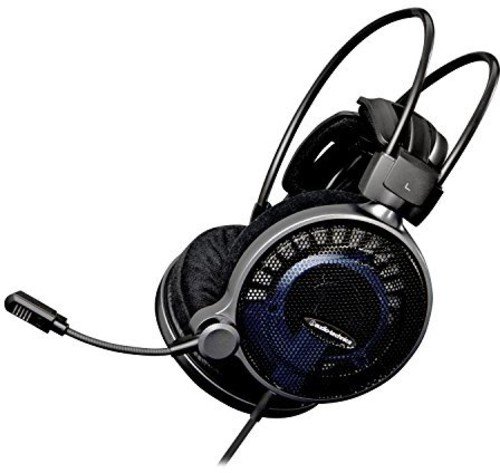 Using the power of 53 mm drivers, the Audio Technica ATH-ADG1X headset is built to recreate extremely accurate sound for first-person shooter (FPS) and role playing games. The open-air back provides high sound clarity, while allowing the wearer to be aware of their surroundings in team-based environments.
Unlike other open-air headsets, this Audio Technica set minimizes audio bleeding. Even at the highest volumes, those around you aren't able to hear your headset blasting noise.
Paired with the high fidelity audio, the Audio Technica set uses quality microphone to enable even better in-game voice communication. The microphone is designed to pick up on a narrow pattern of noise, meaning that ambient noises, exhales, and unwanted crackles don't create frustrating feedback.
The volume control and locking mic mute button are simple to set up with a single click.
Like other pairs that Ninja has worn, the Audio Technica ATH-ADG1X headset is known for being extremely comfortable and soft for extended gameplay. The circumaurual design of the velour ear pads don't create headache-inducing pressure on the sides of the head: a must for professional gamers.
More specifically, the manufacturers have used a wing-based support system that adjust to shape and angling of the wearer's ears. After several sessions, the soft ear pads should be completely compatible with the wearer.
Out of all the benefits of the Audio Technica headsets, most mention just how airy they are to wear. The honeycomb housings keep the headset consistently cool while allowing for high sound clarity, reducing the opportunity for sweat to build up during an intense round of gameplay.
The headset comes with a 3.5 mm, or one-eighth inch, gold-plated stereo connector, one 2.0 meter extension cable, and a handy windscreen for the microphone.
Potential buyers should keep in mind a few important drawbacks of this Audio Technica set. Unlike other AT products, this headset's cable is completely non-removable: if the cable gets worn, it may require the buyer to replace the entire headset or opt for a refund.
Astro Gaming A40 TR Headset
@RenegaadeHCS headphones, I use the astro mixamp as my main headset for my PC and OBS so my stream and I hear any youtube videos ect

— Ninja (@Ninja) November 3, 2015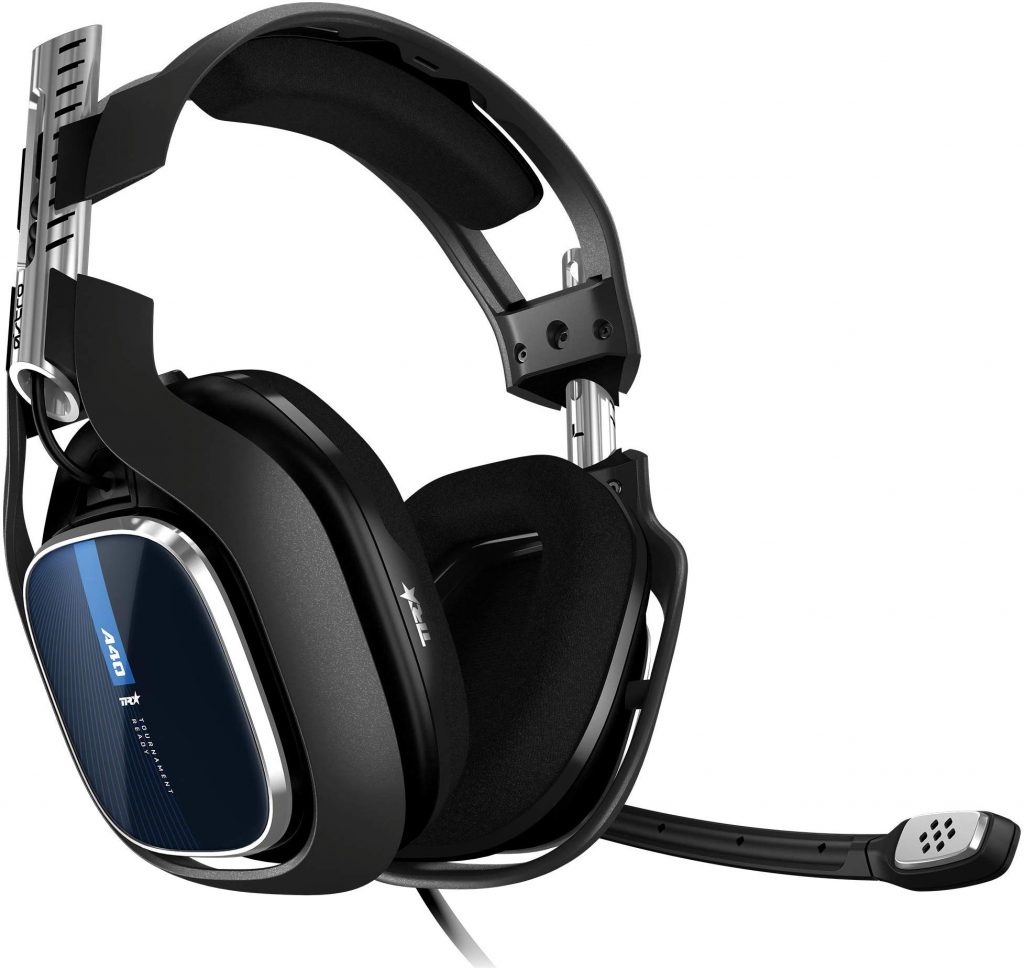 The Astro manufacturer makes audio equipment that's tailor-made for gamers and their lifestyle. The A40 headset and MixAmp kit allows the wearer to transform their open-back to a closed back, noise cancelling headset purely by switching out a few key components.
For years, Astro headsets have been the choice of major gaming organizations. All TR headset products are considered the official equipment of Call of Duty: Black Ops 3 and are used by top performers like the Optic Gaming team.
So, why have pro gamers like Ninja turned to the Astro A40 headset? To put it simply, the A40 is customizable for both home use, professional studio use, and competitive or cooperative game playing environments.
Serious live streamers have used the headset since all of its components are built to minimize sources of lag and interference. The Astro software allows live streamers to tune input and output parameters exactly to their specifications, which makes streamed gaming sessions very seamless.
The headset itself is retrofitted with Dolby Surround 7.1, providing precise sound that allows players to pinpoint gunshots, footsteps, and other in-game noises with ease. The tuned Astro A40 systems provides clarity at every frequency, according to satisfied customers.
It's not uncommon to see the A40 called the best possible headset for PC and PS4 gaming. The one aspect it lags on is its material construction, which makes some customers doubt its long term durability. The frame is made from mostly composite, interchangeable plastic components that may be somewhat fragile without proper care.
HyperX Cloud II Gaming Headset
So we had no noise cancellation headphones, had to use the hyper x for that, and used earbuds plugged INTO the PC. But even hyperx was quiet

— Ninja (@Ninja) August 23, 2017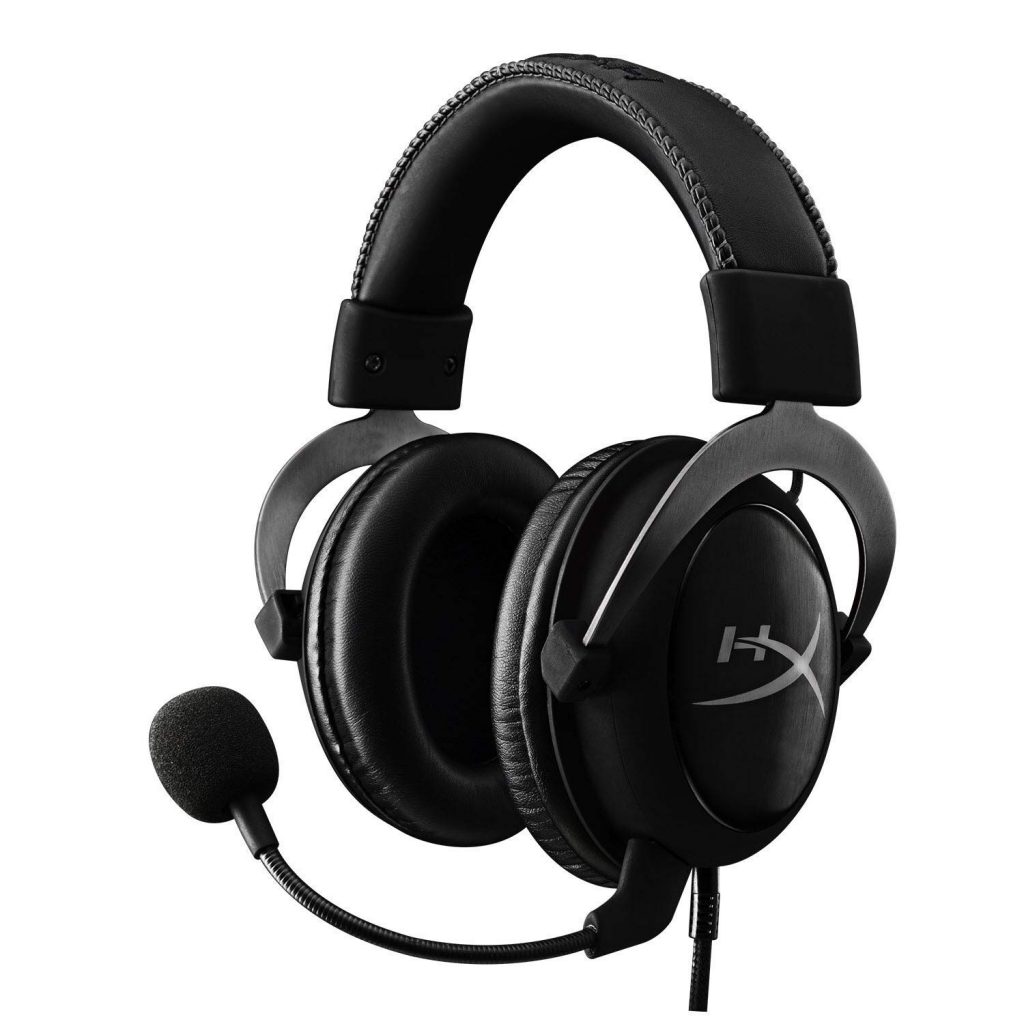 Among all the headsets that Ninja has endorsed, the HyperX is perhaps the one with the best bang for your buck. Utilizing industry-standard 53 mm neodymium magnet drivers, the HyperX headset provides a noise-cancelled and precise sound isolated environment.
With the inline sound card, the headset successfully cancels echos, ambient noise, and any unwanted interference. Moreover, the USB audio sound card uses Dolby Surround 7.1 to provide a high fidelity sound experience.
Customers note that the HyperX headset generate a surround sound experience, creating the sense of distance and depth that aides proper game play. Since the headset is "plug and play", there's no need for users to fiddle with independent software or downloaded device drivers.
The headset is compatible with virtually every console and computer system, even most name brand virtual reality systems. Dolby Surround 7.1 can even be toggled on and off, depending on the system that you're using it with.
The microphone is digitally enhanced to create a noise-cancelled and echoless environment. The headset's microphone pairs through a USB control box, which allows more advanced users to adjust aspects of their sound input and output.
In terms of comfort, the HyperX headset is designed for all day use, which makes it ideal for professional gamers. The ear pads are interchangeable for different cups, depending on your particular head shape and preferences. Distinct ear cups can even be installed in order to provide different sound profiles.
Upon purchase, the headset comes with two sets of ear pads: a leatherette and velour pair that cushion the ear differently.
Some buyers complain that the HyperX USB dongle performs poorly on specific consoles. The USB control adapter may create a frequency passthrough, which would block wanted sounds from passing successfully through the mic if Dolby Surround 7.1 is enabled.