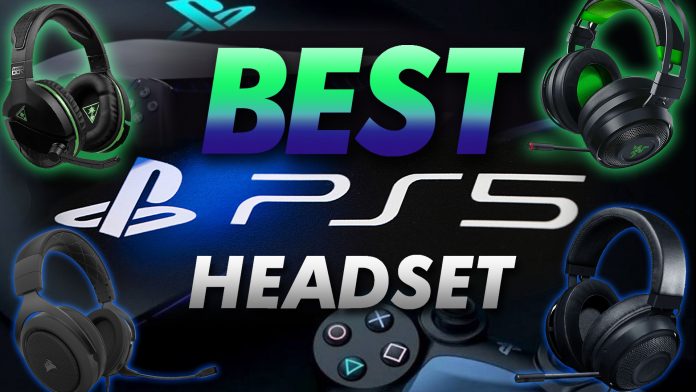 The PS5 will be coming out this year, and we're all very excited to hear about the graphical and audible improvements: particularly the 3D audio. While the ultimate PS5 headset will still be the Pulse 3D headset that will come out with the PS5, we'd like to look at alternatives to those headphones.
Today we're giving you 5 of the best gaming headphones for PS5 you can buy right now in anticipation of your PS5. If you aren't looking to purchase a Pulse 3D headset at all, these gaming headsets will more than satisfy your need for a great audio experience for gaming.
The Best PS5 Headsets at a Glance
1. Razer Nari Ultimate | PS5 Headset with Haptic Feedback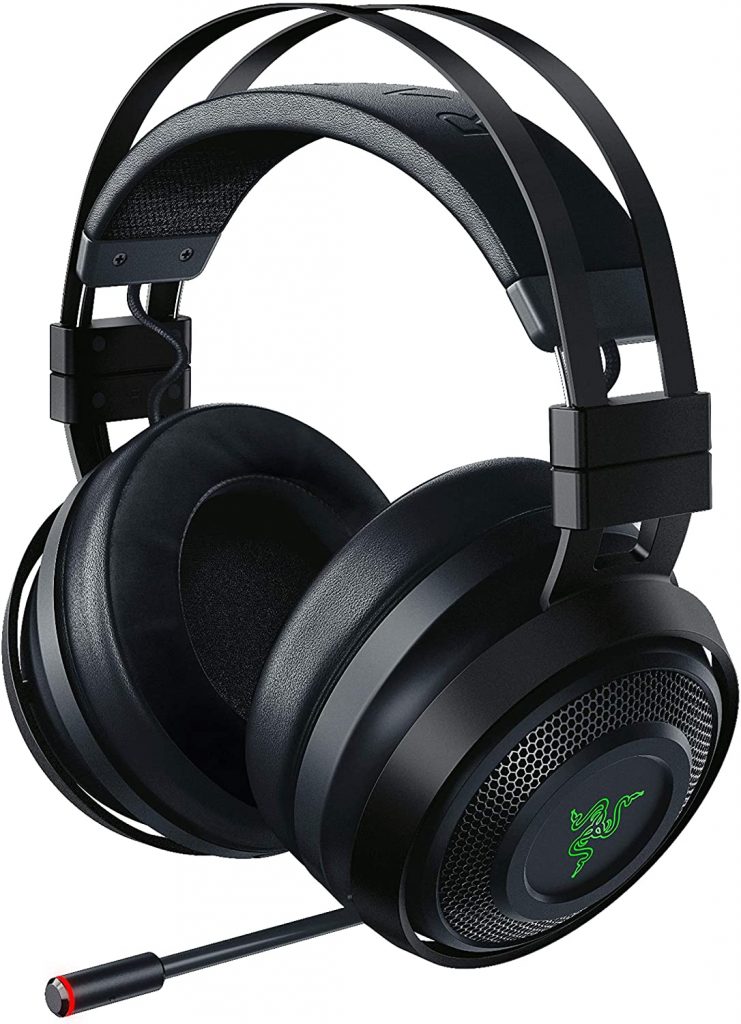 Razer has always pushed the boundaries of what's expected from their keyboards, mice, and headphones. Their most recent and controversial creation so far is the Razer Nari Ultimate, the world's first and only headphones with haptic feedback. Hypersense, as Razer calls their haptic feedback technology, is a brand new way to immerse yourself in the games you play.
This is a pair of headphones that vibrate with the low frequencies. This means that explosions will trigger the rumble pack inside the headphones, giving you haptic feedback that's never been felt from a pair of headphones before. To many, it feels like a gimmick – but it's something that should be experienced personally, so you might need to take the plunge.
As for the audio itself, the Razer Nari Ultimate is no slouch. 7.1 surround sound is available for this pair of headphones, which only enhances the gaming experience further. Of course, the headset is tuned for gaming so there's more emphasis on the low end of the sound spectrum. However, mids and highs were still good, they don't feel overwhelmed by the emphasis on the bass.
Battery life is stellar for this pair of wireless headphones. You can run it for up to 8 hours with haptic feedback on, and 20 hours without. As long as it gets one full charge, you won't need to charge them again until you're done with your gaming session. The connection is fast and stable with no audio lag, which will help a lot when playing competitive games on PS5.
2. Razer Kraken Tournament Edition | Best Razer Headset for PS5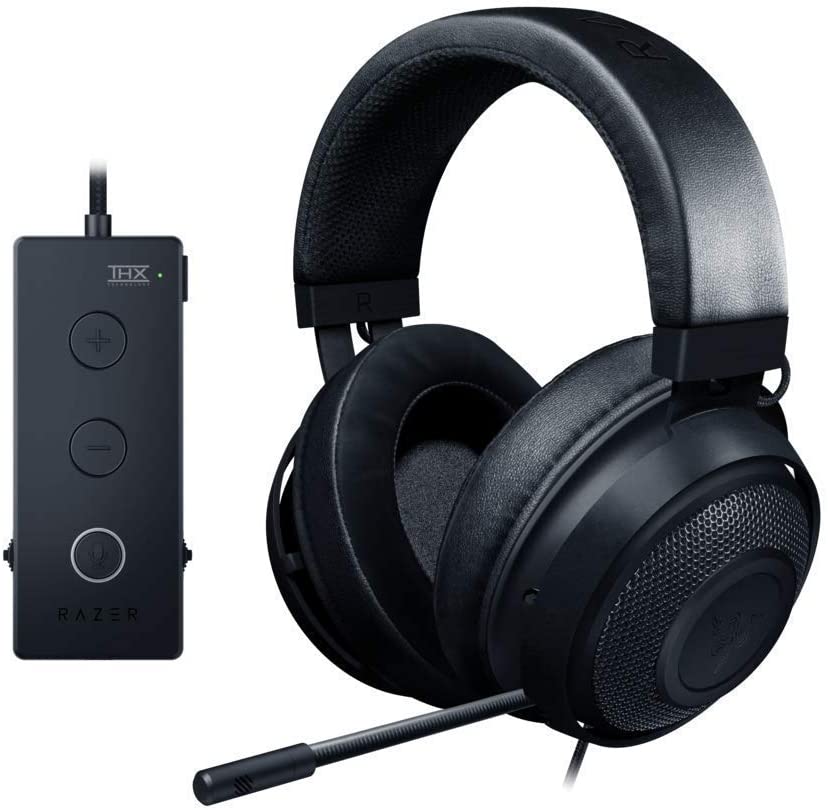 PS4 console gamers might be familiar with the Razer Kraken Tournament Edition, an amazing pair of wired cans that brought high-quality e-sports level audio at a relatively low price. This closed-back pair of gaming headphones is lightweight but sturdy, with a certain heft on the cans themselves that give the headphones a quality feel.
The Kraken TE stands out from the Kraken Pro V2 and the Kraken X by being the comfortable middle ground of great build quality and great audio. It's able to provide a standard 5.1 audio setup from its 3.5mm jack, but it is still capable of 7.1 surround sound on PC. The game was tuned for intense games such as PUBG and CS:GO, which means it has a bias towards the low end of the sound spectrum.
Despite this, the Razer Kraken TE still delivers any type of audio earnestly. In-game dialogue does not sound muffled at all; in fact, the dialogue sounds magnified, which we definitely heard when playing Battlefield 5 as our sergeant barked orders over the sound of gunfire. Speaking of gunfire, its bias towards the low end made every shot and explosion ring out beautifully.
It is, however, still a wired pair of headphones, which does restrict your movement a bit. We'd recommend this pair for anyone looking to use a 4K computer monitor rather than a 4K TV, you can't do worse than the Razer Kraken Tournament Edition.
3. Turtle Beach Stealth 700 | The Most Comfortable Wireless PS5 Headset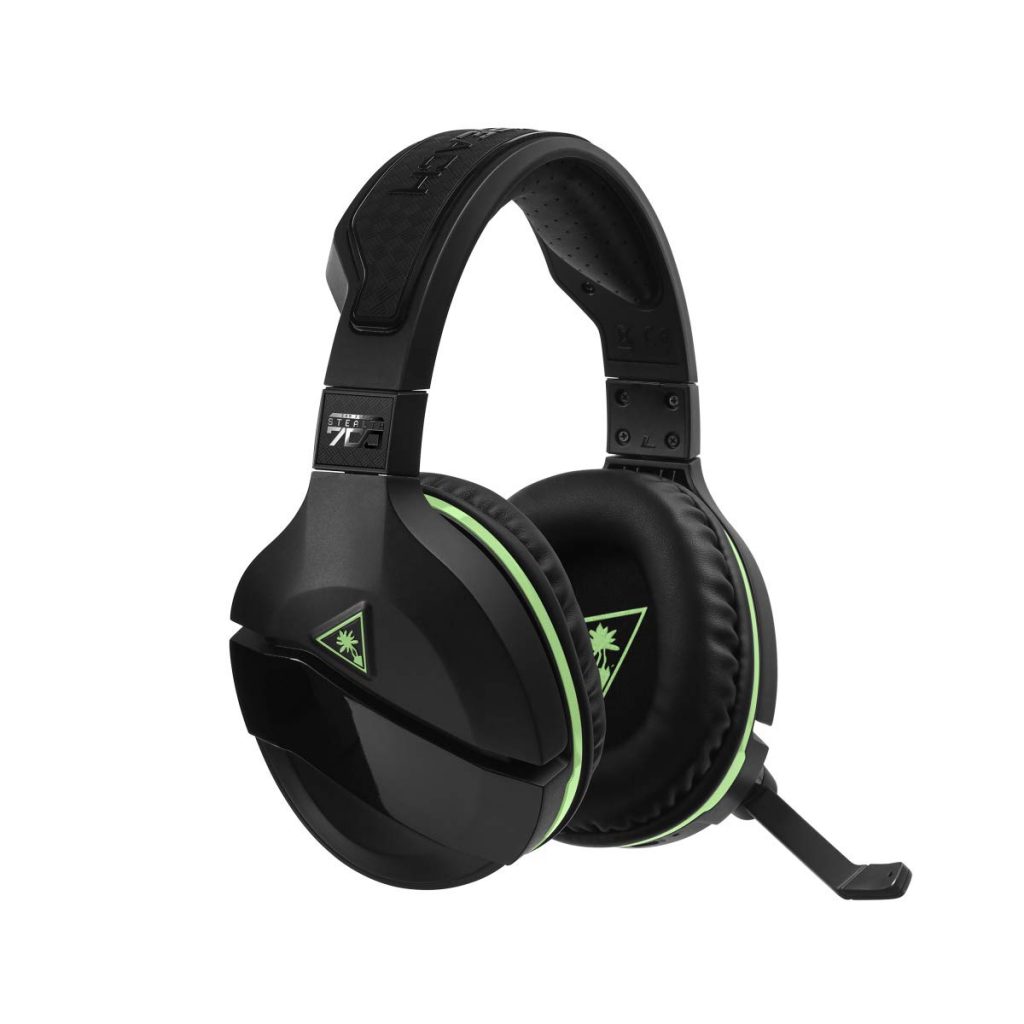 Turtle Beach has been known to make some of gaming's most comfortable headphones. They're designed from the ground up with long gaming sessions in mind. The Turtle Beach Stealth 700 is one of their best products, thanks to its comfortable form and excellent audio performance.
It has a closed-back design and 50mm neodymium drivers within the cans. The headband is made with a lightweight but tough plastic material, with a thick strip of memory foam to cushion the top of the head. The cups are nice and wide, even for big ears. The increased space also makes the whole fit very breathable. The foam on the cups is soft and malleable enough that even thick-framed glasses won't have trouble fitting through.
The closed-back design lends a little natural noise cancellation, making a nice airtight fit around your ears. This blocks out all unwanted sound sources outside of your game, letting you become more immersed in your game. The sounds from the low end are a bit muddled, but the Stealth 700 impresses with the mid and high levels, which turned out to be clear and soaring.
This wireless headset also comes with a great microphone that brings out the low tones of the voice. Besides that, it also has features such as amplifying sounds like footsteps and explosions in-game, as well as Bluetooth connectivity. There's also a mobile app that lets you call and stream music from your smartphone. Even with the modest pricing, it's surprising to see so many features packed into one cozy headphone package.
4. Corsair HS60 Pro | Virtual Surround Sound Headset for PS5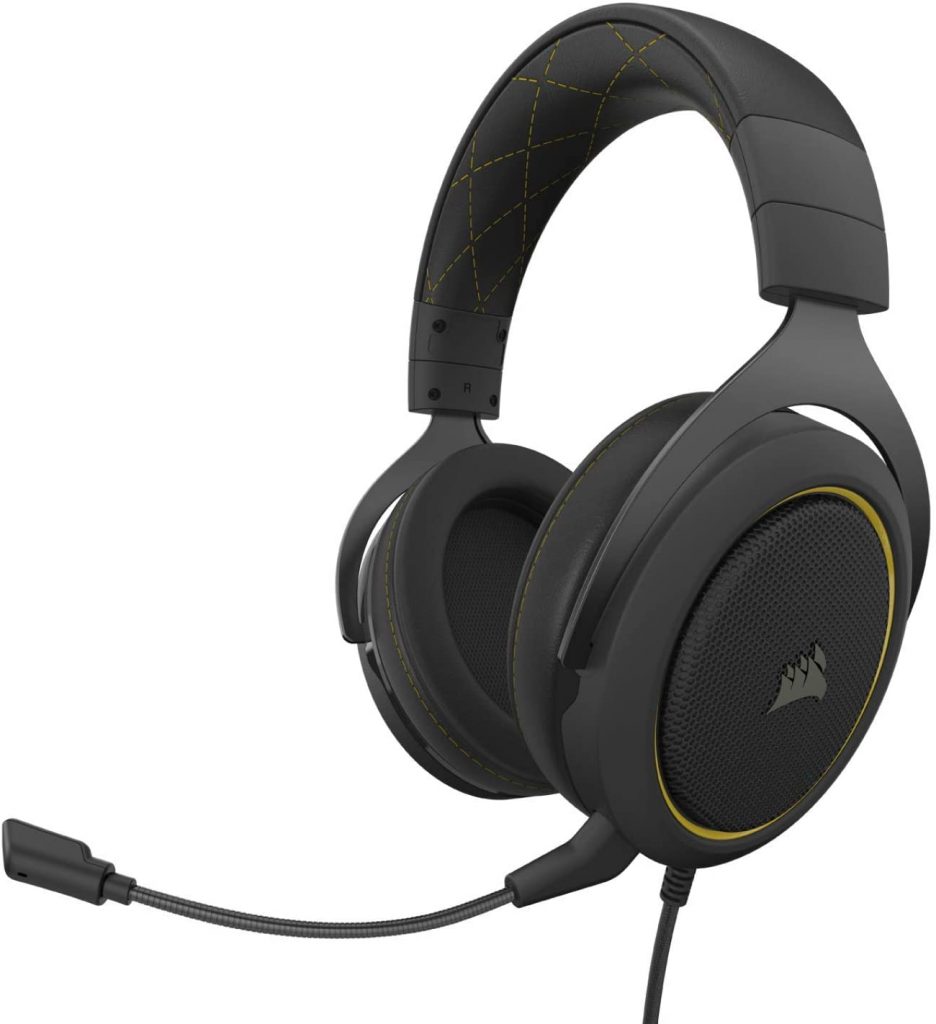 The Corsair HS60 Pro is one of the best PS5 headsets under $100 available today. Despite its low price, Corsair didn't skimp on the features that mattered. From its premium look and feel, surprisingly great sound quality, and an excellent mic to boot, the HS60 Pro is an unlikely yet well-deserving contender in this list.
Dirty details: the Corsair HS60 Pro is a wired, closed-back headphone using 50mm neodymium drivers. It's compatible with the PS4, PC, Switch, phones, tablets – practically anything with a 3.5mm audio port. The build quality is plastic and metal, with memory foam cushioning on the headband and the cups. It's got a cool black and a yellow aesthetic that looks very premium. It's almost as pretty as its sound.
Yes, the HS60 Pro is one of the clearest and most detailed sounding gaming headphones we've ever had. It has a deep and punchy bass that hits you just the right way. Mids are decent and highs are soaring, especially on stereo mode. However, things change when you turn on its virtual surround sound. It doesn't handle directional audio well as it's managed by software rather than hardware.
It does feel like Corsair has been dumping a lot of low-budget headphones into the market lately, but we're not complaining. The HS60 Pro is a great choice for people who are on a strict budget but want the quality they deserve.
5. Sennheiser GSP 300 | Best Audiophile Headset for PS5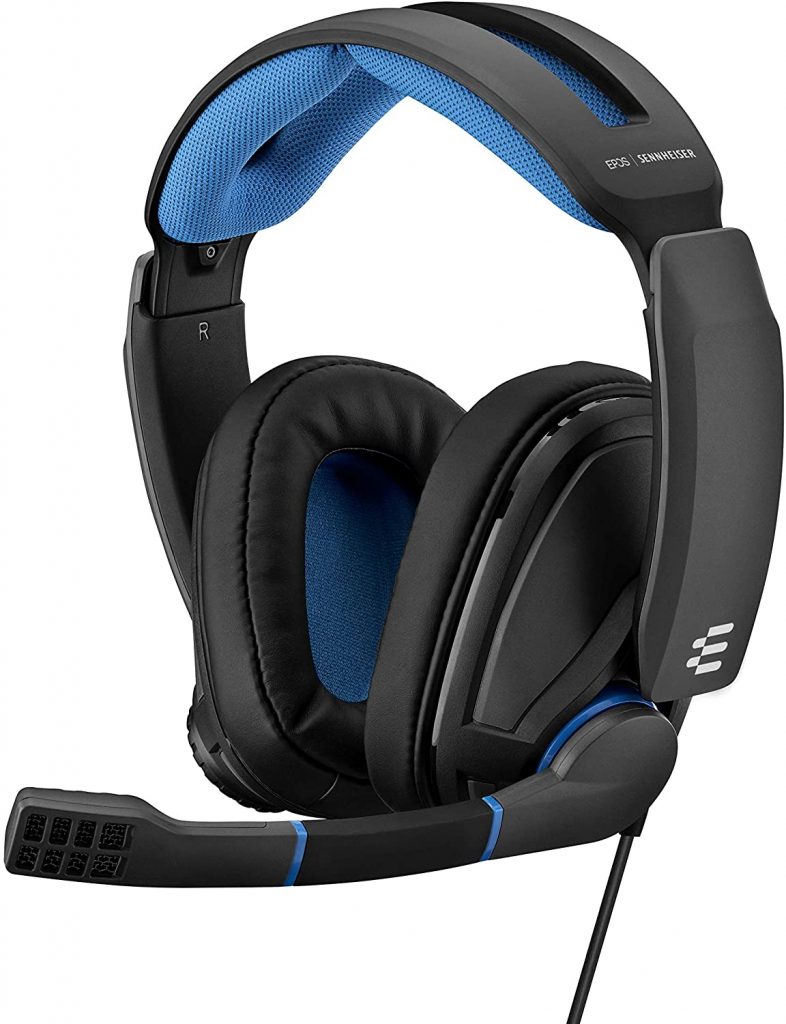 Sennheiser is an amazing brand for audio, widely lauded by audiophiles for decades. Their entry into the gaming sphere was a much-anticipated event. One of their best hits in terms of gaming headsets is the GSP 300: a reasonably priced Sennheiser product with its signature touch adapted for gaming.
This is the choice for people who want audiophile quality headphones on their games, but don't want to drop tons on more expensive Sennheiser models. Or, this can also be the choice for people who want good audio and a decent mic: the Sennheiser GSP 300 is all too happy to provide for those needs.
As expected, it's got a great sound with lows, mids, and highs all working together in perfect harmony, with each highlighting the music, dialogue, and sound effects on every game played on it. Audio is detailed with great surround sound and directional accuracy, all while remaining to sound rich and well-rounded. Music, movies, and games all sound amazing on these cans.
There's not a lot of features on this pair of headphones – if at all. We understand that this is an attempt to lower costs, focusing only on the drivers and the microphone to produce a stellar-sounding product at a low price (for a Sennheiser product.) This is a great option for your PS5 headset if you don't want to spring for a Pulse 3D.
6. Sony PS5 Pulse 3D Wireless Headset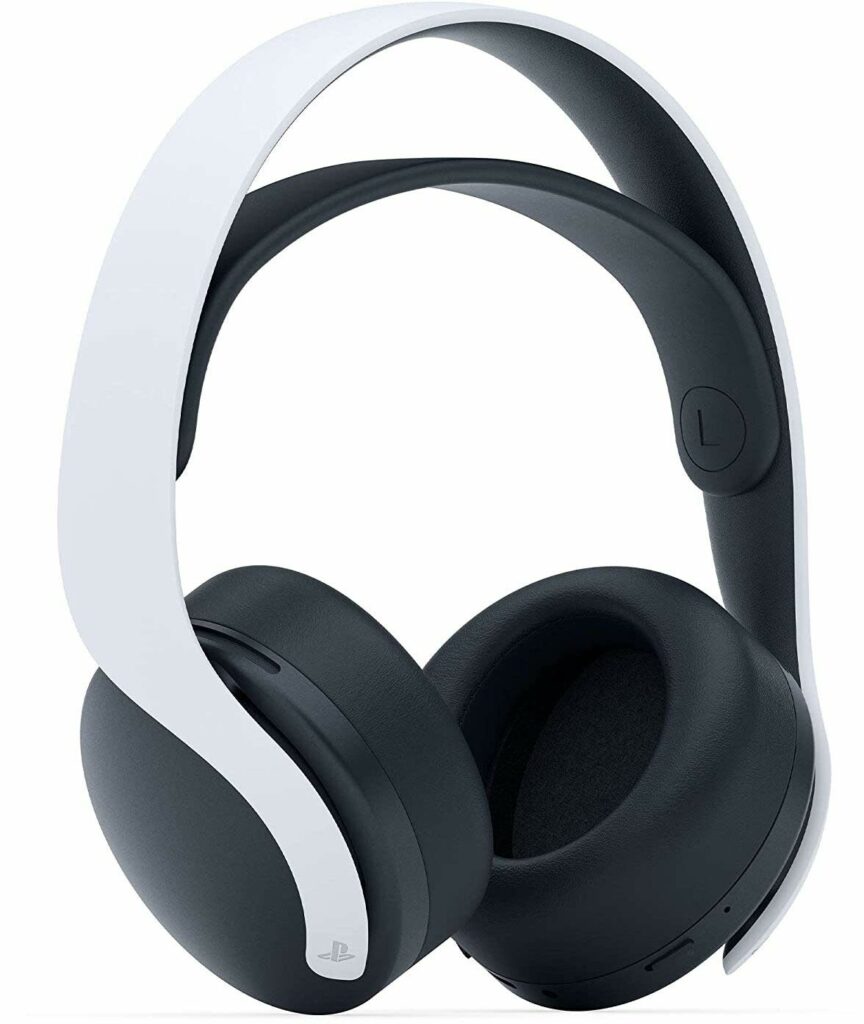 The Pulse 3D Wireless Headset is specifically tuned to deliver the next-generation audio capabilities of the PS5. If you're unsure about the rest of the featured products on our list, you can safely pick the Pulse 3D and have peace of mind.
The Pulse 3D doesn't have any fancy RGB lights or eye-catching design elements. Its microphone is also integrated into the ear cans instead of protruding from the headset. But under the hood is where its golden features lie. PS Tempest 3D AudioTech ensures you get the most from your new console's audio. This technology lets you hear in-game 3D audio to enhance your overall experience.
Unfortunately, the Tempest 3D AudioTech only applies to Astro's Playroom, Demon's Souls, Sackboy: A Big Adventure, and Marvel's Spider-Man: Miles Morales for now, but has been confirmed for Resident Evil Village, Horizon Forbidden West, Ratchet & Clank: Rift, Destruction AllStars, Returnal, and Gran Turismo.
Setting up the Pulse 3D is very straightforward. Just plug the cable into the front USB port of your PS5 and turn it on. It should be detected within a few seconds.
Note that even though the headset is wireless, you can still use it wired by plugging it straight into the controller's headphone jack. The Pulse 3D is also versatile enough to connect seamlessly to your PC or laptop via the included USB dongle.
Overall, the sound quality is noticeably better on specific titles since it's designed to work that way. If you wish to experience next-generation audio, the Pulse 3D is the option that makes the most sense.
7. SteelSeries Arctis 7P Wireless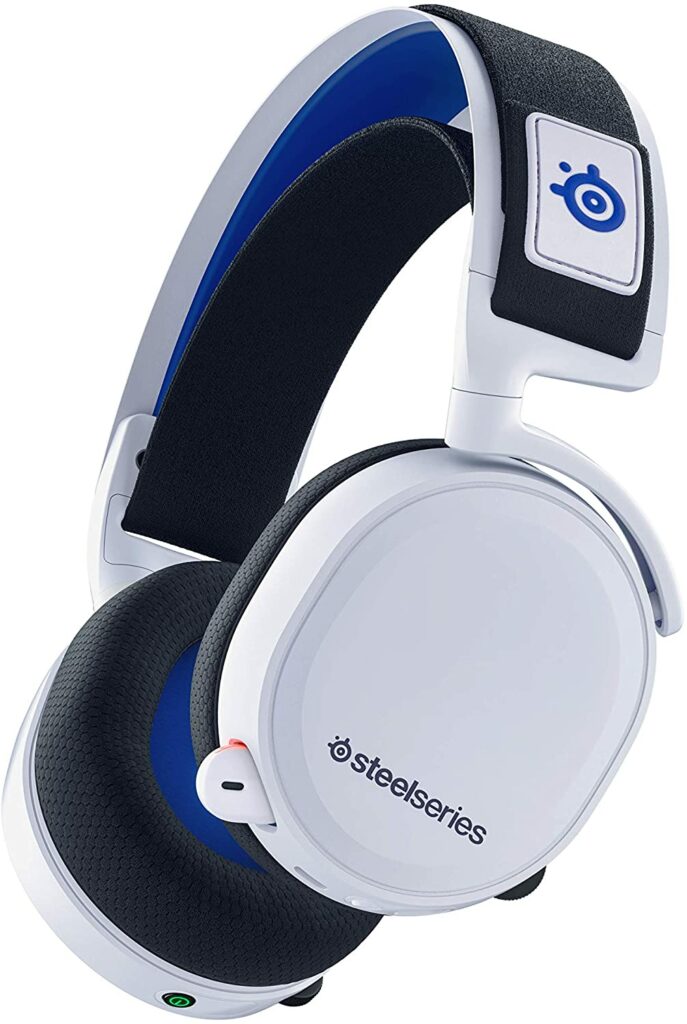 The SteelSeries Arctis 7P is a solidly built headset that you can count on to last a long time. Most parts of the headset are metal, making it robust and reliable.
One of the most notable downsides of this headset is the dongle that it comes with. You see, it's wide enough to block the USB port beside it if you plug it in the front port.
The headset's design is modest and complements the colors of the PS5. The microphone doesn't sound as good as a dedicated boom microphone, but it works decently for necessary communication with teammates in multiplayer games.
Comfort is another strong suit for the Arctis 7P. The headband can be easily adjusted to fit your head. All you have to do is undo the Velcro strap and make the necessary adjustments. The ear cups also feel really comfortable since they are made of cloth material.
If you're looking forward to playing for long gaming sessions with the Arctis 7P, you won't be disappointed. Battery life is just enough to last you a gaming session or two.
The Arctis 7P also features the Tempest 3D AudioTech to deliver the full next-gen experience.
8. Turtle Beach Stealth 700 Gen 2 Premium Wireless Gaming Headset for PlayStation 5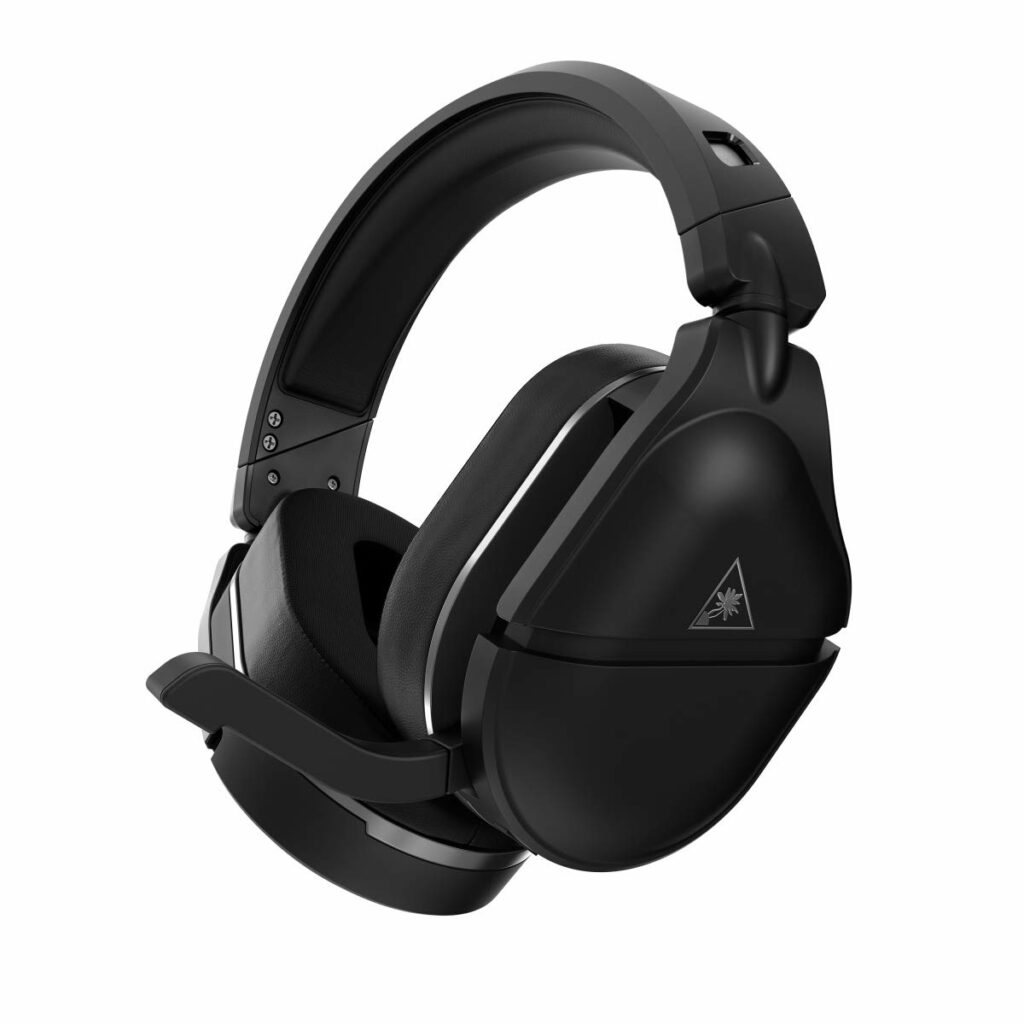 The initial release of the Turtle Beach Stealth 700 Gen2 felt a little inadequate since it is primarily designed for next-generation consoles. Now that the PS5 is out, the significance of this headset has spiked exponentially.
Compared to its predecessor, the Stealth 700 Gen has a longer battery life, making them suitable for extended gaming sessions. But that isn't the only thing that has been improved.
The Stealth 700 Gen 2 is designed for the PS5, but you can also use it on your PS4 or PC. Unfortunately, it is cross-platform compatible, but there are separate models for the Xbox One and Xbox Series X.
The headset is built mainly from plastic, although some parts are metal, including the strip that runs through the headband. The light material makes it ideal for extended use.
The ear cups are made of memory foam with a cooling gel layer covered in leatherette and fabric. If you wear glasses, you shouldn't feel any pressure from either side since carved channels in the ear pads are meant to reduce tension.
Apart from the included dongle, you can also choose to connect the headset via Bluetooth to your smartphone. By connecting the headset to both your console and your phone simultaneously, you can quickly answer calls without taking your headset off.
Frequently Asked Questions
Will there be a PS5 headset?
The PS5's announcement revealed the existence of Sony's Pulse 3D Wireless Headset, which, as its description says, "offers 3D audio support and dual noise-canceling microphones. That in itself doesn't really say much, and we'll have to wait till release to find out more about it. However, there are some things we know about it:
First off, the 3D Audio, which was first featured in the PS4 Platinum headset, is audio software included in some (not all) PS4 games that allowed the simulation of 3D audio. This means you can clearly hear where the sound sources are coming from in all three dimensions. For example, a helicopter flyover will sound like it's coming from above you, not behind to front. Footsteps on the second floor sound just like they're coming from upstairs, and people padding around in the basement can and will be heard. It's one of those things that you have to try to be convinced that it's not just a gimmick.
Another thing that stands out is the dual noise-canceling mics, which come standard in most high-end gaming headphones. The fact that it's dual means that the Pulse 3D wireless headset is capable of stereo audio input, making your voice sound fuller. It's a nice touch that shows off just how premium this headset is. It is, of course, wireless. It's 2020, after all. This makes us hopeful for the day when consoles will start embracing wireless, supporting wireless VR for PS5 among other things.
But that's all we have right now: speculation and hopes. For now, rest assured however that when we do get our hands on it, we'll drop a review quicker than you can say "Cyberpunk 2077 on the PS5."
Do I need a Pulse 3D wireless headset for PS5?
As the successor to the PlayStation Platinum Wireless Headset, the Pulse 3D wireless headset is the ultimate companion to its console, like the last one, was. Sony promises that the Pulse 3D is crucial to enjoying the true 3D Audio potential of the PS5. As Sony revealed, the Pulse 3D will also work with the PS4 and PC. If you want the best gaming headset for PS5 and PC, you can be sure that the Pulse 3D won't disappoint.
Since Sony likes to keep its technology proprietary, there's a good chance that many future games will have 3D audio capability optimized for the Pulse 3D. If you want to experience the best of your PS5's capability, you're going to need these, as well as a great 4K TV, to enjoy the new graphical fidelity it is capable of.
Will the PS5 headset be good?
With not a lot of data out there, it's hard to tell if the PS5 headset will be good. If the Platinum Wireless was any indication, it's gotta be. The PS4 Platinum Wireless Headset was a masterclass in audio technology thanks to its 3D audio capability. It's safe to assume that Sony won't pull any punches when they finally release the Pulse 3D.
Will PS5 include the headset on release?
The Pulse 3D will launch on the same day the PS5 does. Therefore, if you want first dibs on the 3D audio capabilities of the Pulse 3D, grabbing one on pre-order is not a bad way to go.
Are PS5 headphones included with the PS5?
The Pulse 3D is a premium accessory that Sony is selling along with the PlayStation 5. Sadly, it won't come packaged with every PS5. You're going to have to pay a little extra to get it. By the looks of things, however, it might be worth it. Of course, if you already have one of the headphones listed in this article, the Pulse 3D might not even be that big a deal for you.
Will PS5 support a PS4 headset?
Apparently, it's not only games that will be backwards compatible with the PS5. The PS4 wireless headset, both Platinum and Gold Wireless Headsets, will be compatible with the PS5. While they might not have the same quality as the PS5, they're still very solid headsets in their own right. So, if you'd like to experience 3D audio for the PS5 but without the pricey Pulse 3D, you can settle with your Platinum Wireless Headset or any of the other ones on this list.
Will PS5 support Bluetooth headphones?
Sony and Bluetooth have always had a rocky relationship when it comes to gaming consoles. There is very limited Bluetooth headphones support for the PS4, with only select models seamlessly pairing with the PS4. There's not much coming from Sony yet on whether or not the PS5 will natively support Bluetooth headphones. Likely wired and headphones with wireless transceivers will be supported. We don't know anything for sure right now, but we'll definitely come out with an article the moment we know more.
What are the best PS5 headphones?
Based on this list, the best overall PS5 headphone is the Razer Nari. There's just something about enjoying a game with haptic feedback on your headphones that we can't explain. It's a truly unique experience, one that might even make you forget that the Pulse 3D exists. However, the Nari isn't capable of the 3D audio the Pulse 3D will be. If you want the best PS5 headphones, you'll have to pick them up along with your PS5.
Wrap Up: The best audio companion for the PS5.
These headphones may never replace the upcoming Pulse 3D or the Platinum Wireless, they're still pretty good headphones for console gaming. We highly recommend the Razer Nari to have a different experience you might enjoy more than 3D audio. Otherwise, the best headset will still be the Pulse 3D – even if we just haven't heard enough about it yet.
Recap: The best gaming headsets for PS5 in 2020