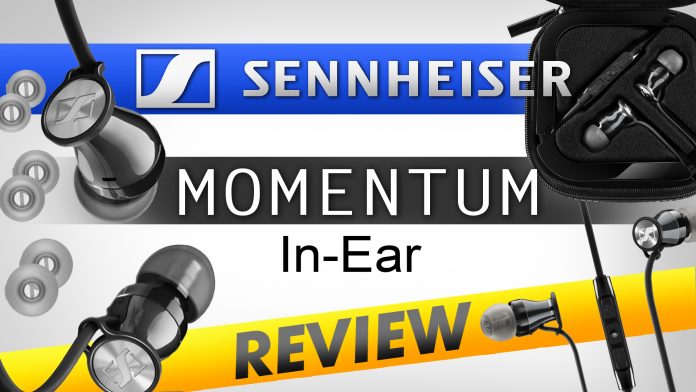 Sennheiser's Momentum series was designed to be fairly affordable, attractive, and better than Beats and similar headphones brands in terms of quality. While the company offers Momentum series headphones in over-ear, in-ear, and wireless designs, this review will focus on their in-ear wired headphones designed for iOS devices. These headphones have been produced for several years, and they seem to be an enduring favorite. In this review, we'll look at why.
First Look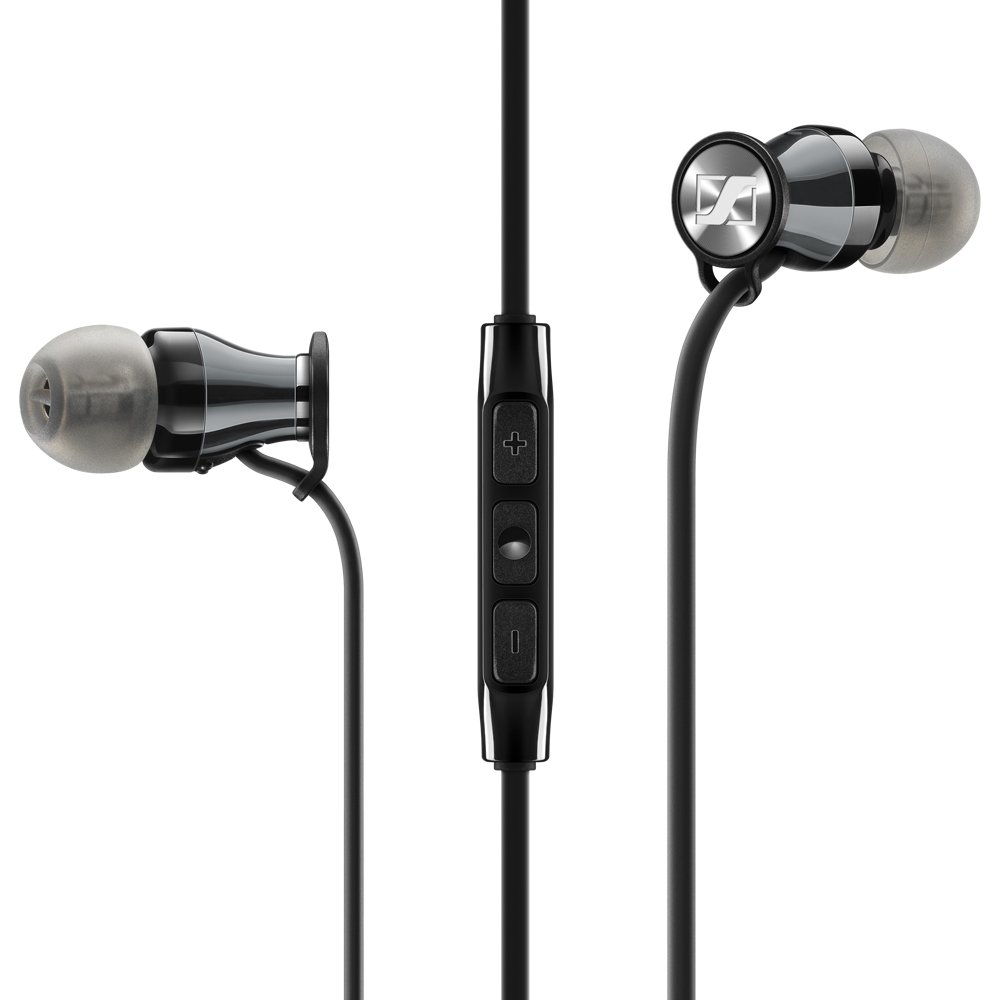 The Sennheiser Momentum in-ear headphones have a somewhat unusual look about them–it's in between the understated look of most everyday headphones and the often-bright colors of sports-focused earbuds.
The buds themselves have a plastic outer shell that's a quiet, jewel-toned red, but each one has a metal plate that's engraved with the Sennheiser logo. This gives them a classy appearance, but they aren't so bright or so shiny that they draw undue attention.
The bud design may be understated, but the two-toned, anti-tangle cable is a different story. It's black and red, with the red in the cable being much brighter than the red on the buds themselves.
The Momentum in-ear headphones also include an inline microphone that doubles as a music controller. Its three buttons are also a bright red, making the headphones an interesting and eye-catching study in contrast.
Before going further, it's important to note the unusual price point of these headphones–they are generally priced too high to be considered as budget headphones, but they also are priced significantly cheaper than high-end options. The headphone market isn't highly populated with mid-range headphones like these, making it somewhat difficult to compare the Momentum in-ear headphones to other options.
Build Quality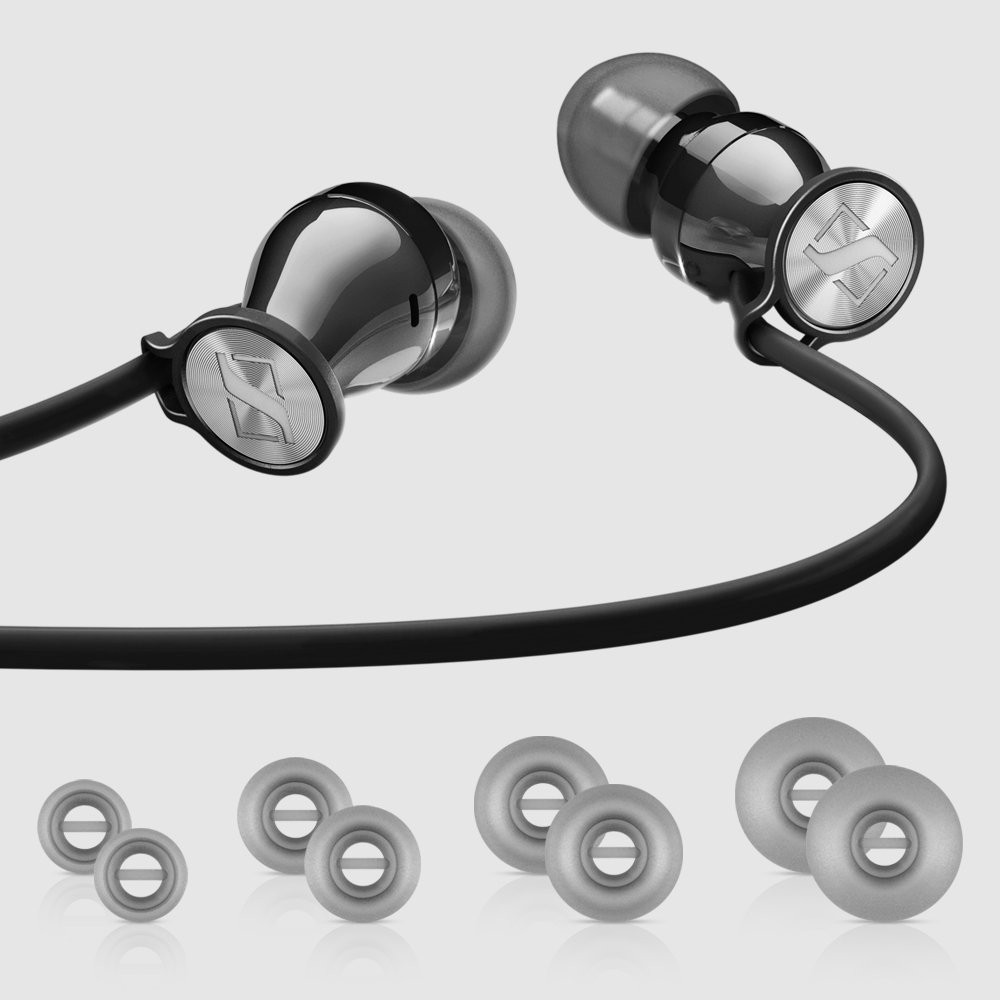 Anyone who has bought low-end in-ear headphones knows what it's like to have a great-sounding pair fall apart. Especially when it comes to thin cables, build quality is important. Here's what the Momentum in-ear headphones have to offer:
Buds
The outer housing may be largely plastic, but Sennheiser explains that every acoustic component of these headphones is made of expertly-milled steel. This is something that likely contributes to the longevity of these headphones. You can see what the manufacturer calls a "stainless-steel sound tunnel" if you remove the soft tips. Thus tunnel is fairly narrow, making it a good choice for those with narrow ear canals or who otherwise find many in-ear headphones to be irritating.
However, it's worth mentioning here that plenty of high-end headphones are made entirely of plastic–with a good enough build quality and intelligent engineering, even all-plastic options can sound good. Thus, the all-metal interior isn't always an advantage, but it's likely to be longer-lasting.
Cable
These headphones come with an oval cable design–it's close to being flat, and it also resists tangling. As anyone who has used cheaper headphones with thin, round cables can attest, cable tangling is irritating at best and damaging to your headphones at worst. This innovative design helps keep your Momentum buds protected.
The cable design also has another interesting feature–rather than attaching at the back of each earbud, the cable threads through a tiny loop at the bottom before attaching to the bottom of each individual bud. The result is an attachment that's much more durable (and much less prone to breakage) than that of most cheaper offerings.
Additionally, the angled 3.5mm jack helps protect the cable from undue stress at the point where it connects to your phone. And if you want to make sure your headphones aren't subjected to any unnecessary tangles while traveling, you can simply house them in the included travel case.
Sonic Profile
Looks and durability are of course part of the equation when you buy any headphones. But for most people, it's the listening experience that means the most. In this section, we'll go into detail to help give you an understanding of what it's like to hear music through the Momentum in-ear.
Drivers
Drivers are one of the most essential pieces when it comes to creating headphones. These devices convert electrical signals into audio that the human ear can hear. Some headphones have multiple drivers per earbud, and some types only have one.
While it's possible to get great sound with single-driver earbuds, dual-driver (or those with even more drivers) often have a better time covering the entire frequency range of a given song. Often, headphones with single drivers will favor a given frequency range. The other ranges may not necessarily sound bad, but there's often a noticeable discrepancy.
That said, the Momentum in-ear headphones have a single driver in each earbud, which is expected given their price point. These are dynamic drivers, which are the most common and affordable on the market. Dynamic drivers are known for leaning towards bass frequencies, making them a favorite of most consumers.
Frequency Response
Frequency response is another thing to consider when evaluating headphones. Most humans can hear frequencies between 20Hz and 20kHz, so this range is standard for headphones (or at least decent ones). The Momentum in-ear headphones go beyond this range–they have a frequency response of 15Hz to 22kHz, meaning they very likely will pick up on every frequency you can hear.
Listening Experience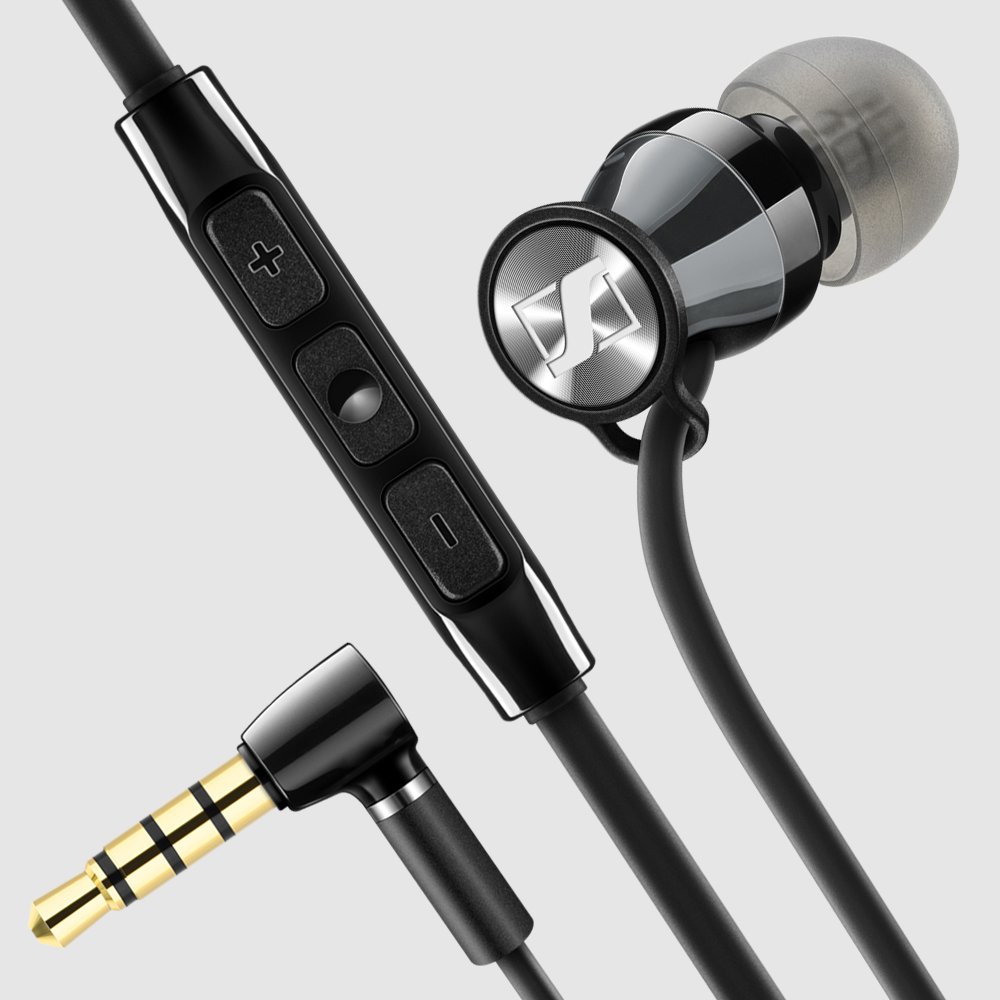 Reading the spec sheet for a given set of headphones will only get you so far. Below, we'll detail what it's like to hear music through these headphones. On the whole, though, many reviewers have praised these headphones for having a clear sound–there's enough frequency separation to make music sound authentic, but not so much separation that listening feels unnatural.
Bass
The bass response is where the Momentum in-ear headphones really shine. Given the fact that they use dynamic drivers, this isn't really a surprise. However, these don't sound like your typical, cheap bass-heavy headphones. Many of these models have a pronounced bass response, but the bass frequencies bleed over the mids and trebles and overwhelm the listener.
The Momentum headphones have a remarkably focused bass sound, and it also sounds surprisingly deep–something that's often hard to do with in-ear headphones. The result is a bass response that sounds full without being unnatural or overwhelming the mids and treble frequencies.
Mids
Earlier, we mentioned that headphones with single dynamic drivers often are lacking in one frequency area. For the Momentum in-ear headphones, most reviewers seem to agree that the mid-range frequencies are a bit underwhelming.
Some reviewers have described the mids as "recessed," which is a fairly accurate descriptor. The midrange isn't necessarily muddy or poorly defined, but these frequencies seem to be very much in the background when listening. This may not necessarily be a problem for everyone, but it can create a somewhat unbalanced listening experience.
Treble
While the pronounced, powerful bass response is one of the defining features of these headphones, the treble response is also fairly strong. This is something that seems to have caused some disagreement among reviewers. Some say that there's too much treble, leading to a somewhat harsh response. Others claim that, while the treble response is strong, it isn't overly harsh, and it doesn't overwhelm other frequencies.
Wearability and Uses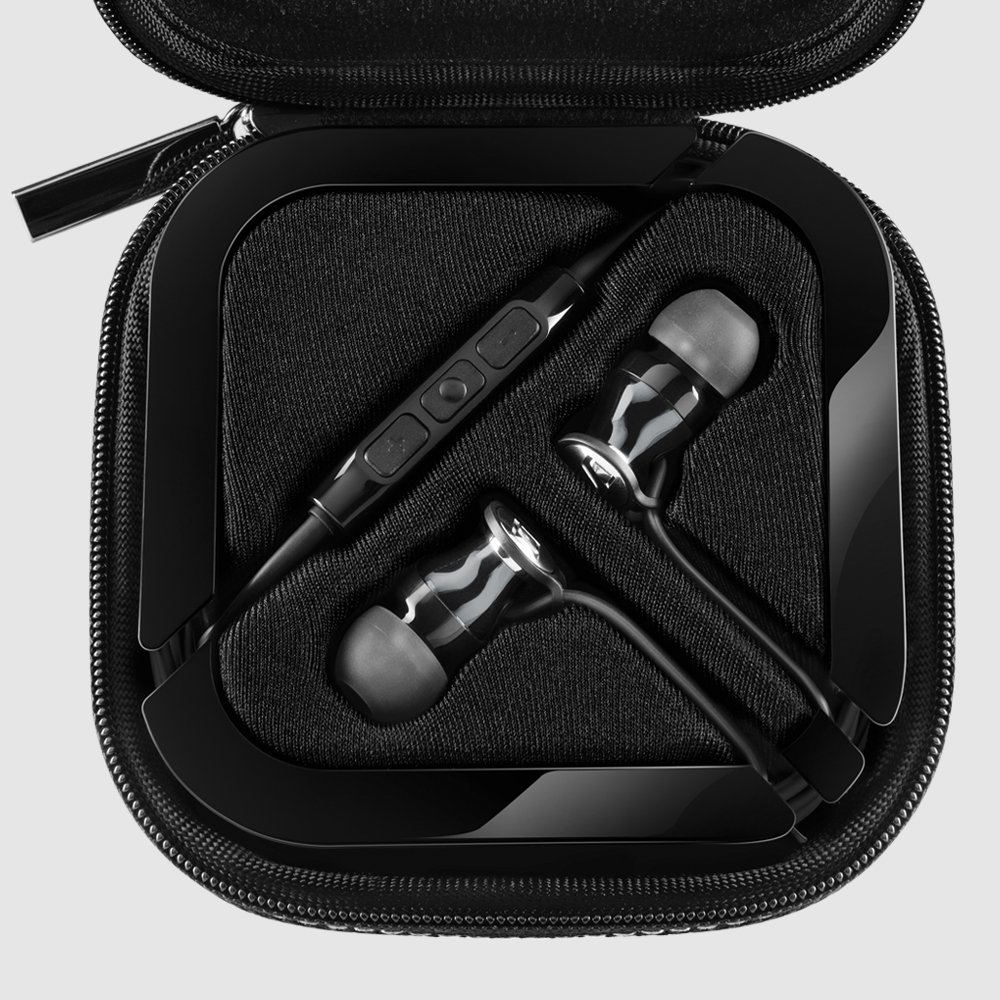 Listening experience is often the most important thing when buying a pair of headphones, but the listening experience won't mean much if a given pair of headphones is uncomfortable or otherwise difficult to wear. And because every style of in-ear headphone fits differently, it's wise to read about this before making a purchase.
General Comfort
Sennheiser designed these earbuds with comfort in mind. Unlike many in-ear headphone models, these ones are designed to meet the ear at a 15-degree angle. And while Sennheiser claims that this feature makes them comfortable enough for most wearers to forget about them entirely, many reviewers beg to differ.
For one, the angled earbuds are more prone to falling out, especially if you don't choose the exact right size of ear sleeve (the soft tips placed on the ends). And if you're a person who has ever found one size of ear tips to be too small and the next uncomfortably big, you know that there's a possibility that none of the provided ear sleeves will fit just right.
That said, Sennheiser includes four different sizes of ear sleeves, which is more than many manufacturers offer. It's possible that you'll find one that fits your ear exactly right, even if most in-ear headphones do not. The steel sound tunnel is much smaller than that of many earbuds, though, so you may be more likely to find a good fit with these as opposed to with some other brands, especially if your ears are unusually small.
Device Compatibility
These headphones are somewhat unusual in that they come in separate versions for Android and iOS devices. Both versions look virtually the same, as each one has a three-button remote for volume, track skipping, and answering calls. However, the remote wiring is different for iOS and Android, necessitating two separate versions of otherwise identical earbuds.
Having two separate versions is both a benefit and a potential detriment–Sennheiser's two-version design means that Android users can finally experience the three-button remote typically reserved for iOS devices. However, if you switch from iOS to Android (or vice versa) you may find yourself stuck with headphones that are incompatible with your device. It's likely that you would be able to use some features of the Momentum headphones if this were the case, but the remote/microphone combination is unlikely to work with a non-compatible phone.
Potential Uses
In this section, we'll evaluate the Momentum headphones' potential compatibility with the following common uses. Not every headphone type is ideal for every possible use, but this guide should give you a sense of how you may be able to use these headphones.
Exercise
The Momentum in-ear headphones have a bass-heavy sound quality and sleek good looks that are often thought to be compatible with exercise. However, with the number of buyers complaining about these headphones not staying in place, it's reasonable to conclude that these may not be the ideal exercise headphones for everyone. After all, nobody wants to continually readjust slipping earbuds while running or otherwise exercising.
If you're lucky enough to find that one of the included ear sleeves fits you perfectly, you may be able to exercise with these. However, if you often find earbuds slipping while you exercise (or if you just exercise very vigorously), you might prefer to invest in something more secure, or in earbuds specifically designed for exercise.
Gaming
Many gamers prefer a full headset. But if you're short on space and want something portable with a microphone, the Momentum in-ear headphones may be an answer. They take up much less space than a headset (and they are also much less prone to breakage during travel, especially if you transport them using the included case). Thus, for gamers on the go, these may be a good option.
Taking Calls/General Use
These headphones, while they may not be suitable for every use, excel as general-purpose headphones. Whether you need something to use to listen to music while working or want to be able to take calls, the easy-to-use microphone paired with the high sound quality makes these a great all-around set of headphones. And because the price isn't exorbitant, these are a relatively affordable way to upgrade the cheap headphones that probably came with your cell phone.
Mixing and Mastering
For those new to recording their own music, it can be tempting to use regular headphones to mix and master. While their sound quality is reasonably good, the Momentum in-ear headphones are not a great choice for mixing and mastering. This is because, like many headphones designed for applications outside of pro audio, these headphones emphasize the bass response. This gives you a colored view of the sound. When mixing and mastering, you want very transparent headphones that play back audio exactly as it was recorded–this lets you create an optimal mix.
Pros and Cons
Ultimately, the buying experience comes down to weighing the pros and cons of a given set of headphones. Weighing pros and cons will look different for each individual. But to help you make your decision, we've gathered some of the main pros and cons of Sennheiser's Momentum in-ear headphones for your consideration:
The Pros
Detailed sound–Clear separation of bass and treble and a wide frequency response means you'll be ever to hear every nuance in a given track. Since many cheaper headphones have frequencies that "bleed" into one another, this isn't something you often find.
Powerful bass response–Especially if you listen to rap or electronic music, the rich, low-register bass that these headphones offer can transform your listening experience.
Low distortion–Unlike cheaper headphones, these are capable of putting out a very high volume without creating track-ruining, fuzzy distortion.
Innovative, durable design–If you're planning to invest in quality headphones, chances are that you want them to last. The durable steel inner construction of the Momentum in-ear headphones means they're likely to last, and the innovative cable design is less prone to twisting and breakage than cheaper headphone models.
The Cons
Issues with headphones staying in place–The angled earbud design was made for comfort, but many users note that this predisposes each earbud to slipping. This issue is especially noticeable in those who buy headphones for exercise.
Midrange frequencies are lacking–This may not be an issue for all listeners, but many reviews point out the fact that midrange frequencies tend to be left in the background with these headphones. They are still fairly clear, but bass and treble frequencies are much more noticeable.
Build quality issues–While these headphones were designed to be durable, some reviewers have complained about the cable wearing out or producing a crackling noise when twisted. Others have complained that one earbud (or the jack connection) failed after less than a year of use.
In Conclusion
In the somewhat limited field of mid-level headphones, the Sennheiser Momentum in-ear headphones offer clear sound at a fair price. While they may be lacking in midrange, their clear and focused sound with enhanced bass response is ideal for most casual listeners, especially those who prefer listening to electronic music. If you want a step up from cheap headphones without breaking the bank, give this innovative and beautifully-designed buds a look.