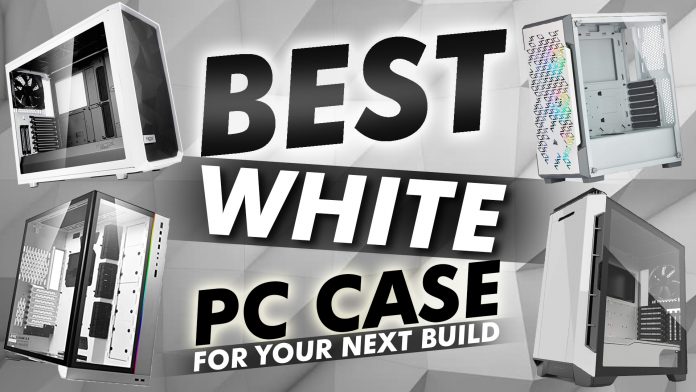 Building a PC gaming machine can be quite a challenge, especially since there are so many of them available. It can be one of the easiest things to overlook, as there's more than just picking fancy-looking parts before assembling your build. The case's configuration dictates the size and type of components that can be put into it.
| Preview | Product | Tower Type | Dimensions | Price |
| --- | --- | --- | --- | --- |
| | Fractal Design Meshify C (Fractal Design Meshify S2 discontinued) | Mid-Tower | 16.1(L) x 8.54(W) x 17.83(H) inches | |
| | Lian Li PC-O11 Dynamic White Case | ATX Mid-Tower | 20.5(L) x 14.4(W) x 22.2(H) inches | |
| | Corsair iCUE 220T RGB Airflow Tempered Case | Mid-Tower | 15.55(L) x 8.27(W) x 17.72(H) inches | |
| | Phanteks Eclipse P600s Glacier White Computer Case | Mid-Tower | 20.1(L) x 9.45(W) x 20.5(H) inches | |
| | Corsair 275R Airflow Tempered Glass Mid-Tower White Gaming Case | ATX Mid-Tower | 17.99(L) x 8.5(W) x 17.91(H) inches | |
| | NZXT H510 - Compact ATX Mid-Tower PC Gaming Case | ATX Mid-Tower | 16.85(L) x 8.27(W) x 18.11(H) inches | |
| | Corsair Crystal 280x Rgb Mini Itx Case | Mini-ITX Tower | 16.65(L) x 13.54(W) x 19.88(H) inches | |
| | Lian Li O11 Dynamic Mini | Mid-tower | 420mm X 269.5mm X 380mm | |
| | Phanteks P300 Tempered Glass Steel White Case | Mid-Tower | 378mm x 342mm x 78mm  | |
| | Louqe Ghost S1 | Mid-tower | 12.7in x 7.4in x 5.5in | |
White PC cases serve as the perfect template for building your own customized gaming machine. They support glass panels, cooling systems, graphics cards, motherboards, power supplies, RAM, and hard drive storage options. In addition, there aren't that many full-tower white PC cases compared to their black counterparts on the market. We've reviewed seven different white PC cases suited for the most enthused of computer hobbyists looking to build their next rig.
The 7 Best White PC Cases at a Glance
Okay, ladies and gentlemen, let's look at the best white PC cases, shall we? White PC cases have the advantage of blending into any interior; they look beautiful sitting on your desktop, under the table, or any other place in the room. But looks aside, you need something versatile that's compatible with various hardware and designed to meet your needs. Here's is a look at the best white PC cases in the market today.
1. Fractal Design Meshify S2 White TG (discontinued)
Best Airflow Case ATX Tower for Gaming
Tower Type: Mid-Tower / Dimensions: 21.18(L) x 9.17(W) x 18.31(H) inches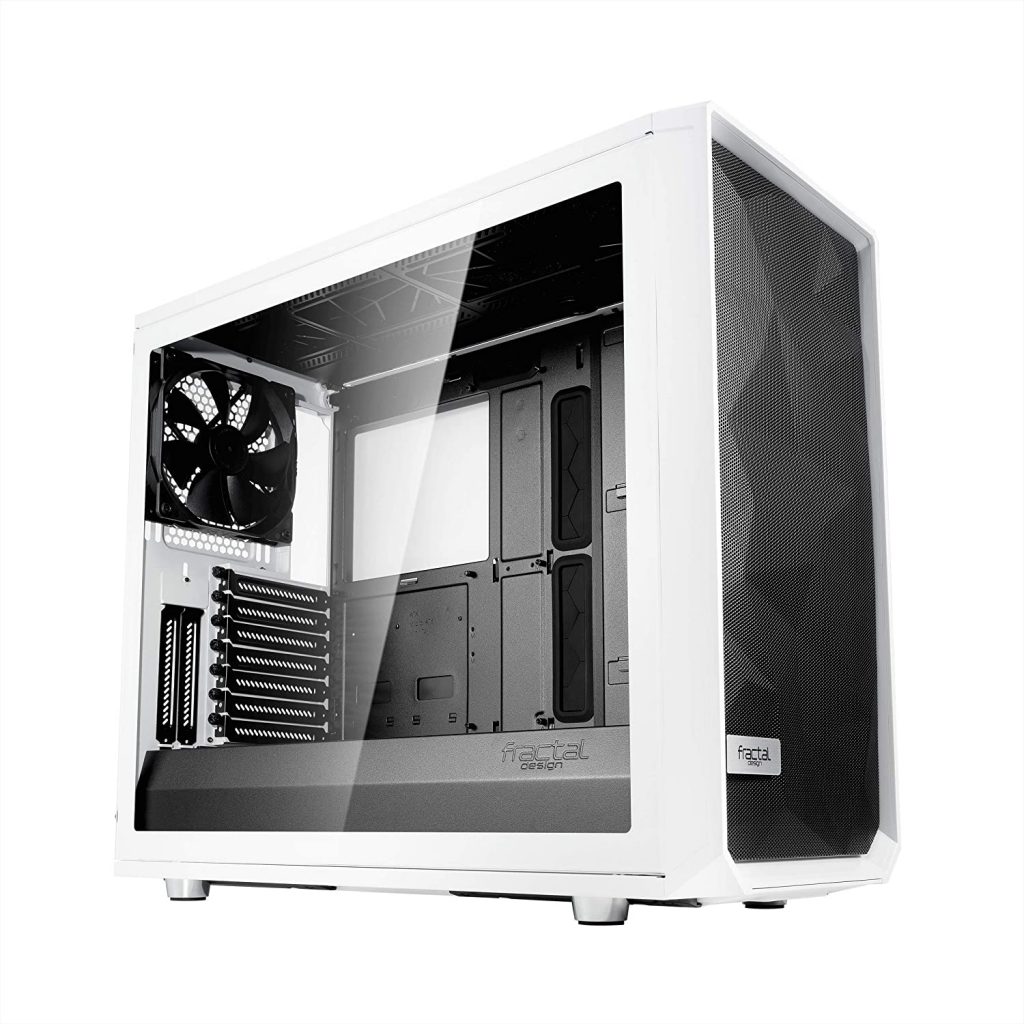 Fractal Design's Meshify-C specifications feature a glass exterior for those that prefer being able to see their components from the outside without the cover blocking the interior view.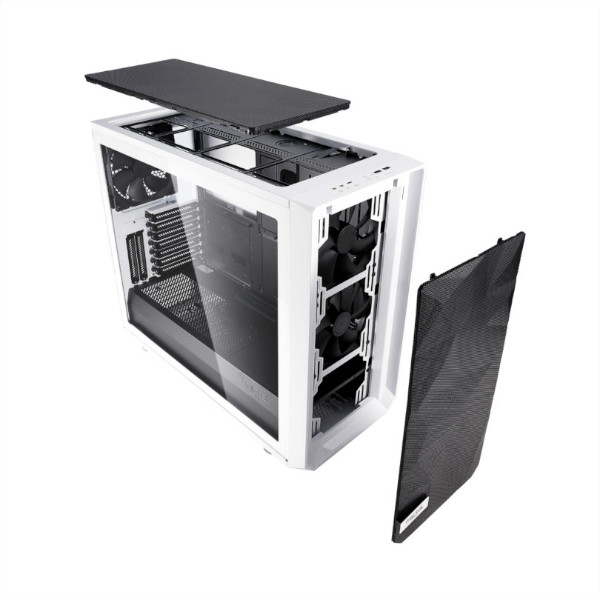 The front design of the case carried over from previous designs to revert noise emissions back into the case. It may be a little noisy, but not so much to the point that it would disrupt your work.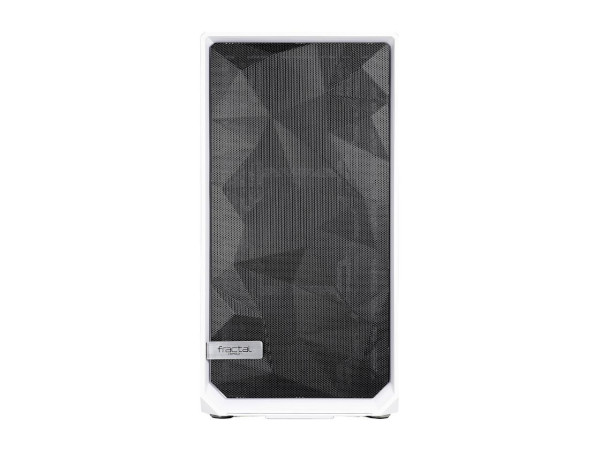 The front panel of the case also features an angled-design compared to the conventional boxy-looking towers you would normally see on shelves or online stores. There are also two USB 3.0 ports a headphone and mic jacks on the left side; all of which are situated at the bottom on the casing.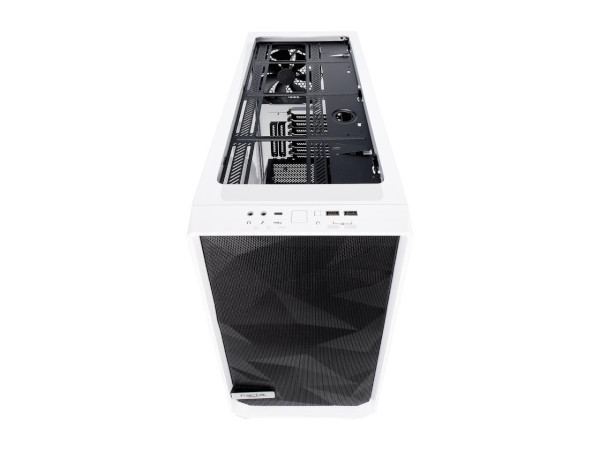 Also, there is a removable power supply flange in the rear of the case, along with seven expansion slots that have covers, and an exhaust fan mount that is slide-able. The space of the flange for the power supply is generous, offering a decent amount of room to slide the power supply right in.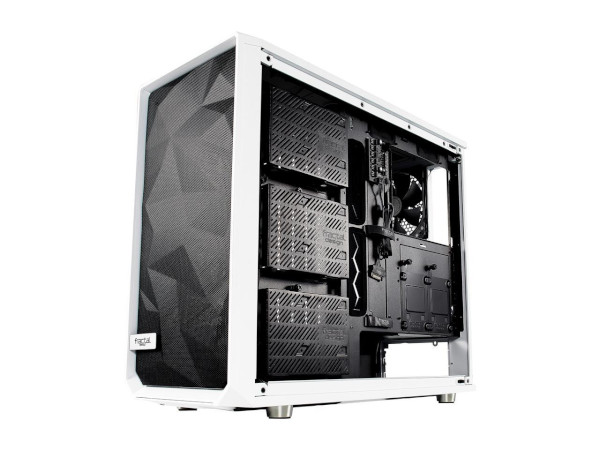 The 8.9" mounting depth is obscured with a 3.5" drive cage, which would also need to be removed to get the power supply in. The amount of vents all over the case makes this the best case to use if you need a lot of airflow circulating and keep your electronics cool.
Sadly, the Meshify S2 is discontinued as clarified. Fortunately, there is a newer model, the Meshify 2. It's basically the S2 but better because it comes with a better mesh front panel and other minor improvements. Among the improvements include being able to hold more HDD instead of just 3 HDDs and 2 SSDs, and more.
2. Lian Li PC-O11 Dynamic White Case
Among the Best Crafted PC Cases
Tower Type: ATX Mid-Tower / Dimensions: 20.5(L) x 14.4(W) x 22.2(H) inches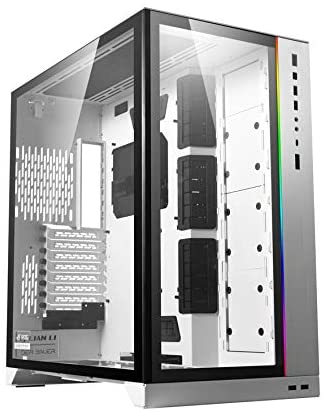 The Lian Li PC-O11 case is another see-through case whose coverings consist of a combination of aluminum and tempered glass. On the right side of the front panel, there are two USB 3.0 ports, a USB Type-C port, and the standard audio jacks that can be used to connect your mic and headset for your gaming setup.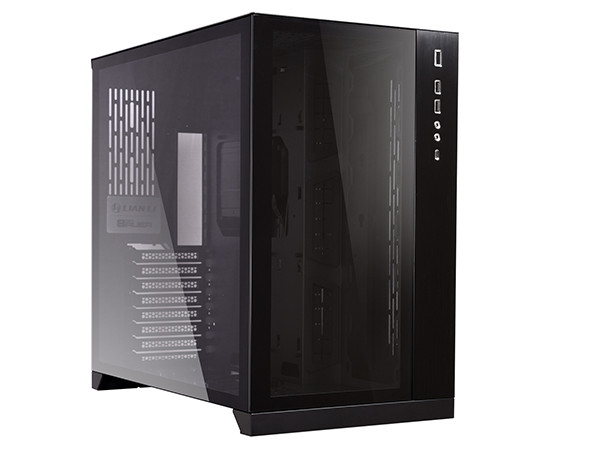 The glass on the case looks gorgeous, giving room for LED-based components to shine through the side coverings.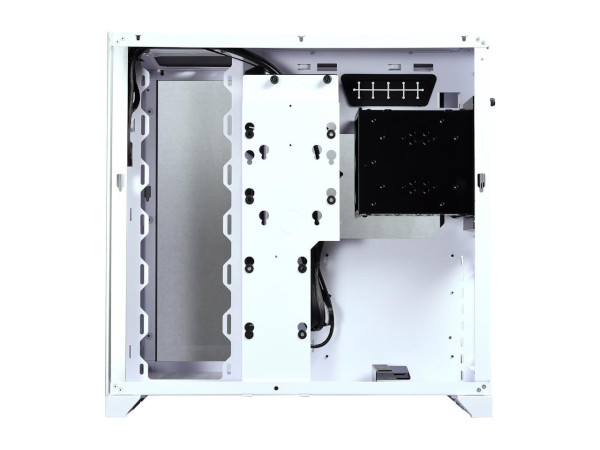 What makes the case special is the way the glass panels are mounted on the chassis. They can only be removed once the top cover of the case is removed.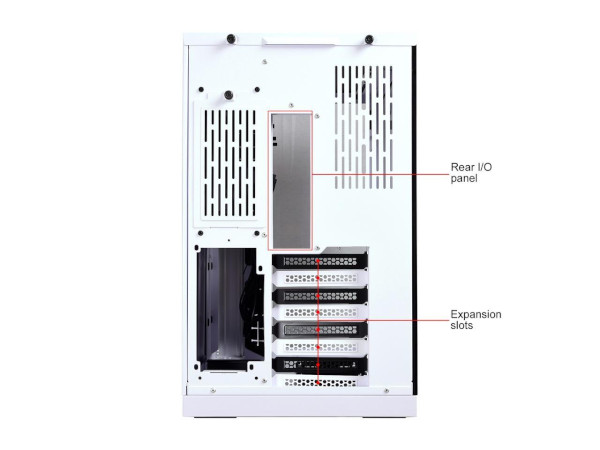 This minimizes the risk of dropping a glass panel whenever you're doing regular maintenance or installing a new part. The lack of screw fasteners gives the PC-O11 a stylish appearance overall.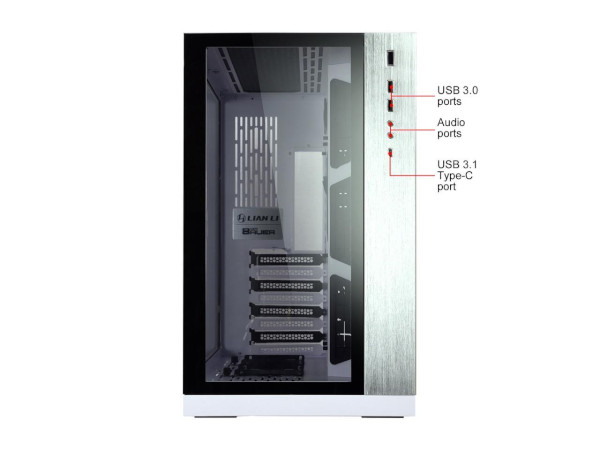 There's also no need to worry about airflow when it comes to this case. When looking at the rear and side steel panels of the case, they come with visible vents that allow air to come in and keep components from overheating. The rear can also support ATX maximum E-ATX, mini-ITX, and micro-ATX motherboard sizes with a maximum 280 mm wide or 11,023 inches motherboard support and an I/O slot within the center, a PSU slot, spaces for two different 3.5" drives, and eight expansion card slots.
Furthermore, the white ATX case has a 170 mm or 6,693 inches maximum CPU cooler height clearance and an ATX maximum GPU length clearance of 395 mm.
This case serves as the perfect solution if you're looking for a tower PC case to build your gaming PC with some flair. Together with the motherboard support that comes with RGB lighting, builds using this case should look stunning.
3. Corsair iCUE 220T RGB Airflow Case
Best RGB White Mid-Tower PC Case
Tower Type: Mid-Tower / Dimensions: 15.55(L) x 8.27(W) x 17.72(H) inches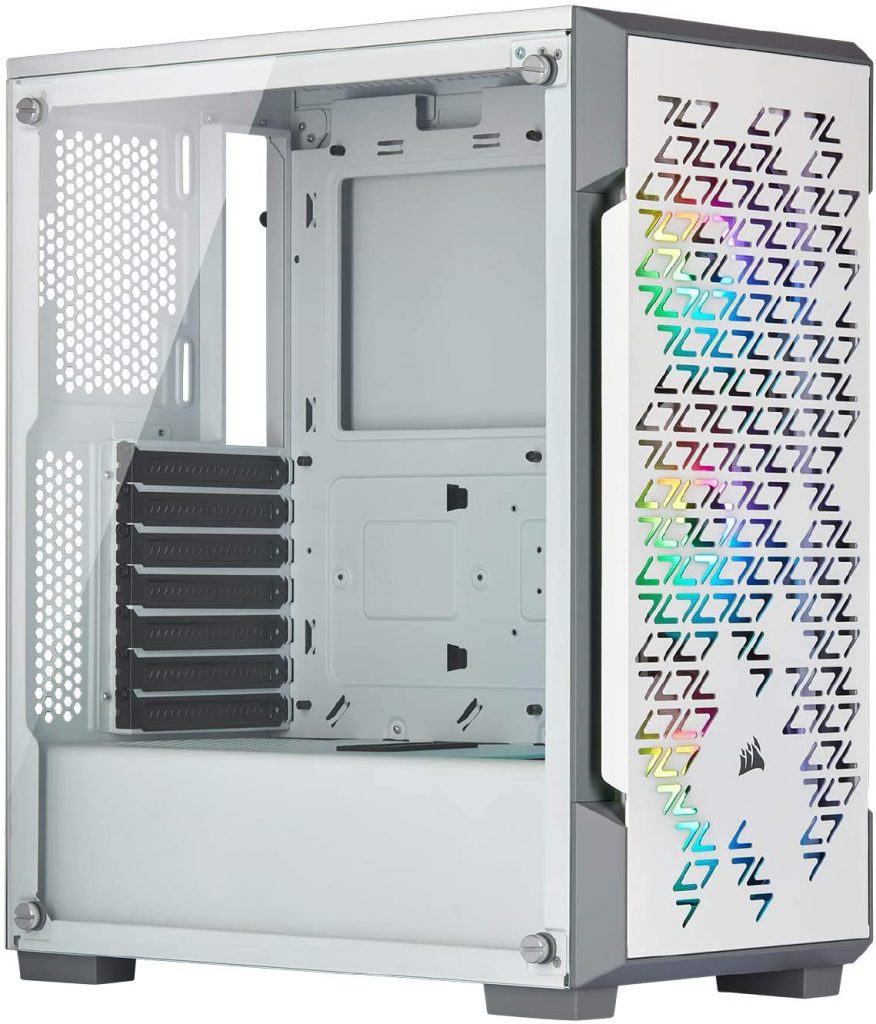 Corsair's 220T PC case comes not only with RGB lighting, it is another case that offers decent airflow into the chassis. The front panel is unique due to the oddly-shaped perforations all around the cover. This is not merely just for show, but serve as ventilation for the three RGB fans mounted on the front.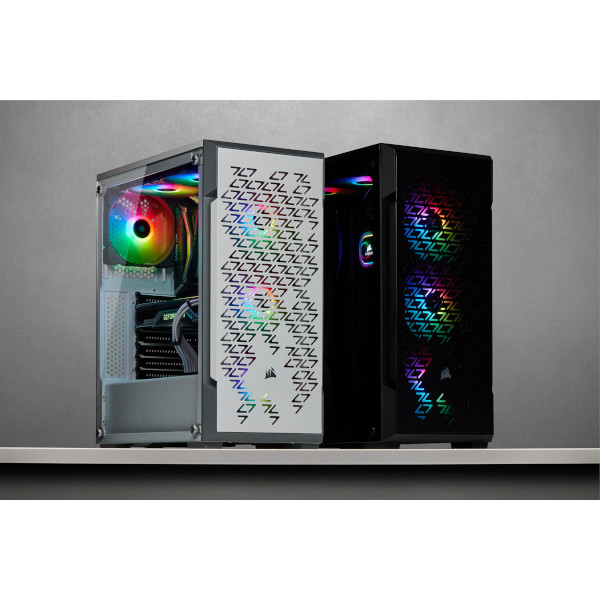 The front panel of the 220T is simplistic in its design. There are for metal pins that screw in the corners to lock the cover in place, with a small gap in-between the fans themselves and the plate.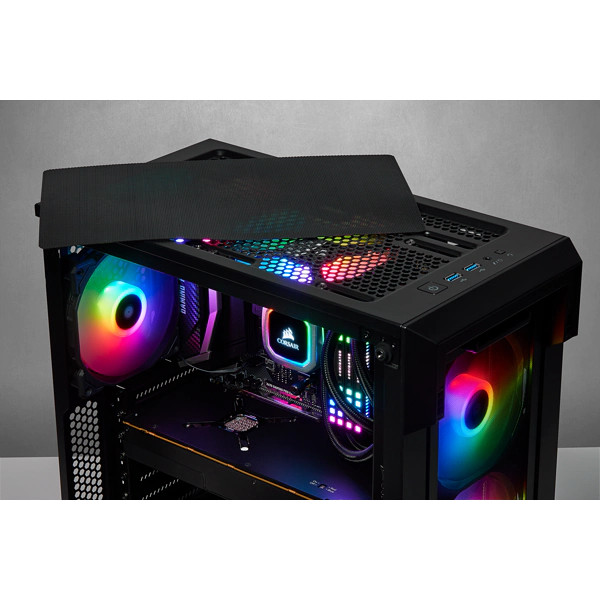 There is also a filter in front of the fans to keep dust particles from flooding the interior of the case, which is kept in place by magnets that make removing it easy.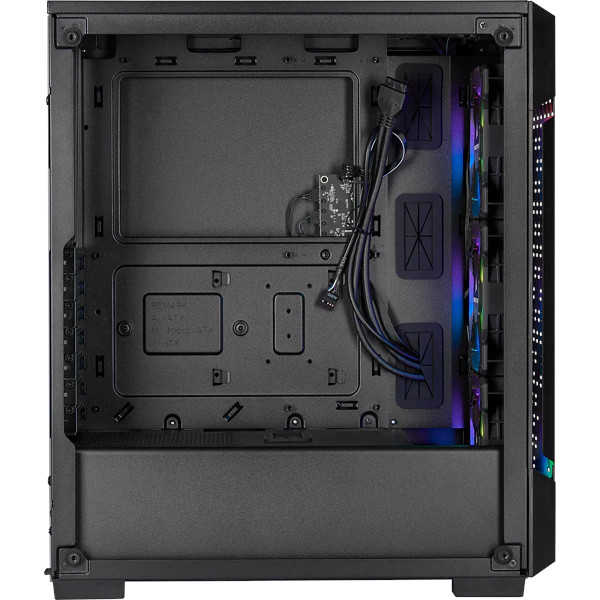 Looking in the interior, there's a fair amount of real estate for you to install extra fans if you want to keep your case ultra-cool. The interiors come with some cables to connect internal components, and the top comes with a dust filter along with support for fans that are up to two 120mm fans for 240mm coverage.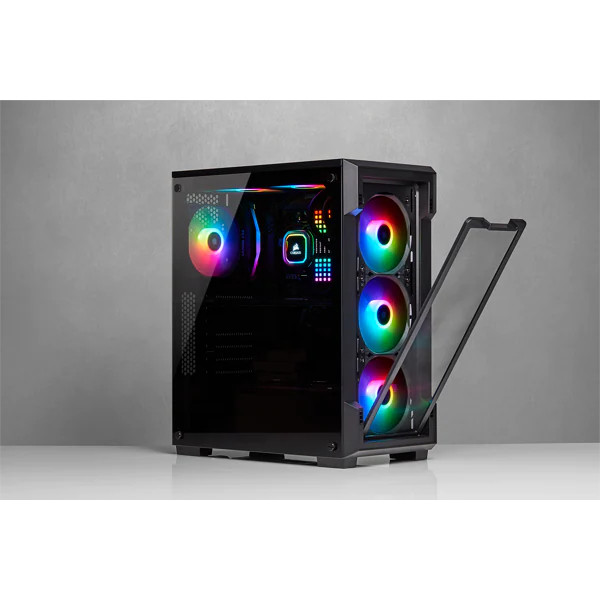 Some notable flaws that we noted when it comes to this case are that this case cannot use RGB memory with an AIO solution on top of the chassis. That being said, you will need to adjust your AIO to be in the front of have fans on top to help compensate. Do note that some cases don't have fans prebuilt in them.
The 220T has its flaws but is ideal for those looking for a budget PC case where you can throw in some parts for a great PC build.
4. Phanteks Eclipse P660S Glacier White Case
Super Quiet and Awesome Airflow Case
Tower Type: Mid-Tower / Dimensions: 20.1(L) x 9.45(W) x 20.5(H) inches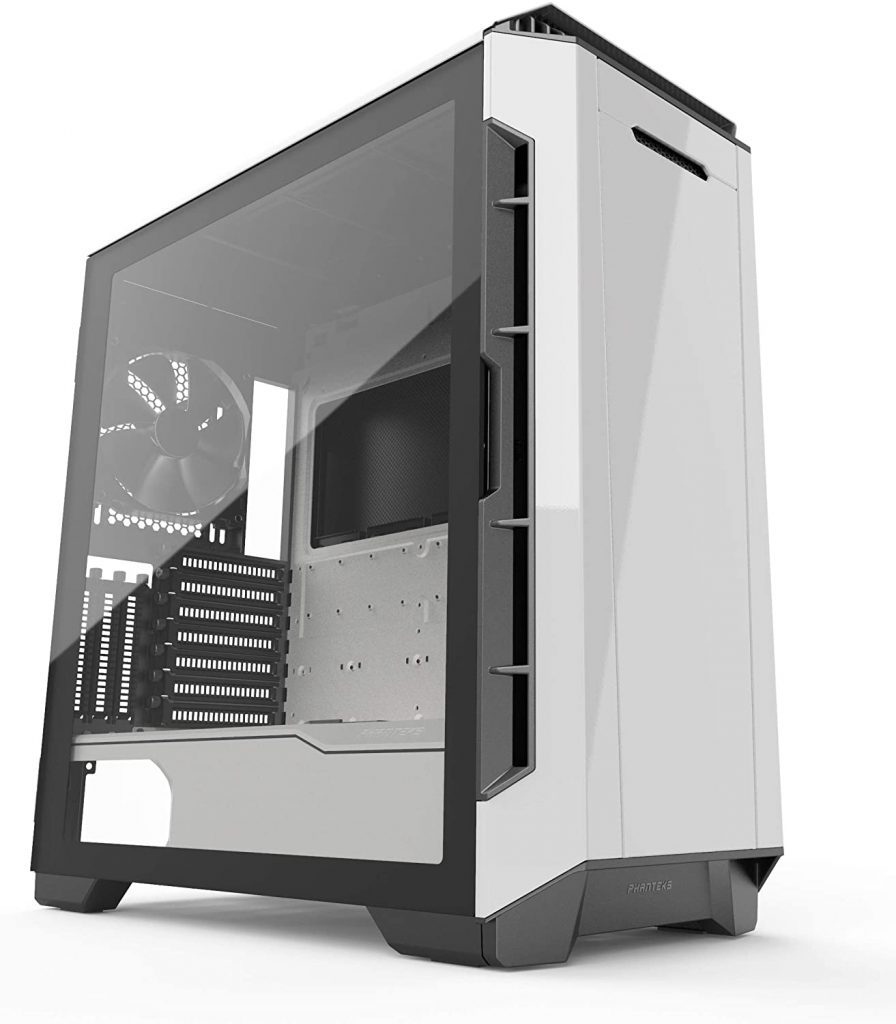 Phanteks' P400S is the latest of the 400 series of cases within the company's lineup. This case is outfitted with noise dampening materials all over the chassis, which essentially makes it a silent edition of the series. The noise dampening ensures that no noise comes out no matter what electronics you have within the case.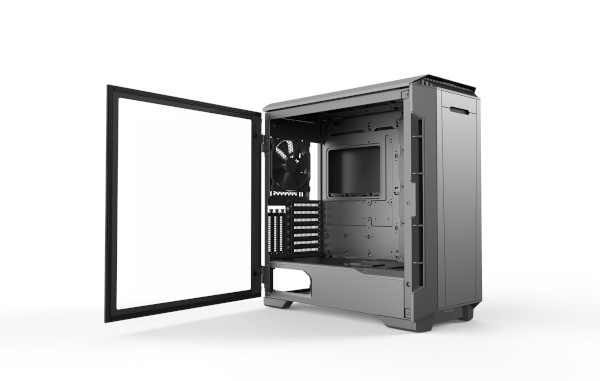 On top of the silent factor, it is also a fairly roomy PC case for a chassis of its type. The case has a decent amount of weight to it, while also feeling sturdy.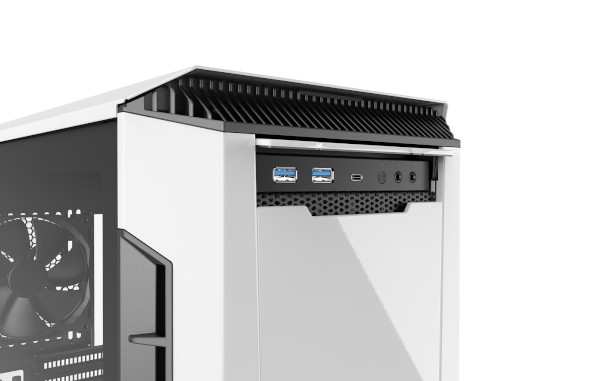 Its outer shell is constructed entirely metal and comes with steel plates mounted on the front and top panels of the chassis. It's minimalist but very rugged in its appearance.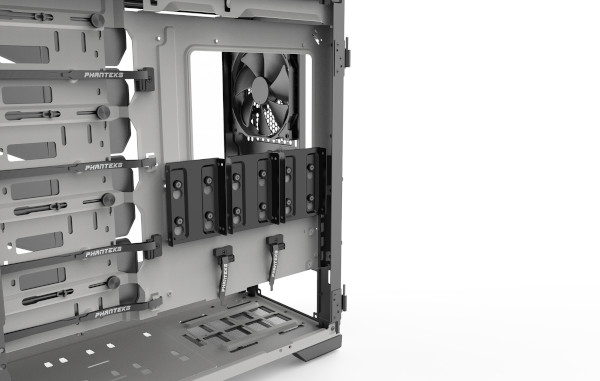 It can support a front-mounted 280mm/360mm radiator to help keep your rig extra cool with the large number of workloads placed on the components inside. For a tower of its type, you can almost build just about any system that you can come up with.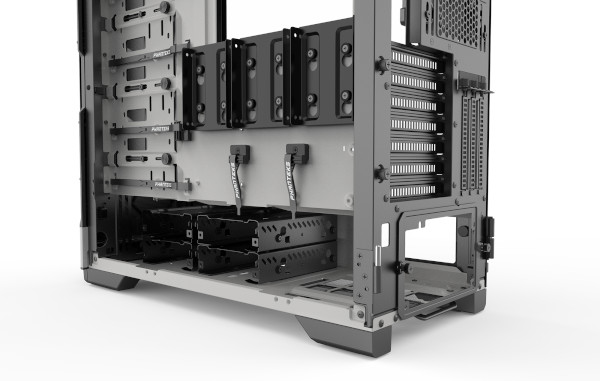 The casing supports different motherboard types, which go as high as a large E-ATX motherboard. This is a very ideal chassis to have for those looking for an ultra-quiet solution with extra space to tack in additional fans.
5. Corsair 275 Airflow Mid-Range Tower Case
Best Performance White Case
Tower Type: ATX Mid-Tower / Dimensions: 17.99(L) x 8.5(W) x 17.91(H) inches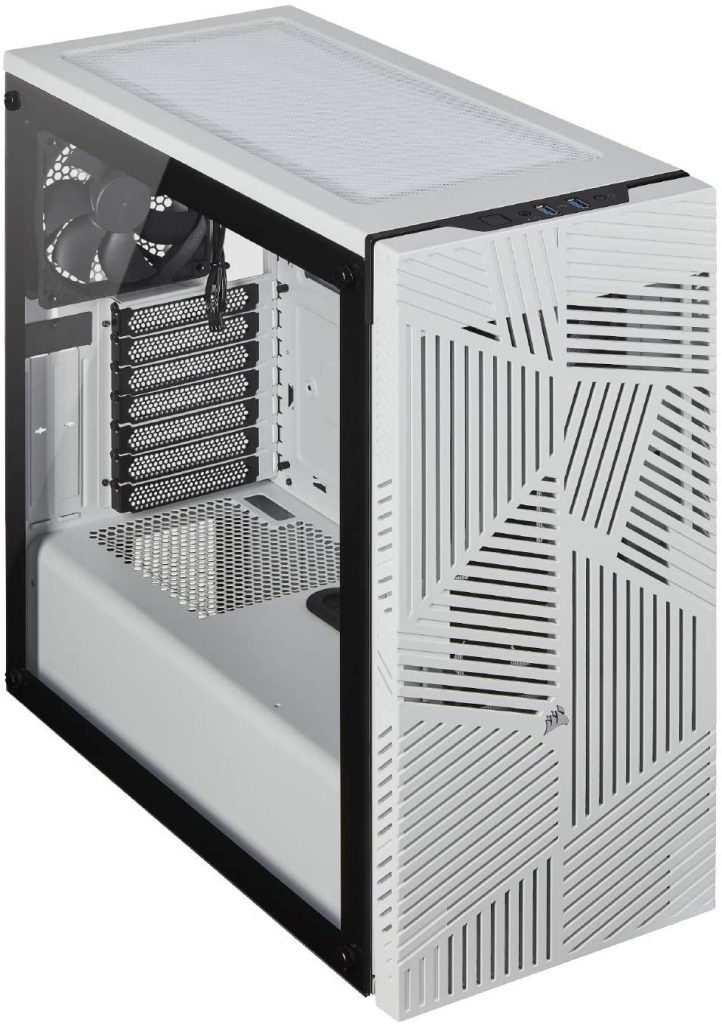 Corsair's 275 Airflow Case is an evolution of the standard 275R. The issue with the 275 Airflow's predecessor was that it restricted air intake. The Airflow variant is designed to address that deficiency, and tack on some extra features along the way.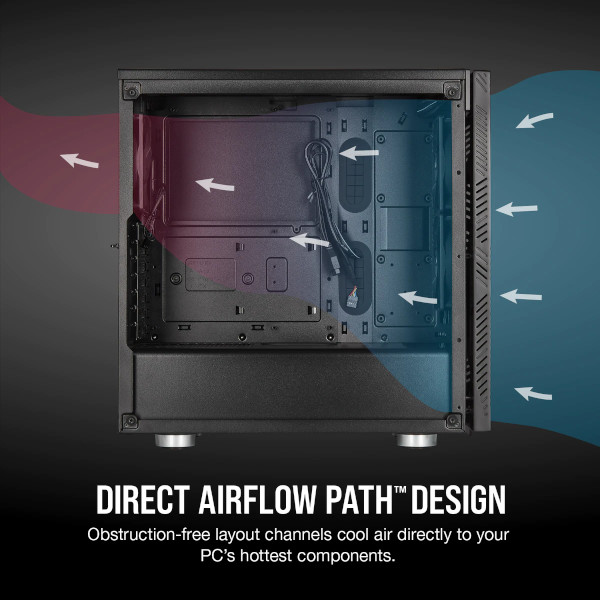 The 275 Airflow Case comes with latticed air vents in the front. Its front cover is constructed of ABS plastic, while the rest of the casing is made of powder-coated steel.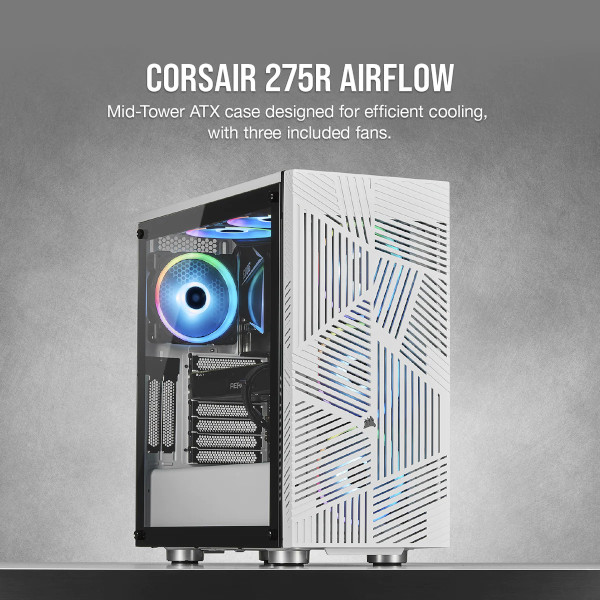 The cover also comes with a power button, a reset button, four 3.5mm connections for your audio devices and two USB 3.1 ports. It does not include any RGB lighting or USB Type-C connections, which will make some PC enthusiasts want to skip this chassis.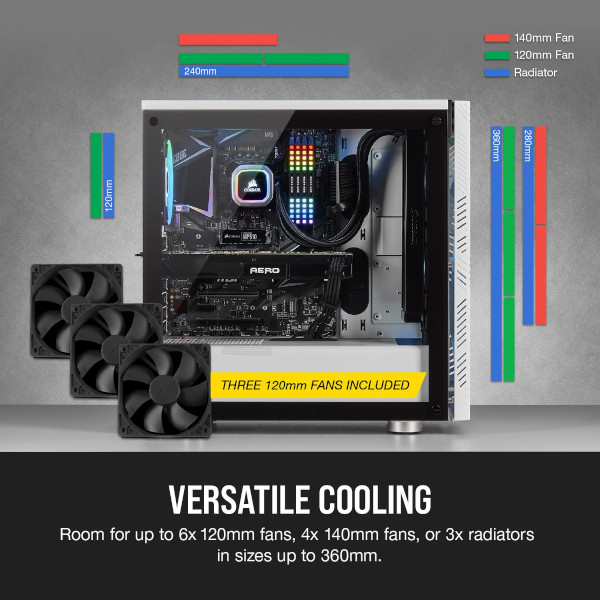 When removing the front panel, you need to pinch either one or two of the pins holding the panel in place. After that, you'll need to pull from the bottom and simply move it to the side.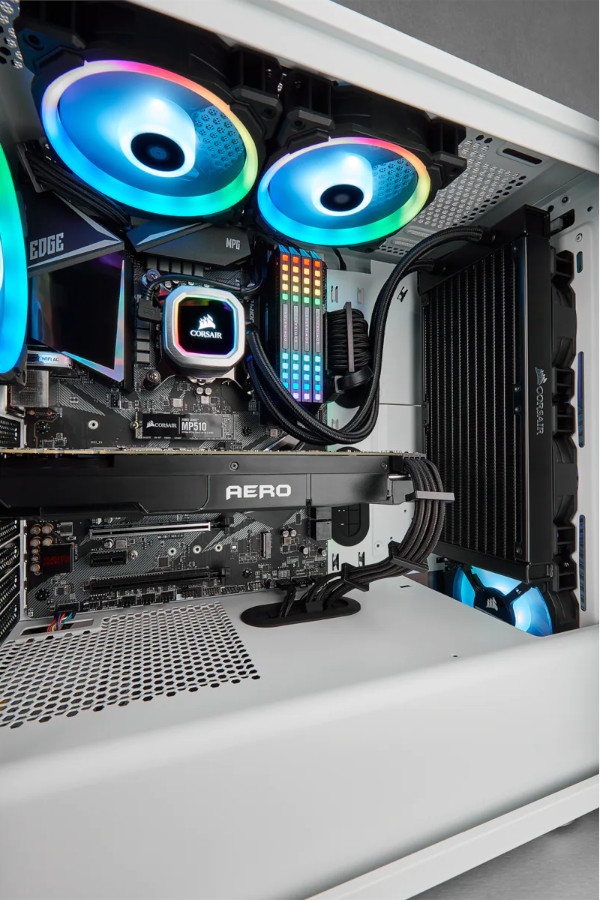 There's also a magnetic dust filter installed at the base of the tower, along with two fans within. The chassis supports an AIO solution, so you can get this case if you're looking for something that gives good mileage for the number of parts you can put in it on top of the good airflow.
6. NZXT H510
Most Stylish White Computer Case
Tower Type: ATX Mid-Tower / Dimensions: 16.85(L) x 8.27(W) x 18.11(H) inches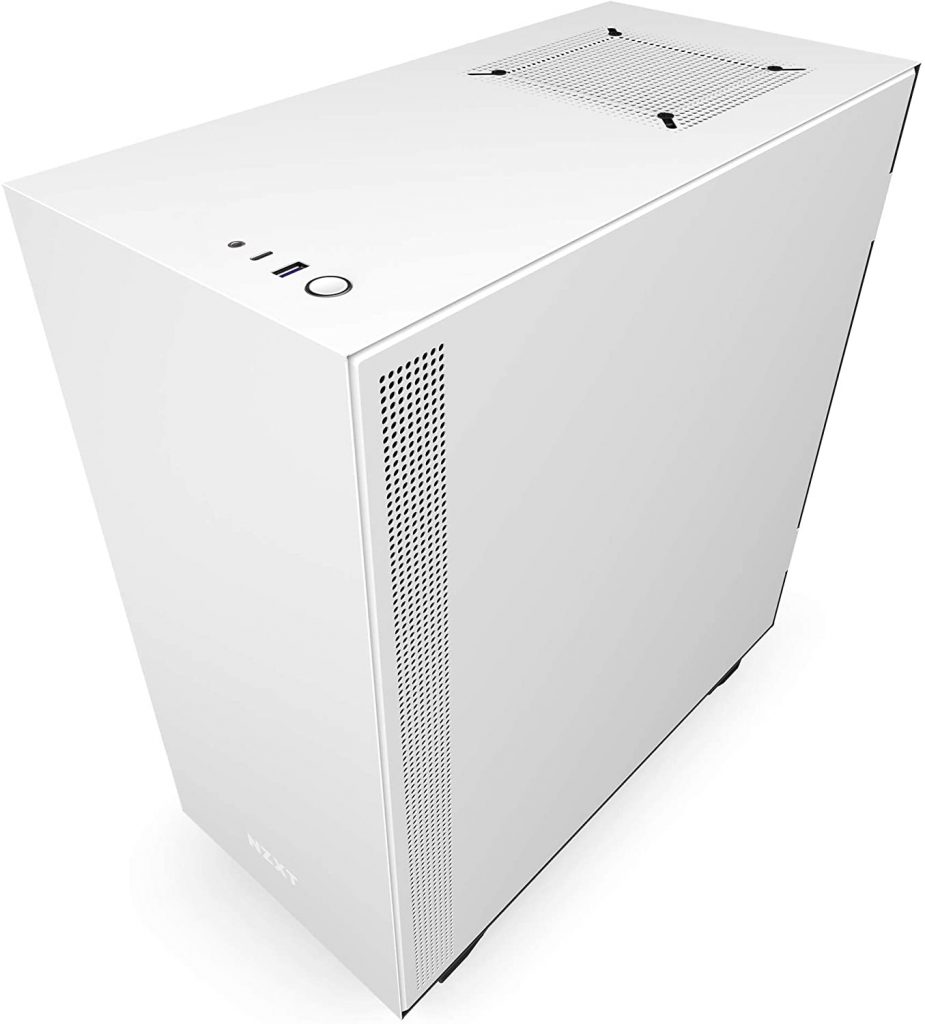 Since RGB is in abundance along with tempered glass panels, it's no surprise that PC enthusiasts like to showcase their computer's max performance and looks at the same time.
NZXT's H510 demonstrates that perfectly, making it the best display case a hobbyist could ask for. The H510 is different from its cousins in that it includes a front glass panel, with RGB-lit fans and an I/O area that takes up less space.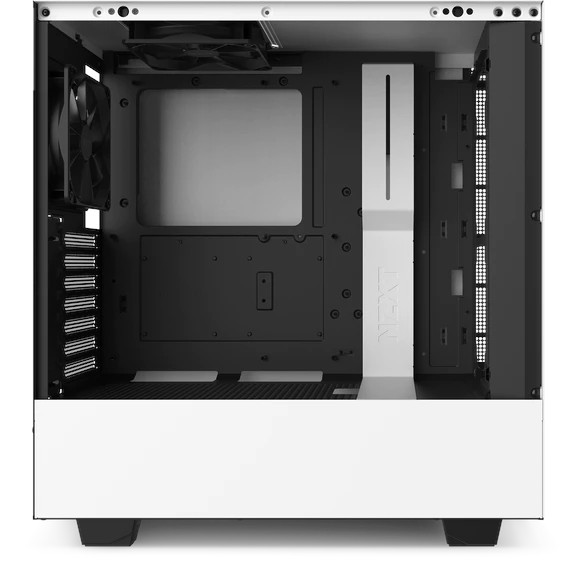 The top of the case comes with one USB 3.0, one USB Type-C, a power button, and
a microphone and headphone combo jack. When you look at the rear of the top panel, there is a slot that can fit both 140mm fans and 120mm fans for your cooling solution.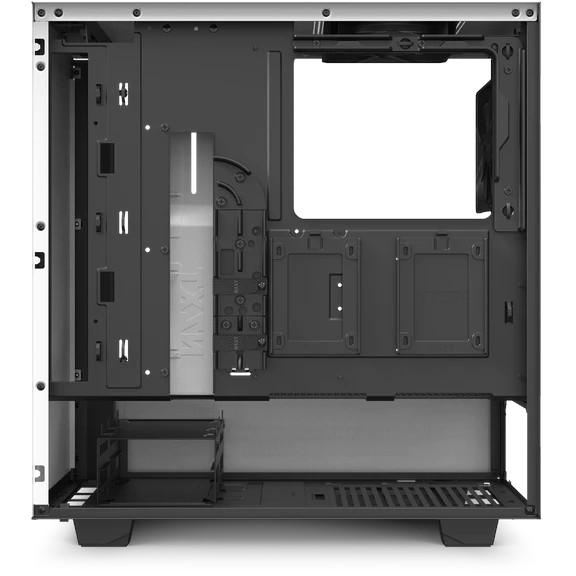 Multiple push pins lock the tempered glass side and front panels in place via the upper corners of the case. Two RGB fans are mounted in the rear and locked in position via thumbscrews to keep them from falling out. When looking at the front there's also a small gap to allow for ventilation.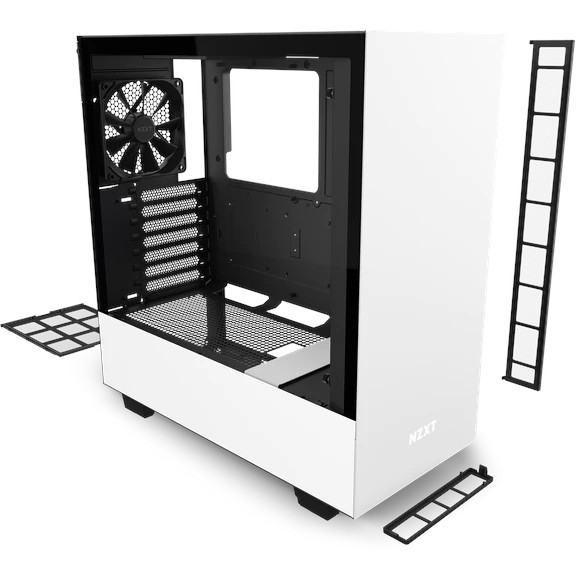 Sound emissions from the case were minimal. Even though it gives off a little noise here and there, this is a decently-sized chassis to use if you want something that packs a decent amount of interior RGB lighting for a good light show.
7. CORSAIR Crystal 280X RGB Mini-ITX
Best White Mini-ITX Case with Large Fans
Tower Type: Mini-ITX Tower / Dimensions: 16.65(L) x 13.54(W) x 19.88(H) inches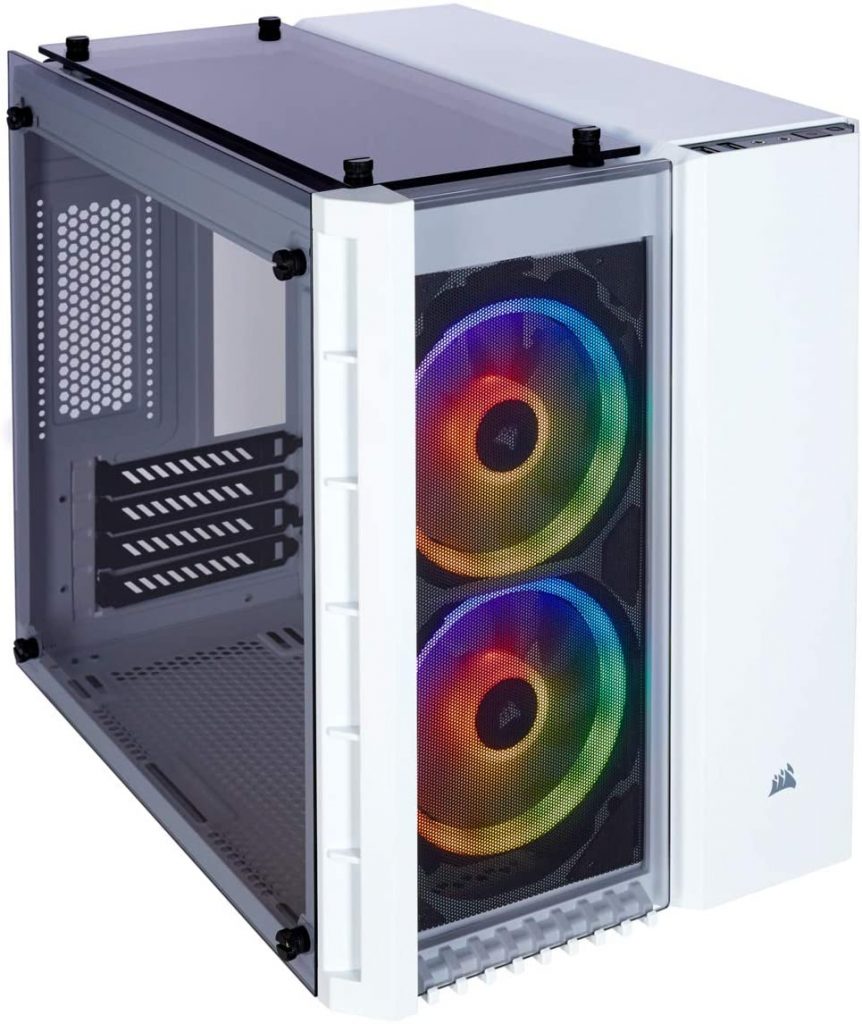 Corsair's 280x case is a balance between space-saving and being a showoff. The case is painted completely white, inside and out.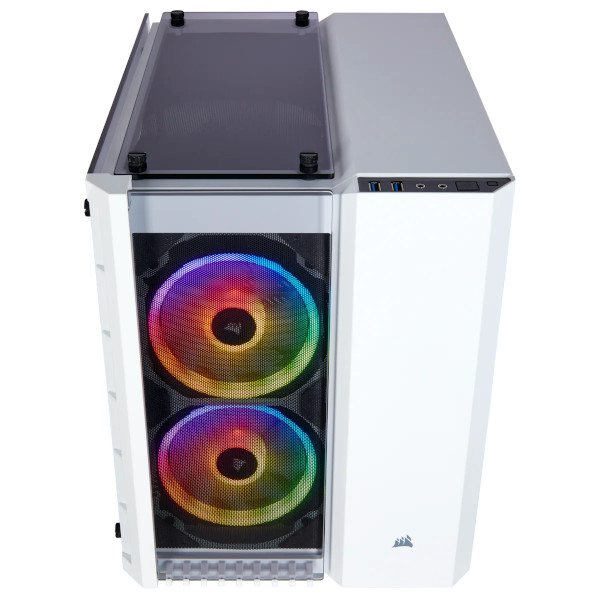 Its construction is a combination of both tempered glass panels on the front, top and left sides of the case. The top and front of the case are split into two sections, where two-thirds are covered by tempered glass with the last third covered with a steel plate.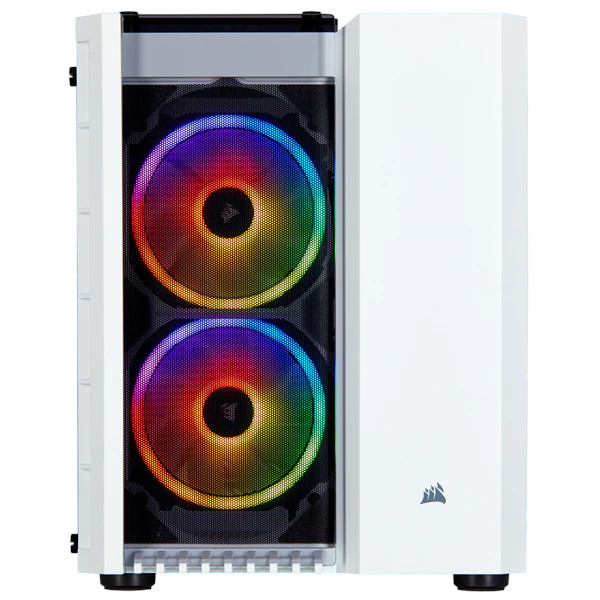 Underneath the top panel (where the tempered glass portion resides) are mounting slots for 120mm and 140mm fans. When you look farther down the edge of the steel portion, there are a pair of USB 3.0 ports, along with two jacks for your audio peripherals, and separate power and reset buttons.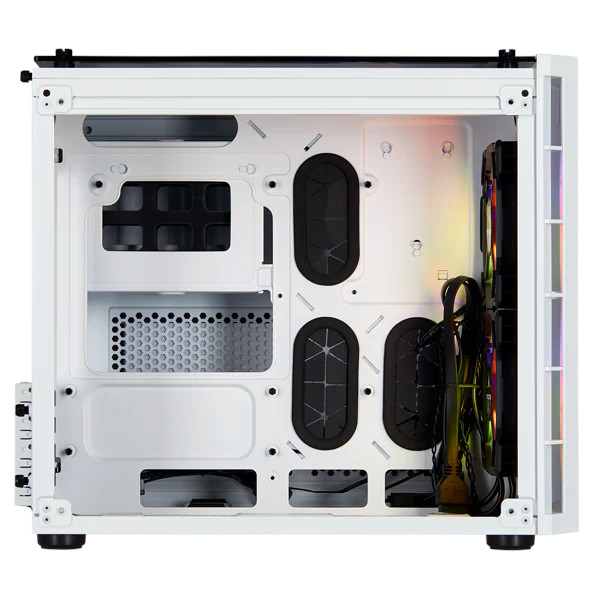 The tempered glass sections are held in place via thumbscrews to prevent them from moving around. If you want to protect it from accidental drops, you will have to rotate the chassis to the side prior to removing any panels and interior parts. The RGB also mounted in the front where you can see the lights in all their glory.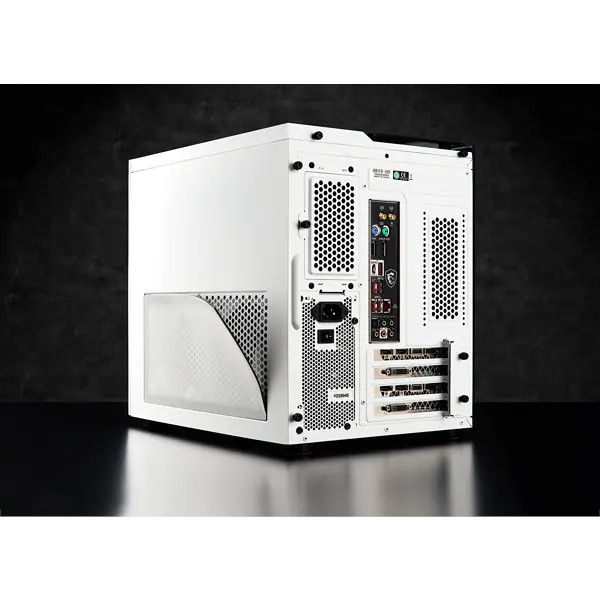 When it comes to modularity, you'll be limited since it's a Mini-ITX tower. While it leaves much to be desired, you can still get a decent gaming machine out of it while having a magnificent display at the same time.
8. The Lian Li O11 Dynamic Mini
Best Versatile Mini Case
Tower Type: Mid-tower / Dimensions: 420mm X 269.5mm X 380mm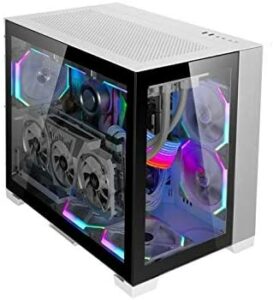 Over the last few years, Lian Li has been rolling out fantastic cases, and the O11 Dynamic Mini is doesn't disappoint.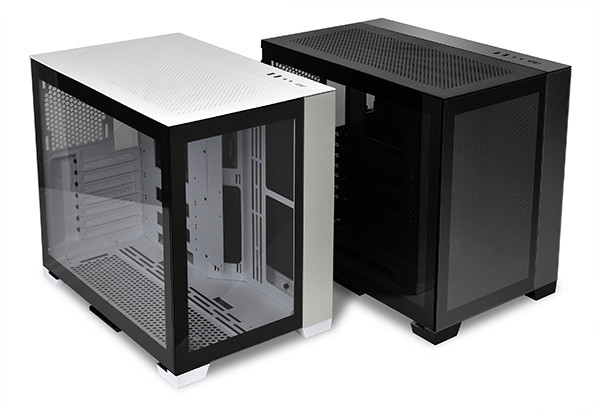 The o11 Dynamic Mini combines tempered glass and aluminum panels into An SPCC chassis with modular features for housing ITX, mATX, and ATX-size motherboards.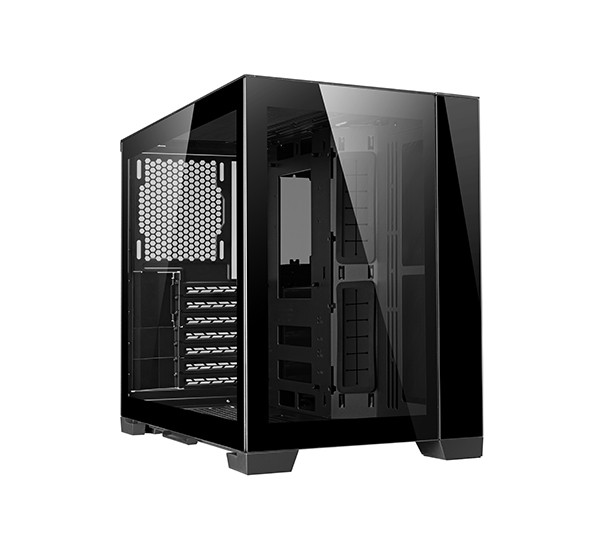 In terms of design, the O11 Dynamic Mini is an update to the popular O11 DYNAMIC series. Specifically, it is a smaller version of the series with the I/O panel now positioned at the top. This panel has an acrylic strip and a non-reflective silkscreen underside for a high appeal.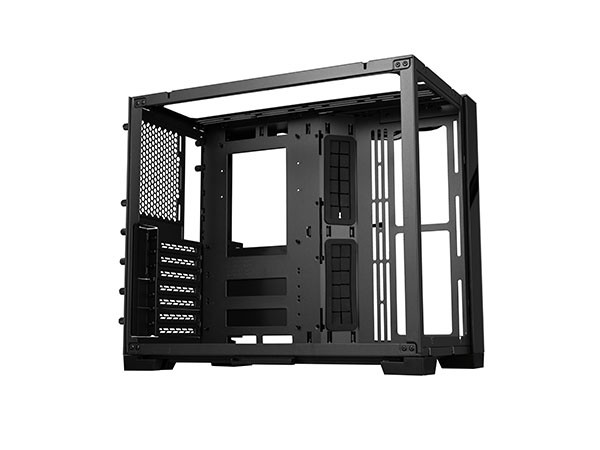 The bottom and rear panels are aluminum and feature a honeycomb design. A front tampered glass panel completes the look. The vent holes have also been restructured; even the right and topside panels include sizeable round holes. You can get the chassis in black and white versions.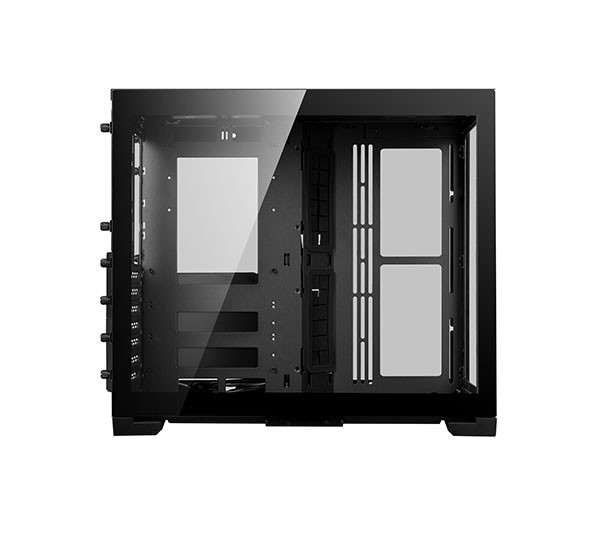 In terms of cooling options, the chassis supports radiators at the top and bottom. You can also attach up to 6 fans (not pre-installed) or use CPU air coolers.
This chassis might be a mini in terms of capability, but it's quite spacious and includes several water-cooling configuration settings. It supports Micro ATX/ Mini ITX / ATX motherboards.
Everything is designed to work perfectly. The right side of the case fits up to a 2 by 2.5-inch SSD, and the motherboard tray on the backside fits up to a 2 by 3.5inch HDD. Even after fitting your motherboard; you still get space under the right panel for cable routing. How cool!
9. Phanteks P300 Tempered Glass Steel White Case
Smallest White ATX case
Tower Type: Mid-Tower / Dimensions: 378mm x 342mm x 78mm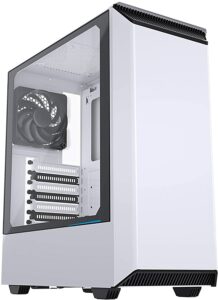 If you like small form factor PCs, the SFFtime P-ATX V2 case is for you; this is the smallest ATX case in the market.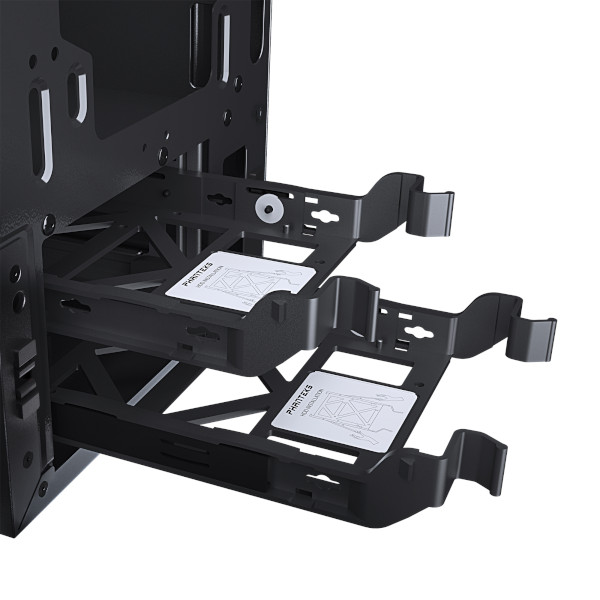 It is only 10litres in size but can support a full ATX-sized motherboard, SFX power supply, and a duo-slot graphics card. You can also use the P-ATX V2 to house a triple slot GPU with an ITX motherboard.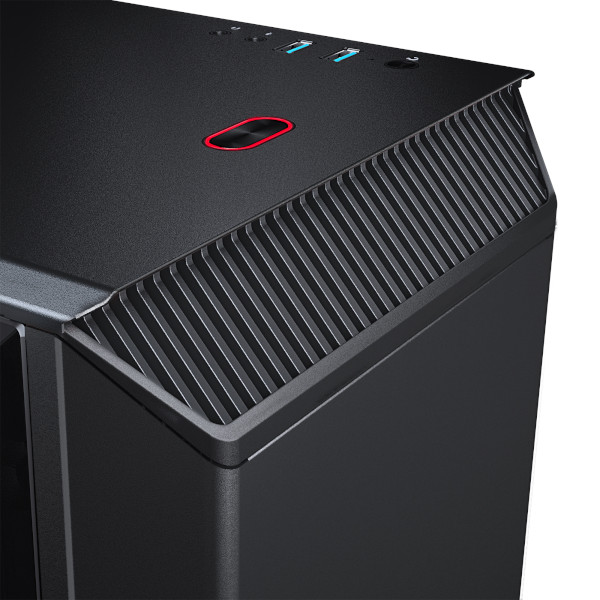 The case has a sleek design. It is constructed from powder-coated steel, and the front panel is clean with no visible seam and screws. This case excels in four main factors, compactness, unrestricted airflow, compatibility with many components available in the market, and simplicity. It features an efficient internal layout and an open PCI bracket area. There's ventilation on the bottom and back panels too.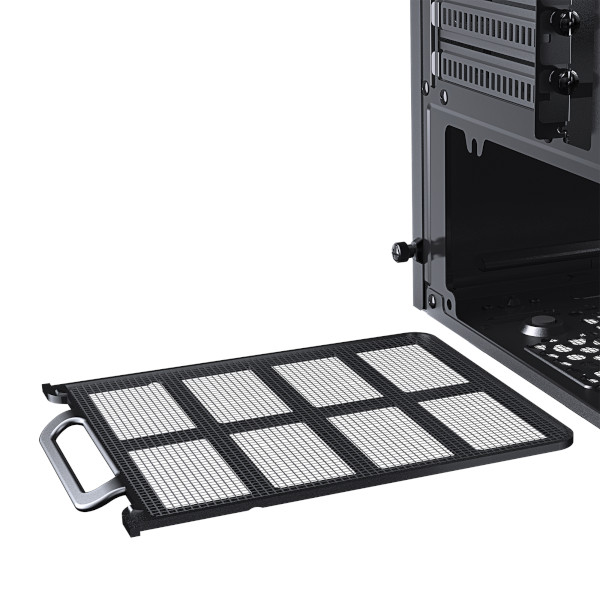 The case supports a 120mm AIO cooler with a 92mm fan. The AIO is positioned at the bottom of the right of the chassis. You can use a CPU air cooler of up to 59mm high. You can also attach a fan with various block and radiator sizes.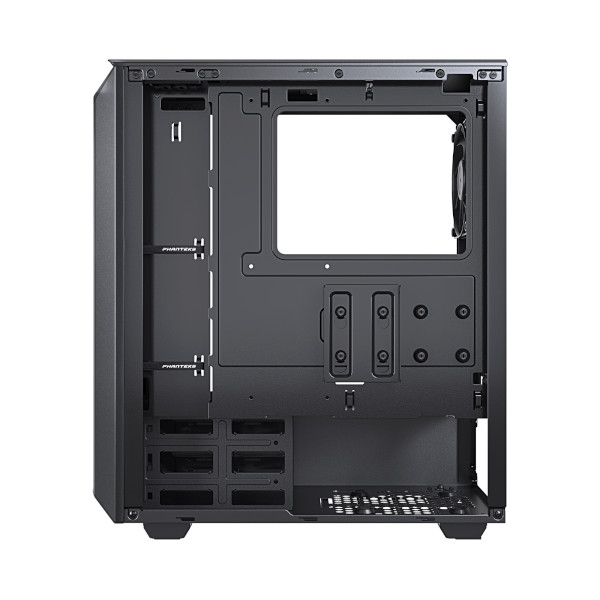 The case supports mini-DTX, mini-ITX, micro-ATX, ATX, and e-ATX motherboards. For e-ATX motherboards, you will need Flex-ATX or TFX power supply.
You can add a 2 by 3.5-inch HDD or an 8 by 2.5-inch SSD (or HDD) depending on the length of your GPU and AIO. Two USB 3.0 ports and a custom-made power switch complete the superb design. The package comes with a 108mm wide by 32mm tall stand.
10. Louqe Ghost S1
Best Premium Looking White Itx Case
Tower Type: Mid-tower / Dimensions: 12.7in x 7.4in x 5.5in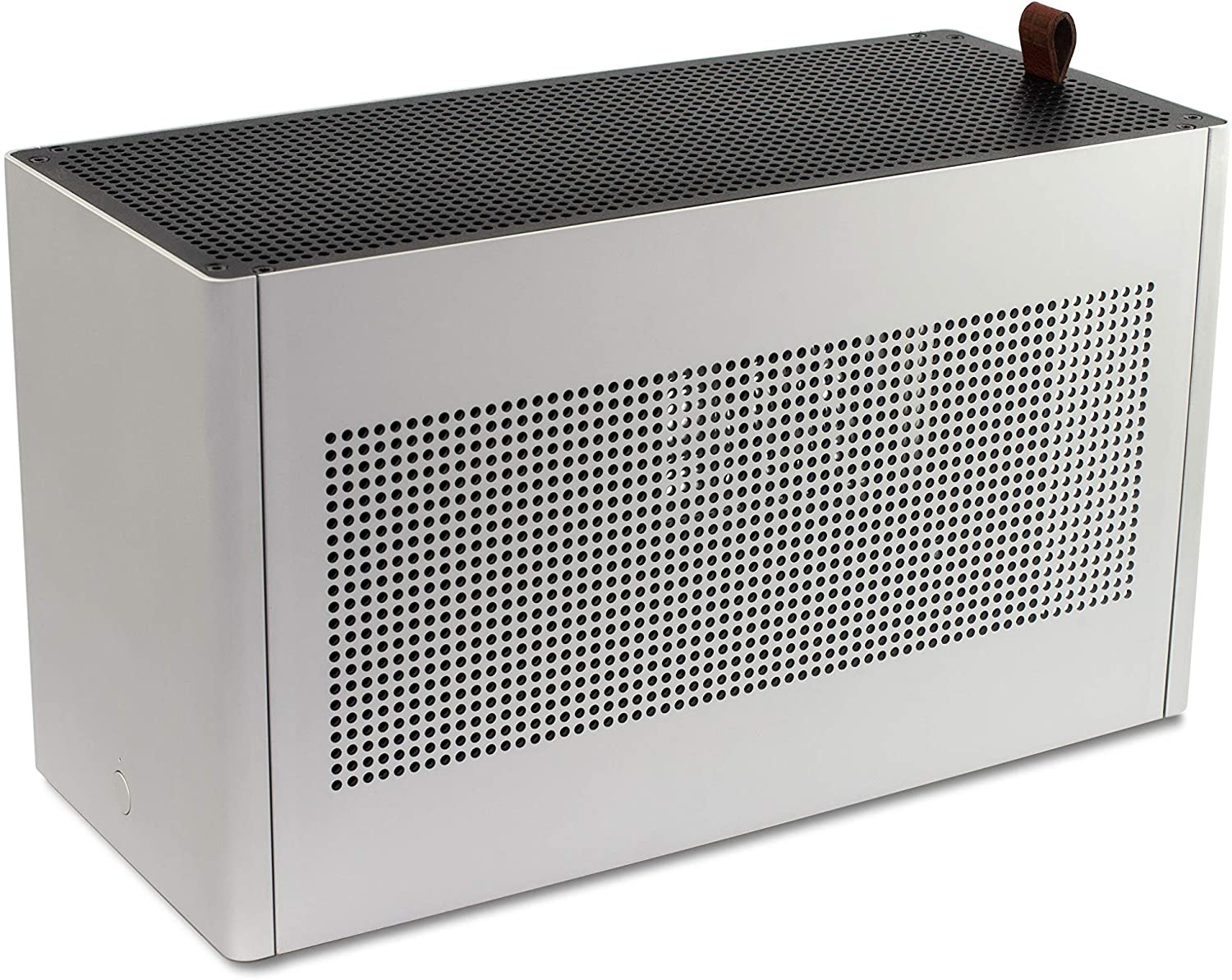 The Ghost S1 is one of the smallest ITX-cases with a nice shape. It boasts an 8.2L volume, but its size and shape are not as ugly as other desktop cases.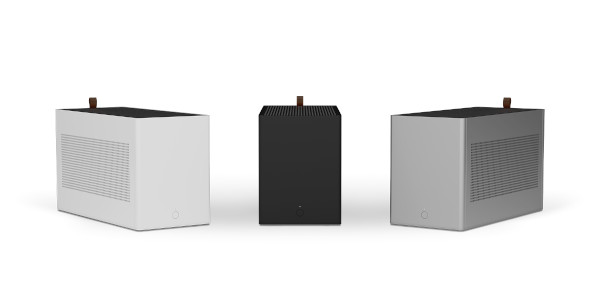 The Louqe Ghost S1 is made from aluminum for a high appeal. You have an option between a cerakoted version and glass blasted deep anodized exterior construction.
The overall design is great. The Ghost S1 has a smaller profile for housing a mini ITX motherboard. But if you want to fit ina motherboard larger than the average size, you can use ToPHat L and M to make the case bigger.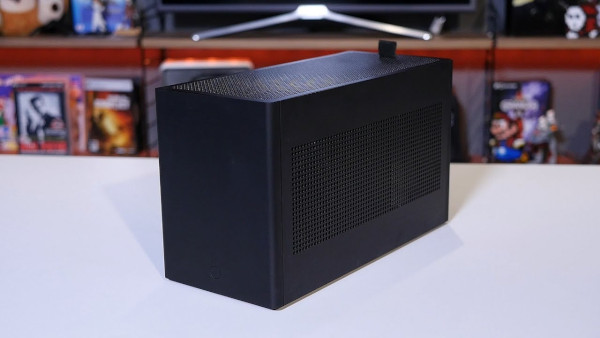 Building in the case is easy. Bolt your hardware on to the case's spine. This has the advantage of allowing access to components from every angle easily.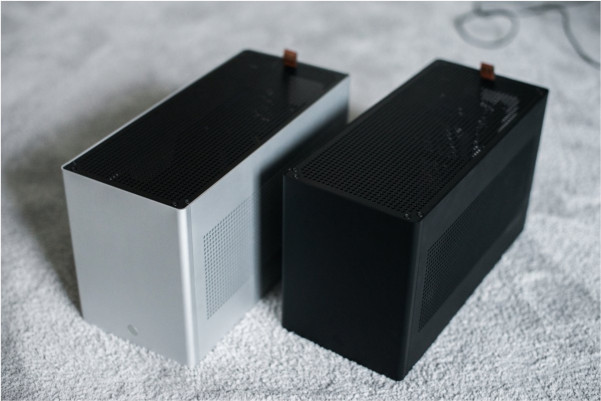 For serious gamers, this beautiful, small, compact case is designed to meet all your needs, including cooling, full-length graphic processing, and storage. Air flows from the bottom to the top for maximum cooling and noiseless operations. The case is compatible with 6mm CPU sinks and allows several water cooling options, including a 240m AIO radiator and 2 X 25mm fans. With TopHats, you can create space for extra AIOs, HDD, and SDD.
How to Choose a Case for a White PC Build
White PC cases can be hard for you to choose from since there is a large abundance of them available on the market. They're not that different from choosing parts for cars. While aesthetics can be important, the most vital aspect of picking a PC case is ensuring that it has enough space inside of it to run everything. The motherboard should be set firmly in place before moving on to everything else. By the end of the day, it's a batch of electronics with smart works of art on the outside.
Here are some things to look for when picking a white PC case for your next build:
Small cases
Micro-ATX
Mini-ITX Mini Towers
There are two types of small cases to pick from if you're looking to make a small PC build: Mini-ITX and Micro-ATX. Most office desktop computers are of the ATX mid-sized configuration since they take up a small profile and can be hidden underneath the desk, leaving employees to focus on their screens with mouse and keyboard in hand.
Wall Mounted/Dual System/Open-Air Cases
Wall mounted, dual system and open-air white PC cases are fairly niche. These are mainly for those that are PC enthusiasts and are looking to do something other than putting a tower on the floor or on their desk.
Open-air cases need no explanation, as they are essentially wall-less casings with a back panel to keep the motherboard suspended in place. A clear front panel gives owners a view of the internal parts. Most of these cases also lack bottom or side panels, while others don't have a front glass panel and simply use the back and bottom panels to keep components in place.
All of these special cases are for the kind of individuals who have more than enough money to blow away on niche parts and show off. White PC building is not merely a hobby, but can also be an art form. The risks associated with open-air cases are the amount of debris circulating within an enclosed environment. This includes hairs from animals, children, dust, and the chance that it can be knocked off the wall and cause everything that's locked in place to fall out. You do not want an investment like that to hit the floor.
Dual system cases are casings that support components to load up two different operating systems. If you're a Mac user, you can load up parts to support your Mac OS and partition another for your Windows 10 build. Or you can make a Windows 10 with a Linux partition via a separate set of parts.
Size
Size dictates what case you'll choose from. Mid-tower and full-tower cases can take ATX motherboards since they are the most common motherboards on the market. These tower-types can also take in micro-ATX motherboards. When you account for size, the towers measure as high as 18" and 8" wide.
Mid-tower PCs have enough real estate within their casings to fit in a fair amount of systems inside of them, including graphics cards, a cooling solution, and storage drives.
Full tower PC case is fairly large in size and usually span as high as 20" in height with a greater amount of depth compared to mid-tower cases. This is the most ideal case to use if you're looking to slap an extended-ATX motherboard into your build.
Mini-ITX cases on the other hand are much smaller compared to full tower PC cases and are meant to support mini-ITX motherboards. These cases are small enough to make as part of a home theater system if you want to keep it hidden until the moment pops up where you can wow your friends and family on your white PC case build. However, keep in mind that some of these cases don't support full-length graphics cards or large coolant systems. The mini-ITX cases are generally meant to be minimalist in design and restricted to basic computer configurations. Despite these limitations, you can still do LAN parties with legacy titles.
Expert's Advice on Crucial Features to Watch For
Apart from the size, dimension, and price, the actual feature of the PC case is the biggest differentiator when buying a PC case. To save you from all the jargon, we've compiled experts' advice on what features to watch for before making a decision:
Check the number of SSD mounting points and drive bays. The trend of using NVMe SSDs nowadays is becoming the norm, making large physical drive spaces less appealing to PC builders. Even so, people still use the traditional SATA-based SSDs. Regardless, you should check to make sure that the PC case has enough 2.5-inch and 3.5-inch drive bays to house your intended storage drives.
There are plenty of areas in a case where SSDs and HDDs can be installed on. So, always check the mounting points so you will have an idea of where you will be putting all your storage drives. Apart from the storage drive mounting points, it's also important to check the number of fans you can fit in the case as well as their specific sizes. This should give you the best highlights idea of how you can maximize your airflow inside the case.
Check the tools you'll need when putting everything together in the case. You might think you'll need a handy-dandy Phillips screwdriver when building a PC together but some, modern cases, come with tool-less brackets that make mounting storage drivers really convenient.
Even though they're universal nowadays, tool-less designed cases are mostly found in mid-range and high-end cases. In case you haven't seen one, tool-less designed cases come with thumbscrews for internal fastening and/or snap-on, twist-on, or other tool-free mechanisms in storage drive bays.
Know where you will route the cables. Another feature in PC cases that most people don't pay attention to is cable routing slits and holes in PC cases. By default, PC cases have these, it's a matter of how obvious they are and how well they're designed to make the cables out of sight. Unlike mid-range and high-range PC cases that come with rubber grommets to make cable routing a lot cleaner, budget PC cases tend to just have large holes in the motherboard tray. In addition, some high-end cases even come with zip ties and tie-off points to keep your cabling clean.
Another feature you should also look into is if the case includes a large cut-out in the back area of your processor. Some CPU coolers require you to assemble them onto the motherboard before you secure the motherboard inside the PC case. By investing in a PC case that comes with it, you will save the hassle of having to take the motherboard apart in case you installed your motherboard first before your CPU cooler.
While it may not be something you'll be regularly doing, it's something you would highly appreciate at the end of the day.
The front panel connectivity of the PC case is also something you should look into. Budget PC cases tend to only have USB-A Type 2.0 ports in the front. However, mid-range to high-end PC cases often include USB-A Type 3 or even a USB-C type. In other cases, the front panel also includes a fan or RGB lighting controllers. It has to be noted as well that while you'll often find a front-panel audio jack in most of today's PC cases, we still highly recommend plugging your headset directly into the audio jack found on your motherboard's read I/O shield.
Dust filters are also essential for users who live with pets or regularly smoke tobacco. Over time, pet hair and tobacco gunk can accumulate in the vents and even build up inside the case, which leads to cause throttling. If you own do own a pet, then you should make sure that the PC case has dust filters installed.
The sound of vibration is another problem thing that's been bothering a lot of users over the years. Because of this, a lot of cases come with sound-dampening features to keep noise in without impeding the airflow. It's also essential to look into the type of fans you can install because the RPMs of the fan also contribute to how silent the entire case is when used even on full load.
If you're planning to build a water-cooled system, then it's crucial to check if the case supports it. Most mini-ITX cases to a handful of mid-tower cases can only support up to 240mm radiators with radiator placement typically limited to either only the top or the bottom of the case.
If you're planning to use a 360mm radiator, then you'll want to get a full tower case to ensure everything else will fit in just fine. For those of you who are looking to go full-blown liquid-cooling, there are some PC cases with large swatches of interior space specifically dedicated to holding liquid-cooling reservoirs for custom loops.
If you're leaning towards building a vertical GPU mount, check if the PC case supports it, we have a compilation of vertical GPU cases here. It's also worth noting that you'll need a special bracket that has to be compatible with the case as well as a high-quality PCIe riser cable.
Quick Shopping Tips for White Computer Cases
Determine What You Want While figuring out how to make your white PC case look cool is important, you will need to figure out what kind of white motherboard, graphics card and cooler you'll need for your rig. Unless you have these three components on hand, you might as well have an empty case on the floor.
Bigger Isn't Always Better Multi-card setups are a thing of the past since new graphics cards already pack a decent amount of processing power by themselves. Solid-state drives are slowly becoming more mainstream as conventional hard disk drives gradually get phased out. Building a small tower might be the more ideal option for you if you're not looking to build a giant rig.
Cooling, Cooling, Cooling Since there's going to be a lot of electronic components inside your PC case, you want to make sure that there are enough cooling solutions n place to keep it from overheating.
Aesthetics If you're looking to make a case that's plain in appearance, skip this section. Otherwise, you're going to be spending a good amount of time admiring the case within your view once it's fully built up. You will need to check to make sure your parts are firmly seated in place and check the airflow of the case. Once that's accomplished, you can pick additional components that you can use to adorn your cases, such as additional USB ports or RGB lighting all over the chassis. Since there are so many options available, it's best that you spend a max of your free time when it comes to aesthetics.
Tiny Cases Smaller PC cases don't leave a lot of room to put in components, making it hard for veterans and novices alike. Compact towers can be powerful, but you need to be extremely careful over which parts you pick. Double-check the dimensions of your parts along with the amount of clearance you have available prior to building your PC.
The Ultimate White PC Build for 2021!
Recap: Top 7 Options for a White PC Case.
If you are a desktop person, you need a great case for it. Cases keep your precious machine safe from external elements, including dust and mites. The above-reviewed cases boast of remarkable capacities inside small form factors. They are also compatible with several motherboards, GPUs, HDD, and SDD. They boast of several water-cooling configurations to keep your computer from heating up. If you love your desktop, encase it!