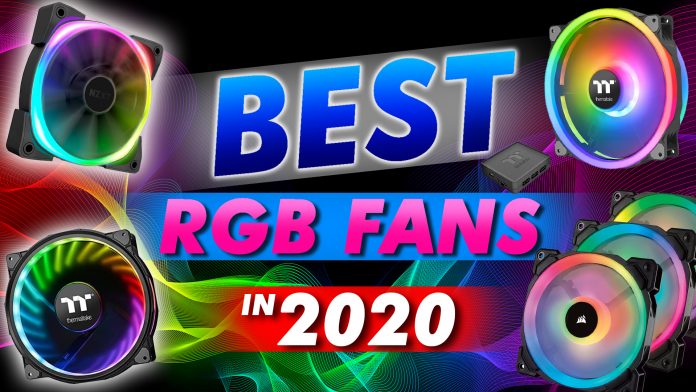 PC fans aren't really special things when it comes to keeping things cooled down. The sheer amount of hardware available for the common man is sufficient enough to keep your PC from overheating. We do admit that the best RGB fans may be at the "fancy" side of things rather than "optimal" at this stage. But they are becoming more and more popular due to combinations of other cooling solutions and cases with tempered glass – likes the ones used in the best white pc cases – becoming more affordable for buyers.
Hence we would like to welcome you to the wonderful world of the best RGB fans available in the market right now. These fans not only function as an efficient cooling solution for your PC internals, but they also add a little more flair to your rig. The products in this list are the ones that we used, as well as answers from a crowdsource we did on which fans they think are the best.
Key specs we are looking for
Of course, we can't just put random RGB fans in this list and call it a day, even if we did get the opinions of a lot of users. No – we had our own criteria for specification that we are looking for in order to rank these properly. Basically, we are looking for good numbers on two main key factors: airflow and low noise count.
Airflow – the amount or volume of air that a fan can displace. Higher volumes of displaced air are of course, favourable. But there are also fan-types to consider, so no, "higher is better" isn't always going to be our case here. This is measured in cubic feet per minute or CFM.
Noise – measured in A-weighted decibels or dBa, this is generally the noise being produced by the fan. Lower numbers offer a quieter sound for the human ear. But if you are using a mic for work purposes, then you might want to think further on what you really want to get.
We will be putting a full explanation on both airflow and noise down below after the list. This also serves as somewhat of a "buyer's guide" in case you do decide to purchase one as soon as possible. So without further ado, let's get right on to it!
The best RGB fans at a glance:
Corsair LL Series LL 120 RGB Fan
Best RGB Fan for Overall Performance – According to Users
Airflow: 42.25 CFM / Noise level: 24.8 dBa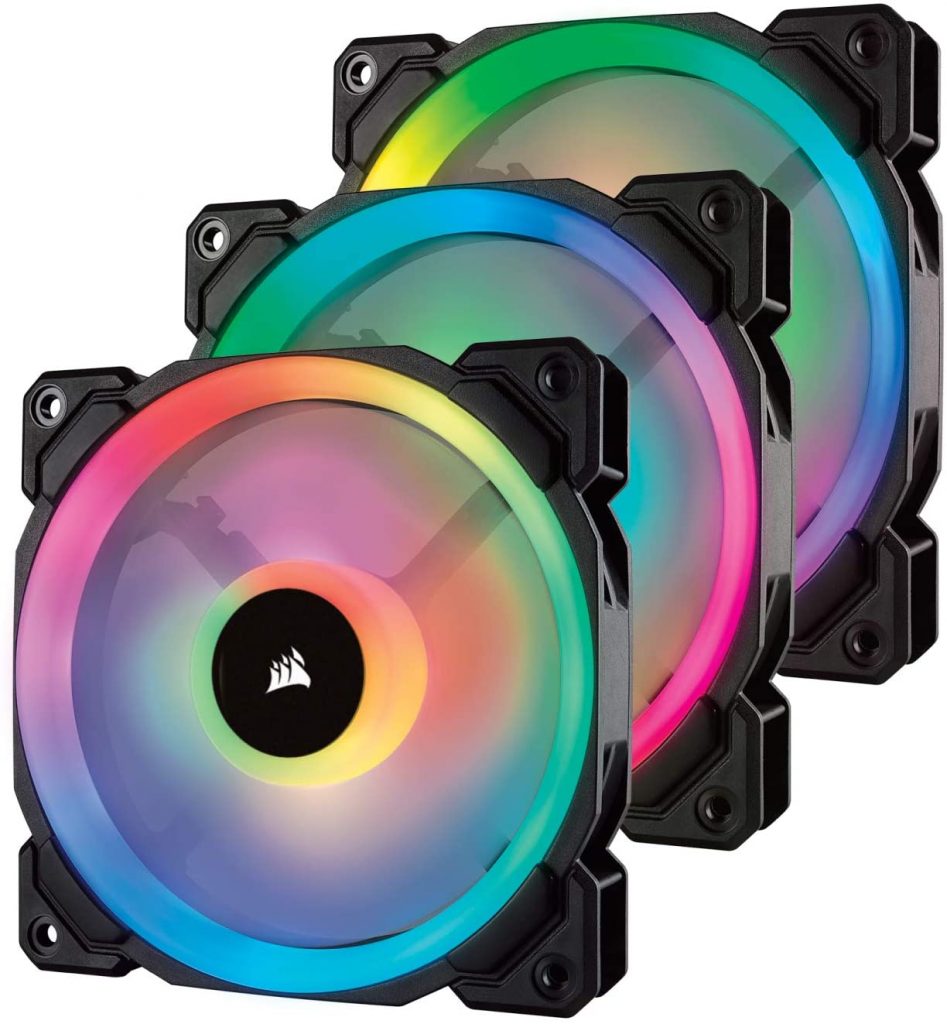 The Corsair LL Series LL 120 RGB Fan is one of the best fans we can find on the market right now. But it might be a little bit "controversial" as one would say. Why? Because there are obviously a bunch of other RGB fans out there that might top the LL 120 in terms of performance.
First of all, this is from the general consensus of a lot of people. Like we said, we did a survey/crowdsource on several users with both beginner and long-time users as our variables. Turns out, despite all the new technology available to them, they still preferred the LL 120 over any RGB fan in existence. There are many different factors on why they chose this, but one thing in common that they agreed upon was that the dual RGB loops that these fans have.
The Corsair LL 120 has two light loops on each fan. One placed on the outside ring, which creates a hazy "halo" effect. The other loop is placed on the inner part which illuminates the fan's blades. This creates a stunning showcase of lights that a lot of the other RGB fans can't achieve, except maybe for the next entry on this list – more on that later.
Each loop has eight individual lighting spots that can be personalized using Corsair's iCUE software. We should also note that iCUE is preferred by a lot of people on our survey, compared to other RGB control software out there. All in all, you'll have 16 light (eight for each loop, multiplied by two) which you can control individually for maximum lighting presentation.
These fans can be bought individually or as a dual or triple pack. They also come in either 120 mm or 140 mm that gives you way more different options for airflow and PC case compatibility.
The Corsair LL 120 is definitely something you should pick up if you want value over price. Sure, adding extra flashy effects on your lighting would cost you more. Also, lots of other fans give better airflow solutions. But the sheer usability, value, and look is more than enough for what it's worth.
Thermaltake Riing Trio
Best Features for an RGB Fan
Airflow: 41.13 CFM / Noise level: 25.2 dBa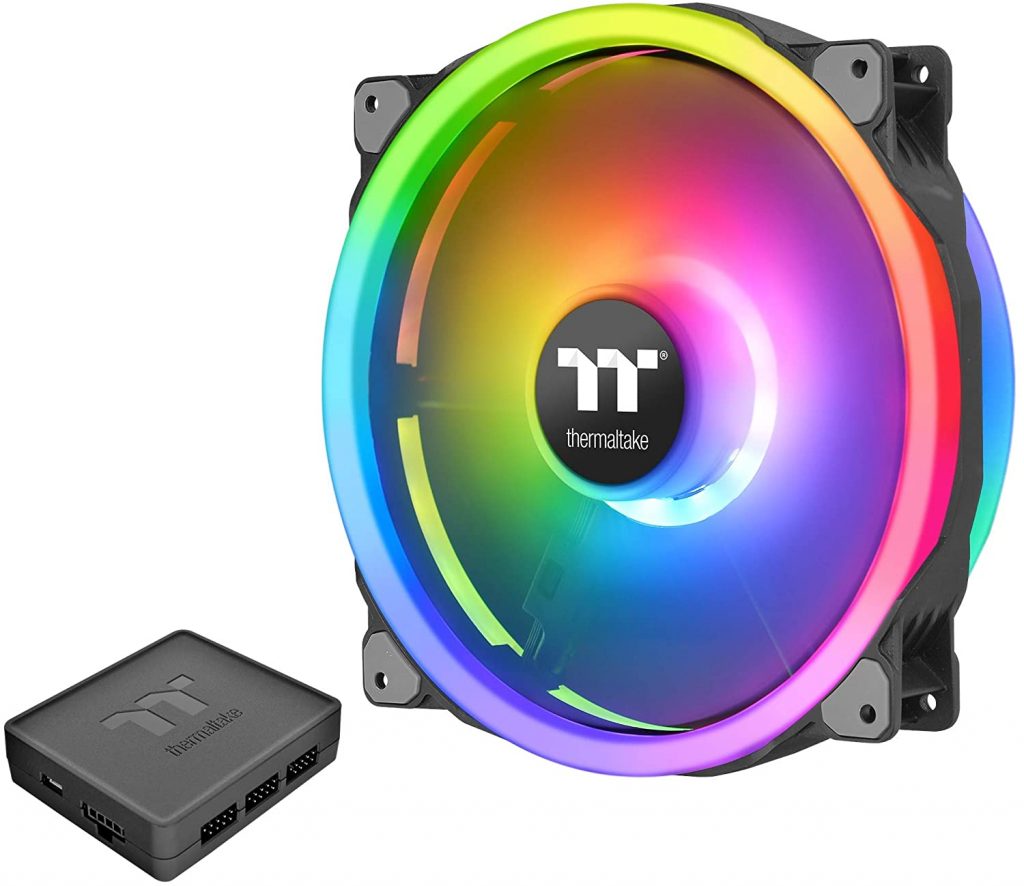 When it comes to having cool new features on a fan, a few – if nothing – beats any of the fans that Thermaltake brings to the table. Like seriously, these fans are so… fancy, that it almost feels like you aren't really getting an RGB fan in the first place. The same can be said with this next entry.
The Thermaltake Riing Trio 120 is probably the world's first "intelligent" RGB radiator fan. It boasts a lot of cool new features that haven't been seen before its release. Since there are a lot of things to talk about, let's list them down for an easier read:
These fans have three 16.8 million color LED ring design – all independent
It features 30 addressable LEDs
Supports multiple software such as their own TT RGB PLUS Ecosystem and NeonMaker
It works with the Amazon Alexa Voice Service (more on that later)
It syncs well with Razer Synapse 3 for the Razer Chroma feature, which syncs well with your other Razer products, if you are using them
We mentioned the TT RGB PLUS Ecosystem on that list, which is an interesting feature that the Riing Trio has. You see, this feature lets you control your fan's speed, LED brightness, lighting modes, or switch them on and off using your smartphone. And by "using your smartphone," we meant that you trigger this via your voice. Saying "Hello, TT" on your phone while it is in sync with the Riing Trio will let you do all of the things mentioned above. And what's better, is that you can synchronize the whole thing with Amazon Alexa as well. This lets you have interesting light modes that are affected by environmental things such as the weather conditions. Users can also sync these fans with Razer Synapse 3. If you are using other Razer products, then this lets you use Razer Chroma to control your lights with colors that match your Razer keyboards, mouse, and other gaming gear.
Other features that the Riing Trio has include hydraulic bearing for the fans. This reduces friction, churning up more efficient airflow. And even though it is quite powerful, like the Corsair LL series, it remains at a relatively low noise levels, maxing out at 25.2 dBa.
The only downside we see is that you can't purchase the Thermaltake Riing Trio in single packs. It has to be the three pack or no dice. Maybe it has something to do with the Trio name? We don't know. But if you haven't decided on your radiator fans yet and you are looking for something fancy, then these fans are definitely worth checking out!
NZXT AER RGB 2
Uniquely Designed RGB Fan
Airflow: 52.44 CFM / Noise level: 22 – 33 dBa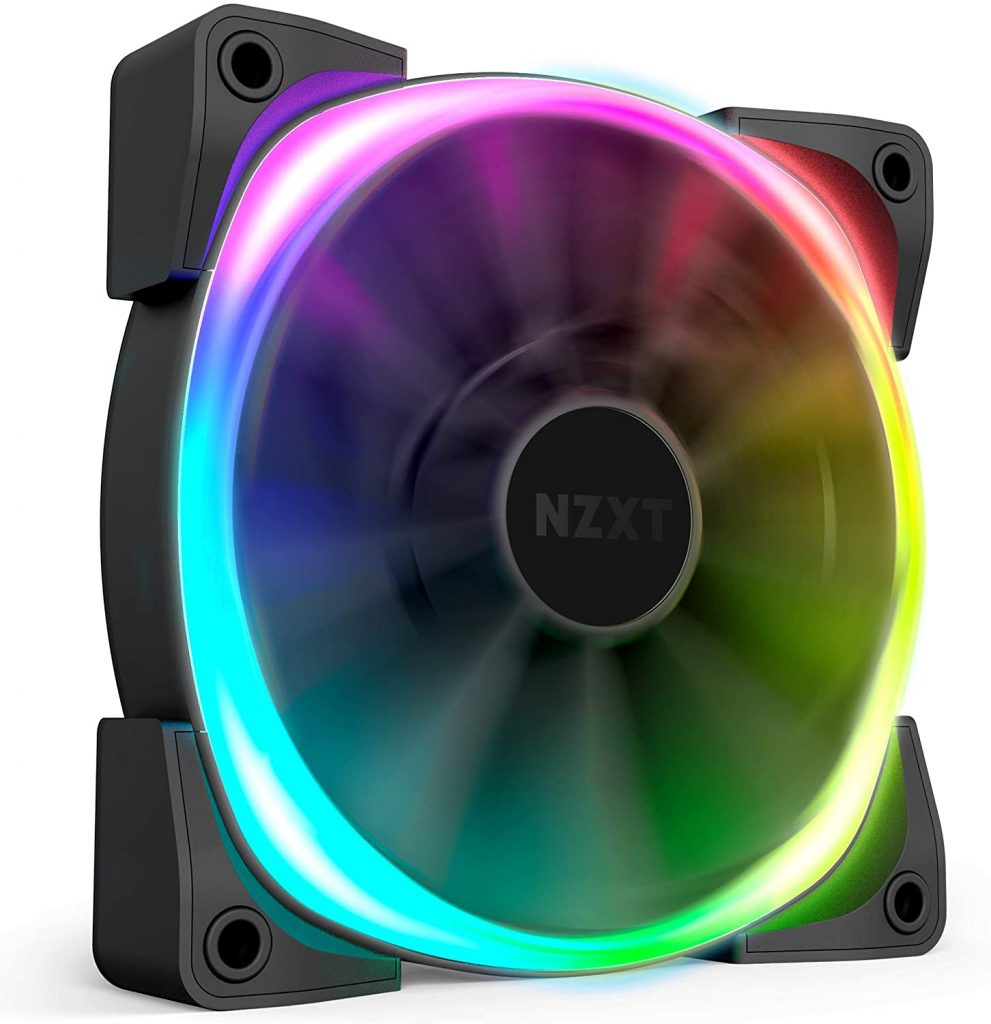 Another fan favorite is the NZXT AER RGB2. While not the cream of the crop, it still holds its own weight when it comes to being one of the best RGB fans sold today.
As everyone may know, NZXT is well-known for producing high-quality computer cases. So it seems sufficient to say that they aren't strangers when it comes to creating top-of-the-line fans for their cases as well. And that is exactly what the NZXT AER RGB 2 is. If you are planning to use an NZXT "I" case for your build, then you should write down this fan on your to-buy list, as this does wonders for illumination and swag points. Or if you plan to use this on another case and have a controller working for you, it should be fine too. While many people would find that the need for a fan controller is a major downside, we wouldn't really put it like that. If you are going to use an RGB fan, then you would setup a controller or software anyway, so no biggie right there.
While the fan only has one RGB loop (a downer, we know) it does have a refreshing take on the fan design itself. It has a unique square edge design that makes the fan look big and interesting to look at when the lights are on.
Functionality isn't an issue either. The AER RGB 2 can push 52.44 CFM of airflow, which is quite a huge boom. This is possible thanks to the winglet tips on the blade of the fan itself. And even though it is dishing out huge air, the fluid dynamic bearings used by the fan make it as quiet as possible. It runs on a minimum of 22 dBa, and maxes out at 33 dBa on high speeds. A bit "noisy" at max, if you think that a quiet room at night is noisy.
All-in-all, if you are not bothered by having a controller or software dictate how your fans work, then the NZXT AER RGB 2 is a nice pick up. It is available in single, dual, and triple packs, so you are free to customize as you see fit.
Thermaltake Riing Plus 20
Best RGB Fan for Sheer Airflow Output
Airflow: 117.96 CFM / Noise level: 29.2 dBa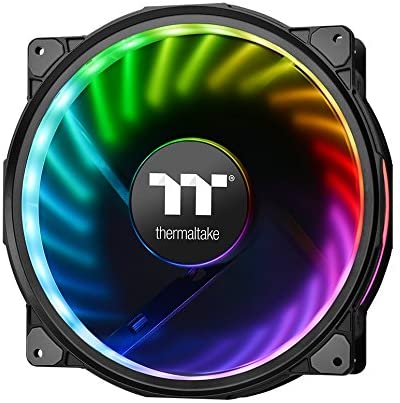 Another one of the places in this list is taken by Thermaltake again. And for a really good reason. There is probably nothing that can compare to just how much airflow volume this fan can dish out of all the products mentioned and will be mentioned. We are talking about the amazing Thermaltake Riing Plus 20.
First of all, these are huge fans. At 200 mm, these babies can pump out huge amounts of air per minute. And by huge, we mean 117.96 CFM worth of air volume. I don't know why it's shy of 0.04 CFM, but that's almost 118 CFM of total air dissipated by this fan – the largest amount on this list. And even though this fan operates at 1000 RPM and pumps out insane amounts of air, it is still relatively quiet for its size. The noise levels caps only at 29.2 dBa, so it's quieter than the NZXT AER RGB 2 by a small amount, which again, is hardly noticeable for both fans.
Design-wise, it's really gorgeous. The fan is mostly used on the front of your case, and if you are sporting tempered glass panels, then the glow is way cooler than usual. There are 12 addressable LED sets with 2 single LED per set. The LED ring loop can generate up to 16.8 million of LED color design, which is something almost every Thermaltake fan is proud of doing.
So if you think that your build will require large amounts of airflow from a 200 mm fan but you don't want to sacrifice functionality over design, then take the Thermaltake Riing Plus 20. They are quite pricey though, so you better watch your budget.
ID-COOLING ZF-12025-PINK
Really Affordable RGB Fans for White PC Builds
Airflow: 55.2 CFM / Noise level: 33.5 dBa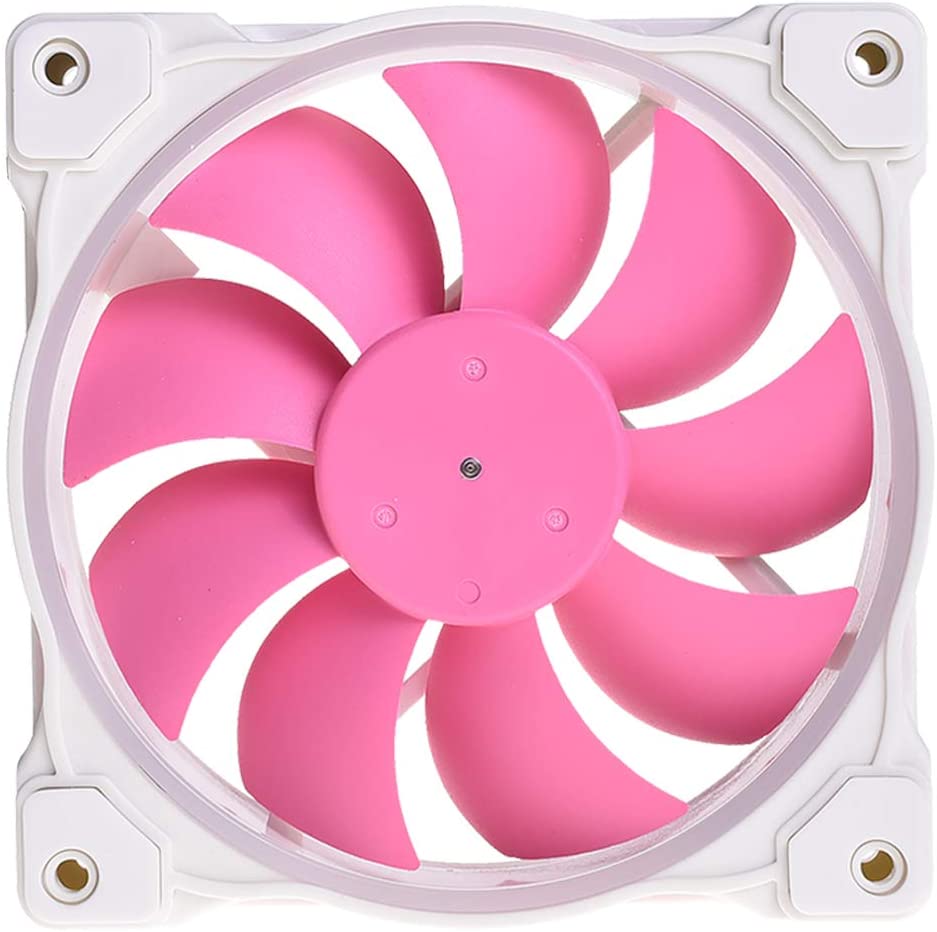 Writer's notes: If I would completely be honest, the ID-COOLING ZF-12025-PINK would be the fans that I really want. Ever since I did research for white pc builds, I really want to get myself one and have these as my RGB fans. It's just so pleasing to look at.
Who said fans of pastel colors can't make their own PC build designs? Or that gaming PCs need to always be dark, broody, and edgy looking? Why not look for something functional and different at the same time? Something like the ID-COOLING ZF-12025-PINK?
This is one of those fans that doesn't cater with the "normal" color of PC fans. Usually, fans are black, dark looking, kind of has a metallic texture, stuff like that. The ZF-12025-PINK however? As the moniker says, the blades are pink. The mount where the fan is at is colored white. Both of them aren't metallic looking, and have this matte color finish to them.
But they aren't just "cutesy" looking. It is actually quite a powerhouse as well! With an airflow volume of 55.2 CFM, the ZF-12025-PINK is something that lots of builders would be surprised to have. The speed goes from 900 to 2000 RPM, all the while maintaining a noise level that goes up to just about 33.5 dBa. To get this lower, there are rubber pads in each corner of the fans. These pads reduce the noise from vibrations. This is quite generous for a fan that looks cute. It's so good, that you can either use it as a case fan, or a radiator fan. For control, the ARGB lighting syncs well with lots of RGB fan controllers, such as Asus Aura Sync, MSI Mystic Light Sync, and Gigabyte RGB Fusion.
So if you fancy something new without the risk of losing an arm or a leg, then checkout the ID-COOLING ZF-12025-PINK.
By the way, we have an article about white AM4 motherboards that have Asus Aura Sync. If you are interested in building a white PC, then that article is definitely worth checking out.
Fractal Design Prisma AL-12 with PWM Control
Best High-Performance RGB Fans for Radiators and Heatsinks
Airflow: 85.71 CFM / Noise level: 32.7 dBa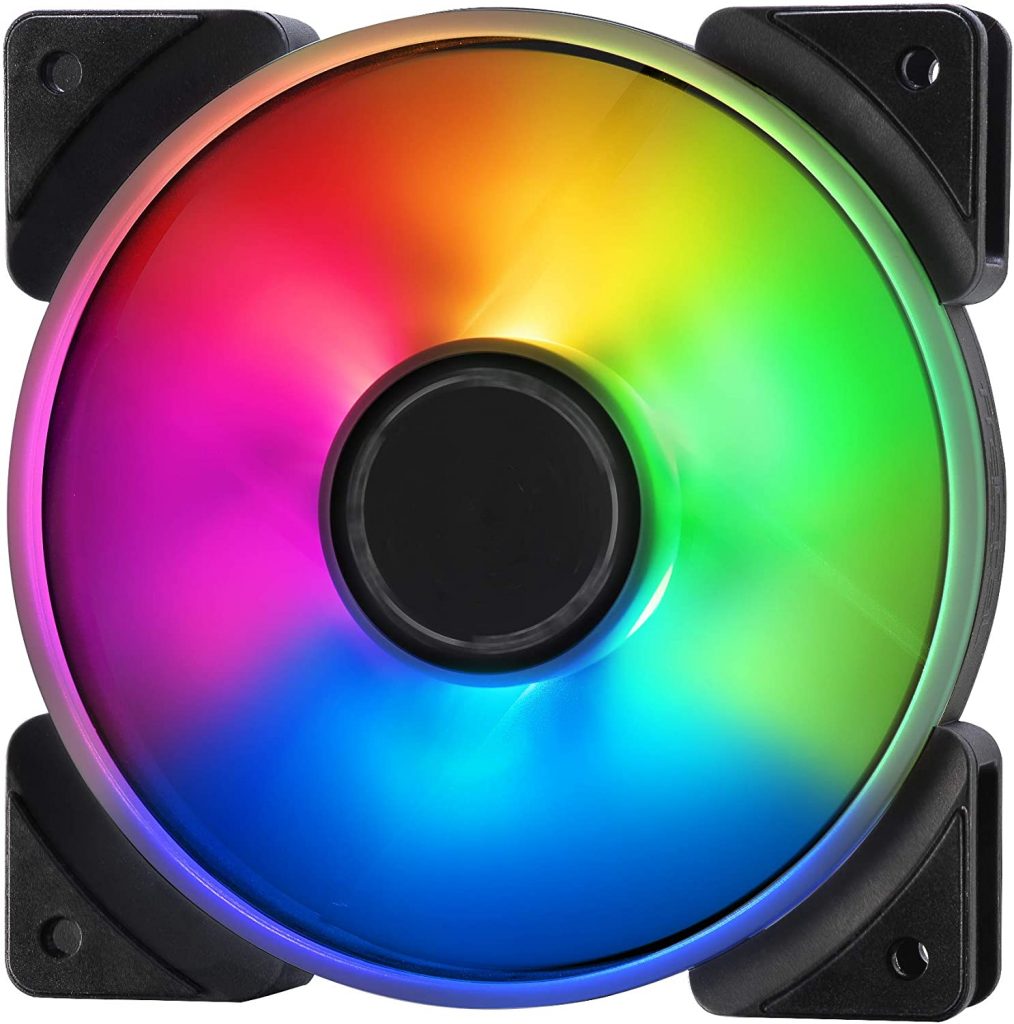 PC fans should be able to cool down either the case or radiators, sure, that's a given. But for heatsinks? You should be a bit picky. We all know that this gear, white it helps dissipate heat, will need some help, especially if you are overclocking your CPU. Luckily, we have an RGB fan that is perfect for this because of its PWN control: the Fractal Design Prisma AL-12.
Pulse Width Modulation (PWM) fans are examples of gear that should continuously work in high-performance. And that is what we love about the Prisma AL-12: it's a high-performance RGB fan that can work well even under a crucial purpose. Since it has PWM control, it can control just how much cooling it provides to your heatsink/processor. However, do note that not all motherboards have the ability to slap on a PWM fan. Check your mobo if it has PWM headers so you won't run the risk of frying your circuits.
If you do plan to use this, then dang, is it worth every single expensive penny you pay for it. The fans pump out air up to a max volume of 85.71 CFM max volume. It has a maximum of 2000 RPM that surprisingly just emits 32.7 dBa. Not bad for something powerful! It also has high static pressure, again making it perfect for heatsinks and radiators alike.
Choosing the right RGB fan
Above, we had a TL;DR on the key specs that we are looking for in an RGB fan. Now, here's a longer explanation of what both those meant. Note that while there are more spec that determine if a fan is optimal for your rig, we decided to focus on these two. This is because these often are the easiest factors to determine how good a fan is, even if we don't go too nerdy about it. We would like to cater to both PC builders and those who are just beginning to build their first rig, and we don't want to scare anyone with highfaluting words, like that one you just read.
Anyway, airflow and low noise count. Go!
Airflow
Airflow generally pertains to the amount of air that your fan can dish out within a set amount of time. We mentioned that it is measured in CFM, and the higher the CFM, the better. What we did not say is that CFM is not a PC-fan-only unit of measurement – no, CFM is also used for fans in general. As we said, CFM stands for cubic feet per minute, and is an actual unit of measurement. Anyway, that's too much nerdy explanation for CFM.
Generally speaking, a good RGB fan must be able to flow a good chuck of heated air from your heated PC parts. This unwanted heat can damage your system and wear out your internals faster than usual. So to avoid a malfunctioning rig, choose an RGB fan that fits your setup. Make sure that your fan placement is on the most optimal position.
There are two types of airflow dynamics in a PC fan: static pressure fans, and airflow fans. Do not worry about the naming convention, just read on for now.
Static pressure fans focus more on distributing the heat more evenly than airflow fans. They also make sure that even though there are obstacles between a fan and an exhaust, they can blow through it without harming the hardware that is blocking the unwanted air. The downside to static pressure fans is that they pump less volume of air than their airflow counterparts.
Airflow fans pump a large amount of air better than static pressure fans. These types are the best ones if you have a case with lots of open spaces, or if you position them on your case's exhaust points. In contrast with the static pressure fans, AF fans doesn't function optimally if they are hard blocked by another piece of equipment.
Another thing to keep in mind is that there different sizes of fans – 120 mm, 140 mm, and 200mm. Most PC cases these days cater to all sizes of fans, but double check to see if your case does. So with RGB fans having different size, make sure that you are choosing the right one for your build to avoid extra costs.
Tip: To summarize things in case you just want to get an RGB fan ASAP:
First, check your case. You need to check which fan dimensions would fit your case and your internal hardware. You'd like to get fans that would fit your rig properly, otherwise it won't be able to displace the heated air properly.
Know if you are aiming for either a static pressure or airflow fan. If you have a lot of hardware than might block full airflow from dispersing, then pick SP. If your case has a lot of space, then maybe picking AF fans would be better.
Noise
One thing that clearly makes us happy in the progression of modern technology is that fans can now run way quieter than ever. Sounds shallow? I know. But to a lot of people, fan noise is something that can make or break a product from ever being viable. Just imagine: you are a streamer, someone who does ASMR, or someone who just values a very quiet workplace. Yet, your main weapon, your PC, sounds louder than an actual electric fan. That would lead to very frustrating circumstances where you can't do anything productive.
Noise levels are expressed through the measurement of A-weighted decibels, or dBa, dBA, or dB(a) depending on which source you are reading from. For the sake of uniformity, we will be using dBa as our unit of measurement. A-weighted decibels are generally an expression of the loudness of certain sounds as heard by the human ear. This makes sounds that are at lower frequencies project lower decibel values. This is because the human ear is far less sensitive at picking up sounds at low decibel values. Thus, the lower the dBa of a fan, the quieter they are. "Duh" you may say. But trust us, the lower the numbers are, the less likely the sounds gets picked by your ear, sure. But that doesn't mean other external products can hear them, such as microphones. So while you may not hear anything using a product with around 20-30 dBa, other external factors might pick that up, so choose wisely.
The RGB fans on this list are generally way more quite than usual. These are products than produce an average of 26 dBa, with the lowest being 17.6 dBa, and the highest at 33 dBa. While 33 might be a huge number at first glance, do know that this is probably just the sound of your bedroom at night. Which if there isn't a TV that's constantly on and is tuned to Netflix, then it will still be quiet to your ears.
Tip: If you are looking to buy an RGB fan soon, then these are some tips we can offer in regards to your fan noise:
Lower number is better, sure. But this is in terms of human hearing. If you are using sound-sensitive equipment such as mics, then check if the one you want to pick won't be able to pick up the noise from your fan. If your microphone isn't that sensitive, then picking something cheaper but with higher dBa might be worth it.
Other Key Factors
There are several other key factors that you should consider looking in to before getting a fan for your rig. While we did not include them on the key specs we were looking for initially (airflow and noise,) by all means, these are important as well.
Connectors – these allow your fan to attach to your overall setup. It is important to know which pins you need in order to make your fan function properly.
There are Molex, 3-pin and 4-pin connectors, which have different functionalities in them. Fans with 4-pin connectors are the ones that let you have full control on them. You can adjust their speeds using a third party software, like Asus Aura. 3-pin connector fans are adjusted via the BIOS, and have the risk of running at full speeds all the time. Molex connectors will let the fan run at 100% full capacity all the time and you won't be able to adjust them in any way.
Header Compatibility – RGB fan headers on your motherboard are connected to RGB strips. This in turn, lets you control the RGB LED and run funky color schemes as much as you want. However, different motherboards have different RGB headers, so make sure that you plug in the fan that corresponds to each specific header. Failure to do so will damage your RGB LED, or worse, the fan itself.
For example, for the ASUS ROG Crosshair VII Hero (mentioned on our article on the best motherboard for Ryzen 7 2700x) supports 5050 RGB LED with a 12V max power rating. Usually, 12V headers support 4-pin connectors. This lets you control the lightshow with Asus Aura Sync too, since it is a 4-pin.
Conclusion
The RGB fan-dom (get it? Because its fan and fandom? Sorry) is steadily rising, and it might be high time for you guys to check this out. Not only do they provide much needed airflow and thermal dispersal support for your rig, but they hella look nice too!
If you have other RGB fans that you would like us to checkout and possibly include on this list, please comment below!
Recap: Top 6 RGB Fans in 2021