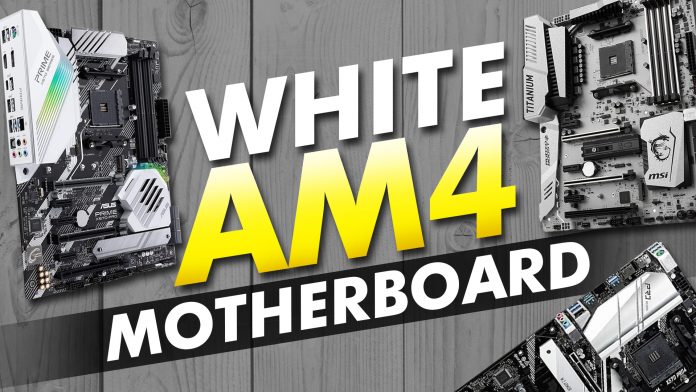 | Preview | Product | Price |
| --- | --- | --- |
| | Asus Prime X570-Pro Ryzen 3 AM4 | |
| | Asus Prime X570-P Ryzen 3 AM4 | |
| | ASUS Prime X470-Pro AMD Ryzen 2 AM4 | |
| | ASRock X570 Pro 4 | |
| | Gigabyte B550 Vision D | |
| | MSI B450M Mortar Titanium | |
| | MSI X370 XPOWER Gaming Titanium Motherboard | |
| | MSI Gaming B350 Tomahawk Arctic | |
PC technology gets better every year. Because of that, not only can people choose to build a high-tech rig of their own, but they can also go for a more fashionable look for their rigs. Yes, gone are the days where people only go for all black rigs.
And do you guys know what has been popular when making CPUs lately? White rigs. These are rigs that sport a sleek and clean white motif. It's very minimalist looking, which is nice to look at. And it all starts with choosing a white motherboard.
Preferably, a white AM4 motherboard!
Why Opt for a white motherboard?
Well, for starters, this is totally an owner's personal preference. But in this article, we will focus more on white AM4 motherboards because of one major reason: the rumors of an AMD Ryzen 5000 coming right around the corner. In case you are looking for a motherboard to pair with your Ryzen 5 3600, this roundup should help you pick the best one.
These new processors will definitely shake the world, and as long as it is not here yet, what better way to prepare for the experience than to make a rig that closely resembles the future of AMD rigs.
Plus AM4 motherboards are already powerful in itself, supporting four pieces of DDR4 SDRAM and PCIe 4.0. So that's probably 2 major reasons.
But without further ado, let's dive into the beautiful world of white AM4 motherboards.
ASUS Motherboards
ASUS had been thorough in supporting this socket and chipset for their white motherboards. There are three big boards they carry in their name. These are the ASUS Prime X570-Pro, the Prime X570-P, and the Prime X470-Pro.
1. ASUS Prime X570-Pro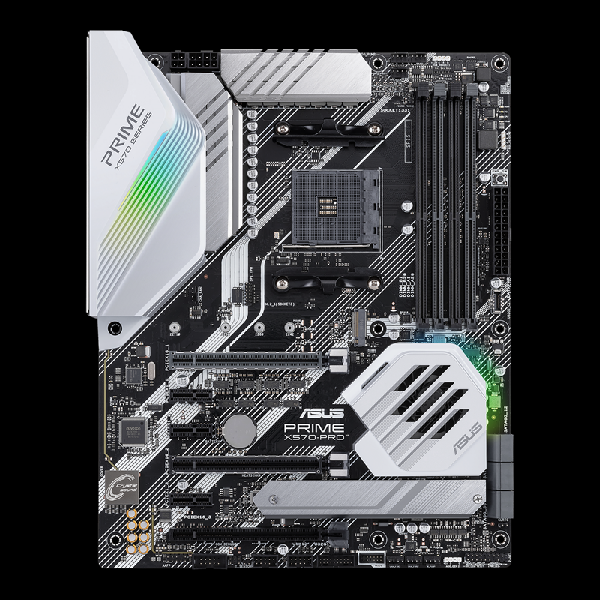 Probably the "cream of the crop" on all the white AM4 motherboards, the ASUS Prime X570-Pro is probably your go-to board if you want to build a white AM4 rig. It's not labeled as 'pro' for nothing.
First of all, as it's made with an AM4 socket, any AMD Ryzen CPU can be used with it. This means that you can use any AMD Ryzen CPU you want to use with it, together with the power of the latest chipset available. Sure, the same can be said with any Ryzen motherboards, but the sheer utility of having near-perfect backwards compatibility with any Ryzen CPUs is nothing to scoff at.
AM4 sockets are also known to support PCIe 3.0 and PCIe 4.0 hardware. With the Prime X570-Pro, this will let you use almost all fast SSD with it, with no compatibility issues so to speak. Also, the X570-Pro has dual PCIe 4.0 M.2 slots, which supports unit up to 22110. This motherboard also has NVMe SSD RAID support, which gives a massive performance boost to your rig. If you are able to create a RAID configuration with two PCIe 4.0 devices, then you can experience hyper data-transfer speeds on any occasion.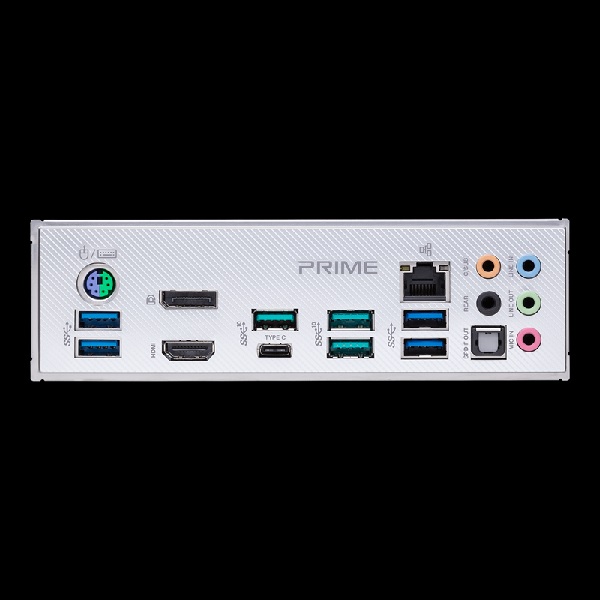 Connectivity with new-gen devices are one of the things that people look at whenever they create a rig. With the Prime X570-Pro's setup, you never have to worry about this. Backwards compatibility with a USB 3.2 Gen 2 Type A ports is possible with this motherboard. Also, for those who are using newer gadget connections, you can easily connect them with a reversible USB 3.2 Gen 2 Type-C port. If you are worried before if this board will do justice with data transfer speeds, then how about Flash-levels of speeds that reach up to 10 Gbps? Totally possible with the X570-Pro.
Cooling mechanics aren't a problem for the Prime x570-Pro. It features one of the best cooling controls on any motherboard in current existence. The Fan Xpert 4 system or the UEFI BIOS helps you control any heat that may ramp up during your usage. Not only that, but there is a dedicated header that gives out about 3A for high-end PWM or water coolant pumps. There is also a secondary header dedicated for AIOs. Talk about a chill motherboard, literally!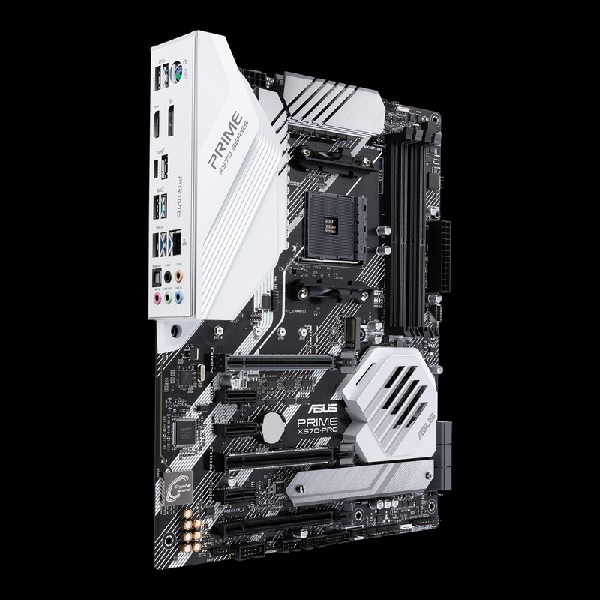 ASUS had always pioneered a lot of protection for their motherboards, especially with the advent of their ROG series. That is why they also included the pre-mounted I/O on the Prime x570-Pro, to provide added function. Not to mention it looks really great. This feature allows for a more streamlined installation, which is great for both beginner builders and ecstatic enthusiasts.
Speaking of looking great, the Prime X570-Pro comes with the ASUS Aura feature. This lets you control tons of preset RGB LED colors as well as the onboard RGB headers, all built-in of course. This literally let's your rig shine amongst the rest. Now you can choose whether to stick with a minimalist all white rig, or try to make things spicier with a dash of color in it.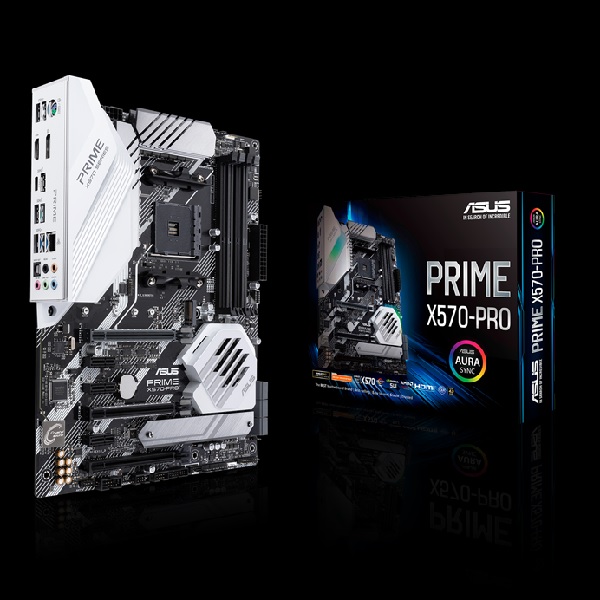 Whether it's for gaming, designing, or you simply have the cash to throw around and make a hardcore white AM4 rig, the ASUS Prime X570-Pro will be a powerful go-to board you can trust.
2. ASUS Prime X570-P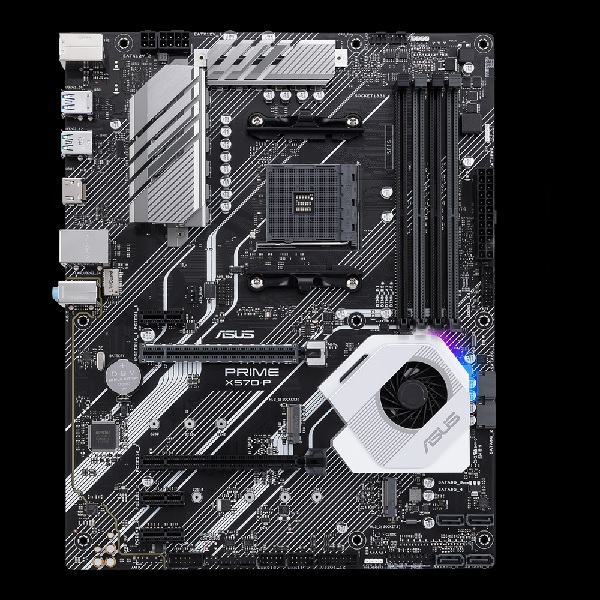 Another one from ASUS is the ASUS Prime X570-P, which is a step down from the uber-powerful Prime X570-Pro. There is a reason why it's a stepdown, and we will go through it as we go along.
Still sporting the same AM4 socket as its Pro cousin, the Prime X570-P is still a godsend for people looking for the RAM data-transfer power of the Prime X570-Pro. These two motherboards sport the same PCIe Gen 4.0 compatibility. The X570-P also has Dual M.2 slots, which is perfect for people that are looking for hyper speed data-transfer speeds, albeit at a lower price. The difference is that the X570-P has a B chipset layout that the X570-Pro does not use for its PCIe slots. The Prime X570-P gets one at x16, and one at x4. This is quite a downgrade from the Pro, especially if you are planning to use CrossFire technology.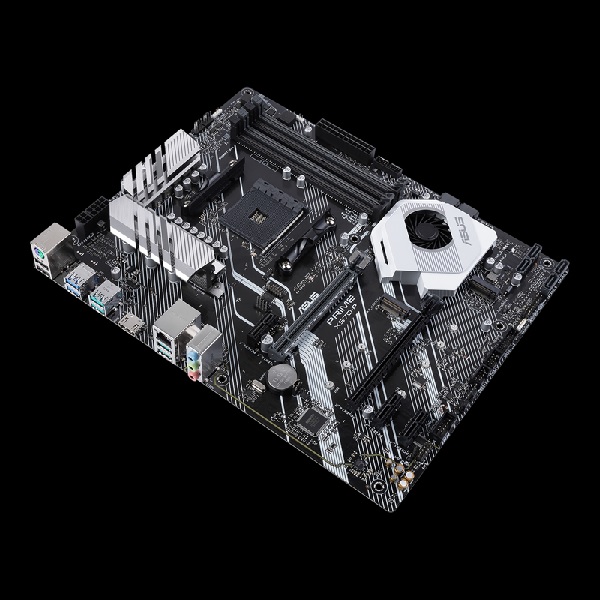 If you aren't aware, CrossFire eases your CPU's need to pump out more power for graphics since it enables you to run multiple GPUs for an increase in graphics quality and performance. Since the slots are different for the Prime X570-P, you might have a bit of compatibility issues if you want to use CrossFire technology on it. But since the X570-P is especially made for mid-grade "budget" white rigs, you probably aren't thinking of using CrossFire technology anyway. This shouldn't be a problem if that is the case.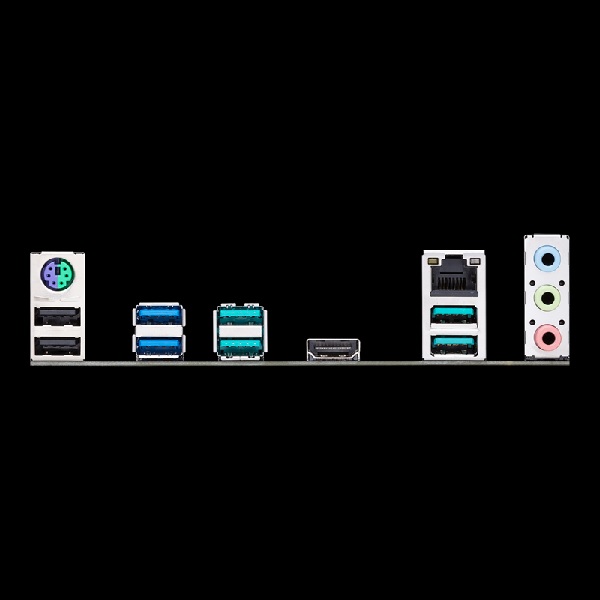 Most PCIe Gen 4 gear requires twice the data bandwidth to process. This make it much more active than usual in order to deliver its performance. In turn, it generates more heat than usual. With all these, you would probably need a better cooling system in order to protect your motherboard from melting. With the Prime X570-P, you won't have to worry about that. A good thing about this motherboard is that it has an Active Heatsink Solution for the chipset. This provides, as its name suggests, an actively cool heatsink that will kick in to prevent slow down during long transfer periods. As long as you have this, you won't have to worry about getting PCIe 4.0 gear and can use them as much as you would want.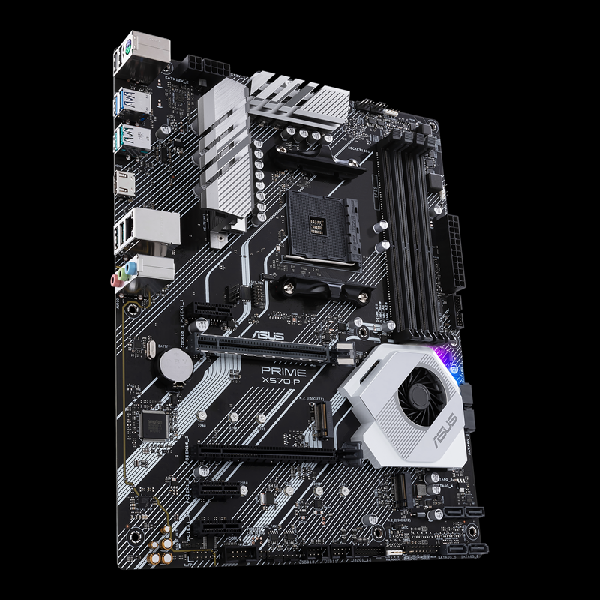 The ASUS Prime X570-P also uses a cooler technology that functions the same as its X570-Pro cousin. The cooling controls are also present in this motherboard, which can be easily configurable using the Fan Xpert 4 or the UEFI BIOS. The headers can designate three thermal sensors. And if you are using the Fan Xpert 4, you can specifically designate and map certain supported ASUS graphic cards. This allows for a greater cooling experience for either the GPU or if you are running tasks that require heavy processing power.
So if you want a sleek looking black PCB with white streaks without burning your wallet, then do checkout the ASUS Prime X570-P.
3. MSI B450M Mortar Titanium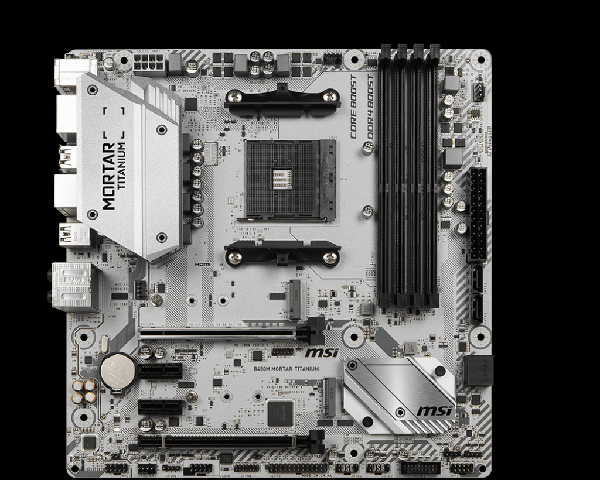 The MSI B450M Mortar Titanium is a part of the MSI arsenal of gaming tailored and focused on gamers looking for a white AM4 motherboard that delivers quality performance and superb features without breaking the bank.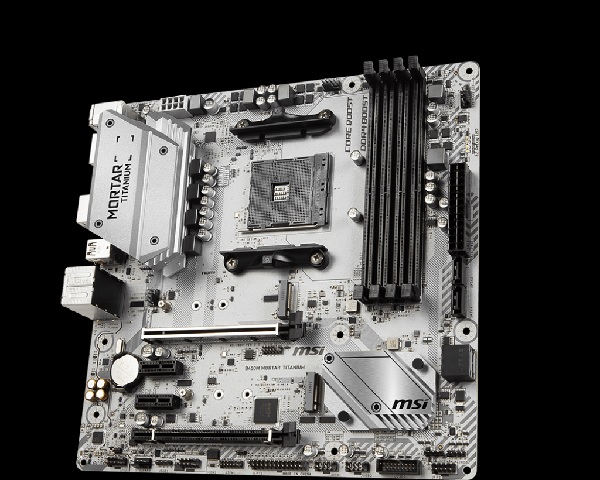 At this point, you've probably heard about the MSI B450M Mortar as well. To make it simple, the only difference between the two is aesthetics. The Titanium model has a silver PCB and a silver heatsink, making the board look white overall. Moreover, it has the option to add two more RGB LED strips if you need to make your system look more colorful.
The MSI B450M Mortar also has a microATX form factor that supports AMD 2-way CrossFire that is perfect for multi-graphics card settings and configurations. The PCI-e slots on the BM450M motherboard have a full-length PCIe 3.0 slot at x16 speed and a second full-length PCIe 2.0 slot at x4 speed.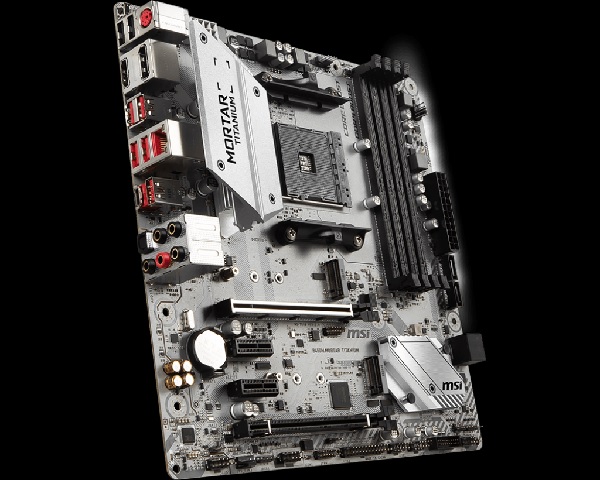 On top of that, the motherboard also has two PCIe 2.0 slots at x1 speed. To avoid GPU sag, the MSI Steel Armor has a slot reinforcement that will hold the motherboard.
Four SATA ports are angled at 90 degrees with two M.2 slots. Unfortunately, only one of the slots offers full PCIe 3.0 at x4 speed support because the second M.2 slot only supports PCIe 2.0 at x4 speed.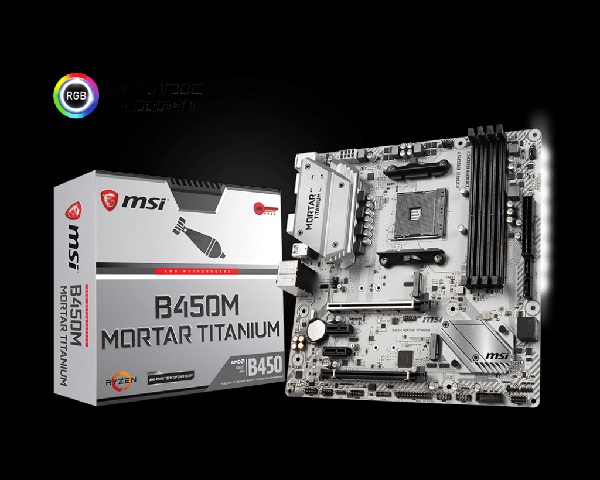 It's surprising to see two M.2 slots on a motherboard in this price range. Just take note that the M.2 drivers don't have heatsinks. While it's not necessarily a breaker, it is nice to have. But considering how affordable this is, we can't ask for more.
The B450M Mortar Titanium utilizes an 8-pin ATX 12V power input to supply power to your CPU. Similar to most motherboards, the B450M Mortar Titanium takes energy from the 24-pin power connector.
You can install up to four DIMM slots of RAM that supports up to 128GB at 3466 MHz. There are four 4-pin fan connectors, where one is dedicated to the CPU, while the remaining three 4-pin connectors can be used for other purposes you see fit.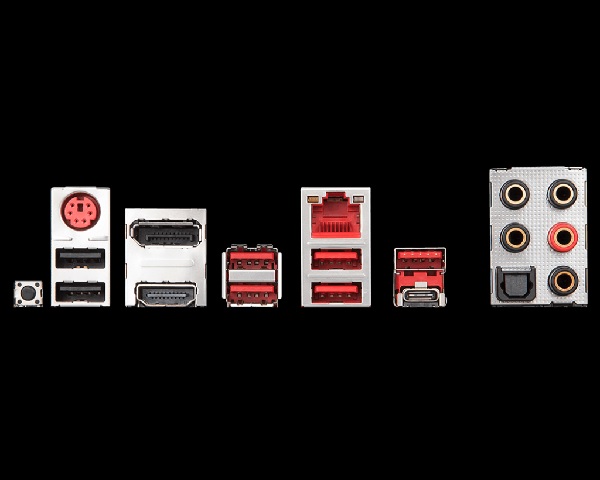 At the back of the MSI B450M Titanium is where you will find the following ports:
2x USB 3.1 Gen 2 ports

4x USB 3.1 Gen 1 Type-A

2x USB 2.0 ports

1x HDMI port

2x DisplayPort
Additionally, there is a BIOS Flashback+ button at the backside of the motherboard and a legacy PS/2 port, a total of 3.5mm audio jacks, a S/PDIF optical port, and an Ethernet port.
4. ASUS Prime X470-Pro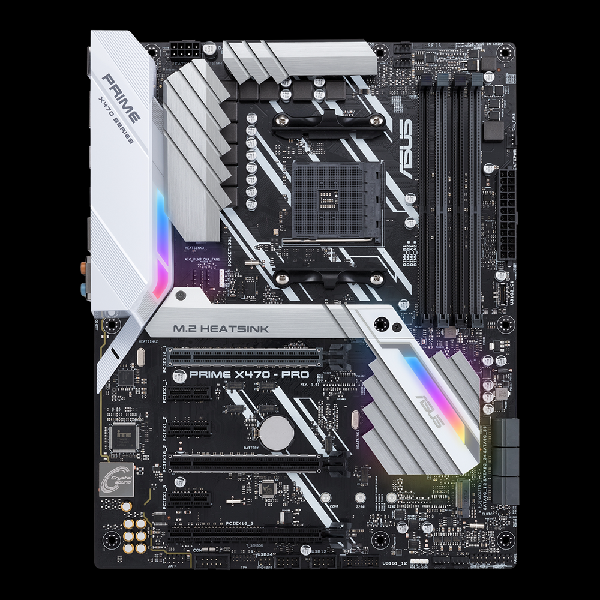 Now, for those who are looking to create mid-tier white AM4 rigs, then there is the ASUS Prime X470-Pro. Currently, supplies for this unit are on hiatus, but we included the link for it just in-case you want to check it out if it will return or not. Or maybe if you want some owner reviews to check out.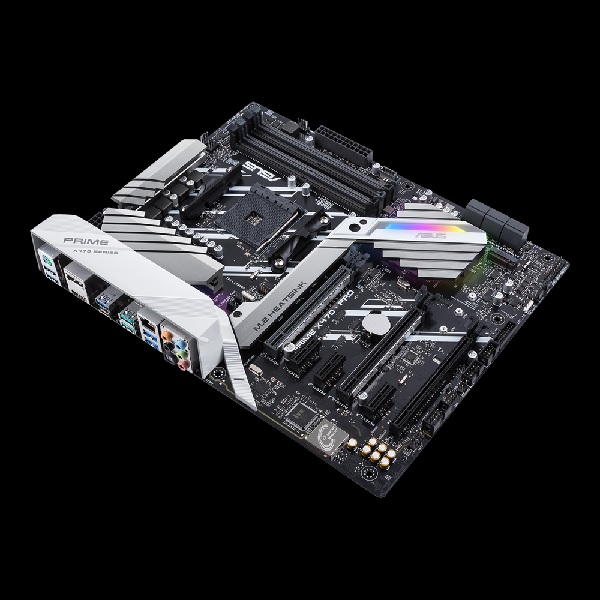 Anyway, at one point, before the X570 chipset had been introduced, the ASUS X470-Pro was one of the strongest white AM4 motherboards out there. The design isn't something to scoff at either, as it does sport the same black PCB board with white streaks and accents that the newer gen ASUS Prime motherboards have. Dare I say it, the Prime X470-Pro looks even sleeker than the Prime X570-P, if I am being completely honest here. It has the ASUS Aura Sync function on it as well, which allows you to play with RGB LED lights to make your white rig stand out more.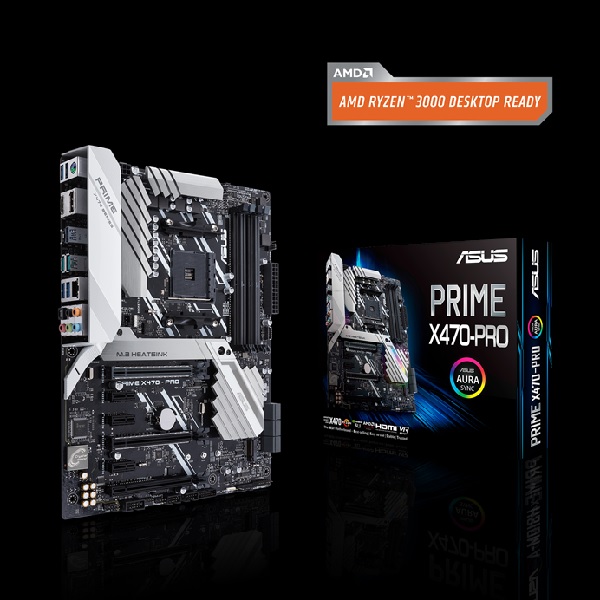 Again, as this is a previous gen motherboard, you can't expect it to have compatibility with PCIe Gen 4.0 equipment. But that's okay, as mid-tier beginner builders can still crank out power from the Prime X470-Pro. A well-crafted trace layout help improve memory stability for this board. If you want to fully integrate some of the previous Ryzen generations' power into your circuit, then the different configurations on the Prime X470-Pro is the perfect testing ground that will surely help you find your sweet spot.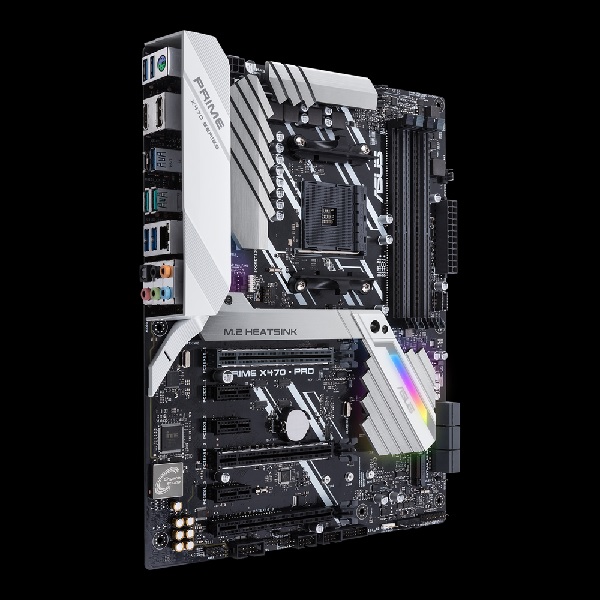 If you are worried that your SSD might get a little crankier due to heavy operation, then fret no more. The Prime X470-Pro comes with an extremely efficient heatsink that help reduce compatible M.2 SSD temperatures by – get this – up to 20 degrees Celsius. Again, it reduces temperature by quite a large amount, resulting in better SSD performance. And due to lowering the heat down to good levels, you can expect that your SSD will also live longer.
Speaking of which, the PCIe slots for the Prime X470-Pro comes with ASUS' patent-pending SafeSlot technology. This is a new step in securing your gear in place. Since you are building a mid-tier PC, you might have problems in your house regarding bumps and grinds that your rig might have, hence you don't want to spend too much on it. Well, with the SafeSlot technology, all of these worries are just blown out the window.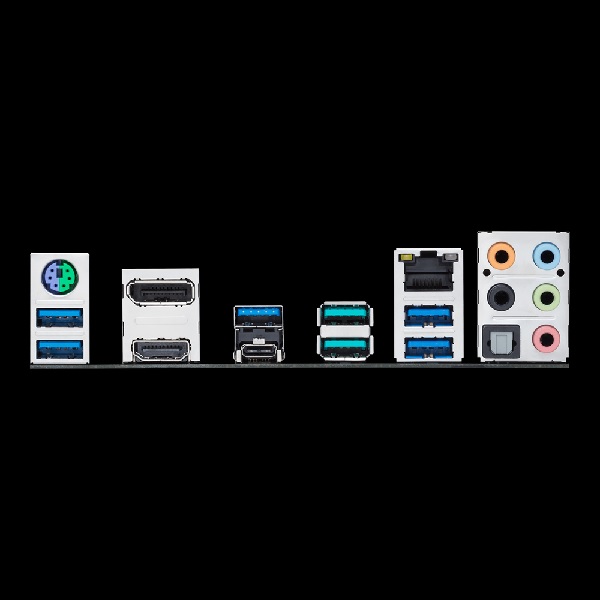 A fortifying metal allows you to have an inherently stronger slot, which helps anchoring your gear. These slots are further attached to the PCB with additional solder points for maximum security from unwanted hits on your rig.
While this might not be the best white motherboard right now, the ASUS Prime X470-Pro still competes with a lot of previous generation boards in the market. If you want a white mid-tier rig, then this is definitely something you would want to look at.
ASRock Motherboards
If you are looking for a strong AM4 motherboard that isn't plagues by brand prices, then you might want to check out the boards made by ASRock. They might not be as popular as ASUS or MSI, but these boards of theirs sure pack a heavy punch, and competes well with the others on this list.
5. ASRock X570 Pro 4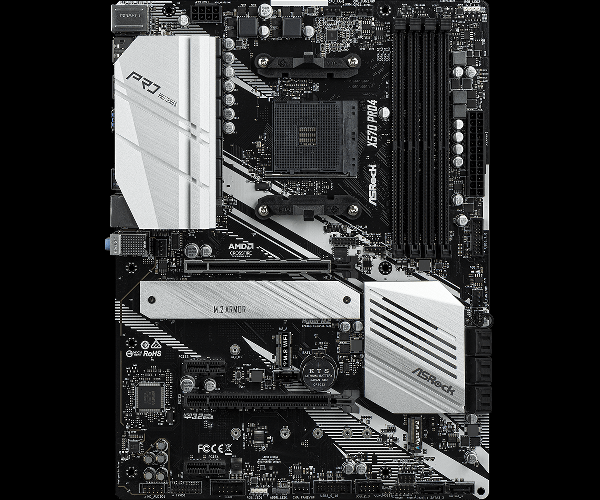 For a brand that isn't considered "A tier," ASRock's entry to the X570 chipset sure packs a big wallop. ASRock's X570 Pro 4 has a lot of unique and cool features that it just had to be included in this list.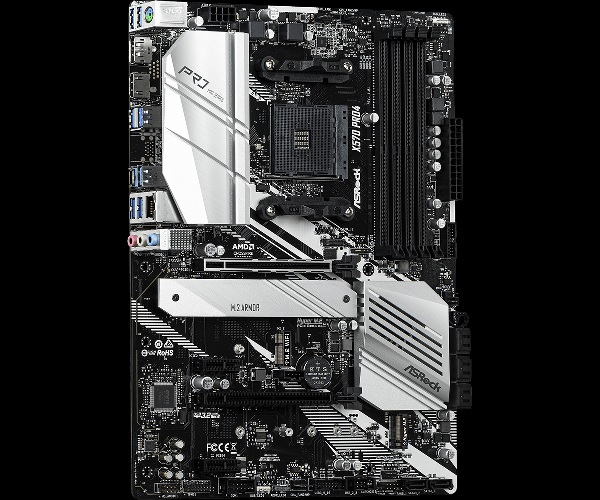 Before we go into the specifics, let's talk about the design first. The lines that coincide with the slot guard, the heatsink, and the ones that go across the PCB is amazing to look at. It has that "white steel" look that kind of remind me of some SteelSeries gear. The other accents on the PCB doesn't look out of place either. So that's already a +1 for me.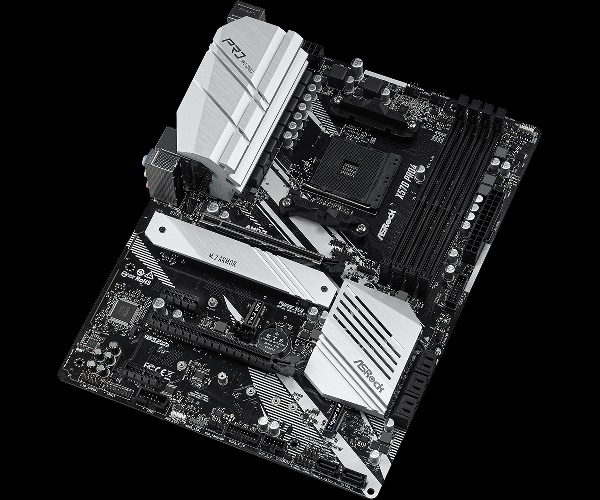 Now, as it is an update for the X570 chipset, it supports PCIe Gen 4.0. Expect this motherboard to deliver twice the speeds from the previous generation, which is expected of an X570 gear. Adding to that is the fact that ASRock supplied this board with their Steel Slot technology, allowing heavy GPUs to stay in place. The X570 Pro 4 also has their Dual Hyper M.2 SSD slots that allow lightning fast data-transfer.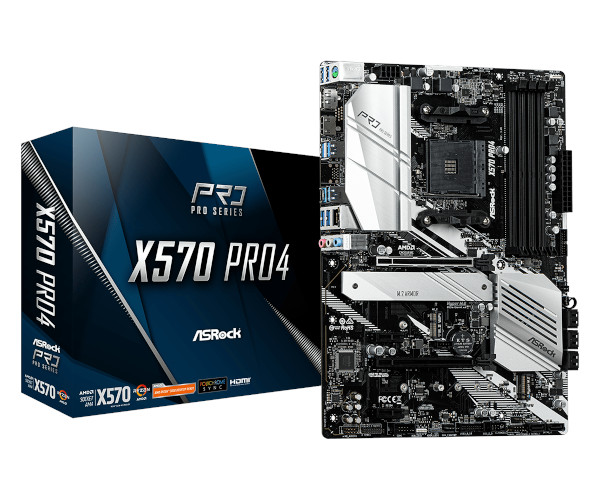 What interests me in this board is that they employed what they call a "Super Motherboard Alloy." Sounds cheesy? Probably. But let's take a look at each of the parts they are talking about and see what they are all about.
XXL Aluminum Alloy Heatsink – There's an extra-large aluminum alloy heat sink that's noticeable on the board. It effectively dissipates heat from the MOSFET and the board's chipset. This increases stability across the board (no pun intended.)
Premium 50A Power Choke – An interesting take on chokes, their premium power chokes effectively saturates current up to three times better. This provides better Vcore voltage to run throughout the motherboard.
High Density Glass Fabric PCB – This reduces the overall gaps on the PCB layers while maintaining good current flow. It reduces short circuits from happening, which is caused by a possible humid environment.
2oz Copper PCB – ASRock chose carefully selected copper materials for their PCB layers. The 2oz copper layer adds more temperature lowering capabilities and provides high efficiency when you decide to overclock your rig.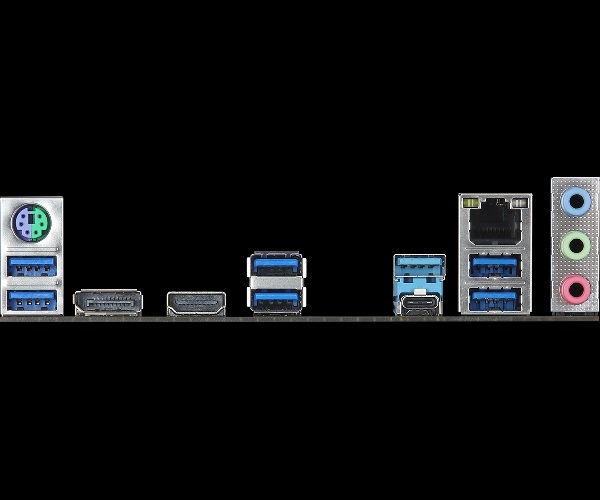 The X570 Pro 4 also has built-in controllers and switches for RGB fantasies, which is operated by what they call their Polychrome RGB Sync. You can connect these on various strips, fans, coolers, your chassis, and more. These RGB LED devices can be controlled by the Polychrome RGB Sync to create different kinds of lighting effects for your rig.
Other interesting key features are an ECC memory support that helps deliver server-grade performance for memory computing, an M.2 Key E built-in WiFi switch, ELNA Audio Chips for HD sound output, and their Full Spike Protection that also helps in preventing internal damage from voltage spikes. They even have a Live Update and App Shop that supports multiple programs and applications you'd want to get, to help your PC help you in increasing their performance.
And the price? Way below what a lot of high-end X570 motherboards have on the market right now.
So if you are looking for an alternative to those high-priced branded white AM4 motherboards, then maybe you should give the ASRock X570 Pro 4 a chance.
Gigabyte Motherboards
6. Gigabyte B550 Vision D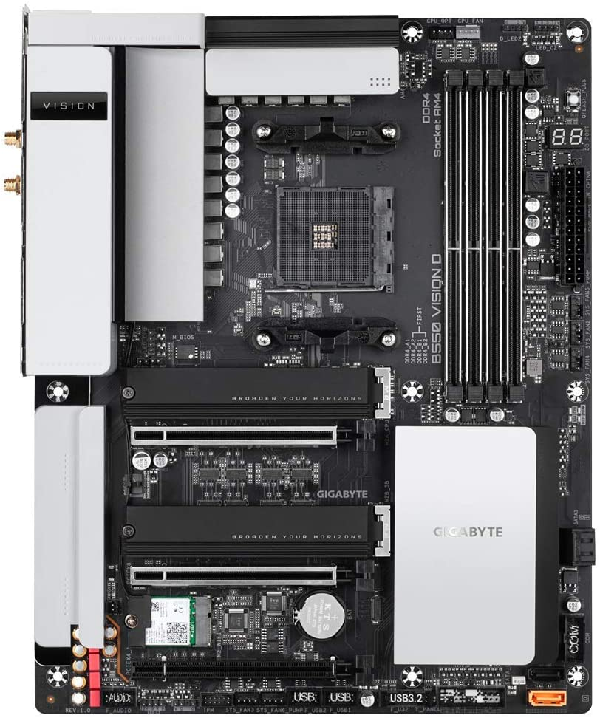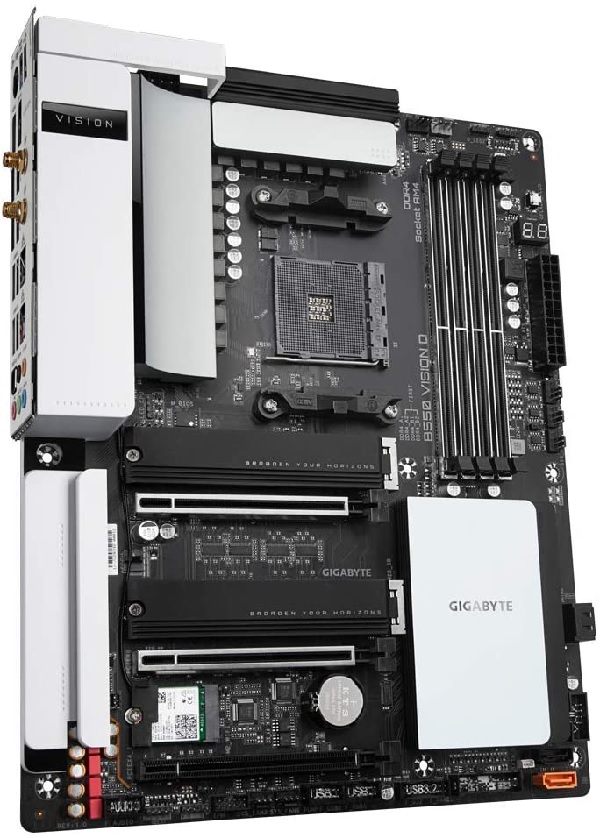 Gigabyte's offering in the best white motherboards discussion is one of understated class. Rather than go overboard with an excess of white trim, heat sinks, and decals, the Vision D is an all-black motherboard with a few white components sparingly dotted around the board. The absence of color throughout the board only serves to draw attention to the those white bits.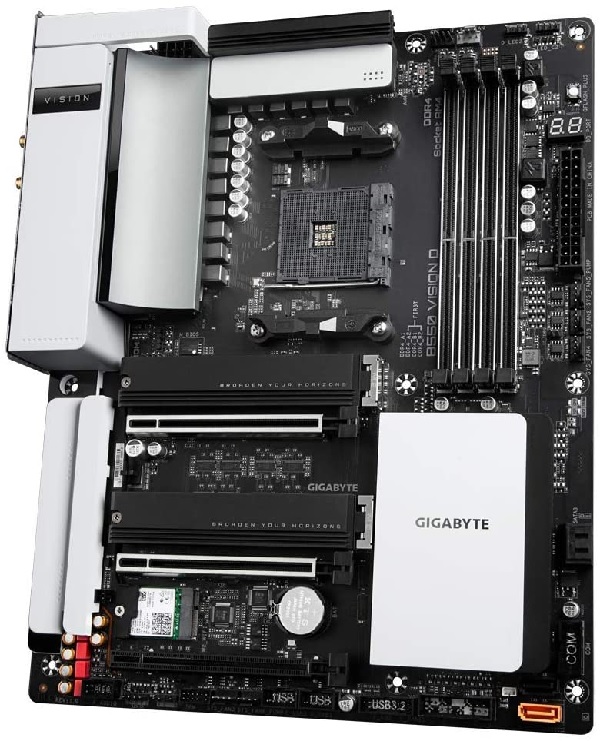 One thing to note about the Vision D is that there is no RGB in sight (though there are some RGB headers). Just as the board itself is understated, so to is the intended use. This is a board aimed at professionals whose computer takes pride of place in their work. It deserves to look good but, ultimately, the work is the priority.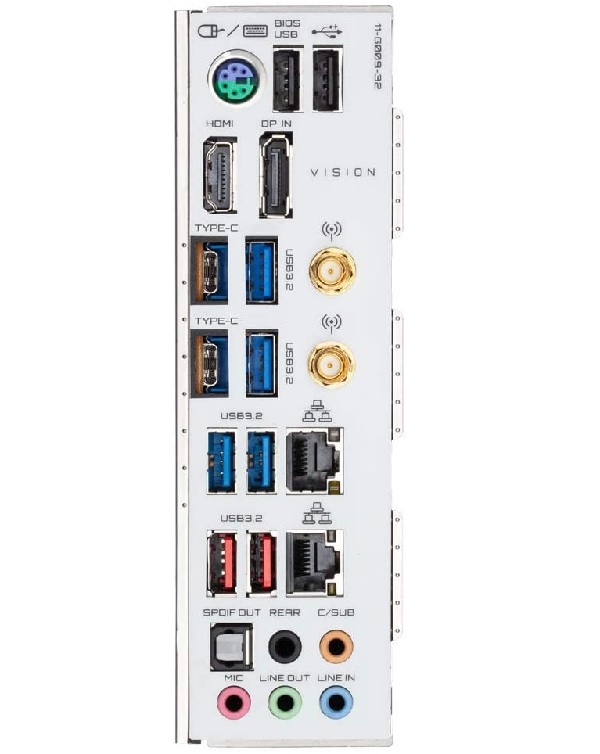 This intention is further borne out by the specifications, which include two M.2 slots, a maximum RAM capacity of 128 GB, and three full length PCIe slots. The B550 chipset may seem like a bit of a let down, but this is a board designed to handle lots of data and graphical computing power, rather than the latest AAA game.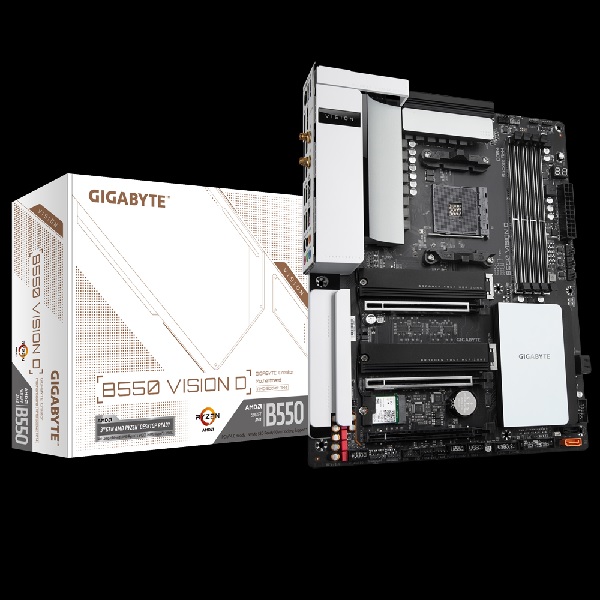 Special Mentions
There are a lot of other white AM4 boards out there, but some of them did not make the cut in terms of usability. Either they are way to out-of-gen or there are much better alternatives. But don't let this discourage you, if your budget is below what the boards above have and still want a white motherboard, then maybe you should check these out:
7. MSI X370 XPOWER Gaming Titanium Motherboard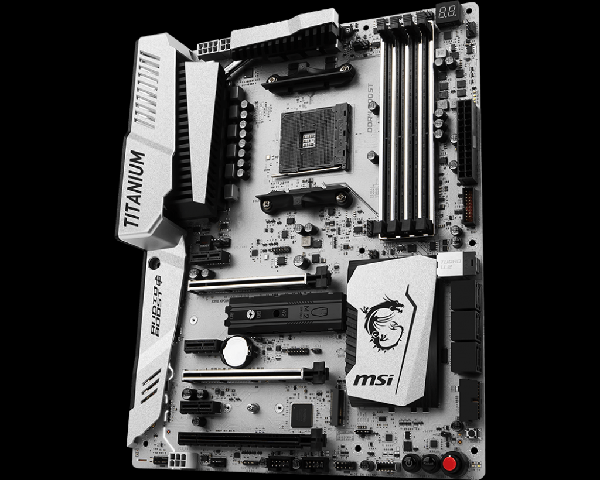 This is one of the two MSI entries on this list. While the MSI X370 supports an older chipset, it does fit into the white motherboard category.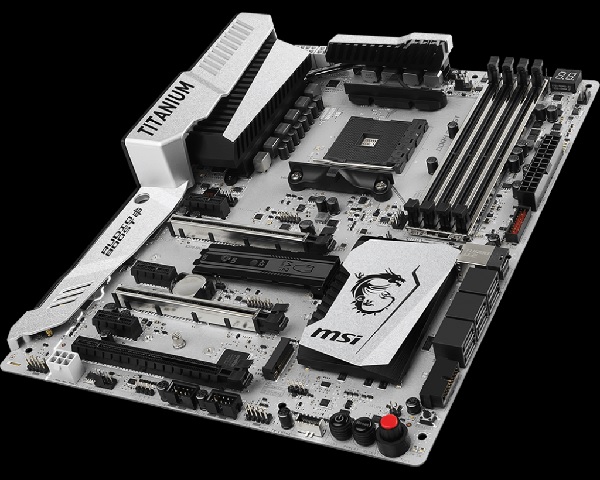 For this motherboard's performance, it does not let-down. It has a great cooling system for your PC parts, including 6x fan headers, DC/PWM modes, a water-cooling ready mode, and Full Fan Control.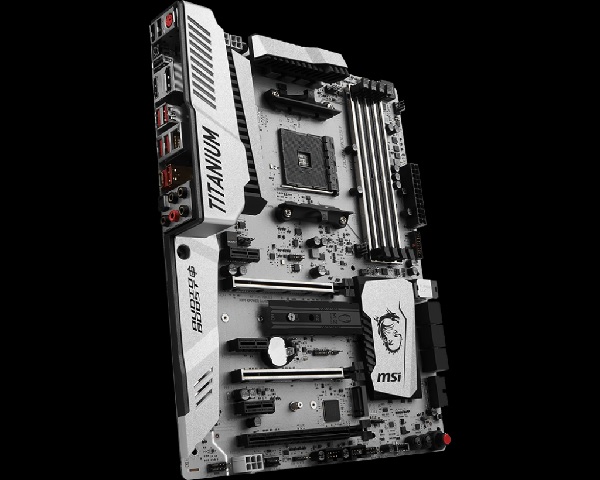 If you plan on using a VR headset for gaming, then this motherboard might fit your bill. MSI boards are made with VR Boost, which is a smart chip that helps you block out signal drops. This gives a smoother and a way more enjoyable VR experience.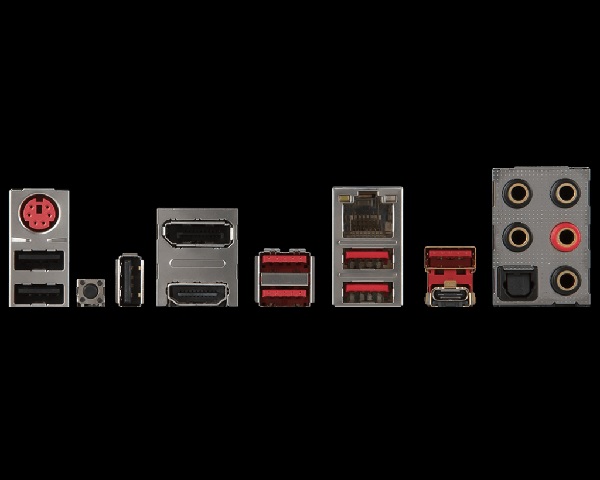 Design-wise, the XPOWER Gaming Titanium is clearly white. Well, steel white that is. Still, it looks very clean, like what you would expect from a mid-to-high-tier motherboard. All the parts (even the PCB) is covered in titanium white colors, and it feels amazing to look at. The only thing whiter than this board is probably our next entry below.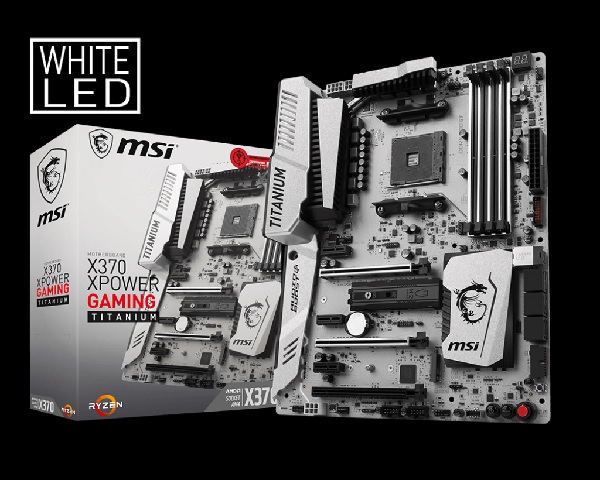 8. MSI Gaming B350 Tomahawk Arctic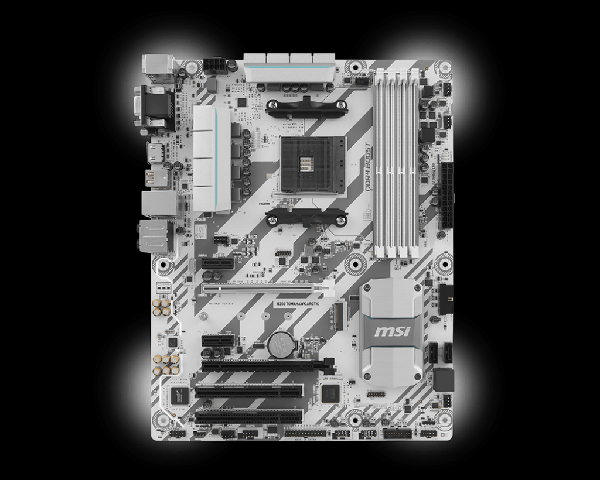 Probably the whitest AM4 motherboard in this list, the MSI Gaming B350 Tomahawk Arctic was once one of the strongest motherboards around for the B350 chipset.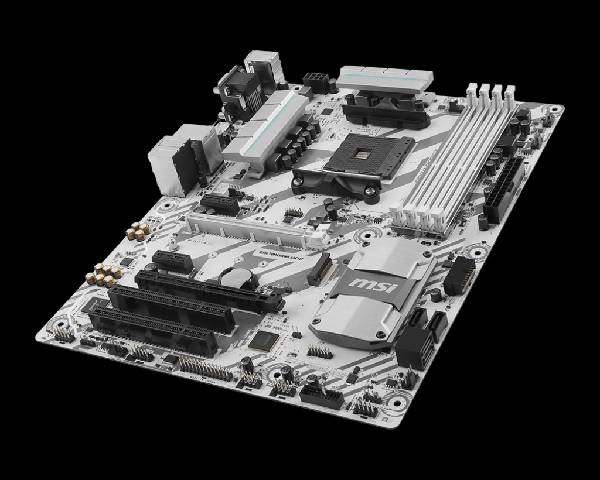 The white design of the Tomahawk Arctic does not fail its name: it is as white as it can get. Although the color scheme does have lighter steel gray accents, the white parts are the ones that truly stand out. If you are using this together with a white PC case, then it would definitely stand out.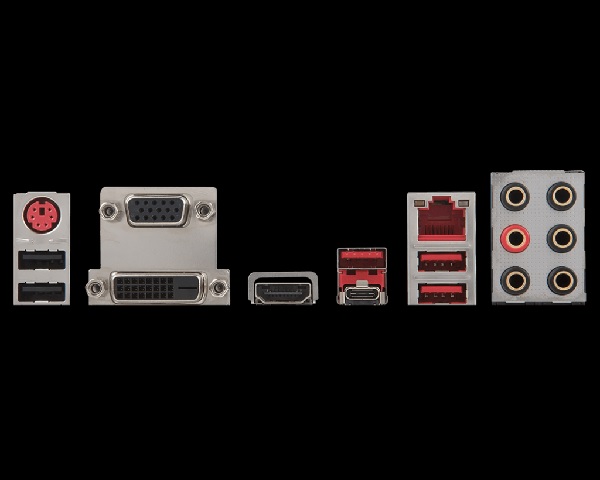 This motherboard surely does not only look good, but its performance for a mid-tier gear is nothing to scoff at either.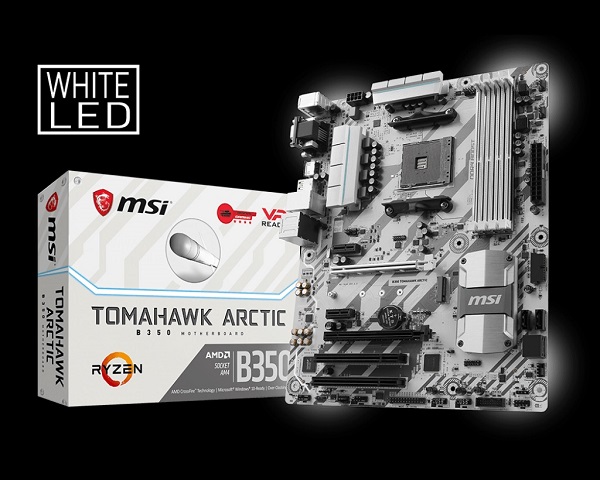 It has various DDR4 RAM boosts, which makes for excellent data-transfer speeds. It has an NVMe support of up to 32 GBps if you are using four PCIe Gen 3s. It also has a VR Boost for those who are into VR gaming.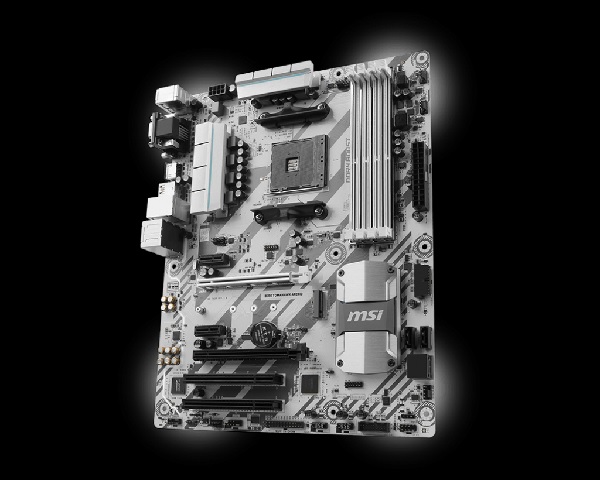 Conclusion
White AM4 motherboards, scarce as they may be, are truly one of the best designed motherboards that came out in the market. As we wait for the next-gen AM5 sockets, these awesome-to-look-at boards will definitely change your perspective on how to create and design rigs in the future. Surely, performance must not be an issue when creating a rig, but we always want that extra kick whenever we look at our CPU towers, right?
Who knows? Maybe after the black boards are done parading for the next new socket, we might get a new set of white AM5 motherboards.
Only time will tell.
Guide to an Aesthetic Computer Desktop
Things to Consider when Choosing a White AM4 Motherboard
There are plenty of white AM4 motherboards featured in this article, but it is still important to know how to pick the right one according to your needs and budget.
Consider the Platform
Note that the processor has to be compatible with the motherboard. Just in case you missed the AM4 keyword and are just here looking for a white motherboard for your Intel processor, then you are in the wrong place.
On the other hand, if you are in the right place and looking for a white AM4 motherboard to pair with your white-themed AMD build, then read on. There are other things you need to look into so as to ensure you are getting what perfectly matches what you need.
Mind the Chipset
The chipset is another thing you need to understand because everything should go into the right chipsets. The RAM, the graphics card, and other components have to be compatible with the AM4 motherboard you choose.
Check the Size Compatibility
Minding the size is just as crucial as picking the right chipset to go with your white AM4 build. Some motherboards are designed to go with small forms and motherboards that are just too big to fit in your average chassis.
Knowing the dimensions of your motherboard ahead and making sure that the rest of your components fit in is an essential thing you need to always do to make sure that everything will fit just right in. This is especially true if you will use a third-party CPU cooler as others are too big that they block other hardware inside, especially RAM.
Motherboard Form Factor Check
If you aren't sure about the dimensions or the number of RAM slots you can install on the motherboard, here are popular form factors and their standard specifications:
| | | | |
| --- | --- | --- | --- |
| | ATX | MicroATX | Mini-ITX |
| Size | 12 in x 9.6 in | 9.6 in x 9.6 in | 9 in x 7.5 in |
| RAM | DIMM | DIMM | DIMM |
| RAM Slots | Up to 8 | Up to 4 | 2 |
| Graphics Cards | Up to 4 | Up to 3 | Only 1 |
| Expansion Slots | 7 | 4 | 1 |
| SATA Ports | Up to 12 | Up to 8 | Up to 6 |
Please be guided that these are the common motherboard form factors, and there are still many, more, with varying capabilities and specifications. Ideally, you will want to pick one that matches what you need and a little more, especially when looking forward to making improvements and upgrades in the future.
Hardware Component Compatibility and Expansion
Apart from RAM, GPU, and storage devices, motherboards can connect a variety of components, such as sound cards, network cards, and others.
There have been plenty of expansions developed and manufactured through the years, however, only a few have proven worthy, especially PCIe ports. In fact, other modern AM4 motherboards are still including PCI slots for legacy devices.
Graphics Card
Most GPUs hook up via PCIe slots, and most use PCIe x16 slots. Additionally, GPUs now is large enough to take up the width of two places, rendering the other slot inaccessible.
When picking a motherboard, you will want to make sure that you choose one that offers the right kind of PCIe slots that are compatible with the rest of your hardware components. In case you are looking forward to using two or more GPUs, then you will have to prioritize picking a motherboard that offers ports that are compatible with the size of your GPUs.
RAM
Depending on the form factor will be the number of RAMs you can fit in. Similarly, motherboards can also handle as much memory, so make sure you double-check how much RAM you are aiming for to make sure that the motherboard can support all the memory you will be needing.
Storage
HDDs are still preferred by many, especially when they need more space for all their data than speed. But because SSDs are becoming more popular and more affordable nowadays, people opt for M.2 for the lightning speed performance and get SSDs for all their data.
Other Connections
There are other connections on the motherboard that the average consumers just don't know exist. Among these include the exact number of fans they can hook with, external USB ports, and RGB lighting systems.
Furthermore, other motherboards have a variety of manufacturer-specific proprietary products. By carefully picking and knowing what the motherboard is capable of, you will avoid investing in a feature you will not be using at all.
Recap: Top 6 white AM4 motherboards for 2021.
MSI X370 XPOWER Gaming Titanium
MSI Gaming B350 Tomahawk Arctic