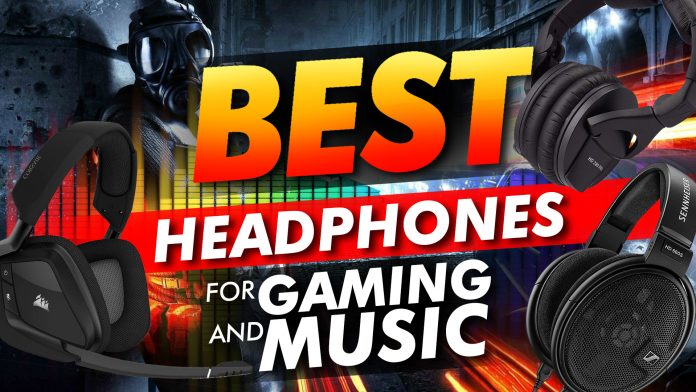 When buying headphones for their spankin' new desktop gaming setups, gamers tend to gravitate towards "gaming" headphones. While we're big fans of gaming headphones as well, they tend to favor lows, rather than highs and mids — usually, because it's better to hear footsteps, gunshots, and other audio cues in. Which is a shame, because it sometimes muddles the music listening experience.
You're not gonna game 100% of the time – sometimes, you'd want to just sit back and listen to some lo-fi hip hop beats to study/relax to. And since you're a top-of-the-line-only gamer, you want the best headphones for both gaming and music, because you want the best of both worlds. Today, we're going to hit you with a list of the 4 best gaming and music headphones money can buy.
At a Glance | The Best Headphones for Music and Gaming
Best for Music, Gaming, and Everything in Between: Sennheiser Game One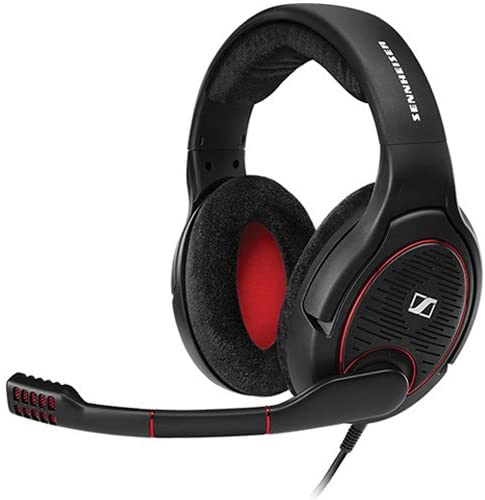 The Sennheiser Game One is the company's dip into the gaming headset waters. This red-and-black-clad piece (it comes in white too) of audio goodness not only looks great but feels and sounds great too. It's definitely to be expected from a Sennheiser product. If quality game sound and music clarity are important to you, Game One is definitely a choice for you.
Design
Right off the bat, you'll see that the Game One is a gorgeous pair of headphones. It's got that old-school, 80s plastic chassis that reminds us of the Sonys we've rocked with our Walkmans. Sennheiser must've thought about gamers who like white PC cases, because they're selling the Game One in white, too. Save for the red trim, it definitely doesn't look too "gamer." No sharp edges, no weird shapes – just a regular, rounded headphone that doesn't cut you with its edge.
There's a boom mic on the left, and a volume control knob on the right, which was practically invisible. Great design choice, in our opinion, because it really smoothens out the whole aesthetic of the Game One. However, one thing to note is the sheer size of this monster. It's really big and looks comically huge on petite girlfriends. Besides that, however, we can't fault its sexy looks (the headphones, not the petite girlfriend.)
Comfort Level
Its over-ear cups are pretty darn big, but not heavy. They kept our ears nice and comfortable during testing. The ear cups are made of velvet (of all things!) which makes your ears feel like they're being cuddled by a teddy bear. You'd have to try it to believe it. They're very breathable and kept ears cool during extended gaming sessions. However, we did have some trouble when it came to the headband. While it does feature the same velvet cushioning on the top part, they still felt pretty tight and kind of uncomfortable.
Gaming Performance
Leave it to Sennheiser to deliver great quality sound in every product. We tested the Game One in both the motherboard's sound card and an external SoundBlasterX sound card. On both occasions, with software support and without, the Game One performed swimmingly. Tested with Tomb Raider, Valorant, and Skyrim, we found that the Game One rocked the house (or in this case, our ears) with its delivery.
Footsteps were very clear in Valorant, the caverns in Tomb Raider sounded wonderfully eerie, and the crackle of a bandit camp's fire in Skyrim felt very real, at least to our ears. No matter what game we played, the Game One delivered sound with great clarity and high fidelity. There's no faulting this one when it comes to game audio, especially since Sennheiser themselves designed it specifically for the gaming market.
Musical Performance
Sennheiser is best known by audiophiles for its products' great musical performance. That seems to be the case as well for the Game One, but only to an extent. Highs, mids, and lows were all very distinct and clear, but there's a bit of muddying around the mids and highs. The bass is definitely there, though. We played a bit of EDM on these cans and we could feel our skulls vibrate.
However, once we got into musicals (don't judge, Les Miserables is amazing), things changed. While it's still pretty easy to distinguish lyrics from individual instruments (the brass and the strings were really great), none of them really felt like they were making a really striking impression. Perhaps it was because we had an equalizer going, but we're chalking it up to the Game One's performance. Still, it's not bad, definitely good, but not great.
Cool Features
As far as features go, the Sennheiser Game Ones don't really bring much to the table. There's a volume control knob on the right and a decent boom mic on the left. We tried the mic on both Discord and Zoom, and it represented our voices with clarity – rivaling even some of our best streaming microphones. There's no software to control them from your PC, which we don't think is much of an issue. Sennheiser wants you to experience this pair of gaming headphones raw, and that's totally fine.
Overall Impression
Sennheiser has always been more friendly to the audiophiles than the gamers (even though gamers love them so much), but they finally gave us a notice me senpai moment with the Game One headphones. They're comfortable, they work really well in any genre, and they also gave us a sick mic. Overall, we consider the Game One a good use of your money if you're looking for a pair of gaming headphones that work for music as well.
Best Headphones for Classical Aficionados: Sennheiser HD 660 S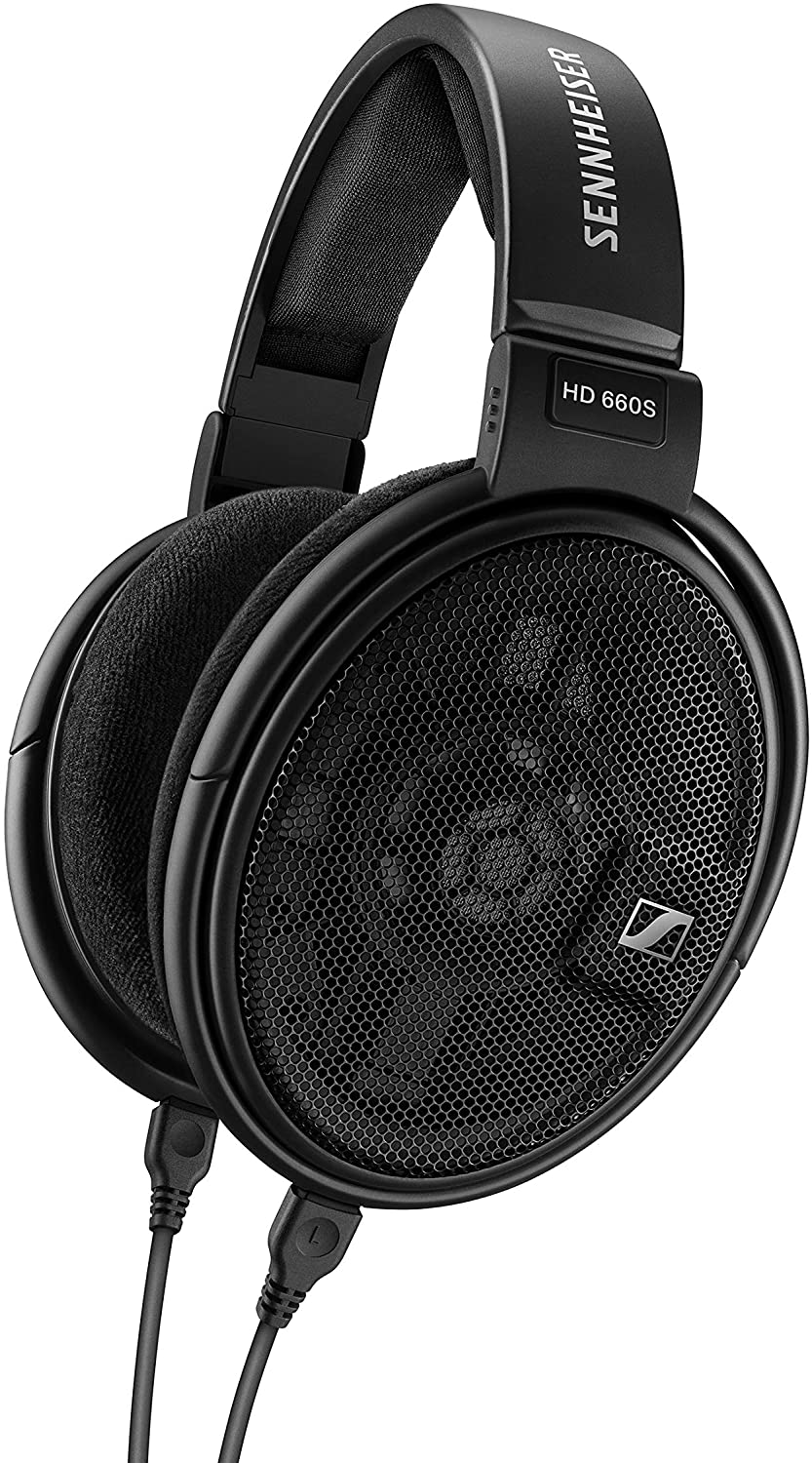 We're back with Sennheiser, not because we're biased, but because their current offerings are some of the best gaming and music headphones you can get right now. This time, we've got the Sennheiser HD 660 S, arguably one of the coolest cans ever to come out of their workshop. They're a spiritual successor to the HD 650, a classic pair of headphones audiophiles have worshipped for more than 10 years.
Design
Sennheiser has never been one for loud designs, and this is still true for the HD 660 S. There's still the same metal grille on the sides carried over from the 650, which is a nice touch. The whole chassis is made of dark black plastic, a bit darker than its predecessor. Unlike the 650, it's got detachable cups and cables, so it's no big deal if you break them.
It's still an open-back pair, so keep in mind that these will not cancel any outside sound. Nor will it keep the sound in. Don't use this in an office setting (or next to your wife in bed) because it will pump out sound nearly as loud as you hear it within the headphones. If noise isolation and cancellation is important to you, you might consider a closed-back pair or at least some gaming earbuds instead. However, the open-back design contributes to airflow, which helped keep ears cool during testing.
Comfort Level
The cups use a velour lining that's very breathable, but again also lets sound leak in and out of the cans. There are neoprene(ish) pads located on the headband that is soft and breathable enough to keep your head cool during use. The headband itself let us have a nice, snug fit on head sizes from S to L, but struggled a bit with XL-sized heads. However, for most people, it's comfortable enough.
It's comfortable for indoor use, but definitely not for outdoors. Besides the sound leaks, having these constantly bouncing around during your commute can kind of make your temples hurt a bit because of chafing and the weight of these things. Sennheiser doesn't build em' light enough for commuting, making the HD 660 S a strictly indoors pair.
Gaming Performance
As gaming headphones, Sennheiser's work on the 660 S really shines. We tested it on a few genres and compared the differences between each. The first game was CS:GO, where sound cues are paramount. Footsteps were clearly audible as the enemy came in through A Short and dropped into Xbox in Dust 2, which gave the fragger an advantage as they got to shoot first.
Second game was The Last of Us 2, where we plugged our 660 S on the PS4 controller. Not exactly what we're used to as we usually do earbuds for the PS4, but it was a unique experience with the 660 S. Playing Ellie's guitar was great fun, as the chords were made even eerier by the haunting, can't-quite-place-what-it-is sound that's ever so present in the entire game. Gunshots were amazing, and her whispers during stealth mode felt like she was right in our ear.
Finally, we played a bit of Overcooked 2. While the game was fun, we found that the 660 S struggled when there's tons of output at once, as the cacophony of sound cues and music were very hard to distinguish from each other. It could be that we had the volume pretty high, but we suspect it's because the 660 S follows the same tradition the 650 followed: its darker, more pronounced soundstage.
Musical Performance
As the successor to the venerable Sennheiser HD 650, the 660 S had some very big shoes to fill. And it does not disappoint. It's got an impressive soundstage, arguably better than the 650. It feels as if you're in a theater when you're listening to a musical. It sounds wide and expansive, and while it's still stereo, sound locations felt very real. Even though the 660 S has an open back design, we hardly felt it as the drivers produced a very immersive soundstage for us.
For movies, all we can say is hot damn, baby. The soundstage really shines here as it delivers full-on theater quality when we played Avengers: Endgame on the stereo. You can hear Thanos' snap reverberate through your entire person, as if you yourself weren't "feeling so good, Mr. Stark."
EDM is great here because the soundstage really immerses you in the thump. Listening to pop, it was very fun to pick out the individual instruments, and even determine what kind of synth was being used, as the 660 S reproduces everything so clearly. We tried playing FLAC files and were blown away.
Cool Features
As far as features go, the Sennheiser HD 660 S is very minimalist. These cans were clearly not made for gaming, so it did away with a mic and built-in volume controller. A shame, but since the 660 S was made for just pure audio, it's to be expected. Anyway, the issue of the microphone can be easily remedied with a ModMic, so if that's your thing, go for it. It also pairs really well with a streaming mic, if you're into that sort of thing.
Overall Impression
The HD 660 S is a great offer from Sennheiser, hitting just the right notes to be good enough – no, excellent enough – for both gaming and music listening. This versatile pair is well-reviewed by actual audiophiles so if you're looking for a good balance between having an e-sports level pair of headphones and something you can use for your vinyl record player, the HD 660 S is a definite buy.
Best Studio Monitor Headphones for Gaming: Sennheiser HD 280 PRO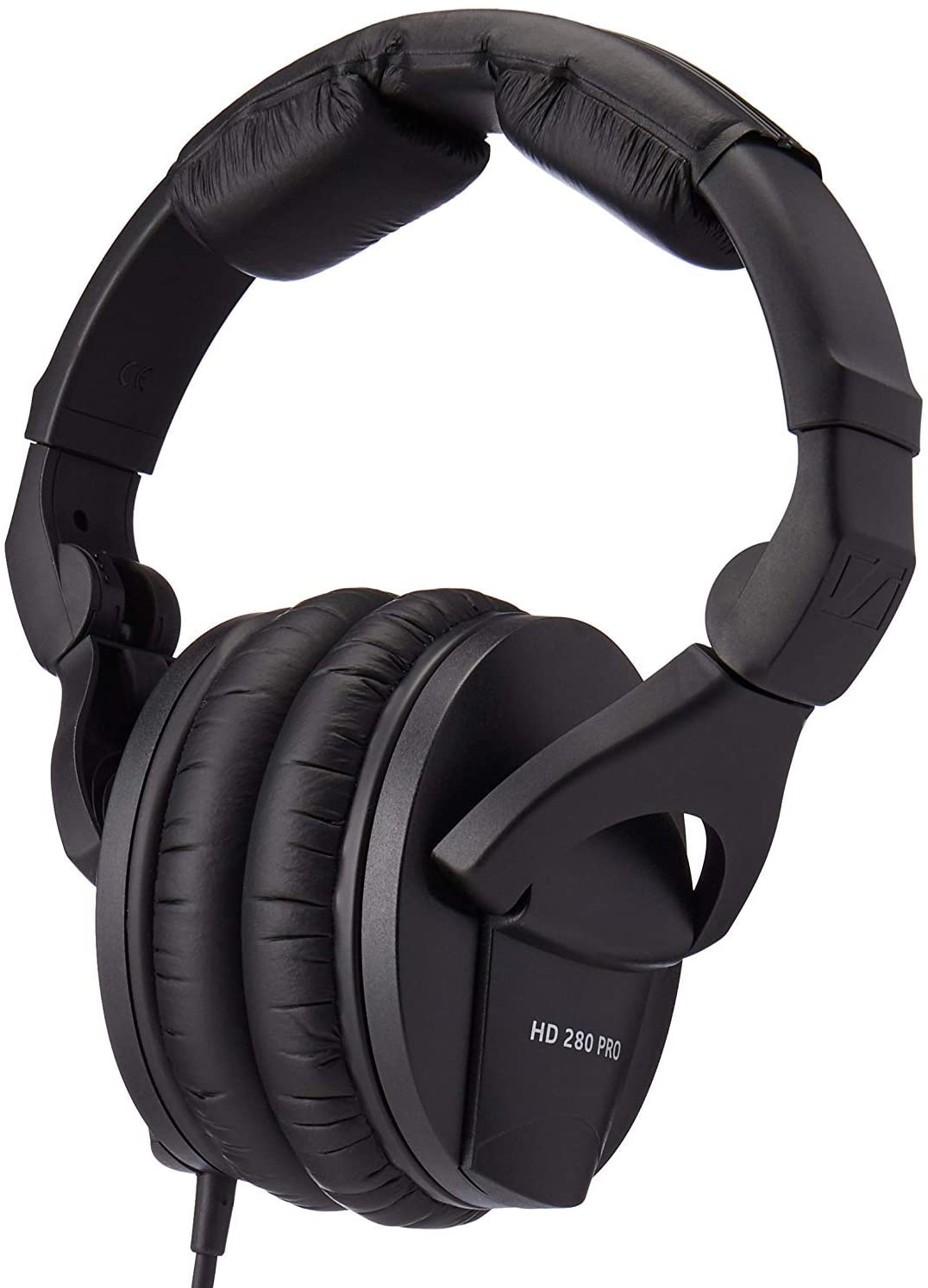 Another Sennheiser feature! We've got the HD 280 PRO this time around, a studio monitor released in 2003. Studio monitor headphones are made for professional studio setups, typically used by recording artists and music producers. They're usually created to accurately reproduce audio coming from vocals and instruments, isolating each source to clearly see how they harmonize with each other. But is it a good choice for a pair of headphones you'll use for gaming and music? Let's see…
Design
Aesthetically, the HD 280 PRO is eye-catching; but not in the way you'd expect. It's got that old-school, plastic design that looks bulky and ridiculously thick. These cans aren't the best headphones for mobile gaming outside of the home by any stretch. These were made for the studio, where Sennheiser chose to prioritize form over function.
The HD 280 PRO is encased in a black, tough plastic shell, keeping things light – important for studio monitors. The outside-facing earcups bear the HD 280 PRO's name in bold, white lettering. One thing to note is that there are hinges on the earcups, which lets you fold up the HD 280 PRO, adding to its portability. As a studio monitor, we're a bit baffled by this design choice, but we figured it's great for audio guys filming outdoors.
A non-detachable coiled cable runs from the headphone and down to the jack, which makes the headphones a bit ridiculous to use outside, as people will look at you and wonder if you're some hipster using switchboard headphones for your phone. Great idea and all, but maybe you'd be better served by some earbuds if you're going outside.
On the design side, the HD 280 PRO isn't anything to write home about. It's very basic and very unimpressive. But you know what they say about diamonds in the rough…
Comfort Level
The HD 280 PRO's got plush earpads reminiscent of the ones on the 660 S, which are just as soft and breathable as those are. It seems to be made of some sort of faux leather, which can flake if you don't take care of them well (or if you sweat a lot.) The same padding is present on the top of the headband, with two protruding pads to keep your head cool.
The thick earpads were really well-thought-out in this, as they really distance the ears from the driver. Not once did our ears touch the headphones themselves during testing, which weirdly gave the headphones a church-y sound, as if the acoustics were bouncing all around a wide hall. That is by no means a bad thing, as we'll see later.
The pads on the underside of the headband were pretty firm and comfortable, helping keep the headphones in place during use without hurting your head. The headband itself, on the other hand, had a bit of a tight feel. Were it not for the pads, our temples would probably be hurting by now.
Gaming Performance
We lined up three games to test this on: Valorant, Skyrim, and American Truck Simulator Gold to see how it'd perform. On Valorant, the game sounded amazing. Each footstep sounded great and audible, especially when characters were walking through metal platforms. Gunshots were great too, as every shot from the Operator felt like it was echoing through the map. However, we weren't very satisfied with how it reproduced thumpy sounds such as the Odin's bullets, as the bass felt pretty flat from these headphones.
On Skyrim, the game's atmosphere was made even better by the HD 280 PRO. As we worked our way up to Bleak Falls Barrow, we heard the wind whistle as we kept gaining altitude. Entering the dungeon, we could hear the conversation the two bandits were having very clearly – dialogue and environmental sound reproduction sounds great on these cans. Combat sounds were very good as well, as each grunt and death threat was heard loud and clear through the din of clashing swords.
Finally, American Truck Simulator Gold was a fun little romp with these headphones. It's a simple game with simple audio, but the reproduction of the doppler effect as vehicles passed you on the road was very much lifelike. You could even hear your signal lights blinking with these things.
Studio headphones were made with monitoring every single instrument playing at the moment, and the HD 280 PRO headphones do not disappoint in that regard, even rivaling some of the best gaming headphones out there right now.
Musical Performance
Given that they're made to deliver audio directly from the studio, there's no surprise that the HD 280 PRO does extremely well with casual music listening. There's a wide soundstage that doesn't feel cramped at all, making the sound feel a lot more expansive and not claustrophobic.
Mids and highs are very clear, with the strings really distinct and the brass very imposing when we listened to the Star Wars soundtrack. However, bass heads won't be too happy with the musical performance of the HD 280 PRO, as the lows are a bit muddled – even flat. It's pretty much what we felt while we were firing the Odin in Valorant, but studio monitors generally aren't made for bass oomphs and more on clearly hearing each chord struck in the instruments.
If you're not listening to any EDM or bass-heavy music, then the HD 280 PROs will sound great to you.
Cool Features
An unintended feature of the headphones' noise isolation. Thanks to some great engineering on the drivers and the snug fit of the earcups, the HD 280 PROs provided great sound isolation. No sound leaks, no background noise, even with the AC and fans turned up to max. We could hardly hear the clack of our Cherry MX Blues as we typed away with these on.
Otherwise, Sennheiser has always been a bit minimalist with its features, as they've always been more for the quality of the audio in their headphones, versus what else you can do with it. Also, since the HD 280 PROs are studio monitors, they don't come with a built-in microphone. You'd have to pick up an external mic to use this for Discord calls.
Overall Impression
If you're an audiophile who has an eye (ear) for the good stuff, you won't do better than the HD 280 PROs if you want headphones good for gaming and music. If you could forgive the old-school, clunky appearance, these cans will serve you well whether you're listening to your favorite album or grinding at your favorite game.
Best Gaming Headphones for Music: Corsair Void RGB Elite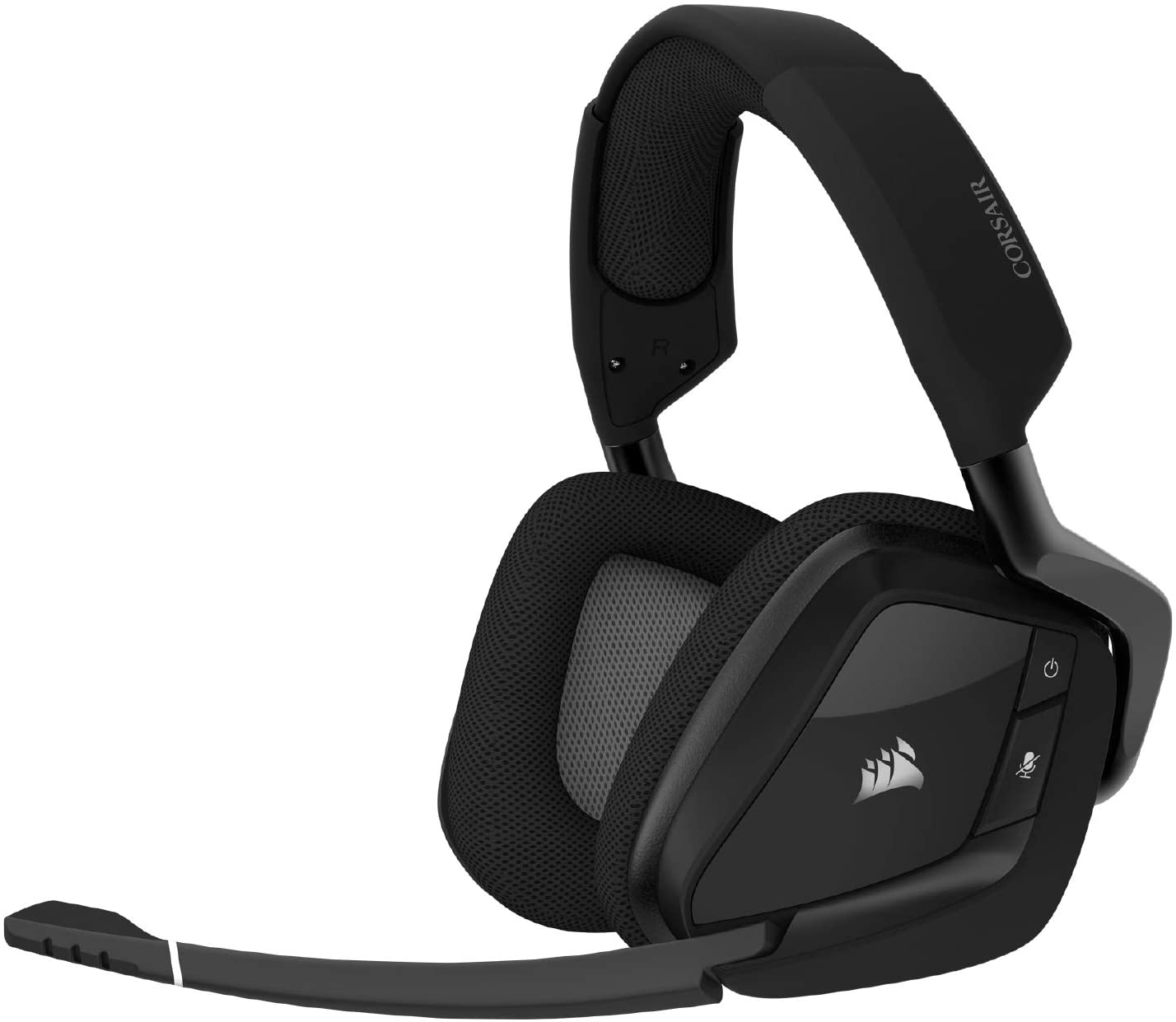 We've got the final pure gaming headphones to feature in this list, and it comes in the form of the Corsair Void RGB Elite. It's a pair of wireless 7.1 surround sound headphones with RGB lighting, a dead giveaway that it was made with gamers in mind. If you're a PS4 gamer looking for a great pair of gaming headphones that do just as well with music, the Corsair Void RGB Elite is "hear" for you.
Design
Rounded edges, a prominent microphone, control buttons, and RGB lighting: there's no mistaking that the Void RGB Elite is an audiophile gamer's wet dream. It's a design that literally screams at you from the box, asking you to just click buy, damn it all, buy me and let's make memories together. And damn, does it ever deliver.
Corsair obviously built this thing to last as it uses a heavy metal frame, giving it extra heft. It's supported by foam cushions on the headband that does their best to keep a nice, snug fit over your head. The earcups sport the same type of cushion and form a nice, snug fit over the ears.
The left side of the headphones features two buttons – a power button and a mute mic button, and the rather large, edgy boom mic. We have to say, having a physical mute button really helps when you're gaming in a room with others, as you can mute out any unwanted dialogue in one swift motion.
Finally, the RGB. It's as RGB as you're ever going to get with any Corsair product, with multiple modes to choose from, the full RGB color spectrum, and the ability to set it to sync with the rest of your Corsair peripherals' RGB modes. So if your RGB lighting setup is important to you, you might want to consider them.
All in all, there's nothing to not like about the Void RGB Elite. If you're not averse to gamer-looking peripherals, this can be a great choice for you.
Comfort Level
Comfort-wise, these headphones are… okay. The headband is adjustable and doesn't stretch sideways too much, which lets it fit securely on our heads. The pads are nice 'n tight, providing a decent amount of sound isolation. We didn't hear any sound leaks through the headphones even in a completely quiet room.
However, we did find that the bigger-eared of us have a bit of trouble fitting in with the Void RGB Elite. Given the compact size of the earcups, it does press a bit on the ears, which can make it a bit hard to use for long periods of time. If big ears are a big issue for you, you might want to check out some earbuds instead.
However, if the proverbial earcup fits, you'll have no problems wearing these headphones for extended gaming sessions.
Gaming Performance
Corsair has always been one of the greats when it comes to gaming peripherals but mostly focused on the PC crowd. However, the Void RGB Elite brought with it a surprise for console gamers – as long as you're on PS4. That's right, these babies have native PS4 support, giving you lagless audio fidelity straight from your PS4.
Given that, we played a few PS4 games to test this out: God of War, Dark Souls, and The Last of Us 2. All of these games performed beautifully. God of War's dialogue was crystal clear, and the huge boss fights were downright astounding because of the audio so clearly delivered by the Void RGB Elite.
Same as with Dark Souls, where every grunt of the gargantuan beasts you have to go through sounded that much more intimidating. Audio cues were great too because we heard exactly when we needed to dodge, weave, or block when facing enemies.
The headphones really stood out when we booted up The Last of Us 2. With a score that's as haunting as the post-apocalypse it portrays, our experience was only enhanced in a way that no speaker system can ever replicate. The 7.1 surround sound worked really well in directional audio, allowing us to hear enemies before we can see them.
The Void RGB Elite is faultless in its gaming performance, as many Corsair peripherals are. Its performance in this test alone makes it a buy for us!
Musical Performance
Unsurprisingly, the Void RGB Elite hits all the right notes in our musical performance. We tested the headphones on 3 genres: EDM, pop, and classical. On our EDM test, the bass was nice and thumpy, without any of the static you'd hear on lesser headphones who can't handle the bass.
The mids were prominent and did not take away too much from the lows when we tried pop. And finally, the highs were given the test of their lives when we played the orchestral score of the Mass Effect main theme, with the brass section still clearly audible through the strings, none of them taking over each other's limelight too much.
Vocals weren't too bad with the Void RGB Elite, but they do have the tendency to drown the rest of the sound out a bit. We tested Adele's "When We Were Young" and her voice, while beautifully prominent and well-reproduced, did drown out the instruments a bit, especially the strings. However, it wasn't too bad and we could still pick out each piece of the band without any problem. In terms of musical performance, we're pretty happy with the Void RGB Elite's performance.
Cool Features
Let's touch on the boom mic for a quick sec: it's great. It's on par with some of the streaming microphones we've reviewed here so far, and arguably one of the best mics we've had the pleasure of reviewing on a gaming headset. It's good enough for Discord and video conferences, with voices taking on a deeper, more baritone sound to them. It may not reproduce your natural voice 100%, but it sure does its best to make you sound better.
Another thing you can be happy about with these headphones is the iCUE app, available on PC. It's an app that you use to control all aspects of your Corsair peripherals, so if you already have an all-Corsair PC gaming setup, this is all you'll need. Take care of everything from its equalizer, mic volume, and sidetone, as well as its RGB settings.
Overall Impression
It's not a true audiophile pair of headphones, and it leaves a lot to be desired if you're used to more dynamic offerings from other brands. But if you're a gamer who wants excellent performance for your games and just decent performance for music, you might want to pick up the Corsair Void RGB Elite.
Wrap Up
And there you have an in-depth review of the four absolute best headphones for both gaming and music. As you may have seen, we tried to find a good balance between gaming and music performance, which is why we didn't show off a lot of purely "gamer" peripherals. As both categories have very distinct needs, it was pretty hard to find that balance, but we ended up with these four after testing.
For us, the number one for this list would be the Sennheiser Game One. It's made by Sennheiser, arguably the brand audiophiles would sacrifice their firstborn for; which should tell you a lot about its pedigree. It provides just the right amount of love for both gamers and audiophiles while keeping both very happy. It's the best one of the bunch, and there's a lot to love about it.
Let us know what your favorite is! And if it wasn't on this list, let us know in the comments so we can feature it next.
Recap: The Best Headphones for Gaming & Music in 2020