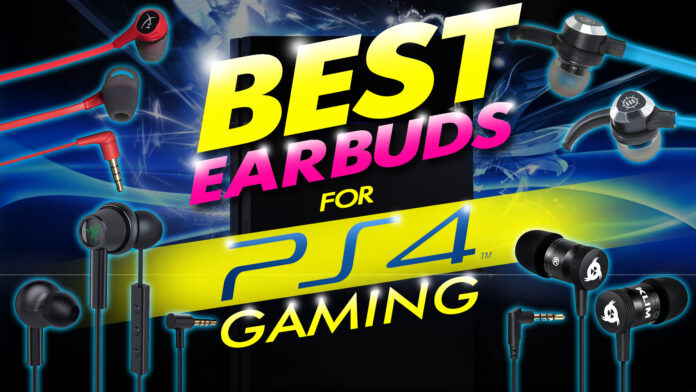 The best earbuds for PS4 gaming has been a constant debate. Many third-party claims that they offer the most vibrant sound for the lowest price, but often, it is the other way around. Some also claim that headsets are better than earbuds. But seriously, who would want to wear large headsets for a whole weekend of gaming. That will physically hurt your ears, as these headsets often squish your ears as you wear them.
And let's not talk about the PS4 earbuds included in the package. I mean, just what is that thing? One ear only? What, are we some kind of ear version of the cyclops? Did Sony's first iteration of the PS4 just came with earphones that were missing one output, and they just decided to roll with it?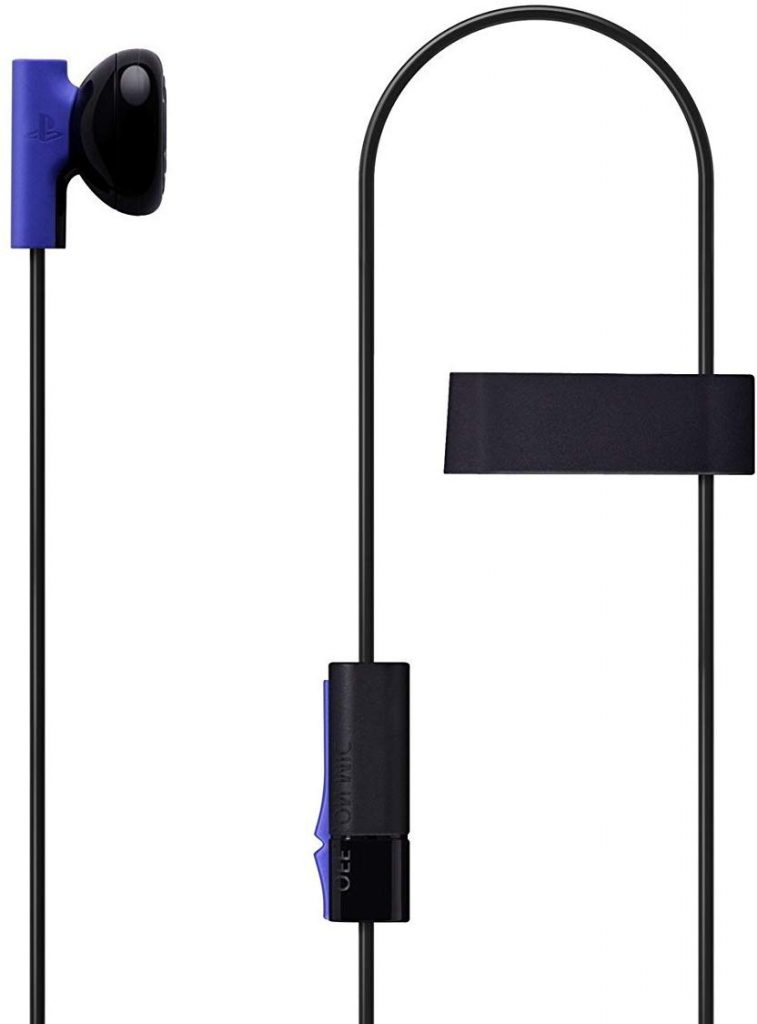 I know, I know. I sound very salty about these things. And that that's because I am. I had been on the journey of looking for the best PS4 earbuds. Heck, even the best Xbox One earbuds would work for me, if they can give me the quality and comfort I was looking for. Sadly, the ones I have checked from years past don't have what it takes to call themselves the best.
But with the recent strides in sound technology, better earbuds for the PS4 builds are being built. Combining comfort and functionality, these devices make your gaming session fun. Before anything else, though, you should have a general idea of what to look for when you buy your next pair. Do note that a good gaming earbud should always have this.
There are several things to check when buying earbuds for your PS4:
Like browsing among the best gaming earbuds, here are the most important factors you should look into before making a purchase:
Sound quality – sound and music producers spend long hours to get a game to sound good. It'sIt's only fair that we make it a point to hear everything and enjoy the game as these people intended.

Mic quality – one of the main reasons we are buying good gaming earbuds is their ability to let us communicate with fellow players. The earbuds should let you talk and relay your messages adequately without any compromise to what you want them to hear.

Design – gamers are very particular in their design. Some like a more edgy feel, while others would like a cutesy design. Regardless, a good design should make you feel proud of wearing them, whether you are at home or in public.

Multi-functionality – you won't be able to lug around your PS4 outside your home. That is why mobile devices or other gaming peripherals exist. The best earbuds should also let you use it on different pieces of equipment, letting you take your music anywhere, anytime. (And no, we only sound like a Spotify ad, but we are not sponsored by them in anyway.)
L

et's check out the best earbuds for the PS4!
Best Sounding Earbuds for PS4:
BENGOO MG-2 Gaming Earbuds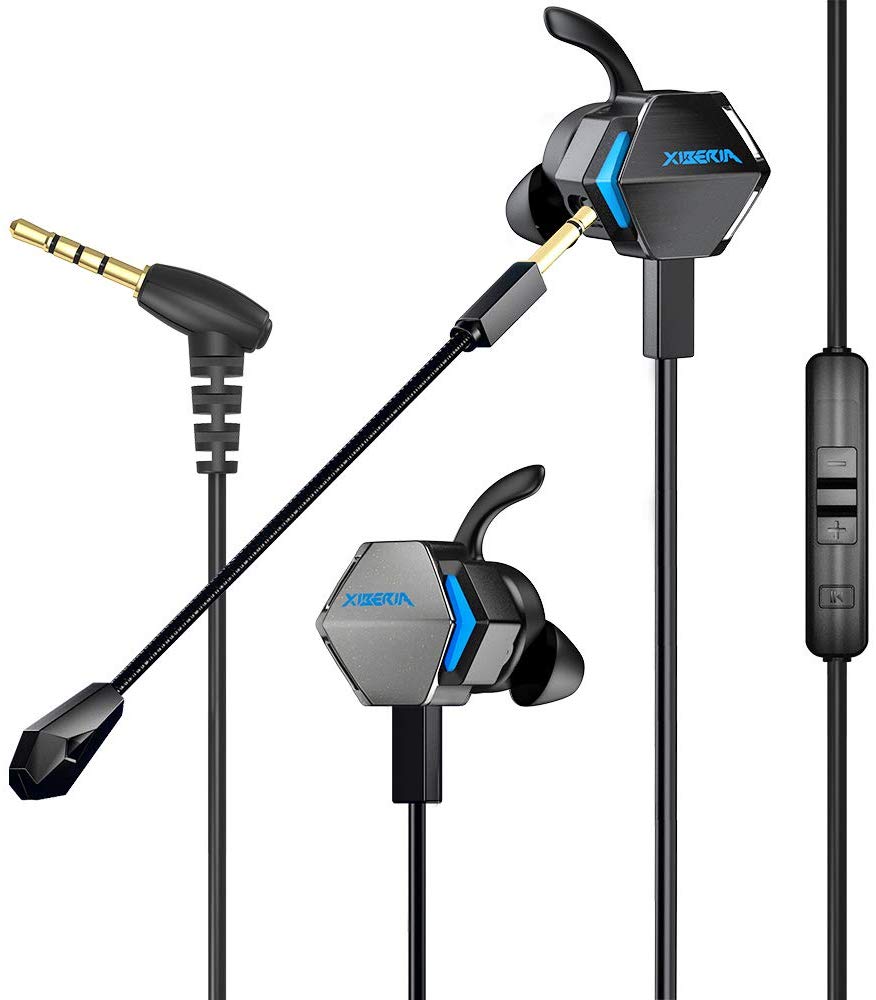 Starting intense from the get-go, the BENGOO MG-2 Gaming Earbuds may be the best earbuds when it comes to sound quality. They achieved this using the two features included in the kit: the 4D vibration effect and their Dual Mic function.
The 4D vibration effect is a built-in engine that enhances the vibration of sounds on the earbuds. These further enhances the bass levels and gives more depth and reality on the bass. If it has lower sounds, you will feel the vibrations more, improving the sound further. Feel footsteps, firing sounds, monster growls, and more!
When it comes to microphones, the quality of output also got bumped on the BENGOO MG-2. Their Dual Microphone design features 360 degrees voice pickup, just like those found in condenser mics. It also has a built-in noise-canceling feature. With these two, your teammates will be able to hear you correctly, while minimizing noise from your background. The microphone is removable, in case you just want to enjoy music when you don't have an on-going party session.
If you value music quality above all, then give the BENGOO MG-2 Gaming Earbuds a try.
Best Comfortable Earbuds for PS4:
KLIM Fusion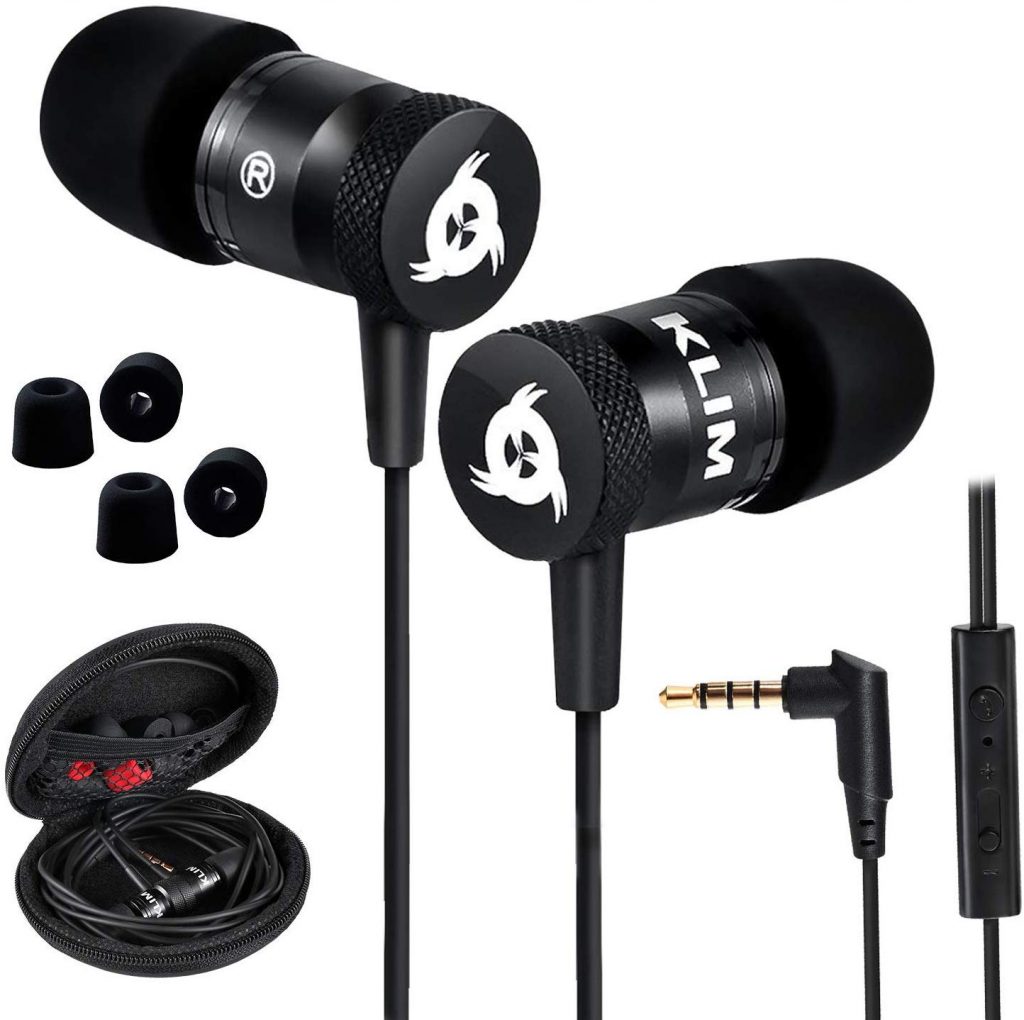 Long hours of game time sometimes wear out our ears faster than we admit. We put up with the "pain" just because we enjoy playing games on the PS4. KLIM has a solution for this, though.
KLIM Fusion Earbuds with Mic are made with the notion that gamers play within long periods of time. These earbuds are fitted with memory foam, which adjusts to the shape of your ear for an ideal fit. This is a massive boon since we want to game a lot but keep our physical well-being also in mind. A few people may favor increasingly standard in-ear sizes, so KLIM is giving 3 extra sizes of in-ear extensions.
These earbuds also pride themselves in sound quality. Although they haven't specified any specifics regarding their gear. The sound drivers they use, though, do offer pretty crisp sounds. They let you identify specific types of audio and ambient noise that you should be heard in games. A lot of earbuds that provide this kind of quality-price themselves at more than $100. The KLIM Fusion, however, offers the same quality at a much lower price.
For something of this value, we were amazed that they included a warranty that covers five years. Yes, you heard that right: for five years, if your KLIM Fusion gaming earbuds get damaged in accordance with what is stipulated in their warranty, you can take it to them, and they will do something about it.
Best Multi-purpose Earbuds:
MINDBEAST Super Bass Earbuds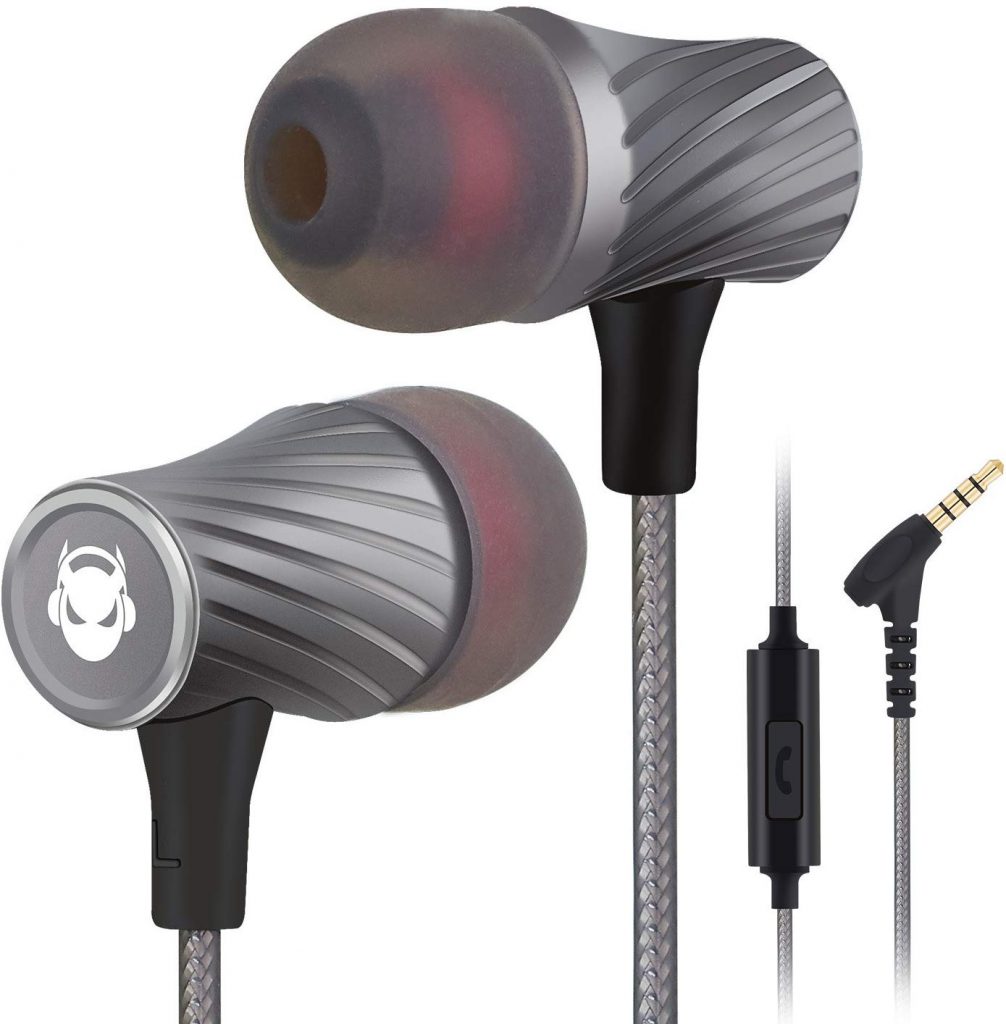 The MINDBEAST Super Bass Earbuds is highly-rated, and one of the best PS4 earbuds. It comes with many features that most gamers would want and should have.
First of all, it has a 90% noise isolation ratio. This blocks out the most unnecessary ambient noise from your background. It also eliminates unwanted sounds from mixing with what you hear from the game. With a 90% ratio, it still doesn't block essential sounds, though, which is a huge plus. This lets you use these earbuds while traveling since they won't block car noises and such while you listen to your favorite music.
The driver comes with continuously pump out deep bass, letting you feel a realistic rumble when you play PS4 games. Want to feel that explosion? No problem. Rumbling stones coming down from a mountain? Hear them first before you see them! This way, you can experience all the sound produced from that next AAA game you are going to purchase.
When it comes to its overall design, it'sits no slouch, either. The earbuds are shaped like a spiral, which is quite a beautiful look. The shell is made of metal, making this pair of earbuds sweatproof. This prevents any sweat from running to the side of the buds that might jeopardize its quality. The MINDBEAST Super Bass is also built for comfortability. It comes with three pairs of soft, silicone earbud tips. These stay snug inside your ear and would not fall out unless that jump scare really got you jumping and shaking your head.
The 3.55 mm jack lets you use this on other devices besides your PS4. Enjoy music using your mobile fone, or use it on other gaming devices. They also come with a leather portable case. The case is waterproof and dirt-proof, allowing you to protect the earbuds without any worry of the elements going in. The case is also smooth to the touch, offering a "premium" feel.
Like its namesake, the MINDBEAST Super Bass Earbuds is indeed a beast. It provides so much more possibility for you to enjoy sounds in multiple different ways.
Best Professional Level Earbuds for the PS4:
ENHANCE Mobile Gaming Earbuds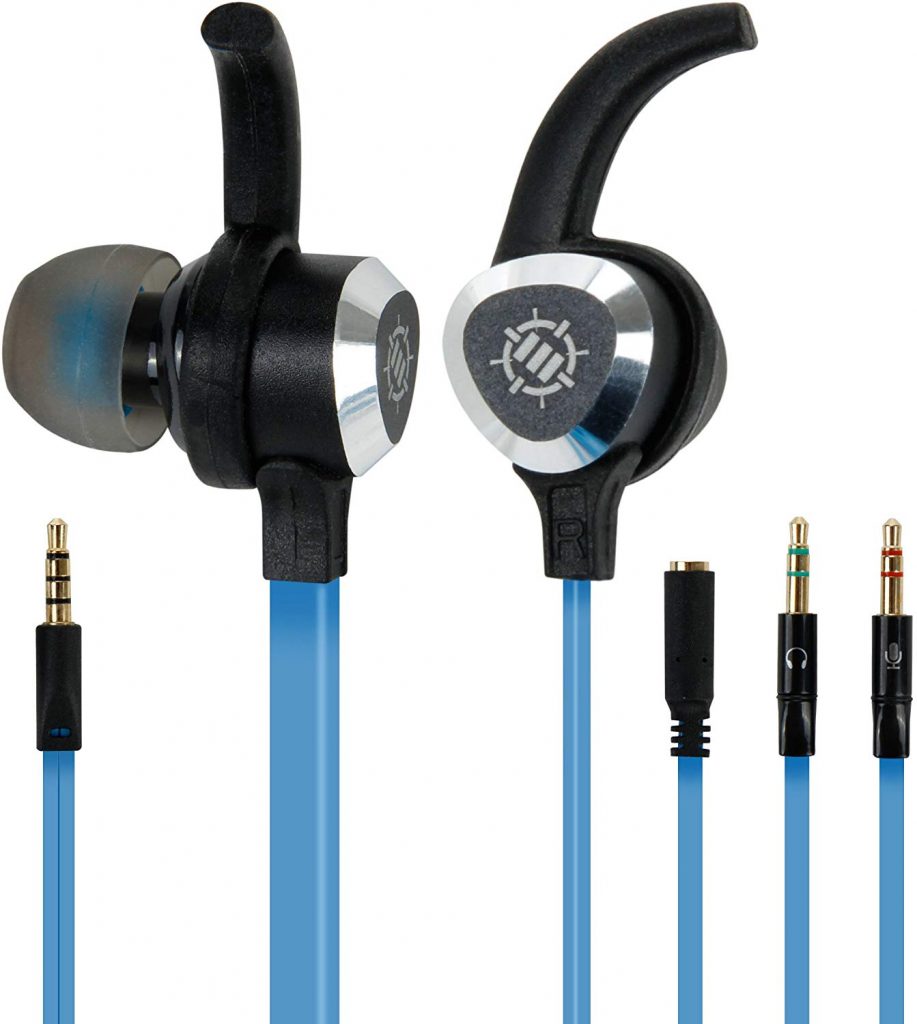 It's not every day that an E-sports team use a brand that isn't that well-known already. They are often sponsored (and sponsor these brands by using their products) by big companies. Such a company like ENHANCE that had broken through this industry means they actually are worthy of being on this list. Especially with their PS4 earbuds.
The ENHANCE Mobile Gaming Earbuds offer versatility and quality found in most high-end gaming earbuds. While most of the big brands price their earbuds at more than $100, ENHANCE is offering the same quality and makes them affordable for the average gamer.
One of their best features is their Tactile Reality Engine. This feature responds to specific bass frequencies and allows an immersive gaming feel. Tactile vibration feedback is a crucial element when listening to ultra-low bass signatures, and these earbuds have just that. You can be sure to feel every deep rumbling sound if you are playing with these bad boys on. Or bad girls. Because we don't discriminate.
As mentioned above, the versatility for this pair of earbuds is astounding. You can use these earbuds to connect to multiple devices such as smartphones, a Nintendo Switch, and Xbox One, and more. Another thing to look out for when getting these earbuds is that it comes with a PC channel splitter. You can use this to connect your Mobile Gaming Earbuds to both the sound and mic inputs on your computer. Now you don't have to worry if they are going to work or not on your PC.
The design aesthetic for the earbuds also looks very cool. Be proud to wear the black and blue colors and prepare to stand out from the crowd. This also comes in with full metal housings (alchemists now included), which is made from anodized 5052 aluminum. These protect your earbuds from sweat, corrosion, and other forms of wear and tear.
The kit also comes with ear hooks that let the earbuds stay in place further. Also, the ENHANCE Mobile Gaming Earbuds comes with a carrying case and a three-year warranty.
Best PS4 Earbuds for Gaming Immersion:
HyperX Cloud Earbuds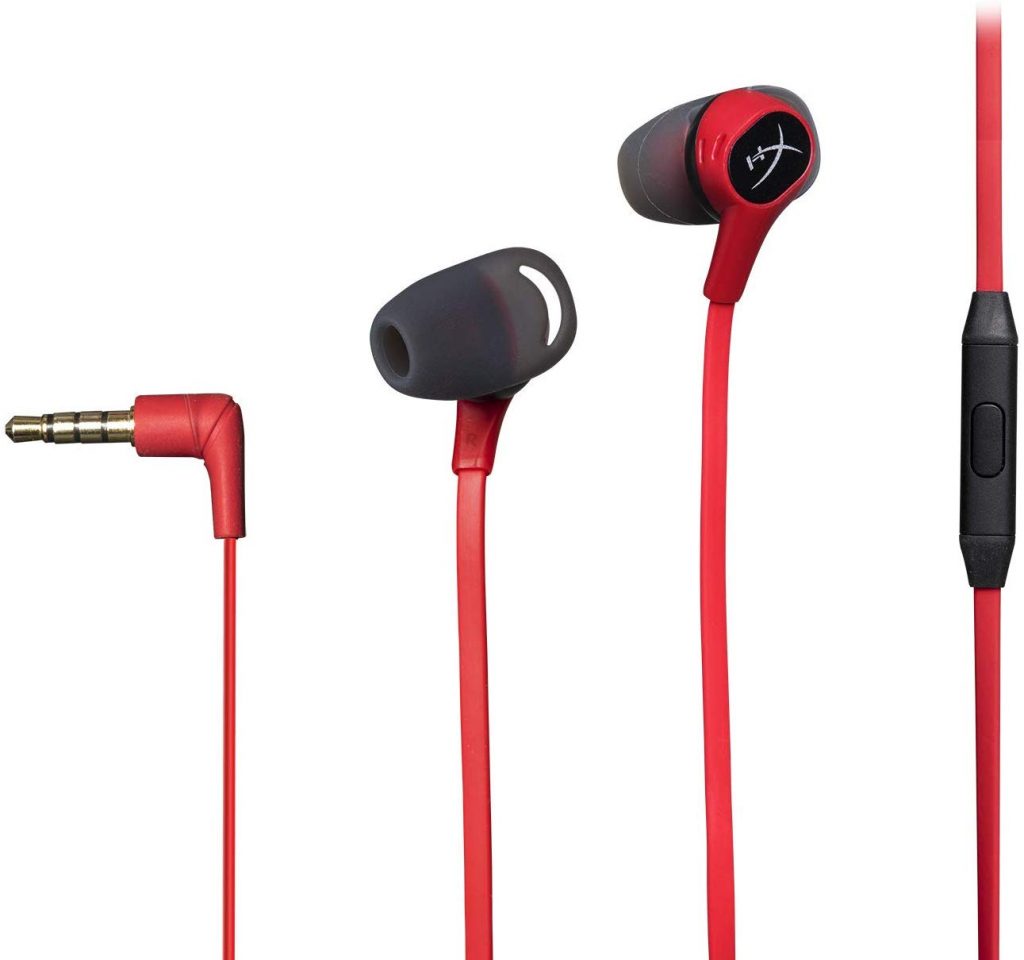 This will be the first one on the big-names on this list.
HyperX had always been known to deliver peripherals that are of top-notch quality. They have been known to create some of the best technological advancements in PC memory, with the HyperX Fury line and Threadripper line. But did you know that they also have some audio gear that has extreme quality?
The HyperX Cloud Earbuds provide exceptional sound quality for games. Part of their Cloud audio equipment, these earbuds offer immersive sound quality. Feel the highs, mids, and lows without ever compromising anything. They even give out enhanced bass, to add on to that gaming immersion every gamer wants to experience. The company recommends using them on handheld gaming devices such as the Nintendo Switch, but using it on the PS4 gives out the same high-quality sound output.
The Cloud Earbuds come with their own patented ear tips. These are uniquely shaped and allows for maximum comfort that their Cloud series is known for. These come in small, medium, and large-sized, so you need not worry about making sure that it fits your ears. It comes with a mic that offers solid game chat input. These earbuds are colored in the brand's black and red colors. If you are an edgy gamer who likes to rain blood, death, and destruction to his foes, then these colors are perfect for you. Not that it has to do with anything about it, but you know. Blood red and death black. Pfft.
The only drawback we see is that they don't have any form of volume control. This kind of lower the immersion by quite a bit, but not too sad levels that it takes you away from the game. Overall, the HyperX Cloud Earbuds are fantastic pieces of equipment that you should pick up if you are looking to feel like the Dragonborn, in sound, at least.
Best Official Earbuds for PS4:
Sony MDRXB50AP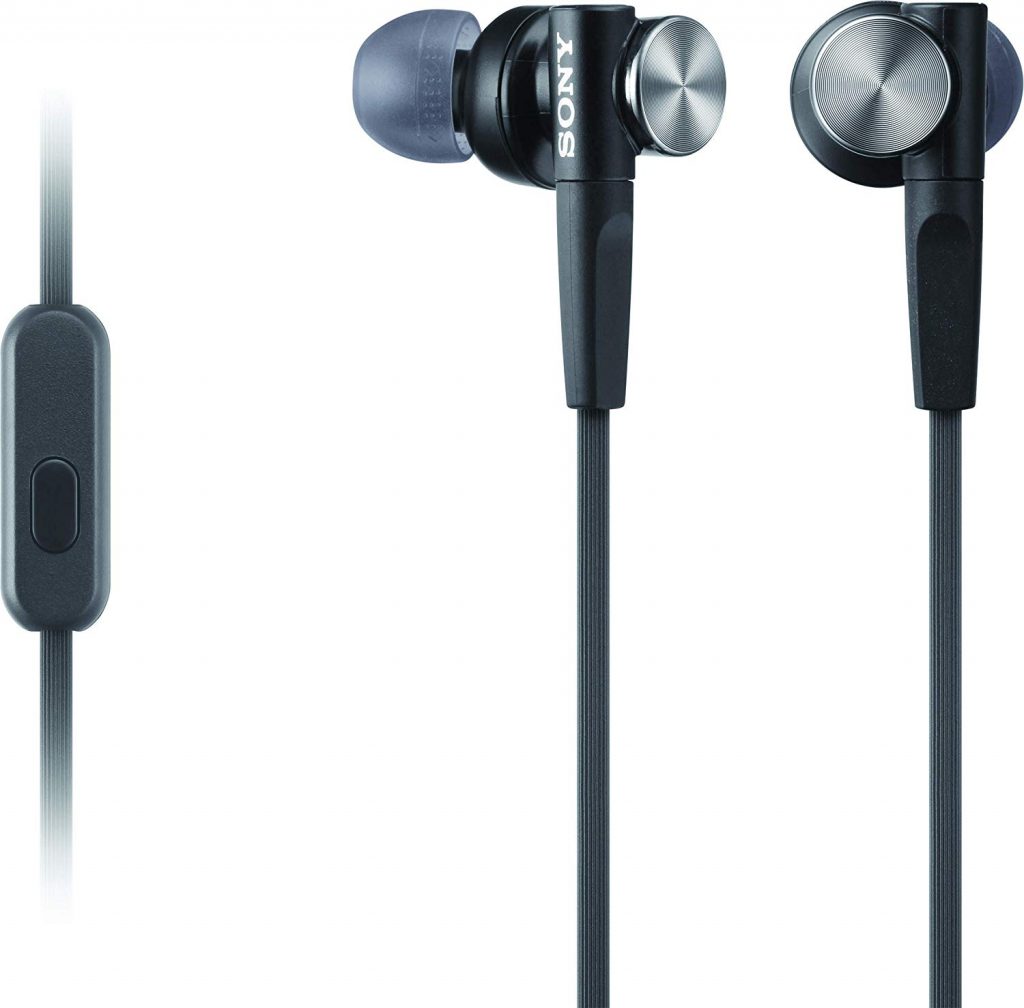 Next on our big brand sub-list is a pair of official Sony earbuds.
The Sony MDRXB50AP Extra Bass Earbud Headset is impressive. It has a lot of useful features that make it stand out from its competitors. Which makes us wonder why they didn't make the PS4 these kinds of earbuds in the first place. Maybe it's the $$$? Lol.
Jokes and capitalism aside, this PS4 headset is a darling to look at. It comes in three colors, black, blue, and red. Which I don't think is coincidental with the Dual Shock 4's4's three primary basic colors. It has a metallic cap for the drivers, protecting the internals from harmful substances. It has a Y-type cord that prevents tangles, so you can be sure that it won't trip up or lose quality just from poor storage.
But what the Sony MDRXB50AP Extra Bass Earbud Headset is proud in, is written on its name: extra bass. The driver is made up of 0.47 high-energy neodymium drivers. They deliver ultra-low, powerful bass frequencies that are popular in both games and today's music. The compliment this, the acoustic design of the earbuds helps in producing extended bass levels. Sony made sure that if the rumbling and booming still feel flat, then it is your ears that's the problem.
In terms of comfort, the MDRXB50AP will not lose against its competitors. The robust and hybrid silicone ear tips provide high levels of comfort while wearing them. It is also designed to reduce the levels of ambient noise in your background. With the drivers, the acoustics, and the designs of the ear tips, all the sounds that you are supposed to hear on your game will be heard.
Sony also made sure that it works with your smartphone and even added an extra feature. The MDRXB50AP prides itself on having a Smartphone Playback Control button. This is a whole article in itself to explain, so make sure to check the specifics out if you are interested in getting these earbuds.
If you really like to keep all things Sony official, then by no means get the Sony MDRXB50AP Extra Bass Earbud Headset.
Best Earbuds for PC and PS4 Gaming:
Razer Hammerhead Duo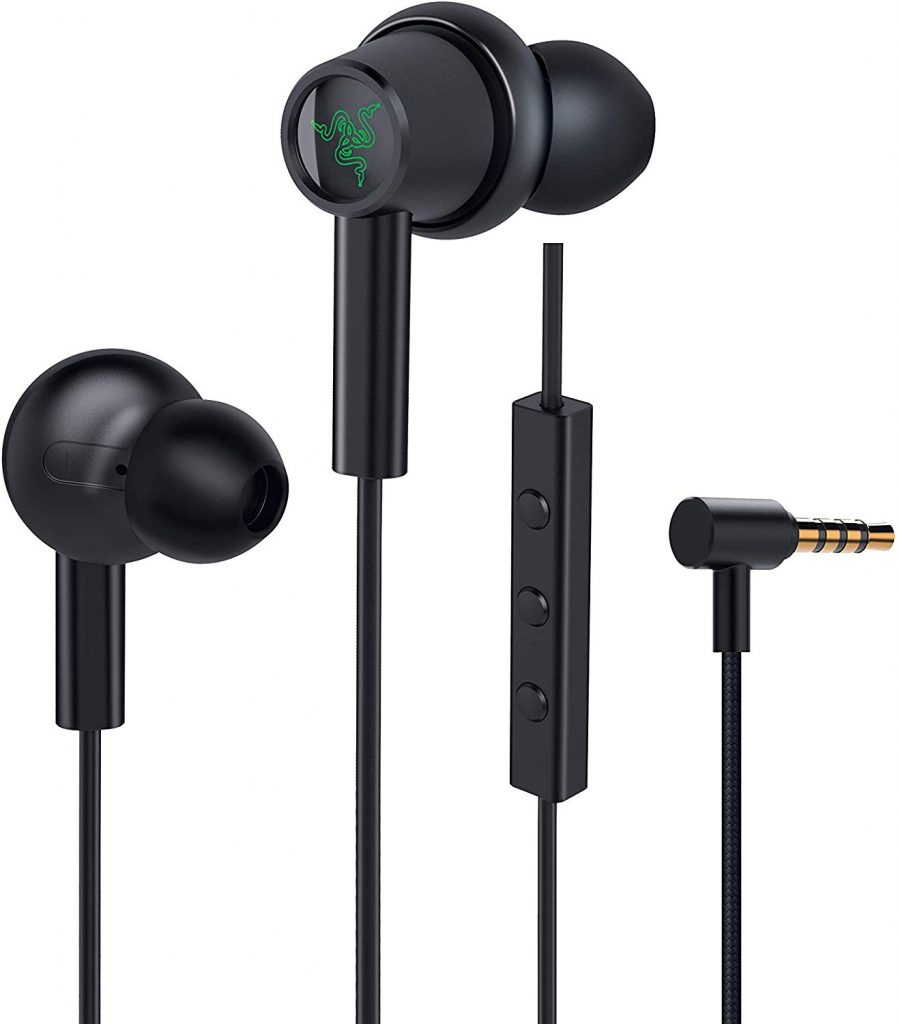 The last in our line of big brands is from Razer, made by gamers for gamers.
The Razer Hammerhead Duo is a beast of equipment that, like the HyperX Cloud Earbuds, provides full immersion from your games. The sound they produce is incredible due to their dual-driver technology. You see, the Hammerhead Duo'sDuo's name actually comes from this feature. It has a combined balanced and dynamic armature that dishes out high-levels of quality sound. With this, I can understand why they claim that it doubles the immersion of your games.
The Hammerhead Duo'sDuo's drivers are encased in aluminum driver frames. This protects the dual drivers to great lengths. It prevents dust, liquid, sweat, and other elements to come and ruin the internals. It also protects them from robust day-to-day activities that might bump the earbuds from place to place. These earbuds also have braided cables, which is perfect for gamers on the go.
The only drawback we are seeing from the Razer Hammerhead Duo is that some users reported that extended periods of gaming hurt their ears. It might be some personal usage or how ""extended"" these periods are (36 hours non-stop gaming should worry you, regardless of what earbuds you are using.)
Conclusion
There is no end to the journey of finding the best PS4 earbuds. Sound quality, immersiveness, heavy bass, excellent treble, are just a few of the things that you should keep in mind when trying on a pair. Also, the comfortability of using in-ear earbuds should be one of your goals as well.
If you have other earbuds that you want to share with us, drop a comment below! We would be glad to discuss this, and maybe, your suggestion can be added on the list.
Recap: A Quick Look at the Best PS4 Earbuds