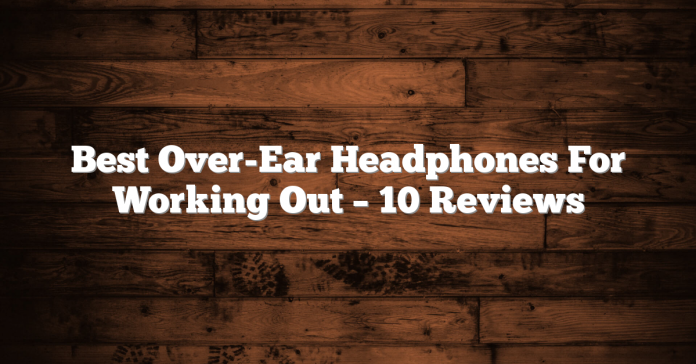 Music is essential if you live an active lifestyle. Listening to tracks while working out can give you that extra motivation needed to push yourself. That is why having a good pair of earphones is practically imperative. 
However, not all headsets are created equal, and it can be challenging to sift through all the options on the market to find one that fits the bill. There's just too many to choose from. Worry not because we've rounded up ten of the best over-ear headphones for working out that you can get today.
In-Ear vs Over-Ear Headphones for Working Out
Before we go into detail, we must first establish why you should choose over-ear headsets as opposed to the arguably more popular in-ear alternatives.   
First of all, over-ear headphones have longer battery life, more intuitive controls, and far more comfortable. With in-ear headsets, it can sometimes be challenging to find the right fit, and they often fall out during intense workout sessions. Over-ear headphones and working out just go better together.
Plantronics BackBeat Go 810 Review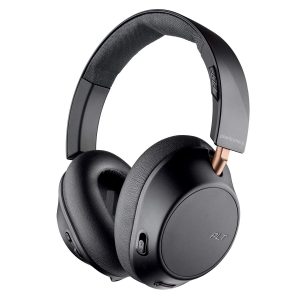 Wireless: Yes
Noise-cancelling: Yes
The Plantronics BackBeat Go 810 is a remarkable pair of Bluetooth over-ear headphones for working out. They are stable enough to stay in place while you exercise and provide intuitive physical controls that convey good feedback. A single full charge of these headphones can give you up to 24.5 hours of battery life. They are lightweight but is sufficiently snug to remain in position while running or jogging.
With respect to the audio quality of the BackBeat Go 810, you will instantly admire this pair if you prefer listening to tracks that have a more neutral sound profile. They deliver a well-balanced and even sound that is suitable for virtually any genre of music. 
One downside to this otherwise great over the ear headphones for working out is the lackluster noise isolation performance. Nevertheless, they do a decent job of blocking out mid-high to treble noise that is common in a gym environment.
Sennheiser PXC 550 Review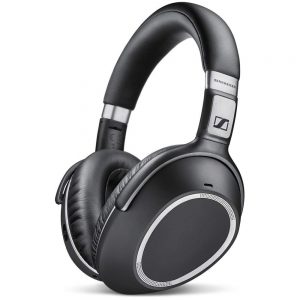 Wireless: Yes
Noise-cancelling: Yes
The Sennheiser PXC 550 is easily one of the best over-ear headphones for working out even though it's not intended for that purpose. They don't look like a pair of sports or fitness headsets, but their lightweight and comfortably snug attributes make them one of the stronger contenders in this list. You won't even have to worry about them accidentally falling off during one of your work out sessions because the build quality is superb.   
The PXC 550 also sounds really good. The built-in active noise cancellation on these headphones is even capable of blocking out the ruckus in a busy gym. Most notably, you can enjoy these features uninterrupted for up to 28 hours on a single charge! Once the battery runs out, you also have the option to use the included cable for wired use. 
The only real drawback to these headphones is the touch-sensitive control scheme. It can be quite tricky to use especially when working out. Other than that, we highly recommend these excellent wireless over-ear headphones for working out.
Mpow 059 Review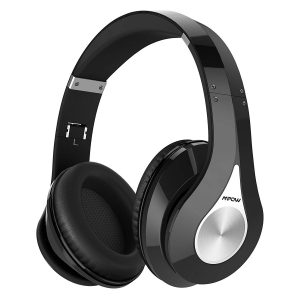 Wireless: Yes
Noise-cancelling: No
The Mpow 059 Bluetooth headphones is a sensible choice if you're a fitness buff on a tight budget. They are among the top-rated over the ear headphones for working out on Amazon. As a relatively inexpensive pair, they have straightforward and intuitive controls that are easy to use when breaking a sweat. They also have a decent battery life that can last you a full day on a full charge. 
The minimalist two-tone design on the Mpow 059 is praiseworthy. The plastic build quality on these headphones is let down, but at least the style is respectable. You also can't ask for much from something so reasonably priced; neither can you expect effective noise-cancellation from these headphones. They work well in quiet environments, but we wouldn't recommend using them in a bustling gym. Nonetheless, the Mpow 059 makes an excellent case to be named the best affordable over the ear headphones for working out.
Bose QuietComfort 35 II Review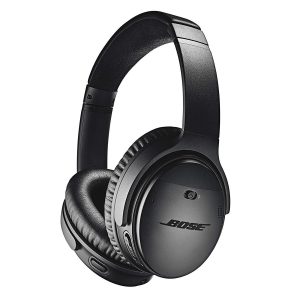 Wireless: Yes
Noise-cancelling: Yes
The Bose QuietComfort 35 II does well in what it's supposed to do: bring comfort and provide excellent noise-cancellation. Although these headphones are priced relatively high, they are arguably the best over-ear noise-cancelling headphones for working out. 
The QuietComfort 35 II has an unpretentious yet captivating design that you can wear in the gym or at work without looking distasteful. The ear cups are padded with plush cushions to ensure a comfortable snug. However, they are not exactly the most ideal pair for working out due to the slightly loose fit. 
On the subject of audio quality, the QC 35 II is among the best-sounding pair in its price range. These headphones also live up to the reputation of the company's remarkable active noise-cancellation. You can rely on them to block out the noise of even the busiest gym. 
Always keep an eye out for a Bose QuietComfort 35 II sale and don't miss the chance to get good over-ear headphones for working out.
Skullcandy Hesh 3 Review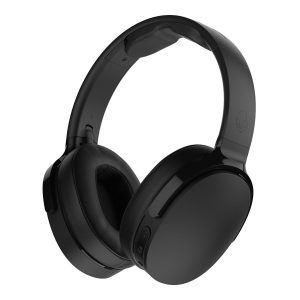 Wireless: Yes
Noise-cancelling: No
The Skullcandy Hesh 3 is hands-down one of the best over-ear headphones under $100 for working out. The tight and stable fit these headphones provide ensures that they stay in place when you exercise. They also pack enough bass that doesn't drown the vocals and instrumentals to get extra pumped! 
A common problem with this price point is the absence of active noise-cancelling. Nevertheless, you get decent audio quality with powerful bass, respectable battery life, and a snug fit. The Hesh 3 also has an excellent wireless range in addition to a quick charge feature that can give you hours of playback on a ten-minute charge. 
Another downside to these headphones is the plastic build quality. If you aren't a bass head, you also don't have the option to equalize their sound. Regardless, they are a good pair of over-ear headphones for gym use if you don't want to spend too much money.
Mpow H5 Review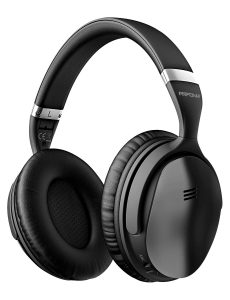 Wireless: Yes
Noise-cancelling: Yes
The Mpower H5 is an excellent pick if you prefer budget noise-cancellation headphones. They may even be the best value-for-money option on this list. For a meager $50, you get decent comfort, reliable build quality, and active noise-cancellation technology.
The audio reproduction on the H5 is bass-heavy and can get a bit muddy and cluttered at times. That means they aren't the best alternative if you enjoy vocal-centric music. On the other hand, if you love blasting bass-heavy tracks when you work out, these headphones are for you. 
One major let down to these headphones is that they aren't as stable as the other options on this list. They are prone to falling off when your routine involves a lot of head movements. Additionally, the active noise-cancellation feature on them can be a bit unreliable. 
On the upside, you can choose to plug the included cable once the battery dies. If you don't mind the drawbacks of the H5 mentioned above, you're going to save a considerable amount of money.
Bose SoundLink 2 Review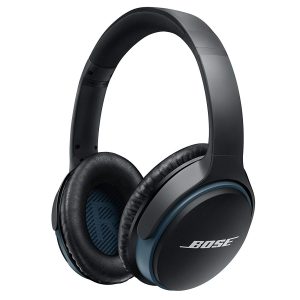 Wireless: Yes
Noise-cancelling: No
The Bose SoundLink 2 earphones are among the most sports-friendly selections on this list. Their memory foam ear cups sit comfortably on your ears without compromising breathability. 
The clamp of the SoundLink 2 also fit just right. They are among the lightest work out headphones so you can count on them to remain stable while you move around. 
The physical controls of these headphones are strategically placed just below the right ear cup. These include volume level buttons and a multi-functional button that can answer calls and navigate through tracks. 
The 15-hour battery life on the SoundLink 2 isn't as extended compared to others, but it can easily get you through a work out session. One of the most notable features of these headphones is the adaptive microphone integrated into the design. The mic is capable of automatically modulating the voice and volume according to the ambient noise.  
Undoubtedly, the SoundLink 2 is one of the best over-ear headphones for working out wireless.
V-MODA Crossfade M-100 Review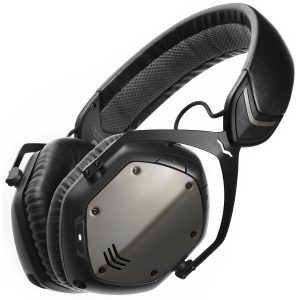 Wireless: Yes
Noise-cancelling: No
The V-MODA Crossfade M-100 over-ear noise-isolating headphones do an excellent job of combining well-defined audio quality and the rugged strength of metal design. The exterior might not be for everyone, but it is guaranteed to turn some heads when you work out. If you have small to medium-sized ears, you will surely find the hexagonal ear cups to be very comfortable. Speaking of the ear cups, they can swing forward and hug your ears for a snug fit. 
The metal components of the Crossfade M-100 bumps up the weight of the headphones a little bit, but they managed to keep it at slightly above ten ounces. The internal battery on these headphones can last for up to 12 hours on a single full charge, and you also have the option to plug the included cable for wired use. 
Considering the features it packs, we picked the Crossfade M-100 as the best over-ear headphones for working out in the $120-$130 price range.
Beats Studio 3 Wireless Review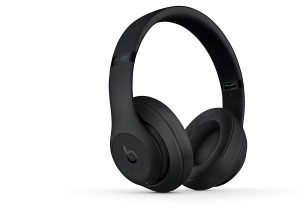 Wireless: Yes
Noise-cancelling: Yes
The Beats Studio 3 wireless headphones is a top contender if you want superior comfort and style and a deep pocket. With these headphones, you get intuitive physical buttons, which is more suitable for physical activities compared to touch-based controls. 
The Studio 3 has a quick charge feature that allows you to get hours of playback for minutes of charging time. A full charge can last you up to 22 hours. The noise-cancelling technology on these headphones is also decent enough to cancel a considerable amount of ambient noise and help you focus on your gym routine. 
However, these headphones don't come without a couple of downsides. They lack a bit of low bass, and the integrated interface on their Android/iOS app doesn't have any customization or equalization. Moreover, the active noise-cancellation feature can be undependable at times.   
JBL E55BT Review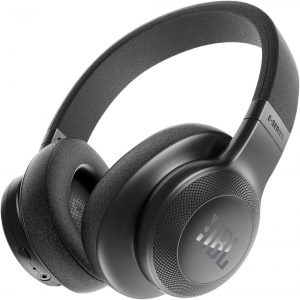 Wireless: Yes
Noise-cancelling: No
The JBL E55BT should be on top of your list if comfort is your primary concern. They may not be as intuitive as the other selections on this list, but they arguably have the most comfortable fit. They're not too snug nor too slack to accidentally fall when you're running or jogging. These headphones are also very light so they won't be bothering you while you do your routines. 
As far as the audio quality is concerned, the E55BT produces decent sound, but the bass response differs depending on the shape of your head and if you have eyewear. The battery life on these headphones can last up to 18.5 hours on a single full charge.
Controls on these headphones don't deliver much feedback, which can be frustrating. Nevertheless, they make for great over-ear headphones for working out thanks to their excellent comfort and fit.
Final Thoughts
That concludes our digest of the ten best over-ear headphones for working out. The wide variety of our picks should already have given you an idea of what you want for your next work out headphones. Whether you're more concerned about the active noise-cancellation or superior comfort, you should have found a pair of cans that fits the bill for you.
If you want something more compact that you can also use for your video game sessions, check out our roundup of the best gaming earbuds available on the market today. Also, check out our list of the best smartwatches for women to complement with your headphones and level up your active lifestyle.