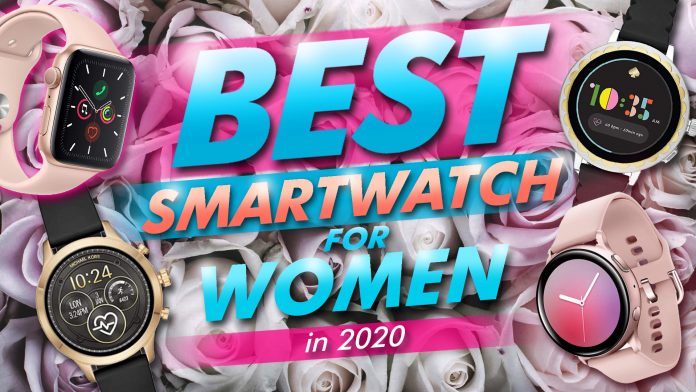 Back when smartwatches were first introduced, they never really caught the attention of trendsetters and fashion mongers. The initial variations were often bulky and unattractive that only the most devoted tech junkies had the stomach to wear them.
After a while, more and more fashion-oriented brands started getting into the latest tech craze, and smartwatches for women began appearing on the market. If you plan on getting one for your next purchase, this comprehensive buying guide goes into detail on our top picks for the best smartwatch for women. Take a look at our selections below, and you might find your next tech accessory!
Which Smartwatch Is Right for Me?
Smartwatches for women come in all sorts of shapes and sizes. With so many variations, your choice should be hinged on your preference for features and the money you are willing to spend. Here are some things you may want to consider before deciding to buy a smartwatch:
Compatibility

. Will the smartwatch work with your smartphone?

Health and Lifestyle Features

. Do you want your smartwatch to come with features like a pedometer, menstrual cycle tracker, or heart rate monitor?

Battery Life

. Will your smartwatch last as long as you need it without a charge?

Design

. Are you be comfortable with the look of your smartwatch? You will be wearing it daily, after all.
1. Apple Watch Series 5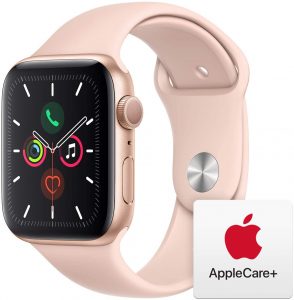 For fashionistas, Apple has always been the go-to for sleek gadgets. They are stylish and highly functional, which makes them a crown favorite. Of course, the Apple Watch Series 5 is no exception. Unlike its predecessors the Apple Watch Series, 5 is the first-ever Apple Watch to have an always-on display. Sure other Apple Watches over the years will light up when you raised your wrist, but now it is conveniently always on.
Design
The Apple Watch Series 5 does not have any dramatic changes compared to Series 4. That is not a bad thing, since the design has somewhat become iconic and quite charming. The watch comes in either a 44mm case size or a smaller 40mm for those with a slim wrist. It is lightweight as well at only 36 grams and barely noticeable on your wrist. So wearing them will not cause you any discomfort whatsoever. Plus, they never get caught under any clothing, which can be a pain when changing clothes in a hurry. The glass front is made from sapphire crystal, while the frame is made from stainless steel. If you want to change bands every now and then, you may so, though of course they are sold separately. This smartwatch is also 50m water-resistant, so you can go for a swim with it on, just don't go diving, and it will remain unharmed.
Features
The Series 5 runs on Apple's newest S5 chip. This chip sports a 64-bit dual-core S5 processor, which is rated to be 2x faster than the older S3 processor. The Series 5 includes a 32 GB storage, an upgrade from 16 GB found on earlier models. This smartwatch also has an accelerometer, gyro, heart rate (2nd gen), barometer, and a compass.
Has the always-on screen ruined the battery life? No. It's possible to get a full day (about 8 a.m. to 11 p.m.) and then half the following day out of a single charge. Re-charging takes about an hour, and a top-up mid-day would easily see it last for the remainder of the second day of use.
The battery life is not that great at a measly 18 hours. That is to be expected since the screen is always on, so it is running all the time. Good thing that charging is fast at just one hour so you could juice up quickly. It also supports wireless charging, and that is super convenient.
Other Perks
Series 5 is a living testament to Apple's dedication to user health. The added Noise App will automatically warn you if the noise around you will cause potential damage to your hearing. If you are a health and fitness junky, then the Apple Watch is the only fitness and health tracker you'll ever need. It will count and monitor everything, from steps, calories, hourly movement, rest, hours spent standing, and VO2 Max data. The workout tracking feature will also cover swimming, biking, yoga, and elliptical training, among others.
2. Fossil Gen 5 Julianna Smartwatch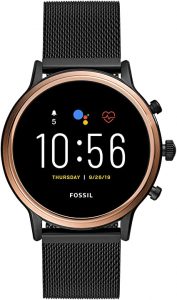 Google's Wear OS watches are not as prominent compared to its competitors. However, a few models have risen to the challenge, and the Fossil Gen 5 Juliana is one of them. This smartwatch will not look out of place in a designer boutique thanks to its sophisticated design and sleek form.
Design
Most Wear OS watches always tries to adapt to the design of traditional. That is not bad, especially if you like something that still has the familiarity of standard watches while having the advanced features of smartwatches. The bands and the watch itself boasts a feminine look without seeming to be over the top. It fits in just as well in your workout outfit as it does with a dress and office attire. The watch straps are interchangeable with any 22mm bands, perfect for those who love mixing and matching straps with their outfit.
Features
Like most smartwatch on the market, the Fossil Gen 5 Juliana is water-resistant so you can use it while swimming but not suitable for dives.
In terms of integrated applications, this smartwatch got you covered. You will have an alarm clock, a stopwatch, an agenda app, a weather app, and Google Fit. All of these apps work well and function as intended so you will have no problem with it.
Other Perks
Google Fit also does a proper job of tracking your fitness regimen. It has a heart rate sensor and a GPS, perfect for your everyday workout. Google Assistant is also built-in and always ready to translate languages and set important reminders.
Though Fossil did not equip the Gen 5 Juliana with a larger battery, it does offer battery modes to better manage your battery. By turning some unnecessary service off, you will save hours of extra usage.
3. Samsung Galaxy Watch Active2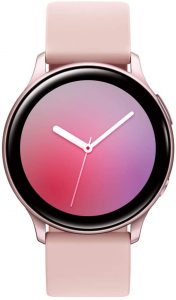 The Samsung Galaxy Watch Active 2 is hardly a notable upgrade from its predecessors. However, it is definitely a refined version, it's slimmer and better optimized as a wearable gadget.
Design
The Galaxy Watch Active 2 is made from aluminum. You can choose a 44mm or a 46mm model, whichever fits your physique better. Both are lightweight, so you will barely feel them on your wrist, which is perfect during morning runs and workouts. If you are feeling adventurous, you can choose from four color variations, silver, black, gold, and pink gold.
Features
The back of the Galaxy Watch Active 2 sports a heart rate monitor with eight photodiodes. This is double the amount of the original version, so you get a more accurate reading. It also comes with Samsung's smart assistant Bixby to help you out.
The smartwatch has a 360 x 360 resolution with a Super AMOLED screen. It is scratch-resistant, so you won't have to worry about it during outdoor activities. Samsung's apps are optimized for the small display, but the same can't be said for third-party ones. For navigation, the digital dial makes accessing the menu better.
Other Perks
Like its predecessor, the Active 2 is powered by the Exynos 9110 dual-core chipset. The storage is 4GB, which is enough for your playlist and lightweight apps. The fitness apps are still great and has 39 workout-tracking modes. You can also connect this smartwatch to any Bluetooth headphones.
The water and dust resistance of the Galaxy Watch Active 2 is made better thanks its 'water lock' mode. This feature disables the touchscreen functionality, then vibrates to shake out excess water. This smartwatch also has advanced features like an ECG (electrocardiogram). This tech detects the electrical activity and heart rhythm efficiently.
4. Kate Spade Scallop 2 Smartwatch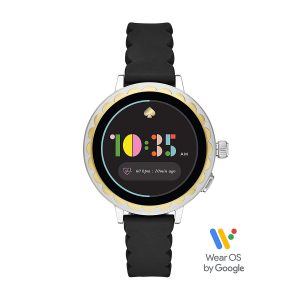 The Kate Spade Scallop 2 is a truly feminine smartwatch that is packed with a bunch of health-centered features. If you're big on style, this watch should pique your interest.
Design
The Kate Spade Scallop 2 is easily among the best when it comes to design. The round metal casing and the charming details around the watch make it appear elegant and classy.
You can even choose from a few watch faces to go with your style for the day. These include cute balloons, a cab, a daisy that loses petals, and a winking moon.
Kate Spade released three distinct models of the Scallop 2: stainless steel bracelet, black slink bracelet, and pink slink bracelet. Note that the stainless steel bracelet costs more compared to the other models.
Features
One of the most impressive features of the Scallop 2 Smartwatch is its heart rate monitor. Just tap the spade on the top of the screen then you'll see a cute animation of it turning into a heart. Your heart rate will then appear after the animation.
Another new feature added from its predecessor is GPS. It also has basic features like Google Pay contactless payment, checking calls, messages, and other notifications. A Google assistant will also help you out with some functions over voice control from your wrist.
Other Perks
The Kate Spade Scallop 2 comes with Bluetooth 4.2 out of the box. It is compatible with both iOS and Android mobile phones. This beautiful watch is also swim-proof with a rating of 3ATM, so you can go swimming while wearing this stylish watch.
The 300mAh battery can last up to two days with a full charge. Note that battery life depends on usage.
5. TOOBUR IP67 Fitness Tracker Watch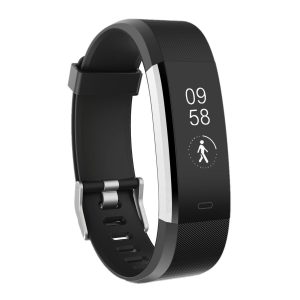 The TOOBUR IP67 Fitness Tracker Watch is best for women who are on a budget but want an accessory that meets the demands of their active lifestyle. This smartwatch proves that you don't have to spend a lot to get the latest tech gear. If you don't need all the bells and whistles, why pay for them?
Design
TOOBUR IP67 Fitness Tracker Watch doesn't have all the fancy features, but you can't expect much more from around this price point. It flaunts a slim build with an elongated display.
There are many high-quality band colors to choose from, including black, blue, pink, purple, and green. Some retailers even include a free band of a different color so you can have options out of the box.
Features
The TOOBUR IP67 Fitness Tracker Watch has all the basic features you can look for in a basic smartwatch.
One of our favorite features is the pedometer and calorie counter. You can see an estimated number of calories burned with each step you make. It also has an automatic sleep monitor that tracks how well you've slept.
The TOOBUR IP67 Fitness Tracker Watch can even give you information on your sleep trend via the VeryFitPro app. It also has a vibrating alarm clock function to make sure you wake up on time.
Other Perks
The TOOBUR IP67 Fitness Tracker Watch is compatible with mobile devices that have Android 4.4 and above or iOS 7.1 and above.
This budget-friendly smartwatch for women also has an IP67 waterproof rating, which is impressive considering the price point it is at. With that rate, you can sweat all you can or run under the rain with no problem. You can even go swimming if you want! Aside from that, it can also serve as a remote control to help you capture memories from your phone.
There are no charging cables included in the package, unlike the other smartwatches on this list. All you have to do is detach the band to expose the USB port. With just two hours of charging time, you can use the smartwatch for about a week.
6. Fitbit Versa Smartwatch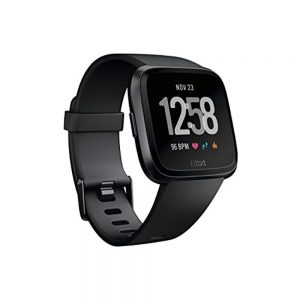 For women who need a fitness tracker and smartwatch as a secondary device, the Fitbit Versa Smartwatch is a great buy. Fitbit may have started rocky with the Ionic, but the Versa is sure to improve the reputation of the brand.
Design
Compared to its predecessor, Fitbit Versa has a better fit for women because of its design. The overall look is so much better, although some say it resembles the Apple Watch Series 3 and 4 too much.
There is a vibrant display of 300 x 300-pixel resolution topping out at a brightness of 1,000 nits. Versa also has lite and special editions. With the lite edition, the features are limited while the special edition comes with all the features, a unique woven band, and a higher price.
Features
Fitbit Versa allows you to store more than 300 songs on the device. You can also listen to music from your favorite Pandora stations. You just need to secure Bluetooth headphones, and you're good to go.
One of the cool features that come with this smartwatch is its female health (period) tracking function. All information can be viewed from the screen of the watch. Other features include heart rate monitor, sleep monitor, and over 15 exercise modes. You can find all the essential functions of a smartwatch and more on this device.
Versa is also waterproof and can withstand any splash of water or sweat. You can also go as deep as 50 meters without a problem.
The only downside of this smartwatch is that it doesn't have built-in GPS. Nonetheless, GPS tracking is still possible by pairing it with your mobile phone. All the other features that come with this watch makes working out more bearable and enjoyable.
Other Perks
You can go through four consecutive days using all of its functions with just a single full charge. You'll never have to miss a workout day without a helpful buddy on your wrist! The Fitbit Versa is truly one of the best well designed smartwatch for women.
7. Michael Kors Access Runway Smartwatch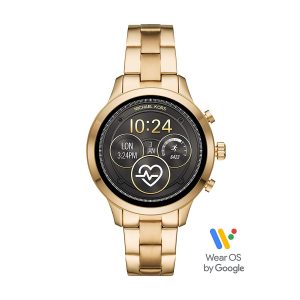 If you want an Apple Watch but wants something that works with your Android device, then you should consider getting the Michael Kors Access Runway. This chic and classy smartwatch will enhance your living as you ramp your way to the stage of life.
Design
The design of the Michael Kors Access Runway is something to die for. If you're a woman that has a lot on her plate, this smartwatch will match anything you're up to. It can match your office or casual attire.
The bands come in stainless steel and leather set. The round screen is functional with three dials on the side. There are several ways to customize the watch. Choose from the watch faces or use another band!
It is a 41 mm watch with a 1.19-inch 390 x 390 AMOLED touchscreen display. For some, the size seems a little bit. But we guarantee you. It still looks perfect on your wrist.
Features
One of the best features of the Michael Kors Access Runway is its heart rate monitor. With this function, you can track one of the most important aspects of your well-being at any time, anywhere.
This smartwatch also makes it easy for you to pay bills with Google Pay's NFC technology. You can even access some of your favorite apps through this device. Want some good music to help you get through the day? Pop up Spotify and listen to your well-loved songs.
Other Perks
Michael Kors understands how busy a modern woman can be these days. So they made Access Runway come with Google Assistant. Conveniently request all your needed apps and functions without too many taps.
Considering all the features and aesthetics, it's understandable that a full charge of this smartwatch for women can only last for a day. But with all the advantages it has to offer, you can't ask for much more.
What You Need to Know Before Buying a Smartwatch
Notifications and Display
You get a smartwatch for the sake of notification convenience. All notifications are flashed in realtime, so it is super convenient. For example, some smartwatches will only display notification icons, while others display the entire thing. You need to make sure the smartwatch that you are eyeing is compatible with all the alerts that you want to see as soon as you receive them.
Battery Life
Unlike traditional watches that can survive with minimal power, smartwatches consume a larger amount of juice. The battery life of some smartwatches lasts for hours while some at few days at a time. Know that power usage depends on the supported features of a smartwatch. If you are a heavy user, make sure that you pick a model that can keep up with your lifestyle.
Build and Durability
A wearable gadget will be subjected and exposed to untoward accidents. So they must be sturdy enough to survive those episodes. The screen must be scratch-resistant and solid enough to withstand bumps. Water-resistance is an excellent feature to have so you can go swimming with it, and you won't have to worry about rain drizzles during your runs.
Apps
A smartwatch is small yet a feisty piece of gadget. So make sure that the watch of your choosing has a wide array of useful app compatibility to make your life easier. Pay attention to sensors like ECG, sleep monitor, heartbeat monitor, CO2 intake, gyro, accelerometer, barometer, GPS, and compass, among others.
Final Thoughts
That concludes our list of the best smartwatch for women. Did you find your next accessory from one of our picks? Let us know what features you're into the most in the comments section below!
Recap: The 5 Best Smartwatches for Women Reviewed