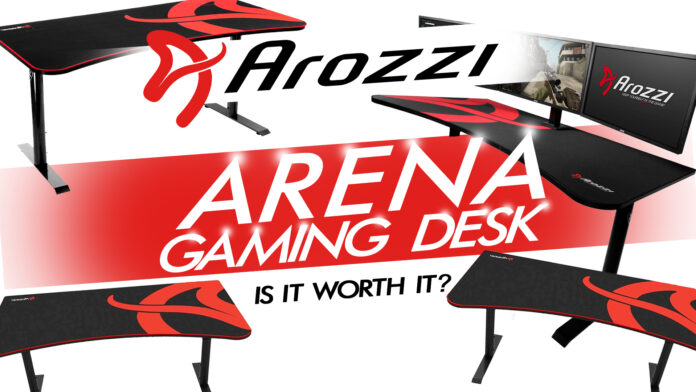 Professional gaming has gained a lot of popularity over the last decade or so, but esports, or competitive video gaming, has existed for a lot longer than most people think. The first recorded video game competition was in 1978 [1.] at Stamford University (the game was Spacewar if you were curious). Since then, competitive gaming has continued to expand at an almost unbelievable rate. In 2019 $211 million was paid out in prize money for esports tournaments. [2.]
That is big business. With that in mind, it is no surprise that so many companies have been promoting products specifically for gamers. From specialized headphones to gaming chairs, there are thousands of products on the market that promise to give you the materials you need for gaming success. Not the least of these products are gaming desks, or desks designed with hardcore gamers in mind.
It should come as no surprise that there are currently hundreds of different gaming desks on the market and deciding which one to purchase can be challenging. In this article we are going to take an in-depth look at Arozzi's Arena Gaming Desk, so you can see if this might be the one for you. We will give you the ends and outs, the good and the bad, so you can make an informed decision.
Basics
The Nuts and Bolts
Gone are the days when you only needed space for a monitor, mouse, and keyboard. Nowadays a good gaming desk has space for everything, including your energy drinks and snacks. Arozzi took that idea quite literally and designed a desk big enough for all of that and a little more. The desktop itself measures 5'3" by 2' 7 ½", that is a whopping 14 square feet of desktop.
The desktop is made out of an unspecified composite material, but by all accounts is pretty sturdy. Three pieces make up the desktop and each one has a half-circle hole cutout toward the back, so you can thread your cords neatly under the desk. This desk can hold up to 176lb if the weight is evenly distributed.
The desktop is held up by two legs attached to a metal frame. The legs are set wide apart, 48", giving you lots of legroom, or room to set your tower if you somehow use up all the room on the top. The height can be adjusted from 27.9" to 31.9" by unscrewing a single screw on each leg, adjusting the height, and retightening the screw. On the underside of the desk, attached to the frame, there is a cable net, to help with cable organization.
And, last but not least, on the base of the legs there are wide feet that help to keep the desk balanced. On the bottom of the feet, there are four smaller rubber feet that can be height-adjusted up to an inch, just in case the floor is a little uneven.
The Design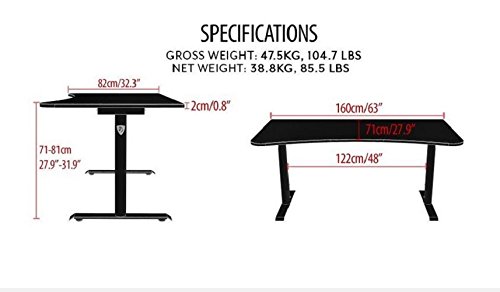 At first glance, you can't help but think that this is a cool looking desk. It is very minimalistic, no gimmicky baskets attached to the sides, lifted sections on the desktop, or unusual frame designs. It has a straightforward, no-nonsense look to it. There are five available color options, black, red, green, blue, and white, so you can add a little style to your game room.
The most interesting design feature, which is also a functional one, is the mousepad desktop cover. The Arena comes with a mousepad that is custom cut to the top of the desk and covers it from end to end. Yes, a 14 square foot mousepad. It is non-slip, weighing 7lb, and is spill-resistant. The Mousepad is also machine washable, so if things get a little out of control during game time, no one will have to know. There are slits in the mousepad that match up with the desktop cutouts, so there is no difficulty keeping those cords under control. This also adds to the design, because it helps to maintain the clean, uncluttered look of the desk, even when you do have all your gaming equipment out at the same time.
One other design element mentioned in the manufacturer's description is that this desk is designed to be easily transportable, although it is not clear if that is meant to say you can transport the desk, or if it is just for shipping. Most likely they simply mean that ordering it online and having it shipped to your house should not be too much of a struggle. It does come disassembled, in a box that measures 36.25" x 25.0" x 10.33", which weighs about 100lb. So depending on your physical capabilities, it may or may not be so easy to transport.
The Good, The Bad, and The Customer Review
Okay, now for the part you have been waiting for, the pros and cons. Everything listed here is based on the manufacturer's specifications as well as reviews by real gamers who tried the desk and were kind enough to share their opinions.
Pros
The reviews for this desk were mostly positive overall, which is always a good sign. To start, it is really easy to assemble. Arozzi provides a step-by-step instruction manual with full-color pictures, making the very simple 11-step assembly process a breeze. It is a little heavy, so it may be difficult for single-person assembly. But, if you can lift the 85lb finished product enough to flip it over, you should be fine assembling it by yourself.
Size
The size of the desktop was another huge crowd-pleaser. You can easily fit three monitors across the back and still have plenty of room for your other necessities. The front edge of the desk dips in slightly, making it easier to sit closer, for a more immersive experience. The space under the desk is another benefit; you never have to worry about your legs cramping up under this desk. Even if you place it against a wall, you will still have room to stretch out.
Mousepad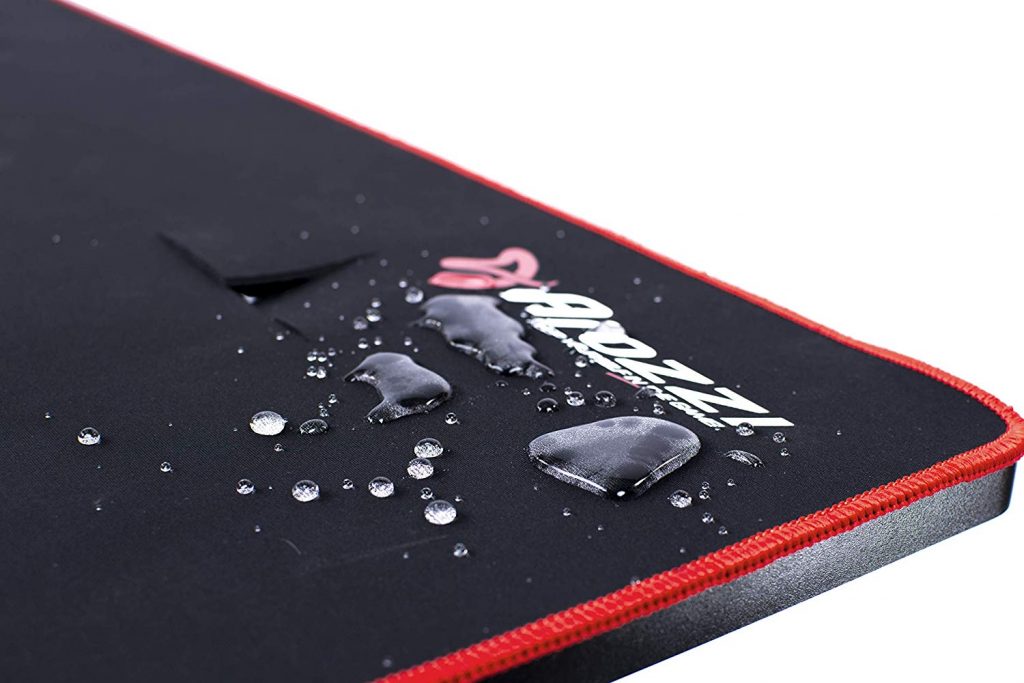 What gamer has not experienced the frustration of a slipping or inadequately-sized mouse pad? Well with this desk, your frustration has come to an end. When the entire desktop is a mouse pad, you never run out of room to move around. The fact that the mouse pad is water-resistant and washable is just a bonus. You won't have to worry about ruining an expensive desk with one unfortunate spill, simply throw it in the washing machine and it will be just like new.
Cable Organization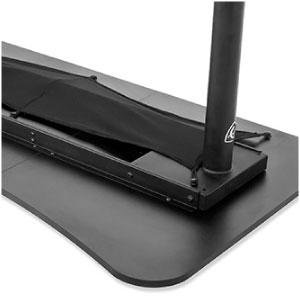 Gaming equipment requires a lot of wiring and anything that can help with that is a bonus. The simple answers that Arrozi provided for this issue are pretty much just what you need. The option to easily thread your cords through the desk makes it possible for you to be more organized without extra effort. Who doesn't love that? The cable net under the desk helps to keep the wires up and away from your feet, which just adds to the legroom.
Cons
Nobody is perfect. Unfortunately, that includes gaming desk designers. Here are a few things that reviewers mentioned that they did not like.
Wobbly
The comment mentioned the most often in negative reviews was the fact that the desk was wobbly. This could be due, in part, to the fact that the frame is not one solid piece, but must be assembled. Meaning that if the screws do not fit just right, or are not tightened enough, then the frame will not be stable. Another element that may add to the unsteadiness of the desk is the rubber feet on the base of the legs. If they are not adjusted perfectly, the desk shakes. In short, there are a lot of little things that have to be done just right for this desk to be perfectly level and stable.
Too Simplistic
Some reviewers also mentioned that the desk design was too simplistic. Many of the gaming desks on the market now come with everything from cup holders to baskets for controllers. The Arena is a straight-up, no-frills, flat desk, which some found to be disappointing for a desk in this price range.
The Mousepad Should Not Be Black
A solid black desktop may look really cool and it may be easier on the eyes when you are immersed in your game, but it does have one big downside: it shows everything. Every spec of dust, every crumb, every pet hair. Some reviewers suggested that black may not have been the best color choice because it never looks truly clean.
Not Quite Up to Par
Two things that came up, not necessarily as cons, but more annoyances were the three-section desktop and the cable net. Most said that these were not deal breakers, but did bear mentioning. The desktop being in three sections, instead of one solid piece, gives it a bit of an unsteady feel. They felt that it had a bit of give in the middle that made them uncomfortable. Others mentioned that the cable net, though long, was too narrow to sufficiently hold all their computer wiring.
Arozzi Arena Gaming Desk Full Assembly
And The Verdict Is…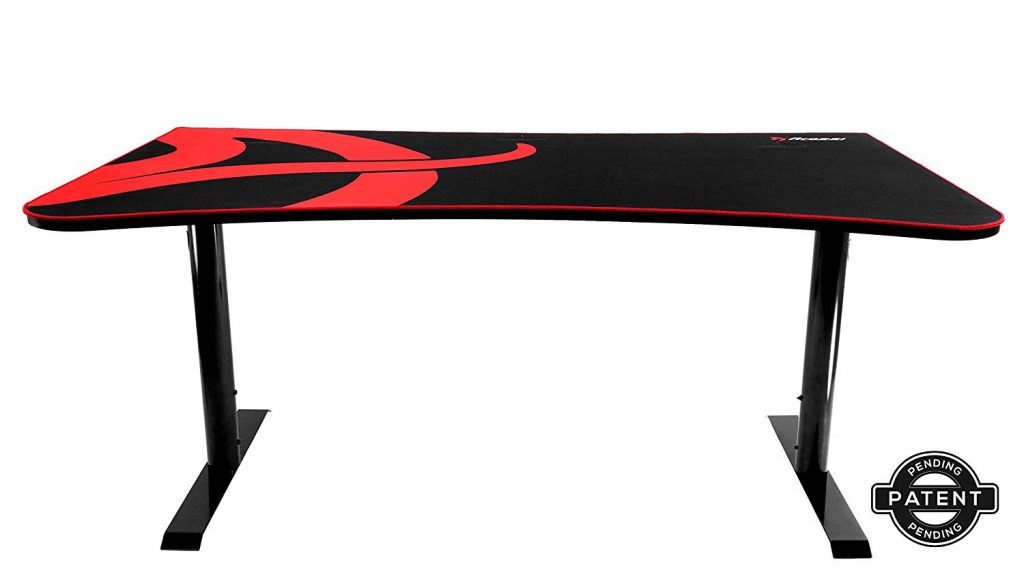 Overall, most reviewers agreed that the Arozzi Arena Gaming Desk was a great buy and they were glad they chose it. The main problem of wobbliness was one that could be fixed with a little time and effort, though one must decide if they should have to put forth that much effort for a desk in this price range. Most said yes; the size alone was enough to encourage some gamers to keep the desk, even if it was a little unsteady. The issue of it being too simplistic is really just one of taste, if you want a desk that offers additional storage, then this is not the one for you. All the other issues were so minor, most chose not to mention them at all.
In conclusion, the Arena seems to be a pretty solid choice if you are looking for a simplistic, but highly functional gaming desk. You are sure to have all the room you need and then some on a desktop of this size. The open design underneath offers even more space to place your equipment, unless of course, you are reserving that for legroom. With its sleek minimalistic design, the Arena is definitely a winner when it comes to aesthetics. If you are in the market for a gaming desk, we recommend you give this one a try, you won't be disappointed.
REFERENCES:
https://medium.com/@BountieGaming/the-history-and-evolution-of-esports-8ab6c1cf3257
https://esportsobserver.com/biggest-esports-2019-prize-pool/