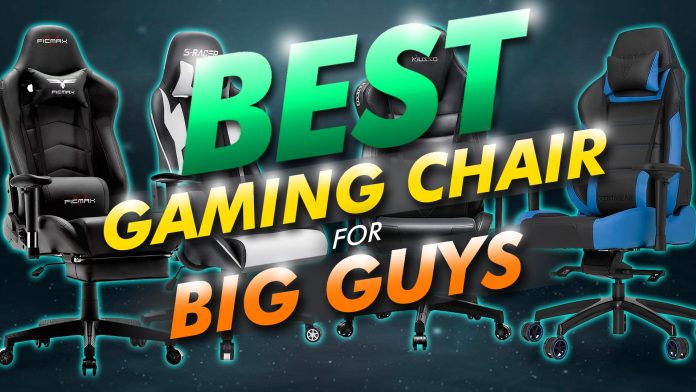 For Gaming's Gentle Giants
It is sad, but chairs for big guys are in short supply. So, it is not surprising if you are still scouring the market for the "one" to fit your needs with no luck. After all, most chairs on the market are standard size, with big guys getting left behind.
Remember that sitting for too long is terrible, for your health. The risks can range from back pains to cardiovascular diseases. And know that having an ill-fitting chair makes your chances worse. Good thing that your journey in finding the perfect fit ends here, as we have listed the best gaming chairs for big guys on this article! Read on, and you will be on your way to comfortable gaming!
Budget Picks: Gaming Chairs Around $100 – $ 250
Due to the small market of gaming chairs intended for big guys, it is natural for them to be more expensive than a regular gaming chair. Good thing that there are still picks that won't leave your wallet crying. Check them out if these picks suit your style!
RELATED: Best Budget Gaming Chairs
Homall Classic SRacer
Amazon's #1 Best Selling Gaming Chair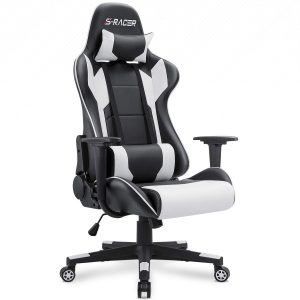 Colors: Black Blue, Black Red, Black White, Black, Cyan, Pink, and Purple
Dimensions: 19.8 x 20.5 x 47.8 inches
Weight Capacity: 300 pounds
The Homall High-Back Racing Chair has managed to keep its price down while maintaining its excellent quality. The design is minimalistic, with no unnecessary flairs, but still retains some gamer vibes. This chair also comes in a wide variety of colors, so whatever the theme of your game station is, the Homall High-Back Racing Chair is sure to fit right in.
Of course, aside from being stylish, it is also reliable enough for big guys. This chair can carry up to 300 pounds, you can be assured that it is muscle-sufficient for the job! Your back is also well taken care of thanks to its 30.5-inch backrest, it is long enough for tall guys to settle in.
Unfortunately, Homall is not that generous to its seat at only 14.5-inches, and it is also a bit close to the ground. Not glaring issues, but compromises you have to make for its low price.
RESPAWN 400 Big and Tall Gaming Chair
Best For 400 Pound Gamers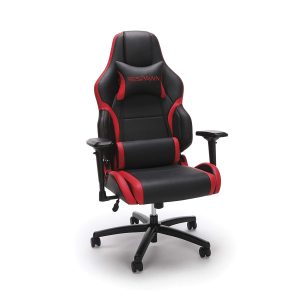 Colors: Blue, Gray, Green, and Red
Dimensions: 28.5 x 31.8 x 50.2 inches
Weight Capacity: 400 pounds
Honestly, Respawn 400 looks more expensive than it really is, and we are not complaining. It's durable and solid enough to hold up to 400 pounds of weight! Aside from being durable, it also boasts a full seat of 24.25 x 24.25 inches, now you can settle in comfortably thanks to its generous coverage.
Sadly, if you are super tall, you might have some issues with it, as the maximum seat height is only 19.5 inches. So, if you have really long legs, then keep browsing below as there are better options for you.
However, it is still an impressive pick due to a sturdy frame and an extensive profile. It also sports 4D armrests and a130 degrees of recline for quick power naps.
Ficmax Large Size Ergonomic Massage Gaming Chair
Best Budget Chair for Big Guys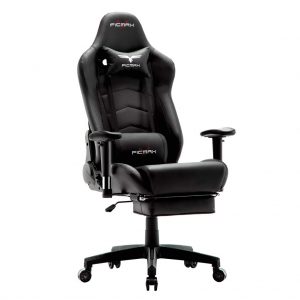 Colors: Black, Black Red, Black Red White, Black White, Blue Black, Blue Red White, White Black and White Red Black
Dimensions: 33.8 x 12.6 x 25.2 inches
Weight Capacity: 300 pounds
The Ficmax High Back Ergonomic Gaming Chair is a gaming chair for big guys who are tight on the budget. It is stylish enough and exudes a gaming vibe that is worthy of your battle station. It also boasts excellent ergonomics as you can tilt, rock, and swivel this chair for better comfort.
The chair is also made of high-grade PU leather and a 4.8-inch thick high-density memory foam. For the frame, it is built to last boasts a heavy-duty wheelbase. It is also equipped with a class 4 hydraulic piston, with a maximum weight capacity of 300 pounds.
Overall, this chair is designed for comfort as it also has a retractable footrest, movable armrest, and full seat cushion. The package also comes with a free neck cushion and USB powered lumbar massage pillow.
Boss Office B991 Heavy Duty Big & Tall Executive Chair
Best Stability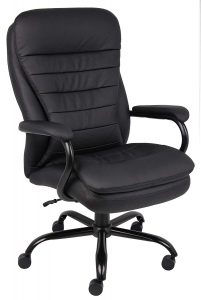 Colors: Black, Bomber Brown, Camo and Gray
Dimensions: 31 x 33.5 x 45.5 inches
Weight Capacity: 350 pounds
When you are gamer, standard office chairs just don't cut. Good thing that the Boss Office B991-CP has proven this wrong. Aside from its massive profile to cater to big gamers, it is also sleek and stylish enough to fit in a gaming set-up. The leather upholstery looks sophisticated thanks to its supple bonded leather and offers all-day gaming comfort. Aside from being stylish, it also can hold a total of 350 pounds with no problems. All thanks to its durable design and robust base.
The Boss B911 is heavy duty and features a high-back to keep the contours of your back perfectly aligned. The chair also comes with built-in lumbar support that promotes comfort for the lower back. This chair is also equipped with its ergonomic tilt mechanism that has an infinite locking adjustment that allows you to tweak with its setting so you can sit at your preferred position.
Anda Seat Assassin King Chair
Extra Large For Extra Comfort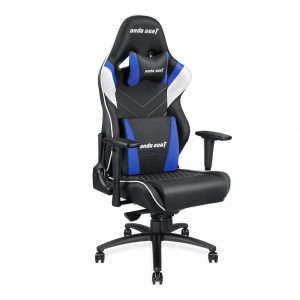 Color: Black Red, Black Grey, Black White, Red Black, Black Blue White, and Black Red
Dimensions: 30 x 28 x 52.8 inches
Weight Capacity: 440 pounds
Anda has made a name for itself from being a no-name company to being a respected brand that manufactures high-grade chairs at a reasonable cost. The Anda Seat Assassin King Chair is reliable and robust enough to cater to big guys who measures 5'6″ to 7'2″ in height and weighs to up to 440 pounds!
Unfortunately, it has a shorter backrest compared to other gaming chairs, but aside from that, everything is secure and sturdy with this chair. It also sports a super-strong aluminum base for better stability. Gliding is also not an issue with this chair, thanks to its 65MM casters.
The chair boasts four hydraulic pistons for safer and stabler adjustments. Remember that Anda Seat is originally a racing car chair manufacturer, so you can be sure that comfort and safety is something this company is well versed off.
Modway Jive Ribbed High Back Executive Chair
Elegant Gaming Chair with Ribbed Vinyl Back
Colors: Black, White, Green, Gray, Orange, Red, Brown, Tan, Terracotta, Gold
Dimensions: 25.5 x 20 x 43 inches
Weight Capacity: 330 pounds
The Modway Jive Ribbed High Back Executive Chair is a far cry from the typical design that appeals to gamers and gives your room a touch of mid-century class. Instead of focusing on aesthetics, the makers of this chair centered their attention on functionality and, as a result, created one of the most comfortable chairs for tall big guys. It is capable of carrying up to 330 lbs and has a ribbed vinyl back that provides ample lumbar support for your natural posture. The seat and armrest cushions are padded with premium foam to ensure optimal comfort.
This chair is held in place by a chrome aluminum frame that allows for an ergonomic design with options, such as one-touch height adjustment and swivel. If you're not keen on the dull black or brown color schemes, you can go for the more fun color alternatives like orange, green, or red to brighten up your gaming environment.
Best Value Picks: Gaming Chairs Around $300 to $500
If you have extra cash to spare, then this set of picks is right for you. They managed to land the sweet spot between quality and value.
Corsair T2 Road Warrior
A Gaming Chair For The Long Haul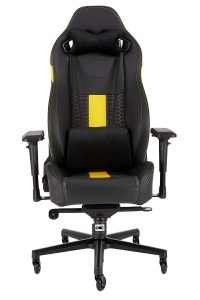 Colors: Black Blue, Black Red, Black White, Black Yellow, and Black
Dimensions: 23.6 x 19.7 x 34.6 inches
Weight Capacity: 300 pounds
If you are in constant search for a chair that can accommodate your long legs, then the Corsair T2 Road Warrior might be the one you are looking for. Aside from being super stylish, this gaming chair boasts a seat height of 23.6-inches, ideal if you are a tall person who had enough of leg cramps. It also has a 300-pound weight capacity so you can be sure that this chair is stable enough for your full weight. If you are always suffering from back pains, then its 34.6-inch tall backrest is there to save the day.
Unfortunately, it fell short on the seat size as it is only 19.7 x 22-inches in size. A bit small considering how big this chair is. On the bright side, this gaming chair still excels in ergonomics thanks to its 4D movable armrests. It can also do a 170-degree angle tilt, so you can simply relax when your back is hurting.
noblechairs HERO
Best Gaming Chair for Spine Support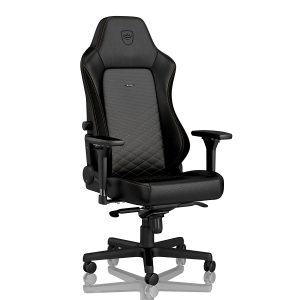 Colors: Black Black, Black Blue, Black Red, Black Platinum White, Black Gold, Dyrus Edition, SK Gaming Edition, Special 2019 Edition and Black
Dimensions: 36 x 28 x 15 inches
Weight Capacity: 330 pounds
If you are particular with ergonomics and lumbar support, then the noblechair HERO is something noteworthy. After all, this gaming chair is intended to cater to the gamer's need for better ergonomics. You can be sure that this chair can ensure that your spine is well supported to reduce the risk of back problems.
Rather than resorting to the use of lumbar pillows, the back support of the noblechair HERO is firm and integrated to the chair itself. Unlike some gaming chairs which comes with a neck pillow, the headrest on this one is stuffed with memory foam for better comfort. That said, if you are a fan lumbar and head pillow and still want them in your package, you can always add them as extras. Overall, the HERO is one of the most robust models in noblechairs gaming chairs product line, with its load capacity of 330 pounds, it is easy to see why.
E-Win Gaming Chair
A Gaming Chair with Excellent Gas Lift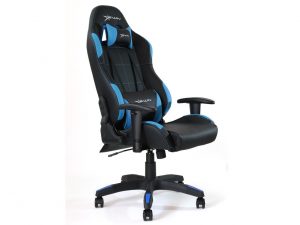 Colors: Black Blue
Dimensions: 21.7 x 50.8 x 23.2 inches
Weight Capacity: 330 pounds
The E-WIN Gaming Chair is a flashy piece of furniture that looks like a racecar seat more than anything else. Every part of this chair is made with quality materials that translate to a quality experience.
In terms of design and comfort, this gaming chair has a winged ergonomic seat structure to help you maintain posture while gaming. It also allows you to adjust the height and tilt the backrest according to your preferences.
This chair uses an explosion-proof gas spring that complies with international standards to maintain a stable structure and ensure your safety at the same time. Inside, the metal frame of this chair is coated with paint to avoid rust and corrosion. Additionally, it has adjustable armrests along with a removable headrest pillow and lumbar support to help you find the perfect sitting position for your body.
The only downside to this gaming chair is the reports of the seat becoming firm over time. Nevertheless, you can efficiently address this issue by adding a memory foam cushion.
Anda Seat Dark Knight Premium Gaming Chair
Best Slick Racing-Type Gaming Chair for Big Guys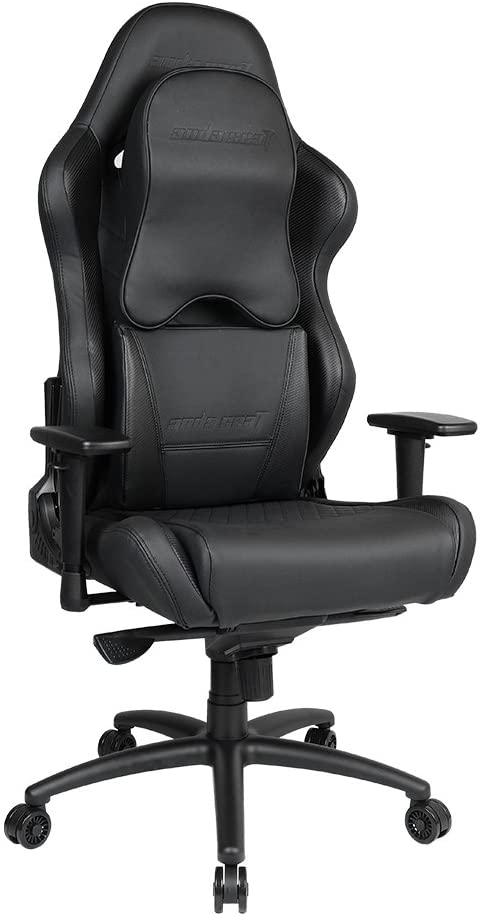 Color: Black Option Only
Dimensions: 21.65 x 22.83 x 54.8 inches
Weight Capacity: 61.6 pounds
Anda Seat Dark Night is a premium gaming chair that is super comfortable and looks very slick. Its full-black appearance will definitely fit into any gaming room giving your environment an elegant feel.
But let's not dive deep into looks and check out the specs of Anda Seat Dark Night. The chair is ergonomically designed featuring a large-sized memory foam pillow, padded armrests, and high back support. All of these work in combination to give you unbelievable comfort while gaming.
It is also designed with a detachable, padded headrest and lumbar cushions to support the neck and spine. These help gamers avoid the "computer hunch" experienced by those who sit for long periods of time.
This amazing racing-style gaming chair has adjustable parts. Actually, the company advertises that "every part" is adjustable allowing it to fit on every height and body type. These include an adjustable height, backrest tilt, back pressure, and armrests which can be positioned to four different dimensions. The mechanisms can be easily controlled and readjusted.
You'll be pleased to know that this chair supports a maximum capacity of over 400lbs. Safety is placed at a premium with integrated metal frame, heavy-duty chair base, explosion-proof gas spring that passes international standards, and smooth-rolling castors. These ensure a stable structure that can support heavy loads.
Musso Big & Tall Contoured Gaming Chair
Best for Prolonged Gaming Sessions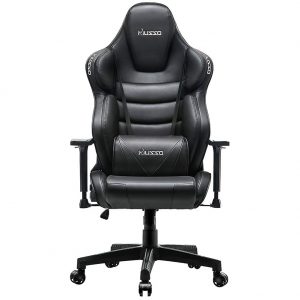 One of the problems with gaming chairs is that they definitely aren't 'one size fits all'. These chairs are engineered to provide the user's body with the right kind of support, but that often means that they are engineered for very specific frames. If you're a bigger gamer, this means that you might be left out in the cold by some popular brands.
The good news, though, is that HugHouse really does have players covered with this Big & Tall contoured gaming chair. Not only is it a perfect fit for those who have bigger frames, but it still has all the features that you would want from a dedicated gaming chair.
This chair has the kind of ergonomic design that makes it not only more comfortable to engage in prolonged gaming sessions, but it's also safer for your body. Ideal for those who have back or neck issues, it's a well-designed piece of work that goes a long way towards alleviating some pretty common problems.
Beyond the ergonomics, it's got all the little extras that you'd want from a good gaming chair. It's comfortable, easy to clean, and designed with long-term use in mind. If you are looking for a chair that's going to fit your frame and help you to feel comfortable playing video games, you won't find a better chair than this one.
Steelcase Leap Chair
A Great Gaming Chair with Strong Aluminum Base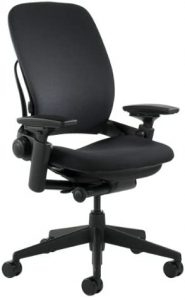 Colors: Black, Barley, Blue, Grey, Meadow, Rouge
Dimensions: 24.8 x 27 x 43.2 inches
Weight Capacity: 400 pounds
If you aren't too keen about the flashy appeal of the other alternatives and want a simple yet elegant gaming chair that can hold your weight, the Steelcase Leap Chair is suitable for you.
Steelcase is a renowned manufacturer for computer chairs and is known for its sleek design that suits any environment. Whether you're going to use it in the office or as part of your gaming room, the Leap Chair will fit in very well.
In terms of build quality, the Leap Chair is extremely sturdy and can support up to 400 lbs without affecting its structural integrity. It is capable of ergonomically adjusting to your body type and allows you to adjust the armrests according to your preferences. It can also be height adjusted, pivoted, and leaned forward or backward.
Since it can hold a significant amount of weight, the seat on the Leap Chair is also designed to be wider, providing maximum comfort and extra room for stocky users. The backrest is covered with memory foam, so it forms to the shape of your head and relieves stress on your spine.
Overall, the Leap Chair is an exceptional product made of high-quality and durable material to meet the demands of big guys.
DXRacer King Series
Best Gaming Chair For 6′ Tall Guys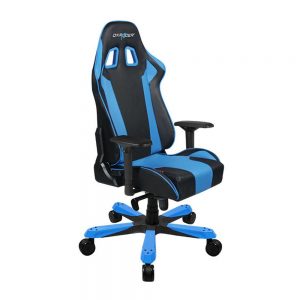 Colors: Black, Black Blue, Black Red, Black Gray, and Black White
Dimensions: 27 x 25 x 52 inches
Weight Capacity: 300 pounds
DXRacer had made sure that their King series adheres to strict quality and manufacturing guidelines to ensure that this chair can accommodate gaming's gentle giants. It is also stylish enough and comes with different color variations, so whatever your gaming rig might be, you are sure to find this chair fitting right in.
Aside from aesthetical value, this chair has a maximum capacity of 300 pounds, and can comfortably accommodate gamers who is 6 feet tall with no issues. Its backrest is high and wide enough for the perfect spine support, so get ready to say goodbye to backache. The chair also includes lumbar pillows that support proper posture.
For stability, the metal frame of the King series adds to much-needed stability. However, this caused the chair to be firmer than other gaming chairs.
Premium Picks: Gaming Chairs Above $500
Is the sky the limit? Then these picks are for you. If you have an unlimited budget and want the best there is, you can never go wrong with these chairs.
Herman Miller Sayl Ergonomic Office Chair
Balance Of Elegance And Ergonomics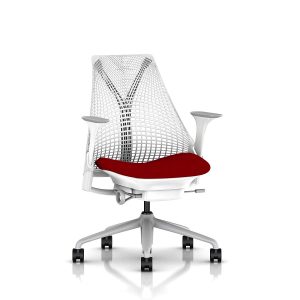 Colors: White Red
Dimensions: 26 x 24.5 x 37 inches
Weight Capacity: 350 pounds
The Herman Miller Sayl Ergonomic Office Chair features a 3D Intelligent back that will enable you to stretch and move with ease. This chair also strikes a delicate balance between comfort and style. Sure this is not exactly a gaming chair, but the support it provides thanks to its elastomer strands that function as a suspension on the back is the real deal.
This chair also boasts PostureFit sacral support, which enables gamers to take care of their spine better to keep its original S shape. This chair also does a great job of helping you maintain a healthy posture while gaming. Aside from good ergonomics, this chair can support a maximum weight capacity of 350 pounds with no sweat. The chair is also eco-friendly as the PVCs and other materials used in manufacturing this chair are recyclable.
DXRacer Tank Series
Best Option For 450-pound Gamers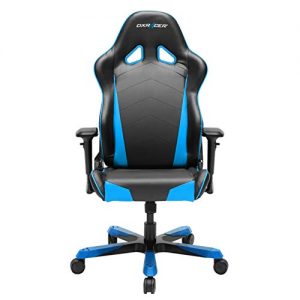 Colors: Black Blue, Black Red, Black Green, and Black
Dimensions: 32 x 26 x 50 inches
Weight Capacity: 450 pounds
DXRacer is one of the most well-respected names in gaming chairs, so it should come as no surprise; they also make an excellent racing-style chair for big and tall gamers. 450 pounds, the highest weight capacity of any gaming chair we've found so far.
The backrest is relatively high, and gamers with height up to 6'7″ will have no problem resting their back. This feature alone makes DXRacer Tank one of the tallest chairs in the market. It is basically made for big guys as DXRacer suggested that this chair is recommended for those who are at least 6'1″ tall.
Ergonomics wise, you'll get some tilt options, extra-wide seating for better thigh support. If you want to adjust the seat height, then you'll get assured to its stability thanks to its two gas canisters that support the entire frame.
Vertagear P-Line 6000 579
Best For Big Guys With Long Legs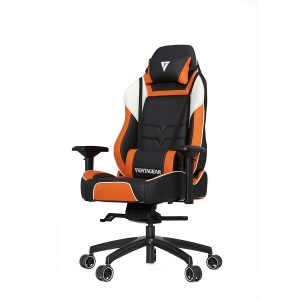 Colors: Black, Black Blue, Black Camouflage, Black Carbon, Black Orange, Black Green, Black Red, and Black White
At first glance, there is no denying that the P-Line 6000 from Vertagear is made for the big-boys of gaming. This chair has a maximum weight capacity of 400 pounds. Tall people up to 6'8″, is more than welcome as there is plenty of room of legroom on this chair.
To better support this chair, the frame is reinforced with heavy-duty steel. Gliding around is also a breeze as this chair is equipped with a five-wheel aluminum base. Capacity; check, stability; double-check!
How to Pick the Best Gaming Chair for Big Guys
Now you have an idea of what to get. However, what is are the factors to consider landing a good deal.
Finding the best gaming chair that is ideal for your specific body shape need not be a chore. The first thing you should check for when purchasing a big and tall gaming chair is the maximum weight that the chair can sustain. Remember, there's no purpose in getting a chair that can't carry you.
5 Ways You're Sitting Wrong at Your Desk
RELATED: Best Desks for Gaming
How to Accurately Measure Chair Seat Size for your Body Type
If you settle for something too small seat and you'll feel constricted, if it is too big, you will feel like a toddler trying an adult chair. Worse is that you will feel your thighs hanging and entire seat misaligning with the shapes of the chair.
So, here is how to know the perfect seat dimensions to fit your body type.
Step 1
Take a seat in your existing gaming chair, a regular chair is also fine. Make sure that you are in an upright posture, your back firmly pressed against the backrest. Now, relax, with your thighs apart, not too much. Just make sure that you are comfortable.
Step 2
The next step is to measure the chair seat. Take a measuring tape, get the vertical length from your tailbone to the edge of your inner thighs. Now subtract 1-2 inches to determine the perfect seat depth for your body type. Make sure that when you lean back at the backrest of the chair, there will be a tiny gap at the end of the seat to improve blood flow.
Step 3
Now, calculate the perfect chair seat width for your body type. While still maintaining an upright position and with your thighs open, calculate the distance across your legs down to the seat's edge. Get these measurements, add 2 inches, and you are good to go.
Step 4
Last step is to take these measurements and look up the dimensions of your desired gaming chairs to see if the seat fits well.
Factors to Look For The Best Gaming Chair
Check this carefully before picking your chair!
Support and Ergonomics
Make sure that the gaming chair sports some tilting and locking features, has soft armrests, comfortable bucket, and thick cushions. It also helps to have additional pillows for neck and lumbar support.
Design and Style
Make sure that they fit the place that you are going to put them. You don't want your gaming chair stand out as a sore thumb, do you? If you have a low-key executive office vibe, then go with black leather or any chair with muted colors and minimalistic approach. If you own a full RGB set-up with all the bells and whistles, then a racing gaming chair with all flashy colors will suit you best.
Material
Determine the cover material that is used on the gaming chair of your choice. Know that genuine leather is breathable, waterproof, and durable cover but more expensive. While artificial leather is cheaper but tends to heat up quickly. On the other hand, PU is not as long-lasting and breathable as genuine leather, but more breathable than PVC. PVC leather is more malleable and flexible, but no breathable. The last option is fabric and mesh, it's breathable but prone to stains and difficult to clean.
Sturdiness and Durability
Sturdiness and durability are another essential factor to consider. Know the material used for its frame, did it use particleboard, plastic, or a steel frame? Remember, stability is particularly important in a chair that continually moves.
Flexible Adjustment
Relaxation may vary after all chairs are not one size fits all. That's why getting a highly adjustable gaming chair is crucial for a better gaming experience. Make sure that the chair has one or more of these features; reclining mechanisms, movable armrests, height adjustments, a tilt lock, and a footrest.
Wrap-Up
Many hours that you spend sitting can expose you to potential health risks. That is why big guys often suffer in silence seating on their ill-fitting chairs.
That is why there is no need to suffer. Get the ideal fit for you today! After all, it will not just affect your game time but your long-term health as well.