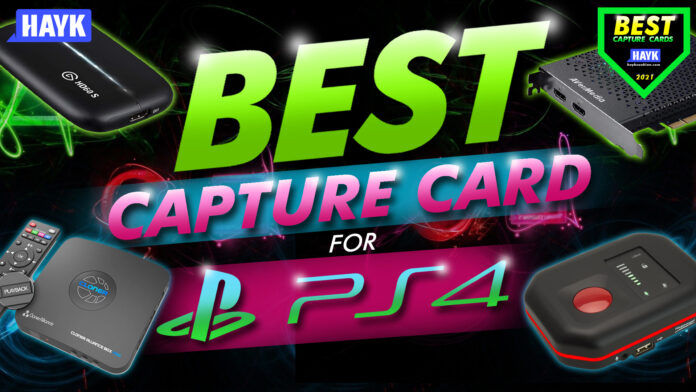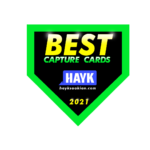 If you want to venture into the world of game streaming, then you have come to the right place. Sure, you already have your PS4, trusty controllers, a reliable headset and a microphone, but is that enough? Although you seemingly have everything you need, you still lack an essential component; the best capture card for your PS4.
Remember that streaming is not a small industry. As a matter of fact, according to Streamlabs and Newzoo, Twitch has reached a total of 5.79B total hours watch in Q3 2021. That is why if you want to join this huge trend, you'd want to broadcast and record your gaming experience in the best way possible. If you are worried because you have no idea what to look for, then fret not. This article guide contains the best live capture for PlayStation, Xbox, and PC gaming so, sit back and read on!
How We Choose the Capture Card Products to Feature?
To ensure we're giving our readers the best purchase, we always go above and beyond by picking products that are only worth featuring in all our guide articles.
Initially, we started with more than double the items here and filter them according to the following aspects:
Reliability
We only consider capture cards for live gaming that are reliable and great for recording your live gaming sessions and experience. While we do prioritize featuring products that are from known brands, we also consider featuring products from unusual brands or manufacturers as long as their products are made of reliable material and quality.
Price vs Performance
Although price matters, it isn't always the case. Obviously, products made from quality materials tend to come at a higher price than those that are only made of decent-grade material. Similarly, products with high-quality materials that have relatively lower price points have compromised other areas to make up for the loss.
Here at HaykSaakian.com, we always look into the performance first before we look at what it's made of. That way, we can narrow down our evaluation and determine whether the price is justifiable for the product's performance. Moreover, this also allows us to determine the worth of your investment– whether they are only good for a month, a year, or even a lifetime.
Software
To each their own. Even though manufacturers design their own software to cater to their capture card's live or recording capability and performance, it doesn't perform the same as other capture cards.
Specifically, in this case, we look at the functionality, UI, size, and permissions to see and evaluate how effective they are in actual performance, as well as decide whether they are friendly to most users.
Ease of Use and Portability
Functionality vs Portability? We evaluate and choose capture cards for live streaming according to their strengths and weaknesses. This means some of the capture cards we feature in this guide are intended to be used by on-the-go streamers while others are featured for their plug-and-play functionality.
What is a PS4 Capture Card?
A capture card is a necessary part of every streamer's gaming arsenal, especially for those who use consoles. These allow you to go live or record your gameplay on consoles like the PS4 and computers like gaming PC and Mac in the most dependable way possible.
Now, you don't have to agonize about dropping resolutions and other hassles in capturing or transferring your gaming footage. That is what you call efficiency and convenience!
Why Do Need a Capture Card for PS4?
Still not convinced? Then this section of the guide features the advantages of owning one!
No Time Limit
One of the best things about having a capture card is that you don't have to worry about any time limit. For example, PS4's built-in record function lets you record a maximum of 15-minutes per footage, right? That is a bit limited, especially if you are planning on having longer video clips. However, this isn't the case with capture cards because there is no time limit whatsoever.
Better Quality
Another impressive thing about capture cards is that you can modify all recording variables according to your preferences. This lets you get your desired resolution, now you can record in 2K or even 4K without problems. You can even tweak the bit rate or set a custom frame rate to boost performance. Owning a capture card is all about having full control over how your stream will look. You don't worry about storage as well, because capture cards have large storage capacities.
Better Editing
Capture cards are not limited to recording high-quality videos and storing them. They are also designed to take care of your editing needs to make them look professional. Bundled with advanced editing software capture cards lets you create polished videos.
Top 16 Best Capture Cards for Your PS4
Now down to the order of business! Our ultimate guide to the best capture cards.
Elgato Game Capture HD60S (The Best Capture Card Now)
Most Reliable Capture Card for PS4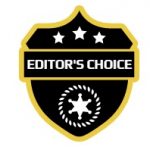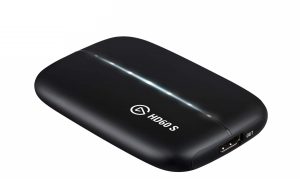 The capture card Elgato Game Capture HD60S is one of the most reliable capture cards that you can get for PS4. The brand has been in the industry since 1992, so they know what they are doing. Their product ranges are not just limited to capture cards, but they also have various electronics and software, as well. This experience has given them a tremendous edge over newer companies.
The Elgato HD60S takes the shape of a sleek-looking black box that has rounded edges. This Elgato card is also user-friendly, simply plug it into your console, PS4, and you are good to go. This is also among the best deals for new streamers and those looking for a budget-friendly option.
Elgato HD60S streams in 1080p resolution and at 60 FPS. A good bargain, considering that it has a 40 Mbps maximum bitrate. It also sports a USB-C connector, HDMI ports, and a single analog audio jack for a better audio experience. Bundled with its very own editing software, adding commentaries to your videos while streaming to any platform is a piece of cake.
Alternatively, we opt you to get the best deals of the card Elgato Game Capture HD60S+ if you own a PS4 Pro as it can record up to 4K resolution (that is if you want to up your viewer's viewing experience from 1080p to 4K). Do note that the Elgato HD60S can only output 30 framers per second at 4K resolution. So, if you're looking for a true 4K60 capture card, the next product in this guide is for you.
Elgato Game Capture 4K60 Pro
Another Highly Recommended Capture Card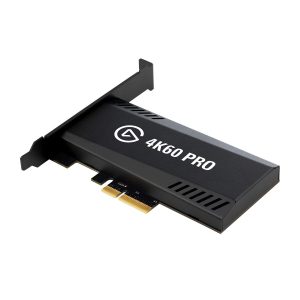 The Elgato Game Capture 4K60 Pro is another type of highly recommended capture card because of its powerful 4K resolution matched with a 60 FPS capability. This Elgato card is an internal capture card that can be accessed through its PCIe interface. And it's one good-looking capture card because of its patterned exterior casing!
Seamlessly stream video in 4K footage and at a whopping 60 FPS and 140 Mbps. But as fully capable as it is in producing high-quality content, it doesn't have any built-in H.264 encoding, unlike its cheaper counterpart, the HD60 Pro.
Needless to Say, this Elgato card is for professional console and PC gamer users who plan to make video game streaming a full-time career because this sits at an expensive price tag. Plus, you need to have some serious computing power for this. Know that you'll be tinkering with 4K resolution and 60 FPS, so you better have the muscle to back it up. You should have at least a Ryzen 7 or 6th gen Core i7 CPU alongside an RX Vega or GTX 10 GPU or higher to reap the maximum benefits of this Elgato card.
AVerMedia Live Gamer Duo 4K
A Capture Card that goes Toe-to-toe with the Elgato 4K60 Pro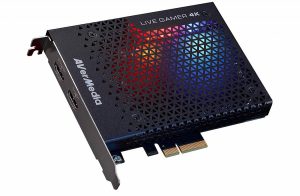 Then there's the AVerMedia Live Gamer Duo 4K capture card that goes toe to toe with the Elgato 4K60 Pro. Like the Elgato card mentioned above, this boasts a 4K resolution and supports 60 FPS. It also has an HDR recording feature that lets you adjust its RGB lighting.
It's the best pick if customization is something you enjoy. The AVerMedia has its software suite called the RECentral 4, and it also supports the CyberLink PowerDirector15. By using this software, adding commentaries, adjusting lighting, and making basic and advanced edits are much more manageable.
If you prefer something else other than an Elgato card but still want crisp 4K resolution quality on your streams, then the Live Gamer Duo 4K is for you.
HDML-Cloner Box Pro
Highly-recommended, Promising Newcomer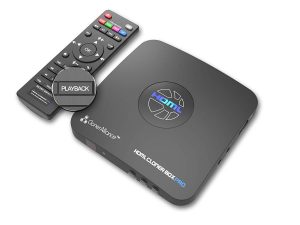 The HDML Cloner Box Pro is another capture card that is highly recommended. It's made by Cloner Alliance, a promising newcomer. Though pretty new in the industry, it is on par with more prominent and older brands. The Cloner Box Pro is packed with high-spec features and can compete with other brand giants.
It also supports a 1080p resolution at 60 FPS. When it comes to convenience, this capture card also delivers, as it comes with remote control. It also comes with its exclusive Cloner Alliance editing software, though a very basic one. Specifically speaking, all it lets you do is to split and trim videos. ClonerAlliance HDML-Cloner Box Pro supports 3rd party software and works with all the major broadcasting apps such as OBS and XSplit.
Overall, this is one of the best capture cards deals available and a card that will deliver everything you may need and much more. Unfortunately, it doesn't have built-in memory, so you need to have an external hard drive device handy. Investing in an external HDD, flash drive, or external SSD is a wise move.
Magewell USB 3.0 HDMI Video Capture Dongle
Strong Contender that Produces High-Quality HD Clips
The Magewell HDMI Video Capture Dongle is another strong contender. This one's for you if you'd want to produce high-quality HD clips while donning a sleek-looking device.
This capture card comes in the form of a tiny dongle. However, don't be fooled by its looks because this can upgrade low-quality videos to 1080p resolution. Aside from its recording capability, it can also stream your videos and clips directly to Twitch, Youtube, and Ustream. It's perfect for those who don't want to deal with the complex and complicated nature of set-top box capture cards. After all, this capture card is simple, just plug them into your device, and you are good to go.
Hauppauge HD PVR Rocket
A Portable Capture Card Loaded with Features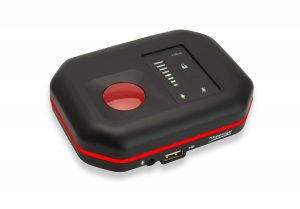 Hauppauge – HD PVR 2 is a cute and portable capture card that gives loads of features. As a matter of fact, it does an excellent job of compensating for its not so high-end picture quality. However, make no mistake as this device has good image quality, not just top of the line. It supports 1080i and 1080p recording that is capped at 30 fps. Unfortunately, it only comes with a maximum bitrate of 14MBps.
The Hauppauge HD PVR 2 also has a built-in audio mixer. It is impressive as it can record and capture a crisp and clear 5.1 channel audio. Aside from that, it also features a recording button that can be found on the capture card itself. Very convenient for recording, and if you combine that with the built-in H.264 AVCHD video encoder, it is such a good deal.
It also offers a Facecam feature that lets you attach a webcam clip to the video that you are filming. Thanks to the StreamEez application broadcasting your live streams on YouTube and Twitch is no hassle at all. These features combined have made this capture card one of the best options out there.
Now onto the downsides, this capture card's weak points are its large files. Imagine 15 minutes of 1080p video takes eats about a total of 1.25GB of space. Not a big deal if you have plenty of external storage lying around, but if not, this is a bit problematic. But aside from that, it is pretty suitable for streaming. Versatile, too, as it is compatible not just with your PS4 but on Windows, Xbox One, and Wii U as well.
Razer Ripsaw HD
Most Affordable 4K Capture Card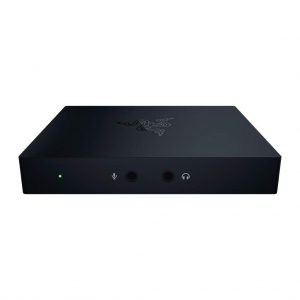 As a genuine 4K capture card, the Razer Ripsaw HD is the most affordable one out there. This capture card can cater to a 4K passthrough even while streaming games in 1080p. Aside from working on the PS4 and PS4 Pro, it also supports Xbox One X.
This capture card also reduces the complication of software-based audio mixing. Now you can mix audio easily without using a hardwired mic or additional headphone jacks.
Unfortunately, it is not all rainbow and butterflies with the Razer Ripsaw HD. Unlike most capture cards, it doesn't come with its own exclusive software. To stream in 1080p, as they have claimed, you should be prepared to pay for an XSplit premium membership or settle with the free yet with fewer features, Open Broadcasting Software. Also, unlike its predecessor, the original Razer Ripsaw, the HD version doesn't support older consoles but will still work if you have the proper adapters.
With that set, the fact that the Razer Ripsaw HD is a reliable card and among one of the best deals and most dependable external capture cards for streamers out there remains.
AV.io 4K
A Super Portable Capture Card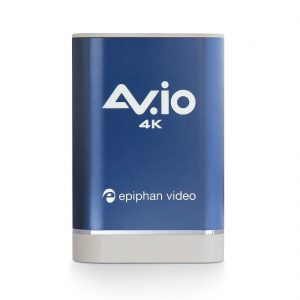 With the announcement of the PS4 Pro, 4K console gaming is at hand, so capture cards that can go above 1080p are the smarter choice. The AV.io enables a 4k passthrough capture at 30fps which is perfect if you own a PS4 Pro.
This capture card is tiny, so it will no doubt fit into your small bag or even inside your pocket, making it super portable. Additionally, you don't have to worry about installing software, as the setup is easy. It is friendly on platforms like WireCast or OBS, making it a very convenient pick.
Though not 100% lag-free when streaming at 4K, it still delivers. It also comes with various cables that can fit on any console and PC. Unfortunately, as you might have already guessed, it is not a budget pick. But if you are willing to splurge for those juicy extra pixels, then go for it and check the best deals for this card now!
AVerMedia Live Gamer Mini Portable 2 Plus
A Capture Card that Makes Everything Simple

The AVerMedia Live Gamer Mini Portable 2 Plus is one of those gaming capture cards that makes everything simple. The picture quality is also exceptional and supports video at 60fps.
The extra investment on the Live Gamer Mini is definitely worth it, especially if you don't want your gaming PC running in the background when you are streaming. They also included RECentral for the Live Gamer Mini, which is intuitive when putting overlaying text and adjusting your picture set up.
RECentra, which is AVerMedia's exclusive player, is easy to use, and you can even record party chats without using extra cables, unlike capture cards from Elgato. If this sounds like just what you need, then the Live Gamer Mini is the card for you.
Roxio Game Capture HD Pro
A Lightweight but Charming Capture Card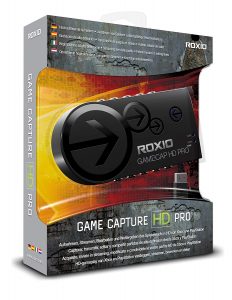 The Roxio game HD Pro is a charming and tiny capture card that you can bring anywhere. It is also designed to run lightweight as the set is easy. Due to its compact frame, the features are a bit limited. The software is also a bit superior to competitors, while the design of the card is pretty sleek and unique.
On paper, this is undoubtedly a fantastic choice, especially when you check the price tag. After all, it supports a modest 1080p at 30fps streaming and enjoys a direct connection to whatever streaming software you are using. It also has direct integration to YouTube and Twitch– talk about convenience!
Sadly, it only has a 2.0 USB connection, and the video and audio editing software are just average. But then again, overall, if you're a beginner and just testing the waters in the world of streaming, this card is the perfect entry point.
AVerCapture HD
Ideal also for Xbox One Streams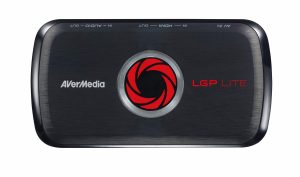 The AVerCapture HD is not just for PS4 users but for Xbox One users as well. Alongside Elgato, this is definitely one of the most respected brands out there. This compact unit from AVerMedia is powered using its USB connection, thus minimizing the cords in operation. This means that recording anytime and anywhere is made more convenient than ever.
It also supports a one-click recording that can be initiated by a single tap. Simple tap the AVermedia Logo button that can be found in the middle of the device, and you are set. This device also offers video capture at1080p in 60Mbps. It also supports HDMI pass-thru so you can capture gameplay in high definition every time you play.
Also, the Capture HD is equipped with an H.264 hardware encoder. There is also a built-in hardware encoder that keeps video file sizes more manageable while maintaining the quality. Both recording and streaming are managed using the RECentral software that's is bundled with the product.
AVerMedia has added a 3-month premium license for the popular XSplit Broadcasting software. This additional freebie is also one of the reasons to think that this will be among the best deals you can get your hands on.
MiraBox Capture Card
Durability and Portability in One that's Also Perfect for PC, Xbox, and Nintendo Switch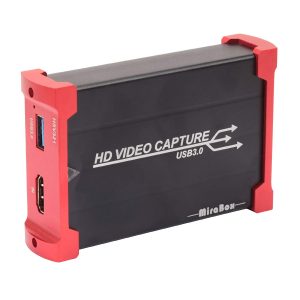 The MiraBox external capture card is a durable device designed to withstand extended usage. It can also capture at 1080p resolution at 60fps. Additionally, it also supports other gaming platforms aside fromPS4. It is compatible with PC, Xbox One, and Nintendo Switch.
It also supports USB 3.0, so you can expect lightning-fast data transfers that work without problems in conjunction with live-streaming and other recording software. Furthermore, the zero-latency HDMI loop-out port guarantees smooth frame-bt-fRAME transitions in real-time.
This capture card is also plug and play. Basically, all that you need to do is sit down and start streaming. Overall the MiraBox USB 3.0 is simply the obvious choice offering the best deals for streamers on a tight budget.
AVerMedia Live Gamer Portable Ultra
A Live Gamer Portable Capture Card that Supports 4K and HDR Capture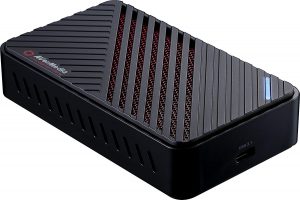 AVerMedia Live Gamer Portable Ultra offers both 4k and HDR capture at the same time. The Live Gamer Portable Ultra also supports the capture of 4k videos at 60 fps, 1440p videos at 144 fps, and 1080p at 240 frames per second. It also enables ultra-low latency and has the capability of broadcasting captured content using OBS Studio and XSplit without problems. It also comes with the RECentral software and the Cyber Link PowerDirector 15, so editing of 4k videos is made even more convenient.
Overall, if you want to own a 4k capable device that has impressive performance, but is still reasonably priced, the AVerMedia Live Gamer Ultra is such a good deal to pass. After all, the price point is all worth the deals and features that it offers.
AGPTEK MYPIN HDMI Game Capture Card
Streams and Records in Full HD at 60 FPS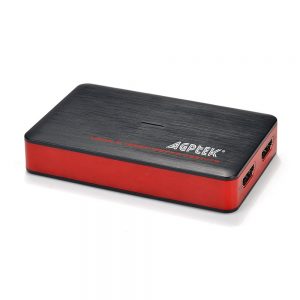 AGPTEK MYPIN offers you to stream and record in full HD at 60 fps. It also supports a USB3.0 interface for faster transmission. You also don't have to worry about complicated setups as it is plug and play. Also, it is compatible with primary streaming services and software, so it is user-friendly. If you own multiple consoles, no issue here as well, as it is compatible with major consoles
Overall, if you need a versatile solution, not to mention premium output for game streaming, the AGPTEK MYPIN is your guy. It doesn't break the bank at it still offers excellent and functional features for streamers who are still new to the trade,
DIGITNOW HDMI Game Capture HD Card
A Capture Card Perfect for Start-Up Streamers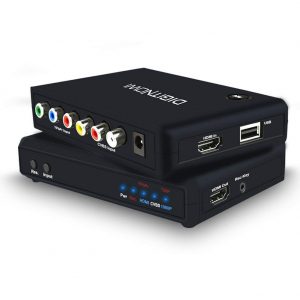 Another affordable yet great capture card for start-up streamers, the DIGITNOW HDMI Capture Card, is worth your time. Sure, it doesn't have any flashy features as it is pretty straightforward. But make no mistake; it gets the job done, and that is what matters.
The budget device is capable of high-speed data transfers due to its 3.0 USB connections. It also works with all major gaming consoles and different gaming PC operating systems. However, it's worth mentioning that some MAC users reported experiencing a bit of a drop in resolution, but it is pretty isolated.
The main selling point of this great capture card is its convenient set ut and friendly interface. To use this card, you don't have to install anything, which means that you can start streaming straight from its box. This card is also compatible with all streaming and recording platforms.
You'll also like the fact that this capture card comes in a budget-friendly price tag. Not bad considering that it supports a 1080p at 60fps video capture. Though virtually not a fully loaded capture card, it is still perfect (one of the best deals, even) if you are just getting started.
AVerMedia ExtremeCap U3
A Reasonably-Priced Capture Card that Promises 60 FPS Streaming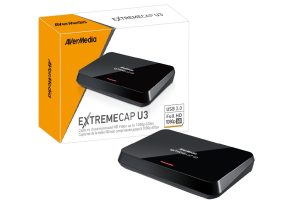 The AverMedia ExternalCap U3 is reasonably priced but still promises 60fps streaming and recording. Not a bad deal all in all. The card is gorgeously designed and super easy to work with. The set-up is not complex as well, and it supports a USB 3.0 interface, which is undeniably faster than the USB 2.0, which is common at this price point. It also offers a high bit rate plus a high frame rate for recording and streaming. Thanks to this, you can ensure a faster transfer rate and lag-free recording plus better image processing. You can also expect to get treated with high-quality streaming sessions in the future.
In line with almost any AVerMedia card, this capture is bundled with the RECentral editing software. It is easy to use, though, albeit basics. But then again, it is ideal when you are just learning the ropes. Nonetheless, if you a more heavy-duty software, don't worry as this capture card is compatible with OBS, so if you want to utilize that software, you may do so without problems.
Things to Consider When Choosing a PS4 Capture Card
Image Quality
The first thing you need to consider when choosing a capture card is the image quality that it can produce. This is what capture cards are made for, right? Thus, it makes sense to prioritize this above anything else.
Budget capture cards usually have 1080p at 30fps record limits, with 30fps being the supported frames per second. Meanwhile, some offer 4k at 60fps video quality, but these come at a cost. This means that cards like this can capture footage, which is four times better than 1080p cards.
Input Options
Take note of the card's input options. After all, this determines their compatibility with your device. Some only work with specific operating systems such as Windows or Mac, while some have an HDMI input making them compatible with consoles. If you're a console gamer, you should choose one that has HDMI inputs.
Software and User Interface
The user interface of the capture card's software should also be user-friendly. It shouldn't, however, be too simplistic as this would mean a lack of features. Instead, it should be jam-packed with features, both advanced and necessary, but organized adequately in a minimalistic fashion.
This is important, especially since you're going to edit your video clips and tinker with its resolution and FPS variables. This is also what allows you to stream, add commentary, and add other features to your videos.
Price
The price of the capture card you're getting is essential. Remember, the price is where your budget depends on. It doesn't mean that the more expensive the card is, the better its performance and quality are. The same thing applies to budget-friendly options because it doesn't immediately mean that they're substandard in class. Do your research, and scrutinize the specs, company background, and user reviews. Don't depend solely on the price and if you're lucky enough, you might find out that manufacturers are offering great deals for a period of time.
How to Stream Like a Professional Using Elgato HD60 S on a PS4 Pro
Let's take a good view of how to use the Elgato HD60 S below.
PS4 Streaming Checklist
With live streaming becoming one of the most popular forms of gaming content creation, the community of streamers spans from massive personalities such as Ninja to small and up and coming amateurs.
While at one point streaming was exclusive to those with the technology, experience, and know-how to accomplish it, the introduction of streaming friendly tech products as well as guide and programs has made it easier than ever to get your games on the web. This also resulted in finding the best deals in prices.
Giving you the option to stream from a number of consoles, including the popular PlayStation 4, you can broadcast HD footage straight from your console to a wide range of streaming platforms.
Below is the essential checklist or guide to get you off the ground when attempting to Livestream your PS4 games.
PC And Capture Card
The most important aspect when beginning the process of putting together a live stream, having a capture card and PC to produce your stream will be a necessary component. Capture cards are devices built to capture and record video sources from HDMI components, which includes most of the popular gaming consoles such as the PS4. Either directly recording the video feed or simply transferring this feed to your PC, these devices are the backbone of creating any gaming stream.
There are two main form factors when considering capture cards:
Motherboard Based Capture Cards
The higher-end option in terms of capture cards is placed internally into your PC. Connected via PCI Express slot onto your motherboard, these will include HDMI inputs that extend to the back of your PC case. Each with its own specifications, these may include multiple slots, differing frame rates, and a range of maximum resolutions supported.
External Capture Cards
Similar in functionality to the above mentioned PCI Express form factor capture cards, these will support a wide range of resolutions and frame rates. However, these will be external devices that you can plug into your computer. These are great if you don't have the ability to add internal hardware to your PC, if you stream from a laptop, or plan on streaming from multiple computers.
Camera and Microphone
Another key element to live streaming, the ability to overlay a video and audio feed of yourself playing has become standard among most gaming streamers. While this isn't completely necessary to stream your game footage, adding the human element has traditionally propelled most successful streamers with their personality and added entertainment. As far as cameras are concerned, there are two main options:
Standard USB Webcams
DSLR Cameras
As a new streamer, you will probably be inclined to invest in a webcam in the early stages. These will plug in via USB to your PC, with options for HD video and easy mounting. For those who are looking to further invest in the best deals on production quality for your stream, you can also implement high-end DSLR cameras for higher-end camera footage.
Accompanying your video, implementing a high-quality microphone will do wonders for the commentary aspect of your gaming. These can be the best deals of headset mounted microphones, standalone microphones, as well as microphones mounted on boom arms. In addition to the microphone inputs, utilizing an audio mixer will give you the ability to adjust the various levels of audio that are ultimately produced into your final stream. This includes game audio from your PS4, sound effects from your PC, audio from your microphone, and any other audio sources you may have.
Streaming Software and Additional Programs
While you may have all the best deals on equipment to get your PS4 games and video feeds streamed into your computer, piecing them together and streaming them to the platform of your choice will be the final step. OBS, or Open Broadcaster Software, is the most popular and easiest program to connect your stream to the web. Not only does it have easy integration into platforms such as Twitch and YouTube, but it also has powerful broadcasting tools to make use of while you are live.
The ability to add transitions between scenes, graphic overlays, animations, and much more will be possible within OBS. Additional software you may find helpful includes:
Streamlabs
Adobe Creative Suite
Additional Stream Enhancements
Aside from putting together an eye-catching graphics, combining your webcam footage, game footage, microphone and sound effect audio, and chat interaction, here are a couple of additional tips to keep in mind:
Green Screen: One of the most popular techniques for streamers, they will often utilize a green screen behind them within their webcam footage. This will allow for easier integration with your game footage, allowing you to simply key out the background so you are only in the frame.
Lighting And Webcam Framing: Properly lighting your webcam footage with ring lights can further improve the "professional" look of your stream, in addition to having a properly framed and clear webcam placement. Additionally, you can also decorate the background of your stream room, further improving the overall aesthetic.
Wrap-Up
Starting your streaming journey is fun but is also filled with ups and downs. That is why it is crucial to arm yourself to the teeth. After all, who goes to war without well-stocked weapons?
That is why investing in the best deals on capture cards is one of the best preparations that you can do before embarking on your streaming journey. It's actually a fun-filled experience, streaming that is. This is especially true when your audience begins to grow, and you notice how a community is building right in front of your eyes. That is why you must make sure that you don't just pump out quality content, but you are also considerate of your equipment by getting only the best deals that will offer you exactly what you need at the moment.
It doesn't matter if you stream as a hobby or look at it as a steady flow of income, what matters is you love your audience and community as much as you love your own content.
Recap: Best Game Capture Card Options for PS4 in 2020
Now go out there, and all the best in your streaming journey!
References: